Gone are the days when the Atlasssian Marketplace had a paltry selection of JIRA add-ons. Today, JIRA has a robust ecosystem of plugins to choose from, each promising to give you more out of your workflows.
However, the abundance of choice doesn't make finding the right add-ons any easier. We know a number of developers who are so overwhelmed by their options that they've come to an impasse about which ones are right for their team.
In addition, Jira promote those plugins that pay them a commission, and not those that solve a specific problem better than others.
So we've come up with a list of the in our opinion best JIRA plugins to make your workflows run more efficiently than before.
For Time Tracking and Time Reports: Everhour
Everhour is the online time tracker that integrates seamlessly with JIRA.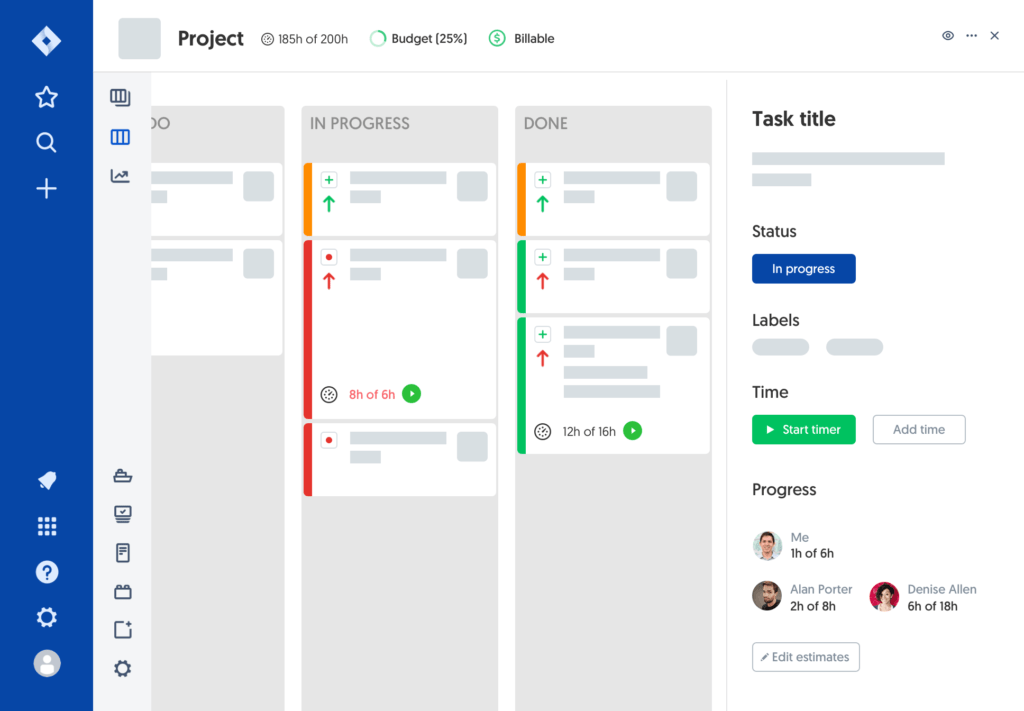 Everything your clients need out of a time tracker is here, from checking how long it takes for a team member to resolve an issue, to making invoices from logged time. With these features, you spend less time planning and more time doing.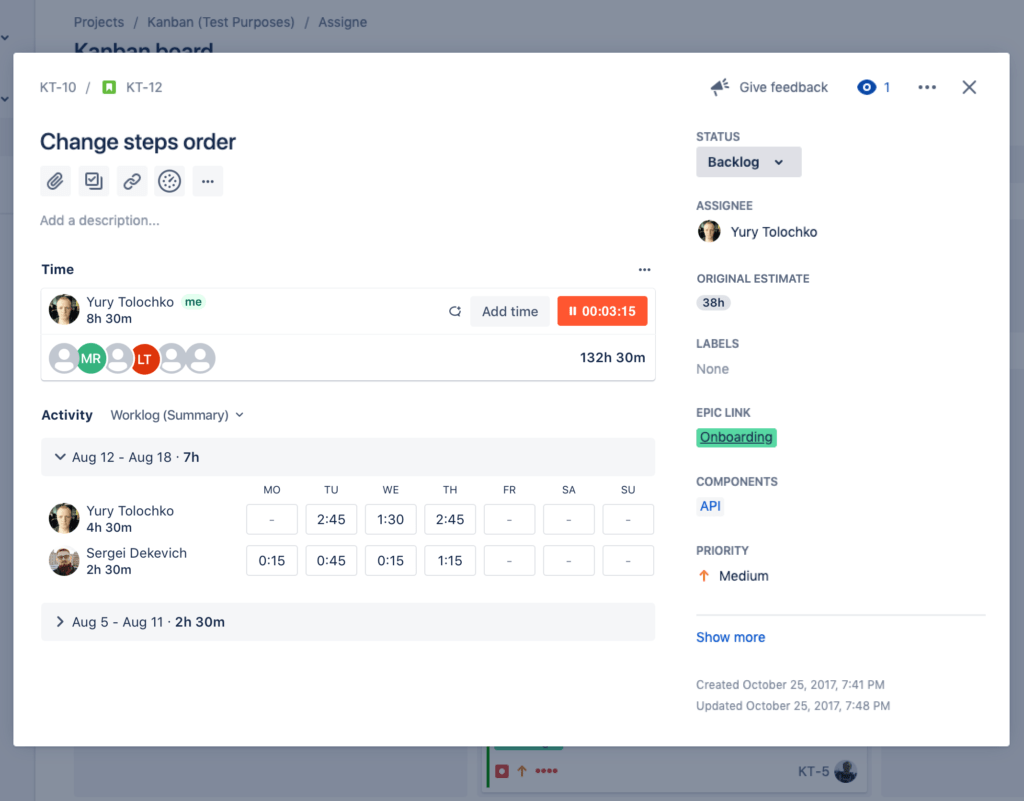 More than just simply tracking time (and view weekly/monthly timesheets), Everhour transforms the numbers into beautiful, clean and insightful reports that you can customize according to your needs.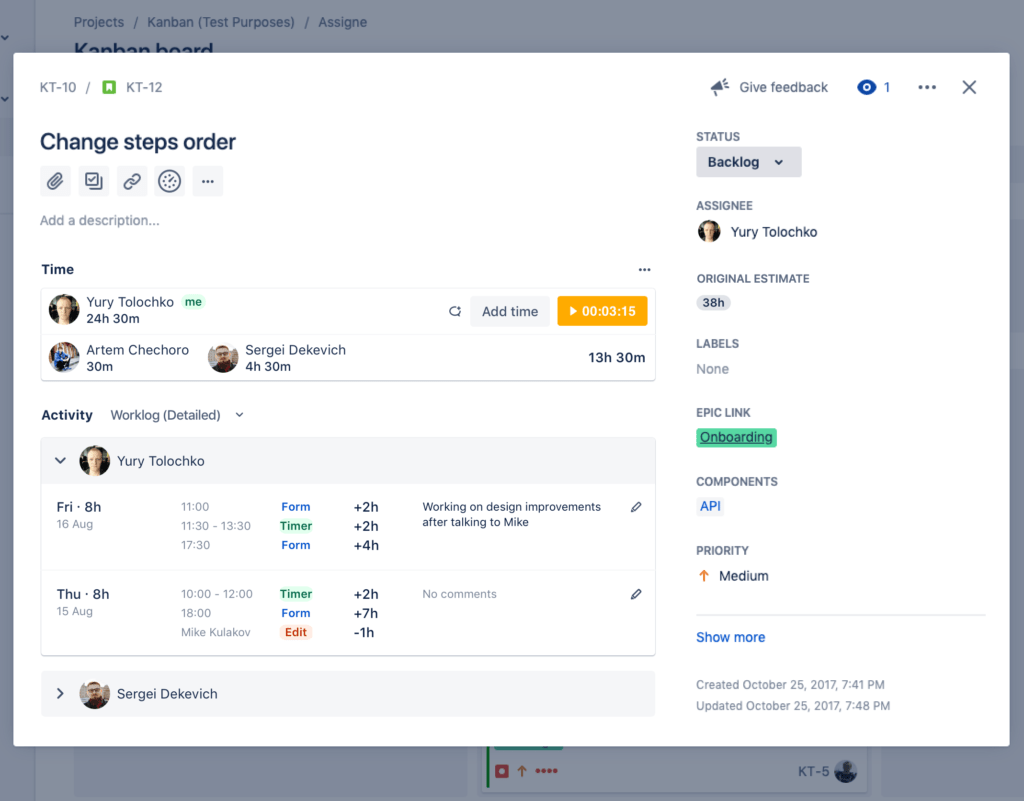 This is important because data is only useful when it provides information needed to make decisions.
Compared to JIRA's default reporting (see below), which is little more than a list of tasks and times, Everhour's reports tells a story about your project that makes sense to your team and your clients.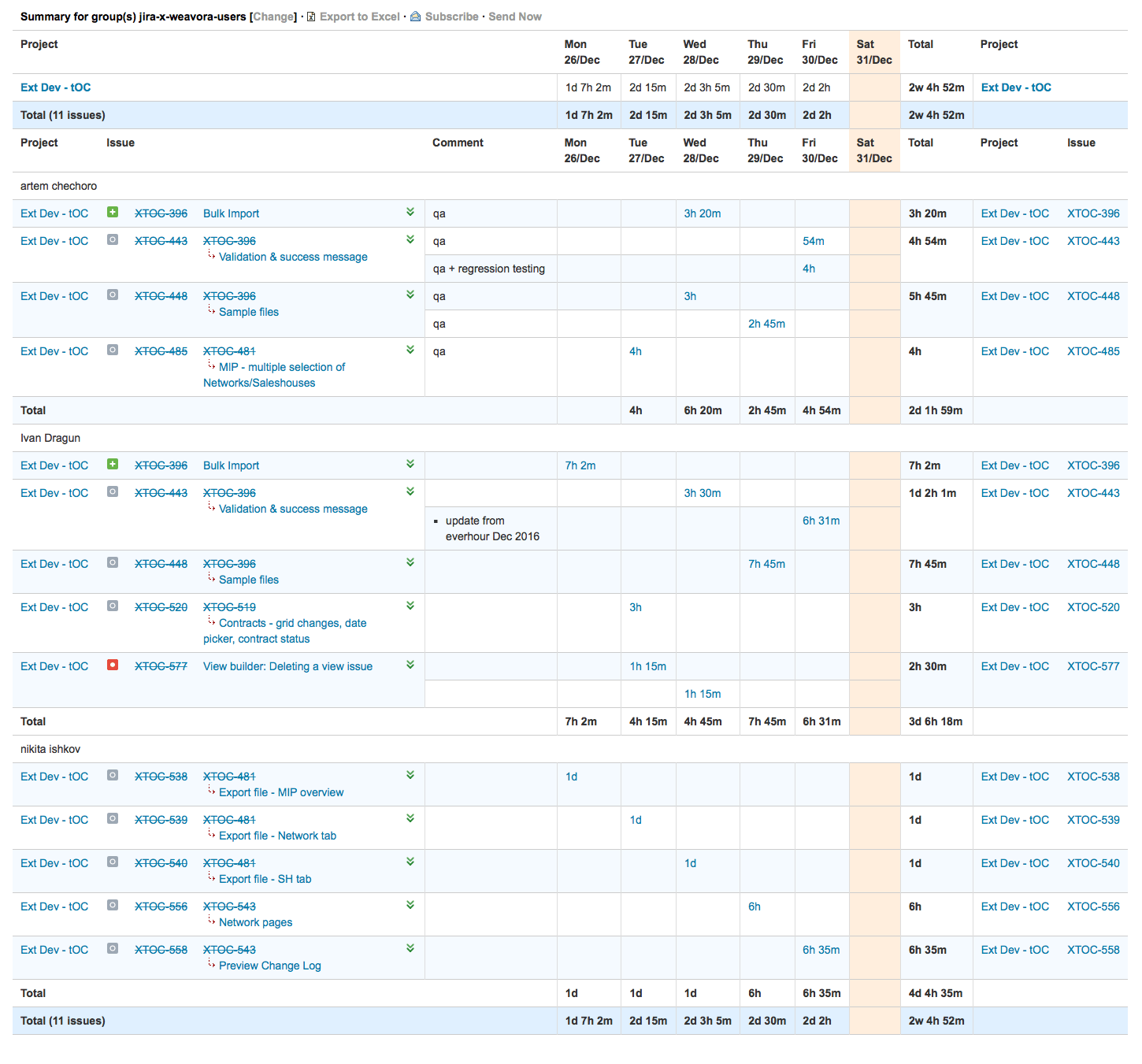 Combined with comprehensive time-tracking features, and you have a powerful JIRA add-on that will save you a lot of time.
For Project Management: Aha! Visual Product Roadmaps
It's easy to see why Aha! is one of the most popular product roadmap tools in the market.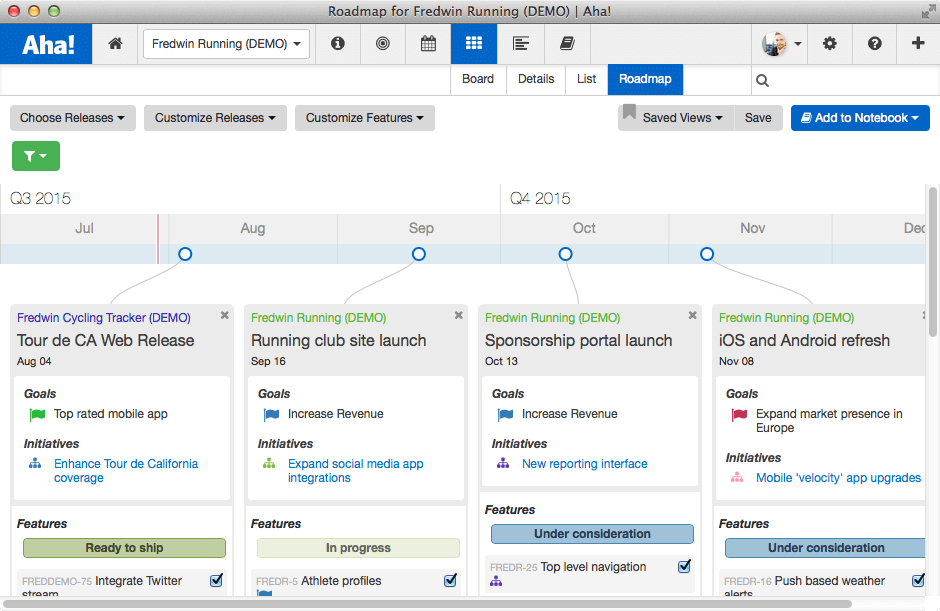 Project managers who already have good momentum with scrum on JIRA find that Aha! is a useful add-on for documenting strategy and creating project roadmaps. These features not only allow project managers to streamline their processes; it makes it easier to show internal stakeholders what's being delivered and what goals are being achieved.
Aha!'s biggest strength lies in being able to visualize anything, from go-to-market plans to releases. Because you already have a template to work with, all you need to focus on is articulating your vision and describing your product.
It also comes with six roadmap templates powered by the Aha! data model, which can be easily customized by dragging and dropping elements. This makes it easier to integrate your strategy with execution.
Whether you're a more traditional team or an agile enterprise, Aha! lets you see the big picture and what lies ahead.
For Project Portfolio Management: BigPicture
To be efficient at forecasting and business analysis, you need a tool that can consolidate all the data points needed to capture your projects' ROI. Enter BigPicture, one of the leading JIRA plugins for project portfolio management (PPM).
BigPicture provides a highly effective Gantt-centric approach to handling multiple projects. In fact, they were so successful at this, their gantt charts are available as a separate plugin called BigGantt.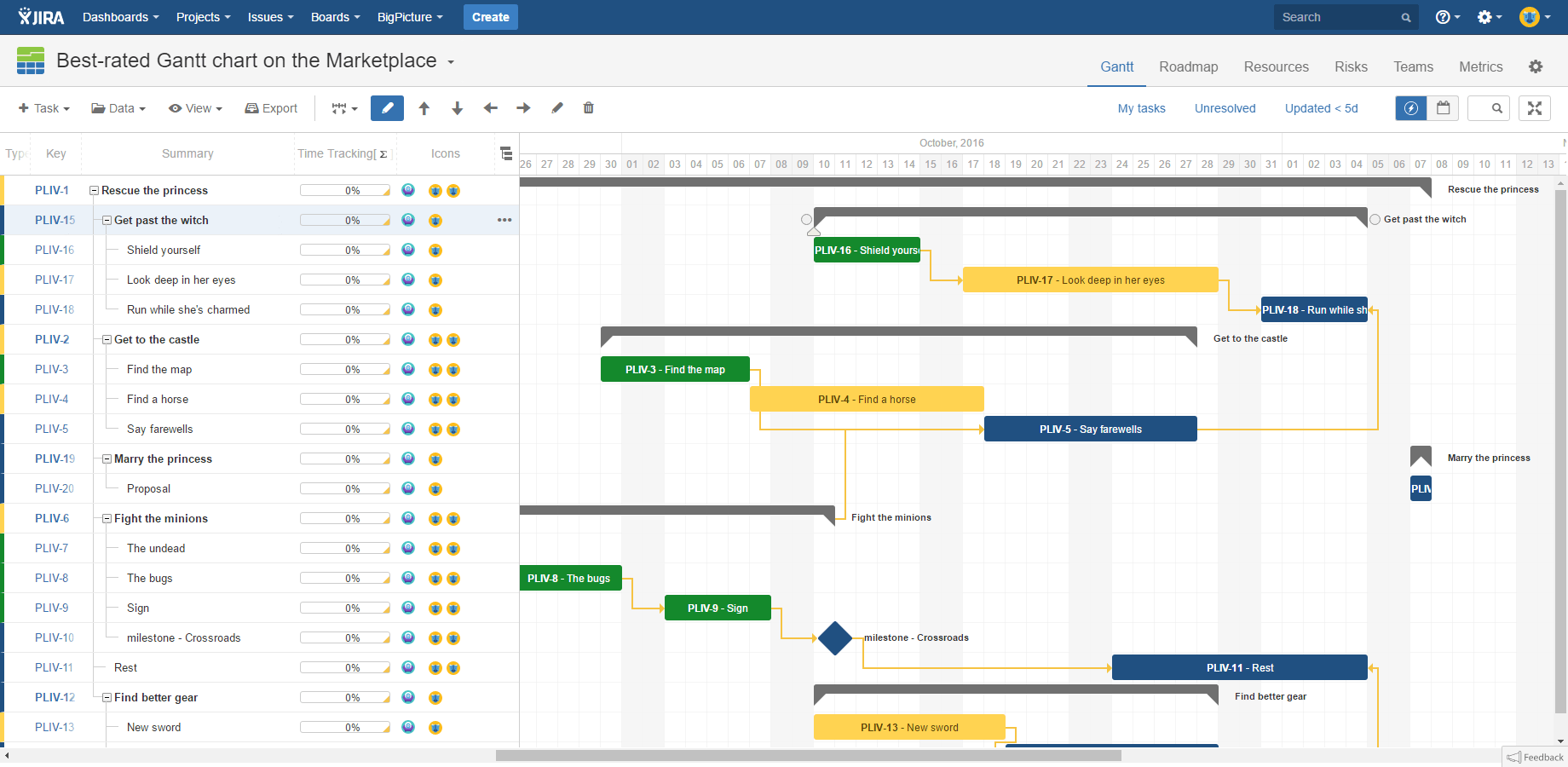 BigPicture's Gantt charts come with three extra modules, which is useful for highly complex projects.
The Risk Matrix helps you identify potential issues related to system implementation, financing the investment, or the market situation, and manage them by assigning responsibilities and overseeing the execution.
The Roadmap module, on the other hand, lets your Agile team map out development activities and releases through a cadence-based approach.
Finally, the Resources functionality gives project managers a clear overview of tasks handled by your team, and displays this on a timeline so you know who is handling a particular item and when it will be done.
Powerful as their features might be, some small-to-medium sized companies might BigPicture limiting in terms of managing project schedules and forecasts, which might require purchasing the Enterprise plugin. For the most part, however, many project managers are happy with its ability to manage processes and planning.
For Testing: TestRail for JIRA
There are many JIRA add-ons for QA and testing in the market, but TestRail for JIRA stands out because of its broad functionality, full test management features, and rich integration.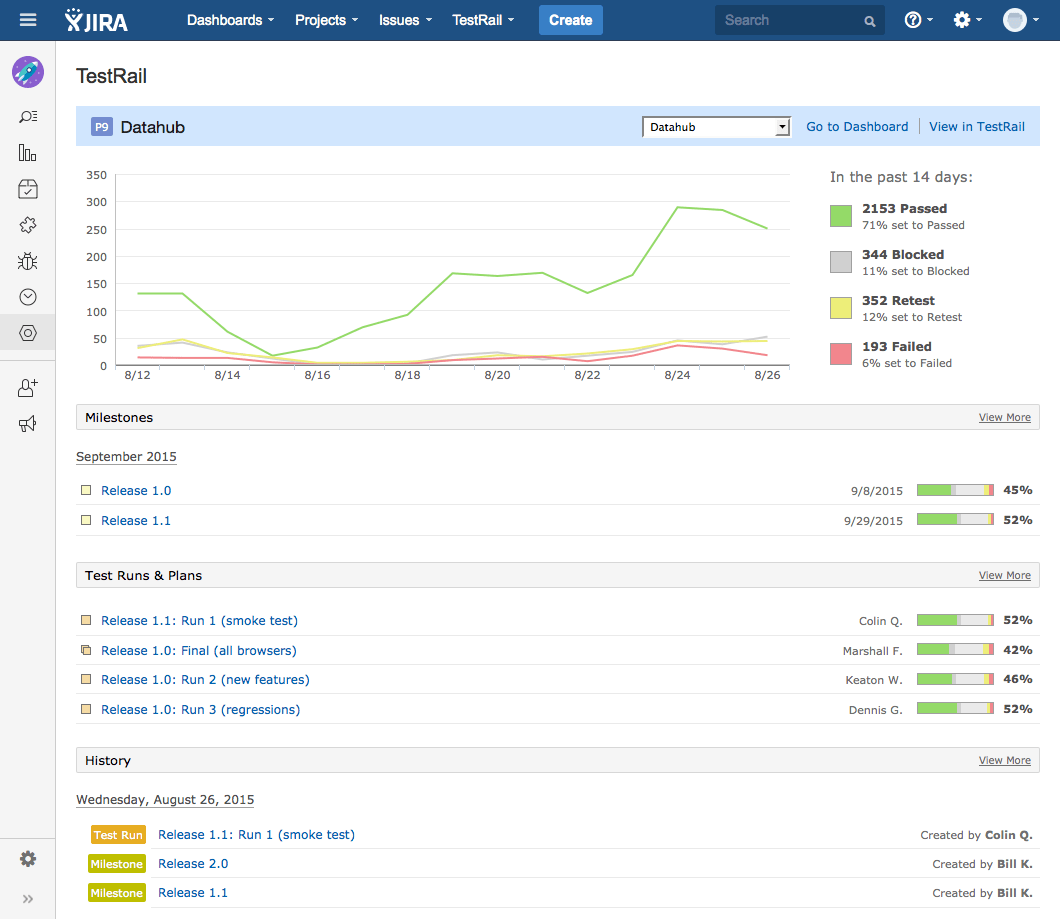 After trying out several QA tools, many teams end up using TestRail because of how it provides critical features, such as starting tests against different configurations and platforms, ability to assign several cases to testers, and side-by-side comparisons of test results.
It's deep, 2-way native integration with JIRA also means that test teams can quickly link test cases to JIRA requirements, create new bug reports during the testing process, and look up related issues in JIRA directly from the test. As a result, the testing process becomes more efficient and issues take less time to resolve.
TestRail also supports various testing methodologies with rich APIs and templates. So whether you prefer manual testing, exploratory testing, or automated testing, you'll be able to execute all of these in a single tool.
Overall, TestRail for JIRA is a practical addition that does a fantastic job keeping the team and internal stakeholders up-to-date on the QA process.
For Email Collaboration: Email This Issue
For most organizations, email is still the go-to method for communication, and many teams are still trying to find the most efficient way to transfer information from email to JIRA.
Enter Email This Issue, also known as JETI. This handy JIRA plugin lets you send emails to anyone, in any format, which makes it easier for your team stay in touch with internal and external stakeholders.
Since it was first released in 2007, Email This Issue has been helping product teams communicate effectively within the organization, while eliminating the effort of switching back and forth from an email client. You can write and send emails within JIRA itself, and keep track of all communications in a dedicated issue panel. With flexible event notifications and workflow post-functions, your team can stay aligned with all updates made to your tickets. Email This Issue also processes incoming emails and extracts the data from them, which makes it easier to locate reported issues.
For scenarios where you need to stay in touch with various JIRA users or non-JIRA users, Email This Issue supports your operations in a cost-effective manner.
For Creating Diagrams: Draw.io Diagrams for JIRA
Creating professional-looking diagrams is the simplest way to communicate complex information and processes. With the draw.io plugin for JIRA, you can create a wide variety of visualizations beyond JIRA flowcharts, including mind maps, org charts, network diagrams, and more.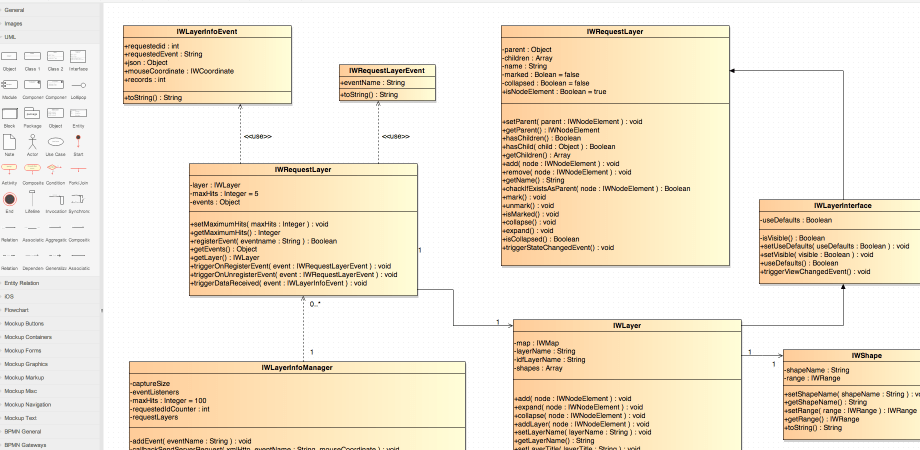 Draw.io is built on mxGraph, a leading technology for diagramming that runs entirely on client side. This offers you the highest levels of reliability and responsiveness. It's so responsive that you can actually use it on mobile devices and older computers, with the complete functionality of the newest desktop version.
The plugin comes with a large menu of stencils for any diagramming need. All you need to do is drag and drop the elements where you need them, and manipulate them according to your design. You can also customize the editor so that it only displays the menus and toolbars you need.
Finally, draw.io offers full security and total privacy. Unlike other diagramming plugins, it stores all diagram data within JIRA and doesn't transmit anything externally. It's also completely free, make it the most cost-effective solution for creating diagrams on JIRA.
Find the Best JIRA Plugins for Your Needs
No two teams work the same way, and there is a wide variety of JIRA add-ons for all sorts of processes and needs.
At Everhour, we're all about making your time management more efficient. If you need help deciding what JIRA plugins to use, or are looking for a way to tracking your team's efficiency – drop us a line. We'd be happy to give you an Everhour demo for free!