Jira is an incredibly powerful tool, but even the best tools can be made even better with the right plugins. Plugins can add new features, streamline workflows, and make Jira more customizable to fit your needs. In this roundup, we'll take a look at some of the best Jira plugins available on the market.
There's a Jira time tracking plugin for just about anything you might need–from time tracking and reporting to a real-time feed of all your tasks. Keep reading to find out what we mean and improve your workflow!
---
Everhour – Jira Time Tracking Plugin
💰 Pricing: Free plan, Monthly – $6/$10 per month (Lite and Team plans respectively); Yearly – $5/8.50 per month (Lite and Team plans respectively)
🔨 How to install: Sign up with Everhour, invite your team, and just install the native Everhour-Jira plugin from the Atlassian Marketplace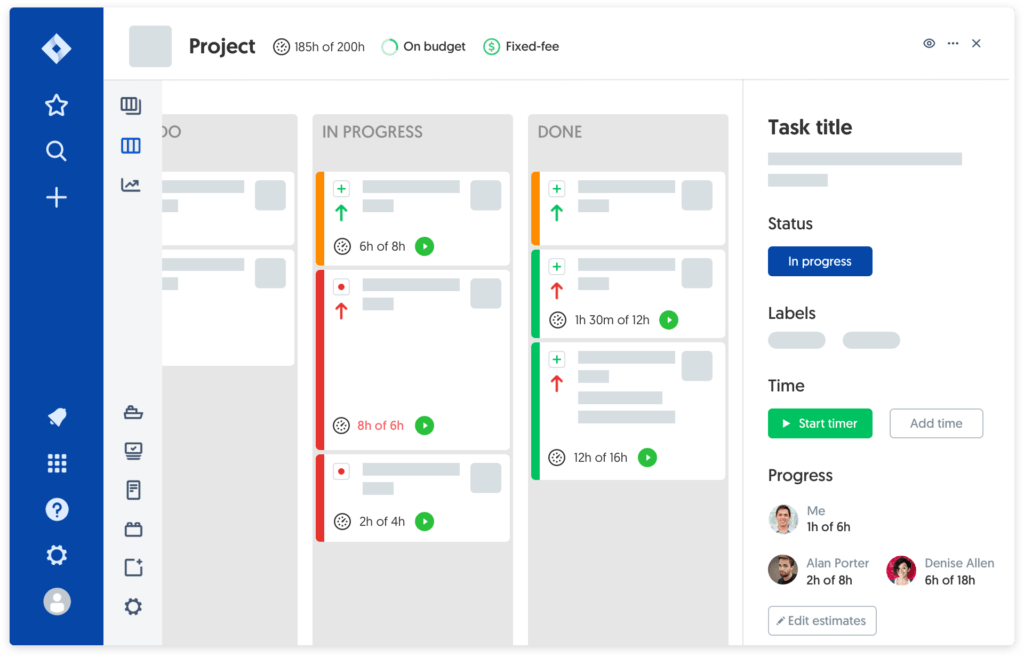 While Jira comes with a built-in time tracking tool, the majority of users prefer to use an external time tracking tool such as Everhour. Why? Because Jira's native time-tracking tool doesn't offer some of the most important features, like time approvals, invoicing, project billing and budgeting, real-time time tracking, vacation tracking, and similar.
That's where Everhour comes in, offering you all that and more. It's one of the best time and attendance software, a complete time tracking and approval system that works seamlessly with Jira and allows you to log your work from Jira. It's also easy to install and use, so you can use your timesheet app in a matter of minutes!
Not to mention, the plugin's reporting features are top-notch. With just a few clicks, you can generate detailed reports that give you insightful data about your team's performance and deliverables inside this Everhour + Jira integration.
✨ Features
---
---
Aha! – Jira Project Management Plugin
💰 Pricing: Monthly – $74/month/user, Yearly – $59/month/user (Premium); Monthly – $124/month/workspace, Yearly – $99/month/workspace (Enterprise), Yearly – $149/month/workspace (Enterprise+ Plan)
🔨 How to install: Get Aha! right from the Atlassian Marketplace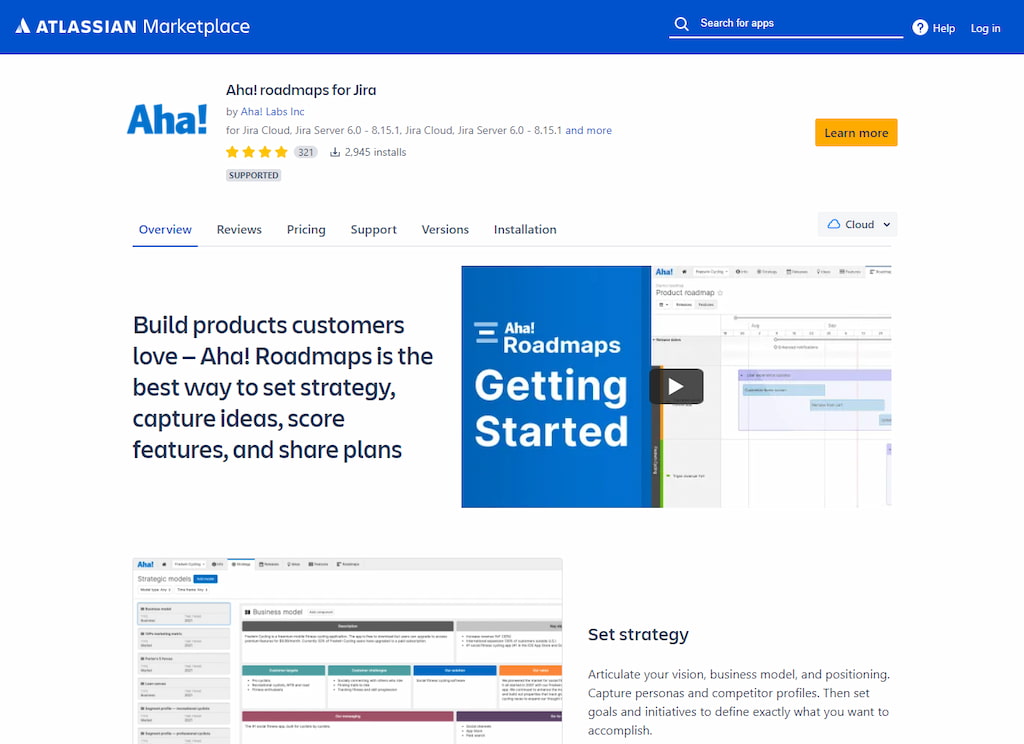 Aha! is one of the best Jira plugins for project management. It's a smart and advanced yet simple tool that anyone can use without prior training or technical knowledge. It works perfectly for marketing, sales, and customer service teams, and it's an excellent choice for Agile Scrum projects.
Simply, Aha! allows team members to set goals and then track the progress in achieving them. Furthermore, it can be easily integrated with Jira to provide you with a real-time snapshot of a given project in the form of a colorful roadmap.
The plugin comes with six ready-to-use templates that can be easily customized using a drag-and-drop function to meet your requirements, or you can create your own roadmap from scratch. After that, they can even be exported as a PDF or image to share with other users.
✨ Features
Project goal setting and real-time tracking for teams
Multiple roadmap template customization abilities, including the option to export as a PDF or an image
Analytics and insights about your projects' progress
Drag-and-drop functionality for quick template customizations
---
BigGantt – Jira Chart Plugin
💰 Pricing: Free (up to 10 users); $13.75/month (11+ users)
🔨 How to install: Get BigGantt on the Atlassian Marketplace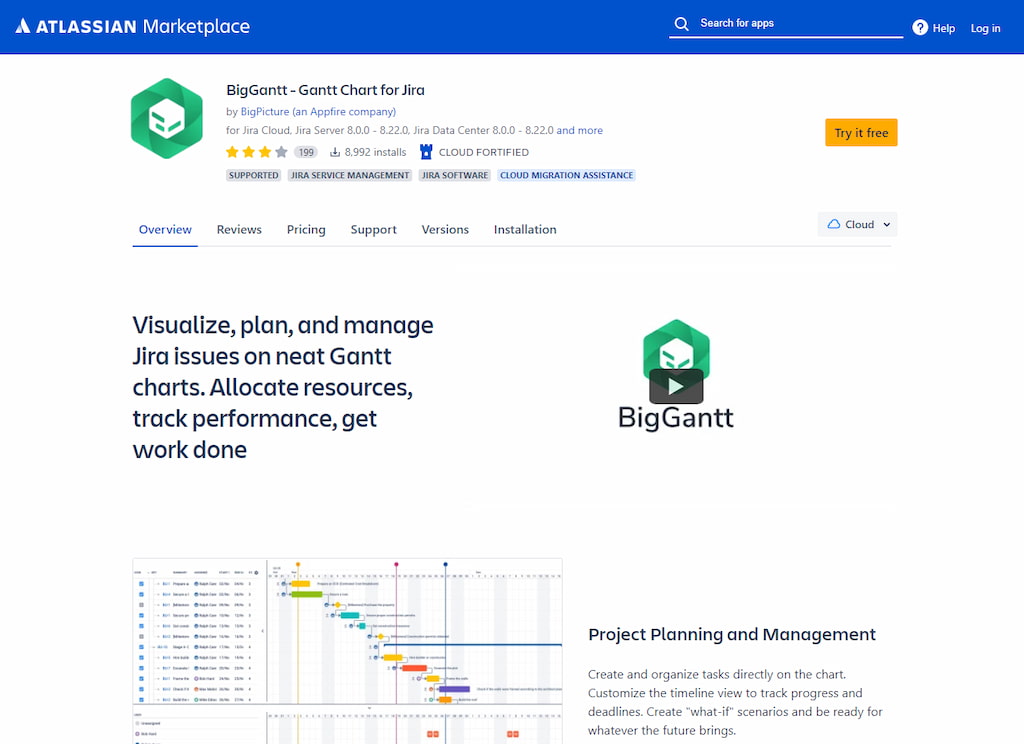 BigGantt is a lightweight Jira plugin that offers users an easy way to make Gantt charts without the need for advanced technical knowledge. It comes with all the features you'd expect in a Gantt chart tool, including calendar support, resource management, task creation and dependencies, and more.
Through BigGantt, you can auto-schedule your tasks, add smart links between issues based on their dependencies, and analyze your projects via baseline, critical path, and custom-made markers. In a nutshell, BigGantt lets you craft high-level agile roadmaps in a few clicks.
Last but not least, the plugin's layout is entirely customizable, allowing you to change fonts, colors, and grid settings (e.g., spacing) with ease. Indicators also provide visual distinction between tasks, allowing everyone working on the project to track their progress easily.
✨ Features
Enables you to visually keep an eye on and manage your data in one place
Smart linking of issues right on the timeline
Identify critical paths, set milestones, and track progress
Extremely simple to operate–everything can be handled simply by dragging and dropping
Automated project scheduling
Enables the creation of high-level agile roadmaps
---
EazyBI – Jira Reporting Plugin
💰 Pricing: Monthly – $10 (1-10 users); Yearly – $100, a 30-day free trial🔨 How to install: Install EazyBI through the Atlassian Marketplace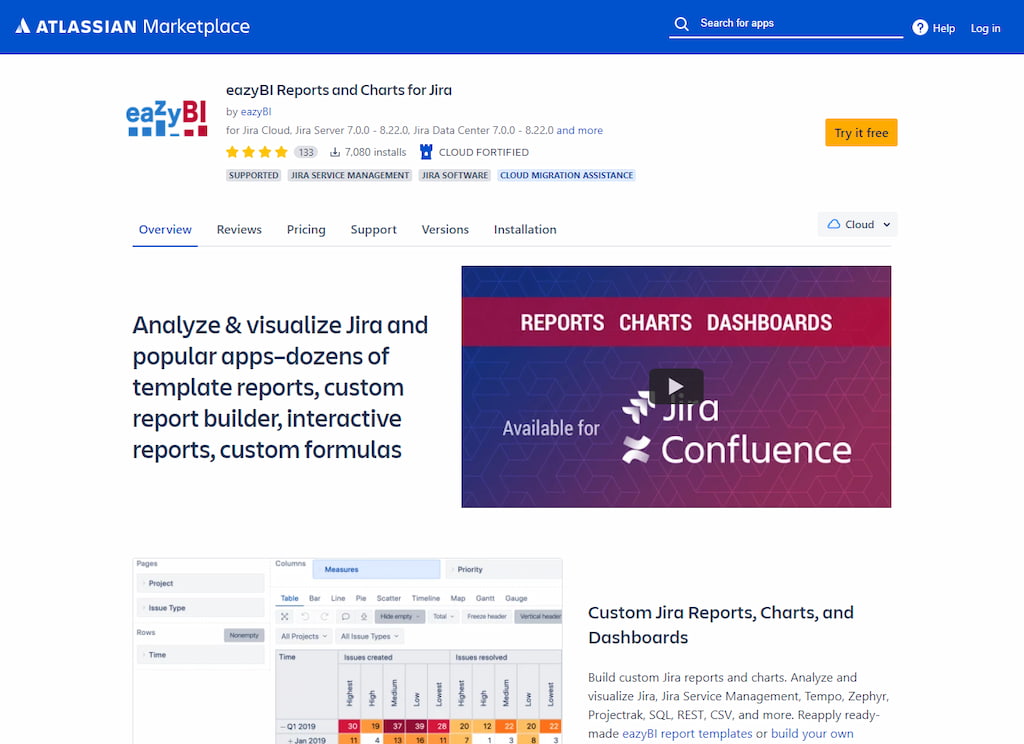 EazyBI is among the most simple-to-use Jira reporting plugins that allow you to create and share business intelligence reports in minutes. It comes with all the standard charts, graphs, and diagrams you could ask for, including line, bar, pie & donut charts, scatter plots, and bubble diagrams–all of which can be exported as a PDF or image to share with other users.
With EazyBI, you'll easily be able to track, measure, and analyze the performance of your projects in real-time, allowing you to spot trends, opportunities, and threats early on.
Simultaneously, you can go deeper than basic reporting and perform multi-dimensional analysis with custom-made calculations while using the built-in MDX editor to write your own queries. That way, you can always make data-driven decisions based on your statistics and reports.
✨ Features
Offers a wide range of built-in charts, graphs, and diagrams
Includes multiple filters and sorting options
Allows for quick yet powerful multi-dimensional data analysis
Provides various insights into project performance via customizable metrics
Enables you to compile information from multiple data sources
---
Smart Checklist Pro – Jira Cloud Plugin
💰 Pricing: Monthly – $5 (1-10 users); Yearly – $50
🔨 How to install: Smart Checklist Pro is available on the Atlassian Marketplace.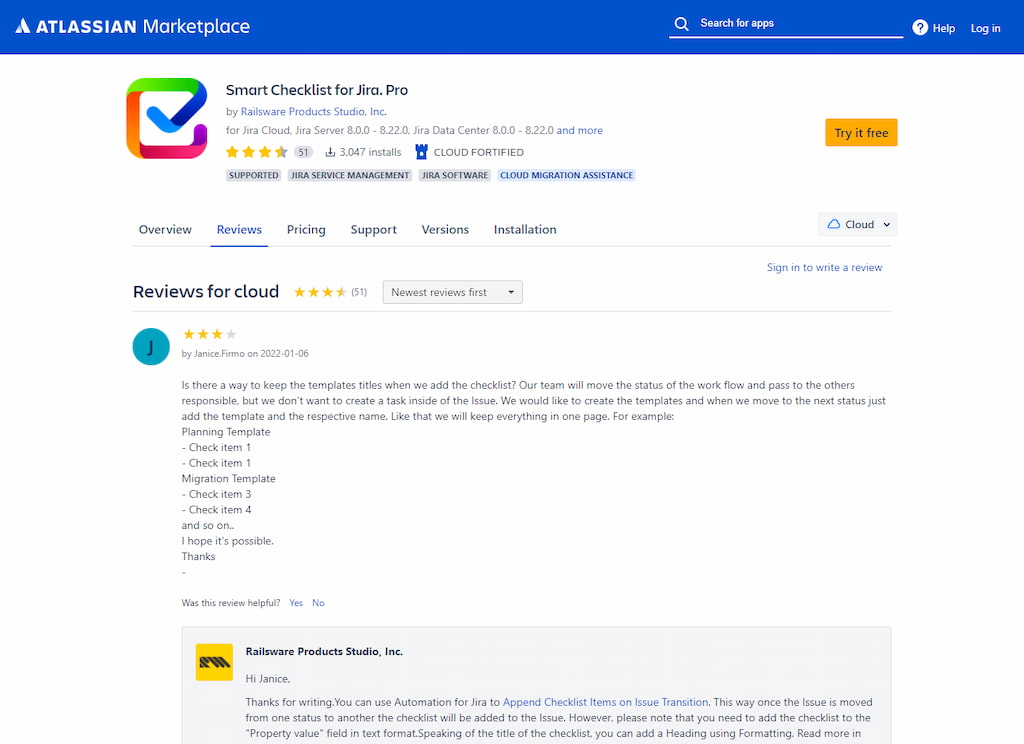 Smart Checklist Pro is one of the top Jira cloud plugins that aim to improve how you manage recurring processes, such as software development. In addition to providing an entire checklist template library, it also helps you track issue progress through each stage of your process and allows you to view reports on how well your team is doing with their tasks.
Through Smart Checklist Pro, users can create and manage checklists (e.g., user guides for new users) as well as custom-made lists (e.g., to-do lists). Users can also check off items as they complete them and forget about the hassle of managing multiple lists–everything can be handled via a single dashboard.
Plus, no longer will you need to use subtasks, as all items can be added as a bullet list directly to the checklist. As a result, you'll easily be able to manage big task lists and keep an eye on your progress–all in one place.
✨ Features
Helps you track issue activities and measure team performance
Creates custom-made checklists for recurring tasks
No need for subtasks, as all items can be added as a bullet list to the checklist
Easily create and manage big task lists
Manage checklists via a single dashboard
Copy and paste the contents of the Markdown editor into an email, Slack, or any other messaging tool to share Jira ToDo lists.
---
Jira Workflow Toolbox – Jira Toolkit Plugin
💰 Pricing: Free (up to 10 users); Monthly – $13.75/month (11+ users)
🔨 How to install: Install the Jira Workflow Toolbox now on Atlassian Marketplace.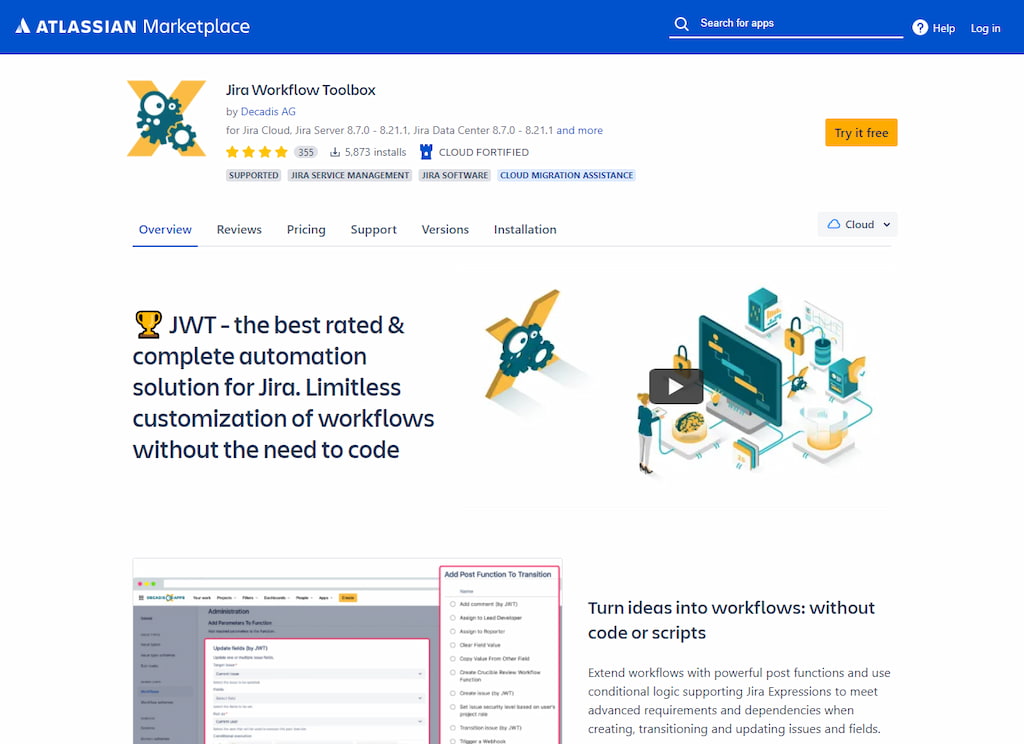 The Jira Workflow Toolbox plugin makes it easy to automate your workflow and work smarter, not harder. Whether it's the most complicated business process or just a simple task you do on a regular basis, this toolbox lets you automate your workflow hassle-free, even if you don't know how to code.
As an administrative plugin, it's compatible with Jira Cloud and Server. The toolbox itself comprises over 50 workflow automation actions, while the workflow script editor allows users to take their scripts even further–with support for variables, expressions, loops, conditions, and more.
The toolbox also enables you to create your own custom-built automation actions, using the events and triggers you want to listen for. Plus, Jira Workflow Toolbox offers many triggers out-of-the-box, from field changes to transitions–meaning you can automate a wide variety of processes with ease.
✨ Features
Easy configuration of rules, triggers, conditions, and transitions for your workflows
Hassle-free automation without requiring technical experience
Availability of a collection of built-in workflow extensions
Presence of three built-in custom field types to calculate and display real-time issue/ project data
Live-testing option
---
Bonus Free Jira Plugins
But what if you're not looking to install any paid plugins, but you still want to get your hands on some amazing free Jira add-ons? Well, that won't be a problem–we've got you covered! Here are a few Jira plugins you can use to boost your productivity and workflow free of charge.
---
Timesheet Tracking for Jira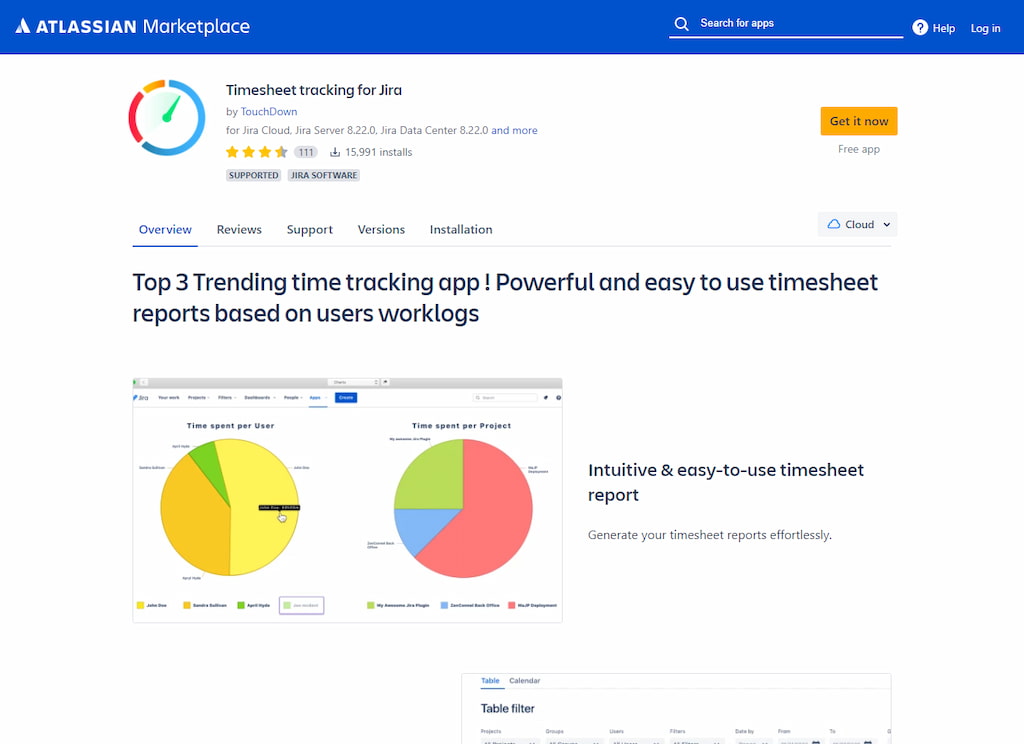 Timesheet Tracking for Jira lets you track your team's time working on issues via a simple workflow. Through it, you can customize your timesheet form to include the issues/projects your team is working on, the users, filters, and more. You can even add an issue description and statement before adding each entry to your timesheet–making it easy for you to accurately record what work was done when and by whom.
---
Event Calendar for Jira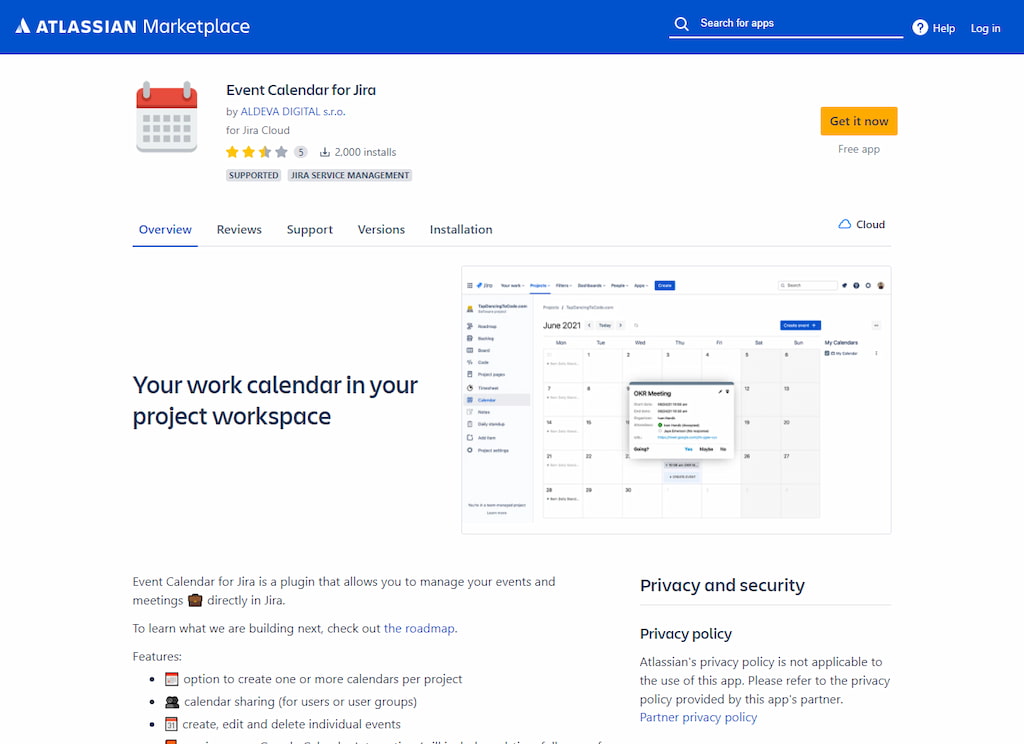 Event Calendar for Jira offers a simple way to manage your work calendar within your project workspace. You can easily create, edit, or delete separate events and share calendars with different team members and create either one or more calendars per project you are working on. Soon, the plugin will also allow you to connect with your Google Calendar with full-sync support. Therefore, it's quite useful for those who want to stay on top of their work calendars, without the need to switch between different applications.
---
Automation for Jira – Server Lite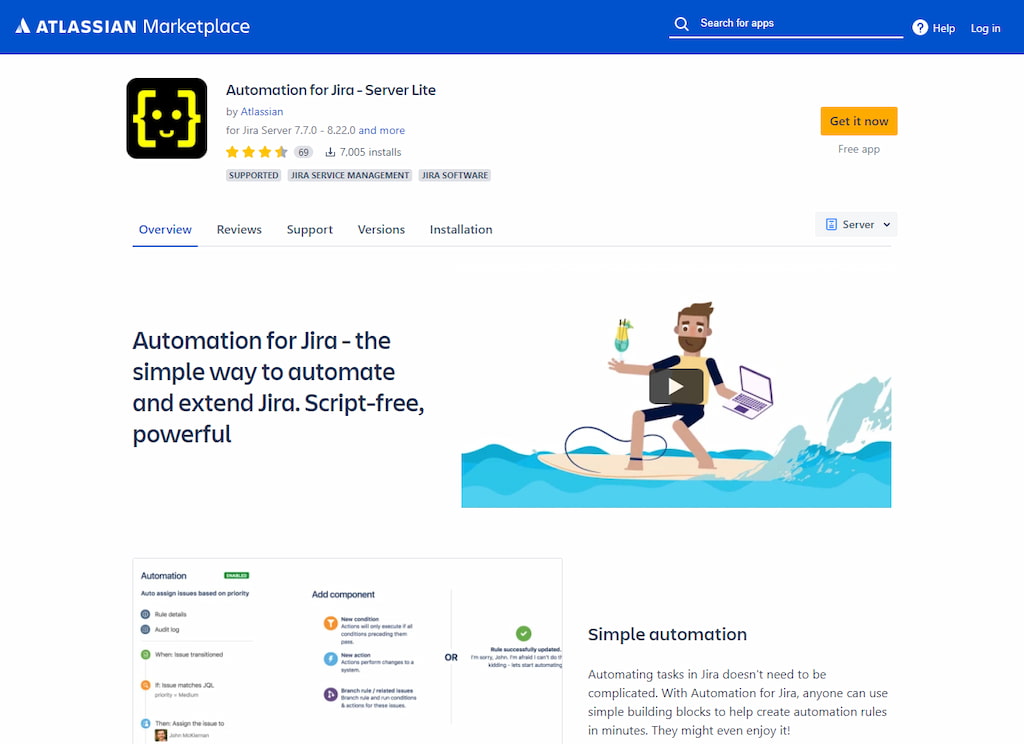 Automation for Jira – Server Lite is a plugin that allows you to save time and effort by automating your workflow processes via easy building blocks. Whether it's a simple or complex task, this tool can save you from dealing with those pesky manual tasks. So, if you're a Jira user looking to improve your team's workflows but not so keen on spending too much time configuring the toolbox or even coding, for that matter, this plugin is definitely the one for you. It also comes in a pro version if you need more features that aren't necessarily available on the free version.
---
Ready to Unleash Your Team's Productivity?
By now, we're sure you're eager to give these Jira plugins a try–and for the right reasons. Whether you're looking to boost your team's workflows or just improve how information is managed and processed, don't hesitate to make the switch to these great plugins today.
And if you need help, we at Everhour are here to take care of that. Not only do we offer an insane amount of the best time tracking apps and best productivity apps and options, but we'd be happy to help you with any questions or concerns you might have on how to use Jira (or Jira alternatives) we've mentioned–or our own, for that matter. And remember, you can always try our Everhour demo for free!