A project roadmap keeps you, your team, and stakeholders on the same track—all in one simple, visual document. But what is a project roadmap exactly, and how does it work? In this article, you'll learn:
What is a project roadmap? And why do you need one, anyway? Is it the same as the project list?
How not to confuse a project roadmap with other project documentation?
What are project roadmap examples?
What templates and apps can you use to create your own project roadmap?
The best tips on how to build your project roadmap.
and many more!
Let's dive in!
What is a Project Roadmap?
A project roadmap is a visual chart that contains essential data on a project. It helps project managers to steer away from too many details and get the stakeholders focused on the project's main stages, objectives, and development strategies. It usually includes such key elements as:
Objectives and goals
Timelines and project milestones
Task dependencies
Project resources
Possible risks, and more.
Depending on your particular project, the set of elements you include may vary. This is okay. However, it is vital to include some key elements, no matter your projects, such as objectives and deliverables.
Why Do You Need a Project Roadmap?
A roadmap outlines the primary project objectives. As the project team moves forward, its goals, resources, tasks, and deliverables can develop. For example, change of deliverables in line with customer expectations, change of task priority, budget revision, or switching team members under the current project needs, and more.
All these internal project developments can be overwhelming. They involve numerous details and can impact the project timeline. A roadmap helps to avoid any complications, providing project managers with a general overview of the project.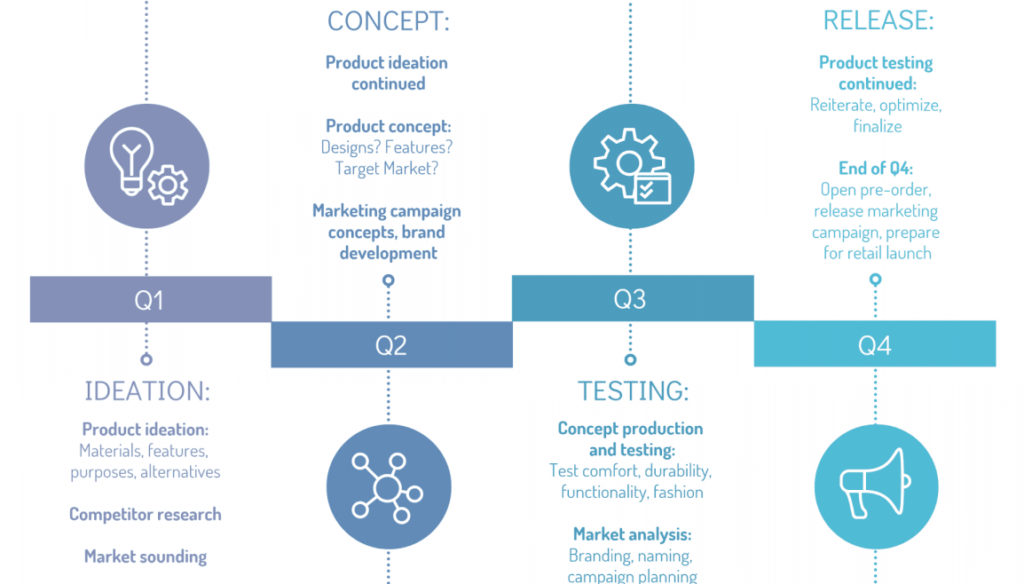 Project managers can also use a roadmap as an effective communication aid. It is a visual plan that helps project managers keep the stakeholders updated with the project progress.
Usually, project stakeholders include various participants such as customers, investors, team members, managers, executives, suppliers, etc. Each of them has a different level of involvement in the project, therefore, they don't need to know all the project peculiarities. Roadmaps contain the main points that are easy to understand for everyone. As a result, each project member stays informed on the project status and can plan its further development.
Moreover, project managers can use project roadmaps for presentations when explaining a project idea, the main objectives, and tasks. This helps project managers to neatly present the project idea and attract more investments.
When a Project Roadmap Isn't a Project Roadmap
The documentation you'll need for a project can be expansive. Even the most experienced project manager can get mixed up when it comes to which is which. So let's discover the difference between a project roadmap, project charter, and product roadmap.
Project roadmap vs project plan
A project plan is the main document that contains all the activities a project team needs to perform to fulfill a project successfully. Project plans have many more details in comparison to roadmaps. They usually involve starting and finishing dates, project stages, milestones, resource management, critical path, and other activities that you don't need to include in your roadmap.
Project charter vs project roadmap
A project charter looks similar to a roadmap. Project managers often use project charters to initiate a project and present its main objectives and ideas. Though, charters work well only for starting a project, while roadmaps are referred to during the entire project.
Another difference between a project charter and a roadmap is that project managers use roadmaps for a wider audience, while project charters are more specific. They include an idea, objectives, project scope, roles and responsibilities, calculated risks, and some other points.
Product roadmap vs project roadmap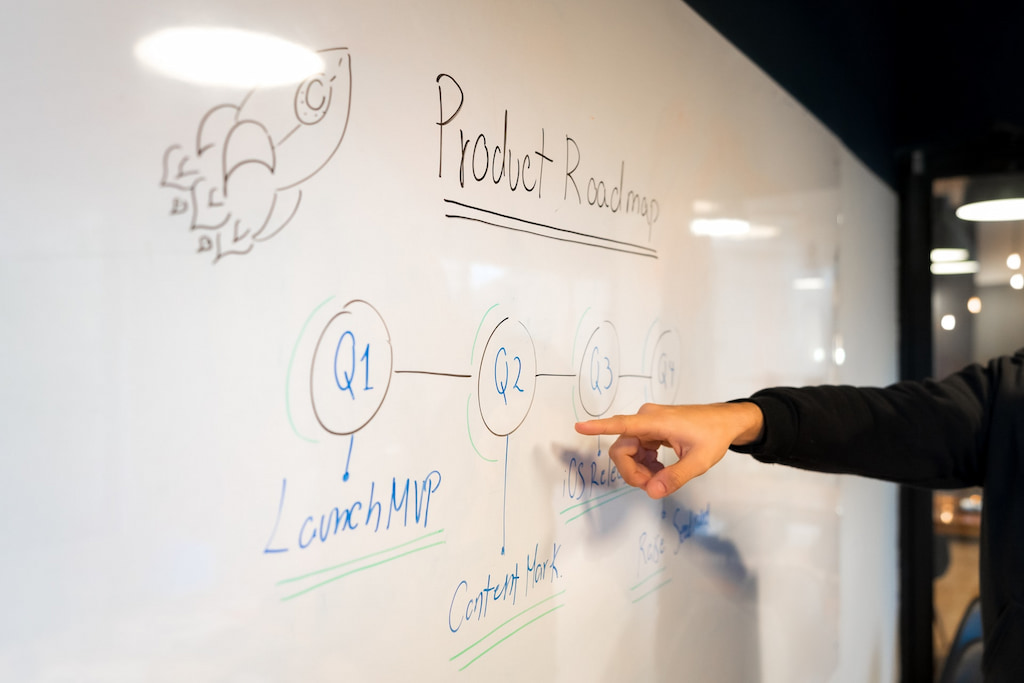 Product roadmaps speak for themselves, they are all about the strategic development of a product. They are more elaborated than project roadmaps and include product requirements and tactical steps.
Project roadmap vs a list of features
A list of features is a backlog that holds a list of tasks that a project team needs to complete in a specific order. Though a project roadmap can include main deliverables, it works more as a visualization of goals, deliverables, milestones, and others.
Project Roadmap Examples
Rows, columns, timelines; all these should be included in your project roadmap, but what is the best way to organize them efficiently? Here are some quick rules that you will want to follow:
Each cell in the project roadmap should be made up of several significant tasks a project team needs to perform to move towards project completion.
Project managers may or may not add dependencies between the tasks, just like in Gantt charts to demonstrate which tasks a project team needs to complete first. But generally, this is considered helpful.
Remember to keep your project roadmap forward-looking, make sure it informs stakeholders and conveys a growth story.
Below is an example of how you can layout your project roadmap. It includes all of the key elements such as months, persons involved, and milestones. Remember you can be creative and add color to make it clearer.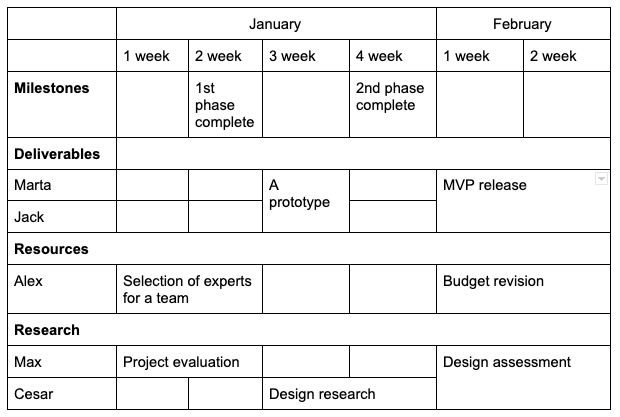 Project Roadmap Templates and Apps
In theory, it's possible to create a hand-drawn project roadmap. But unless creativity is your thing, there are some much better options out there. Project roadmap templates, apps, and online tools make creating your roadmap so much faster. Let's have a closer look at the tools you can use.
Project roadmap in Jira
Jira is a robust project management tool highly popular among software developers. But, any type of team or company can use Jira for project management.
For beginners, Jira may seem a bit complicated. This program is packed with every possible tool for effective project management. That's why Jira creators offer an Advanced Roadmap tool for an entire organization and a Basic solution for a team.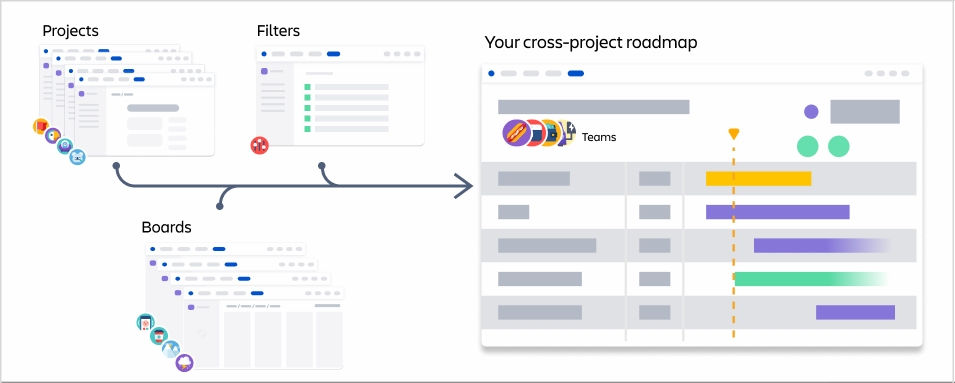 In both Jira's roadmaps, project managers can establish main tasks in a form of epics, define dependencies, add project participants, and monitor the development of their projects.
Project managers can track each team member and their tasks, though they can't track their working time. For effective working time management of each participant project management usually add simple and very handy time-tracking apps like Everhour. Everhour helps to track the working time, precisely perform and plan project budgeting, do timely reports, and create accurate invoices.
Project roadmap in Asana
Asana is a popular project management tool with lots of features, including roadmaps. With Asana, project managers can create visual roadmaps with various structures—in a Gantt-chart format and a more traditional one with several initiatives and tasks in a form of 'swimlanes'.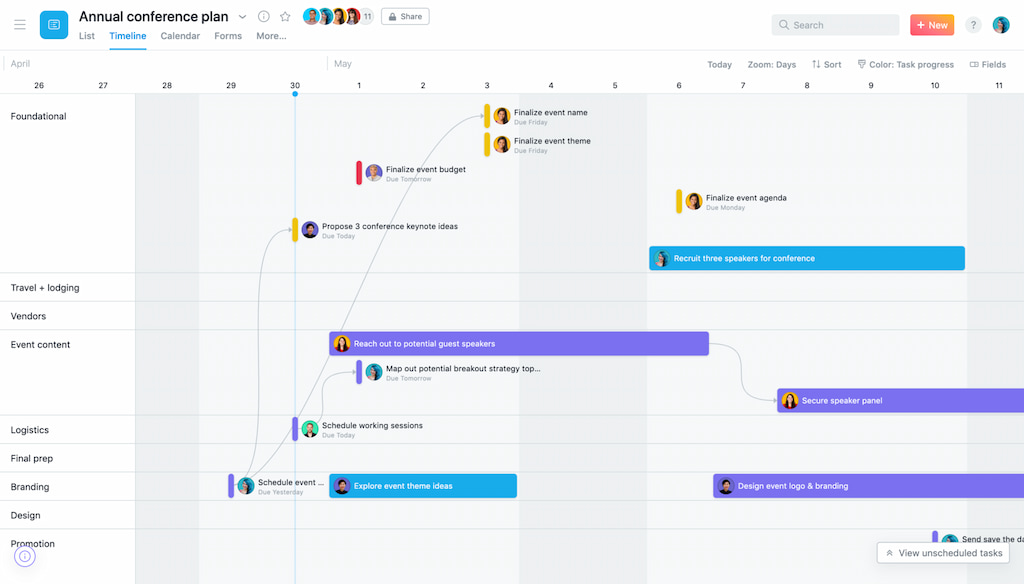 Just like in Jira, project managers can add project team members and time track in Asana individually with an effective integration from Everhour.
Project roadmap in Trello
Trello is a simple task organizer that is perfectly suited for project management in small and medium-sized companies, as well as startups and for individual users. It uses Kanban management charts. And though the app doesn't provide its users with any stand-alone features for building a roadmap, it has a Gantt-chart solution in its pack.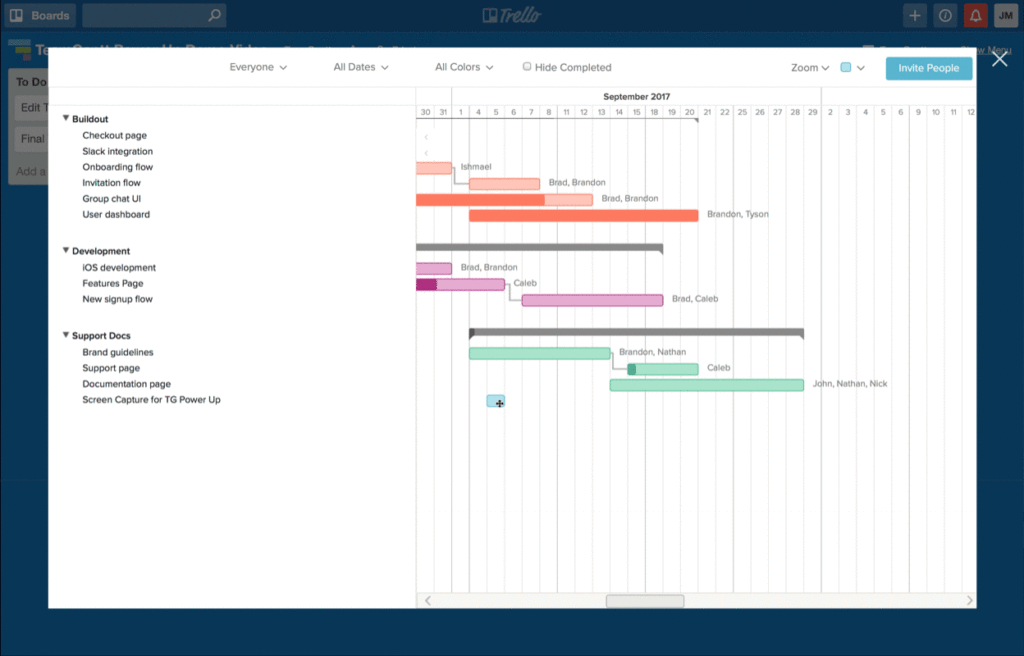 With Trello's Gantt-chart-style project managers can build a viable roadmap for their project. And with Everhour integration, they can track their team's working time and balance their workload well, which is particularly valuable for small teams.
How to Build Your Project Roadmap
Want to build your roadmap on the next level? Wonderful! We've gathered the best tips on how to create your first effective roadmap to help you.
But, first, remember: It's vital that all those involved in a project regularly refer to this document during the project. It should be actionable rather than another unnecessary chart in a project folder on your computer. For this you need to:
💻 Choose the right software management tools
There are a variety of project management tools, however, you need to pick those that suit a particular project. This is an important decision as you'll have to use these tools throughout the whole project. While at the beginning shifting all your documents to another app will take you only several hours, as the project develops it'll be much harder to do. Consider if a digital tool fits well for:
Storing project details
Keeping stakeholders updated on project activities
Easy for the overall project and individual participants' time-tracking
Team collaboration
Visual presentation, and other points.
📚 Don't overload your project roadmaps with data
Your roadmap should be a simple plan with a high-level visual presentation. Therefore, just creating a chart with tasks and a timeline isn't enough. To make your roadmap graphic you need to:
Include only the most essential points that reflect the development of your project
Use colors for breaking data into distinctive blocks
Use font size to define task priority, though keep them readable and easy to comprehend.
💬 Include commenting option in your roadmap
When project managers get deeper into a project, it becomes more complicated and, as a result, requires more data. However, effective roadmaps need to stay simple. To add some extra information to your roadmap include a commenting section for the items in the document.
The comments section will help the project stakeholders clarify the tasks with additional questions or argue the necessity of certain tasks in the project. This way, your project team, and all the participants will stay confident that the chosen tasks are valuable for the project.
👍 Constantly review and update your roadmap
An excellent roadmap is a document that constantly changes together with the project. In their final stage projects often differ from what was planned at the beginning. While objectives can stay the same, there are myriads of factors that influence a project's outcomes in its development stages. Therefore, project managers have to constantly review and update their project roadmaps so that they match the present projects and reflect their realistic goals.
In Closing
Project roadmaps are highly useful documents for various projects. They help project managers to keep all the stakeholders updated with the project's development and easily communicate its main objectives and tasks.
It's not necessary that every project needs a roadmap. However, if you need to build one, then you should follow some simple steps to make it effective. Include:
Choose the right software apps for your project
Include the most essential data
Make your roadmap visual and clear for everyone
Review and update your roadmap.
We, at Everhour, hope that this article was useful and now you know how to build effective roadmaps for your projects.