Project Charter Definition
Any project starts with an idea. That idea should be articulated, defined, and presented to stakeholders. But how to do this without project goals, any roles assigned, or even a project team? That's where a project charter comes in!
What is a project charter?
In short, a project charter is a short formal document that gives the authorization to start or continue a project, states its purpose and key elements. So before you start a project, you create a draft that includes:
a well-articulated idea
purpose and objectives of the project
project scope
stakeholders
roles and responsibilities
project budget
risks calculated
Typically a project charter is about 1-2 pages long and is written in a formal style by a project initiator or investor. However, it often becomes a project manager's duty, due to their competence in the project management sphere. The project charter can also be seen as a skeleton for project development and will be used throughout the project lifecycle.
Project charter example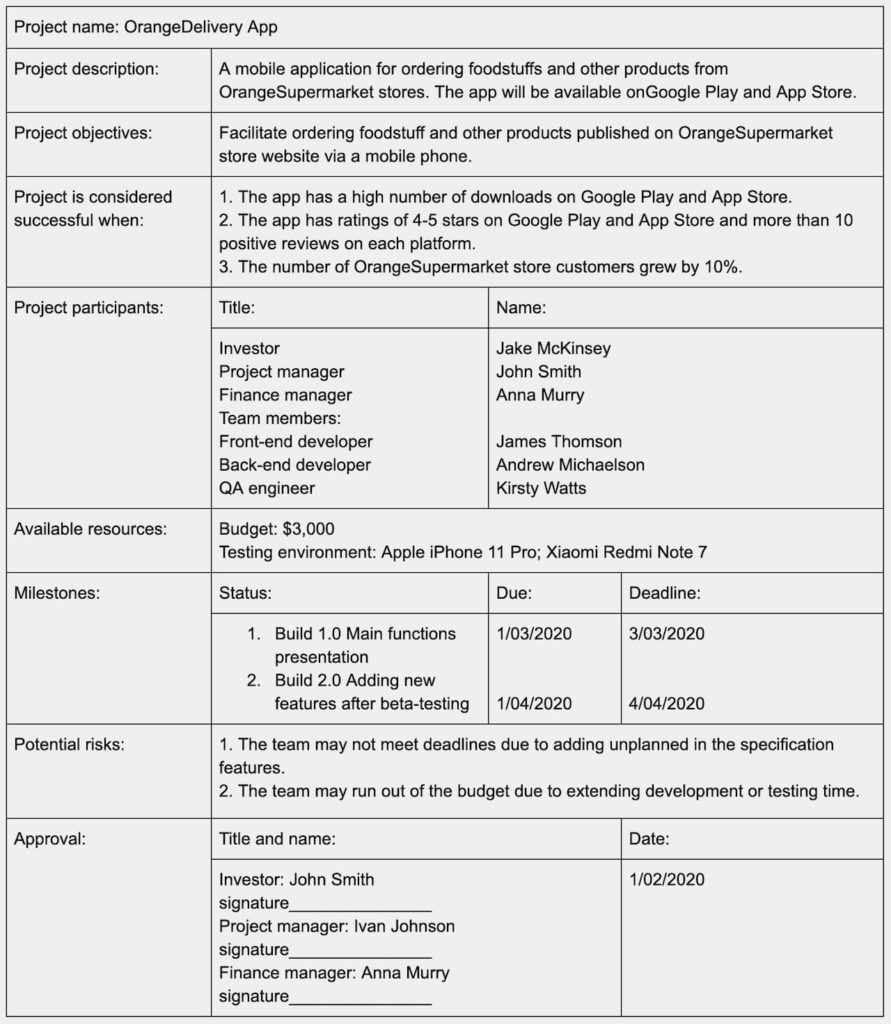 Project charter elements
A viable charter includes the following elements:
Introduction.
Where you state a project name, its brief outline or a project list, and its scope. Here you can also cover the project's goals, objectives, and requirements.
Project success.
Should define success/fail criteria and how to estimate them.
Project organization.
This should include a project's ideal team, stakeholders and customers, their roles, duties, and responsibilities.
Resources.
Should include the available budget, time, number of people involved in the project.
Schedule/milestones and deadlines.
Establish a timeline that contains a possible working schedule, approximate deadlines, planned starting and end dates of the project. Introduce major milestones for overall project reviews.
Potential risks.
Should contain the info on expected and possible problems the project may meet.
Approval section.
Should include the agreement of all the project participants, such as stakeholders, project investors, customers, and team.
Project charter benefits
There's no doubt that a charter is a vital document. It defines the basics (and sometimes a little more) that a team needs to get started. Here's why it's so essential to each group of stakeholders:
Helps to define the project's importance.
By estimating the needed resources, evaluating expected outcomes, and measuring possible risks, you can determine if a project is worth it.
Predicts possible problems.
When describing in detail a project before its start date, you can foresee the issues and bottlenecks you may face at different project stages.
Clarifies your budget.
Your charter should contain an approximate estimation of sums needed to start and develop a project. This way you can justify its investments and purposes to potential sponsors and participants.
Sets time limits and important milestones.
For your team, it's important to know the duration of the project, its main deadlines, and see its progress and success.
Boost your team's spirits.
If your team sees how the project will be developed by its success criteria, it encourages them to start working and keep going. They will have a clear vision of project stages and their outcomes.
Gives valuable insights to stakeholders.
They become aware of the short-term and long-term project goals. They then know what results to expect and when, how time and finances are allocated, and what resources are needed to achieve desirable outcomes.
How to Write a Project Charter
A quick video
This video gives you a quick overlook of how to create a project charter for your business.
Project charter template
There are a lot of variants of project charter examples you can download online. A quick Google search will give you tons of examples. Most of them follow the same basic structure.
Below is a free project charter template to get you started quickly. It's simple and allows you to adapt it to suit the needs of any project or task.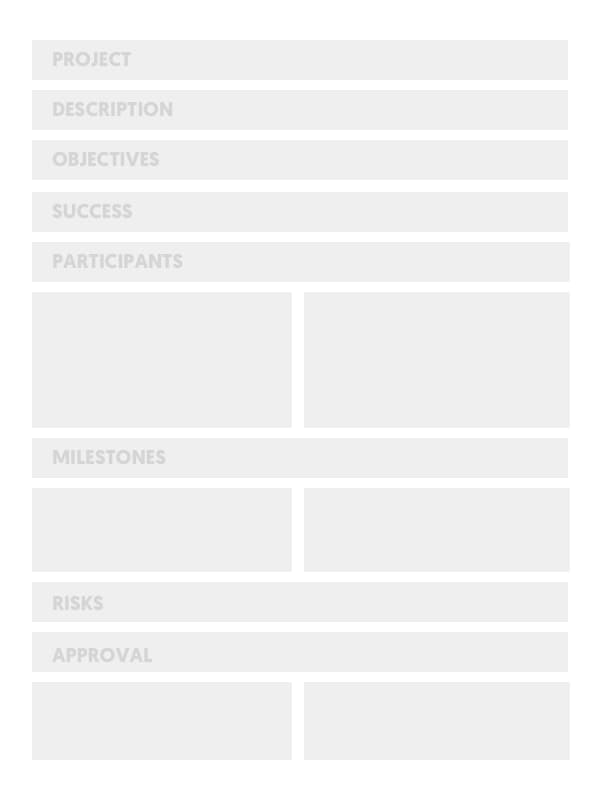 Project charter checklist
Just writing a charter and sending it via email is not enough to successfully implement one in your business. Make sure you use the following tips, techniques, and strategies to build, present and execute your next project charter!
Wrap Up
A project charter is an essential part of any project that helps articulate its purpose, estimate resources, and set clear objectives. This data shows a project's value and if it's worth starting it.
All participants will have their own benefits from a project charter. It shows what constraints a project team may have, determines resource limits, and leads the parties involved in general agreements on the project.
It can be used as an effective tool for project promotion. If you present your idea well, you can get massive support from the potential sponsors and your project team.