Most times, it's quite a struggle to get employees to log time. However, employee time tracking is a significant part of many businesses, with managers depending on it to generate accurate reports on time spent at work and progress on tasks. Without such a tool, employees can provide irregular information, especially with an app that does not cover the basics. Logging time may take some extra time, but it is important.
Many tools and apps help make the process easier for everyone involved. But Jira log work stands out, ensuring all your tracking and reporting efforts are worthwhile. You even get more benefits when you match Jira with the perfect integration.
---
Why Do You Need to Log Time in Jira?
Many tasks and projects are time-sensitive or time-bound. As a result, getting your employees onside with your expectations concerning delivery and timing is important. However, many employees feel logging time adds to already existing work pressures. While that may be true for some, logging and tracking time in Jira provides a seamless experience. Here are reasons why using Jira is a no-brainer.
Track your team It's normal for employees to complain about various interruptions during working hours, including logging time. Jira tracks time and makes the process easier for employees when they enable the time tracker before starting work. This way, nothing gets in the way of their job or task.
Increase productivity
Jira log work doesn't just handle timing and punctuality but also does its bit to boost productivity. It's not easy to measure efficiency when there's more than a fair amount of work to do. However, Jira helps you plan the day, organize your workload, and transparency, which increases productivity.
In addition, your organization benefits from the information, which helps you allocate the right resources and make the ideal decisions to move forward. That includes budgeting and general invoicing.
Integration and collaboration
The log work Jira software provides is a development tool to track and manage Jira projects. It doesn't end there because it also allows effective communication and collaboration with multiple outside parties. To this end, you can use the log from Jira to plan, assign, prioritize, and keep tabs on every project. Irrespective of the size and scope of your team, expect functionality when you log time in Jira.
---
---
How to Motivate Employees to Log Work in Jira
Logging work in Jira is simple, but many employees need to see the process' need or significance. For these reasons, motivating them to take advantage of the Jira work log is essential. Here's how you can do that:
When employees don't understand how to use a certain tool or software, they can lash out by not using it. That can affect your business, so it's best to explain why you have incorporated Jira into your system. Rather than victimizing anyone for not using Jira properly, appeal to their rational side with viable reasons why they need to log work in Jira, create reports, and use this helpful software to make their work easier.
A misconception that work log Jira takes time is largely unfounded. You can show employees how to see the current workflow and tasks in one place with just a few clicks. That's because, with Jira, everything is synchronized for easy flow. Moreover, employees get their workspace with their tasks and projects, which helps them log in and concentrate on what's in front of them.
Using Jira log time to produce a clear and updated report is important. Managers need a work hours tracker to understand how much time and effort employees dedicate to a specific project or type of work. Besides, tracking billable and non-billable hours is essential, especially if employees do more tasks that aren't billed.
Instead of invading employees' privacy, Jira helps them work better with schedules. They know when to start and stop and everything else in between.
Using a new tool like Jira can be stressful for employees who are not tech-savvy. Managers can help them go through every step of the process. It's more than just providing video tutorials. Give them a comfortable setting, reassurance, and enough space to personalize their experiences with Jira.
---
3 Best Tools for Jira
As Jira's popularity grows, it's even more important for businesses and organizations to get the perfect tools to use with this software. Here are three top choices you can count on:
Everhour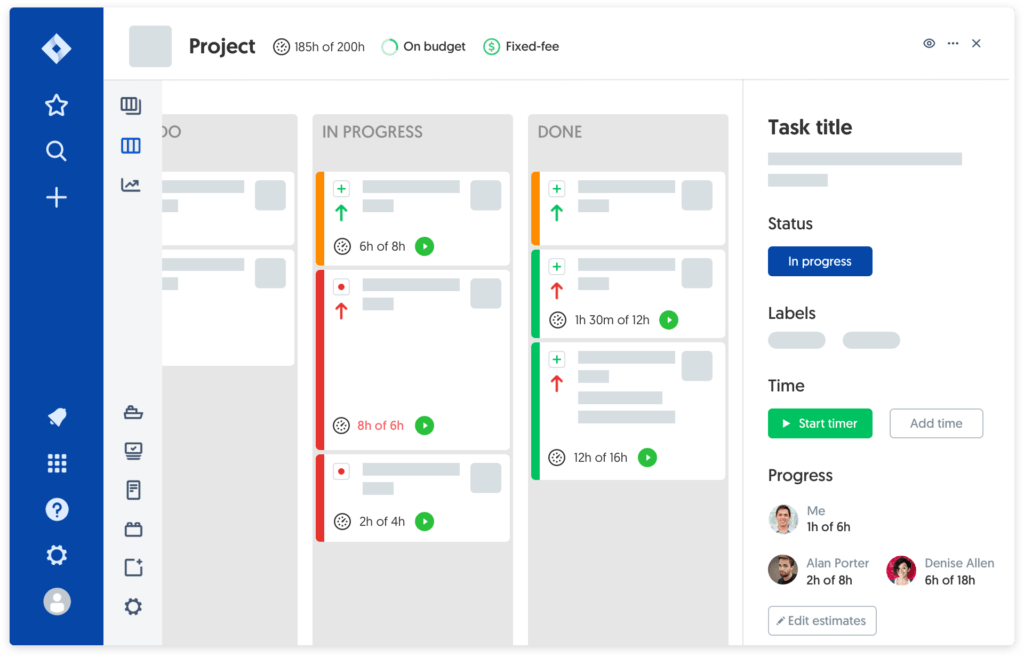 Like Jira, Everhour presents a simple and intuitive software designed to help businesses manage their projects and time-tracking needs. It is every bit as reliable and one of the best third-party tools you can integrate with Jira to achieve great results.
With its robust features, Everhour integrates with many team management systems, such as Asana, Trello, Basecamp, GitHub, and many more. If you want a tool that lets you add a streamlined quality to Jira, Everhour will do that for all your projects. You can manage your employees effectively, use Jira templates, delegate tasks, create reports, and track time. 
Key Features
Integrations: Everhour offers top-notch integration and syncing with a wide range of business tools and applications, including Jira. With an Everhour-Jira combo, you can now track time in the most efficient and user-friendly way.
Project Management: Everhour is the tool you need to complement Jira when you have different types of projects to handle. It helps you set up a unique customer and task management module that runs simultaneously. This way, you can monitor customer data live and figure out the best way to deal with any support request.
Comprehensive reporting: Robust reporting features are present in Everhour to help your team generate reports that meet specific or unique requirements. For example, your employees can create custom reports from collected data, format filters, and change the order of columns.
Time tracking: Everhour is a timesheet app you can use to track time on either the web app or an installed browser extension. However, they don't have any offline functionality, so you need the internet to get them to work. Combining it with Jira means you can track the start and progress of multiple projects and tasks run by your teams. Timelines and timestamps are additional ways to help you track time.
Invoicing: You can add detailed invoicing to the mix, especially for billable time and expenses while working for a client. It's possible to customize the invoice report feature to include how payment is made and the number of persons getting paid.
Pricing
Everhour has a three-tier pricing structure, depending on what your company needs.
Free plan: You don't pay for this plan, but it could provide the perfect opportunity to learn more about how Everhour suits Jira. It can take about five users and still give you access to the app and browser extension. However, all the features are limited on this level.
Lite plan: Things get more interesting with the Lite plan that goes for $6 per month per user or $5 per month per user for the yearly subscription. You will get more expansive features here, including more control over invoicing and time tracking.
Team plan: If you want more comprehensive features for your business, you have to pay $10 per month per user or $8.50 per month per user for the Team plan, paid annually. There's no limit on the features and capabilities of this plan.
---
---
Buddy Punch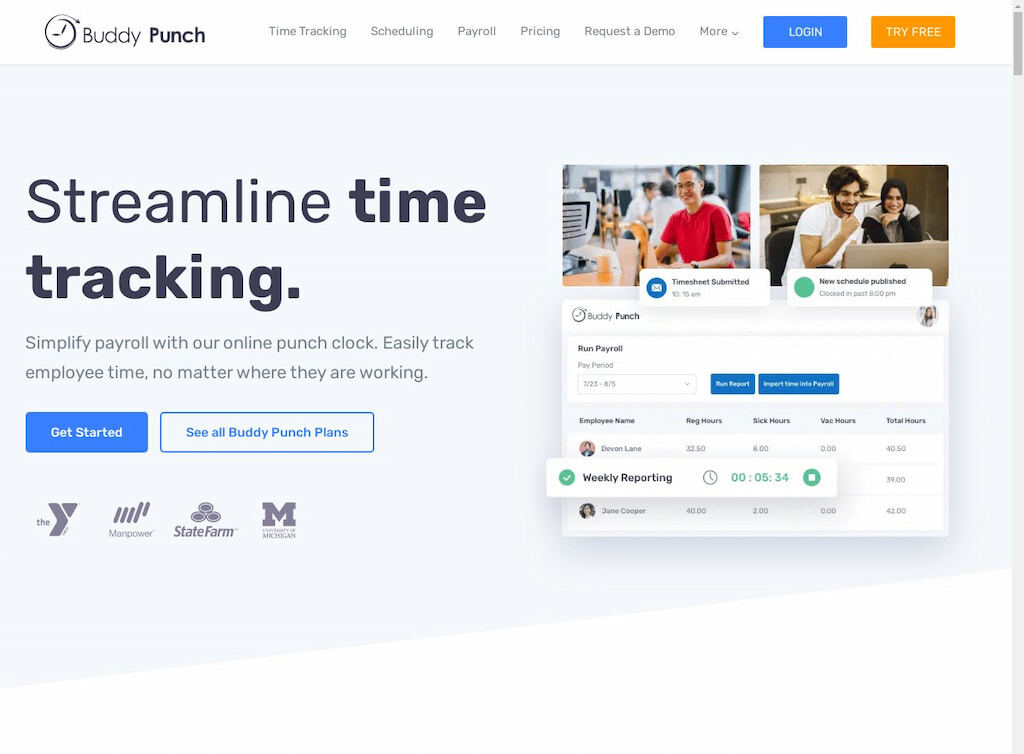 Buddy Punch offers something extra for employees when they think about how to log work in Jira. Your employees can use it to clock in and out at the click of a button, regardless of their location. With much of the world moving to remote-working systems, Buddy Punch is ideal for employee oversight. The intuitive dashboards make it easy to schedule time and view activities.
When combined with Jira, you won't have to worry about team members since you can monitor team productivity from miles away.
Key Features
Streamline timesheet data collection: When all the data you need is in a central location, it's easy to measure and utilize a wide range of employee performance data to make informed leadership decisions. This adds speed and flexibility to your workflow. Additionally, Buddy Punch automates this process, so there's no need to harass employees for the latest timesheet data.
Monitor overtime: Buddy Punch is a time clock app that gives you real-time insights into your employees' hours. You can use this tool with Jira to set up emails or mobile notifications when an employee is nearing their maximum for the day or week and adjust your schedule accordingly.
Reports: Sometimes, you need a bird's-eye-view of every aspect of some projects. With the reports feature on Buddy Punch, it's easy to use several different customizable reports to match your business needs. This tool comes with varied spreadsheet formats, such as the commonly used Excel and PDF export, which you can use to send out reports.
Pricing
It's worth noting that all the plans on Buddy Punch include a free trial. The plans are:
Standard plan: This plan suits any business, regardless of size. It's charged at $2.99 per user/month billed annually, including a $19 base fee per month. You get unlimited free administrations, mobile apps, alerts, reporting, payroll integrations, break planning, and multi-channel support on this plan.
Pro plan: On this plan, get ready to pay $3.99 per user/month, billed annually or $4.49 if billed monthly, and a base fee of $19 per month. You will get more features, including employee scheduling, schedule templates, notifications, availability management, and reporting on employee presence/absence.
---
DeskTime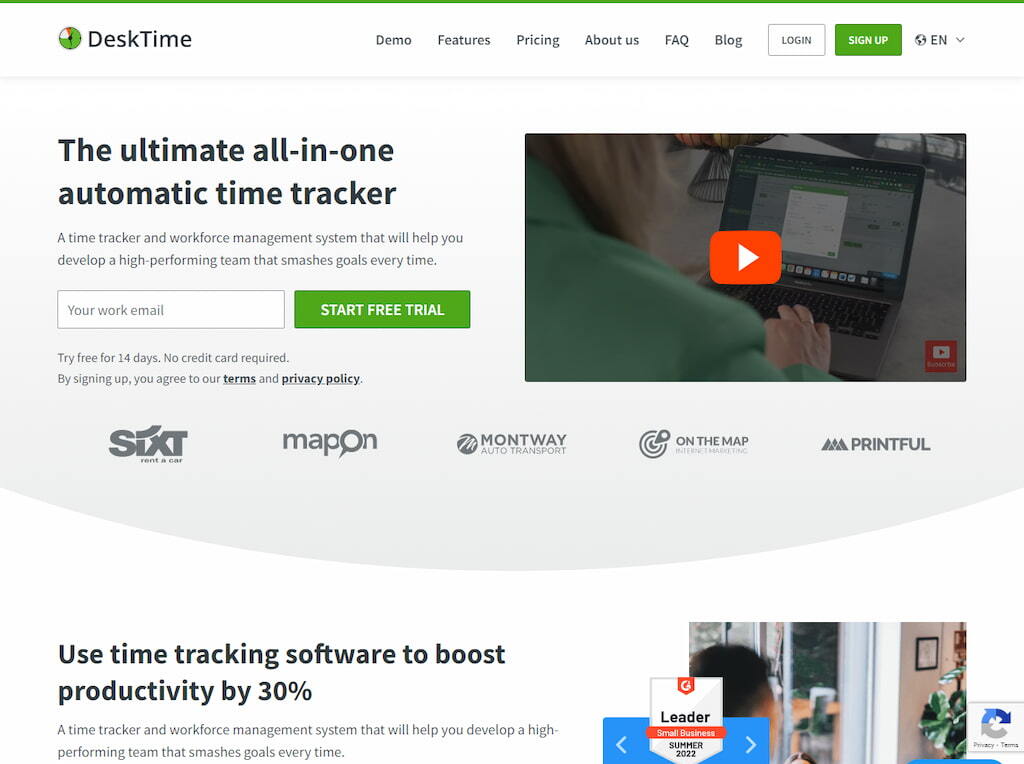 DeskTime is a user-friendly, intuitive, and interactive platform ideal for monitoring team's work hours. While it's great for smaller teams, big organizations could use its touch since it helps track time and manage operations. Also, you can use it on multiple devices, including mobile and PC.
Key Features
Automatic time tracking: Tracking time automatically boosts productivity and work management skills. That's because it's easier to manage tasks, especially if you have to repeat them daily. With that, team leads and their members can reach and achieve goals faster. DeskTime offers you control of your time, which is important.
As a tracker, you can combine DeskTime and Jira to document the amount of time spent on activities, tasks, and other projects throughout the day or at specific periods. It also helps you understand whether your team is productive and efficient daily.
"Can I log in when I work?" is a question many employees ask. But with the automation here, you can get on with your job while DeskTime takes care of the logging aspect.
Project time tracking: An entire team or group of employees might have to work on the same project. You don't need to be apprehensive about tracking the progress or the commitment levels of each member, thanks to DeskTime. It lets you see the total time spent on the project and individual contributions. Tracking time here also includes setting realistic deadlines and organizing team workflow, which helps you do the same for future projects.
Producing timely reports: DeskTime is the tool you want if you want to create detailed project reports within seconds. Doing so manually will take time, but with all the necessary information you need on the project, it's easy to accomplish. For example, you can have info on employee presence, absence, productivity, and total time spent on a project.
Pricing
As an attendance tracker tool that integrates well with Jira, DeskTime offers the following plans:
DeskTime lite: This lite plan is good for one user only. You will get automatic time tracking, URL and app tracking, the mobile app, and integrated web timer features. It is the free plan offered by DeskTime.
Pro plan: The pro plan has a free trial mode, but it costs $7 per user per month. You get basic features on this plan, such as automatic time tracking, productivity calculation, integrated web timer, ideal time tracking, and some user integrations.
Pro plus: At $10 per month per user, you get some quality features to add to those in the pro plan. They include automatic screenshots, shift scheduling, company integrations, booking, offline time approval, absence calendar, and IP restrictions.
Enterprise plan: By far the best plan on DeskTime, it costs $20 per user per month. The free trial gives you insight into how it works and how it combines with Jira. In addition to the plans and features above, expect personalized onboarding, unlimited projects, unlimited tasks, unlimited data history, and custom API functions.
---
Jira Work Log: Conclusion
Jira log work offers flexibility across different functions and projects. When you need to develop, organize, manage, and track projects, it's the go-to tool you can count on. Besides, it allows for effective collaboration and communication within teams and outside parties, should the need arise. Businesses can use it to set the ball rolling in their bid to support and satisfy customers.
If you want your team to achieve more goals with Jira, consider combining it with a tool like Everhour. Together, you can set values, manage your team, track performances, schedule time, deal with invoices, and generate reports. Moreover, Everhour and Jira are easy to use together. And with the right guidance from the management team, employees won't have issues working with these state-of-the-art tools.