In a time where the virtual work environment is rapidly replacing the office workspace, you need a digital hub – a software solution that holds your organization together while working remotely and allows you to build from a solid foundation.
Basecamp is such a tool, offering useful project management features and dozens upon dozens of integrations with third-party apps. The core functions of the software – to help streamline communications and collaboration between teams – are thus complemented by an array of extra features such as bookkeeping systems and reporting tools.
The focus of this guide will be on Basecamp time tracking integrations that allow you to effectively monitor productivity and performance in your company through the metric of time. Working in tandem with Basecamp, these tools ensure you don't need to switch tabs to add time-tracking to your virtual work environment. To save you the effort of researching the best Basecamp time tracking tools, take a look at our top 10 list.
---
⚡ Top 10 Time Tracking Integrations for Basecamp
Everhour
💰 Pricing: Free plan, Lite plan: $6/month (billed monthly), $5/month (billed yearly), Team plan: $10/month (billed monthly), $8.50/month (billed yearly)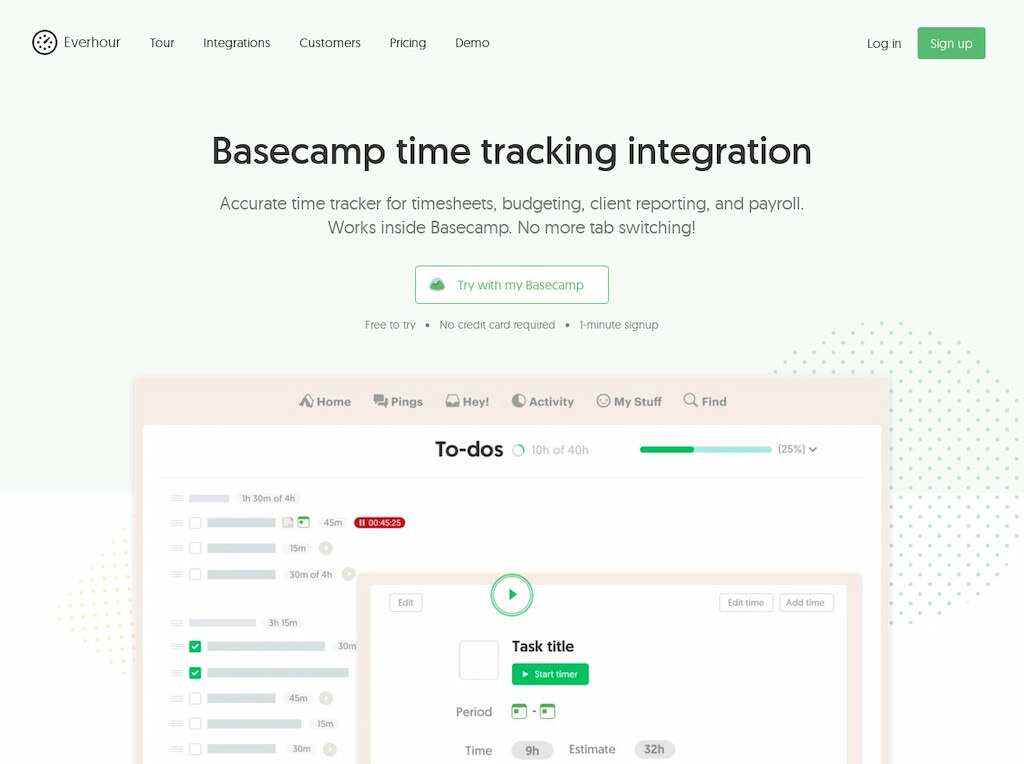 Everhour is a powerful work hours tracker that seamlessly integrates with Basecamp for headache-free time tracking. If you're concerned about adding more to your workload, Everhour is a good time tracker since it works in Basecamp so you don't need to switch tabs to use both.
You can also get off to a fast start with Everhour, doing away with cumbersome and time-consuming onboarding processes. Getting team members up to speed on the latest software can detract from their ability to focus on key work-related tasks, so why not choose an attendance tracker that automatically and instantly syncs with all your Basecamp projects?
Download Everhour, and you'll find the employee time tracking controls in the Basecamp interface ready to use straight away. From there, one click and the clock starts ticking.
Pull up the Everhour timesheet to monitor your minutes spent on work, and even add comments for your team members on related tasks. Add headers for every project, establish a budget to stay within, and see exactly how many hours have been dedicated to it.
You also have the choice to track time either manually or using Everhour's timer. That way you're not restricted to a single time-tracking method and can enjoy the flexibility of logging time in the way that works best for you and your team. What does Everhour have to offer aside from time tracking?
When you download this Basecamp time tracking integration, you'll gain access to project budgeting features. That means you'll be able to estimate and project billable and non-billable hours for each employee, making sure every minute worked is a minute paid on payday.
Finally, there's custom report creation which empowers you to create individualized reports according to the latest time data you collect. From these reports, you can glean useful insights into individual and team productivity levels, and make informed decisions on the basis of accurate information.
Tick
💰 Pricing: Free (1 project), $19/month (10 projects), $49/month (30 projects), $79/month (60 projects), $149/month (unlimited)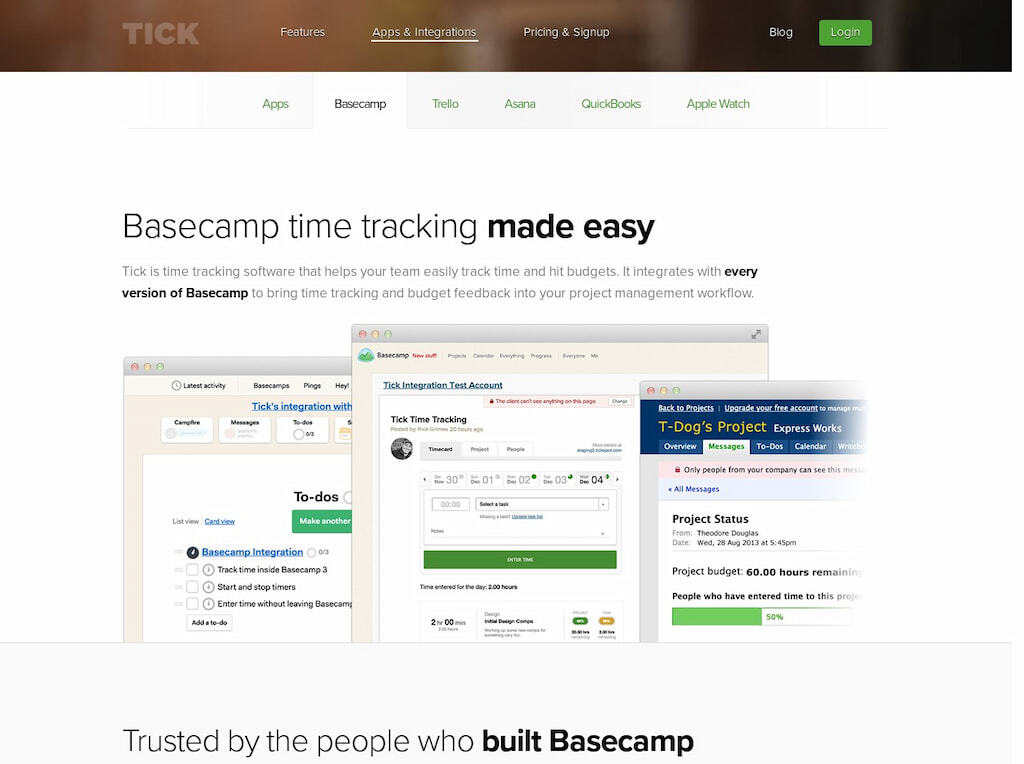 Tick is a time clock app that helps you keep a finger on the pulse of your team's output. The third-party Chrome extension allows you to enter your time data quickly and easily within the Basecamp interface.
You can import all of your projects and tasks, then use Tick's timers to clock the hours you spend engaged in work-related activities. While manual time entry may feel like a chore to some, Tick forces you to think consciously about how much time you're spending on different tasks and as a result generates highly accurate time reports.
By clocking in via the project, task, or to-do card you're currently working on, you and your team will have a detailed overview of how much time you've put into all of your work responsibilities. This allows for a granular analysis, and if necessary, a discussion as to how you can reallocate time to get even better results in future.
You can run several timers at once, too, and since they're manual you can hit the pause button whenever you take a bathroom break or head out for lunch so as not to distort the time data and create a misleading account of how you spent your work hours.
Timely
💰 Pricing: Starter ($10/month – monthly, $8/month – yearly); Premium ($18/month – monthly, $14/month – yearly); Unlimited ($26/month – monthly, $20/month – yearly); Unlimited+ (Custom)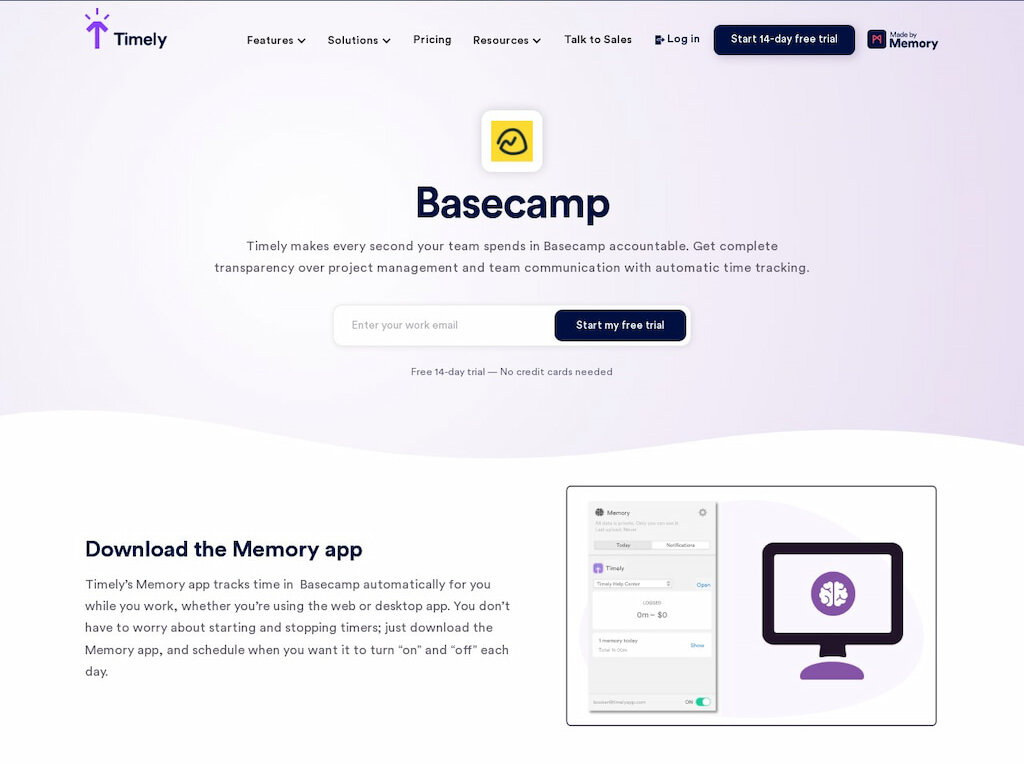 Timely's Memory app works with Basecamp to automatically track your work time, either through the website or the desktop app. To make the most of the time and attendance tracker, you simply have to determine when you want the app to be on or off throughout the day, and it'll take care of the rest.
The genius of Timely is that it will create a private daily timeline for each user on a daily basis. That means you and each one of your team members will have your own 'memory' timeline with a series of timestamps that indicate when you performed certain tasks. For example, your timeline will pick up on when you used Gmail to send an email or when you logged into Slack to send a message to your team.
Then, you can use Timely's chart builder to create detailed time reports which you and your superior can then go over to analyze performance and potential areas for improvement. The reports will show you where most of your time is going, and highlight which projects have been most time-consuming.
Timesheetr
💰 Pricing: 3 people – $15/month, 5 people – $25/month, 10 people – $50/month, 15 people – $75/month, 20 people – $100/month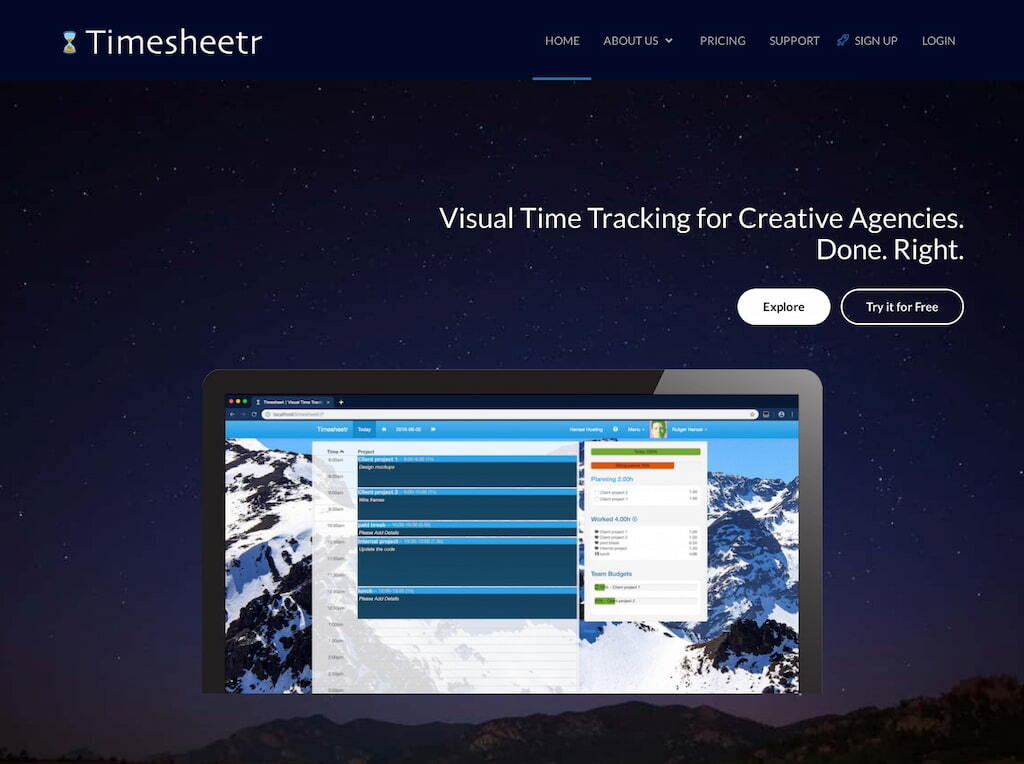 Timesheetr adopts a visual approach to employee time tracking, so you can paint a picture of your day's productivity rather than apply rigorous science to stressing over every last minute.
The app is loosely based on the concept of time blocking – you carve out 15-30 minute time brackets, and track your efforts that way rather than focusing on manually clocking in and out throughout the day.
Chunking your time this way can help you break your day down into digestible chunks, and allow you to focus on the task at hand giving it your all for the allocated amount of time.
How does it work with Basecamp? Timesheetr integrates with every Basecamp version and allows you to synchronize all of your projects for every user. That way, you can apply the time tracker's unique time blocking system to track progress across your Basecamp tasks and projects.
PomoDoneApp
💰 Pricing: Free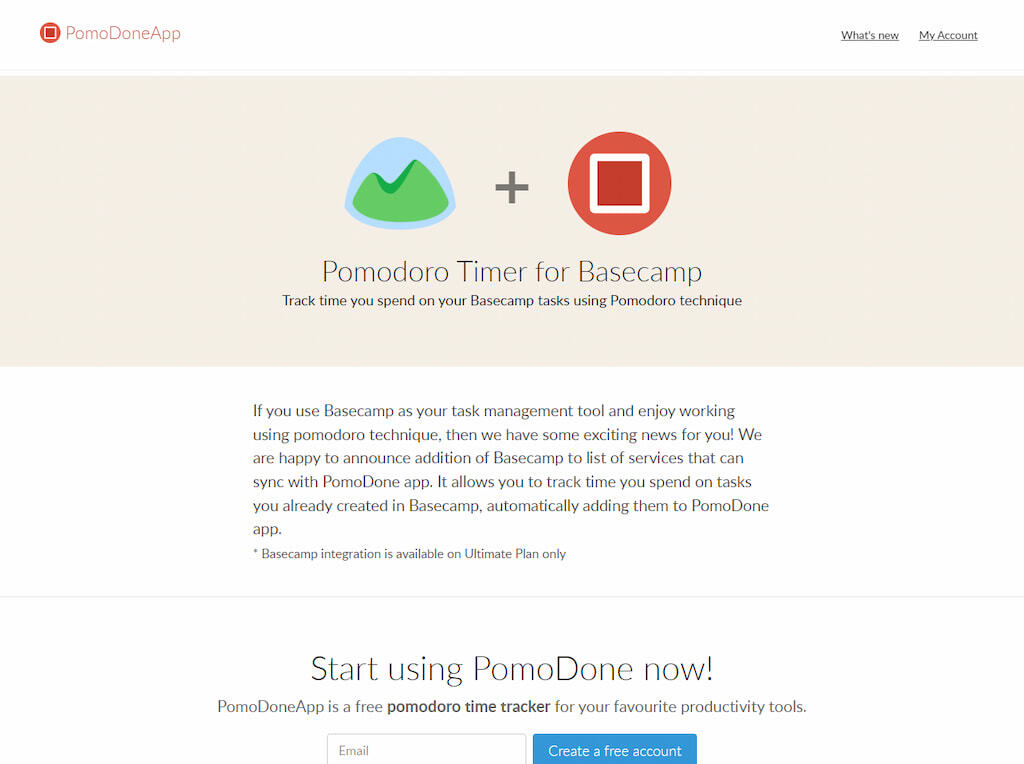 The Pomodoro method is a time management technique. The idea behind it is simple: allot an amount of time for working, and for taking a break. Continue with the cycle, going from deep focus to relaxation, so you can produce your best work consistently.
The PomoDoneApp takes this premise and applies it to work time management, through integration with software solutions like Basecamp.
The Chrome extension will allow you to apply the Pomodoro technique to your existing workload in Basecamp, so you and your team can make the most out of every minute.
Timeneye
💰 Pricing: All-in-one: $7/month (billed monthly), $6/month (billed yearly)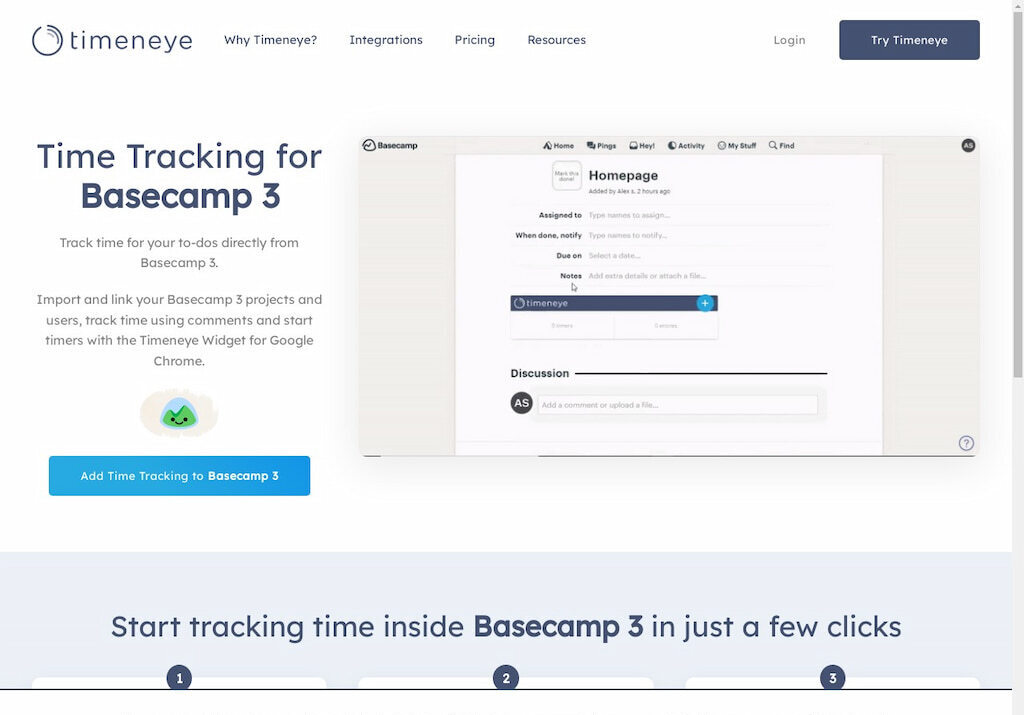 Timeneye is a time tracking integration that lets you monitor time you spend on various tasks and projects by adding comments or starting timers. The Google Chrome extension connects with your Basecamp account and allows you to import all of your projects.
The software works with Basecamp to-dos, so you can work your way through your priorities while keeping tabs on how much time each project takes.
Timeneye offers both an automatic and manual system for tracking time, so you can choose whichever method works best for you and your team. You can also check out our article on Timeneye vs Everhour.
Noko Time Tracking
💰 Pricing: Team ($49/month), Organization ($199/month), Enterprise ($499/month)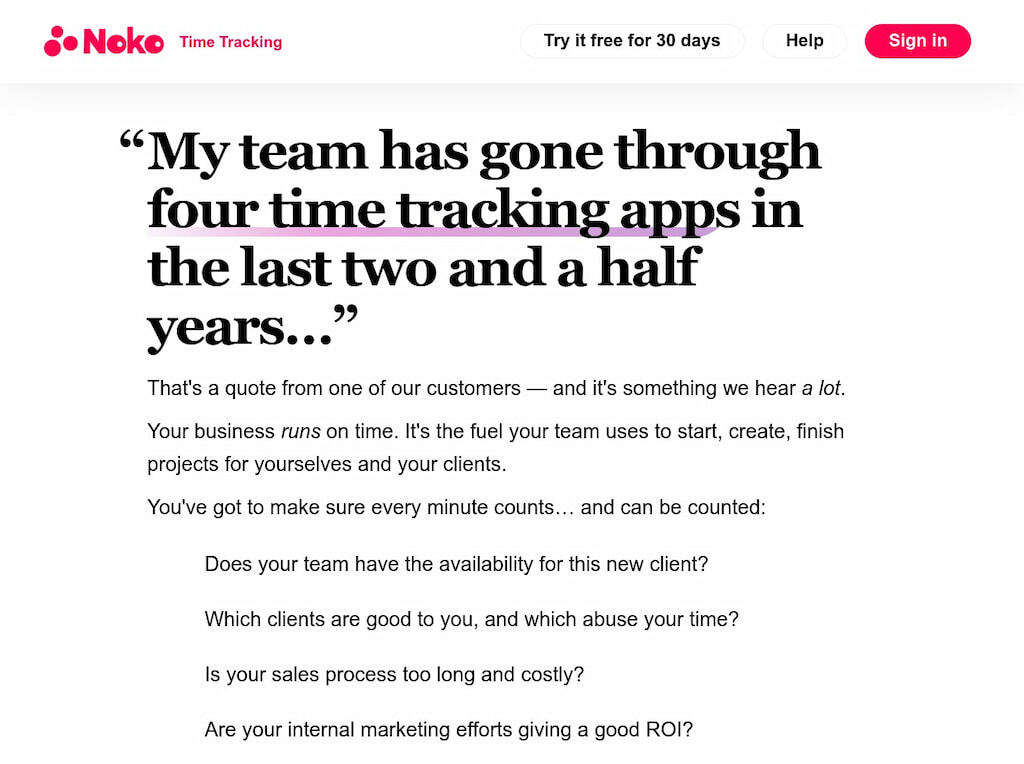 Noko Time Tracking allows you to sync all your projects from Basecamp, so you can wrestle back control of your company time. With hourly backups, high-level SSL security, and more, this is an app that takes time seriously and takes measures to ensure your company time is protected, not wasted.
Apart from basic time tracking, the Noko app allows you to create detailed time reports and weekly timesheets that you can use to build a clear picture of how your team, or company, uses work hours.
You can track non-billable hours too, so it isn't just time spent engaged in work-related activities that you'll have a better handle on.
TrackingTime
💰 Pricing: Free plan, Pro ($5/month – billed yearly)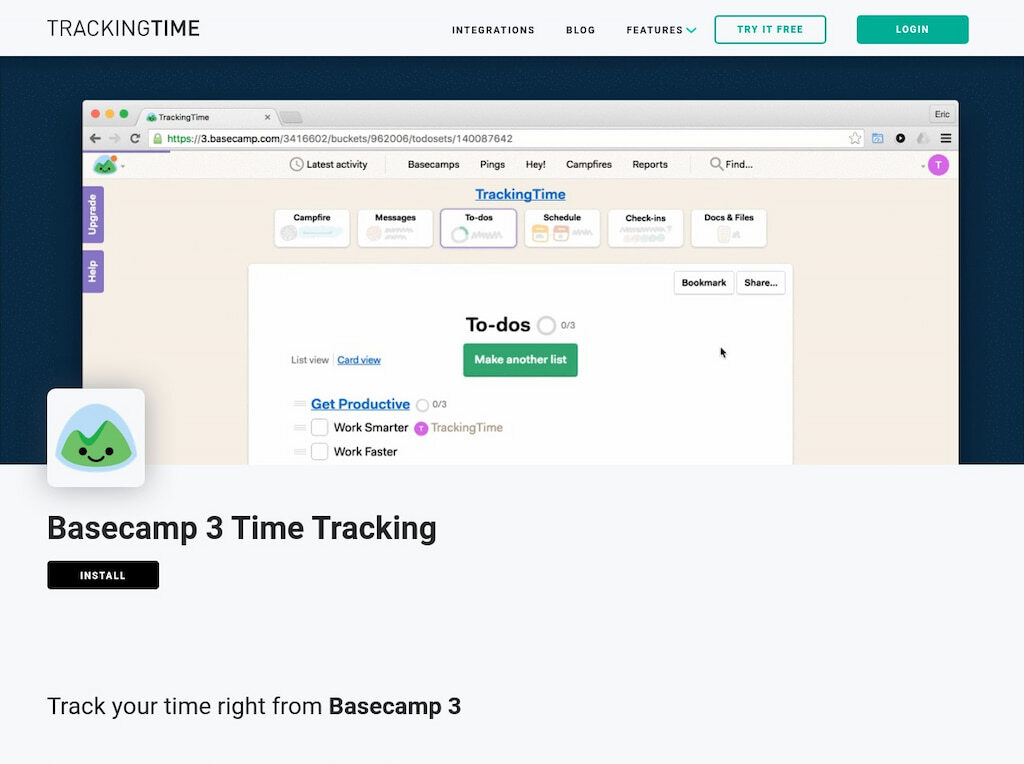 TrackingTime is an online timesheet app that allows you to track your Basecamp projects using either the Chrome or Firefox extension. The software adds an online timesheet to your Basecamp interface, so you can manually clock in and clock out as you go through your work day.
As a team leader, you can add and edit time entries on behalf of your team in TrackingTime. This empowers you to track your team projects from start to finish. As such, there can be less reliance on each team member to clock their own time, which may lead to more reliable time data for certain projects.
Other features include the option to track either billable or non-billable hours, a work schedule organizer for assigning shifts to team members, and timesheet audits which ensures your data is 100% accurate before you present it for payroll.
Zrix Time Tracking
💰 Pricing: $1/month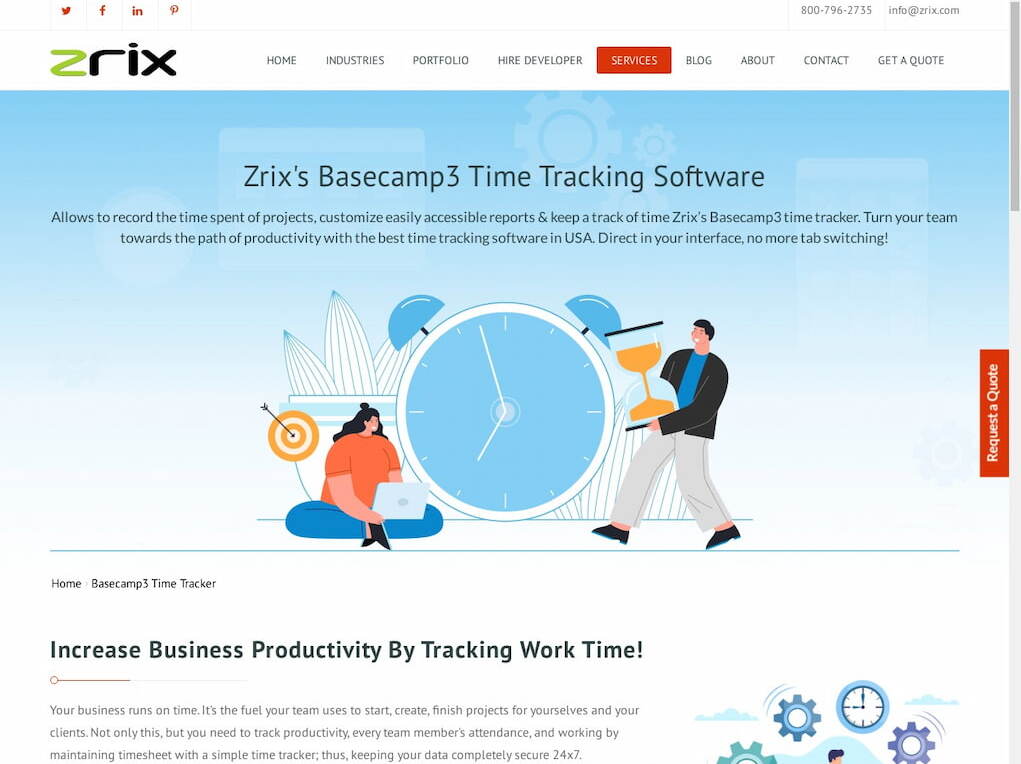 The Zrix Time Tracking tool brings a host of time-related features to your Basecamp digital hub. With it, you can record the time you spend on tasks and projects, create comprehensive customized reports, and do it all within Basecamp.
The app's timer log allows you to keep a record of how much time each team member spends on both activities that include billable hours and those that are made up of non-billable hours.
You can then take that time data and transform it into detailed reports that provide you with an easy way to analyze performance and productivity. Once you've drawn the reports up, you can download them as CSV, PDF, or Excel files depending on which format works best for your business.
TeamTime App
💰 Pricing: Contact TeamTime for information about pricing plans.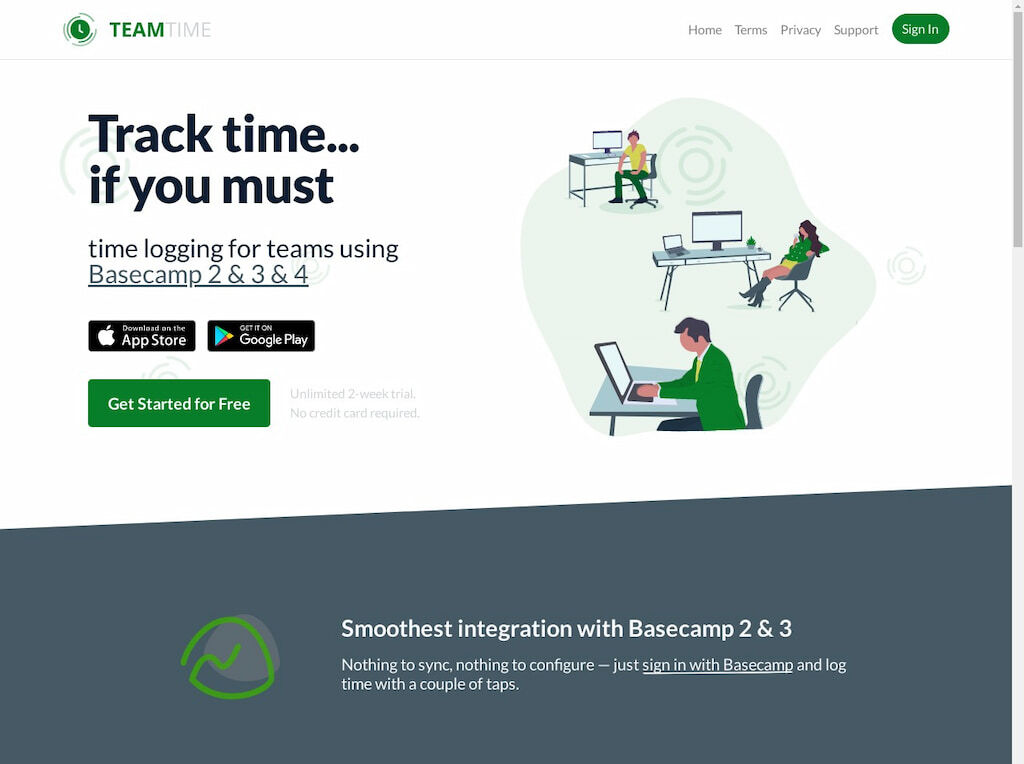 The TeamTime App, the last Basecamp work hours tracker to make our top ten list, allows you to manually create and edit time logs for your projects. As such, if you accidentally track the time when you weren't engaged in work-related activities, you can make corrections after.
The time tracking display of the app is divided up into three categories:
Time log
My totals
Team totals
The time log presents the raw time data and allows you to go in and edit individual time logs. The 'my totals' column lets you know exactly how much time you spent on projects for the entire day, week, month, or year, and for each project type.
Finally, the 'team totals' column lets your team leader check in on the team's progress and performance with an overview of time spent by all team members combined.
👍 Conclusion
Basecamp is a comprehensive digital hub that you can use to manage your projects, streamline workflows, and upgrade communications systems. When used with a time tracker, though, it becomes so much more.
Time Tracker
Features
Reporting
Price
Everhour
Timesheets
Billable and non-billable hour tracking
In-app controls
Automatic and manual timers
Total time spent per project
Live dashboard
Member profile
$0 – $10/mo
Tick
Manual time entry for tasks, projects, and to-do cards
Activate several timers at once
Timesheet reporting
$0-149/month
Timely
Automatically track time
Private daily timeline for each user
Chart builder for time reports
$8-26/month
Timesheetr
Time block tracking
Smart billing with FreshBooks
Chart time reports
$15-100/month
PomoDoneApp
Customizable pomodoro time management
Time logs
Free
Timeneye
Automatic and manual timers
Add comments on tasks and to-dos
Visual time reports
$6-7/month
Noko time tracking
Track billable and non-billable hours
Hourly backups and SSL security
Timesheets
$49-499/month
TrackingTime
Manual time entry and editing
Track billable and non-billable hours
Timesheets and audits
$0-5/month
Zrix time tracking
Time log
Customizable reports
Download as CSV, PDF, or Excel files
$1/month
TeamTime App
Manual time entry and editing
Time log divided into 'my totals' and 'team totals'
Custom
The time data you can gather using Basecamp integrations can help you build a clear picture of how your team and each individual member are performing against expectations. At a glance, you'll be able to draw insights into where company time is being spent, so you can manage your resources in a way that leads to better results every month. And if that's not enough for you, you can check out Basecamp alternatives that provide a more wholesome time tracking experience.