A digital time tracker offers a tremendous amount of benefits to the modern-day business landscape by helping managers and business owners automate the tracking of employee productivity, produce accurate invoices for their clients, and more time-consuming tasks.
In this article, we will be reviewing and putting head to head two of the most popular time tracking sotware on the market – Timeneye vs Everhour. Without further ado, let's break them down and see what each of the two software has to offer.
🔵 Timeneye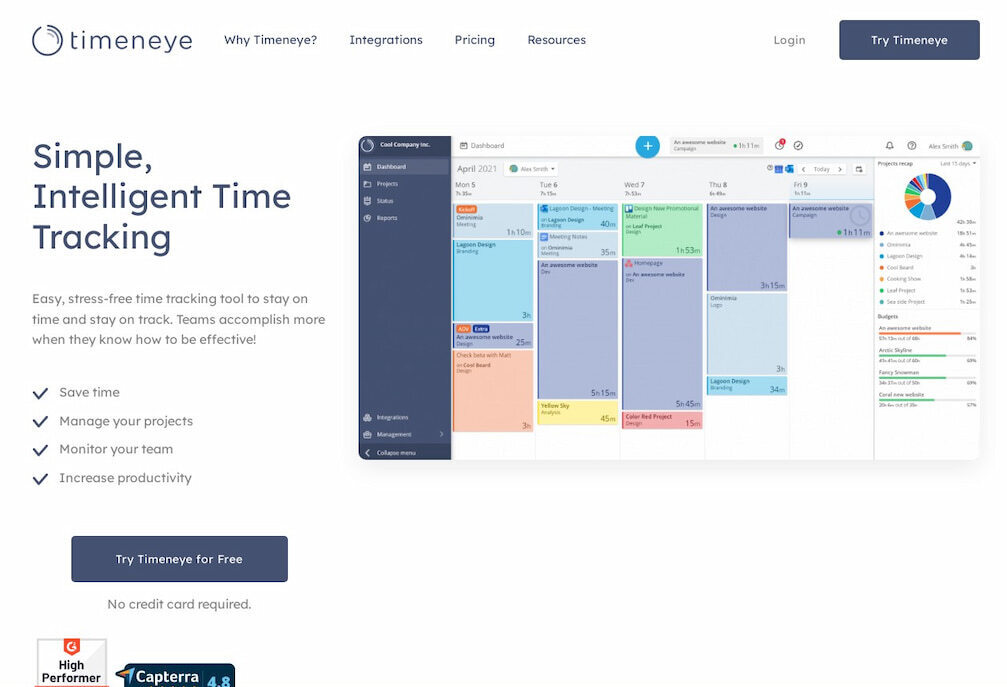 Founded in 2013, the Timeneye app has become one of the market's leading time tracking tools. It is great for managing both small and medium-sized teams ranging in size between 1 and 100 members. It's a fantastic tool that allows for flexible and accurate time tracking while making sure that you and your team are always on schedule and are working within the budget. That being said, let's take a look at some of the core features of Timeneye.
⏰ Time tracking
Time tracking is the main highlight of this app. The Timeneye time tracking feature works really well but one of the things that really stands out is its simplicity and ease of use. From the Timeneye login process down to actually tracking the time it takes to accomplish specific tasks, everything is made super easy.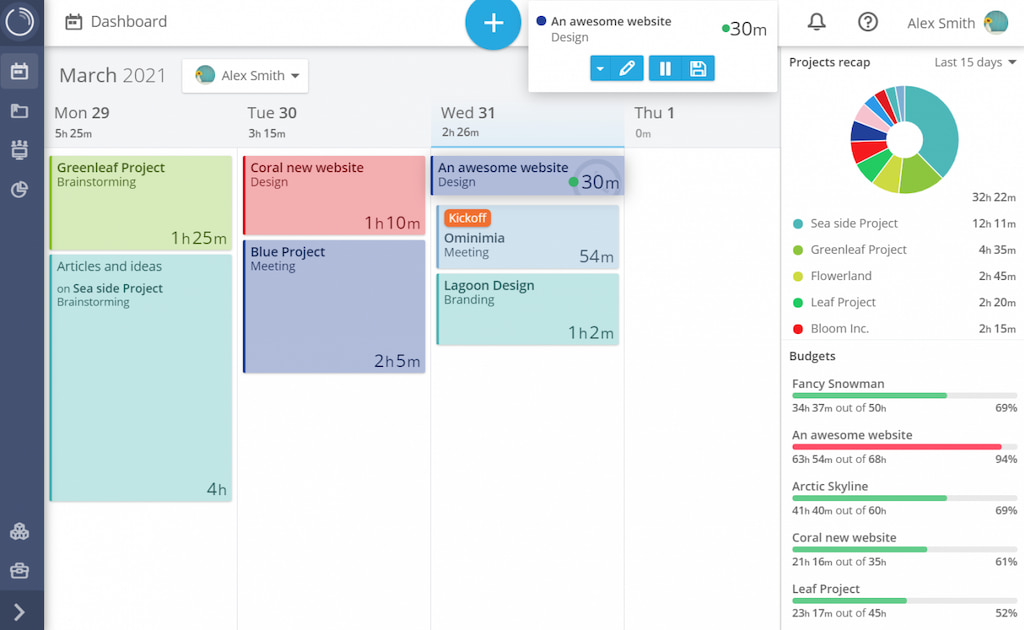 To track time, all you need to do is click the time tracking button and you can begin working. You can add task descriptions, track different tasks, and even get a detailed visualization and summary of how you or your team members have used their time.
🏓 Task management
While Timeneye and its features are mostly designed for larger teams, individuals such as solopreneurs or freelancers can also make use of the software to track how long it takes them to complete certain tasks, bill clients accordingly, and more.
While doing in-depth research on Timeneye, we found that the task management features were few and far between. Despite that, the couple of task management features that are available are just about enough to handle the basic needs of a small or medium-sized team.
💸 Billing & invoicing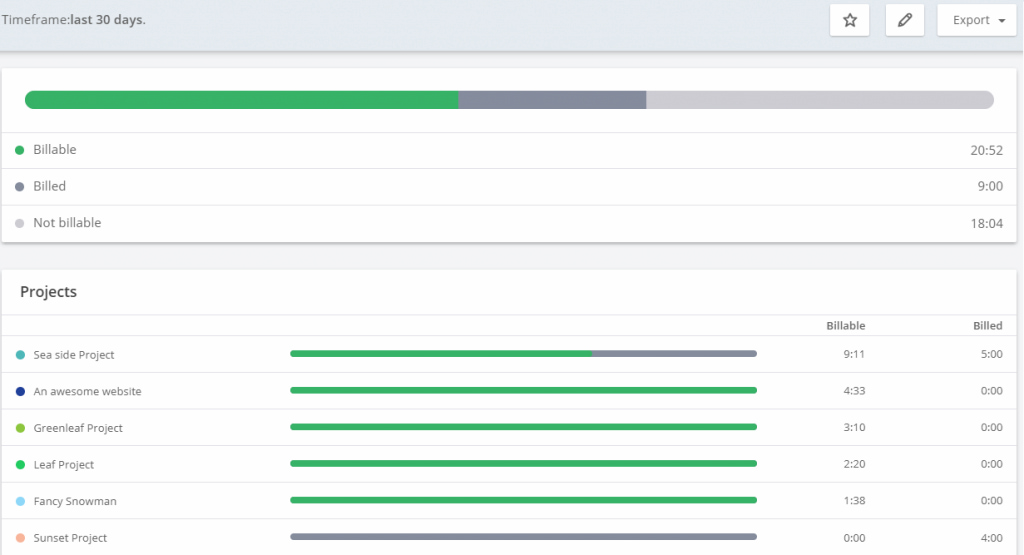 Another advantage of Timeneye is that you can create subsections for different clients. This way, you can easily and accurately track just how much time you and your team have spent working for a certain client, which makes accurate billing much less of a hassle. Additionally, you can export all the files with the summaries into a PDF, which you can then send to the client for payment.
📃 Reporting
With Timeneye, you can create detailed and comprehensive reports that can give you key insights into your business operations. The biggest benefit of this is that it makes planning much easier. With its great report feature, you can determine where you need to scale back, which operations need to improve, and which teams are performing the best.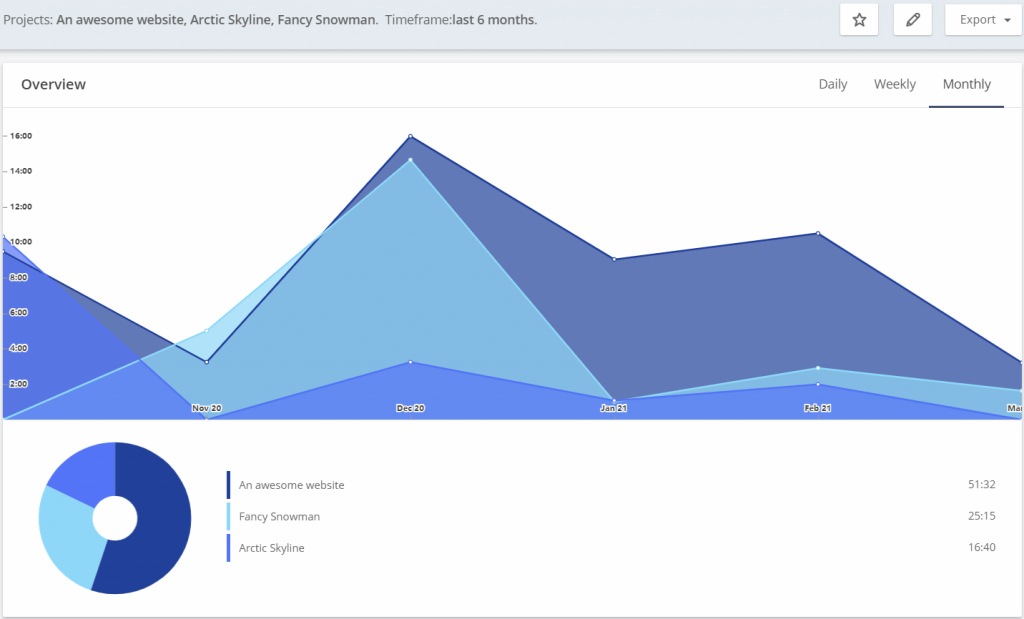 That being said, the reporting feature of Timeneye is very easy to use, which is a great relief as you and your team won't need much time to get used to the software.
🔧 Integrations
One of the USPs of Timeneye is its ability to integrate with other applications. The Timeneye app integration with other tools and applications is very easy and super effective.
As mentioned earlier, we found that there was a lack of task management features on Timeneye. However, since this app integrates with other platforms like ClickUp extremely well, you can easily do your task management on third-party software. Other apps that can easily integrate with Timeneye include GoogleDocs, GoogleWorkspace, Asana, Gmail, GitLab, GitHub, Microsoft Teams, and a whole lot more.
📊 Project management
Project management is at the heart of Timeneye. The Project Status section inside Timeneye allows you to see an overview of the project you and the team are currently working on from a birdseye which is great as you can quickly see if everything is going well before digging into the details.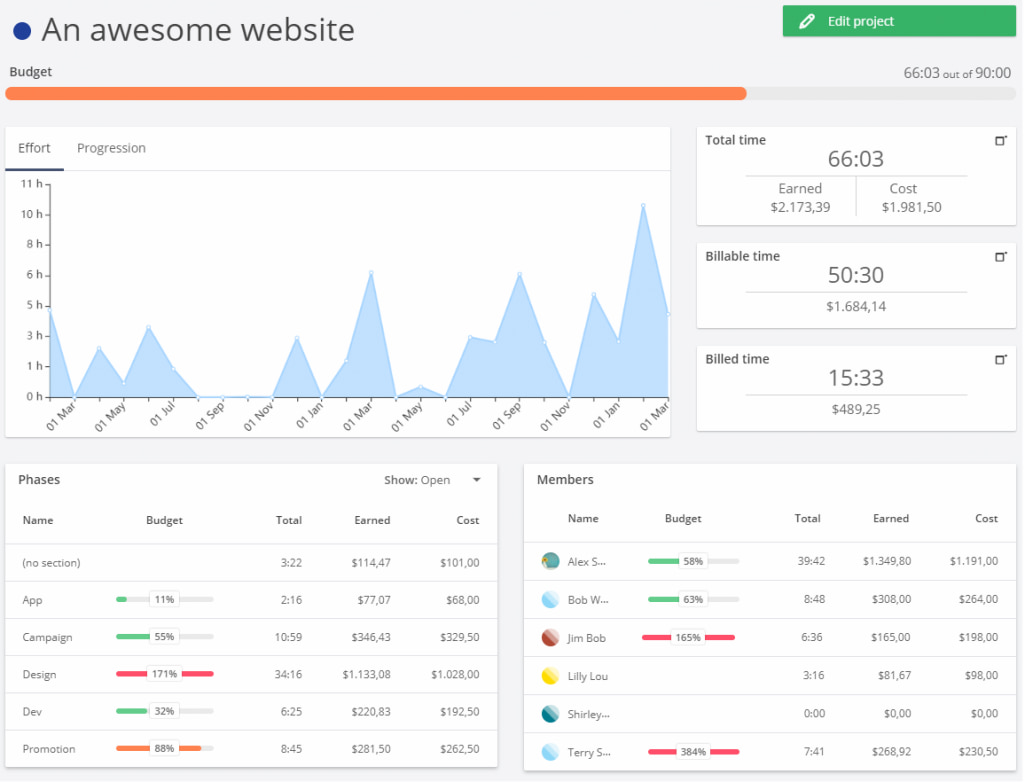 For instance, you can set a per-project budget with your team member's hourly rates and costs and make sure that it is adhered to by your team. That way, you can ensure you finish the project at hand and come out profitable.
Timeneye also makes it very easy to understand if your team is spending far too much time on a single task and gives you the time to make improvements before you run out of budget prematurely.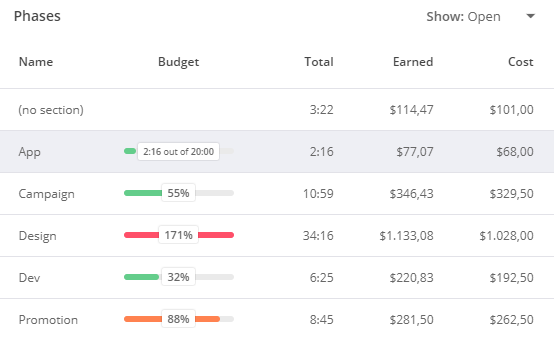 Another cool aspect of this feature is that it sends you a weekly email recap of the project you and your team are working on. This allows you to keep track of progress on the go.
💰 Pricing
The Timeneye pricing is definitely on the cheaper side when it comes to time-tracking software, especially when you go for the annual payment option. If you opt for the yearly membership, you pay $72, or $6 a month per user. However, you can also opt for monthly payments, which will cost you $7 per month per user.
This isn't that expensive, which is a huge plus considering all the features of this time tracking tool. In our opinion, you definitely get your money's worth with Timeneye.
✅❌ Timeneye pros & cons
Pros:
– Has a 14-day free trial
– Very affordable
– Great and simple time tracking feature
– Ideal for project management
– Can easily integrate with many vital third-party tools and software
Cons:
– Doesn't offer job reports
– The task management features could be better
🟢 Everhour
Everhour is another time tracking tool that's taking the world by storm. Its Chrome time tracking allows you to estimate the time it takes to complete projects, create invoices, get key project insights, and you can export the files to send to other team members or to send to clients. It's easy to see why the Everhour app is slowly growing into one of the most popular options on the market.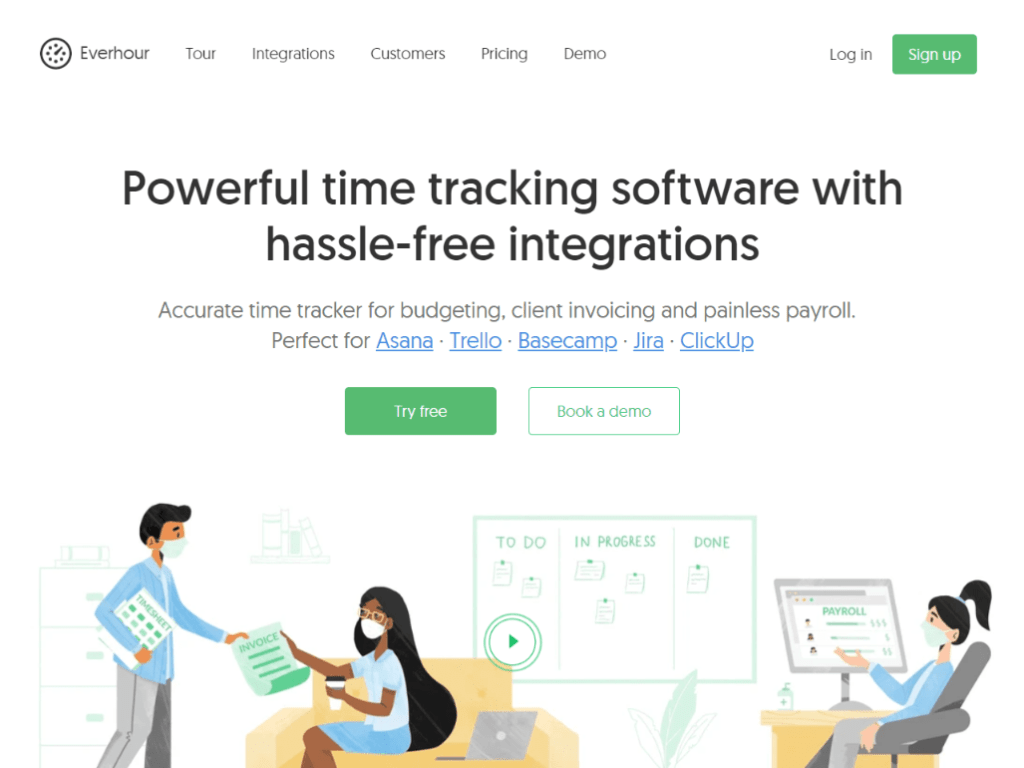 But we need to get a clearer picture. After all, every time tracking tool offers its own set of pros and cons that every project manager should be aware of before opting into one of these apps. So, let's take a look at some of the key features of Timeneye and how it performs next to the competition.
⏰ Time tracking
The Everhour time tracking feature works exceptionally well for both managers and members alike. This is because you can set your tasks, use the time clock app (or set the time yourself manually), input the estimated time to complete a task, and get to work and get your employee time tracking started.
You and your team also have the flexibility to track billable and non-billable time in various different ways including through the project management app, from the Everhour website, or via the time tracking extension.
From there, the app will send you notifications when you're running behind schedule that reminds you to pick up the pace. Additionally, the managers can use the Everhour timesheet app, which gives a report on workers' performance, allowing managers to pinpoint areas of improvement and more.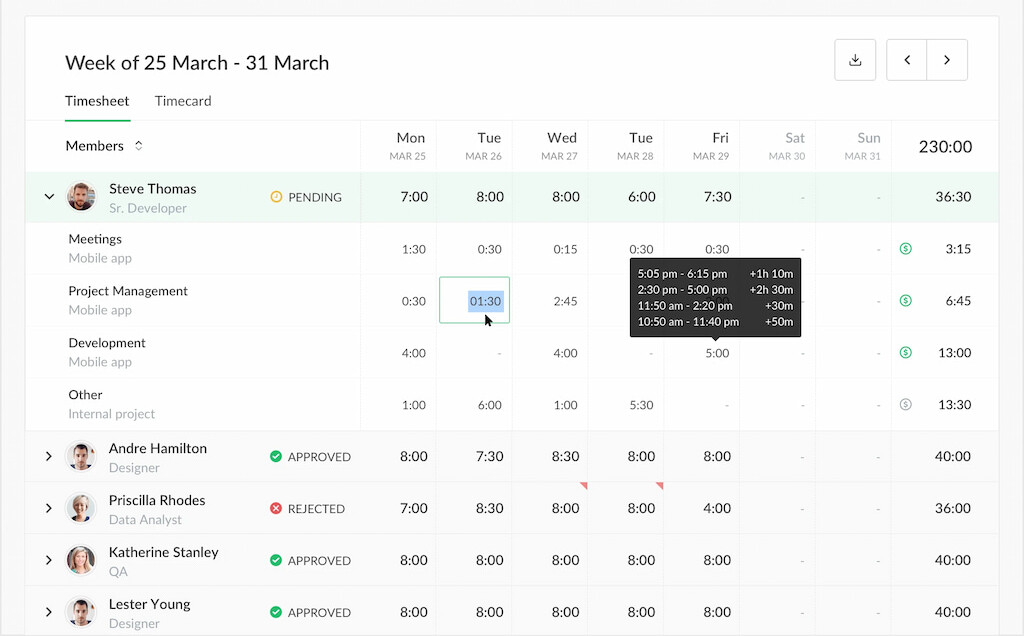 Another benefit of Everhour's time and attendance software for project managers is that it can track employee time off, and take notice of employees who are on vacation or are off sick. As the project manager, you can create time off events in the schedule and allow members to request time off as per their needs.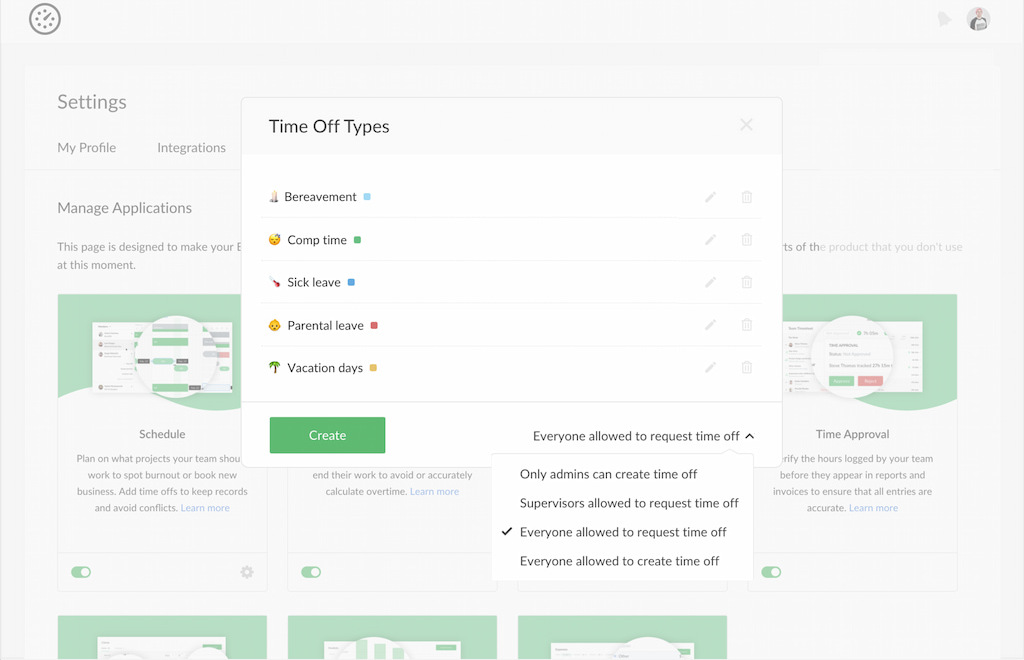 🏓 Task management
Task management is a breeze with Everhour, which is why there are tons of professionals who use the tool in their day-to-day activities. Using Everhour, managers can create new tasks, assign them, set deadlines, and make sure everyone is on the same page. This reduces waste in the workplace and can help ensure that everyone is doing their job properly.
Additionally, you can add as many details as needed to certain tasks through sections and tags. This helps keep things much more organized and allows for a much simpler process overall.
💸 Billing & invoicing
Charging your clients with 100% accuracy is extremely hard. Collating all the data with the billable hours and all the other details needed to include in the invoice – that alone can turn into a pretty time-consuming task. Fortunately, Everhour can do all of that for you in just a few clicks.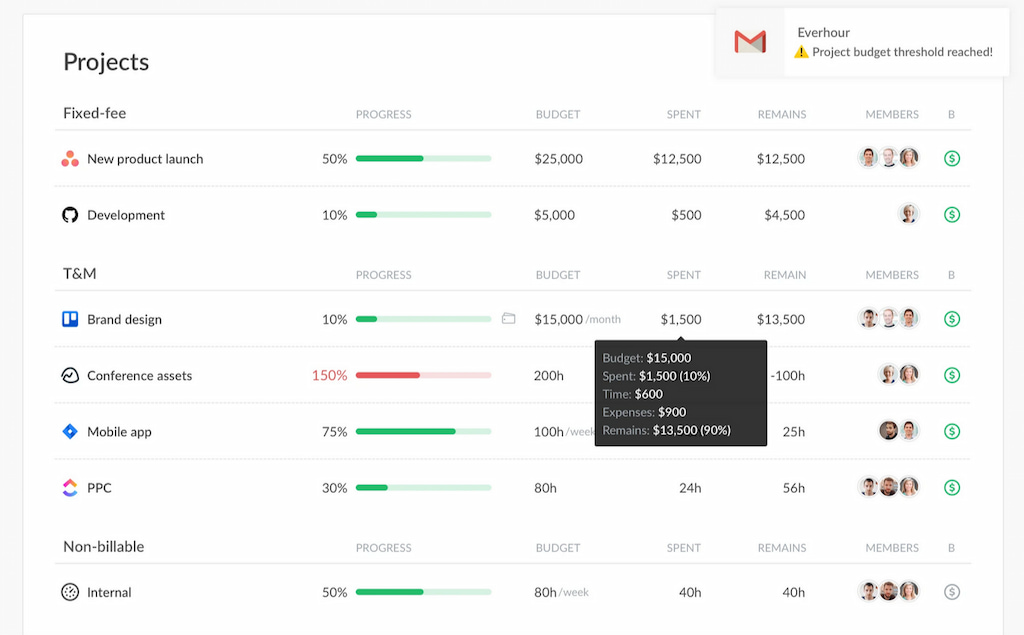 You can also set dynamic variables when creating invoices which makes it much easier to create invoices for all the different clients you have. This offers a whole lot of convenience for companies, especially when dealing with numerous clients.
📃 Reporting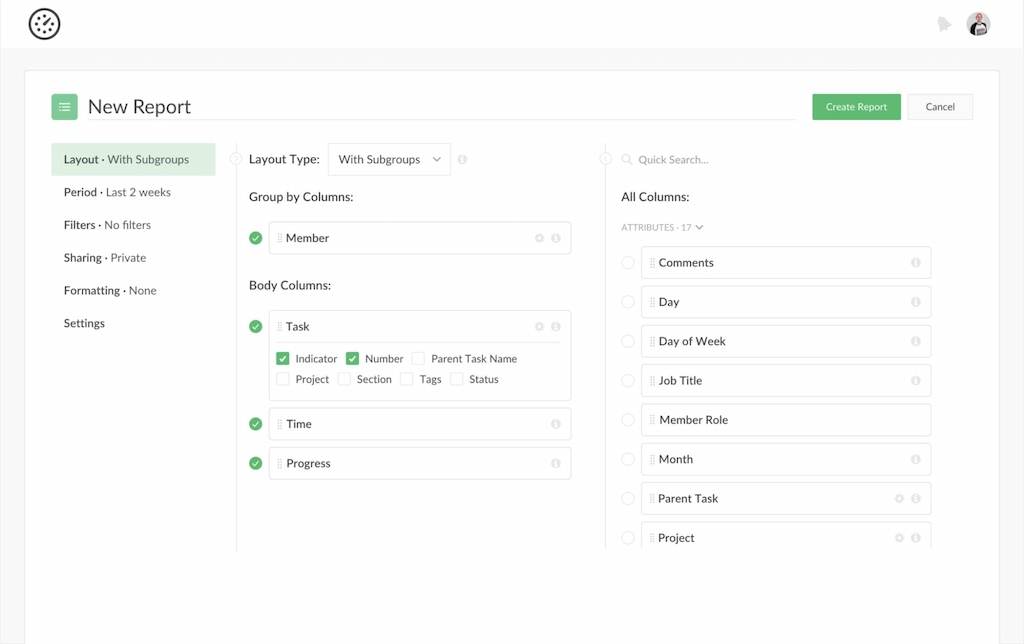 Everhour offers a ton of tools that makes reporting much easier for companies. There are team timesheets, member profiles, project summaries, metadata, and a live dashboard that helps managers keep track of workplace performance. Additionally, it makes it easier for teams to make more informed decisions.
You can also create custom reports using the Everhour report builder. That way, you can design the reports as per the needs and likes of your organization.
🔧 Integrations
It can be hard to incorporate new project management, coding, or even an accounting tool into your workflow, especially since most workplaces require a host of digital tools. However, since Everhour can easily integrate with some of the most widely-used workplace applications on the internet, it's much easier to create an efficient workflow.
Some of the most useful tools that can easily integrate with Everhour include ClickUp, Asana, Jira, Basecamp, Trello, Monday, and many more. So, if you're worried about the team having a hard time adjusting to a new tool, that won't be a problem with this app due to its wide compatibility with other platforms.
📊 Project management
Everhour is a very flexible app. That's why the app's project management capabilities are so robust. To start, all the billable hours you track can be transformed into invoices specifically tweaked to fit the needs of different clients. On top of that, creating and assigning tasks on the app is very easy as well, which allows you to ensure the entire team is working towards the same goal.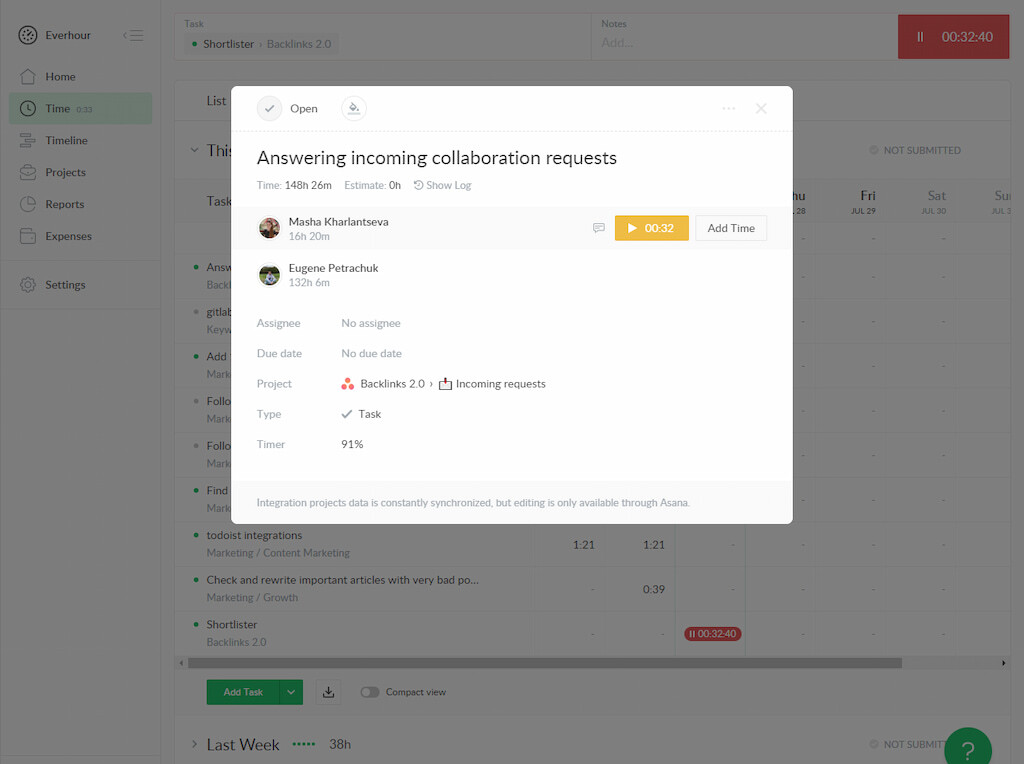 And since Everhour integrates with many different apps, using a number of different tools alongside Everhour is extremely easy and not complicated at all. You can easily set up Trello project management or project management for Asana, among many other features.
💰 Pricing
Everhour offers three pricing options. The free plan is available for up to 5 users and it offers some basic time tracking and reporting features. The Lite plan is $5 when billed annually and $6 when billed monthly, including the features the Free plan provides along with invoicing, budgeting, payroll, and reminders. The Team plan is $8.50 when billed annually and $10 when billed monthly, and it includes all the features Everhour provides. While it's a bit pricier than Timeneye, it comes with a lot of useful features that Timeneeye doesn't have.
✅❌ Everhour pros & cons
Pros:
– Great time tracking features
– Amazing for managing projects
– Automatically syncs when you track time
– Various invoice and billing options
– Free plan
Cons:
– Might have a learning curve
– No Android app available at the moment
❓ Timeneye vs Everhour: Which Is Better?
The winner of the Timeneye vs Everhour battle largely depends on what you need. If you're looking for a simple and effective work hours tracker on a budget, Timeneye is a great option. However, it's important to remember that this app is a bit more limited than Everhour.
With Everhour, while you pay a bit more, you access a lot more features. It's a great time and attendance tracker for both large and small teams. And for just a little extra money, you get to use a whole lot of features that can make your workplace much more efficient and productive.