Daily operations and projects can benefit significantly from a well-implemented time tracking strategy. And if you want to maximize what you can do during your work hours, you're going to need amazing time tracking software for it. Two of the best time tracking apps today are Time Doctor and Everhour.
In this article, we'll conduct a feature-by-feature comparison of both services. With this in-depth comparison, you can better decide which service best suits the needs of your team.
Both Time Doctor and Everhour have their own features, advantages, and disadvantages. If you want the best time tracking app to answer your needs, you'll need to compare each one side by side.
In the next sections, we'll break down both tools into different categories and see how they fare against each other.
⏱️ Time Tracking
The first feature that we'll compare is their primary use cases. Both extensions are made to track your time as you do different activities in your virtual workspace. Which one has the features that suit your use cases best?
🧡 Time Doctor Time Tracking
Time Doctor's best feature is that it automatically logs hours spent by each team member as they interact with their workspace.
While anyone can manually download and record their timesheets, employers also have the option to include team members in automated app tracking, which will automatically log what they do on their computers.
It can also log unproductive time, the hours spent by the account on social media networks like Twitter and YouTube. Time Doctor even has a Distraction Alerts feature that will show up on your device if it doesn't notice any activity on your screen.
This can be incredibly useful for work-from-home teams that have set work hours, although freelancers may not appreciate it as much.
💚 Everhour Time Tracking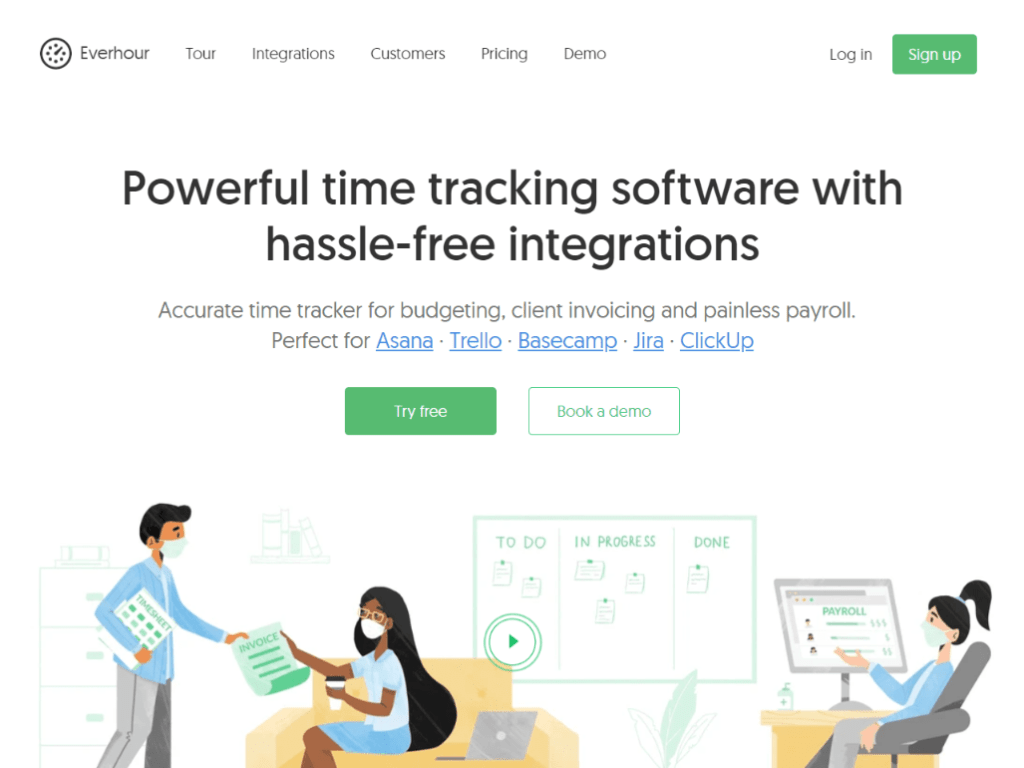 On the other hand, Everhour doesn't have the automated time tracking functionality that Time Doctor excels on. It can, however, track time automatically inside integrations like Jira or Asana.
Aside from that, it also has many smaller features that you can utilize in its manual time-keeping feature. For example, with Everhour, users can set time tracking reminders, auto-start and stop, time logs, and even automation with Zapier.
While it doesn't have the convenience of automated time logging outside of tools, you can do more things with Everhour because of its multiple features. This makes it a more versatile tracking service than Time Doctor.
Time Doctor
– Option for automated time tracking on manager accounts
– Tracks time across multiple accounts
– Logs in time spent doing unproductive things
– Features automated distraction alerts
Everhour
– Seamless integrations to multiple compatible software
– Manual entry with multiple features
– Configurable timer auto-stop at the end of the workday
🧑‍🤝‍🧑 Team Management
Work is a team effort, so it's only natural that everyone on the team should be accountable for their time and output. Managers can make this process run smoother with team management software.
🧡 Time Doctor Team Management
Time Doctor doesn't have many team management features to speak of. However, other than the previously-mentioned ability to automatically track user activity, it still has some team management tools.
For instance, the Time Doctor app can track the activity levels of an employee's keyboard and mouse. If you're an employer of a full-time WFH team with set working hours, this level of tracking is ideal so that you know that your employees are working exactly when they're supposed to be working.
The same is true for the screenshot option. Employees can turn the feature on or off at will, and screenshots will only be taken if employees mark themselves as "Working." Otherwise, the app wouldn't take any screenshots to preserve privacy. Employers will have to be cautious about using features like this and make sure it doesn't violate privacy.
💚 Everhour Team Management
Meanwhile, Everhour is full of team management functions. First of all, it allows you to organize your Everhour team just like your real-life organizational structure for better information access.
It has different useful functionalities to help you manage your team. For example, you can set max working hours to ensure that team members don't go over their limit or any freelancers might not work more than their budget.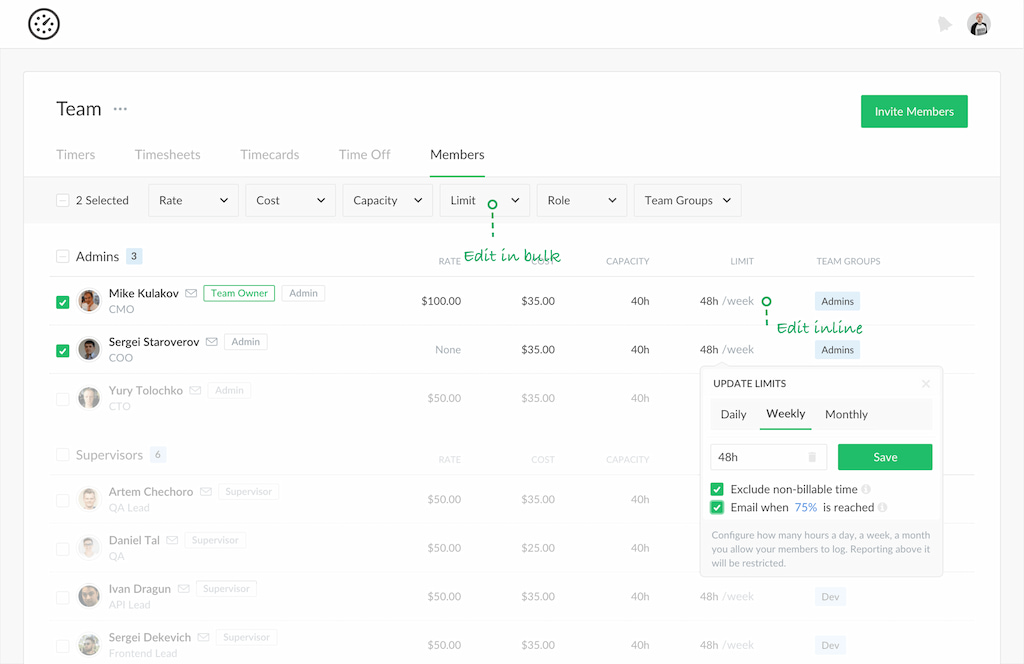 You can also change roles and permissions, lock or edit time entry mistakes, and even change the permissions of each user so that they can only see what they need to see.
This means that compared to Time Doctor, Everhour's tools ensure that a team is working smoothly while still allowing individual members to have their independence and freedom.
Time Doctor
– Gathers keyboard and mouse activity levels
– Option for automated workspace screenshots
💵 Billing
Billing features are critical for your time-keeping needs because hours worked and budget are inherently tied together.
🧡 Time Doctor Billing
Once again, Time Doctor prioritizes convenience over versatility. This app has multiple billing features that allow managers to pay their employees or contractors quickly.
For one, Time Doctor can easily be integrated with the best payment software, such as Gusto, Paypal Payouts, or TransferWise.
Paired with their automated time monitoring tool, Time Doctor can automatically generate a payable timesheet and make it very easy for you to pay your employees or contractors.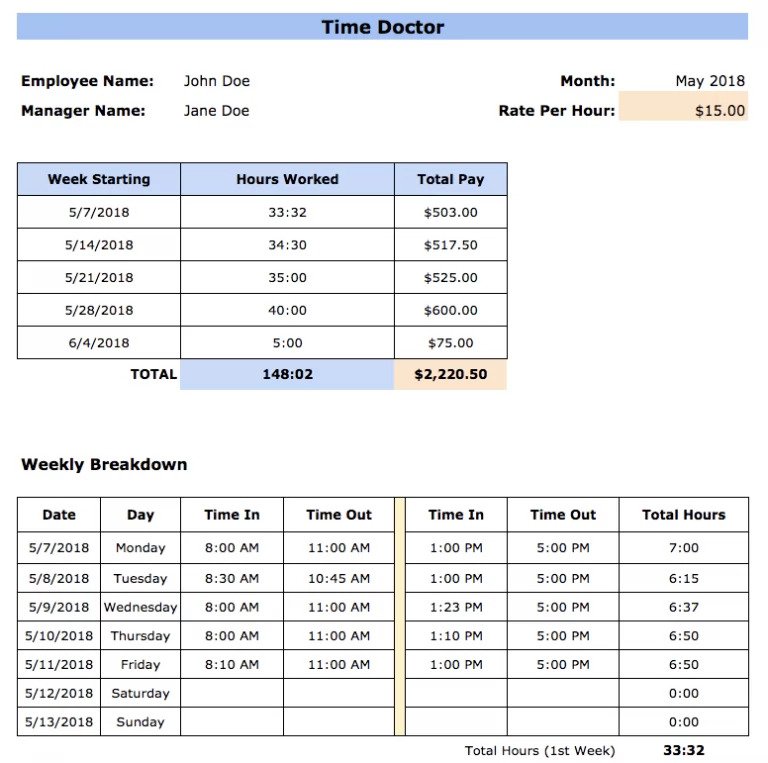 You can also customize some aspects of the payroll, such as the salary schedule and the currencies. These details will automatically translate to the payroll software you're using.
You can set up the account so that the timesheet will automatically be approved and go straight to fund disbursement. If you want to be more hands-on, you can still manually look over the sheets and approve them first.
💚 Everhour Billing
While Time Doctor focuses on convenience, Everhour's billing features are more robust and versatile. This app allows many customization aspects. For example, you can choose the billing model of the entry – whether it's billable, non-billable, time and materials, or fixed fee. Everhour also has a budget function, which you can set as capital or recurring monthly budget.
This means that you can set a maximum budget and then disallow going over it in terms of payments. You can also track each employee's labor costs and correlate them into your budget so that you won't run that risk.
Even if Time Doctor is more convenient with its automation, its limited benefits don't allow for a wide variety of scenarios, especially for the unconventional or remote workspace. In terms of versatility and feature quality, Everhour still offers more use in this case.
Time Doctor
– Integration to payroll software for customization
– Automated tracking integrated with automated payroll
– Payroll setup and customization
– Manual or automatic timesheet approval
Everhour
– Allows multiple billing modes
– Syncs with budget function and other associated tools
– Customizability for clients and tasks
📈 Reporting
Reporting is another essential group of features that gives managers unique insights into their team's performance.
🧡 Time Doctor Reporting
In terms of reporting capabilities, Time Doctor shines. Because of its primary benefit as an automated tracking system, Time Doctor's reports are always in-depth and automatic.
The process is completely automated so you can make sure that only the productive hours are billed.
Since it can be integrated with your payroll program of choice, it can even automatically create billable timesheets. From monitoring to payout, all you have to do is approve the automatically-detected hours.
If you're working with clients who want further proof of their paying hours, you can also use the screenshot feature. This will allow you to attach pictures of employee activity during the report for other evidence.
💚 Everhour Reporting
Everhour has more reporting capabilities, but it's not as streamlined. Users, especially managers, have the option to create custom reports. They can change what data they see through the columns and rows. There are also content filters if you only need to see something specific.
Everhour also lets you download the comprehensive report or export the information and have the option to automatically send the exported report to whichever you list on the receiver fields.
This app has pretty solid features, but Time Doctor's reporting function is simply more convenient.
Time Doctor
– Automated, in-depth reporting
– Reporting integration and automatic import
– Optional screenshot tool for solid proof
Everhour
– Customizable report generation
– Downloadable files
– Automated report submission through email
📝 Invoicing
When you're working with multiple clients, you want to be able to track precisely how much you've worked so that they can pay accurately. A billing and invoicing software can help you with this.
🧡 Time Doctor Invoicing
Unfortunately, Time Doctor doesn't have specific functions for streamlined invoicing.
If you're a freelancer or contracting agency, you can still use Time Doctor as an invoicing tool by using the app usually and creating timesheets. But instead of directing timesheets to the payroll app, you can choose to download it and send it to your clients manually.
This reinforces the notion that Time Doctors isn't made with freelancers and contractors in mind but is more suited for managers of full-time employees.
💚 Everhour Invoicing
On the other hand, Everhour is very flexible and has features that are both freelancer-friendly and useful to full-time teams.
This app features multiple invoicing functions that you can use. It has very customizable invoice settings and even invoice templates. While you log the time, you can change your rate, add expenses, add internal notes (visible only to your eyes), and even use flexible grouping to make adding items easy.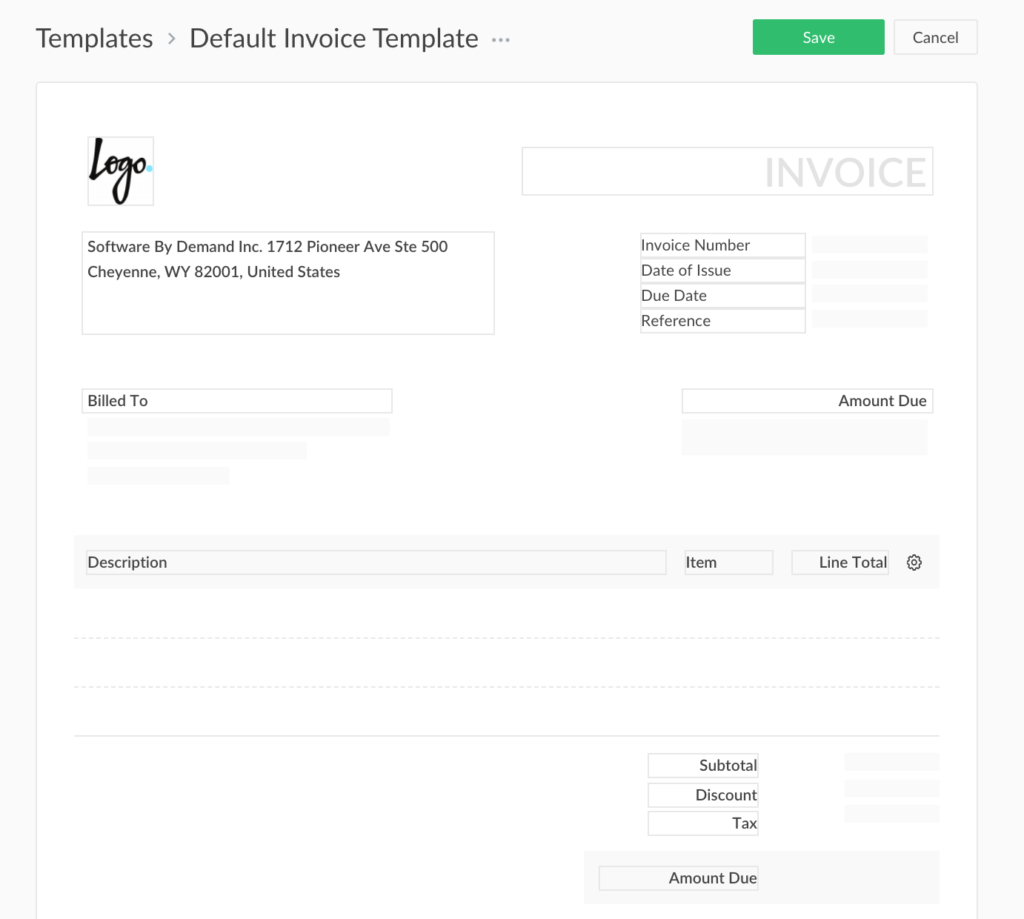 You also have several ways to download or export the file. You can download it as a PDF file, or you can integrate it to an accounting app like Xero, QuickBooks, or more. Users can even send the invoice as an email and see the exact time their clients open it.
Everhour displays excellent attention to detail when invoicing features and wins over Time Doctor in this aspect.
Time Doctor
– Timesheets and payroll integration
Everhour
– Customizable invoices
– Integrates to accounting software
– Downloadable files for storage
📒 Project Management
Tracking the hours you work is also essential when finishing projects, especially if they're complex and time-sensitive.
🧡 Time Doctor Project Management
Unfortunately, Time Doctor doesn't have dedicated project management tools. Their regular features work well enough in tracking time, whether you're conducting daily operations or working on a unique project. For example, teams can manually create their tasks and track their time.
The project can be indicated on the task name, and all of them can be added together to account for the project work hours themselves. You would still get accurate results because of Time Doctor's automated time tracking feature.
However, this is a cumbersome way of tracking project tasks, especially if they're big and complex.
💚 Everhour Project Management
Everhour, meanwhile, has a complete set of tools that you can use specifically for project management.
Being organized is extremely important when arranging which tasks should be prioritized and which take the backburner. Everhour makes that easy with three features: task creation, multiple views, and organizational sections and tags.
You can also integrate the project management window with your budget and create completion estimates so that you can compare your actual performance to how much time you projected. Lastly, it also lets you use project templates.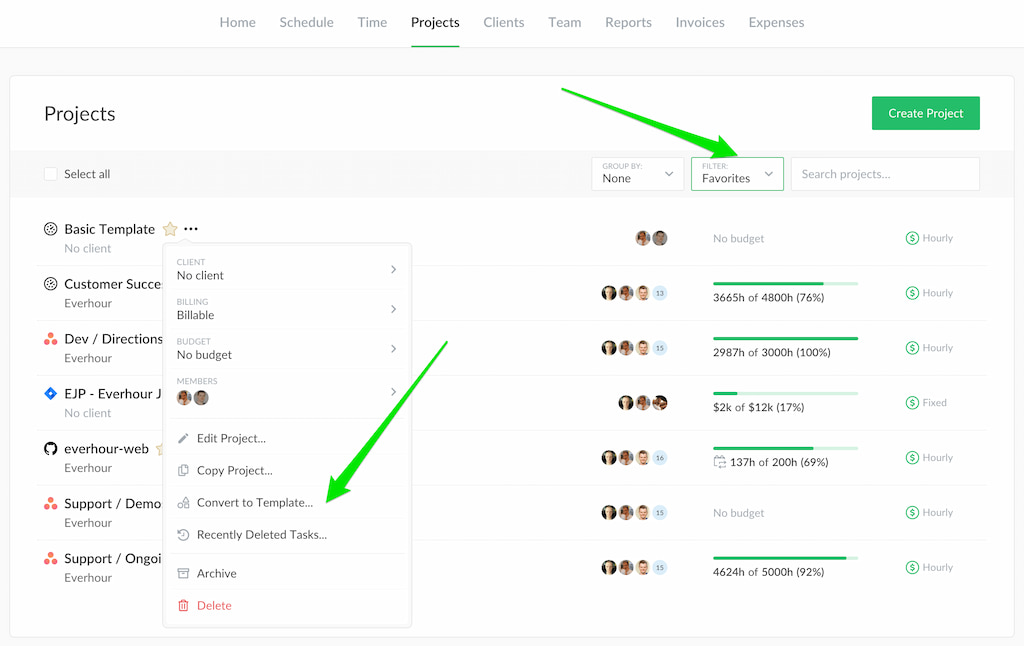 Project management windows can be complicated to set up from the get-go, but luckily, Everhour allows you to copy and paste the templates. This lets you get started on a new, similar project in minutes.
Overall, when it comes to project management tools, Everhour has a competitive edge.
Time Doctor
– Regular time tracking features
Everhour
– Dedicated organizational capabilities
– Kanban, list, or board views
– Allows for figure estimates
– It lets you create and copy project templates
🔄 Integrations
The more integrations these applications have, the better. After all, you want a time tracking app that you can use seamlessly with your existing software.
🧡 Time Doctor Integrations
This app has a pretty robust integration, allowing for the most popular apps such as Asana, Trello, Monday, and more.
More than those useful integrations, Time Doctor's app also allows for seamless integrations. Its API is designed so that Time Doctor can directly interact with suitable software. An example of this would be the automated timesheets and payroll functions.
💚 Everhour Integrations
Everhour also combines with the most popular productivity tools, such as Asana, Basecamp, Jira, Trello, GitHub, and ClickUp.
One of this app's best features is interacting with the Everhour functionality even within the app. For example, if you're using Asana, all you have to do is click the Everhour button inside the task or subtask to start your time. This level of integration makes it very easy to log time and avoids human error and negligence.
Users can also open a tab that will display basic time tracking information right within the app: they wouldn't have to go to another tab to look at the most recent activities of their profile or their total time worked, for example.
Both apps have great integrations and functionality, although Everhour wins in terms of time tracking convenience. Nevertheless, Time Doctor's direct app interactions are also great tools to have.
Time Doctor
– Syncs with popular management and accounting software
– Has an API that can be used almost anywhere
Everhour
– Integrates with leading project management and accounting tools
– Time tracking can be done in one click within the app
💲 Pricing
The price of your time tracking software is also one of its most essential aspects. No matter how good a feature a tool might have, if you don't have the budget for it, you can't use it.
🧡 Time Doctor Pricing
Time Doctor's pricing is the more traditional three-tier approach, with a free trial to start with. The exact features you'll have access to depend on your subscription.
Basic
Standard
Premium
$7 per user per month
$10 per user per month
$20 per user per month
Limited features:
– Track time
– Organize tasks
– Take screenshots
– Automatically track activities
Limited features:
– Basic features
– Track apps and URLs
– Payroll
– Email notifications
– 64+ integrations
All features:
– Standard features
– Client login access
– Concierge account
– Video screen capture
– Internet reporting
– VIP support
3 days support only
Round-the-clock support
Round-the-clock support
1 group per department
3 groups per department
Unlimited groups
💚 Everhour Pricing
Everhour only has one price tier, with a 14-day free trial. You can opt for annual billing to save money.
$10 per month per user (billed monthly)
$8.50 per month per user (billed annually)
Unlimited users (minimum 5)
Unlimited projects
Various integrations
All features
24/7 support
The downside is that there's a minimum number of users, which means that even if you only have three users, you still need to pay for five.
🖥️ Support / Platform
It's normal to face problems when you're using complex software, and when that happens, you need to be able to count on support from your vendors.
🧡 Time Doctor Support
Customer Support
3 days only for Basic subscribers24/7 for Standard subscribers
VIP for Premium subscribers
Blog
Tips, tricks, and how-tos
Starter Manual
Only for onboarding, no basic troubleshooting guides
💚 Everhour Support
| | |
| --- | --- |
| Customer Support | 24/7 for all users |
| Blog | Tips, tricks, and how-tos |
| Knowledge Base | Basic guides and fixes, search bar for quick lookups |
🧡 Time Doctor Supported Platforms
Time Doctor is highly compatible with various operating systems. It works on Windows, macOS, Linux, iOS, Android, and even ChromeOS. However, its browser extension is available only to Google Chrome.
💚 Everhour Supported Platforms
Everhour also works on the most popular desktop and mobile operating systems, namely Windows, macOS, and iOS – overall, since it's Cloud-based, you can use it pretty much anywhere.
It also has browser extensions available on Google Chrome, Safari, Mozilla Firefox, Microsoft Edge, and Opera.
✔️ Pros & Cons ❌
🧡 Time Doctor Pros & Cons
✔️ Great for full-time employees. Time Doctor shines best when there are set hours for work.
✔️ Convenient. This time tracking app features automated tracking functions that track employees' PC activity and even let employers automate the billing process.
✔️ Multiple integrations. Its API allows for direct interaction with compatible apps. It's also compatible with at least 60 productivity apps.
❌ Pay-walled support. Limited support for the Basic subscribers, and you have to pay for more help.
❌ Lacks other features. Time Doctor doesn't have specific feature sets for project management and invoicing.
❌ Expense. It has a higher price than Everhour, with many other hidden costs like support and other functionalities.
💚 Everhour Pros & Cons
✔️ Versatility. A solid set of features allows for versatile application, whether for full-time remote employees, contracting teams, or freelancers.
✔️ Complete feature set. Everhour covers many areas in productivity that Time Doctor lacks in, such as project management, invoicing, and team management.
✔️ Reasonable price point. Straightforward pricing tiers at an accessible price point.
✔️ Great support. Customer support is reliable and responsive.
❌ Reporting is not as comprehensive. Everhour's reporting features have plenty of things going for it, but there's a slight chance of human error because it ultimately relies on human input.
❌ Minimum of 5 users. Even if you have less than 5 users, you will still be required to pay for the five-user slots at a minimum, which can cost a lot for smaller teams.
🔍 Alternatives
If Time Doctor vs Everhour doesn't work for you because of one reason or another, then you might want to check out Big Time.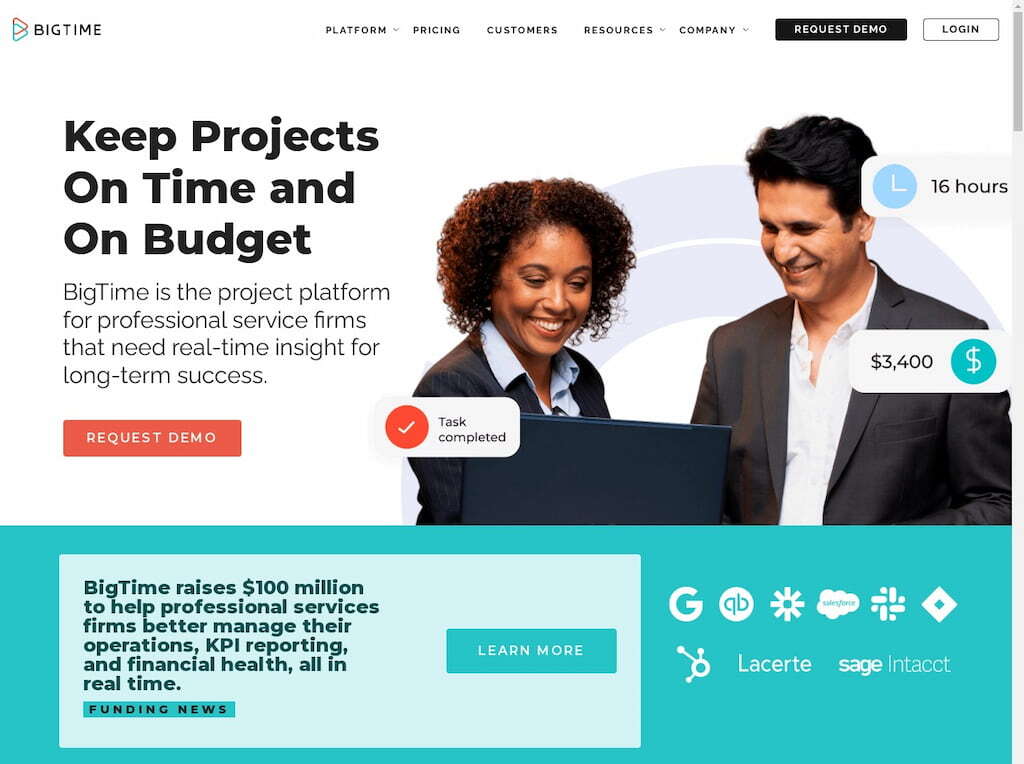 Big Time is a comprehensive management software that combines time tracking, expense tracking, and payment/invoicing platform. One of its greatest strengths is that its time management functions are linked by default to your budget, providing you with a more comprehensive view of your resources.
Moreover, it also has other function sets, such as project planning, team communication, and a whole host of financial tools.
Big Time has three price tiers: Express which costs $10 per month, Pro which costs $20 per month, and Premier, which costs $40. It works on Windows, macOS, ChromOS, Android, and iOS.
Time Doctor vs Everhour: Conclusion
As you see, Time Doctor and Everhour both have their strengths and weaknesses. Time Doctor's best asset is automated tracking, which gives way to automatic timesheets and payroll. This app is extremely convenient for full-time employees with set work hours. Still, other than that, its use case is pretty limited – especially for freelancers and independent contractors.
On the other hand, Everhour has a more versatile application. It's excellent for full-time employees and freelancers alike and has a more useful set of functions like project management tools.
Talking generally, Everhour is the safest choice for many workers out there, although if you fit within Time Doctor's limited uses, then it might be more convenient.
Overall though, both Time Doctor and Everhour are fantastic time tracking apps in their own right, and you can't go wrong with either one.