Making use of a time tracker allows project managers and their teams to not only keep track of how much time is spent working on projects and see exactly how that time is spent but also ensure that everyone adheres to the schedule so the team can wrap up each project with success and achieve profitability.
There are many time trackers out there but in this article, we will take a look and review two of the top time tracking apps currently available – Duefocus and Everhour. And by the end of this read, you'll have a crystal-clear idea of what each of these tools has to offer your business. Read on to learn more.
🔵 Duefocus Overview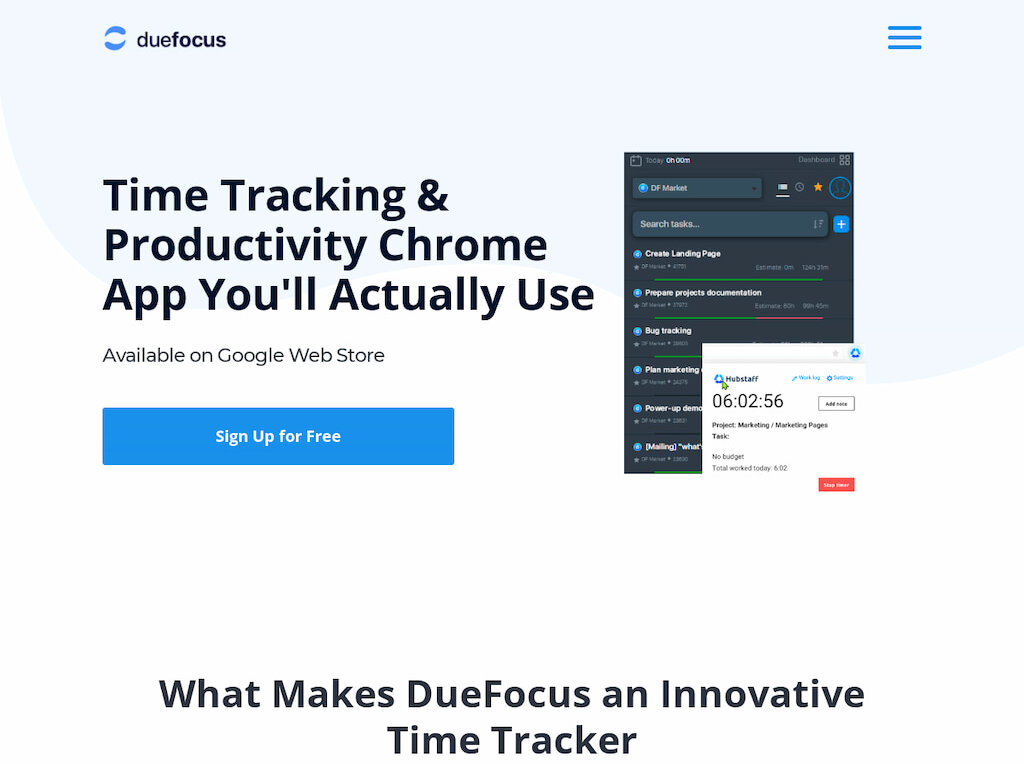 Duefocus is one of the more popular time trackers on the internet. It's mostly known as a time tracker that's been optimized for remote work and, for the most part, that's very true. With Duefocus, remote work is made really easy as it's compatible with different operating systems, has an embedded tracker, and even allows you to build invoices right on the app.
With that said, the app also has a couple of flaws. For some customers, it was easy to look over the flaws but for others, they couldn't be avoided. To help you figure out if Duefocus is the right option for you, let's take a close look at what the app has to offer.
⌛ Duefocus Time Tracking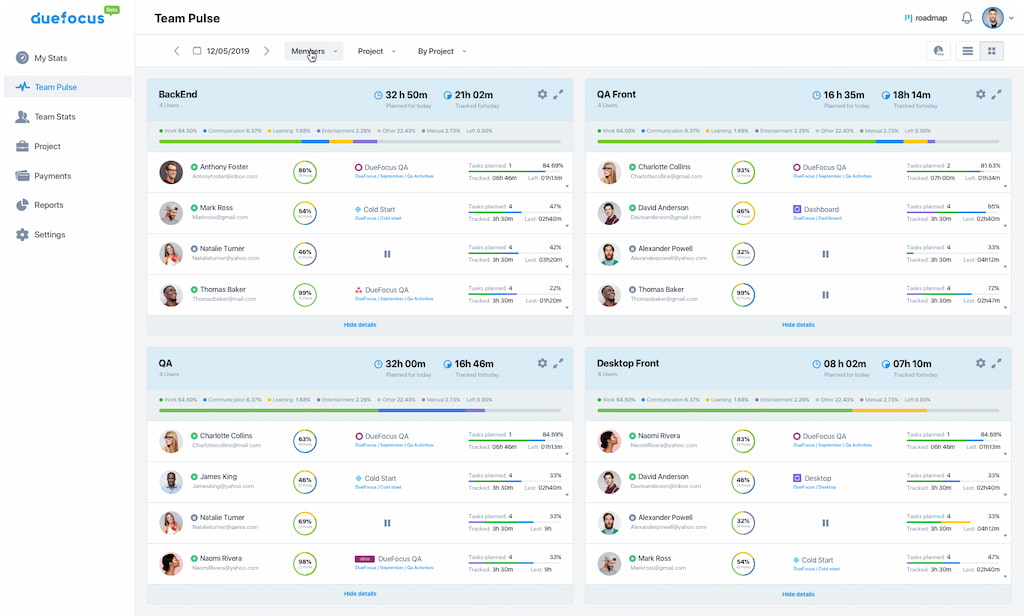 The Duefocus time tracking is the app's core functionality. Once you've gone through the simple Duefocus login process, you can start tracking time automatically with a single click of the button or add it in manually right away.
That will not only help you stay on top of all of your projects but it will also be much easier for you to accurately bill clients by the hour for your services.
If you're a manager, you can also use the app to track the time your team takes to complete certain tasks. You can even view their progress live, which is great for managers who have remote work setups but still want to be able to track their team's progress on the fly.
And the best thing about all of this is that you can do it through the Duefocus Сhrome extension, which takes just a few seconds to add to your browser.
🤹‍♀️ Duefocus Task Management
Using Duefocus, you can create and assign different tasks with deadlines right on the app. Regardless of whether you're a freelancer or work in a team, knowing what needs to be done and when needs to be done is essential to keeping your clients happy. This feature comes in particularly handy if you have multiple clients or projects but still want to make sure that everyone is up to speed.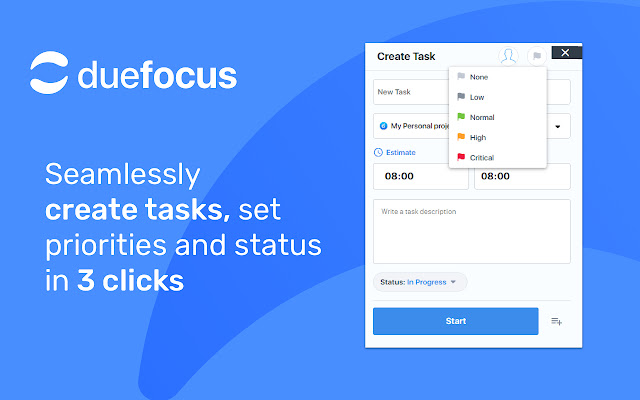 Using the task management capabilities of Duefocus, you can also see exactly how much time is spent on each task, which will allow you to make corrections if needed to ensure that each task is within budget.
🧮 Duefocus Billing & Invoicing
After doing some research and collating the public's view on Duefocus, one of the features everyone was most impressed by was the billing and invoicing capabilities of Duefocus.
You can automatically generate invoices for clients based on the data you and your team have recorded over time. On top of that, you can even share the invoice with the clients right there and then, which can make things much simpler.
You can create invoices for separate clients too, which is why this tool is another favorite for freelancers. And if needed, you can also create the invoices manually on the app, which gives you more control without sacrificing any of the convenience.
📃 Duefocus Reporting
Reporting is usually a feature that many time trackers seem to overlook, especially free ones. However, this isn't the case with Duefocus. With Duefocus, you can automatically generate reports based on the data available in the time tracker. This is great for freelancers as it gives you a detailed report of all the hours you spent on different tasks. This makes generating invoices a simple, quick, and straightforward process.
That being said, the reporting also comes in handy for managers as they can access these detailed reports and see if employees are meeting the KPIs set out or if they're spending more time than they should on different tasks.
🔁 Duefocus Integrations
The Duefocus time tracking integration capabilities are another benefit of using this app. Duefocus is compatible with a lot of other task and time tracking apps such as Jira, Zoho, Basecamp, and more. So, if you want to use Duefocus in your workflow, but are worried it might not be compatible with the other tools in your stack, don't worry.
🏓 Duefocus Project Management
If you're responsible for managing a team of workers, the project asset management in Duefocus isn't a bad choice at all. Using the app, you can create and allocate tasks, set deadlines, track your team's progress for each and every task, and make sure everyone is on the same page to guarantee profitability at the end of each project.
Managers can even change the status and priority level of certain tasks depending on the team's goals at the moment. This makes it simpler to get everyone on the team on the same page and makes for a much more efficient process.
💰 Duefocus Pricing
While Duefocus definitely has its downsides, what's important to remember is that it's free to use. So, if you or your team are on a budget, it's definitely amongst the best top free time tracking tools to use.
✅❌ Duefocus Pros & Cons
Pros:
– Completely free to use
– Has a great time tracking system
– Ideal for project management
– Designed for remote work
Cons:
– Doesn't offer mobile support
– Nowhere near as customizable as Everhour
🟢 Everhour Overview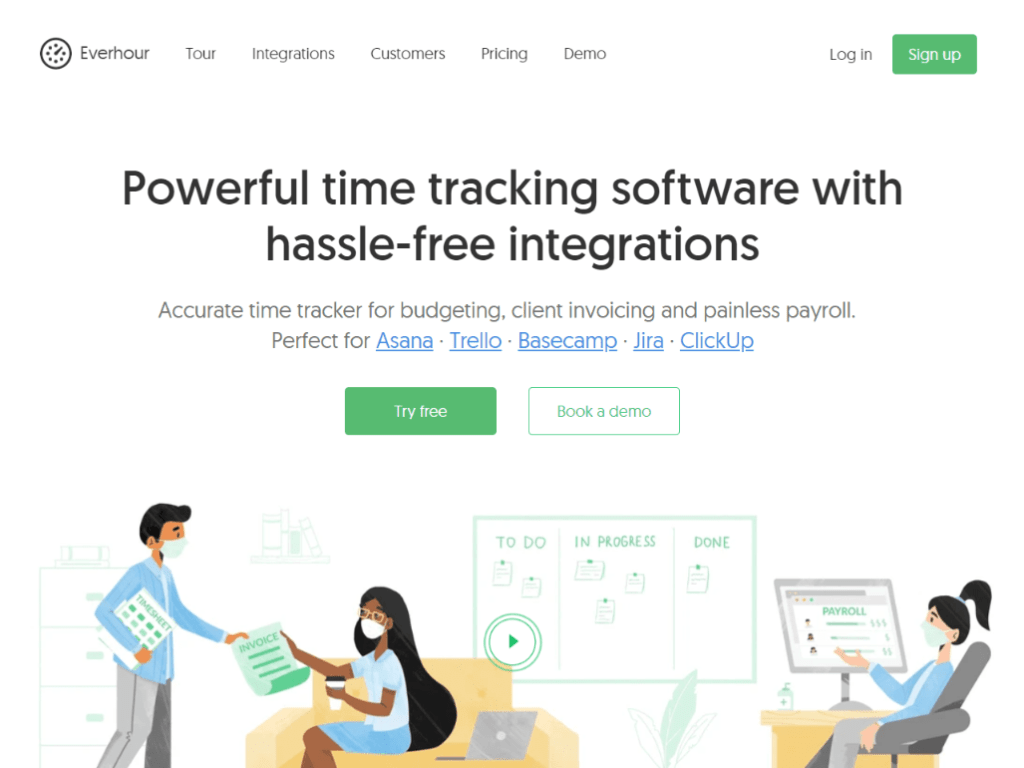 Founded in 2015, Everhour is one of the younger but already best time tracking apps on the market. To use the tool, you have to pay monthly, and with the subscription, you will get to enjoy top-of-the-line time tracking, task and project management, and a handful of other great features that will help you organize your business and ensure all of your client work comes out profitable.
To give you a better idea of Everhour and if it's a time tracker your company can benefit from, let's take a look at some of its main features before we walk you through the pros and cons of Everhour.
⌛ Everhour Time Tracking
At its core, Everhour is a time clock app. This is what the app was built for, so you can expect it to perform very well in this regard. It has a native timer, so you can automatically track the time it takes to finish tasks at the click of the mouse. And if you want, you can also enter the time it took to finish the task manually for better record keeping.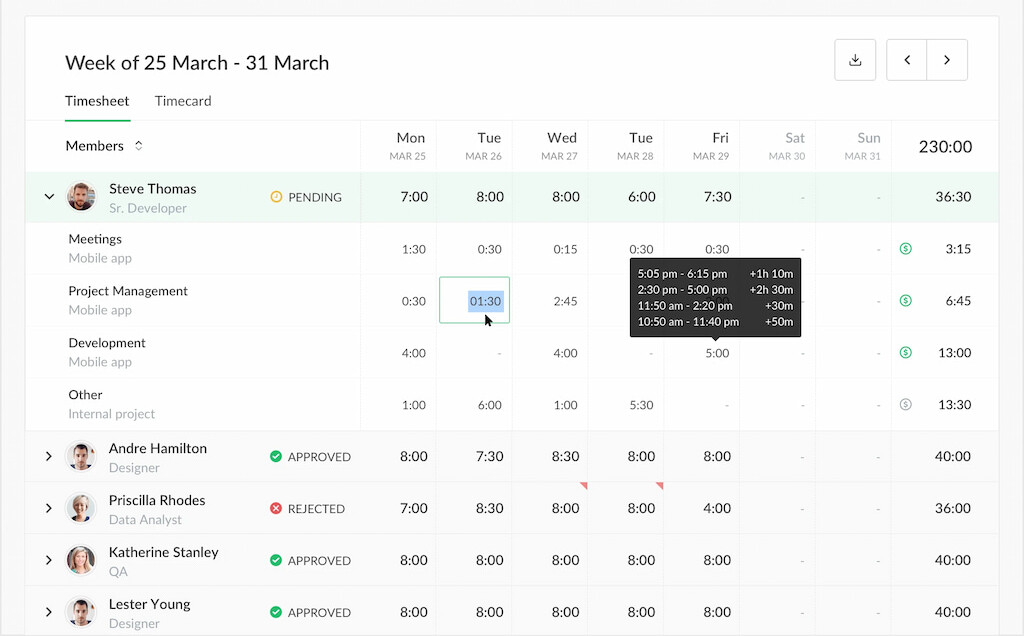 If you're managing a team, you can view and approve all the work your employees have done within the timesheet app. This is great for remote teams, as it allows managers to track how many hours each worker puts into the different parts of the project even if you're working in completely different time zones.
Should you or one of your team members start falling behind on schedule, you will get a notification to remind you so you can put things into gear before it's too late.
🤹‍♀️ Everhour Task Management
Aside from its simple and effective time-tracking features, Everhour also boasts fantastic task management capabilities. Using Everhour, you can set a specific task for different workers, set deadlines, priority levels, and more. This way, everyone understands what they have to do, how important it is, and when they have to finish it. Using a task management tool, it will be much easier to keep everyone on the team on the same page and make sure everyone spends their time productively working on the tasks that matter.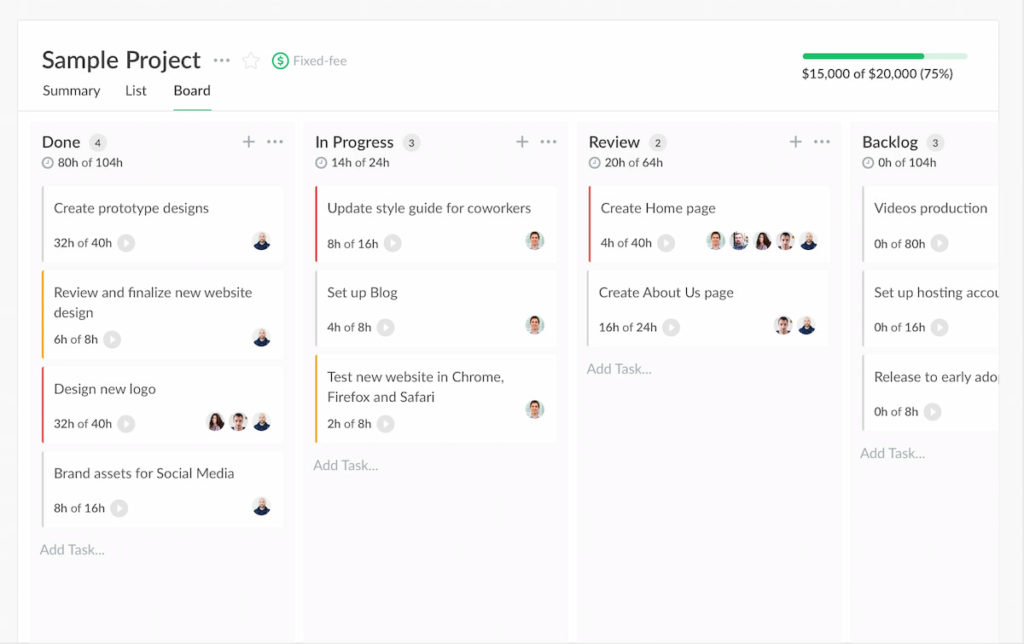 With Everhour, you can also easily switch between boards and lists to view the different tasks. This is because everyone wants to visualize the tasks at hand in different ways, and Everhour ensures that they can meet the needs of different types of workers.
🧮 Everhour Billing & Invoicing
When it comes to billing your clients, doing so with 100% accuracy is of great importance. Achieving 100% accuracy, however, is not only difficult but also very time-consuming. Not to mention that if you work with multiple clients, you'd have to repeat the exact process time after time.
With Everhour, you generate accurate invoices with a few clicks of the button. Not only that, but it's also very easy to set dynamic variables when creating an invoice to make it better suited for your client.
📃 Everhour Reporting
With Everhour, managers and employees can both benefit from the reporting feature equally. On one hand, employees will be able to track and see how long it has taken them to work on any specific task while managers will receive in-depth custom reports for each team or employee to then use and work out how and what processes could have been done better to improve productivity.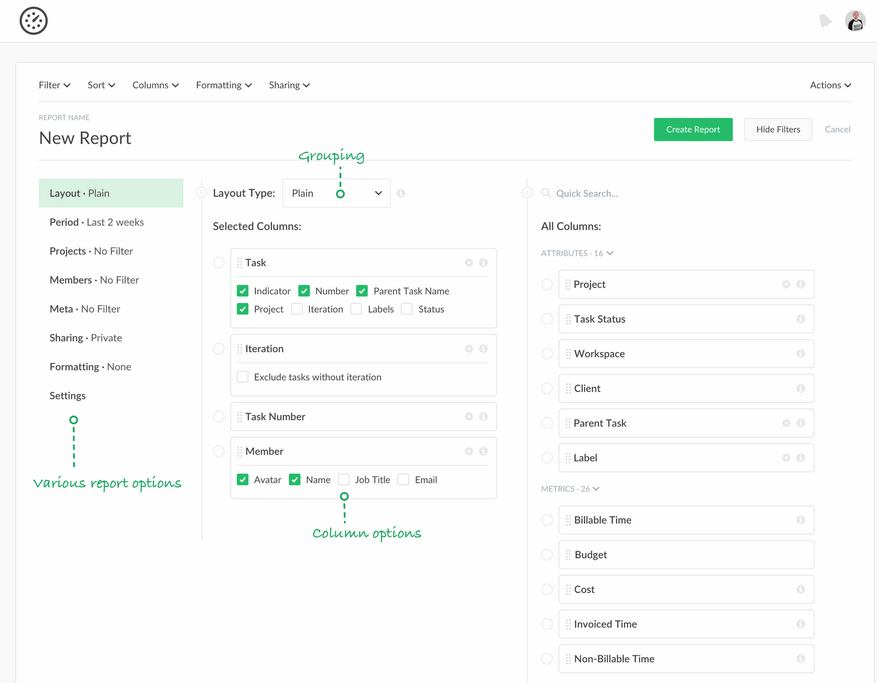 Aside from that, if you're a manager looking to collect enough data points over a period of time, you can name and file together different reports so you don't have to go back and search for them manually when you need them in the future.
One unique reporting feature Everhour has is the summary emails. They allow managers and staff in leading roles to receive daily, weekly, and monthly progress emails of themselves and their team.
🔁 Everhour Integrations
Finding a time-tracking app that can also integrate with all of the different tools you and your team are currently using can be pretty difficult, especially since most teams use a different stack of tools to help them conduct business.
When it comes to Everhour, you are almost guaranteed that the app will be able to integrate with your tools to help you create a more efficient workflow. Currently, Everhour can easily integrate with some of the most widely-used tools on the internet, including Basecamp, GitHub, Asana, and ClickUp – to name a few. You can easily set up your Monday time tracking or Jira time tracking easily and quickly.
🏓 Everhour Project Management
Everhour is one of the most flexible employee time tracking applications on the market, and thanks to that, it presents itself as one of the best solutions for effectively managing both small and large teams.
Using Everhour, you can easily create and assign different tasks to each of your team members, track time and progress during any stage of the project, transform billable hours into invoices in seconds, and much more. This all means that you as a manager will have complete control and responsibility over ensuring that everyone is working towards the same goal, the work is completed within the desired schedule, and that you come out from the project profitable.
💰 Everhour Pricing
Everhour has a free plan that includes the most basic time tracking features. If you want to access the premium features of the work hours tracker, you may use either of the tracker's advanced plans. The Lite plan offers more features such as invoicing and more detailed reports and is $5 per month if billed yearly and $6 – if billed monthly. The Team plan includes all the features that Everhour has. The monthly subscription costs $10 a month per user, but when billed annually, only costs $8.50 a month. So, this really isn't that big a price to pay for a time tracker that comes with so many cool and useful features.
✅❌ Everhour Pros & Cons
Pros:
– Very easy to use
– Integratable with a range of other mainstream tools
– Ideal for project managers
– Create invoices right on the program
– Cloud-based solution
– Free plan
Cons:
– Can be hard to tackle at first
❓ Duefocus vs Everhour: Which Is the Better Option?
At the end of the day, the answer to this depends on the size of your team and its individual needs. Everhour's attendance tracker and other main features are better fit for a team – however, you can still use it if you're a freelancer.
The advantage of Duefocus is that it is free to use but you're going to be missing out on a lot of features that Everhour can provide you with (even its free plan).
Check out a few more articles of tools comparisons!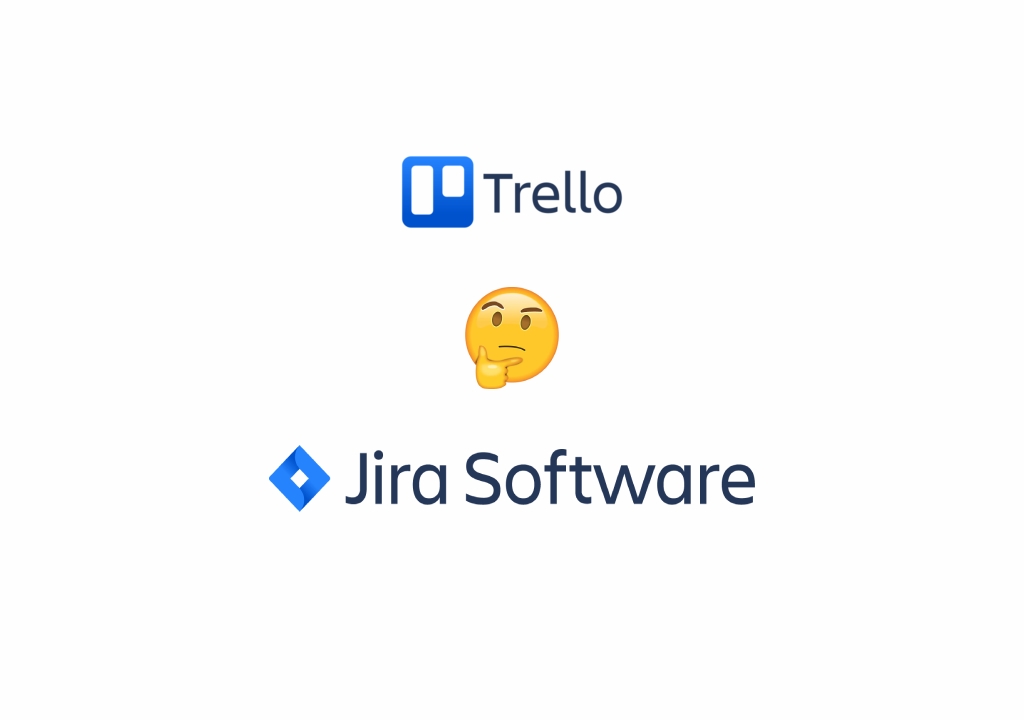 Trello vs Jira: picking between two top project management tools is hard but, in this article, we provide some insight into both of them for you to decide!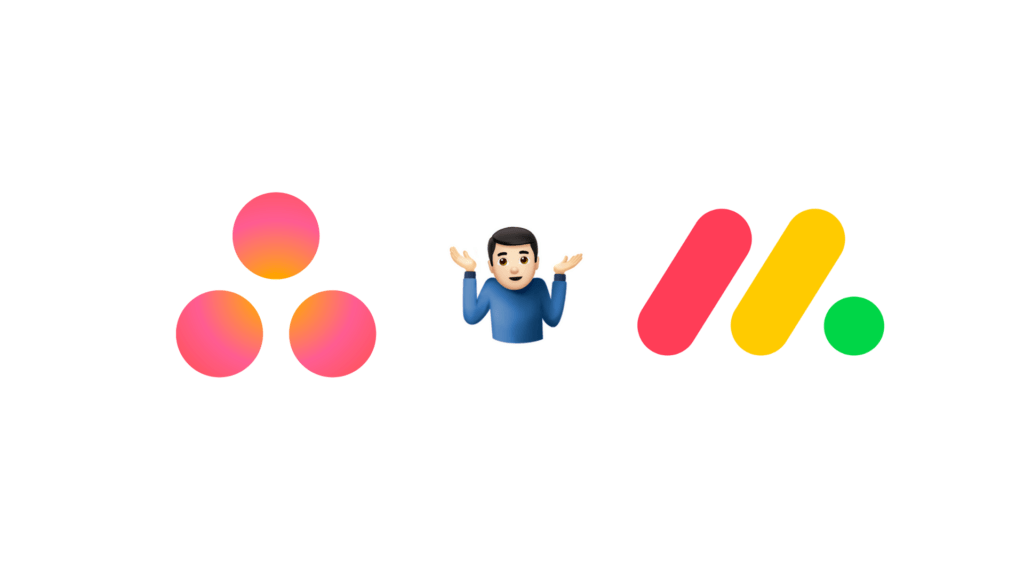 Asana vs Monday is a contentious topic among project managers, and everyone has their favorites. Pick the one for you!