Managing your money well is one of the most important things you can do – both personally and professionally. Yet not all of us were born with an abacus in our hands, and keeping track of incoming and outgoing expenses certainly doesn't come naturally to us.
Fortunately, tools like QuickBooks exist – accounting platforms that handle all the heavy lifting and take care of all your bookkeeping needs. Like having your own personal digital accountant, QuickBook helps you wrestle back control of your finances and saves you endless hours of mind-numbing number crunching.
What sets QuickBooks apart from the many other accounting tools out there is its 650+ integrations, which can all lend you an extra hand with your business administration. The focus of this guide will be on 13 of the best QuickBooks enterprise integrations – those which add the most value to your day-to-day business.
Without further ado, let's jump in and explore the 13 best QuickBooks app integrations, from work hours trackers to CRMs.
Time Tracking – Everhour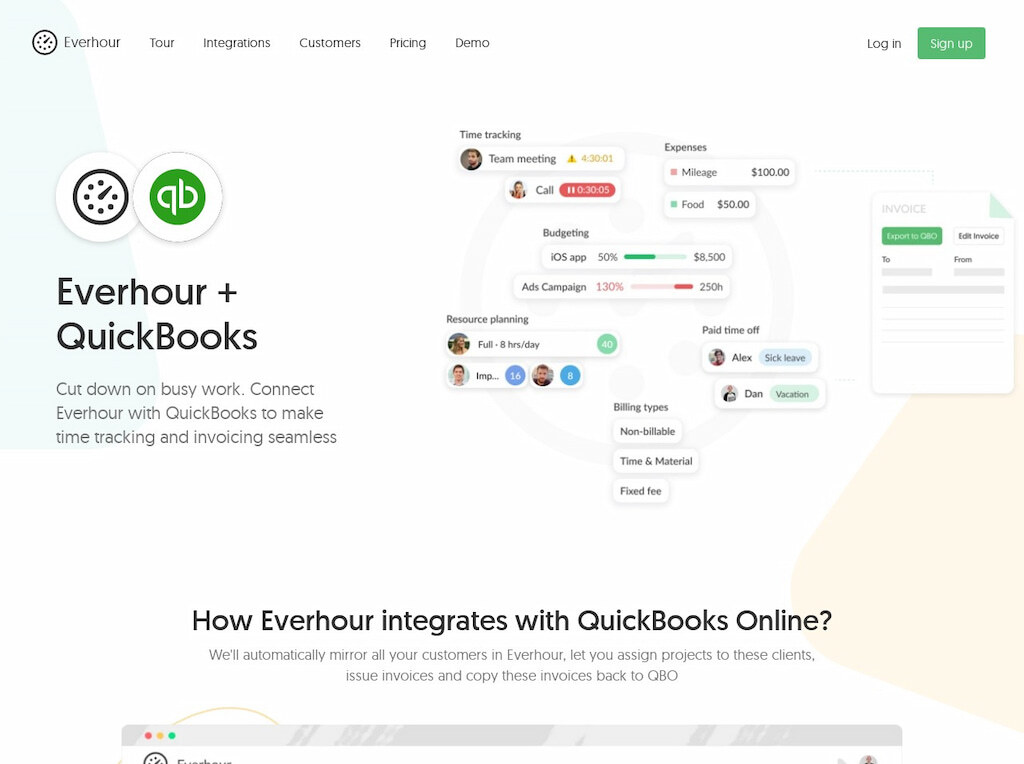 The first QuickBooks integration we'll look at is Everhour, a time-tracking tool that can help you draw up accurate payrolls for your employees. When you pay employees, you – and they – want to be sure that an hour worked is an hour paid. As such, it's critical that you have a way of knowing exactly how much work they put in on a particular project or over a period of time.
Everhour, software that integrates with QuickBooks, lets you track to the minute how much each person clocked in so there can be no doubt as to whether or not they have been paid fairly.
Perhaps you're a freelancer or a small business, though, and you don't have anyone to pay. You complete work for clients, send invoices, and receive payment. In this case, you can use the time tracker Everhour with QuickBooks to send invoices with detailed time reports so your clients can pay you exactly what you're owed – no questions asked.
You can track the time you spend working on projects, set budgets, and manage your tasks with the time clock app Everhour. You can then plug all employee time tracking information into your QuickBooks 'clients' page so you know exactly how much to invoice, and clients know exactly what you've accomplished with your time.
To set up Everhour with your QuickBooks account, here's what you need to do:
Head to the 'integrations' page in your account settings
Authorize the app
Configure the app with your preferred settings
ECommerce – Shopify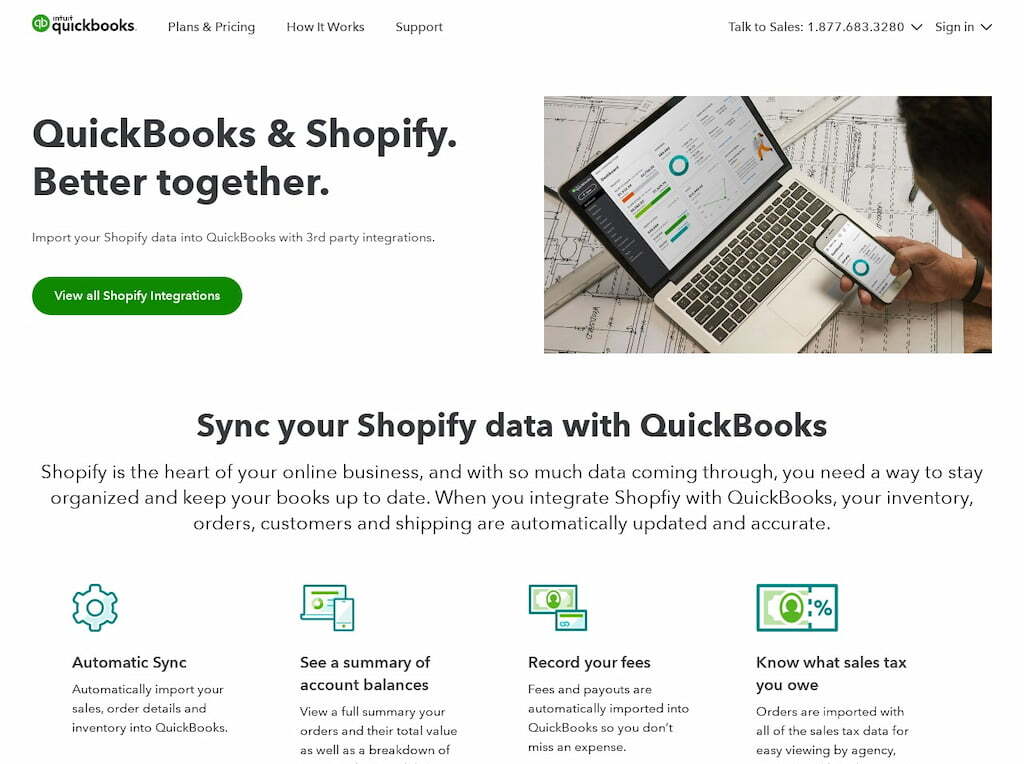 Shopify is an eCommerce marketplace and an invaluable tool for any business looking to sell their goods online. If you already run a Shopify store, then you're likely inundated with data coming from dozens of transactions every day.
When you pair your Shopify account with QuickBooks, you can unify your data and store it all in one place for easy management.
For example, if you have numerous orders coming in on a regular basis, you can keep track of them all in the QuickBooks interface so you can see at a glance how much money is coming in. QuickBooks will even provide automatic updates to reflect the cost of each transaction, including fees for both shipping and taxes.
QuickBooks also allows you to better manage your inventory so that you're not having to fret about how much you have of each product. The app will update whenever you restock, so you can keep tabs on your inventory throughout the course of the week, month, or quarter.
You can track customer data too, so you can analyze trends and behavior patterns that can inform your sales and marketing strategies.
CRM – Salesforce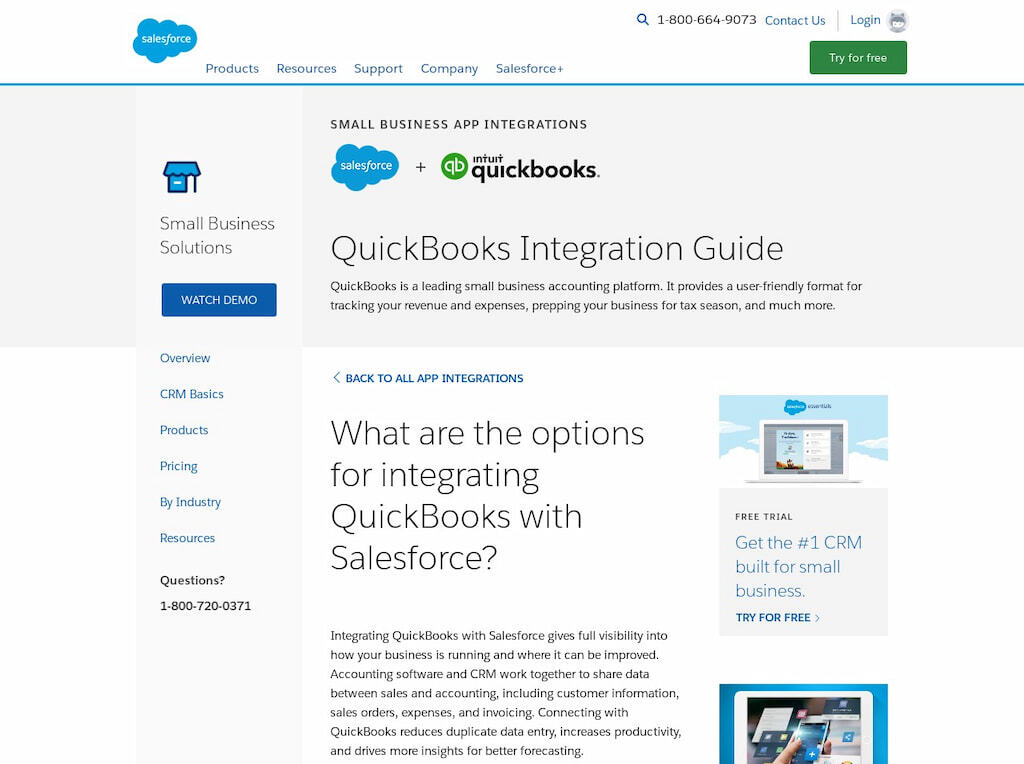 If you're not already familiar with Salesforce, it's one of the most popular CRM (customer relationship management) tools on the market today. Salesforce allows you to take control of your customer interactions even as you scale, so you can always deliver a personalized experience to each customer.
When you combine Salesforce with QuickBooks, you can create a powerful connection between your sales and finance teams. The two tools work together seamlessly, allowing you to automate the entire process from quoting a customer to receiving payment.
They also ensure that your information is accurate across accounts, payments, and invoices – so there won't be a single dime unaccounted for. Salesforce can send out automated reminders for invoices due too, so you don't need to chase after clients.
Payment Processing – PayPal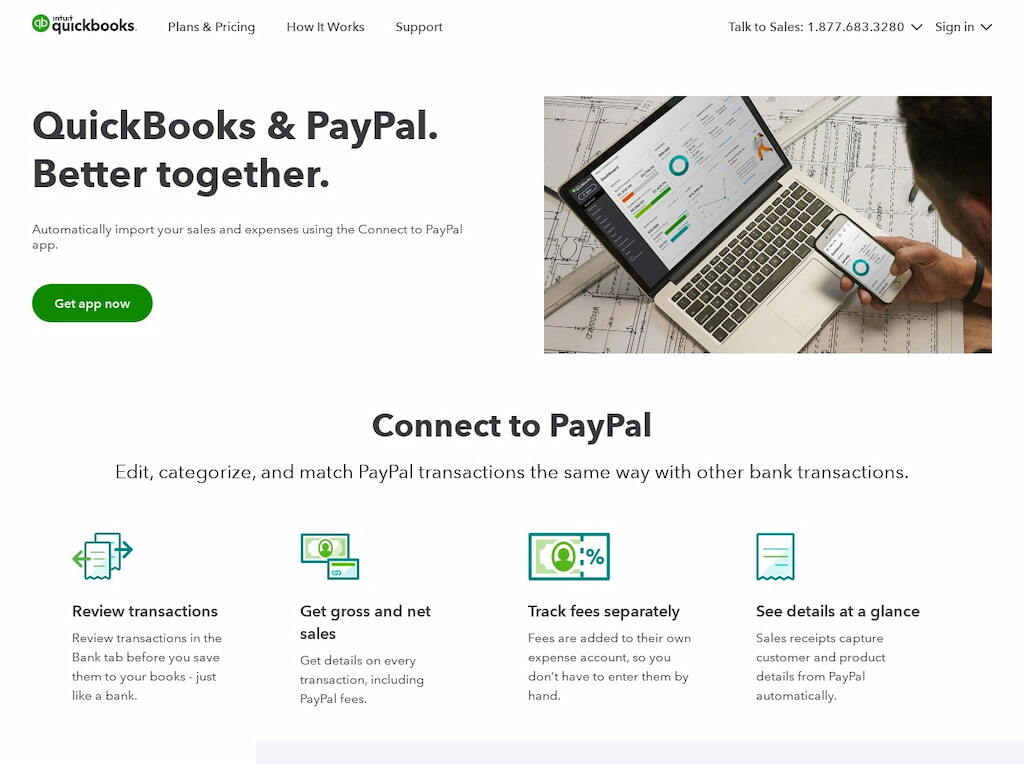 If you send or receive payments often, you'll understand the need for a payment processing platform that bypasses bank transfers and makes it easy to initiate transactions. PayPal helps you do just that, and more importantly, allows you to make and receive payments anywhere in the world so you can serve an international client base.
When you sync PayPal with your QuickBooks account, you can review all your transactions before you add them to your books. You can also peek under the hood of your finances with sales receipts, which will show you how many items you've sold, any discounts applied, as well as shipping fees and taxes.
Plus, syncing your PayPal account with QuickBooks is an easy way to stay on top of all the PayPal fees you incur with your transactions. That way, logging them as an expense when tax season rolls around will be a stress-free experience.
Inventory Management – SOS Inventory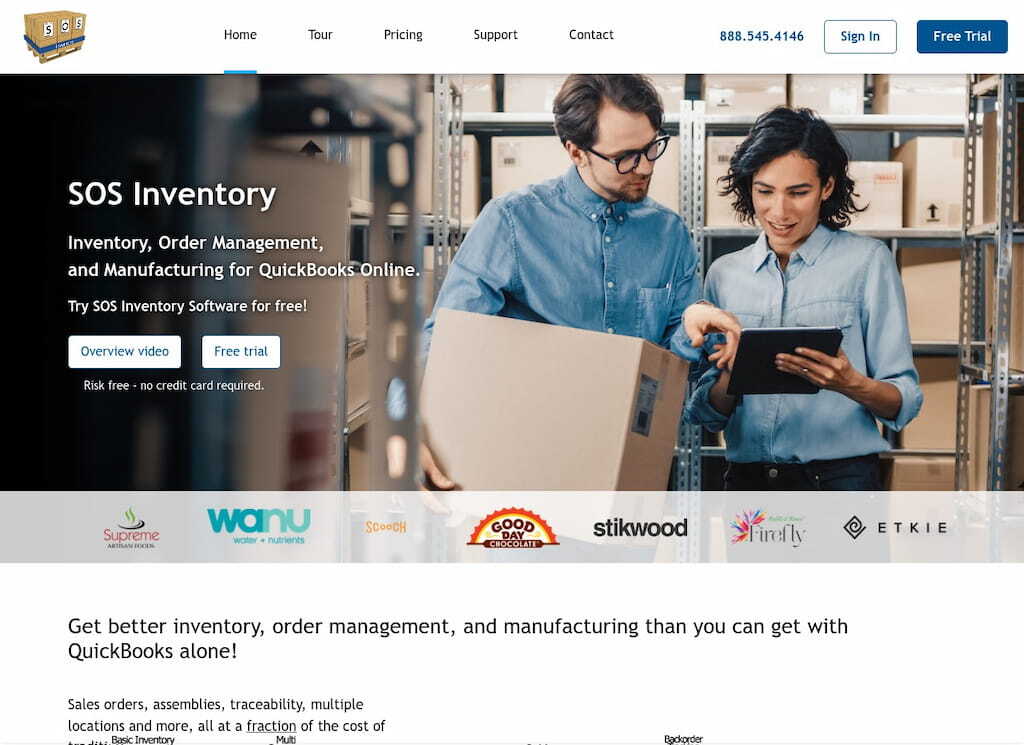 Staying on top of your business inventory can be challenging, especially without a robust system in place to lend a hand. SOS Inventory is just that: a platform for managing your stock, orders, and shipments.
SOS Inventory adds to QuickBooks' existing inventory and order management features by throwing in sales orders, serial inventory, assemblies, multiple location tracking, and much more.
Automated order processing allows you to set up automatic shipments in no time, and you can also prioritize your orders in a way that makes sense for your business.
With detailed reports, you can build a clear picture of exactly where you're at right now with your inventory, where everything is, and what might be missing. You can receive notifications via email or text whenever stock runs low, so you'll never be blindsided by dangerously low stocks again.
Construction Estimates – Buildertrend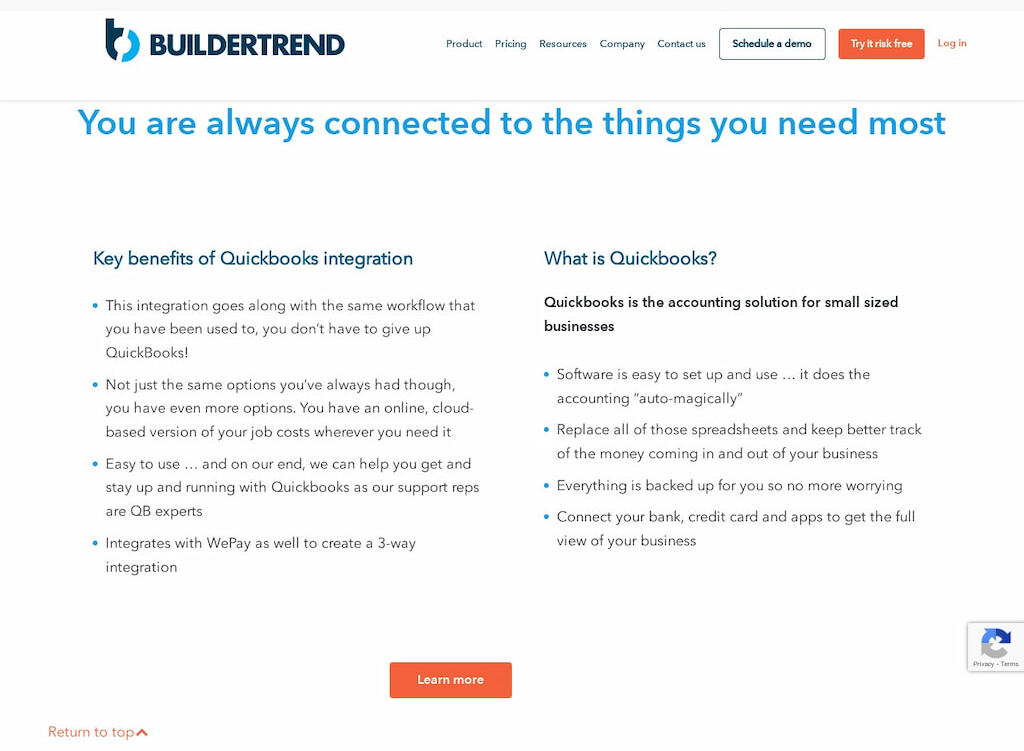 If you work in the construction industry, you'll appreciate how important it is to provide accurate estimates to your clients.
Buildertrend is a comprehensive solution for businesses operating in the construction industry. It provides a CRM system for providing personalized customer experiences, email marketing tools to generate and nurture new leads and project management features for streamlined work.
You can cut out costly errors by syncing all your Buildertrend data with QuickBooks.
No longer will you have to worry about double entry, which can set you back several hours. You'll also be able to change orders for invoicing, convert purchase orders to bills, cost code individual items, and integrate all your contacts.
Quotes – Quotient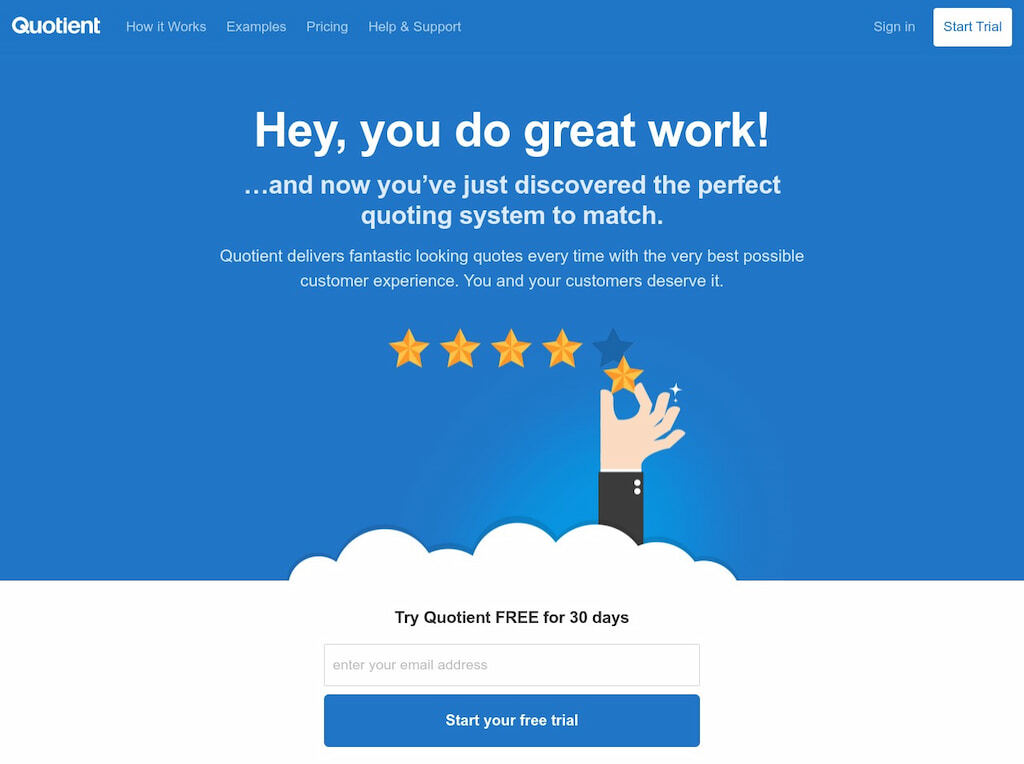 Before you get to invoices and payments, there's the whole quoting process to navigate. Quotient is a tool that streamlines this process, so you can provide accurate quotes that are tailor-made for each customer.
With Quotient, you can include optional and multi-choice items in your quotes, so your customers can feel free to pick and choose the option that best suits their budget and preferences. The app will automatically recalculate the quote to reflect what the customer wants.
You'll also have access to dozens of templates that allow you to kickstart the quoting process without having to put the structure together. They also speed up the process and help you generate a high volume of quotes in a short space of time.
Once you have quotes drawn up for your customers, and they've been accepted, the amount will automatically sync with QuickBooks for accurate invoicing.
Expense Tracking – Expensify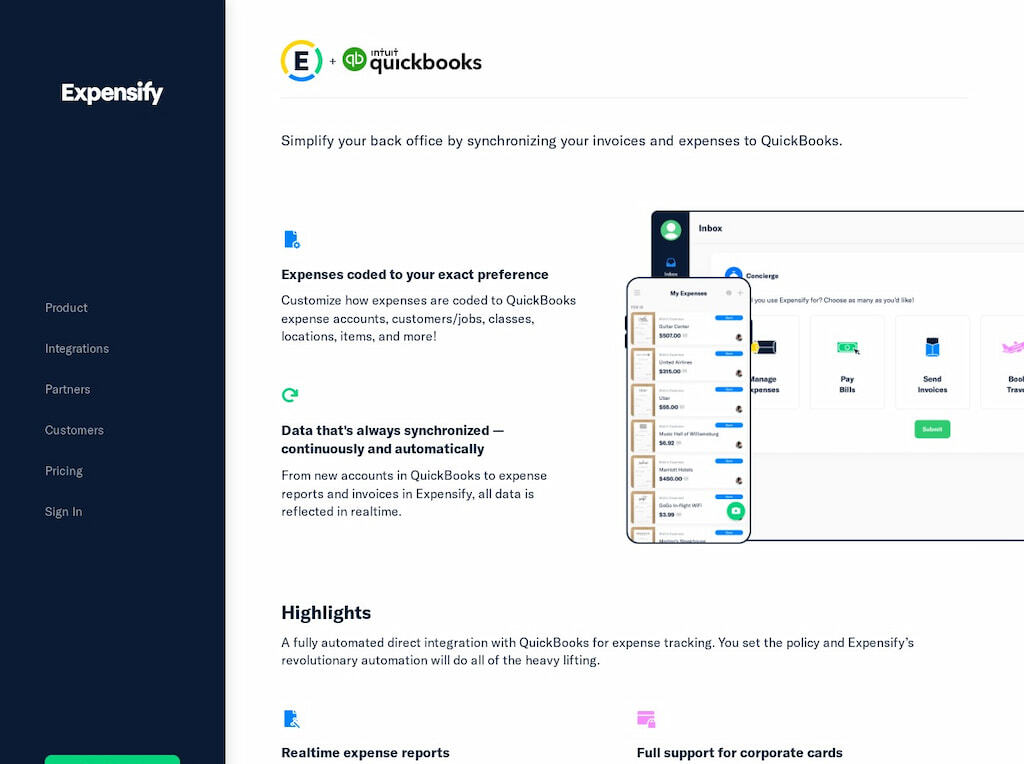 Tracking your expenses is just as important as staying on top of your invoices and payments. You need to know what your primary business expenses are, so you can receive tax deductions and save your company a lot of money come tax season.
With Expensify, you can upload receipt photos in seconds, and the tool will scan them for key information such as merchant name, date, and amount. It will then convert this information into an easy-to-read expense report, which you can keep for your records.
The credit card reconciliation feature then allows you to auto-merge your credit card transactions with the corresponding receipts. You can also set up multiple layers of approval, in case expenses have to go through several managers.
With QuickBooks, you can take all of this information and use it to create a snapshot of your expenses and one which you can hand over to your accountant for accurately filing your taxes.
Analytics – Syft Analytics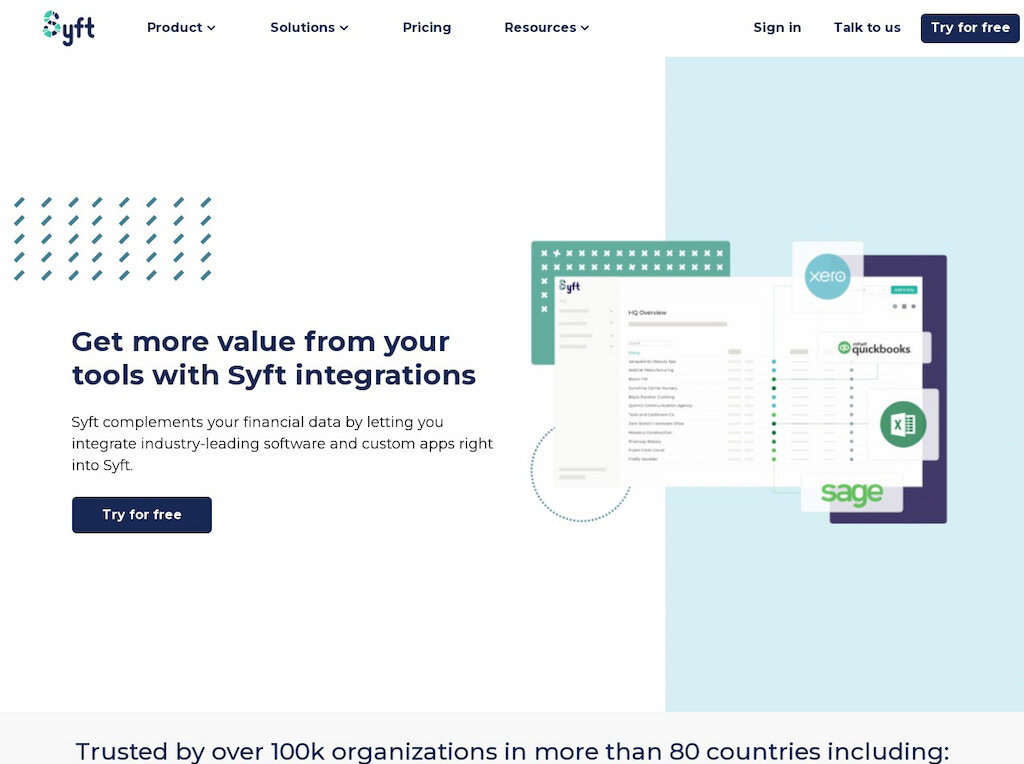 Syft Analytics allows you to accelerate the pipeline from data to insights. You can create visual reports and graphs, view data in dashboards, and compare your performance to that of other businesses in your industry. You can even forecast future performance and create budgets for upcoming projects.
The app is easy to use from the outset, and once set up, can help you analyze, interpret, and make the most of your business data.
Syft Analytics partners with QuickBooks to turn your financial data into reports and insights that you can use to drive future growth. All features of the analytics tool are functional with QuickBooks, so you can create custom PDF report packs that reflect your business' current financial health and forecast future funds.
Automation – Zapier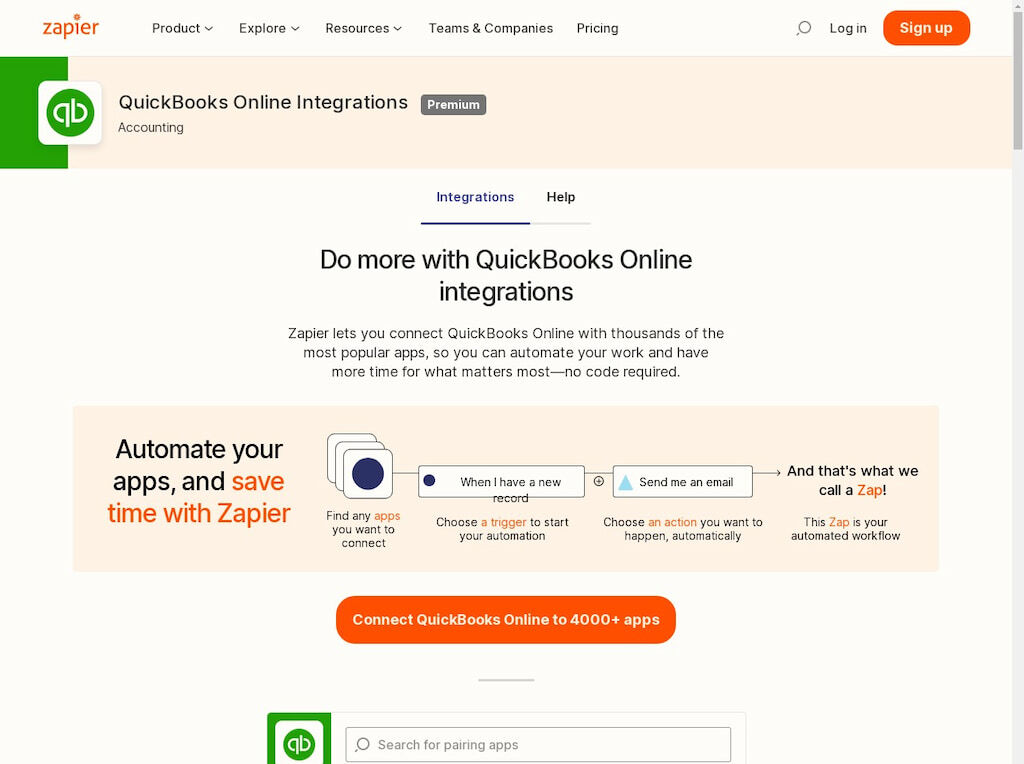 Automation is a buzzword these days since it can revolutionize workflows at every level of a business. With automation, you can mitigate the risk of manual data entry errors, and save countless hours.
Zapier is the best-known automation tool around, and it can help you streamline the integrations you use with QuickBooks. It can save you time by removing data re-entry copying from your QuickBooks account to third-party integrations.
Zapier integrates with hundreds of tools that you likely already use in your business, so you can relieve yourself of the burden of tediously copying and pasting all of your accounting and invoice-related tasks.
Marketing – HubSpot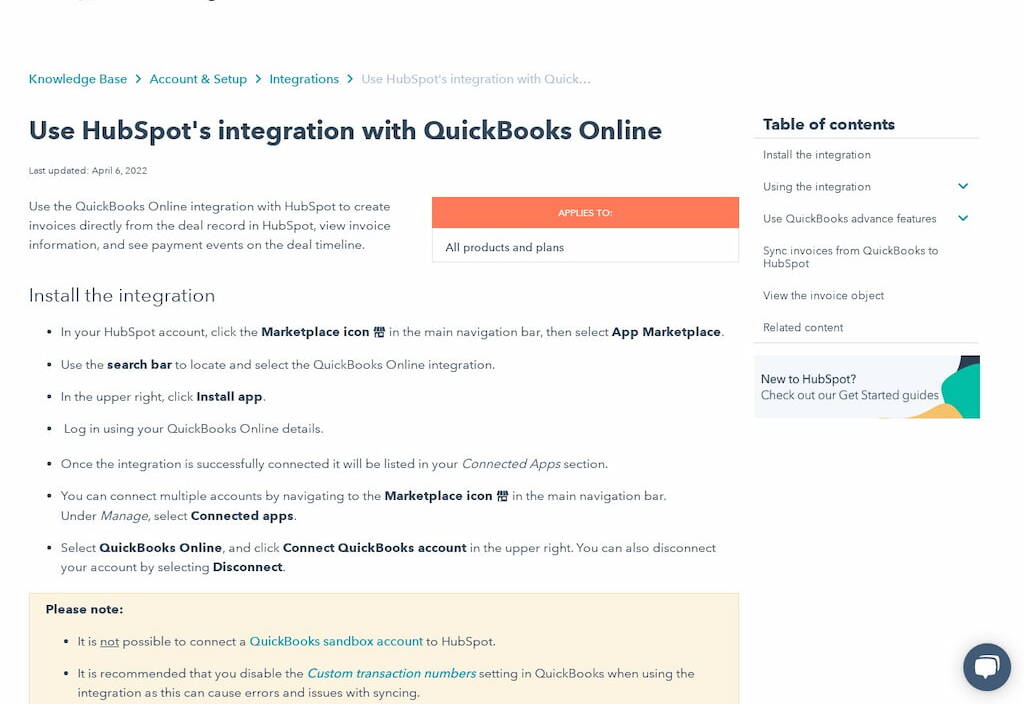 Hooking the interest of a prospect, and then taking them from a lead to a customer is a lengthy process and one in which there's plenty of room for error along the way. With HubSpot, you can optimize your marketing and sales efforts, so you increase the chances of success of converting each new lead to a loyal, paying customer.
HubSpot shows you everything you need to know about leads and customers in a single interface, creating a visual timeline you can refer to or share with your coworkers in different departments.
The platform provides you with access to sales features with the Sales Hub such as CPQ (configure, price, quote) and marketing features of the Marketing Hub such as content tools and search functionality.
As such, HubSpot streamlines your sales and marketing efforts and makes for seamless collaboration between teams. With QuickBooks, you can share invoices with a URL, use invoice deal properties to trigger HubSpot workflows, and use multiple currency syncing when creating invoices for customers overseas.
Data Syncs and Backups – Rewind Backups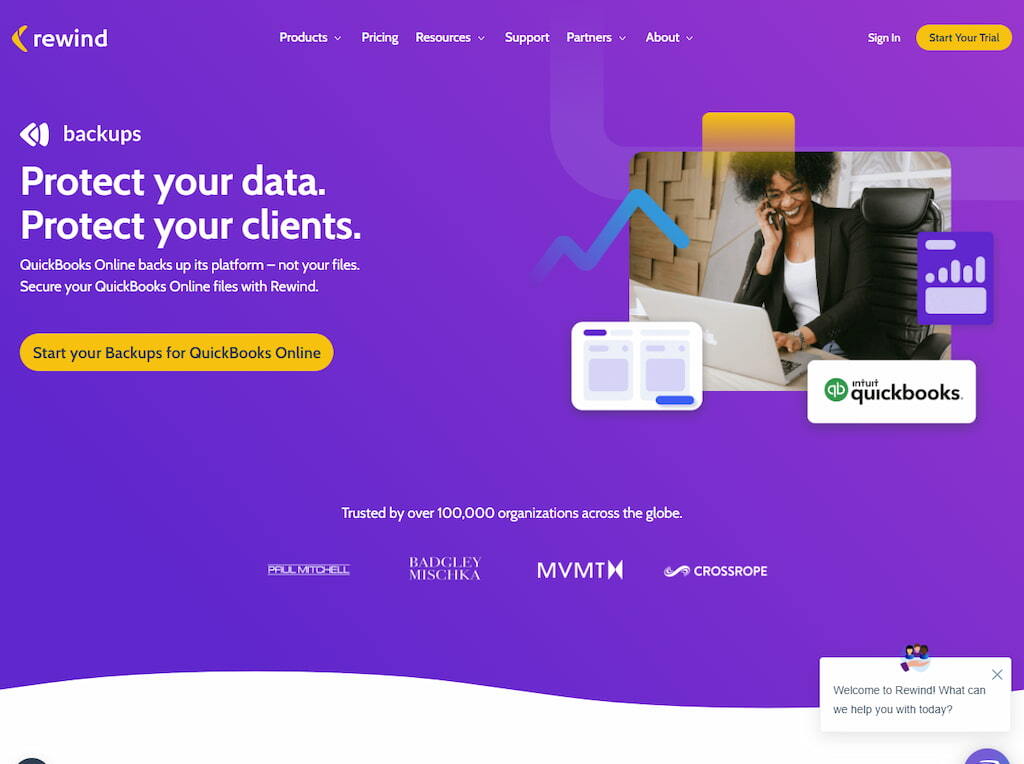 There's nothing quite like losing all your data to ruin your day and slow down your operations for days or weeks to come. Data breaches and leaks are an inevitability, so why not put systems in place to protect your data and ensure you never lose it again?
Rewind Backups allows you to feel comfortable in the knowledge that your business files and sensitive data will be automatically backed up each time you use QuickBooks. You can choose how you restore your data, too. Either rewind a single item, or multiple items, or restore your entire company file to a previous point in time.
Onboarding clients in QuickBooks can be a time-consuming process but with the Rewind Copy button, you can safeguard all the data you enter.
HR – Human Interest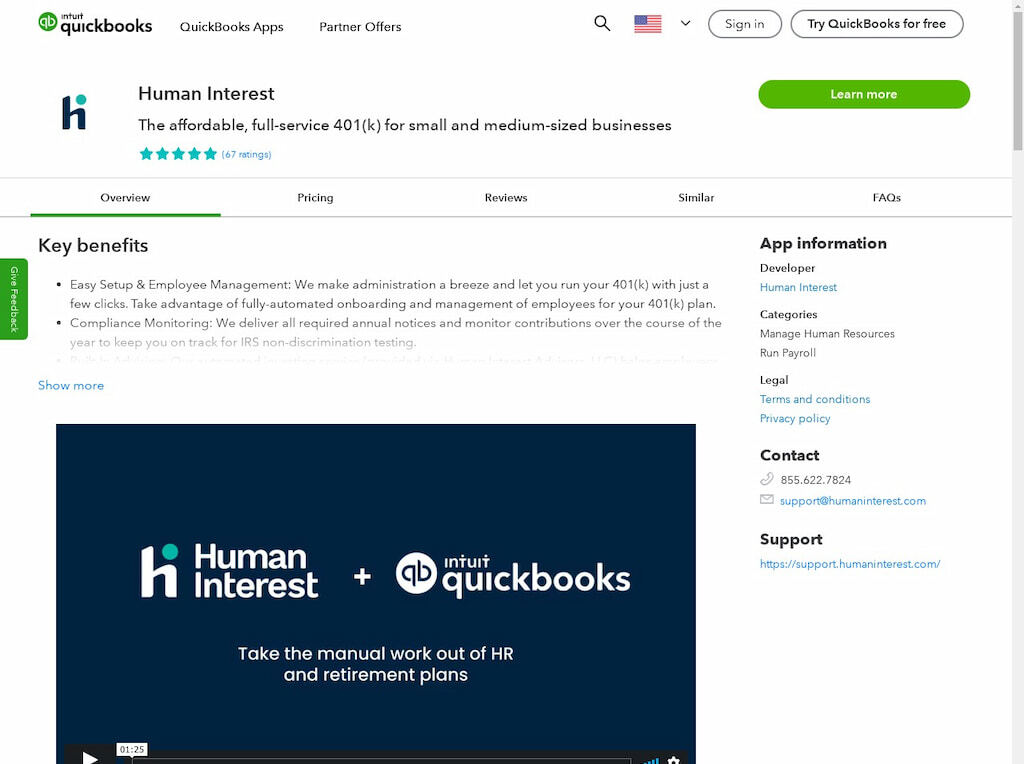 Human resources is an essential part of any business, and it isn't always easy to stay on top of every facet of how your employees interact with the company. With Human Interest, you can run your 401 (k) scheme quickly and easily, and use fully-automated onboarding and management tools to ensure it's safely taken care of.
You can also use compliance monitoring to deliver annual notices and keep track of contributions throughout the year, which will help your HR department stay on top of IRS non-discrimination testing.
Human Interest even offers advising services to help employees diversify their international investments, so you can offer your workforce an extra perk to keep retention rates up.
With QuickBooks, your employee's contribution rates can be automatically applied to your account for the following payroll period. You'll also be able to track real-time changes in employee status and make accurate salary adjustments for every payroll cycle.
Credit Access – Fundbox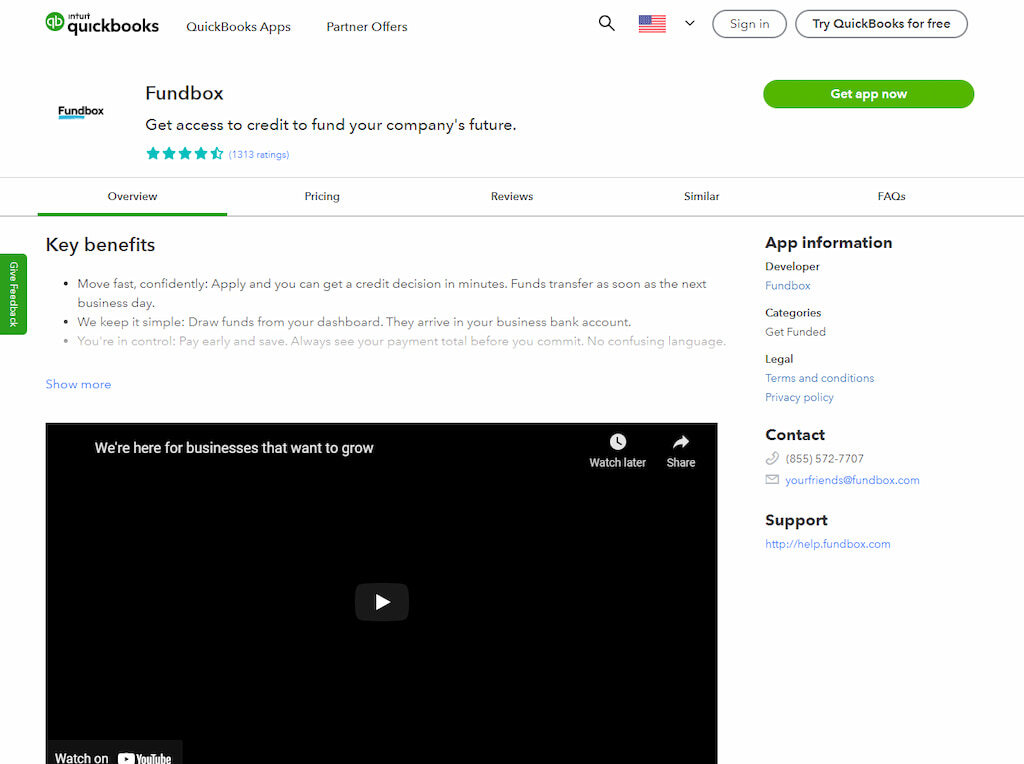 For those times when you need to quickly access credit, you need a tool that will help you secure funds with minimal fuss.
Fundbox is a tool that allows you to make a credit application and receive a decision within a matter of minutes. The fund transfer process is expedited too, so you should receive the funds the next business day.
You can then pull funds from your dashboard to add to your business bank account. As such, you'll have a simple and easy way of staying on top of your financial commitments.
With QuickBooks, you can make the process of applying for credit and making payments secure. You can use your credit within QuickBooks, and advance payments on unpaid invoices.
Which Integration Is Missing From Quickbooks?
Are you curious about how other integrations like attendance trackers and accounting tools could work with QuickBooks? If you notice that QuickBooks doesn't currently offer integration with your favorite app, you can reach out to Everhour to learn how we can help you pair your app with any QuickBooks products you own.
Here's all the information you need to know about QuickBooks and its timesheet app integrations, expense tracking tools, and others:
| | | | |
| --- | --- | --- | --- |
| Integration | Focus | Who's it best for | Price |
| Everhour | Time tracking | Small teams | Starts at $8.50/month |
| Shopify | eCommerce | Large businesses with online stores | Starts at $29/month |
| Salesforce | CRM | Sales teams | Starts at $25/month |
| PayPal | Payment processing | Admins | Variable fees |
| SOS Inventory | Inventory management | Small to medium-sized businesses | Starts at $49.95/month |
| Buildertrend | Construction estimates | Small businesses | Starts at $99/month |
| Quotient | Quotes | Sales teams | Starts at $25/month |
| Expensify | Expense tracking | Sole proprietors | Starts at $0/month |
| Syft Analytics | Analytics | Enterprises | Starts at $0/month |
| Zapier | Automation | Medium-large sized businesses | Starts at $0/month |
| HubSpot | Marketing | Marketing teams | Starts at $41/month |
| Rewind Backups | Data syncs and backups | Medium-sized businesses | Starts at $3/month |
| Human Interest | HR | HR teams | Starts at $120/month |
| Fundbox | Credit access | Accounting teams | Starts at $520/month |