If you're interested in sales at all, you should have already heard about HubSpot, a customer relationship management platform (CRM). It's essentially a one-stop shop for every feature that could help you streamline critical aspects of marketing, such as content management, customer support, sales, and more. This platform is one of the best CRM platforms online, and you would be hard-pressed to find something that can match up to the functionality that HubSpot brings to your organization.
That said, HubSpot has one vulnerability: it doesn't have a native time-tracking ability. For a CRM that some team members spend the majority of their time on, the lack of time-tracking features is a missed opportunity for improvement.
If you could track the time you spent on this marketing platform, you could better assess your team's performance and make better strategic decisions. As you can see, HubSpot time tracking is essential for any organized project, so we're going to talk about solutions that you can implement to make this happen. Let's go!
What Is Hubspot Time Tracking?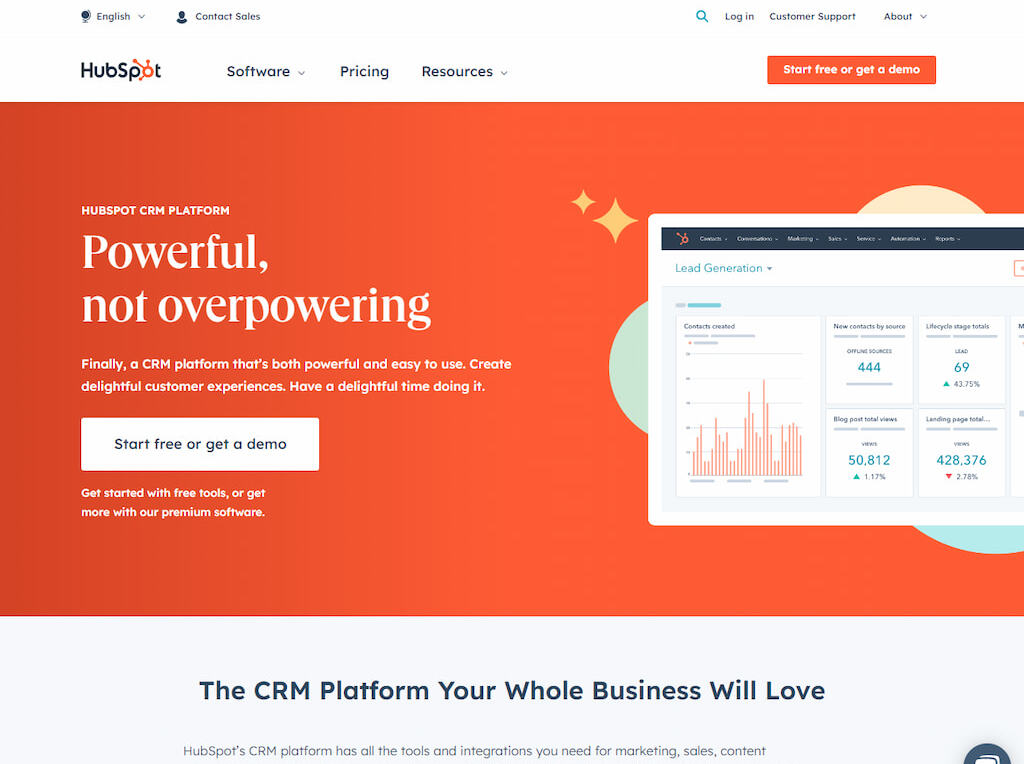 Although HubSpot doesn't have native time-tracking, this doesn't mean you can't track time in it. You can do this through the use of a HubSpot time tracking integration, such as a browser plugin or installed software, that can track the time you spend on HubSpot for you.
These third-party solutions make time tracking easier. The best of them have the ability to integrate with the HubSpot platform and track the time from there, mimicking a built-in time tracker.
HubSpot time tracking is a critical feature for increased productivity and more efficient administrative processes for your company. In the next section, we'll delve into the specifics of these benefits.
Why Track Time in HubSpot?
HubSpot time tracking sounds like a neat feature to have, but is it really necessary for your teams to function? Here's why you should track your work hours in HubSpot.
💡 Gain valuable insights
What can be measured can be controlled. We've heard this popular maxim time and time again, and for a good reason. Tracking time when you're using something as feature-rich as HubSpot gives you a better understanding of what your team is working on and how much time they are spending on it.
With this kind of information, you'll have a better understanding of how your team works, what they are prioritizing, and how they respond to time constraints. It's valuable for managers because it can help them determine an underlying work culture that they might not have noticed before.
😊 Streamlined project management
When you're working on a project, every second is valuable. The role of any project manager is to guide the workflow of their team and to remove the barriers that prevent them from achieving this goal.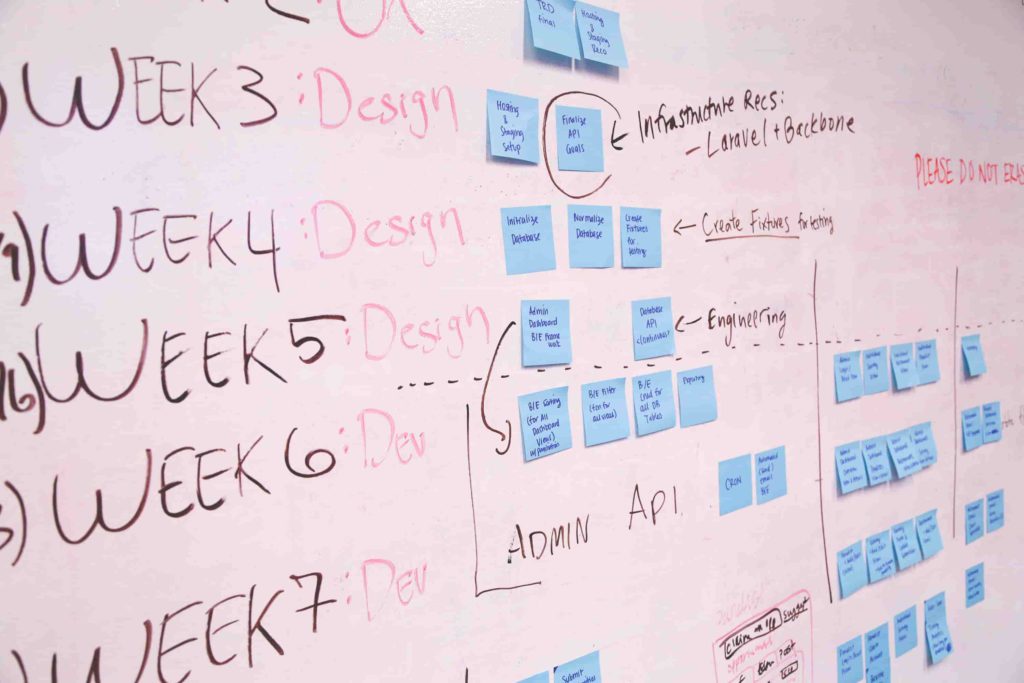 With an accurate grasp of your team's work habits, you can be more effective in maintaining their baseline productivity and accurately projecting time to completion of specific tasks.
🔥 Minimizes burnout
A time-tracking platform allows managers to see how many hours a teammate is working. This gives them a bird's eye view of how much work is assigned to an individual, allowing them to swoop in case someone is struggling with their workload.
Burnout is a serious thing to contend with, especially in small teams undertaking large and complex projects. Time tracking allows you to prevent burnout before it happens.
💸 Accurate financial processes
Invoicing and payroll inherently rely on hours worked. In invoicing, you're billing a client for the number of hours that you or your team has worked on their project. When doing payroll, you're paying employees based on the number of hours they worked. In both cases, accurate time tracking is necessary to reflect the right amount. You can also use the hours worked for overtime payments and other incentives for raising team morale.
Moreover, having streamlined financial processes removes the uncertainty that many freelancers, and remote, and even in-person teams face when it comes to payment.
📃 Provide transparent reports to stakeholders
Teams that need to provide reports to concerned stakeholders will appreciate the transparency that a time-tracking platform offers. Often, teams involved in projects need to create progress reports for stakeholders. If you're working on something, having documentation is one of the most useful things to include in your report.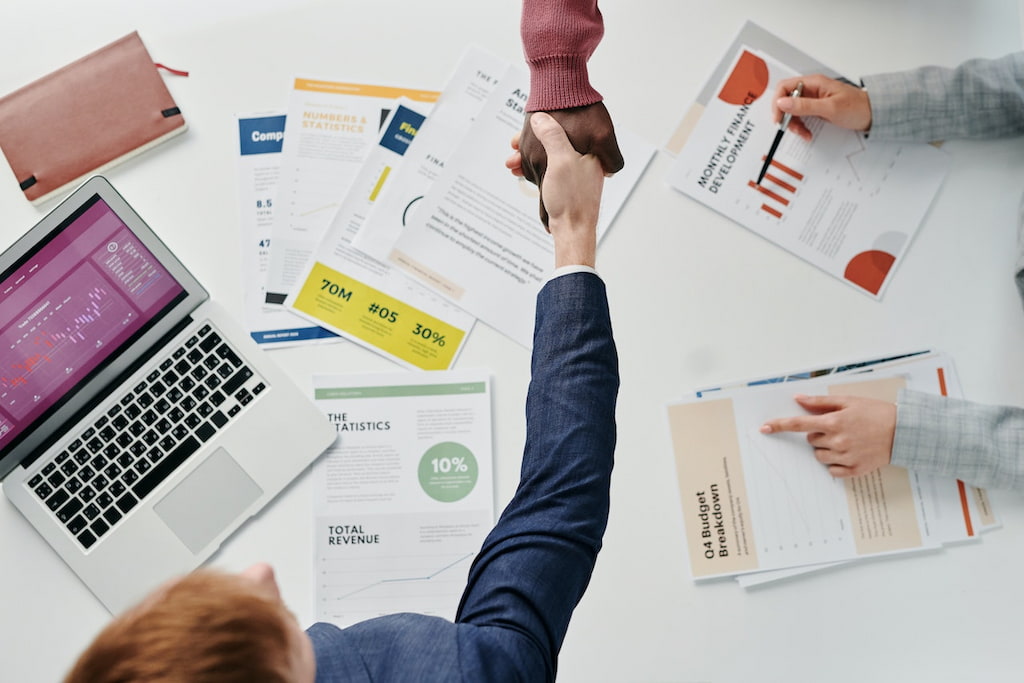 With this level of time tracking, you can communicate any milestones, barriers, and solutions your team faces while using HubSpot. Transparency with stakeholders improves credibility and encourages support.
10 Best HubSpot Time Tracking Tools
Now that we know the importance of time-tracking tools in using HubSpot, you might want to start tracking the hours your team spends on HubSpot every day. Don't worry – in this section, we're going to give you all the best time tracking software that you can use with this useful CRM platform.
Free Hubspot Time Trackers
When tracking time in HubSpot, you have two options: free and paid. Typically, free versions of time trackers have limited tools, but our best recommendations prove that you don't have to pay a lot of money–if any at all–for decent time management.
Everhour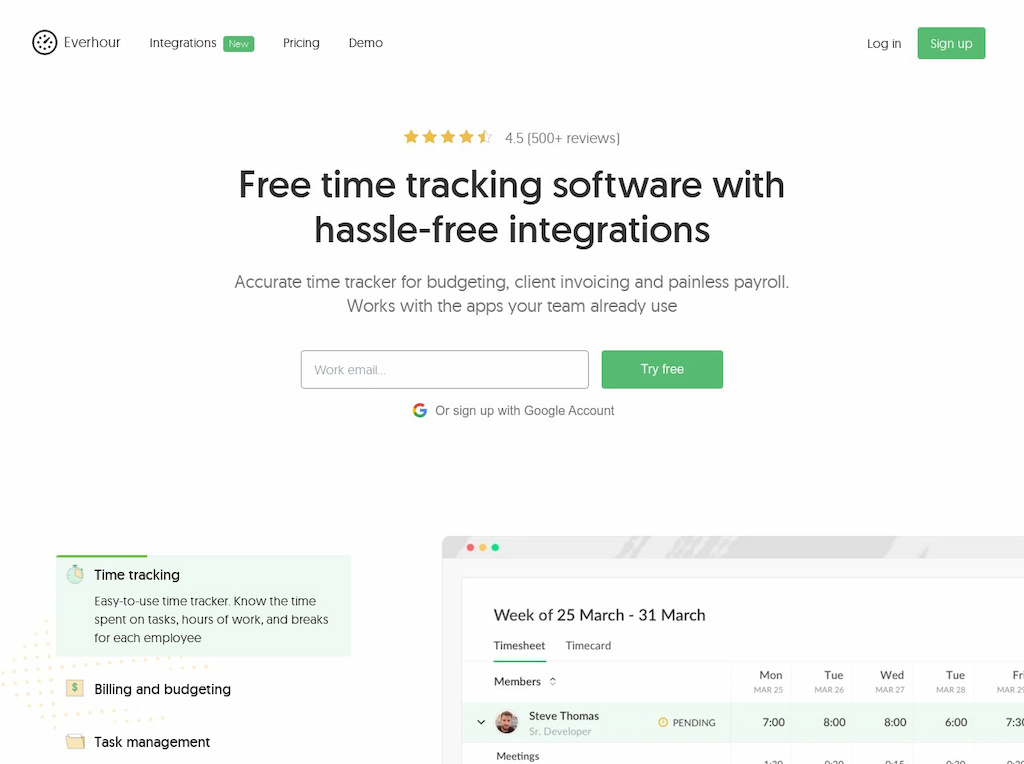 Everhour is a robust time tracker and time clock app that's perfect for HubSpot time tracking. It does have a more comprehensive paid version, but the free version already has everything you need for basic time tracking, including unlimited time tracking, project creation, reports, and browser extensions.
Its time-tracking features include an auto-stop timer, automatic reminders, time estimates, and time logs. You can enjoy unlimited time tracking, reporting, and a number of projects, as well as extensions for any browser you like.
It's particularly beneficial for teams who want to track their hours on platforms such as HubSpot since it can be fully integrated. Unlike other job-tracking apps, Everhour appears as clickable buttons on the platforms, so the users don't have to go anywhere else. Other tools that can integrate with Everhour include Asana, Trello, Jira, and GitHub.
---
ClickUp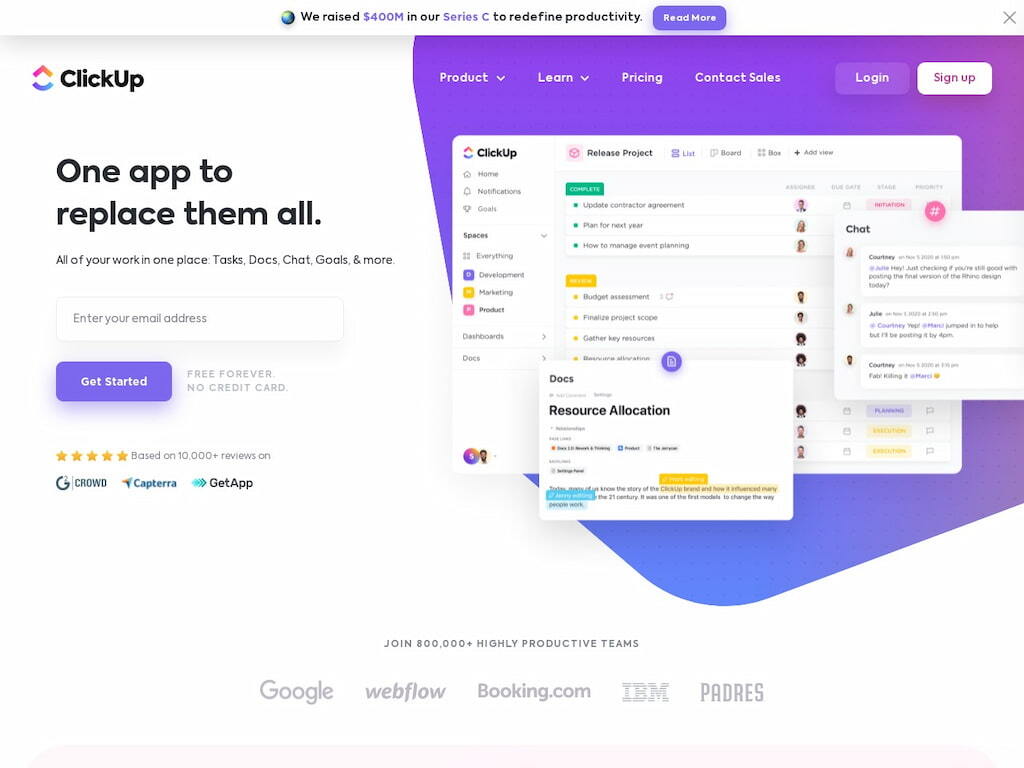 ClickUp is a simple and effective way of assigning and tracking tasks for all your team members. You can use this integration to create a task whenever there's a new form filled out on HubSpot.
This platform has basic customer relations management features that you can use in tandem with HubSpot to further break down large workloads into specific and customizable tasks. Time tracking is also more than decent – members can track their hours regardless of what they're doing.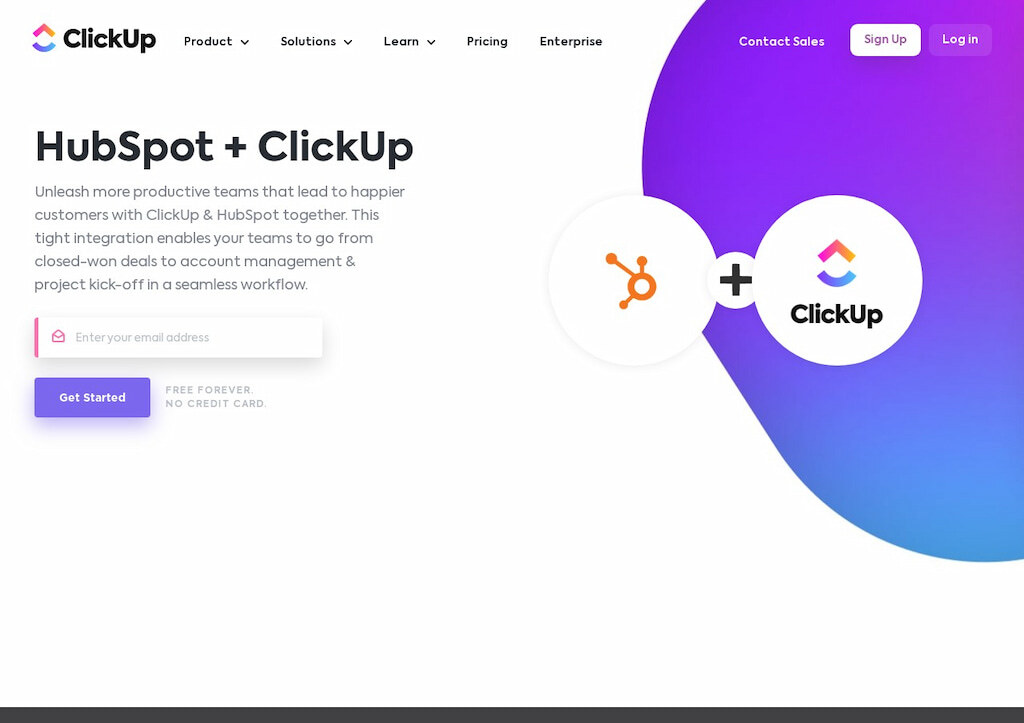 Best of all, ClickUp promises that it's free forever. This includes features like reports, goal-setting, and team collaboration.
---
Jibble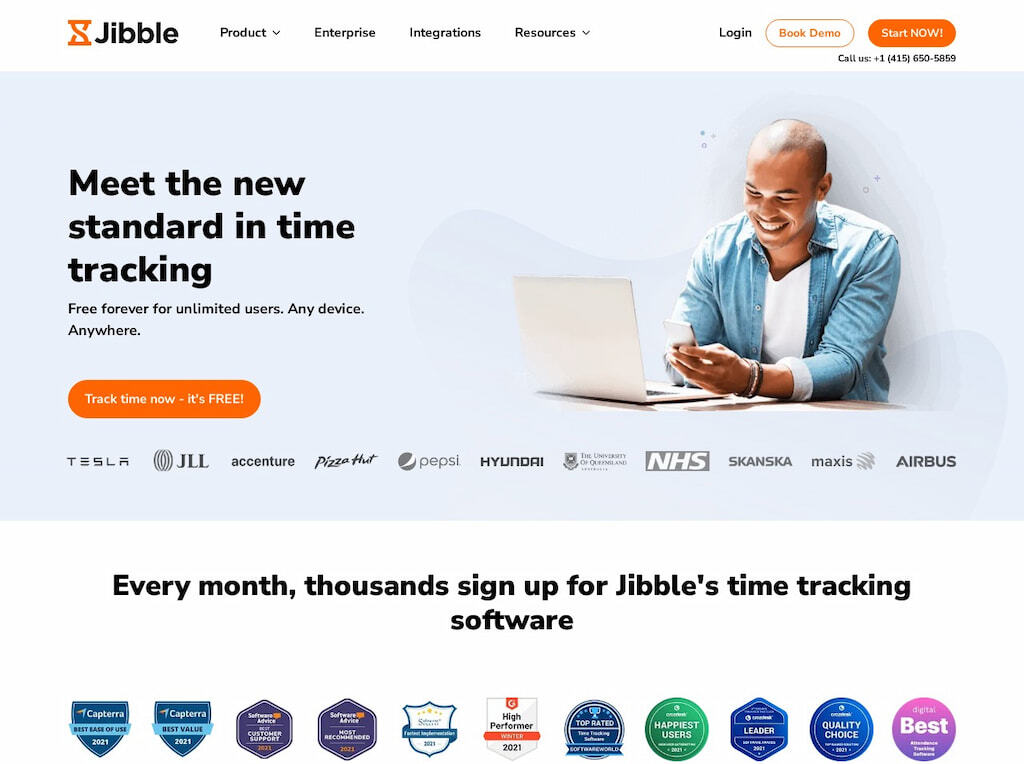 For teams who'd like a little more organization in their workflow, Jibble might be what you're looking for. This time-tracking app has an attendance tracker that lets employees clock in and clock out from their mobile or desktop.
It also includes detailed analytics and reporting, allowing you to better manage your budget and payroll. Additionally, Jibble has highly customizable permissions, which means you can set different restrictions for different user groups.
---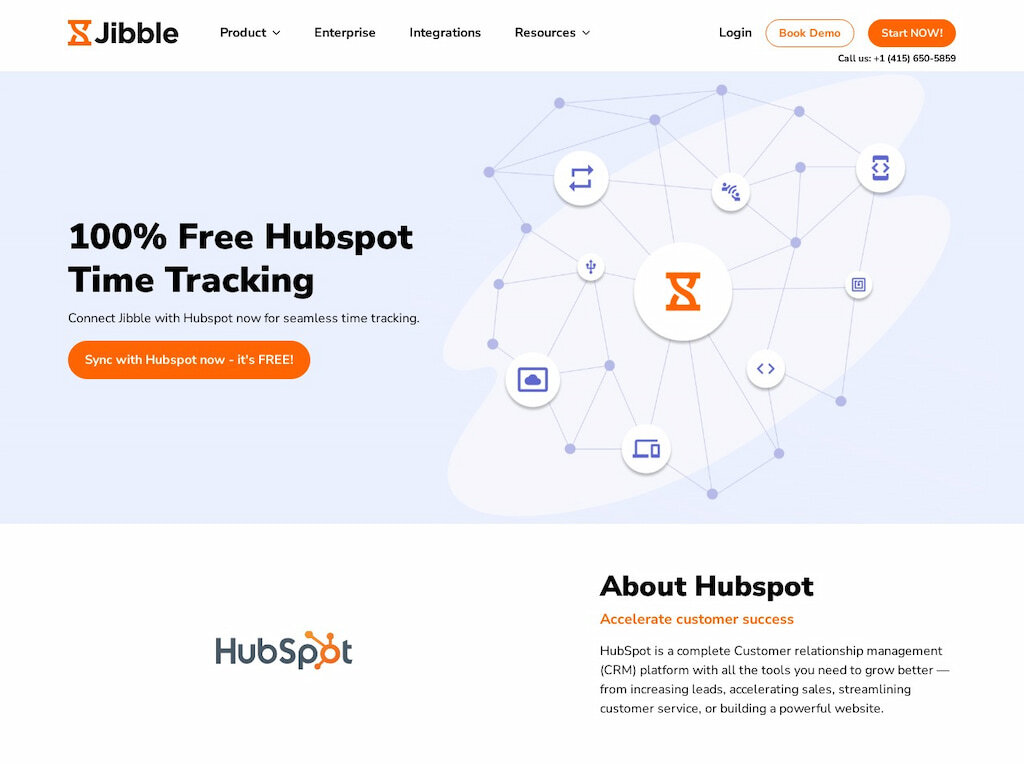 One of the best things about Jibble is that it's completely free for unlimited users. All of its robust features are available to all users without any hidden fees.
---
TMetric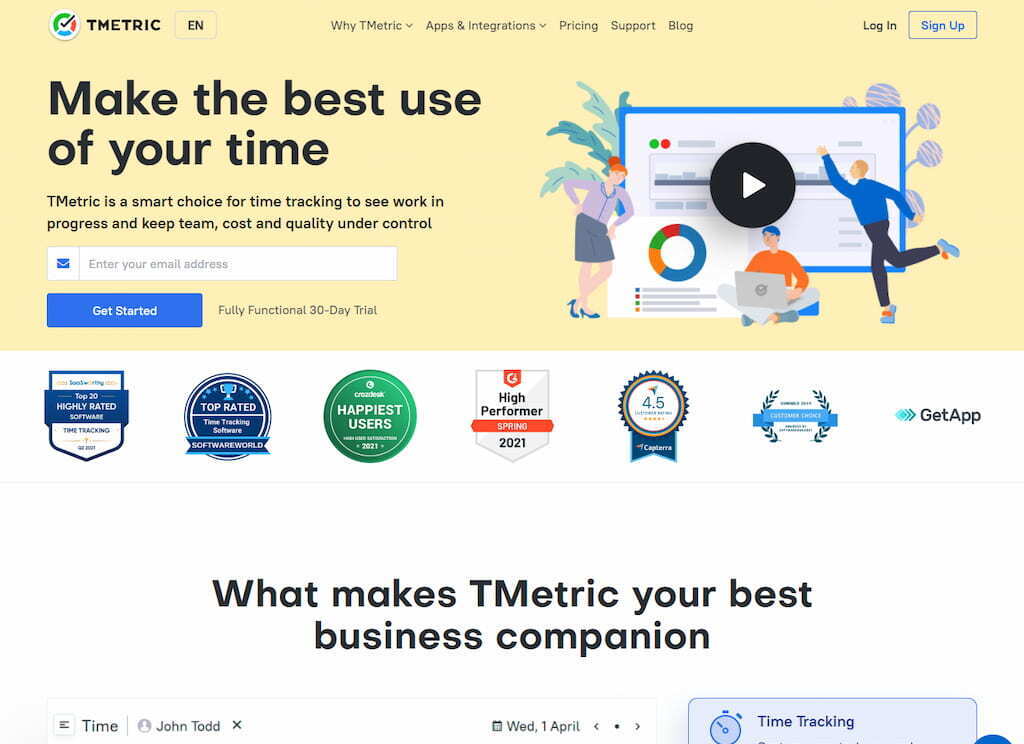 Finally, we've got TMetric, a straightforward HubSpot time tracker with a few extra unique features sprinkled on top. One of these special features is the idle detection functionality, which will automatically pause the time tracking if it detects no activity from the computer. It also has other features that make it stand out, such as manual entries, bulk editing, timeline view, and more.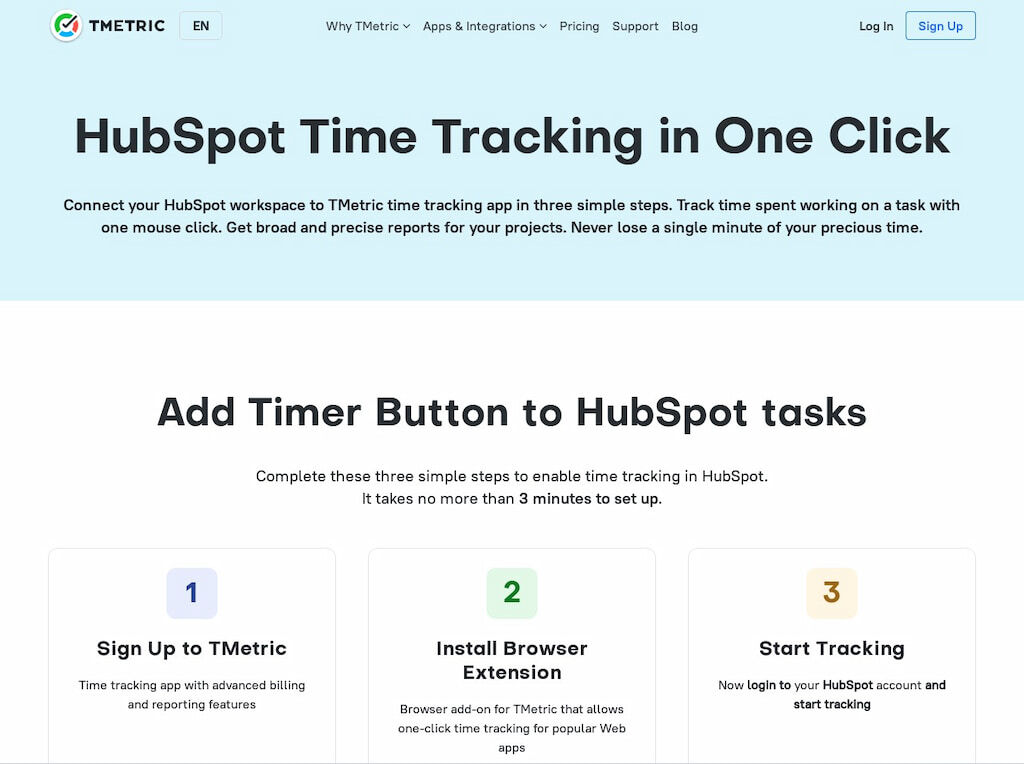 The free Tmetric version includes an integrated timer button, unlimited projects and clients, time tracking, and reporting features.
---
Paid Hubspot Time Trackers
Naturally, paid time trackers have a more diverse range of tools that you can use to improve your team's performance. Let's examine the best paid HubSpot time trackers in this section.
Everhour
Everhour is one of the best paid time trackers for HubSpot out there. Even though it was also included in our Free list, its paid version has a much more comprehensive toolkit, with advanced time tracking, integration, and reporting tools.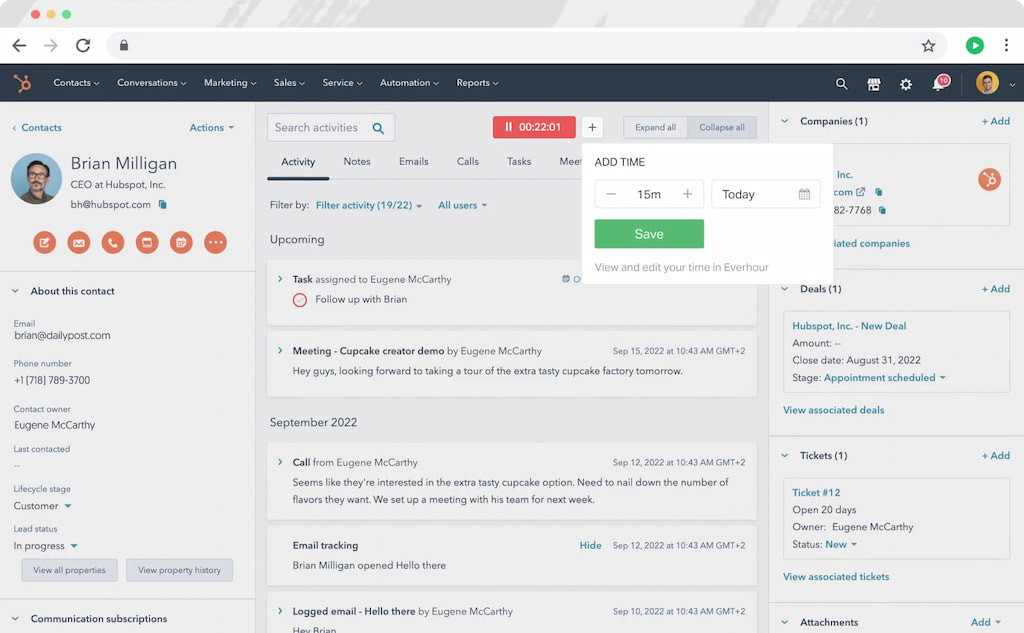 For one, it has a timesheet app that allows you to track clock-ins and clock-outs and integrates with other project management tools. Invoicing is also a breeze with Everhour, as you can add your tracked hours to your invoice with just a few clicks. You can also generate reports just as quickly.
This platform has two paid tiers: Lite and Team. The Lite starts at $10 per month, or $5 per user per month, with a minimum of two users.
From just five users in the free plan, the Lite tier lets you use these features for up to 10 users. It also gives you financial management features absent in the free plan, such as billable rates, budget setting, invoicing, lock time entries, and even API, among others.
---
Time Doctor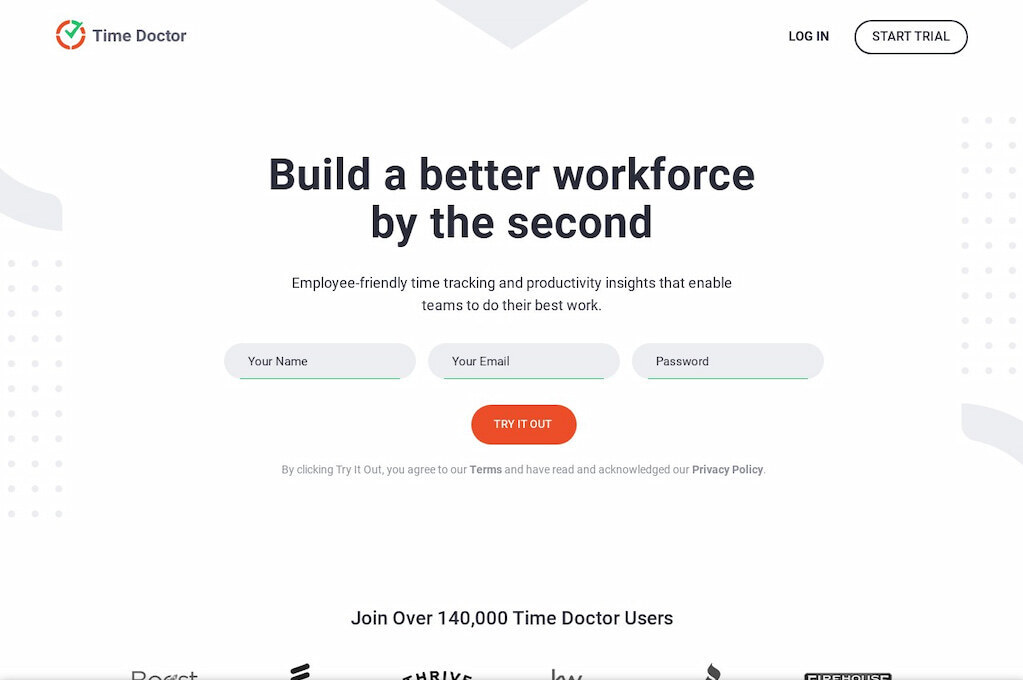 Time Doctor is another paid time-tracking platform that goes even deeper in terms of tracking time. It has three plans: Basic, Standard, and Premium.
One of the main features that Time Doctor has is its ability to automatically track work hours, which the app can achieve because it will be installed on the computer it's monitoring. This means that the app can track idle time, non-work time, and work hours accurately.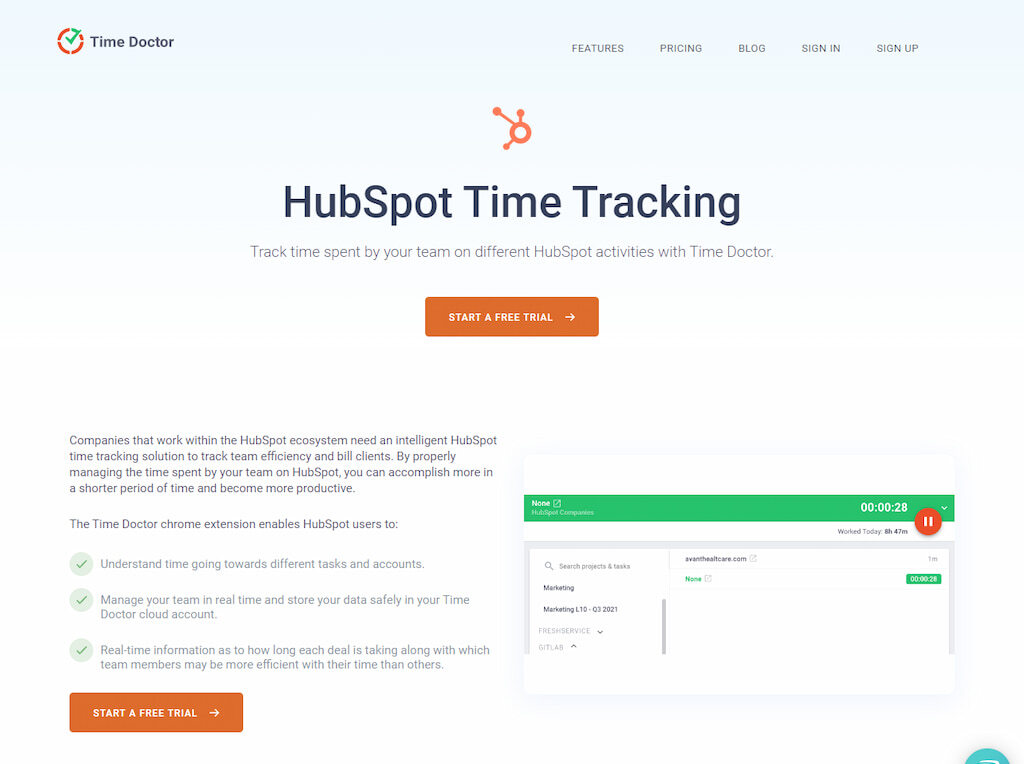 The Basic tier starts at $7 per user per month when paid monthly and includes automatic time tracking, task and project creation, unlimited screenshots, and activity tracking. The next pricing tiers introduce financial management features and more.
---
QuickBooks Time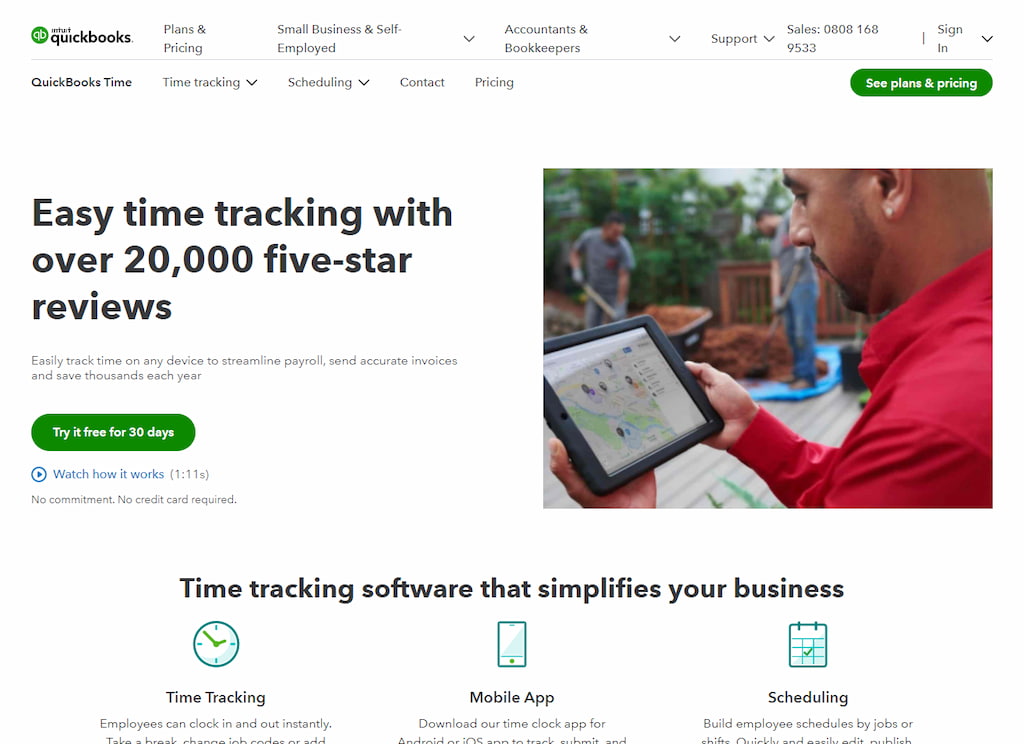 Created as an additional module to the popular accounting app, QuickBooks Time understandable focuses on the financial aspects of your time tracking. It can automatically integrate with QuickBooks accounting software for easy and accurate budgeting, billing, forecasting, and more.
Aside from that, QuickBooks Time tool lets you manage your teammates with geofencing technology, integrates with many other platforms and software, lets you manage employee schedules, and more.
This app has four pricing plans: Simple Start, Essentials, Plus, and Advanced, costing $15, $27.50, $42.50, and $100, respectively.
---
Timesheets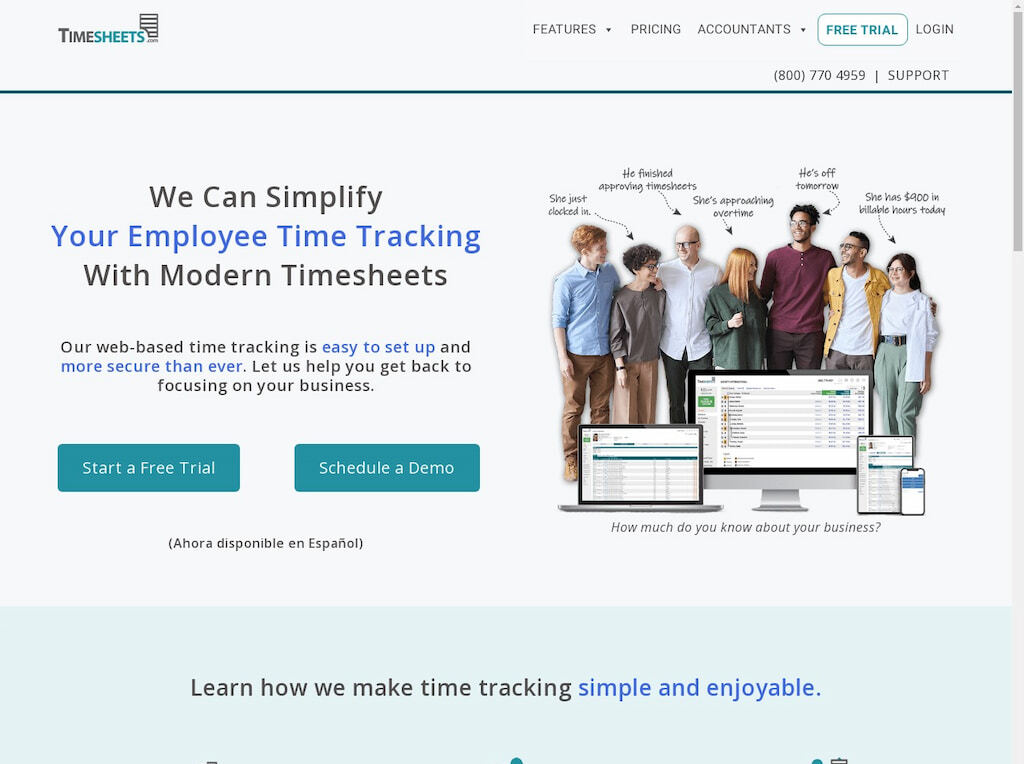 Timesheets is another timesheet app that you can use for HubSpot. Its main feature includes modernized timesheets that your employees can easily use to track their time in HubSpot, take time off and PTO, and extract information through reporting.
There are also free add-ons that you can include on your subscription, depending on your need. For example, you can opt for the scheduling, mileage, expense tracking, and even HR modules to be included in your account.
Timesheets have a free version, but the significant time management features begin with the Standard tier costing $4.50 per user. They also have a special offer for nonprofits at only $3.60 per user.
---
When I Work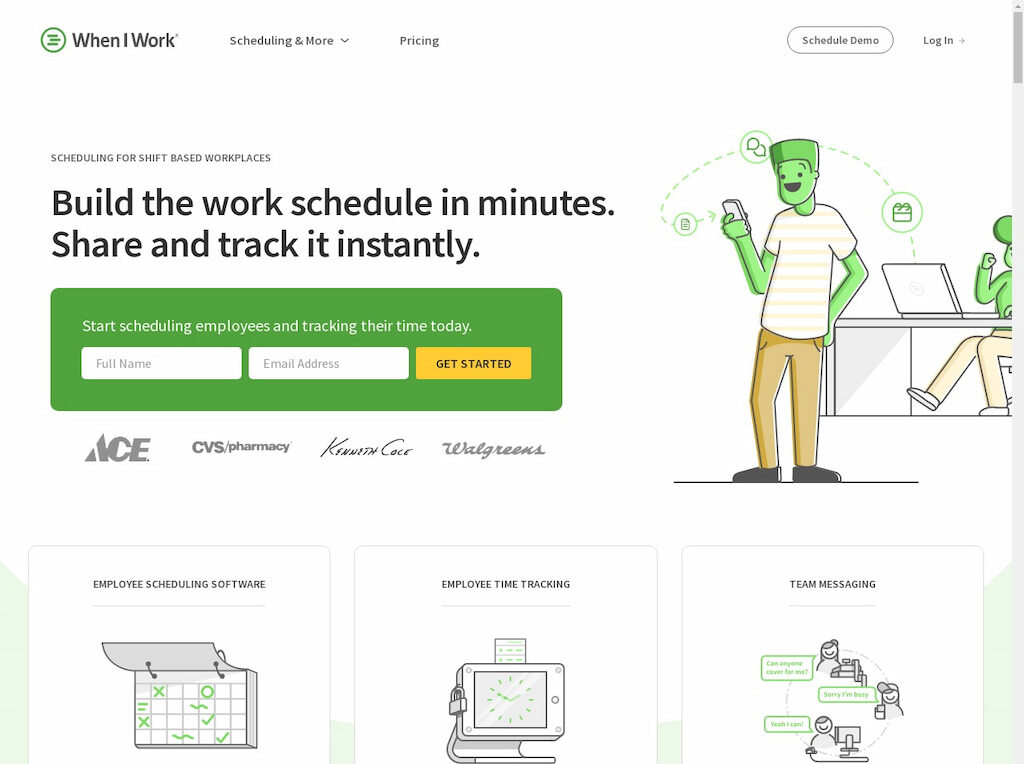 Another great app with excellent free features is When I Work. This platform is an employee scheduling app that lets employees manage how much and when their teammates work, applicable to any industry that relies on standardized hourly days.
This app is essential for those with top-down management styles because it allows employees to set and monitor daily workloads.
There are two pricing tiers: standard and advanced. The Standard tier costs $2.50 and includes schedule-setting abilities, a time clock, team messaging, and more.
---
Monitask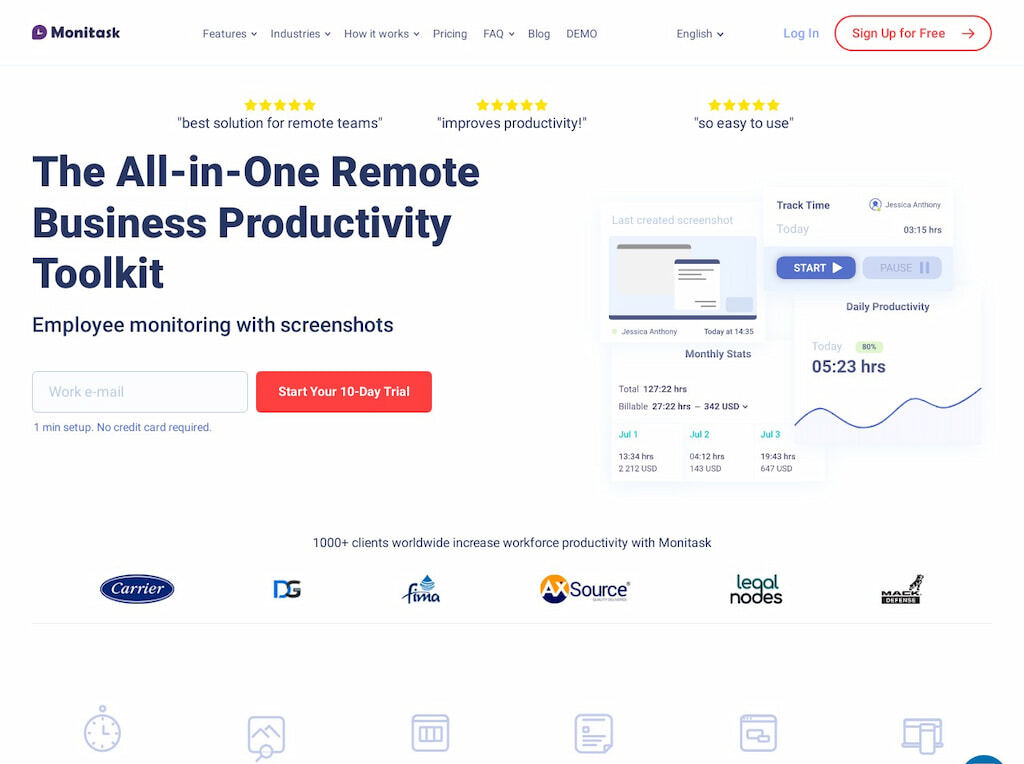 Monitask is a paid employee productivity tracker that integrates wonderfully with HubSpot. It specializes in remote teams and allows managers to see the time that their employees spend on a certain task.
A special feature that this app has is that it can take screenshots of the employee's monitor to serve as proof of work to employers who are monitoring their time. It also has features that track the apps and websites that the employee device visited specifically, plus other typical features such as summaries and analytics.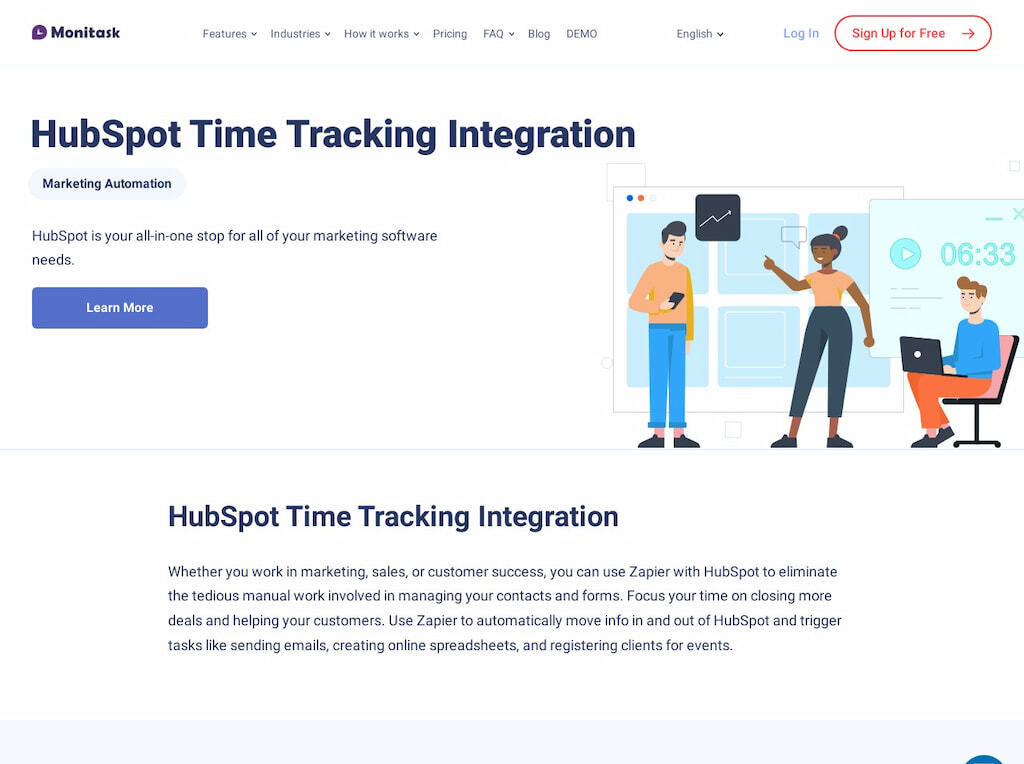 Monitask has three pricing tiers called Pro, Business, and Enterprise. Pro starts at $5.99 a month per user and includes basic tracking features such as time tracking and activity monitoring.
---
Comparing the Time-Tracking Tools
Here's a quick summary of all the best HubSpot time tracking tools mentioned above for your convenience!
Software
Standout Feature
Base Price
Everhour (Free)

Everhour (Paid)
Excellent integrating features

Comprehensive time tracking for teams
Free

$5 per user per month, minimum of 2 users
ClickUp
Automatic task creation from HubSpot, 100% free forever
Free
Jibble
Complete time tracking, 100% free forever
Free
TMetric
Idle detection functionality
Free
Time Doctor
Automatically tracks work and idle hours
$7 per user per month
QuickBooks Time
Automatically integrate with QuickBooks accounting software
$15 per user per month
Timesheets.com
Modernized timesheet features
$4.50 per user
When I Work
Set and monitor daily workloads
$2.50 per user
Monitask
Proof of work screenshots
$5.99 per user per month
Hubspot Time Tracking: Final Words
HubSpot is a powerful platform for all your customer-related needs. However, it doesn't have a time-tracking time tracking ability that you can use to improve your team's functionality further.
Without a HubSpot time tracker, you're missing a lot of opportunities to streamline your processes according to your team's work capabilities. Luckily, there are many different third-party solutions that you can use for your HubSpot time tracking.
This article discussed the best free and paid software for that. Among all of them, Everhour comes out on top. This time tracking platform has it all – productivity monitoring, financial management, and even reporting can be done with Everhour. Sounds like a good deal? Try out Everhour's free version now!