Picking an Online Time Tracking Software
Hi there,
Thinking of making the right choice between Toggl and Everhour?
We want you to succeed in finding the best time tracking software for your business.
In spite of the majority of blogs that provide comparison only on some features a tool has, we believe that it's crucial to start with understanding the concepts and principles embodied in a product and how they will affect (ideally complement) the workflow at your company.
So many times we've tried a new tool, invested the time on its integration, only to realize in a few months that the data cannot be analyzed the way we need. Moreover, the product does not give the necessary insights or flexibility, and product team is not planning any further development.
Below, you'll find information that will help you to compare the basic principles of Everhour versus Toggl, our vision, plans, as well as thoughts from current Everhour customers who have made the switch.
Compare
Everhour vs Toggl
Here's why Everhour is a great Toggl alternative and why you should consider switching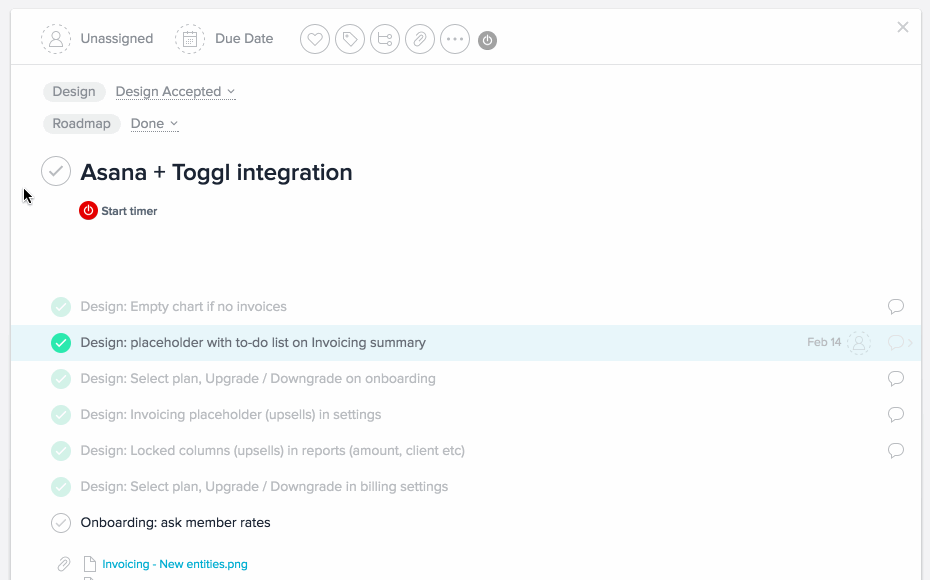 Consider Asana for example. All that Toggl does is adding an icon to the task pane (see above). When you click on the link, Toggl plainly creates a time entry on its side that has the same name as your Asana task. Just by copying the text.

Toggl does not sync any data from your project such as tags or sections. If you rename an Asana task, you and all your colleagues have to rename everything in Toggl. If you create a new project, you have to rewrite it in Toggl manually.

Toggl gives no option to log or edit time inside Asana manually. You can see the reported time in Toggl reports, and it is not possible to view the logged hours in Asana.

At Everhour, we aim at complementing Asana's interface with a bunch of useful data, thus improving your existing workflow.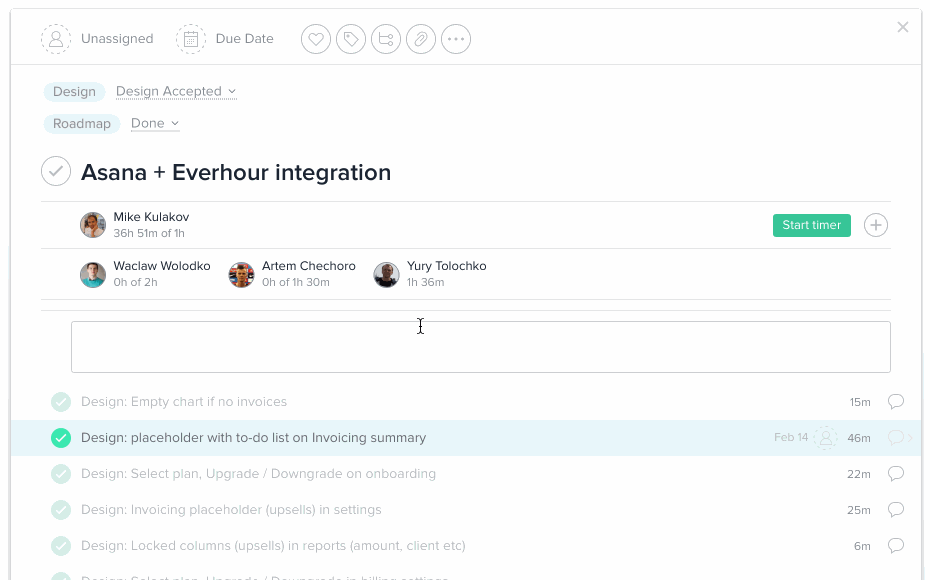 02
Time estimation is a crucial step in project management. However, neither Toggl nor default functionality of Asana, Trello, Basecamp, Pivotal or GitHub provides estimating features, while Everhour does.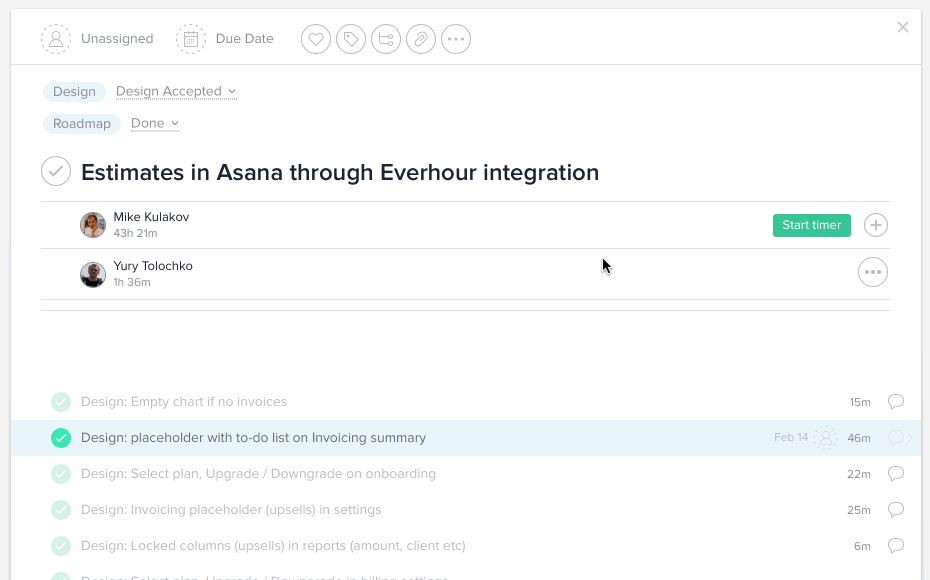 Going into the task details, you can find the progress aspects of each dedicated team member when multiple people are working on the same task.

Say you or your client spot at a task that shows 40 hrs. With Everhour you can go deeper, open up details and find out that only 8h were spent on development, while another 16h on design, 8h on QA and 8h on business analysis.

You would agree that total reported time is perceived differently with this kind of details.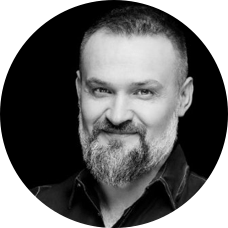 Grzegorz Mogilewski
Founder/CEO at ICONARIS
We switched to Everhour after four years of Toggl. I always find their reporting hard to use
In my opinion, Everhour has a better UI compared to Toggl. I liked how naturally their timer button looks inside Asana tasks. Besides, they nicely calculate the subtask time. Another advantage is comprehensive reports that I can customize to show the data I want to see.
ICONARIS is a Business Design and Online Marketing agency.
03
Despite some Toggl filtering and grouping options (by clients, tags, projects, team members), you are quite limited in reporting.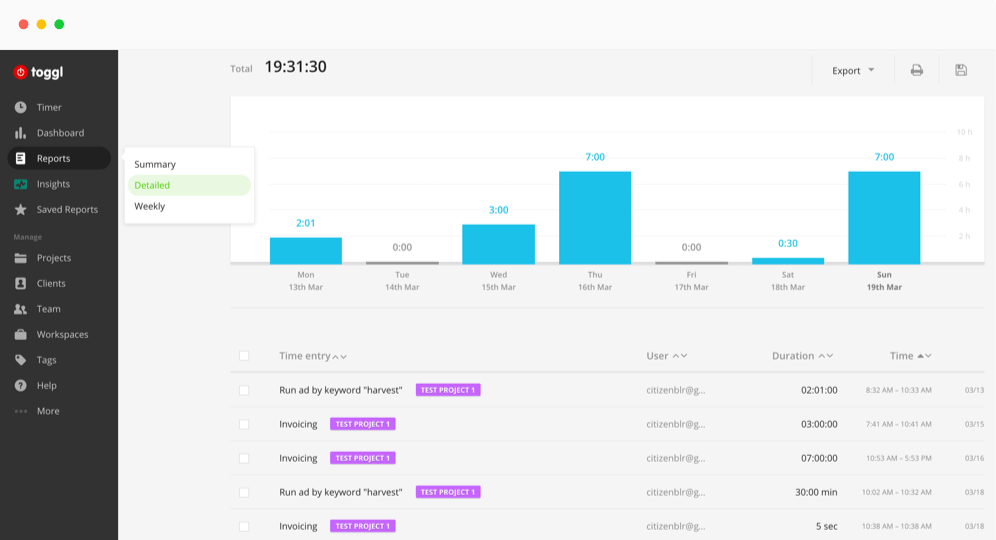 Whereas there are no "fixed," thus unchangeable reports in Everhour. Add columns, change order, apply filters and formatting, exclude anything specific.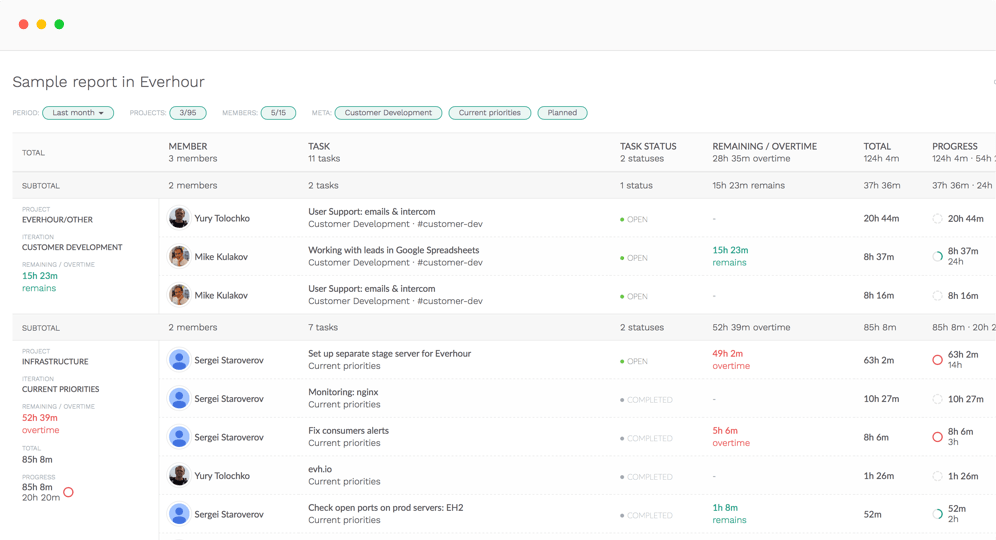 Multiple layout types give you the possibility to see data from the best angle. Conditional formatting allows you to highlight various pieces of data in individual cells of your reports.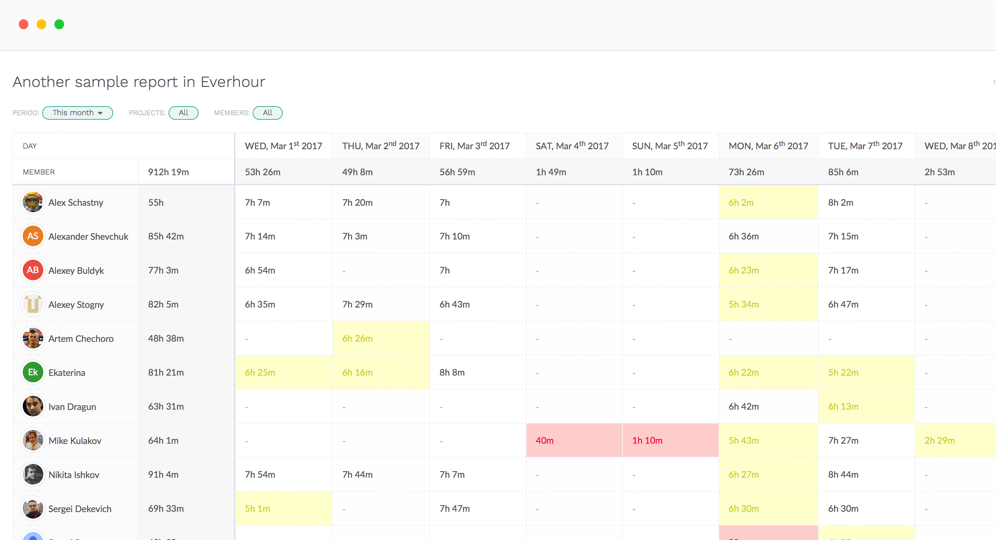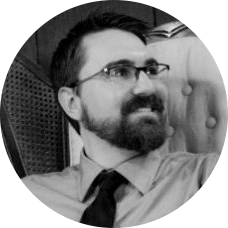 Jon Wilcox
Senior Graphic Designer at Mount Hermon Association
None of other time tracking tools that we tested, including Toggl, had something close
Evehour has a much deeper integration with Basecamp that is a must for us.
We are a marketing and design team within a larger non-profit organization. Since funds are always carefully scrutinized, we want to make sure that we are good stewards. Time tracking allows us to look at the totality of the project and justify or use data to discontinue something that we are doing.
04
As a team owner or team admin, you must be willing to be able to see on what your team is working right now without raising a hand or pinging people in Slack. In Everhour we have a particular dashboard for that.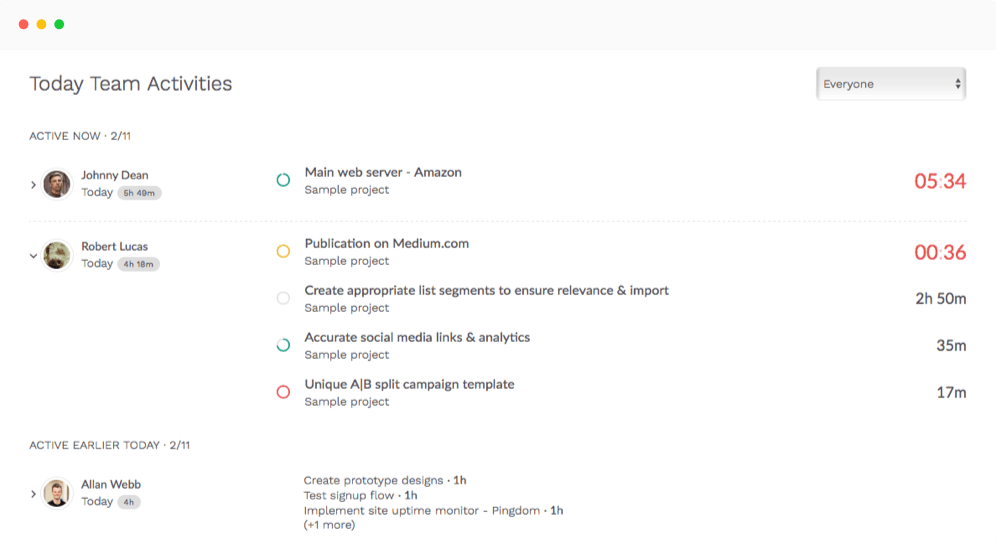 Watch in real time who is working at this moment and on what task, track their past activities for today and identify those who didn't report a minute today at all.

There is nothing like that in Toggl.
Everhour integrates well with
See integration features and details
for other project managers that Everhour supports.
05
With Everhour you can organize particularly any team activities on a single board. And it's more than just a project with activity types in Toggl that you can time track.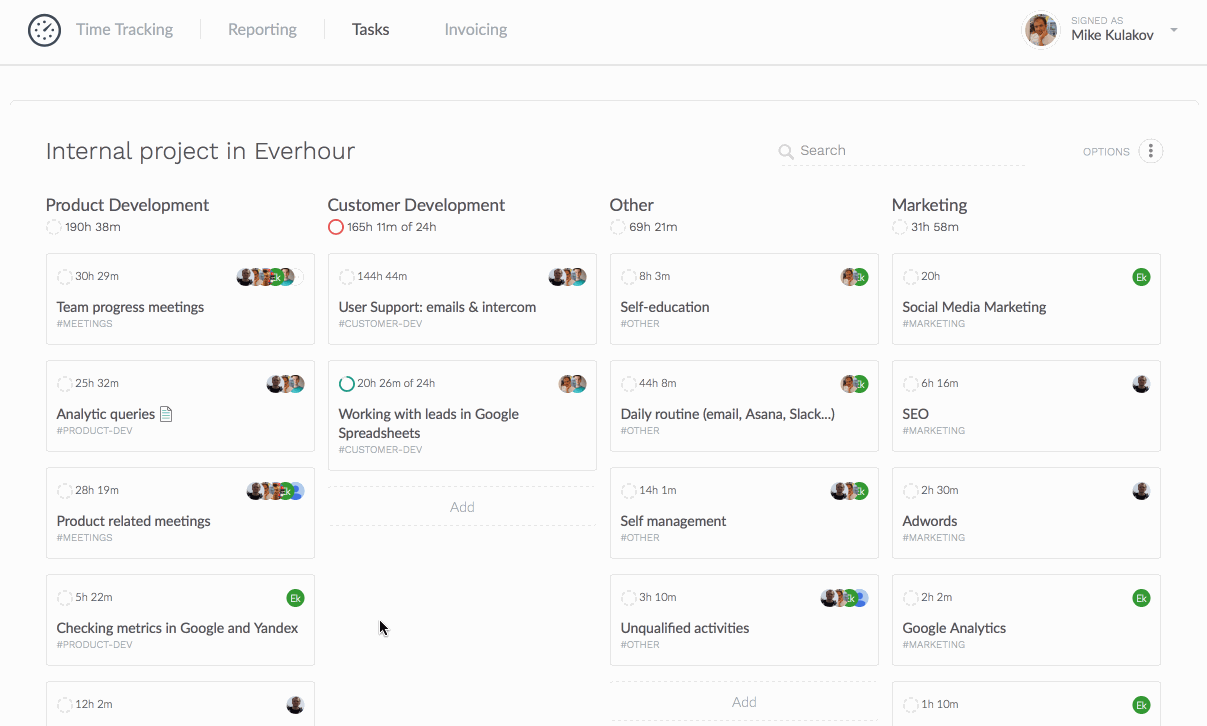 06
In Everhour you can create accurate invoices from the logged work just in a few clicks. Track unpaid, outstanding and successful payments without any external integrations.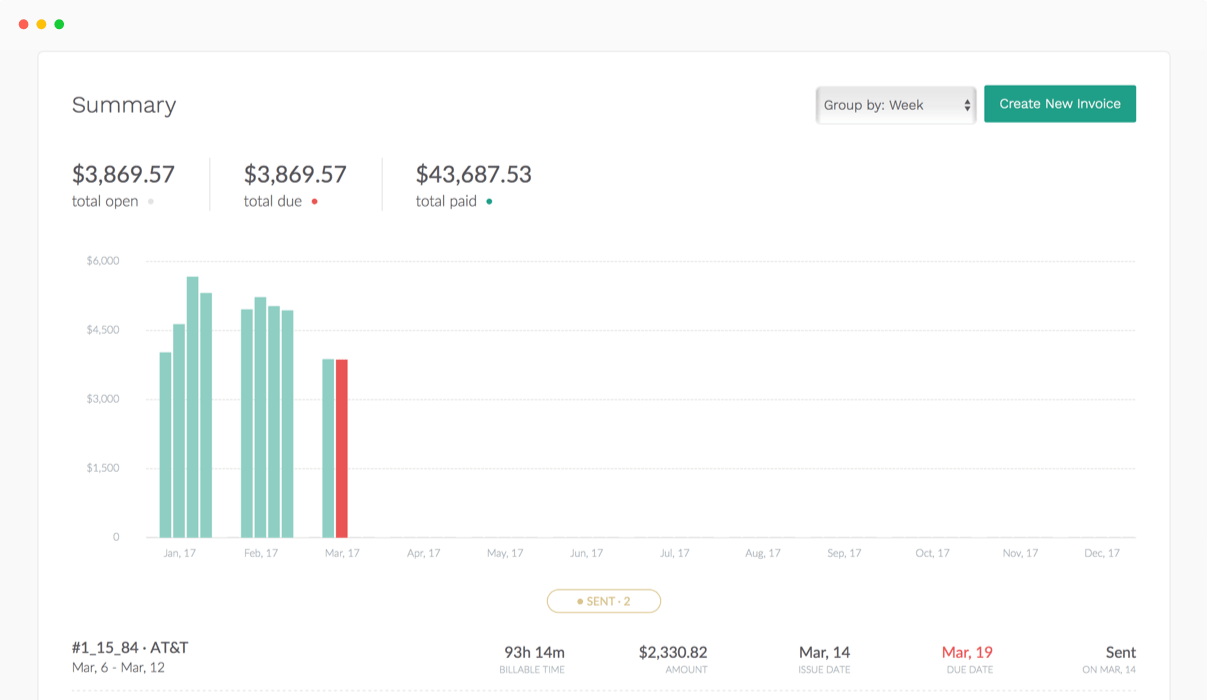 If you are looking for a self-sufficient time management system, you should consider Everhour. It provides excellent estimating and reporting functions, real-time dashboards, invoicing, and that's all wrapped in a straightforward and polished UI.

A 14-day free trial that with unlimited functionality - is a great way to fall in love with a time tracking process.