Salesforce Time Tracking 2023: 4 Best Trackers To Improve Productivity
Maria Kharlantseva, October 21, 2022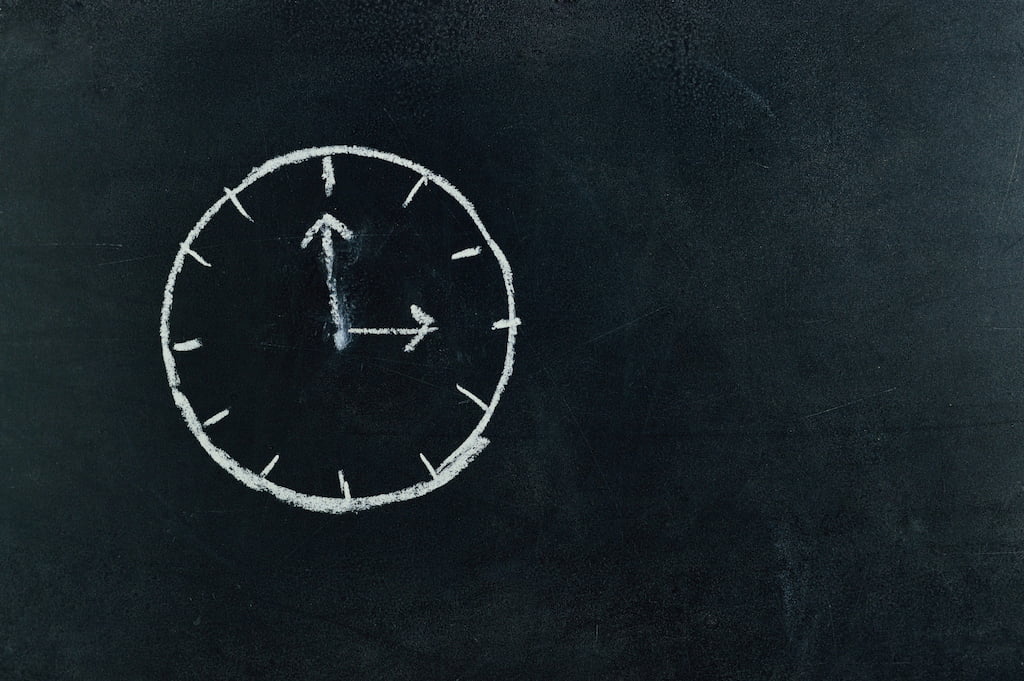 Salesforce is one of the leading CRM software companies available in the market, providing customers with CRM tools to improve their productivity. While Salesforce offers time tracking capabilities, installing a time tracking integration might be required, depending on your organization's needs. So, without further ado, let's explore Salesforce time tracking and integrations in more detail.
What Is Salesforce?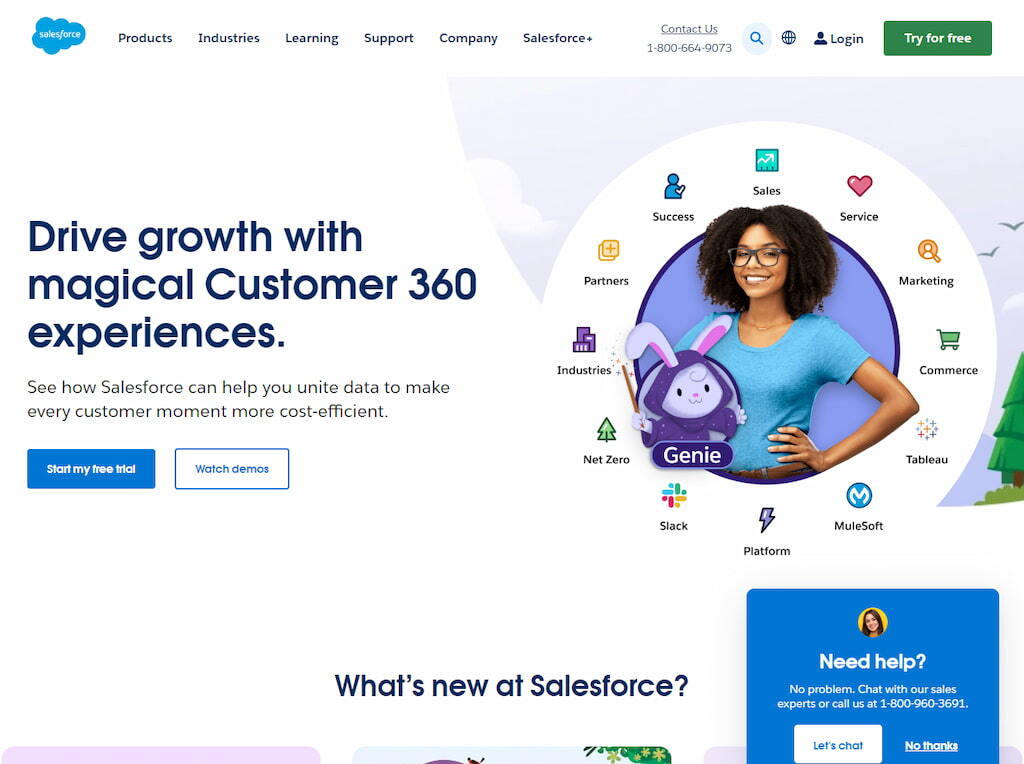 Salesforce is a customer relationship management tool that helps businesses keep careful track of their customer data. It is a cloud-based platform that can be accessed from anywhere with an internet connection. Salesforce also offers a variety of other features, such as:
Account and contact management: View customer activity history, communications, key contacts, and discussions regarding internal accounts.
Opportunity management: View stage, products, quotes, competition, and more.
Lead management: Track leads from start to close and access sales data.
Sales forecasting: Access real-time overviews into team forecasts.
Advanced analytics: Dashboards give users a real-time picture of the organization at a glance.
Why You Should Use a Salesforce Time Tracking Tool
Salesforce is a comprehensive CRM platform that offers a variety of features and tools to help businesses manage their operations. One such tool is the Salesforce time tracking tool, which allows businesses to track time spent on projects and tasks. There are many benefits of using Salesforce to track time on projects:
1. It provides businesses with accurate data that can be used to improve project management.
2. It helps businesses save time by automating the process of tracking time.
3. Organizations can optimize their resources by making it easier to identify areas where improvement is needed.
If your business is not currently using Salesforce to track time spent on tasks and projects, we encourage you to do so. It can offer significant advantages in accuracy, efficiency, and resource optimization.
How To Track Time Using Salesforce
There are a few different ways to track time in Salesforce. One way is to use Salesforce AppExchange, and the other is to install a third-party integration.
1️⃣ Salesforce AppExchange
Salesforce AppExchange offers various apps that allow you to track time on projects. In addition, you'll find apps that allow you to track time spent on phone calls, emails, tasks, and even meetings. There is an app on Salesforce AppExchange for almost every need, and you'll be pleased to discover that the vast majority are relatively easy to use!
Here's how to find a time-tracking tool using AppExchange:
Log in to Salesforce and go to the Salesforce AppExchange.
Search the term 'time tracker' and select the app of your choice. Please note that some of the time tracking apps are free, while others require a paid subscription.
Click the 'Get It Now' button and select the environment in which it should be installed: Production or Sandbox.
Enter the necessary information, such as contact details. Then, select the checkbox and click the 'Install' button.
You'll be presented with three installation options: for admins only, for all users, or for specific users.
Select the relevant option for your needs, and voila! You can start tracking time.
However, suppose you don't find what you need in AppExchange. In that case, you can instead integrate directly with time-tracking software that gives you access to more than just time-tracking features! Let's explore some of the best Salesforce time-tracking software available today.
2️⃣ Time Tracking Integration
Everhour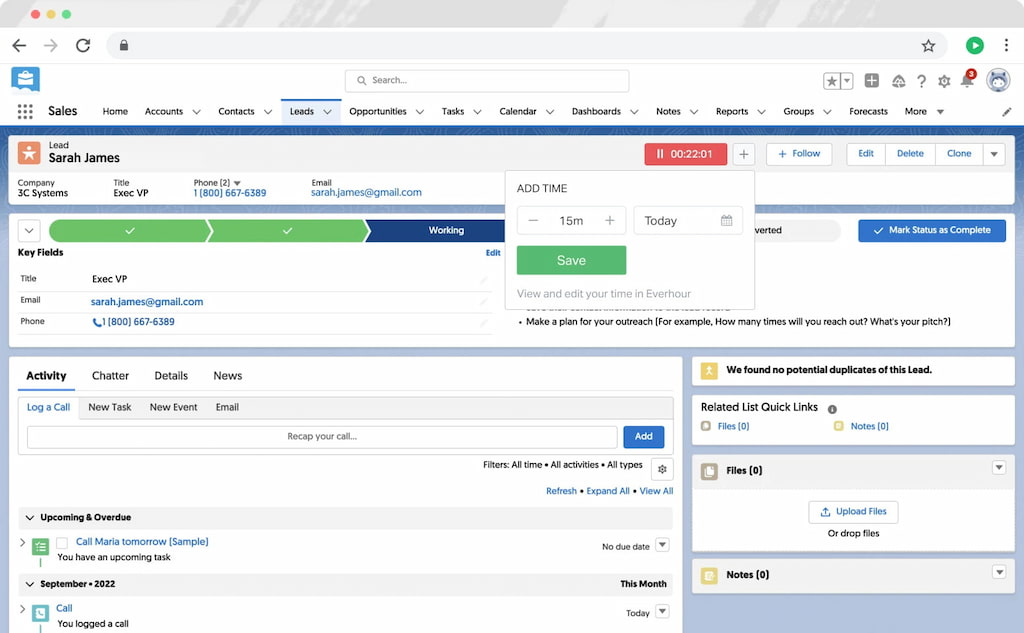 Integrating Salesforce with a great time tracker like Everhour offers many benefits for businesses. For example, Everhour offers seamless time tracking, meaning you can see how time is being spent on tasks and projects at any given stage and make adjustments accordingly. The software also improves efficiency, as key data is stored in one easy-to-access place, allowing you to compile insightful reports for internal or external distribution.
As well as time tracking, Everhour offers billing and budgeting tools—manage clients, set up capital or recurring budgets, implement flexible billing, set up budget email alerts, and more. Another key feature is task management. With Everhour, you can manage tasks quickly and easily by using sections and tags in list or board views, and you also have the ability to set time estimates for how long a given task should take.
Finally, Everhour's time clock app allows you and your team to clock in and clock out on the easy-to-use timesheet app and work hours tracker. Employee time tracking has never been easier, thanks to Everhour!
✅ Pros
Helps you keep track of your billable and non-billable hours
Integrates with popular project management tools
Simple and user-friendly interface
Has a free plan with limited features
Offers detailed reports and visualizations
❌ Cons
The iPhone app is only in Beta at present
The free plan has limited features
❓ How to set up the Salesforce Everhour integration
Create an Everhour account and install the browser extension.
Log in to the browser extension.
Grant extension access to lightning.force.com site. Open the Everhour extension and access the 'Integrations' page. Find Salesforce and enable it.
Go to Salesforce, and you should now see the 'Start Timer' button under accounts, opportunities, leads, tasks, and events.
💰 Pricing
Everhour has numerous price plans available: Free, Lite, and Team. The Free plan available for up to five users, includes unlimited time tracking, reports, projects, and website integrations. The Lite plan, costing $5 per user per month, starts at two users and includes everything available in the Free plan plus billable rates, clients, budgets, and invoicing capabilities.
Last but not certainly not least, the Team plan costs $8.50 per user per month and starts at five users. This plan includes all features in the Lite plan plus unlimited users, time cards, time approvals, time off, expenses, scheduling, and more.
TMetric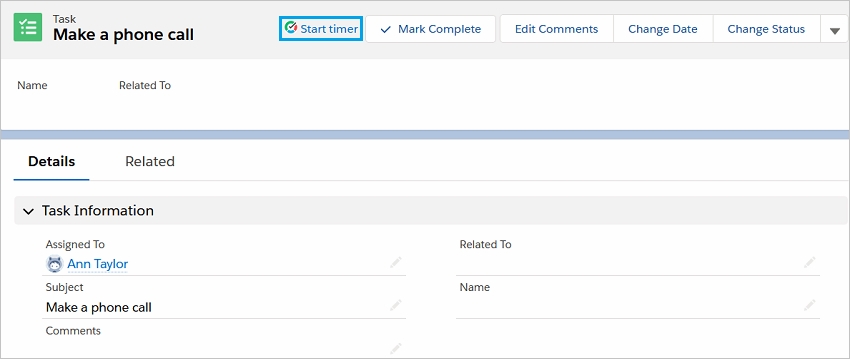 TMetric is a time-tracking tool that helps you stay productive and hit deadlines. It is a great tool for keeping track of the time you spend on tasks—it can help you see exactly where you are spending most of your time and identify areas where you may be able to improve efficiency.
You can also set budgeted hours for each task and receive alerts when you are approaching or going over budget. Furthermore, TMetric allows you to create detailed reports that can be customized to show the information you want to see to share with colleagues and clients.
✅ Pros
It can be used for free with a limited number of features or upgraded for more features
It integrates with various third-party tools
Offers a mobile app for tracking time on the go
❌ Cons
The interface can be overwhelming for first-time users
The free plan only lets you work on one project at a time
❓ How to set up the Salesforce TMetric integration
Create a TMetric account.
Install the TMetric browser extension, which allows time tracking for popular web apps.
Log in to your Salesforce account and begin tracking time!
💰 Pricing
TMetric offers a free trial, after which there are several pricing plans. The first is the Free plan available for up to 5 users. The Professional plan costs $5 per user per month and includes additional features such as project and task management as well as invoicing capabilities. Finally, the Business plan costs $7 per user per month and includes an advanced time manager for tracking and billing.
ClickTime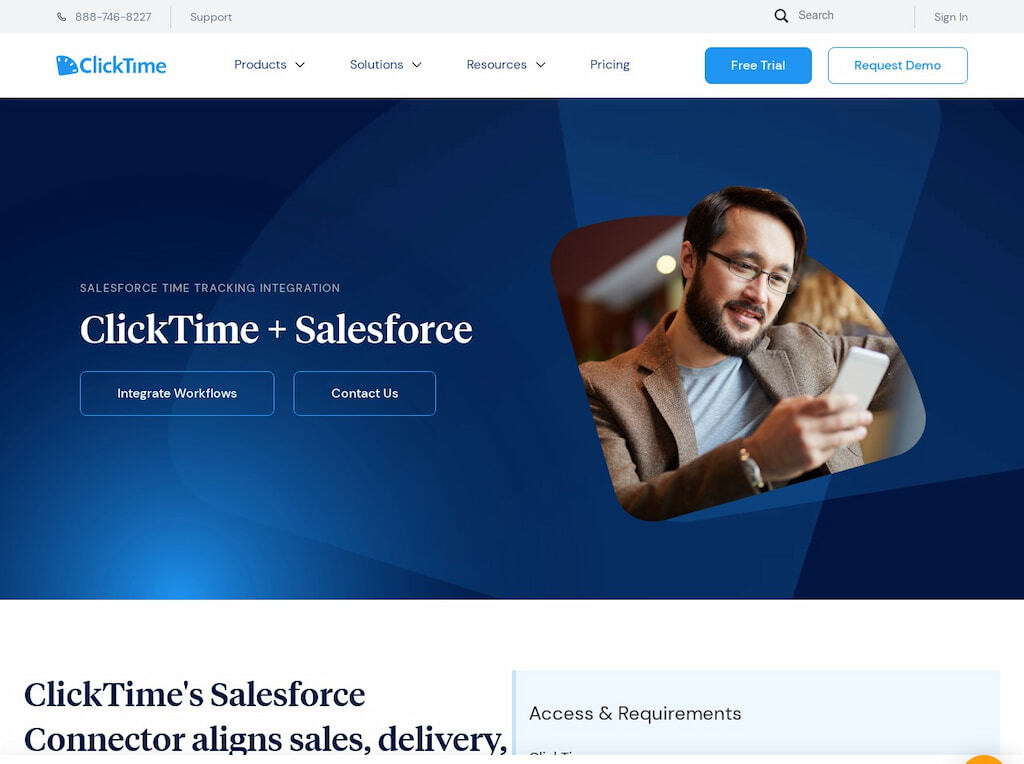 ClickTime is an online project management and time-tracking application that integrates with Salesforce. Integrating the two applications allows businesses to track billable hours worked by employees on projects, as well as project profitability.
Plus, ClickTime gives businesses visibility into which projects are making money and which ones are losing money—this information can be used to make informed decisions about how to allocate time and resources in the future. The integration also makes it easy to track employee overtime and ensure that employees are being paid for all the hours they work with an attendance tracker.
✅ Pros
Efficient time tracking for both businesses and individuals
Accurate recording of hours worked
User-friendly interface
Ability to generate reports and invoices
❌ Cons
Limited integrations with other software
It cannot track time offline
The free version has limited features
💰 Pricing
ClickTime offers a 14-day trial on all plans. After the trial comes to an end, users must subscribe to a paid plan. The Starter plan costs $10 per user per month, the Team plan costs $13 per user per month, the Premier plan costs $24 per user per month, and the Enterprise plan cost varies depending on the needs of the company enquiring.
Hubstaff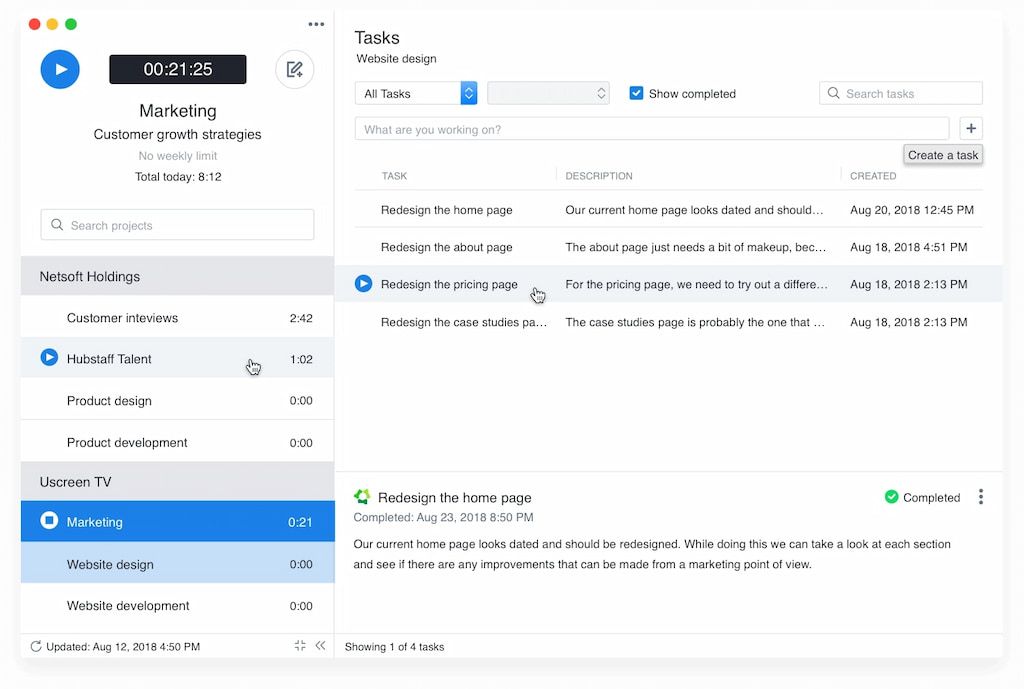 The Salesforce Hubstaff integration allows users to track time on projects and tasks associated with their Salesforce account. This integration can help sales teams better understand how much time they are spending on each task, which can lead to more efficient workflows and increased productivity. In addition, the integration provides visibility into which team members are working on what tasks so managers can see where there may be potential bottlenecks or areas for improvement.
But that's not all. Hubstaff also provides employee monitoring tools such as GPS location tracking and activity level tracking. Additionally, the software includes workforce management tools, such as employee scheduling, payroll tracking, invoice tracking, and job management tools to ensure all is progressing as it should be.
✅ Pros
Helps you to keep track of employee work hours
High accuracy
It can be used for payroll
Track employee productivity closely
Affordable price plans
❌ Cons
Some employees may not like being tracked
There is a learning curve to using Hubstaff
You need an internet connection to use the software
❓ How to Set Up the Salesforce Hubstaff integration
Create a Hubstaff account and click Settings & Policies > Integrations in the sidebar menu.
Click the Salesforce logo from the list of integrations.
Name the integration and click 'Create Integration', where you'll be asked to authorize the integration with Hubstaff on Salesforce.
Log in to your account if prompted and authorize the integration. Click the 'Allow' button to give Hubstaff access to your Salesforce account.
You'll be asked to sync Salesforce projects. You can choose to either sync all projects or manually choose from a list of projects. Once you've selected all the relevant projects, click 'Confirm'.
Then, you'll be asked to connect users to the integration. You can select or unselect users. Once you've chosen the relevant users, click 'Finish.'
💰 Pricing
Hubstaff offers several time-tracking subscription plans: Free, Starter, Pro, and Enterprise. The Starter plan costs $5.83 per user per month. Alternatively, the Pro plan costs $8.33 per user per month. Finally, the Enterprise plan cost varies depending on the size and requirements of the organization seeking a subscription.
TL;DR: Pros and Cons of Time Tracking Software
Pros
Cons
Pricing
Everhour
– Integrations with different tools
– Offers lots of tools for employee time tracking
– User-friendly interface
– Very useful for payroll and invoicing
– Detailed reports & visualizations
– The iPhone app is in beta testing
– The free plan has limited features
Free
Lite: $5 per month per user
Team: $8.50 per month per user
TMetric
– Integrations with various third-party tools
– Mobile app for tracking time on the go
– May be overwhelming for first-time users
– The free plan only provides access to a single project at a time
Free
Professional: $5 per month per user
Business: $7 per month per user
ClickTime
– Efficient time tracking
– User-friendly interface
– Generates insightful reports and invoices
– Limited integrations
– Cannot track time offline
– The free version has limited features
14-day free trial
Starter: $10 per month per user
Team: $13 per month per user
Premier: $24 per month per user
Hubstaff
– Helps you to keep track of employee work hours
– High accuracy
– Can be used for payroll and invoicing
– Track employee productivity
– Some users may not like being closely tracked
– Learning curve
– Internet connection necessary
Free
Starter: $5.83 per month per user
Pro: $8.33 per month per user
Enterprise: varies
Salesforce Time Tracking: Final Thoughts
If you're planning to start tracking time on tasks and projects, there have never been more ways to do it! If you require only time-tracking tools, you might be better off using a free integration using Salesforce Exchange.
However, if you need access to more than time tracking, including reporting, billing and invoicing, and task management tools, we recommend opting for comprehensive time tracking software instead. So whether you use a straightforward time-tracking tool from AppExchange or integrate Salesforce with a comprehensive time-tracking tool, you'll soon be feeling the benefits of keeping an eye on your time!