Using a time recording app immediately puts you and your business at an advantage, thanks to the growing popularity of such apps. However, you'd be wrong to think their popularity is the only thing going. Time recording apps significantly boost efficiency, productivity, and effective time management.
As the world continues to evolve, it's only normal that tools emerge to keep up with the speed of evolution. Work and output remain vital constants, but none is more consistent than time. So with 24 hours seemingly no longer enough, employers have to figure out how to get the best out of their employees. And the best bet is the use of time-recording apps.
These apps come in handy for all kinds and sizes of businesses looking for ways to manage work. That involves tracking tasks and controlling the hours for individuals and teams to perform them. As a result, companies can manage the time spent on work and create a balanced schedule.
Further, a time recording app is important for businesses because it offers a clock-in/clock-out feature, crucial for basic absence management. Thanks to the advanced features the best apps carry, you can also have a clear insight into how your employees work.
Planning and executing projects is easy with a modern time recording tool. That's because time-recording apps integrate with project management tools to improve workflow. You will clearly understand a project's profitability and use features like reports, employee time tracking, and budgeting.
In this piece, you will learn about the best time recording applications, how they make your work more productive, and the top features they carry.
Factors to Consider When Choosing Time Recording Software
If you're searching for an app for recording work hours, it's vital to consider what your business will get in return. That's because the market is filled with many similar apps. So, you need some parameters to help you choose what works best for your company. Take a look at the essential factors you should consider below.
💸 Budget constraints and pricing
Pricing and budget are important factors to consider when choosing a time-recording app. The free version of an app can help you make some advancements, especially after learning the ropes. But as your business grows, you will want the top-paid tiers that provide more features for growing teams. Searching for the ideal software means ensuring adequate pricing levels and features matching your requirement.
👌 Ease of use
There's no point paying for software you can't use or fully understand. A time-tracking app must have a user-friendly interface. This will ensure widespread adoption and success of the app in your organization. Before paying for one, evaluate how easy it is to use. However, much time-recording software has free versions to help you gain experience using them.
🔁 Integrations/compatibility with other software
What available integrations does the app have? How compatible is it with other software? Chances are that you won't be using the application in isolation because your business has multiple parts. In line with this, you'd want software integrated into your existing workflows.
🤔 Features needed for your business
As the saying goes, different strokes for different folks—some app features could be vital to the success of your business while they are only optional for other businesses. When you choose the time recording app that offers the most befitting features for your business, you will boost your team's productivity and save extra costs for unused features. Here are some essential features you shouldn't trade for anything in a time recorder:
⏰ Time tracking and reporting
An exceptional recording app must offer excellent time tracking capabilities across multiple parameters such as clock-in/clock-out timing, time off, and billable and non-billable hours. Further, it must also provide robust reporting on these parameters, with which employers can assess the productivity and impact of each employee.
🤝 Team management capabilities
Does the app allow you to schedule meetings, plan projects, and assign supervisors who can check and approve timesheets? You need a recording app that advances your company with effective team management. Workflow and other processes are more straightforward, with every team member pulling in the same direction.
📲 Engaging customer support
Many users would appreciate some directions from time recording apps. While they can be easy to install and use, a team member can get stuck, meaning you'd need to turn to customer support. Before choosing any app, check the different ways customer support is available to help you.
If you can get some training videos, that would help. Generally, it would help to have easy support access when your chosen app gets too challenging for your team.
Top 5 Time Recording Software Options
Recording time is an effective way to save time and accurately estimate project costs. You need the ideal time clock app with time recording features and other capabilities. Here are five of the best you can select for your business.
Everhour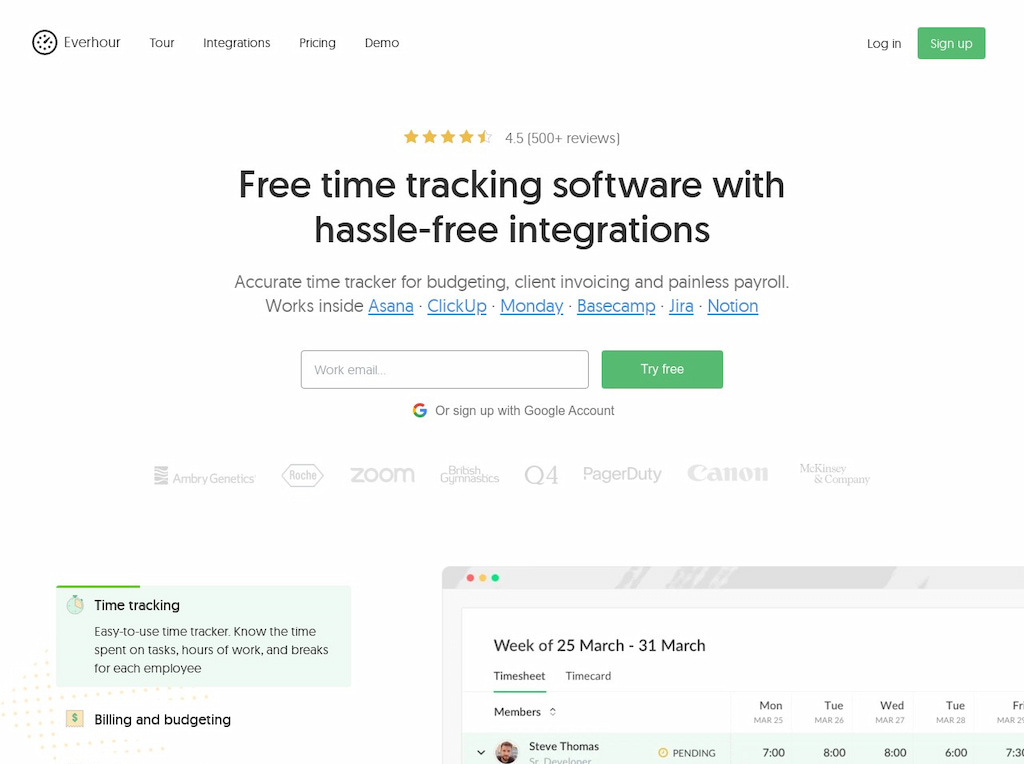 Everhour is an excellent time tracker and the best time recorder on this list. You can't go wrong with its simple and intuitive design, which helps businesses to manage their projects and time-tracking needs. Everhour enables businesses to start new projects quickly without re-typing any information, helping them cut the time spent starting from scratch and immediately achieving efficiency.
Also, unlike other employee time tracking and recording tool, Everhour enables you to delegate tasks and monitor the progress of every single part of your project. You can review human resources and match your talents with jobs that fit your abilities.
Everhour integrates smoothly with various team and project management systems. As a result, you can efficiently run multiple tasks without incorporating too many tools. Also, you can keep track of your employees, create reports, invoices, etc.
✨ Features
Everhour stands out with its project management feature, helping teams to schedule meetings and face several project fronts simultaneously.
Everhour provides help documentation and blogs to help new teams set up their time tracking tool. You can also reach out to customer service via email.
Integrations on Everhour mean you can sync it with several leading business tools and applications such as Basecamp, Trello, Asana, Notion, GitLab, and more.
Comprehensive reporting allows teams to generate documents covering various aspects of business, including budgeting, financial reports, and other documents.
Time tracking is another feature available on the web app and browser extension. Follow up on your employees by recording their time on the job and productivity levels.
Everhour offers detailed invoicing covering billable time, expenses, and other payment systems used by your business.
✅ Pros
Robust integration capabilities
Easy to use
Offers time tracking and project management
Advanced time & billing and invoicing features
Smooth reporting features
Seamless team collaborations across multiple platforms
❌ Con
No live chat customer support feature
💰 Pricing
Everhour is relatively cheap to run on different platforms. Depending on your business needs, you can settle for any of these three pricing levels:
Free plan: This tier is free and has basic features available to five users. However, the features on this level are limited.
Lite plan: The Lite plan costs $6 per month per user or $5 per month per user for the yearly subscription. It comes with more comprehensive features such as invoicing and API.
Team plan: This is Everhour's most significant pricing tier costing $10 per month per user or $8.50 per month per user for the annual billing. Also, it has every feature available on other plans and more.
---
TimeCamp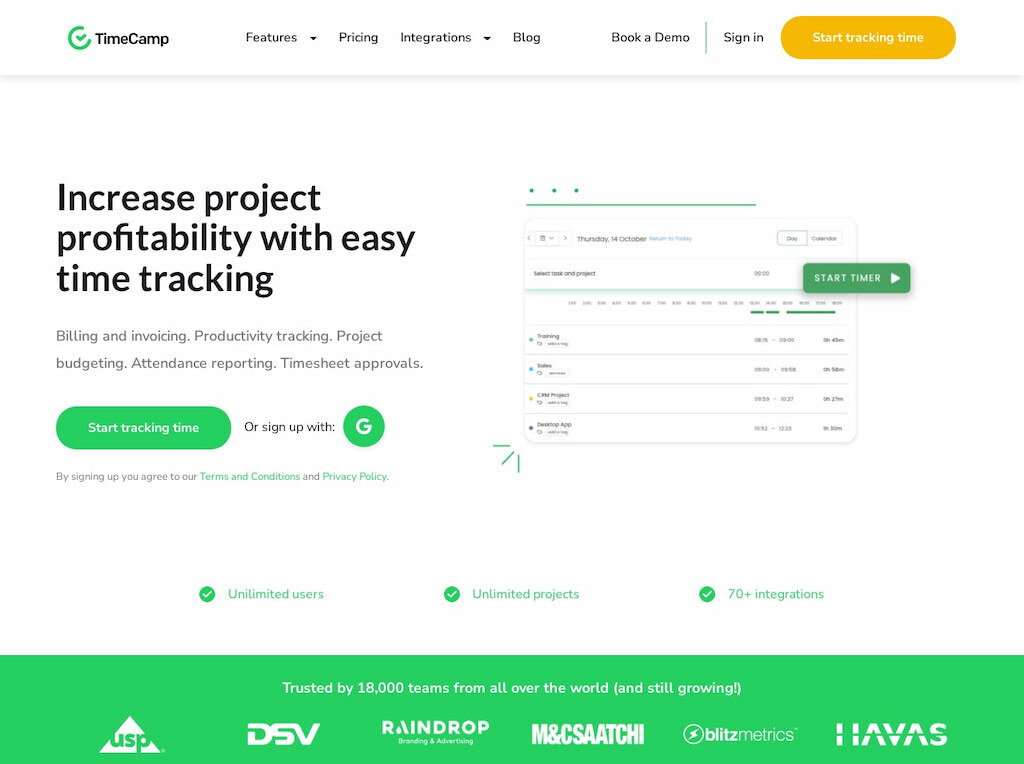 TimeCamp is an exceptional tool that helps you monitor project profitability, among other benefits. It was primarily designed to help users stay on top of their business and track employee progress and productivity.
With TimeCamp, you can add multiple projects, tasks, and subtasks to create a structure suitable for your management process, leaving you firmly in control. For example, when the automatic tracking mode of the desktop app is on, TimeCamp seamlessly assigns time entries to specific projects and individual tasks. As a result, you save time for what matters.
Maybe you prefer a more traditional work hours tracker. TimeCamp tracker gives you manual time tracking capabilities with additional features to copy time entries from previous days. You can create invoices, reports, and budgets and manage employee attendance with such entries.
✨ Features
Create wide-ranging reports centered on time, people, budgeting, and more.
Automatic time tracking based on keywords to help you assign projects to time entries. That includes tracking billable and non-billable hours.
It provides productivity tracking to enhance team management. And you can create budgets to measure the profitability of projects.
Available on multiple platforms, including web app, desktop app, and browser extension.
Offers technical support and online training.
Over 30 direct integrations to help synchronize work across your favorite tools.
✅ Pros
Track time on desktop, mobile, and web platforms
Multiple integration options
Invoicing tools to track billable hours
❌ Cons
It lacks integrations on the free plan
It works best when integrated with other tools
💰 Pricing
Choose the best pricing for you and your business from these options:
Free: Free forever plan. $0 covering unlimited users, desktop, and mobile apps.
Basic: At $6.99 per user per month, you enjoy features like team productivity tracking, unlimited integrations, management roles, and time rounding.
Pro: This plan costs $9.99 and includes everything in the Basic plan plus timesheet approvals, custom user roles, invoicing, and billing rates.
Enterprise: This custom plan comes with personalized training, a self-hosted server, and more features.
---
Quickbooks Time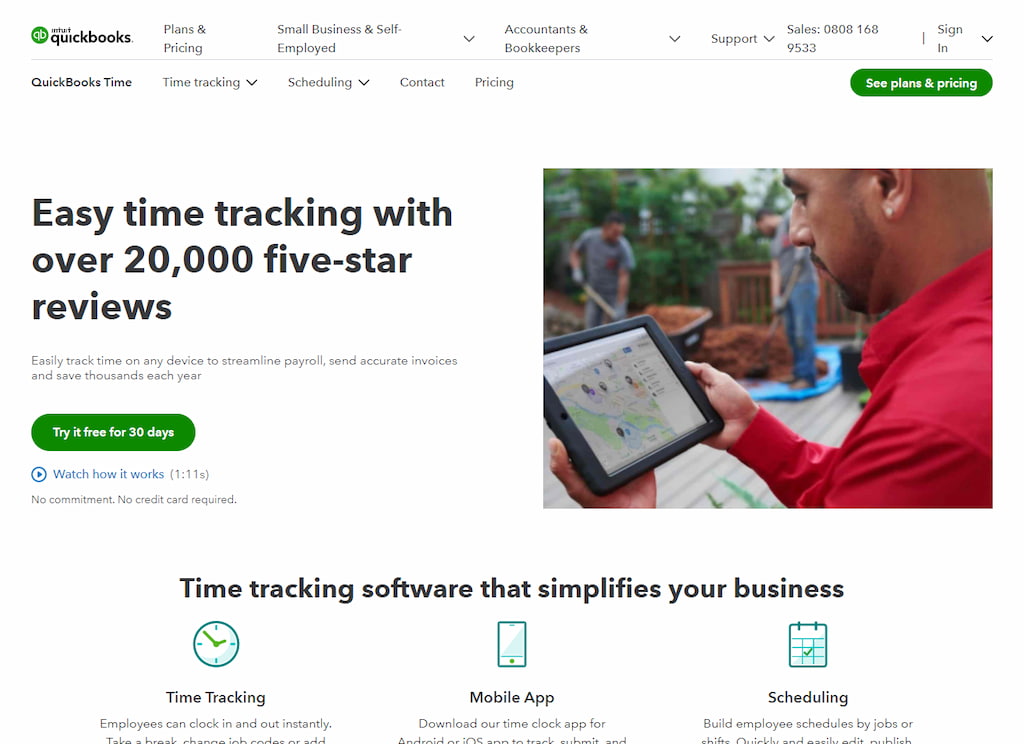 Quickbooks is renowned for its accounting services. Formerly known as Tsheets, Quickbooks Time offers time recording capabilities for businesses of all sizes. Its one-click clock-in/clock-out system helps employers stay in control of teams and operations.
In addition, Quickbooks Time has a robust mobile app with GPS monitoring, which is an excellent feature for employees who often work in different locations. Since Quickbooks Time forms part of the Quickbooks toolkit, you can easily integrate it with other products. Payroll is one product you can use to lower the entire process cost. When you combine both tools, you will record your employees' time and manage their work without missing a beat.
✨ Features
Job and shift scheduling to help employers assign teams accordingly
Quickbooks integration
Customer support and community discussions
Create and manage custom reports to facilitate project management
A mobile app with GPS location tracking and time recording capability
Time clock kiosk
✅ Pros
❌ Cons
It doesn't have a free version
It's complicated to use
💰 Pricing
With no free version available, Quickbooks Time has two pricing plans
Premium: It costs $8 per user per month and a monthly base fee of $20.
Elite: It costs $10 per user per month and comes with a base fee of $40 per month. You get geofencing, timesheet signatures, real-time project collaboration, and tracking capabilities.
---
Zoho People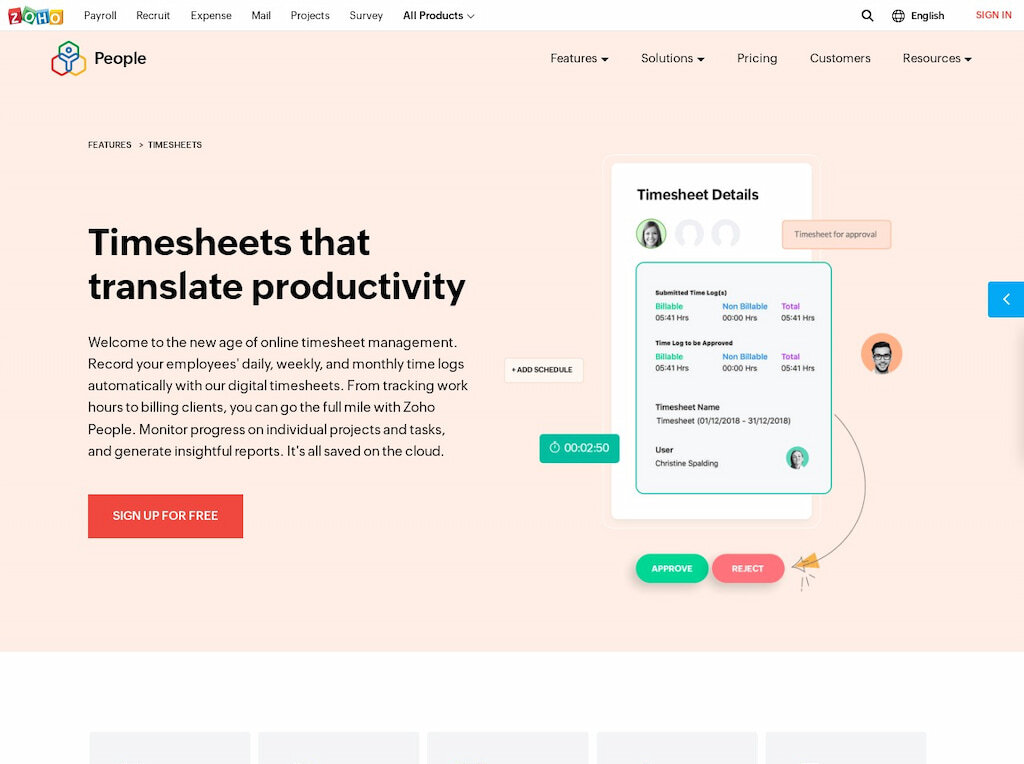 If you are searching for an online time recording app to record working hours and manage multiple aspects of your business, Zoho People fits the description. As a part of its vast resources, you can use Zoho People for core HR, recruitment, payroll, and employee management.
Timesheets, attendance, and shift management make Zoho People an excellent choice for large enterprises using a single tool to run their organization and manage teams. This tool offers solutions to keep your teams running smoothly.
✨ Features
Detailed recruitment and onboarding.
Employee management and time management systems to keep your teams running efficiently.
An efficient attendance tracker to help you set your company's hours and track employees.
Case management to manage issues on time and generate reports.
Employee self-service gives them some autonomy to view and maintain their records.
Customer support channels include phone, email, and social media.
✅ Pros
Suitable for many industries
Offers maximum HR capabilities
Effective chat box
Smart onboarding
❌ Con
It can be a handful for new users
💰 Pricing
The pricing levels for Zoho People are as follows:
Essential HR: At $1 per user per month, you will have access to features like employee onboarding, workflow management, and time off management.
Professional: It costs $2 per user per month. You get more features like shift scheduling, time tracking, and billing and invoicing integration.
Premium: At $3 per user per month, the premium plan provides advanced features, including self-appraisals.
Enterprise: Things get pretty interesting here at $5 per user per month. It includes premium features plus SLA tracking, assessments, a discussion forum, etc.
People Plus: This is the most extensive pricing plan on Zoho People, and it costs $10 per user per month or $8 billed annually. It features the Enterprise plan, Zoho Recruit, Cliq, Connect, Expense, etc.
---
Timely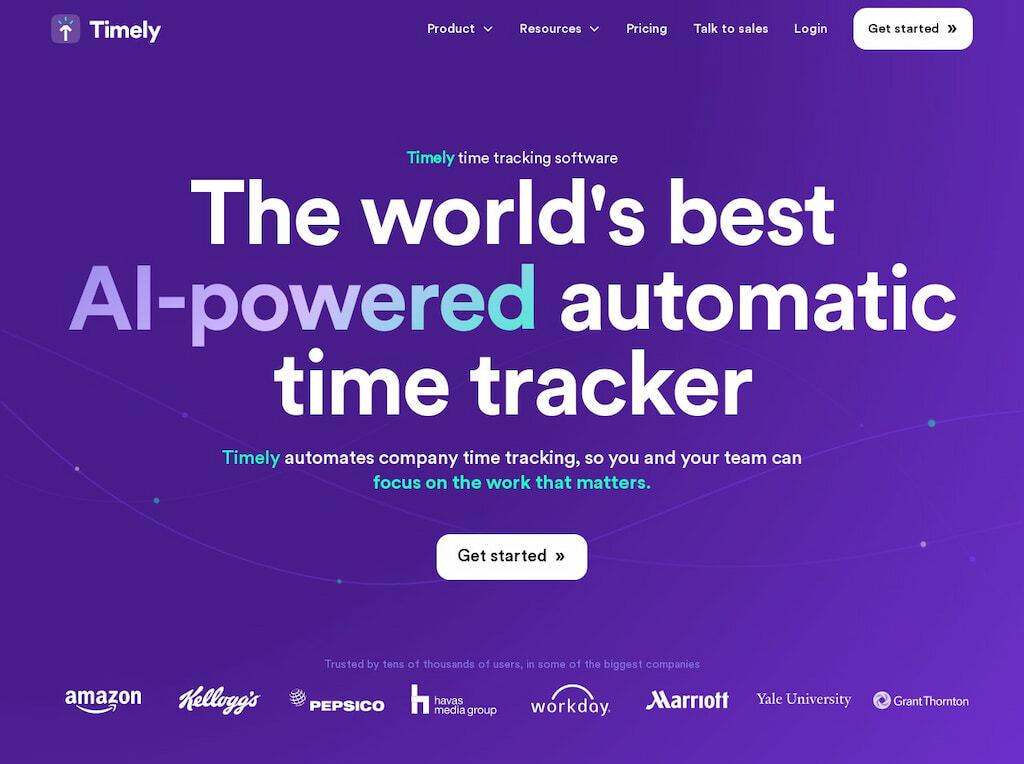 Timely is another top-rated time-tracking app that makes it easy to bill clients accurately. It offers a painless and accurate project tracking feature, allowing you to view progress and profitability in real-time.
Recording and tracking time is smooth, with your team benefiting from a healthy work/life balance. Easily adding projects, tasks, and clients gives you an edge in viewing unbilled hours and reports for the entire team or a specific project.
✨ Features
Track time and get your team working on multiple projects.
Track teams so that everyone is leaning in one direction.
Clean integrations
Generate reports and invoices conveniently.
A wide range of articles to help customers deal with various issues.
✅ Pros
Multiple integration options
Used in many industries
Customizable features
Time tracker
❌ Con
It might take some time to understand fully
💰 Pricing
For the kinds of benefits you get, Timely offers several pricing plans:
Starter: At $11 per user per month and billed monthly, you can track your work automatically. It's open to 50 projects and 3 teams.
Premium: The Premium plan costs $20 per user per month, billed monthly as well. It features unlimited projects and unlimited teams. Also, you can set recurring budgets, lock billed hours, and sync data or projects with Timely.
Unlimited: This plan provides everything the others above do and more. For $28 per user per month, this plan offers unlimited features, unlimited teams, and unlimited projects. You can also view all employee activity and send clients reports.
Unlimited +: Tailor-made for teams willing to make custom changes while running Timely in their organization.
Case Studies
The success of every business or organization rests squarely on the pillars of productivity. Similarly, many companies are ditching traditional ways of handling different aspects of their business for innovative changes. One such change is the introduction of a time-recording app.
Not all businesses or industries consider time recording or tracking a significant aspect of productivity and general output. But for others, it is the holy grail. Here are some examples of real-life businesses that use time recording to advance their productivity to the next level.
🚜 Manufacturing
The manufacturing industry has many divisions and areas of specialized services. As a result, various companies must adhere to different wage rules, comply with different laws, etc. Overtime and absenteeism have to be tracked in real-time as well. With all the tedious processes involved, management software like the ones above is necessary rather than a choice.
🚌 Transportation and logistics industry
A lot depends on transportation and logistics. As a wide-ranging industry, there's so much pressure to work on schedule. This makes an app for recording work hours more necessary. However, many of the workforces in this industry are directly responsible for making timely deliveries, even to other industries.
Using efficient and effective time recording software helps businesses in this industry to closely monitor project data and optimize scheduling to avoid potential problems.
👩‍💻 IT and tech services
The IT and tech industry uses time recording software to get full transparency about employees' efforts. Conversely, employees expect a comprehensive performance analysis and real productivity to be recognized and rewarded. Getting reports of employee efficiency, time spent on tasks, and collaborations on a project is possible via time recording.
💹 Marketing and advertising
Businesses of all sizes in the marketing and advertising industry use time-recording apps to track company progress by monitoring multiple key performance indicators. That includes tracking employees to determine their attitude to work and establish the top performers. Task, project, and client tracking also form critical areas where time recording is necessary for advertising.
💻 Computer and software
Computer and software development is a business the world is all too familiar with. That's because there's hardly an aspect of life that remains unaffected by computers and software. For this reason, it remains an ideal niche for time tracking and recording. With multiple teams and individuals working on different stages of development, it becomes necessary to have a convenient timesheet tool to track productivity and generate client reports.
In addition, a significant part of the computer and software industry relies on experienced freelancers to complete some processes. A timesheet app keeps them honest and tracks their productivity.
Conclusion
As an individual or business, you probably have your way of managing and keeping track of time. While some companies prefer a more traditional means of recording time, others prefer digital options that carry some automation. This helps them to focus on other essential aspects of their businesses.
A time recording app holds many possibilities and gateways to more business opportunities, irrespective of the industry. However, you must carefully select an app that gives you the edge and boosts your team's productivity. That means observing how such an app can sync with your existing workflow, budget, and team.
This article explored the best apps you can choose from, with Everhour holding much promise for your business—thanks to its impressive features and fair pricing. You can use it to manage projects, tasks, and the teams behind them.
If you still need to think about the efficacy of a time-recording app, all you have to do is look at the top industries that use them. That's a clear pointer that your small or big business needs a time recorder.