If you manage a team of customer service representatives, you know how important it is to keep track of their time. After all, time is money! Thankfully, there's a tool that can help you with that—Freshdesk. In this article, we'll show you how integrating Freshdesk with a time tracking tool can help you and your team keep track of time, so you can keep your business running like a well-oiled machine.
What Are the Benefits of Freshdesk Time Tracking?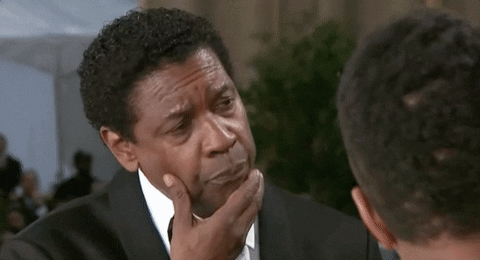 There are many benefits to using a time tracker. First, it can help you to be more productive with your time. You can see how much time you spend on tasks and adjust accordingly. Second, it can help you to track billable hours if you are a freelancer or consultant. As a result, you can make sure that you are getting paid for all the hours that you work. Finally, it can help you to keep track of project deadlines. If you know how much time you have spent on a task, you can better estimate how long it will take to complete it.
Does Freshdesk Have Native Time Tracking?
Yes—you can now track the time you spend on tickets right within Freshdesk! This new feature allows you to get a better understanding of how much time is being spent on support, identify areas where you may be able to speed up your process and see which tickets are taking the longest to resolve.
⌛ How to track time with Freshdesk
To start tracking time on a ticket, simply click the clock icon in the upper right-hand corner of the ticket page. This will open a pop-up where you can start the timer or enter the amount of time you've already spent working on the ticket. Once you've started the timer, it will run in the background even if you leave the page, making it easy to keep track of your time without having to keep the timer open.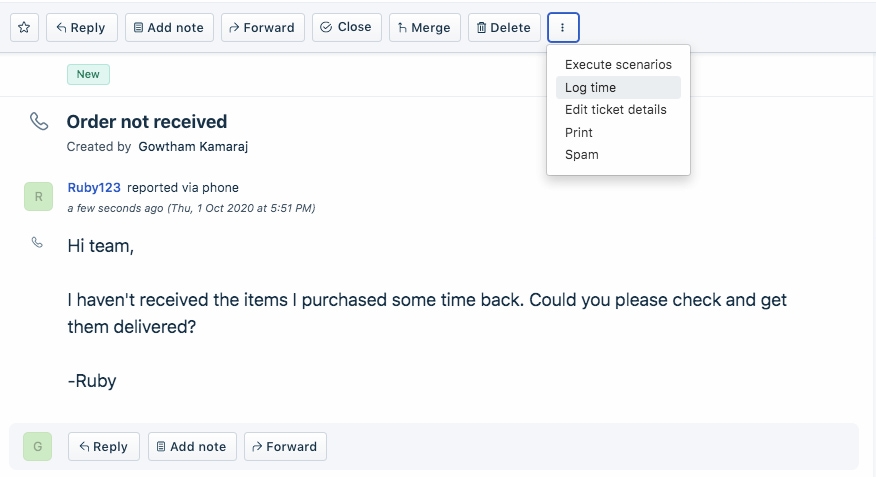 If you need to add more details about how you spent your time, you can do so by clicking the "Add work log" button. This will allow you to enter a description of what you did, as well as how long it took you. You can also add work logs retrospectively, so if you forgot to track your time on a ticket or want to add more detail afterward, you can do so easily.
🤔 What are the limitations of Freshdesk native time tracking?
If you're using Freshdesk to track time for your team, you may have noticed some limitations. For example, there's no way to track time for tasks that span multiple days or weeks.
Freshdesk also doesn't track users' idle time and unproductive hours, so there is a chance that your customer support team might track unproductive time as working time, affecting your bottom line.
Additionally, the accuracy of the time tracking can be affected by factors such as internet lag or server downtime. If you need more accurate time tracking for your team, you may want to consider using a different tool that works offline.
The Best Freshdesk Time Tracking Integrations
If you're looking to increase your team's productivity, consider using a time tracking integration with Freshdesk. There are a number of options available, and each has its own useful features and benefits.
Everhour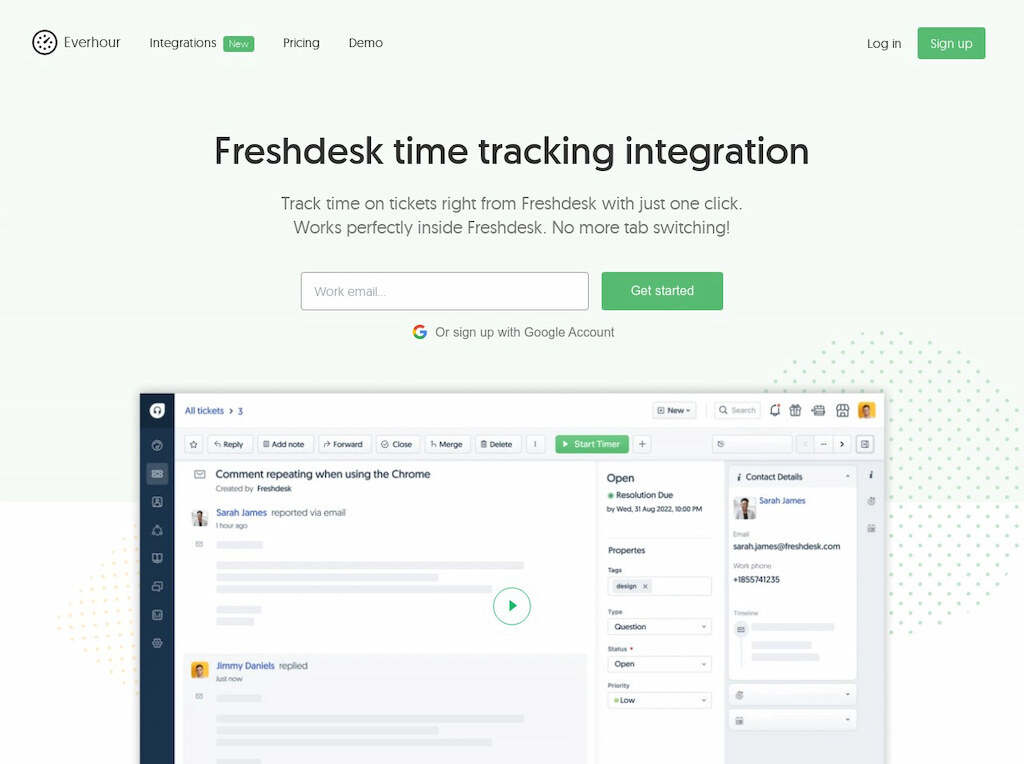 If you're looking for a way to track time on your Freshdesk tickets, look no further than Everhour! With the Everhour integration, you can see how much time is being spent on each ticket, as well as get an overview of how your team is performing. Plus, with Everhour's reporting features, you can see where there might be room for improvement.
Key features of Everhour
Everhour offers a range of features to help businesses improve their productivity, including:
Time tracking: Everhour allows businesses to track the time employees spend working on projects, so they can identify areas where they may need to cut back or make more efficient use of their time. Plus, the time tracker lets you add manual time when necessary.
Clock-in, clock-out/timesheet app: Everhour's time clock app lets employees clock in and clock out effortlessly, recording the data for billing and payroll purposes.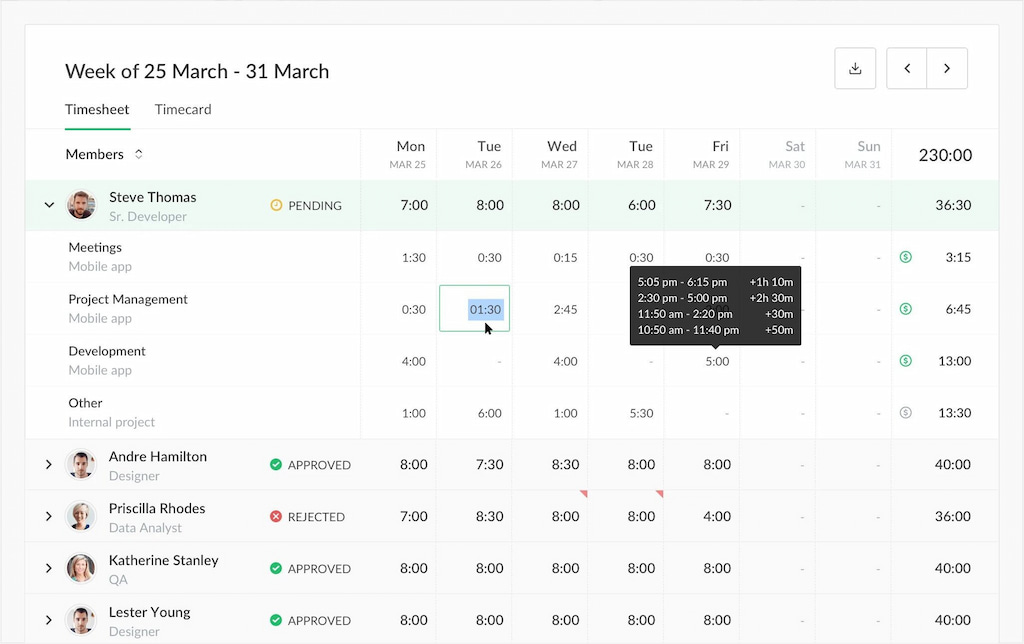 Insightful reports: The software provides detailed reports on employee productivity, which can be used to pinpoint areas of improvement.
Flexible billing: Everhour offers flexible billing options, so businesses can choose the plan that best suits their needs.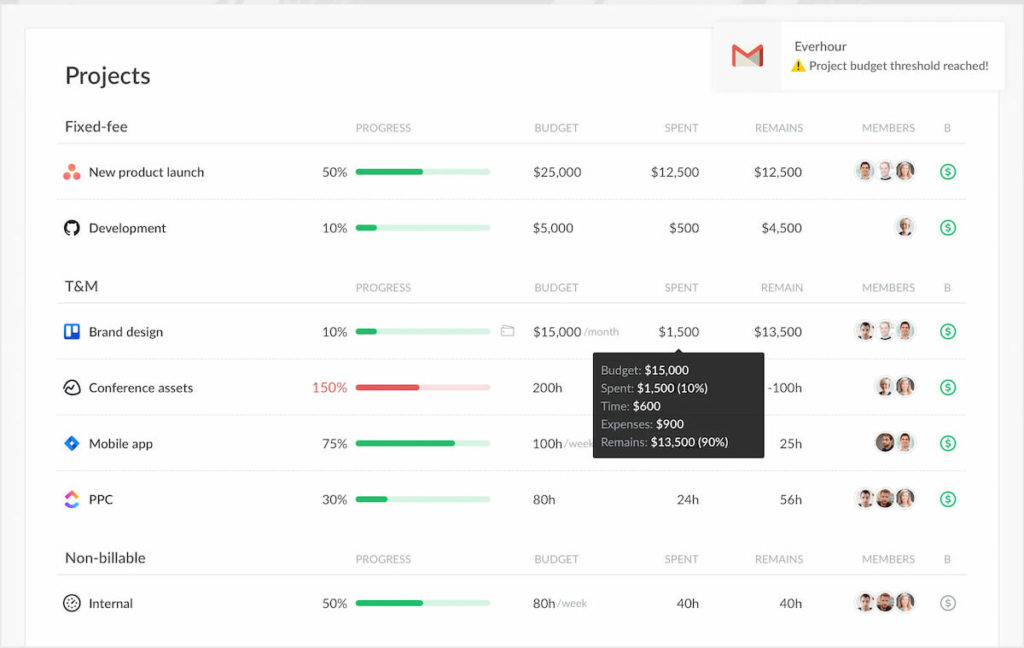 How to install Everhour
If you're looking for a time tracking solution that integrates with Freshdesk, we recommend Everhour. Here, we'll show you how to install and set up Everhour so you can start tracking time on your Freshdesk tickets.
Once you've created your account, click on the "Integrations" tab in the left sidebar.
Find the Freshdesk integration and click "Install."
You'll be redirected to Freshdesk to authorize the Everhour integration. Click "Allow" to continue.
You should now see the Everhour timer in the right sidebar of your Freshdesk tickets.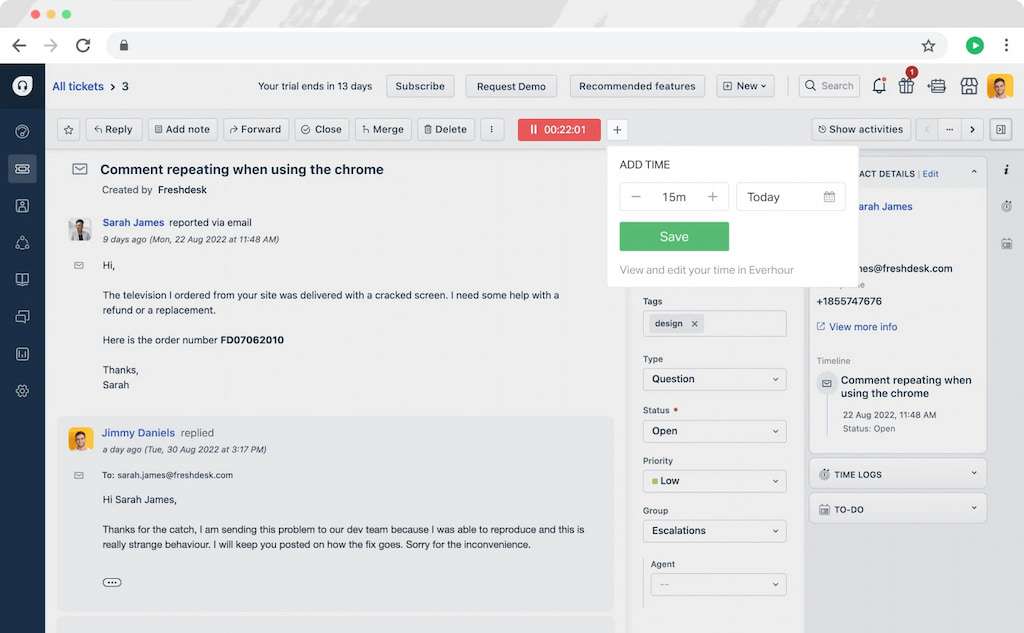 Everhour pricing
If you're searching for an affordable yet powerful time-tracking solution for your business, then you should definitely check out Everhour.
1️⃣ A free plan is available for up to 5 users, which includes unlimited time tracking, projects, reports, and website integrations.
2️⃣ Alternatively, Everhour's Lite plan costs just $5 per month per user, starting at two users. This plan provides you with all the features you need to accurately track time spent on projects, clients, and tasks, such as invoicing and budgeting capabilities, reminders, billable rates, costs, and profit for up to 10 users.
3️⃣ Finally, the team plan costs $8.50 per month per user, starting at five users. This all-inclusive plan gives you access to all features, plus dozens of the best-in-class integrations.
Hubstaff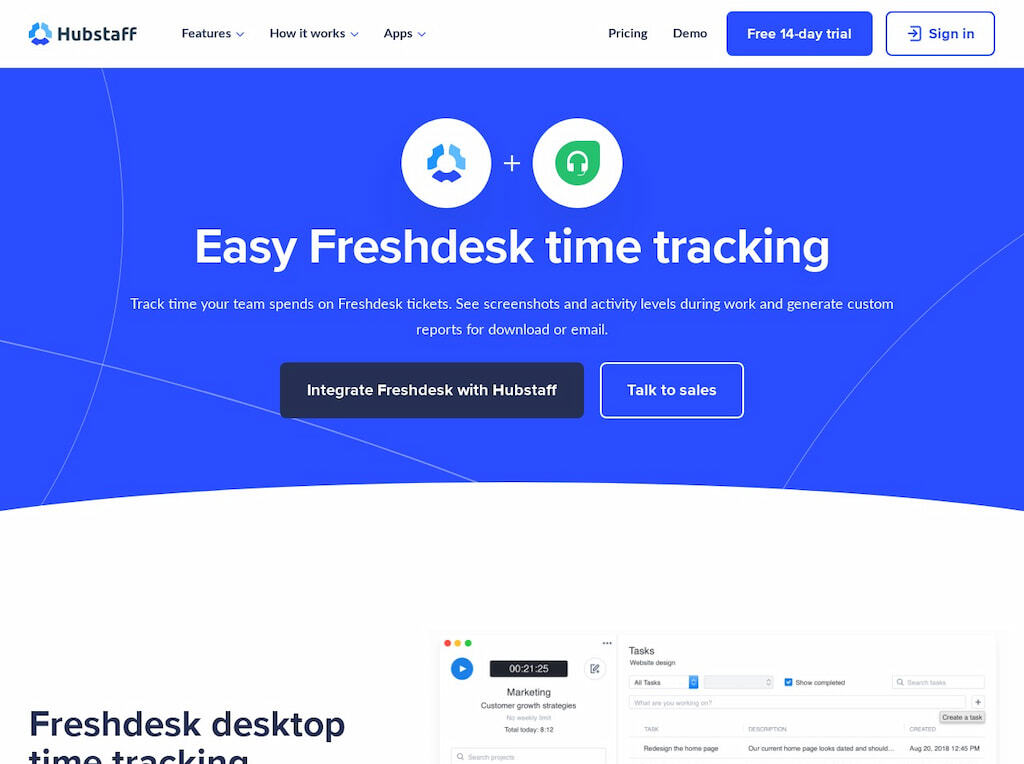 Another great tool to integrate Freshdesk with is Hubstaff. Hubstaff is a time tracking and productivity software that helps businesses and teams stay on top of their work. Some of its key features include:
Key features of Hubstaff
Accurate employee time tracking: Hubstaff tracks time down to the minute, so you can see exactly how much time your employees are spending on each task.
Attendance tracker/work hours tracker: Track employee attendance with an easy-to-use employee attendance tracker.
Productivity monitoring: In addition to time tracking, Hubstaff tracker also monitors employee productivity levels. This gives you insights into which employees are working efficiently and which ones may need more help.
Detailed reports: Hubstaff generates detailed reports that show you how your employees are performing. This data can be used to improve your team's productivity and efficiency.
How to install Hubstaff
Log into your Hubstaff account and go to the 'Integrations' tab.
Click on the 'Freshdesk' integration.
Enter your Freshdesk subdomain (e.g., yourcompany.freshdesk.com) and click 'Save.'
Your Freshdesk and Hubstaff accounts are now connected. Easy!
Hubstaff pricing
Hubstaff offers different subscription plans that cater to the needs of different businesses. The most basic plan is Time Starter which costs $5.83 per month for two users. The next plan, Time Pro, is priced at $8.33 per month and includes two users. Businesses that need more than ten users can subscribe to the Enterprise plan, which is customized by the organization. All plans come with a free 14-day trial so that businesses can try out the features before committing to a subscription.
TMetric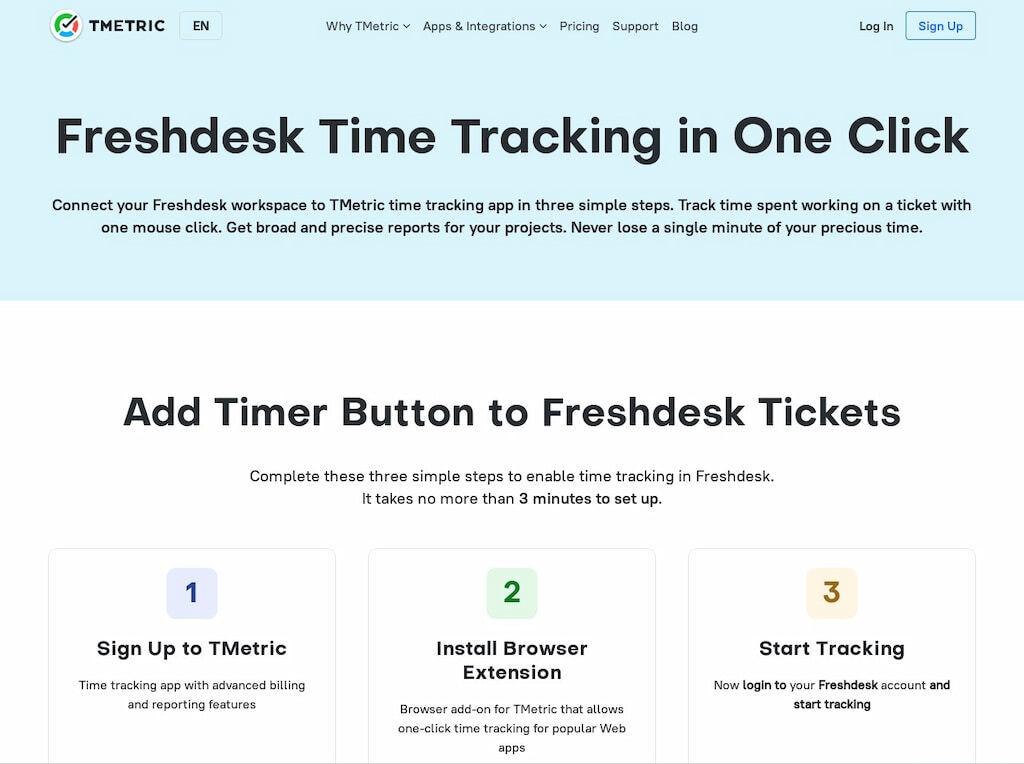 The TMetric app is designed to help you keep track of your time and work more efficiently. It has a number of key features that make it an incredibly useful tool, including time trackers, project management tools, team management capabilities, billing and invoicing tools, and insightful reports.
TMetric key features
Start/stop timer: start and stop the timer with just one click.
Intuitive interface: A clear and concise interface that shows how much time has been spent on a task.
Project and team management: Create projects, set rates, and track budgets, all while keeping track of your team's progress.
Reports: The ability to generate reports that show how much time has been spent on each task.
Multiple devices: Use TMetric tool on Windows, Mac, Linux, and various operating systems, including Chrome, Firefox, Opera, Edge, and Safari.
How to install TMetric
To get started, create a TMetric account and then follow these steps:
Log into your TMetric account and click on the 'Integrations' tab in the left sidebar.
Scroll down to the Freshdesk integration and click 'Enable.'
A pop-up window will appear asking for your Freshdesk subdomain. Enter your subdomain and click 'Authorize.'
You will be redirected back to the TMetric integrations page, where the Freshdesk integration is now enabled.
To start tracking time in Freshdesk, simply open a ticket and click the 'Start Timer' button located in the right sidebar.
TMetric pricing
TMetric offers a free trial, after which there are three pricing plans. The first is the Free plan, which is available for up to 5 users. The next is the Professional plan, which costs $5 per user per month and includes additional features such as project and task management as well as invoicing capabilities. Finally, the Business plan costs $7 per user per month and includes an advanced time manager for tracking and billing.
Timely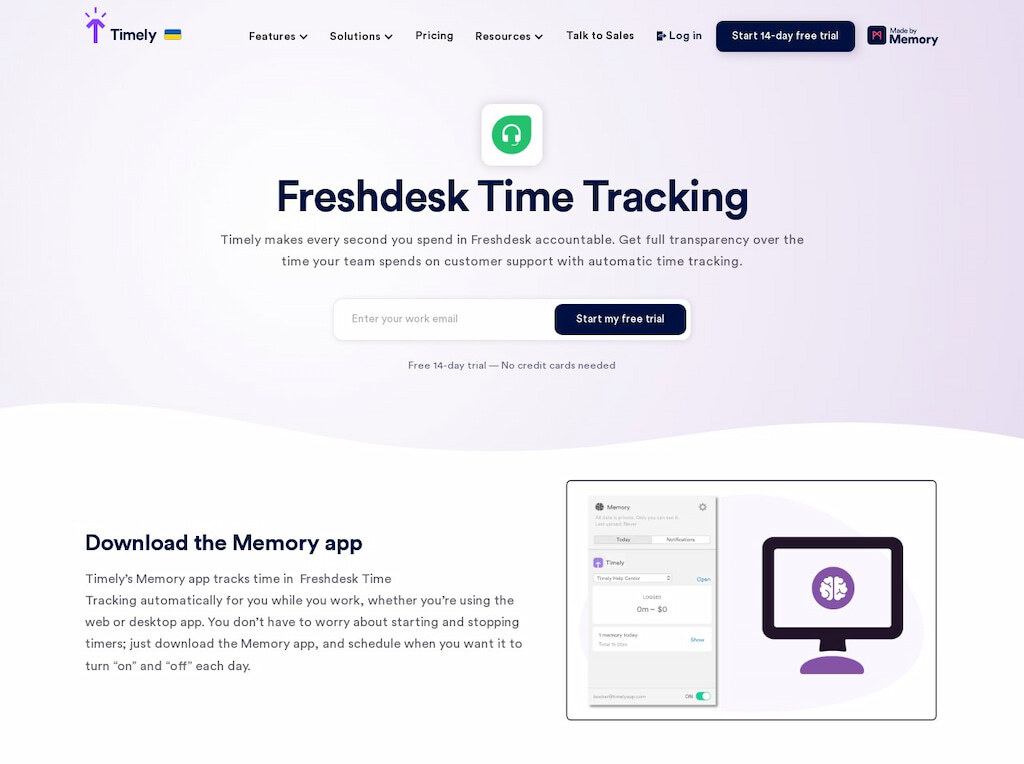 Timely is a great tool for tracking your time and keeping on top of work commitments. The Timely app has features that allow you to start and stop timers, see how much time you have left on a task, and even set an alarm to remind you to take breaks. You can also track your progress over time and see how much time you've spent on a task or project. Timely is a great tool for anyone who wants to be more productive and efficient with their time.
Timely key features
Stopwatch: The stopwatch feature allows users to start and stop the timer with just one click.
Automatic pausing: The automatic pausing feature pauses the timer when the user is inactive.
Intuitive interface: Timely is easy to use, even for those new to the tool.
Protects team privacy: For those conscious about their privacy while at work, Timely does not support employee screenshots or keystroke monitoring.
How to install Timely
Timely's app for Freshdesk lets you view and create tickets from your Freshdesk account inside the Timely app. This way, you can keep all your customer support information in one place and easily switch between tickets without having to leave Timely.
Once the app is installed, go to your profile icon in the top-right corner of Timely, and select 'Apps & Integrations.
On the apps page, find the Freshdesk app and click 'Enable':
You will then be taken to a page where you can enter your Freshdesk subdomain.
Once you have entered your subdomain, click 'Authorize' to connect your Freshdesk account with Timely. Simple!
Timely pricing
Timely offers several subscription options: starter, premium, and unlimited. Starter costs $8 per user per month when billed annually and includes 50 projects and three teams. The Premium package costs $14 per user per month when billed annually and includes unlimited projects and teams. Finally, the Unlimited package costs $20 per month per user when billed annually and includes unlimited projects, teams, features, and individual capacity.
TL;DR: Freshdesk Time Tracking Integrations Pros and Cons
Pros
Cons
Everhour
Track time spent on specific tasks
Clock-in, clock-out capabilities
Helps improve time management and efficiency
Generates reports which can be used to optimize workflows
Easy to use and intuitive interface
Integrates with popular project management tools such as Asana, Trello, and Basecamp
Some users have found the free version to be too limited
Might be too complicated if your time tracking requirements are simple
Hubstaff
Helps businesses track employee hours with an attendance tracker
Makes it easy to calculate payroll
Provides data that can be used to improve efficiency
Simple and user-friendly interface
Offers a free trial
Only offers a 14-day free trial
Limited features on the free plan
TMetric
Accurate time tracking
Easy to use interface
Sync with multiple devices
Project and team management capabilities
Generates detailed reports
Helpful customer support
Free version has limited features
Reports can be difficult for new users to understand
Timely
Intuitive interface
Accurate time tracking capabilities
Respects team privacy
Requires internet connection
Limited features in the free version
Currently not available for Windows phones
Final Thoughts
Freshdesk is a powerful customer support tool, but it can be even more effective when used in conjunction with an intuitive time-tracking tool. By integrating Freshdesk with a time tracking tool, you can see how much time your team spends on each customer support ticket, which can help you optimize your workflow and ensure that your customers get the best possible service. If you're not already using a time-tracking tool, we recommend giving it a try – you might find that it makes Freshdesk even more valuable for your business! And be sure to check out our other articles on time tracking – for example, this one about Zendesk time tracking!