Hubstaff: Reviewing the Most Popular Time Tracker [feat. Hubstaff vs Everhour]
Maria Kharlantseva, December 6, 2022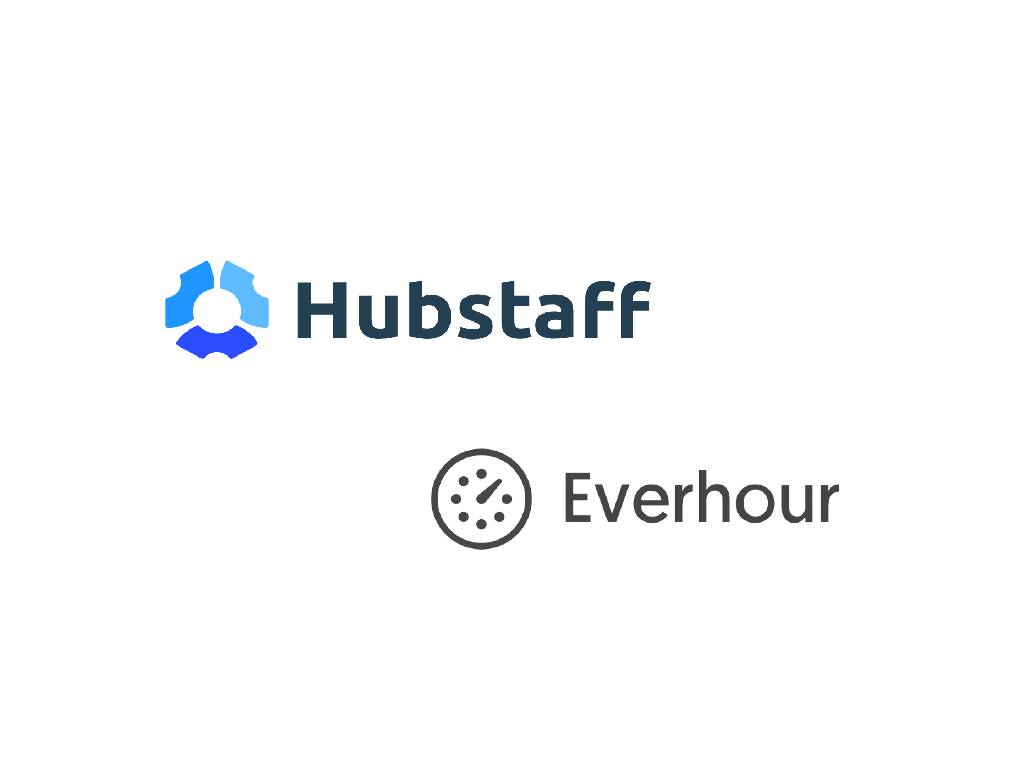 Even if the switch to remote work is temporary for some businesses, the need to support employees as they work from home is paramount to maintaining high productivity levels. As such, having a time tracker has become essential for monitoring employee activity, managing idle time, and ensuring individual accountability. Here, we're going to provide an overview of one of the most popular time tracking tool out there: Hubstaff. On top of that, we're going to compare two employee time tracking tools and two of the best time tracking software on the market: Hubstaff vs Everhour. By assessing each tool's capabilities, we hope to provide you with all the key information you need to inform your decision-making process.
What is Hubstaff?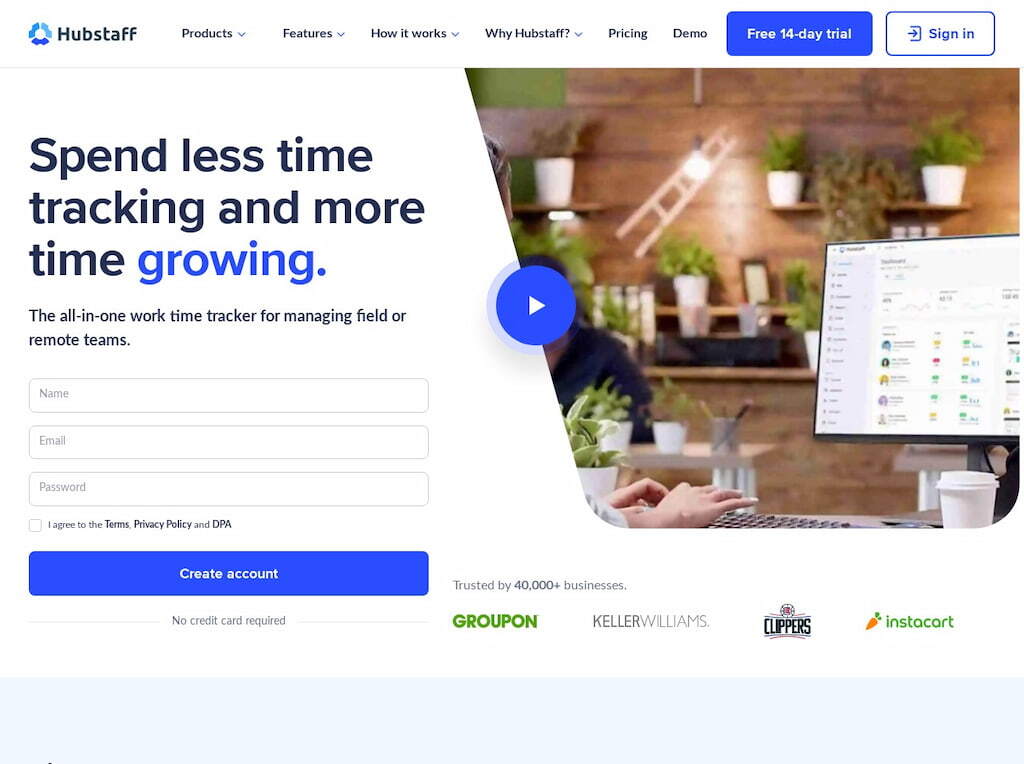 The Hubstaff app is a time tracking and productivity monitoring app that can also be used on a desktop computer or via the Chrome browser extension. As such, it's a versatile tool that you can access from any device, wherever you are.
Founded in 2012, the Hubstaff desktop app has been providing time-tracking features to its users for a decade now. The productivity platform is divided up into several feature-specific tools, including the following:
Hubstaff Time
Hubstaff Desk
Hubstaff Field
Hubstaff Tasks
Hubstaff Talent
In this article, we'll focus on Hubstaff and what it has to offer customers in terms of features and functionality.
Hubstaff Chrome Extension
Hubstaff's Chrome extension allows users to track time on activities they carry out while they browse the internet. The extension version of the software includes features such as Hubstaff screenshots, online timesheets, and Hubstaff payroll.
The Chrome extension can be useful in both personal and professional contexts. If you want to keep tabs on how much time you spend on certain websites in your free time – you can. Or, if your employer wants to know how much time you spend on various web pages, it can help with that too.
As of the time of writing, Hubstaff only works with Chrome, so if you use another default internet browser you will have to install Chrome to use it in-browser.
Hubstaff Time Tracking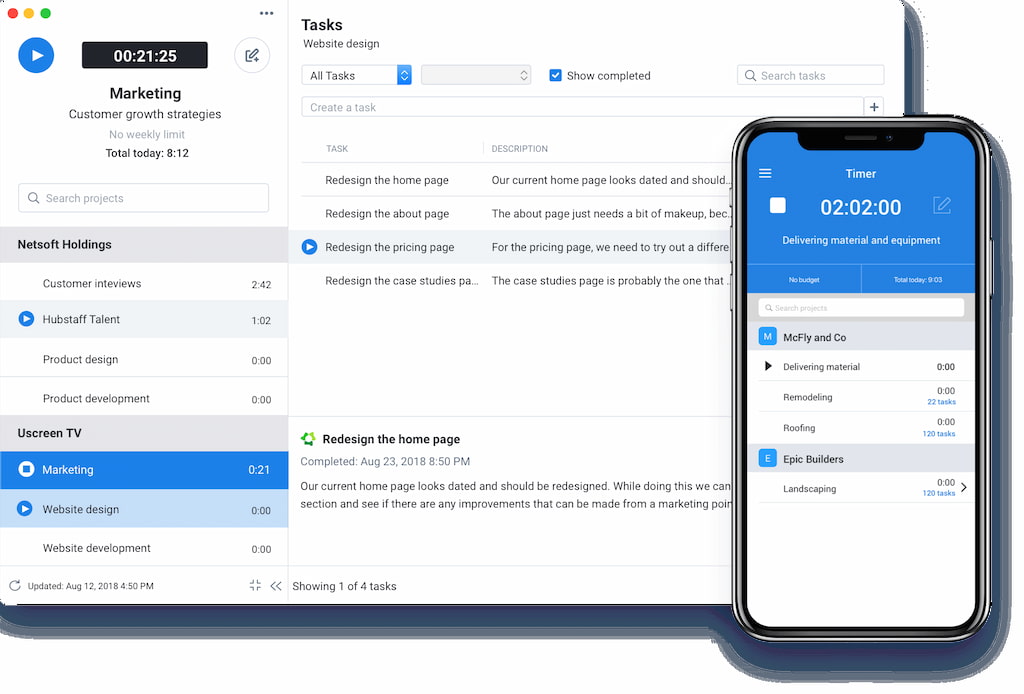 Hubstaff Time's primary purpose is, of course, to facilitate time-tracking for personal or professional activities. In a work context, the Hubstaff time tracker provides senior management with the tools to keep an eye on employee activity through precise time data. This can inform the payroll through accurate online timesheets, and clue you into any periods of idle time so you can allocate tasks accordingly or check in with your employees to evaluate performance.
Hubstaff automates time-tracking to streamline the process, but also allows for manual time entry. This is important as the software doesn't always cooperate, and unexpected events can compromise time data.
Hubstaff Pricing
It has a different pricing scheme for each tool it offers:
Hubstaff Time
| | Billed Monthly | Billed Annually |
| --- | --- | --- |
| Free | $0 (1 user) | $0 (1 user) |
| Starter | $7/month per user (2 users) | $5.83/month per user (2 users) |
| Pro | $10/month per user (2 users) | $8.33/month per user (2 users) |
| Enterprise | Custom plan | Custom plan |
The Hubstaff Time free plan includes a single user and grants you access to the time-tracking feature, timesheets, limited reports, and limited payments. Beyond that, you can have access to integrations, 24-hour support, invoices, and much more with the paid plans.
Hubstaff Tasks
| | Billed Monthly | Billed Annually |
| --- | --- | --- |
| Free | $0 (5 user limit) | $0 (5 user limit) |
| Premium | $5/month per user (Unlimited users) | $4.17/month per user (Unlimited users) |
The free version allows you to manage up to 10 projects with a five-user limit and 100 MB of storage per user. The premium plan instead gives you unlimited users, 5 GB of storage per user, and lets you manage unlimited projects.
Hubstaff Desk
| | Billed Monthly | Billed Annually |
| --- | --- | --- |
| Free | $0 (1 user) | $0 (1 user) |
| Starter | $7/month per user (2 users) | $5.83/month per user (2 users) |
| Pro | $10/month per user (2 users) | $8.33/month per user (2 users) |
| Enterprise | Custom plan | Custom plan |
The free version of Hubstaff Desk allows you to track time data, use timesheets, monitor activity and make use of a few other features. The three premium plans add integrations, 24-hour support, unlimited screenshots, and more.
Hubstaff Field
| | Billed Monthly | |
| --- | --- | --- |
| Field | $12/month per user (2 users) | $10/month per user (2 users) |
| Desk & Field | $15/month per user (2 users) | $12.50/month per user (2 users) |
| Enterprise | Custom plan | Custom plan |
There are three pricing models for Hubstaff Field, one of which is a bundle combining both Desk and Field into a single subscription. There is no free plan.
Hubstaff Integrations
Integrations are becoming increasingly useful as software tools partner up, offering more together than either could on its own. Hubstaff has integrations in various areas that could help you drive your company forward, boosting productivity levels and enhancing internal communication.
Here are the areas Hubstaff offers integrations in:
Project management: Hubstaff Tasks, Asana, ClickUp, GitLab, Trello
Communication: Slack
CRM: Salesforce
Help Desk: Freshdesk, Zendesk
Payments: PayPal, QuickBooks
With these integrations, you can make the most of Hubstaff's time-tracking features with whatever other software you rely on in the workplace. For example, when used in tandem with Asana, you can track time directly there, so you can fully use your project management solution.
Hubstaff Alternatives
Hubstaff is an excellent time-tracking solution with many useful integrations, but it isn't the only option out there, so it's worth considering other options as well. One such alternative would be RescueTime, an app that actively allows the user to stay on top of distractions and set goals for optimal time usage.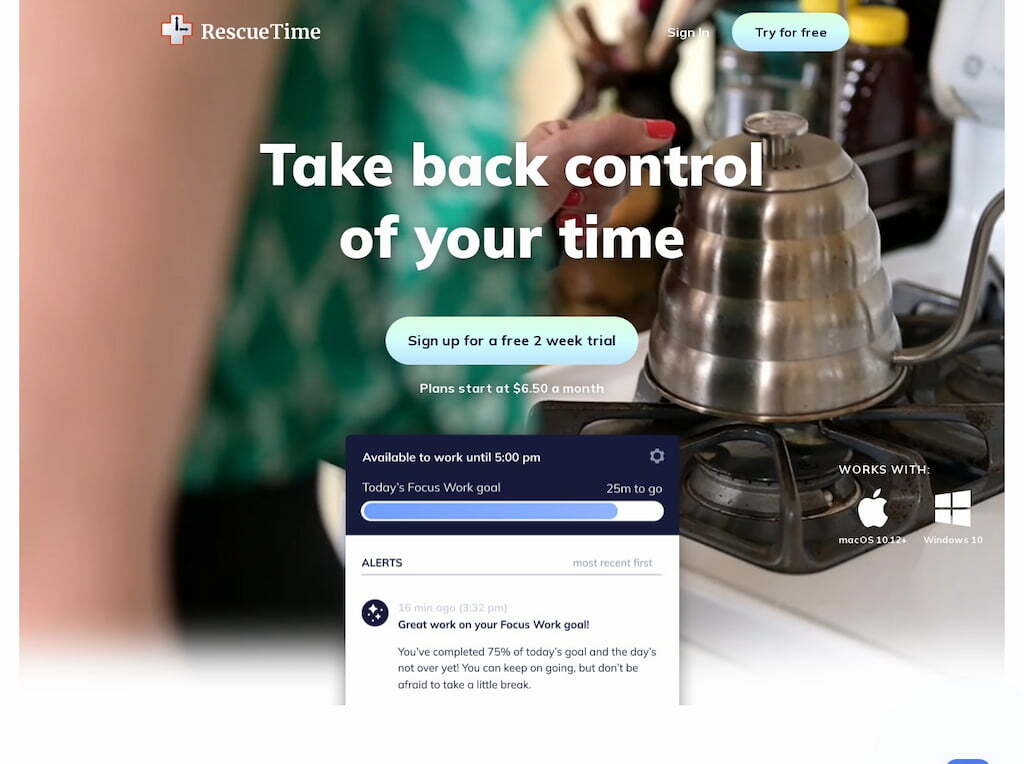 RescueTime has a desktop version and an app, and even supports offline time-tracking. The free version allows you up to three months of historical data and goal setting, while the two premium plans include alerts and team-based features.
Hubstaff Support
Hubstaff offers its users various methods for reaching out with queries and getting in touch with customer support. Customer support primarily comes in five forms: email, live chat, phone line, knowledge base, and video tutorials.
You can also sign up for a product demo if you want to get to grips with Hubstaff's features before you invest your hard-earned cash.
As you can see, Hubstaff is an incredible software suite that covers a breadth of issues business leaders might encounter. From time-tracking to project management, Hubstaff does it all, but the question remains: how does it fare against other software tools on the market?
To find out, let's move on to another tool and cover the same points to give you an idea. As we assess Hubstaff vs Everhour, we'll evaluate the top time-tracking tool and the many features it has to offer users in both personal and professional contexts.
What Is Everhour?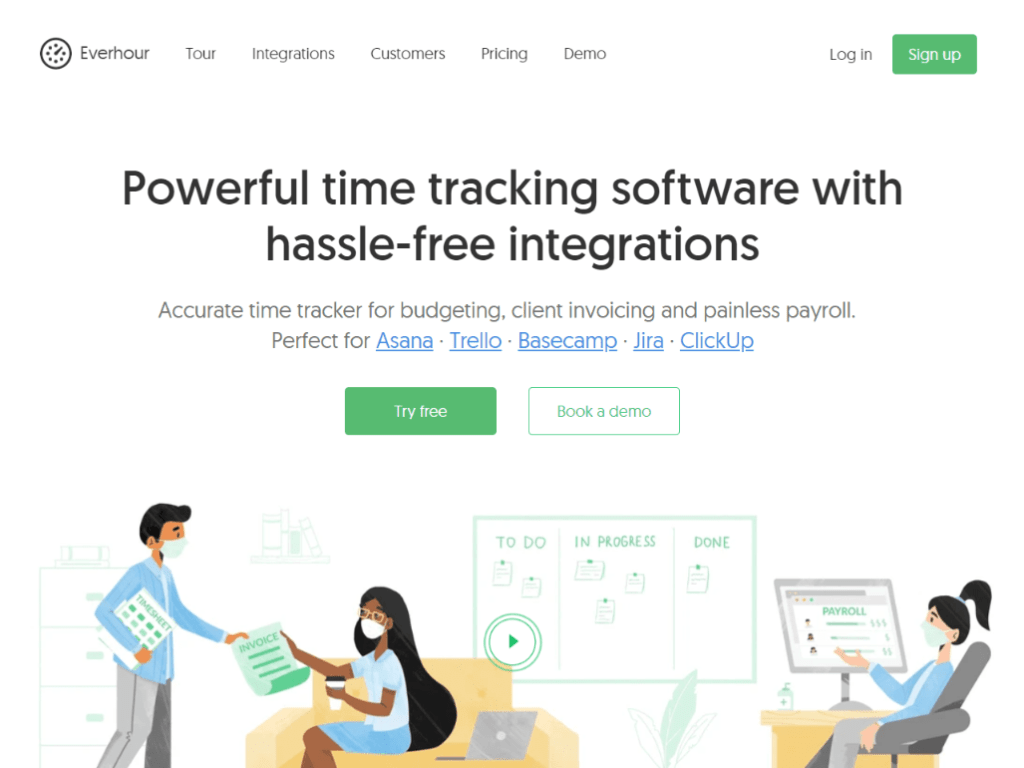 Everhour has been in operation since 2015, built by a small close-knit team pushing the software forward with every step. To date, this time and attendance software has served more than 3000 happy customers and continues to grow.
It has best-in-class integrations with many of the most respected tools in the areas of communication, project management, and more. It's even been branded the number one add-on for Asana, which speaks volumes to its utility.
Everhour is one of the best time tracking tools for teams, and the singular focus on time-tracking functionality makes it a powerful tool for inspiring productivity.
Everhour Chrome Extension
The time clock app Everhour works as a Chrome extension, and also supports other browsers so you shouldn't have to switch your primary browser to use the software. Everhour natively embeds into the browser you're using, and is compatible with many of the largest software tools like Asana and Trello. As such, you can make the most of the time-tracking feature even while tabbing between project management software apps in-browser.
What's more, Everhour doesn't just time track through the browser, it fully integrates and syncs data across platforms in a matter of minutes. The extension provides you with valuable time data you can use to track employee productivity, monitor your own productivity and idle time, and keep yourself or your employees accountable.
Everhour Time Tracking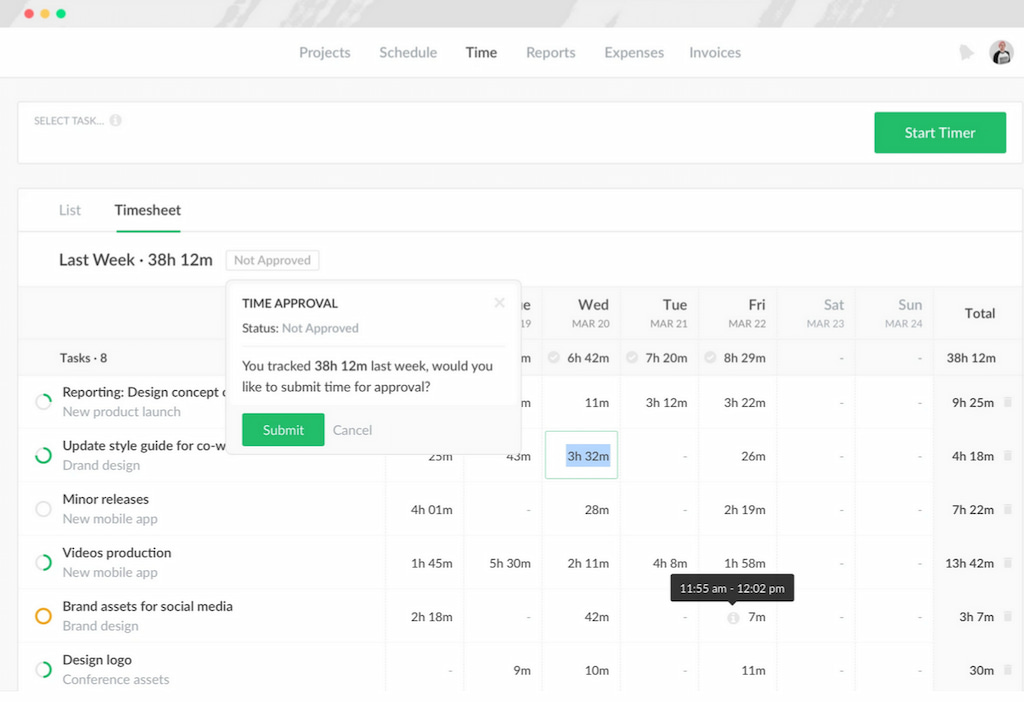 Everhour's comprehensive time tracking system is the software's greatest strength. What sets it apart from the time tracking features of other software is how detailed the time data is, how it's presented to users, and how you can set budgets and estimates before you start tracking time.
As a timesheet app, Evehour lets users set budgets and create estimates, allowing them to use the time data they collect to support their business goals and meet client deadlines. It lets you build a business based around professionalism, as you give clients accurate timelines for project completion and budget accordingly so as not to overspend. As a work hours tracker, you'll have all you need to stay on top of employee productivity levels.
Everhour, unlike Hubstaff, also offers attendance management. This is a key feature for senior management, as it allows higher-ups to monitor employee attendance, factoring in sick days, paid vacation, and more backed up by accurate time data.
You can also count on real-time notifications and reports with Everhour, which is ideal if you keep tabs on employee productivity, which could fluctuate on a day-to-day basis.
Everhour Pricing
Everhour offers three pricing options: Free plan, Lite plan, and Team plan. Free plan for up to 5 users which offers the basic time tracking and reporting features. The Lite plan is $5 when billed annually and $6 when billed monthly, and it includes the features the Free plan provides along with invoicing, budgeting, payroll and billable rates, and reminders. The Team plan is $8.50 when billed annually and $10 when billed monthly, and it includes all the features Everhour provides, including features of the Free and Lite plans.
| | Billed Monthly | Billed Annually |
| --- | --- | --- |
| Free | $0 | $0 |
| Lite | $6/month per user | $5/month per user |
| Team | $10/month per user | $8.50/month per user |
Everhour Integrations
Everhour, like Hubstaff, offers users various integrations for extending the functionality of the time-tracking tool. As mentioned earlier, Everhour is the number one add-on for Asana, and it has earned a reputation as a useful tool when used in tandem with other software.
The ease by which you can sync data with various tools in-browser makes integrations with Everhour a breeze. There are plenty of integrations you can enjoy, too, when you choose Everhour. For example, you can make time estimates, set up budgets, and create reports for every tool from Asana to Xero.
It isn't just project management tools that benefit from Everhour's task time-tracking. Jira, ClickUp, Asana, Basecamp, and Trello are just a few of the integrations that enjoy a mutually beneficial partnership with Everhour.
Everhour Alternatives
There are many alternatives to Everhour, as the time-tracking software market is crowded. However, one interesting option to consider is Apploye. Even though Apploye is yet to develop a reputation as a market leader, the up-and-coming tool presents a unique array of features that could help you better manage your and your employees' time.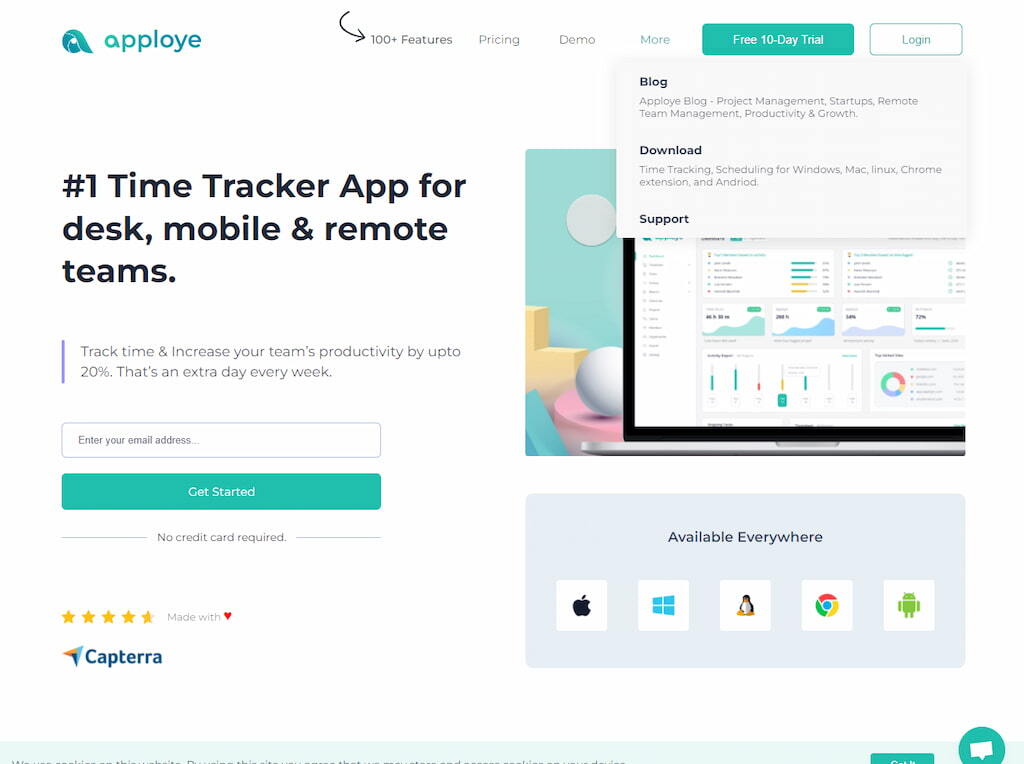 Apploye's most impressive feature is the visual time data displays. It can provide you with useful reports either by the day, week, or month. What's more, there's a GPS tracking function that can inform you as to where your employees are when they're out on a job, so you know exactly how many billable hours to add to the payroll.
Apploye also has a Pomodoro timer feature, which makes the most of the popular time management system. Pomodoro technique is a way of staying productive for short bursts of time with quick breaks in between. While it's mostly popular for personal use, Apploye brings it to the workplace too which could be motivating for employees.
Everhour Support
When it comes to customer support, your first port of call for Everhour should be the 'Help Docs' page. It's here where you'll find detailed articles outlining common problems and solutions, so you can troubleshoot your own issues and get to grips with the software. However, Everhour also offers other ways of reaching out when you have a query, including the following: live chat and email support.
There's also an Everhour product demo you can get your hands on if you're curious to try the software before you buy.
Hubstaff vs Everhour: On a Final Note
Hubstaff vs Everhour is hard to choose between. Both tools offer users a high-value proposition, especially for those seeking comprehensive time-tracking tools. While Hubstaff focuses more on providing a breadth of features, Everhour provides in-depth and intuitive time-tracking features.