Accomplishing a large volume of tasks while trying to stay on schedule requires not only good time management skills but also excellent tools to support you. That's why it'll be of great help to know and utilize the best time tracking apps and productivity tools for Mac. The best productivity apps we review below will contribute to your performance, help you better concentrate on your work and maximize your results.
Exploring the Finest Productivity Apps for Mac
Understanding the defining traits of the top productivity apps for Mac is crucial for optimizing efficiency and making informed time management decisions. Whether you're an individual striving to elevate personal productivity or an integral part of a collaborative team, harnessing premier productivity apps tailored for Mac offers insightful tools for effectively managing your daily, weekly, monthly, and yearly tasks.
Importance in Boosting Efficiency: Embracing leading productivity apps for Mac empowers you to streamline your workflow, extracting the utmost value from your time and accomplishing your objectives with precision.
Key Criteria for Evaluation:
Real-time task tracking: These applications seamlessly initiate, pause, and complete task-tracking features, ensuring precise time allocation and meticulous progress monitoring. Task categorization: Effortlessly categorize tasks into relevant groups for improved organization and focused work. Collaboration and communication: Access features that foster teamwork, enhancing communication and collaboration among team members. Integration and synchronization: Streamlined functionality that seamlessly integrates with various Mac tools and platforms, ensuring a cohesive and efficient digital workspace. User-Friendly Accessibility: The apps ensure effortless access and utilization of productivity-enhancing attributes across different Mac devices and platforms.
Our Approach to App Evaluation and Testing
Our assessments are meticulously developed by experienced professionals who specialize in software analysis for productivity on Mac. Each app undergoes rigorous testing and scrutiny against our predefined criteria. It's important to emphasize that we strictly uphold a policy of not accepting compensation for featuring apps or incorporating them into our articles. Our primary objective is to maintain the trust our readers have in our unbiased and authentic app assessments, tailored to enhance productivity across various Mac contexts.
Indispensable Productivity Apps for Mac
Everhour
💡 Best for: time tracking, project management, budgeting, reporting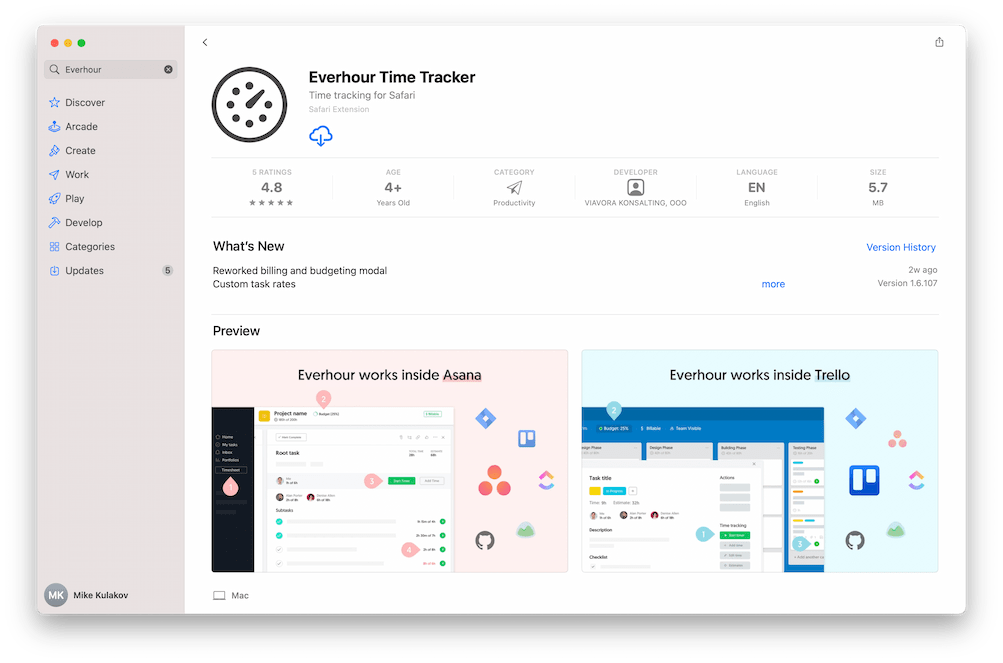 If you are looking for a new tool that would skyrocket your performance, save your time, and make payroll a breeze, look no further than Everhour. It is a complete time management tool that can be easily integrated with the most popular project management apps, including Asana, Trello, Basecamp, Jira, GitHub, and ClickUp. It works inside your Safari browser.
MindNode
💡 Best for: brainstorming and capturing your thoughts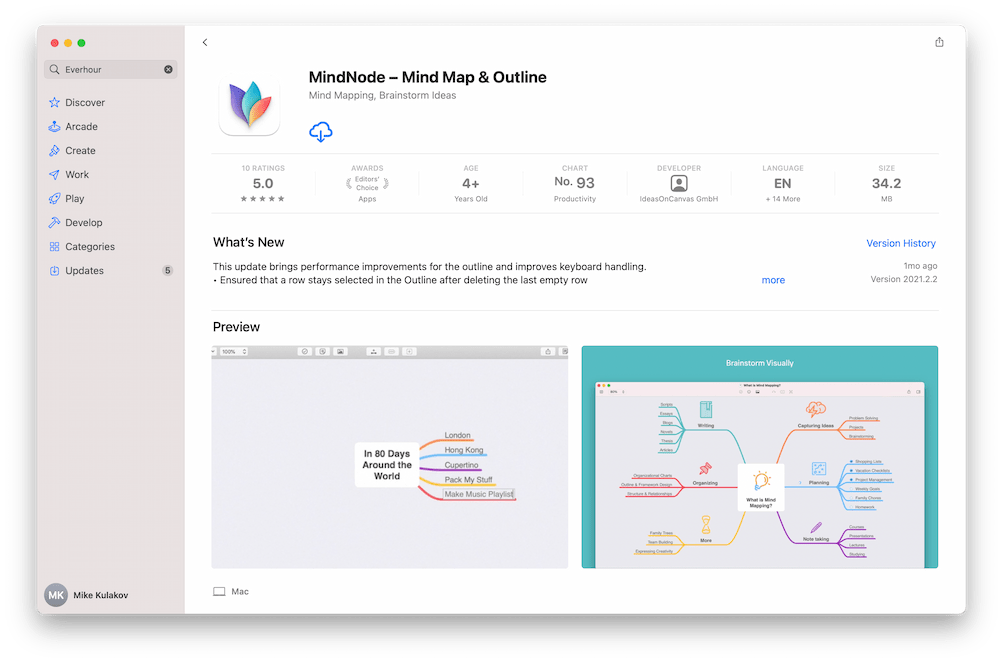 MindNode is a productivity app for Mac designed for thinkers. If you are a person who comes up with thousands of ideas every day, this application is for you! It's an excellent tool to capture thoughts that you want to come back to later.
In this app, you can store all your thoughts differently: through images, notes, words, or links. In addition, you will be able to organize everything hierarchically through mind maps or diagrams.
MindNode offers its users the option of customizing each mind map with stickers and custom designs. You can also export to text files and many visual formats.
Magnet
💡 Best for: keeping your workspace organized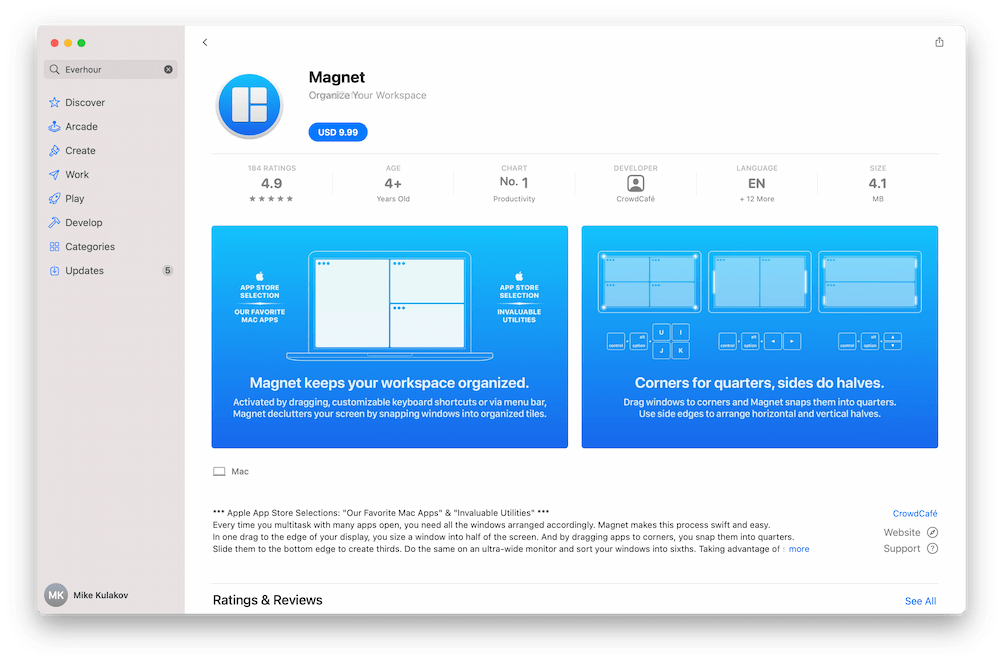 It's not common these days to have to perform multiple tasks simultaneously. This can be confusing and stressful at times. With so many windows and applications open at the same time, it's easier to make mistakes.
Magnet came to Mac to solve all these problems! This app has the function of proportionally organizing the windows you need in the dimensions of the screen.
The spacing dimensions vary according to the lengths of the monitor. It could separate the screen into 3 sections with the smallest screens and up to 6 ultra-wide ones. Magnet also offers its users different keyboard shortcuts for various commands. In the menu bar, the default sets of shortcuts will appear along with the option to customize it to your liking.
Paymo
💡 Best for: productivity, time tracking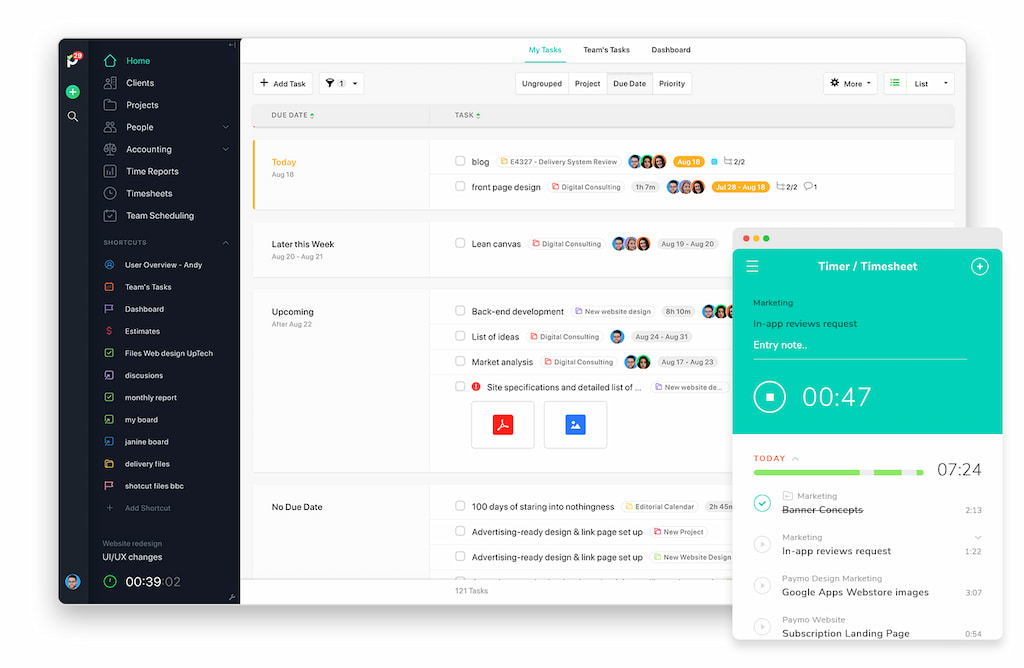 Paymo has a reliable desktop widget that's great if you want to keep track of the time you spend on your daily tasks. The widget has an idle time function – it automatically detects the time you've been away from the keyboard and allows you to discard it—or keep it—without disrupting your flow.
Plus, there's a Pomodoro timer for those who work better in short sessions or creative bursts. The Pomodoro technique can be enabled by heading to the widget settings, where you may also customize your work session. Overall, Paymo tracker is a powerful tool with handy productivity features.
1Password
💡 Best for: keeping your passwords safe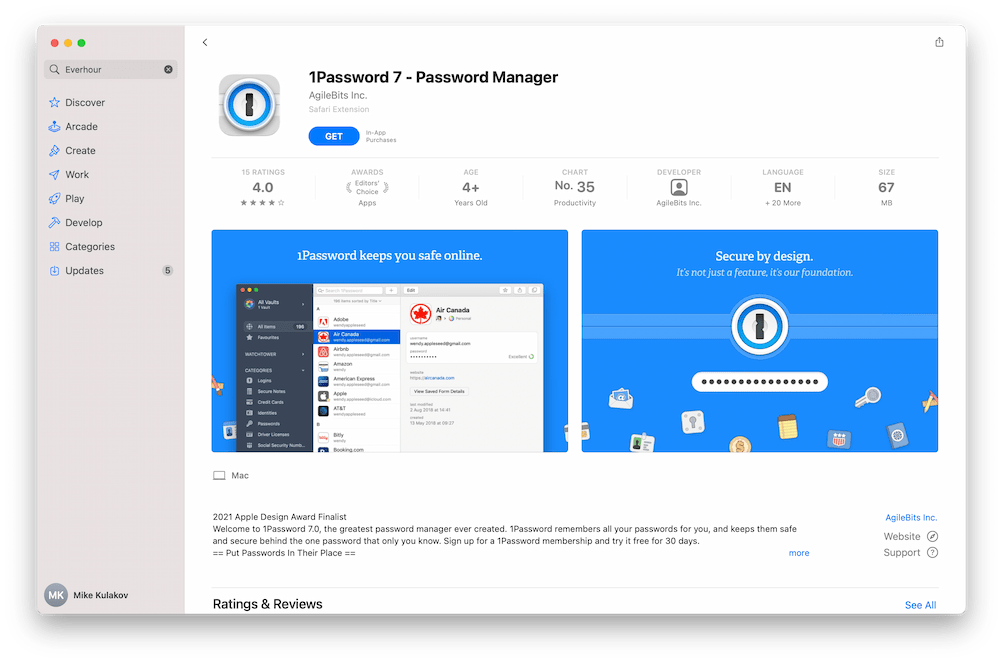 1Password is another tool that definitely couldn't be missing from this list of Mac productivity applications. This is a perfect option if you are forgetful or manage a lot of passwords.
This app aims to remind you of your passwords and safeguards them behind a password you will give yourself. After registering your passwords, in this same application, you can quickly access your user profiles on websites or other applications.
Business Insider considered 1Password to be one of the 100 best apps in the world. With 1Password, you can:
Store information in different categories and find things faster.
Create labels to organize information.
Implement Spotlight to have data insight.
Deploy and create vaults to further safeguard your data.
Grammarly
💡 Best for: grammar and spell check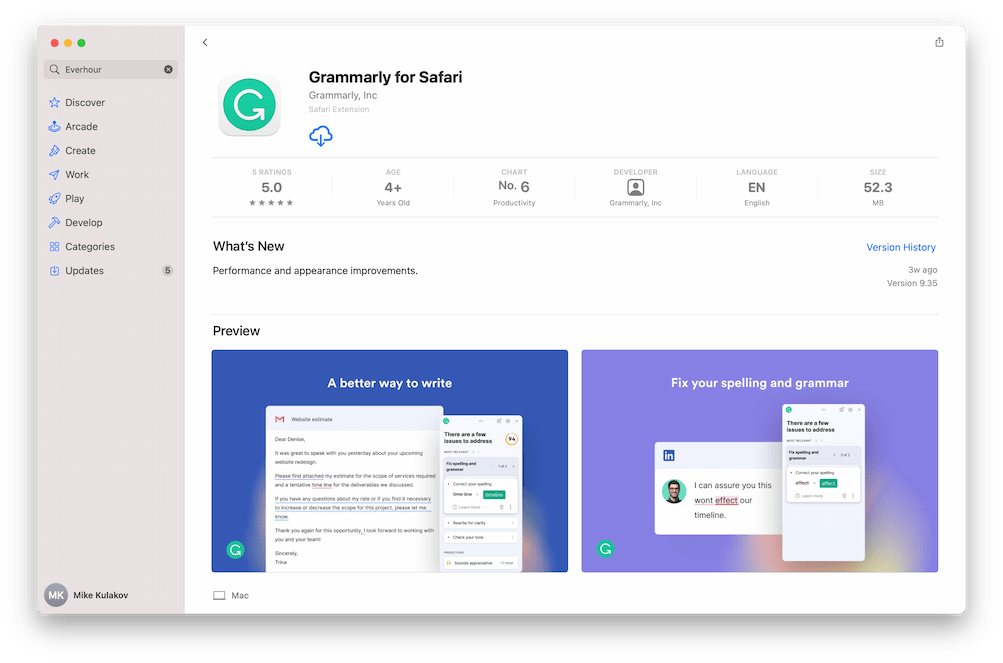 If you ever write reports, emails, articles — well, basically, anything — Grammarly is the perfect complement. This app corrects grammatical errors on the fly and improves different aspects of the text, ensuring that your writing is flawless. You'll get:
Smart grammar and spelling check.
Varieties of synonyms for words.
Self-correction.
Tone detection, and more.
Best Mac Apps to Streamline Your Processes
Spark Mail
💡 Best for: loving your inbox again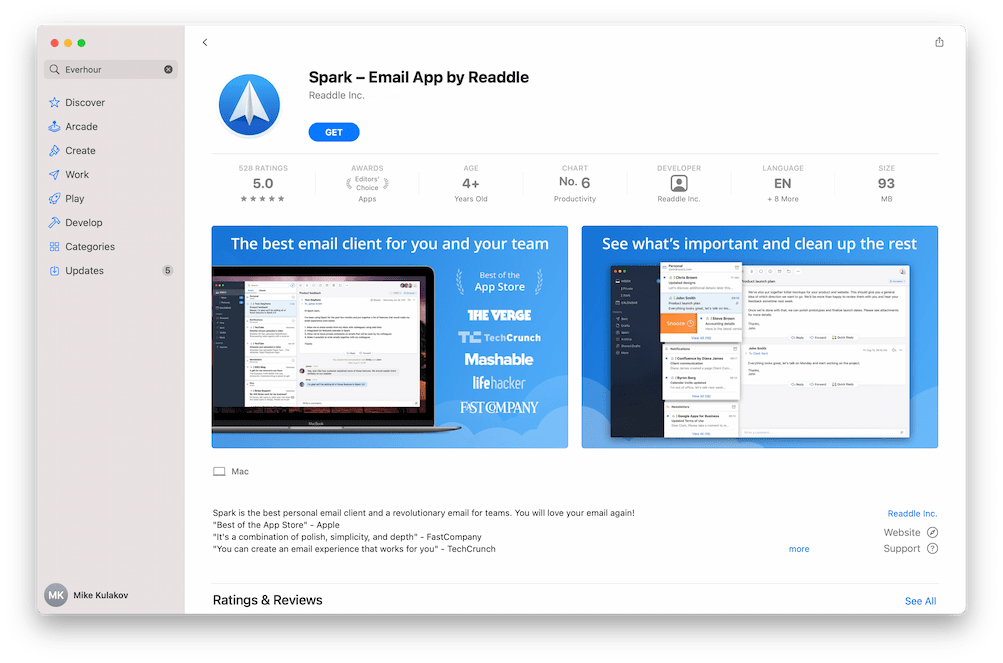 Usually, working with emails is very tedious (yes, boring, too). However, Spark Mail came to improve the experience of working with your emails tremendously.
Mainly it is worth mentioning that the features of this tool are simple, yet deep and interactive. One of the key features is Smart Inbox that allows you to focus on the most important emails and skip the noise. On the other hand, with Shared Inboxes, you will be able to handle your inbox together with multiple people. You will be able to create and write collaborative emails with other users in real-time!
What else is there? You can now schedule, snooze, group, label, organize your emails, invite teammates to discuss specific threads, and more!
Bear
💡 Best for: private markdown notes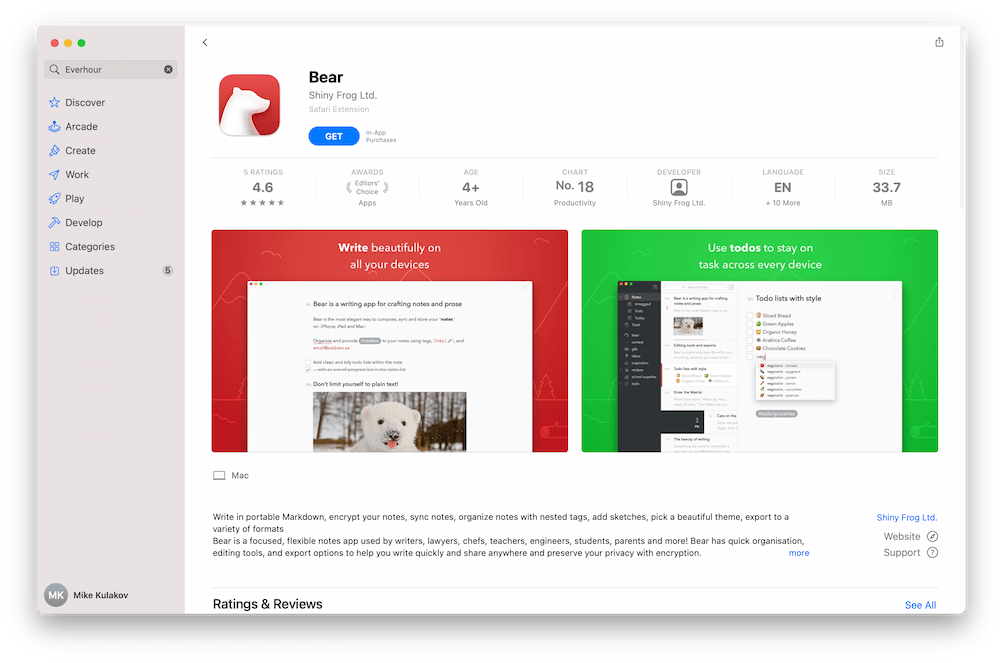 Although simple, Bear is undoubtedly one of the best Mac productivity applications. Although taking notes and organizing ideas is a fairly straightforward activity, it almost always gets complicated. Bear is a note-taking application designed to simplify and organize your ideas in texts, images, and even drawings.
One of the main things that stands out about this application is how beautiful and dynamic it is. In fact, it was the winner of the 2017 Apple Design Award.
Use Tags to easily pull up any note; customize notes with themes; organize notes quickly and share anywhere. Needless to say, the security of your information will not be a problem, since you protect your notes with encryption.
PDFelement
💡 Best for: PDF file editing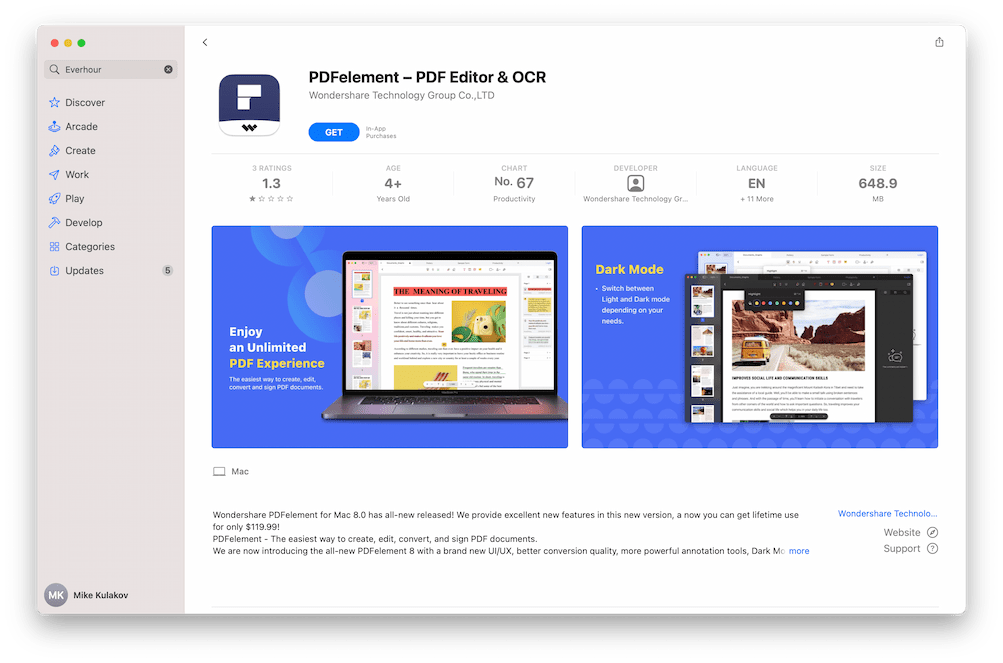 PDFelement is a professional PDF file editing tool that will make things easier for you. PDFs are by default read-only documents. Sometimes we have to take the trouble and convert these into another format to work with. PDFelement is perfect for solving this problem since you can work directly with the original document.
The app allows you to change the size, color, and type of fonts in the document and makes it possible to cut, paste, delete or move lines and paragraphs.
Furthermore, there are options available to highlight and underline any information. It supports converting the document to another format without generating alterations that affect the context of the theme.
CloudApp
💡 Best for: advanced screen capturing and recording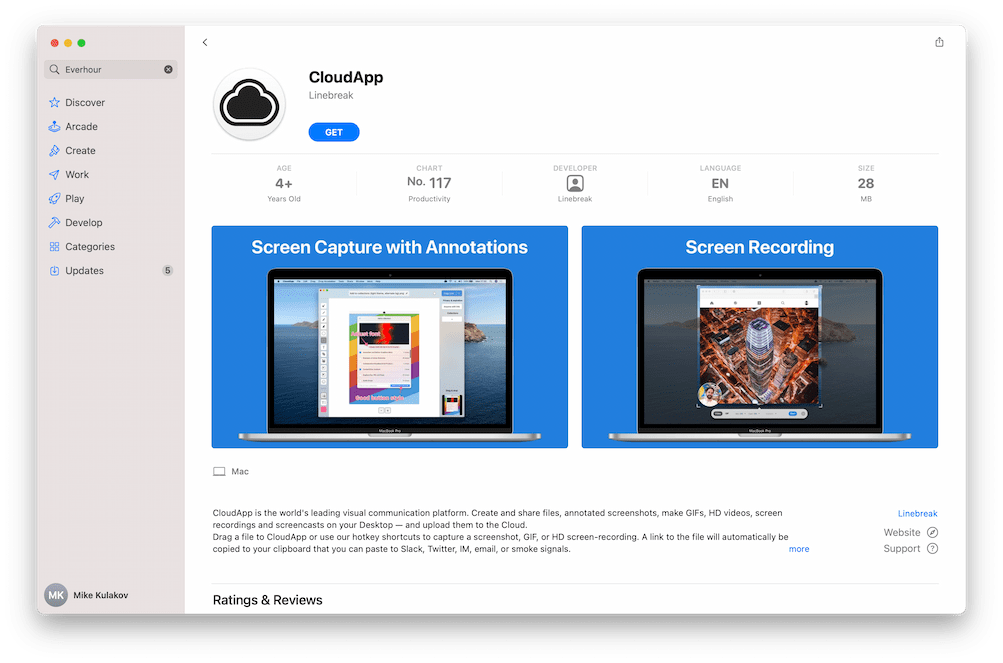 CloudApp facilitates capturing and sharing annotated screenshots and screen recordings, tremendously improving visual communication in digital work settings. When being in meetings, interviews, or virtual classes, it is very common for multimedia files to be difficult to share.
CloudApp has features that prevent these difficulties from occurring. It is a tool that stores files in the cloud to be easily sharable through a link. Also, it works to record and capture the screen easily. Once you stop the recording, you can upload it to the CloudApp online server to use or share later.
The interface of this application is extremely easy to use. Once installed, access to it will be in your menu bar.
Alfred
💡 Best for: creating customized keyboard shortcuts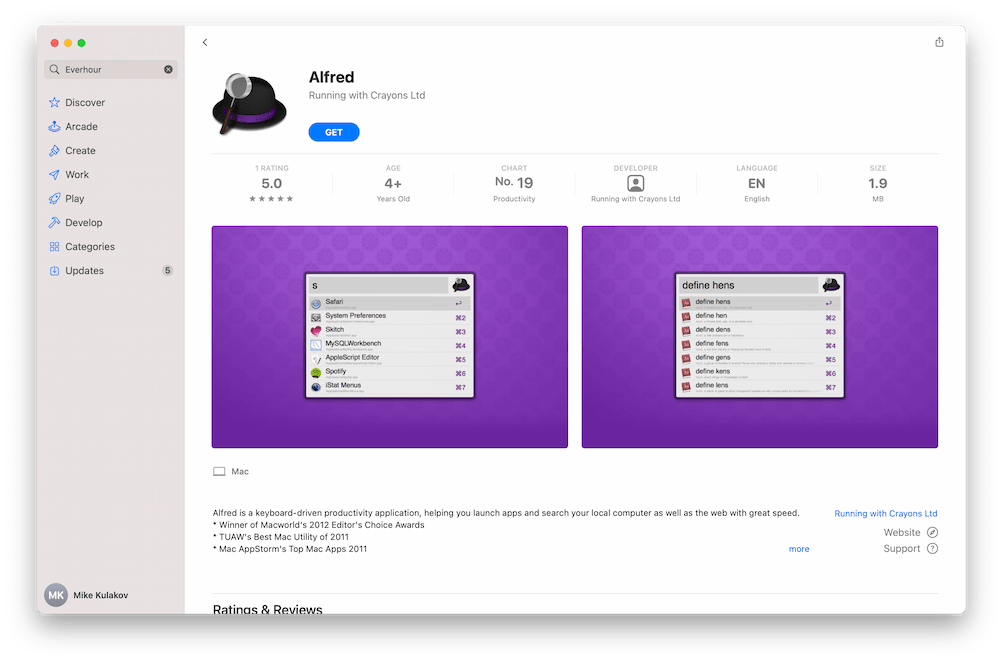 Alfred is one of the best productivity apps for Mac as it helps you streamline your work via keyboard shortcuts. With this tool, you will start, close, and search for different apps and windows at lightning speed.
The most impressive thing about this tool is that it presents incredibly diverse features that will let you save time performing a range of tasks. Some of these are:
Application Launcher: helps you move faster between the different windows and applications on your Mac.
Search your Mac: enables you to quickly access files, music, applications.
Search the web: you can open your favorite websites through shortcuts.
System Commands: allows you to control your Mac with speed and efficiency. Restart, shut down, eject a drive, and more via keyboard commands.
Once you have installed this tool on your Mac, the first thing you will be asked to do is to set up your own commands. Streamline your work, add speed and efficiency, and never look back!
Todoist
💡 Best for: developing new habits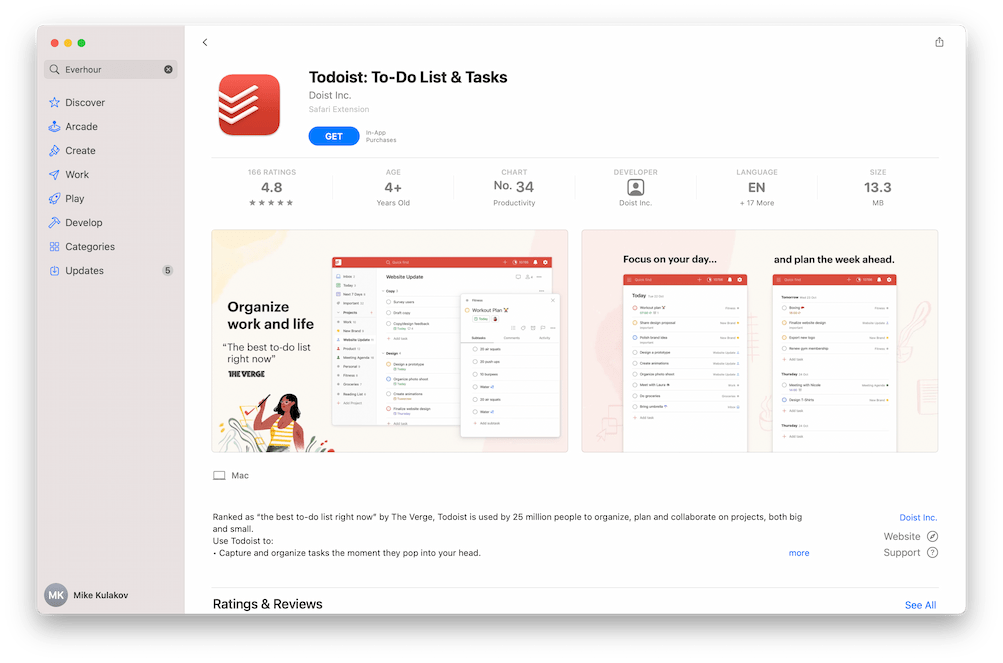 This is another application that helps you plan your daily activities and also stick to your commitments. The main goal is to create better habits in your life, so you become much more productive daily.
Organize or enter tasks quickly and also choose if you want the app to remind you about them. With Boards, you will get a better organization of projects and prioritize the most urgent tasks. One of the best features is Productivity. Use it to keep track of your daily progress.
Even though there a lot of Todoist alternatives out there, inside Todoist, you can collaborate with other users on personal or business projects – a feature making it one of the most essential and complete Mac productivity apps.
Microsoft To Do
💡 Best for: task management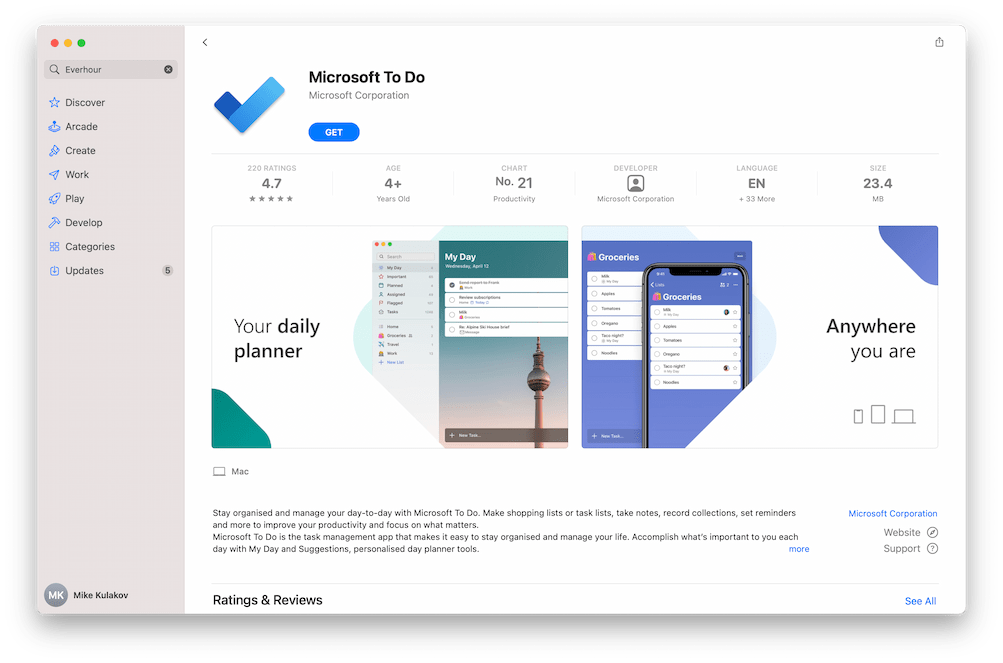 Microsoft To-Do is a handy tool for those who perform lots of different activities daily. Mainly, what this app offers is that you can better distribute your time between tasks.
In essence, it's a task manager. Here you can create a daily planner and different activity lists. The benefits that Microsoft To-Do offers its users are:
A suggested and scheduled task planner called "My Day."
Customizable lists.
Notes.
Alarms and reminders.
Invoice planner.
Calendars for labor issues.
Additionally, the app offers the functionality to share your information with other users of your choice, as well as they can also share their information with you.
Apps for Creativity and Stress Relief
White Noise Lite
💡 Best for: minimizing distractions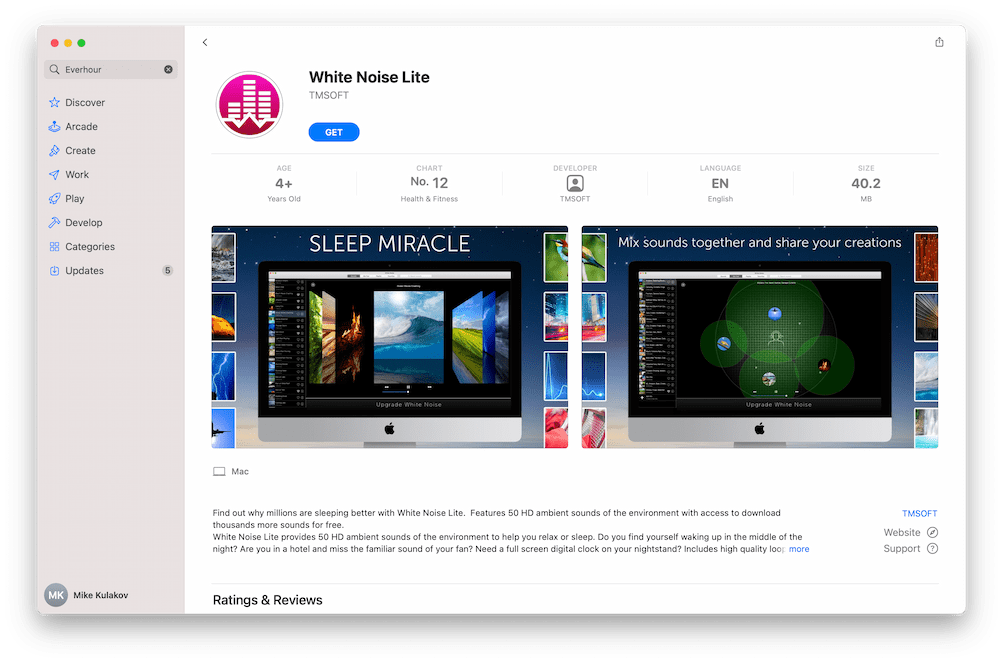 White Noise Lite is a great application designed to help reduce stress levels. This app's main function is to relax users through a range of varied sounds and minimize noise around them – both literally and metaphorically.
You can use this tool in different scenarios. The annoying sounds of instruments, traffic, ambulances, and others, will no longer be a problem for you. White Noise Lite takes care of covering them, so you don't hear them and don't get distracted.
Are you one of those who finds it difficult to sleep? Do you have a baby at home who wakes up easily when taking naps? With this app, you can control these inconveniences, so it goes beyond being an exclusive tool for work.
White Noise Lite's catalog of tunes ranges from beach waves, wind blowing, and 40 others. In addition, you will also be able to combine different sounds simultaneously to make the experience even more relaxing.
Skitch
💡 Best for: visually sharing your thoughts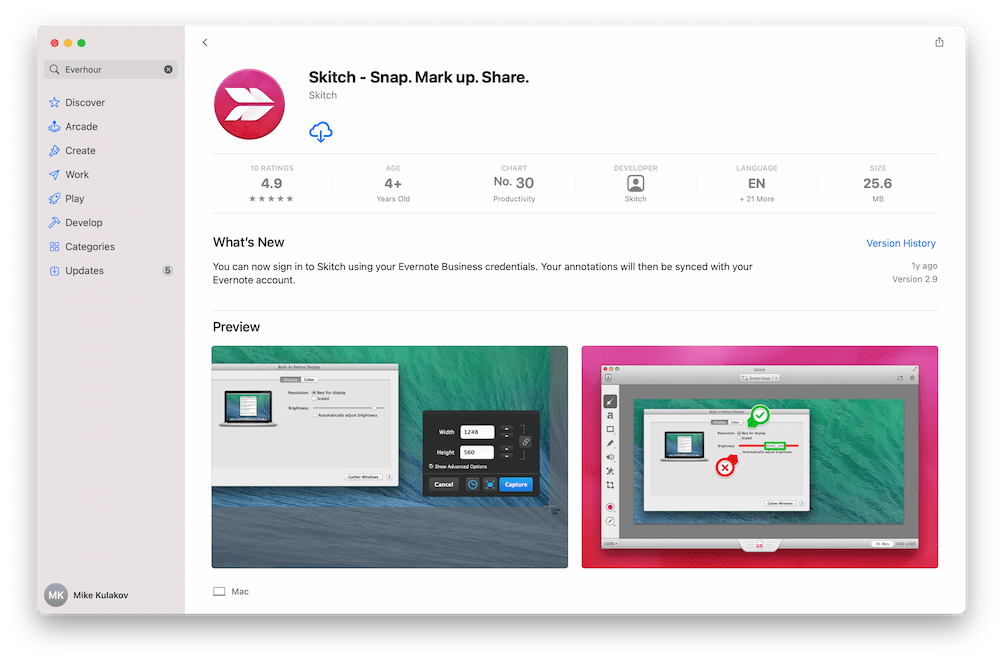 If you are someone who loves to share thoughts, ideas, places where you go, and more, you should try Skitch. This software performs multiple functions. It doesn't really have a specific use, but it's an amazing app for a variety of tasks.
With Skitch, you can capture, mark, and share photos and other visuals. Essentially, you will have the functionality to capture and mark up literally any visual materials you come across in your work, leisure, and passion projects. This app also allows its users to open PDF documents, create highlights and comment on them for better collaboration – a hot feature for those of us working remotely!
Ulysses
💡 Best for: focused writing experience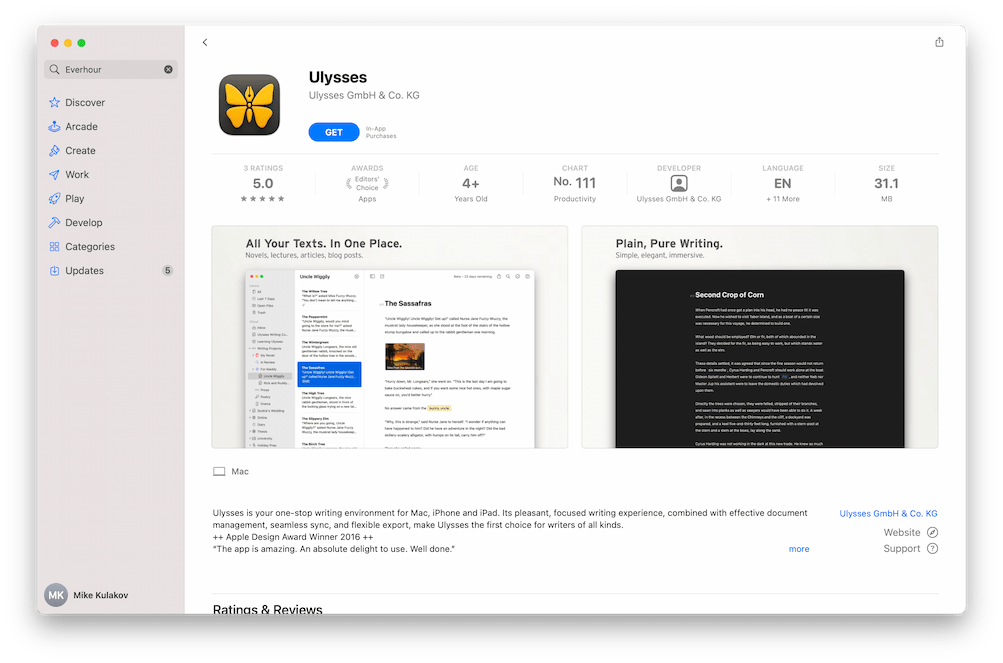 Writers of any kind have got to try Ulysses! With the design so simple and easy on the eye, users can truly focus on what they write.
One of the best parts of Ulysses is that when writing, you don't have to worry about saving the document. The app saves your work automatically as you write, allowing you to immerse yourself exclusively in what you are doing. It also has a built-in proofreader and editing assistant to detect possible errors or inconsistencies in the text.
Thanks to the flexible export feature, you can create eBooks, export in all common text formats, or publish directly to WordPress, Medium, or Ghost.
Mac Productivity Apps: In Closing
We hope that this list of best productivity apps for Mac has helped you to find some handy tools to improve your time management, increase your efficiency, and boost your creativity. For a deeper dive into the topic of handy apps, take a look at our roundups of best timesheet apps, best time and attendance software, and best project management tools.