More businesses are choosing to stay open 24 hours a day. As a result, many are implementing shift work. Some industries are more inclined to shift work, such as the service and manufacturing sectors. Roles that usually work in shifts include call center representatives, servers, bartenders, cooks, housekeepers, firefighters, police officers, security guards, nurses, doctors, bus drivers, and warehouse workers. However, businesses in any industry can work in shifts. Scheduling shifts for your team across a 24-hour period is challenging but this article will show you how to schedule shifts in 2023.
What is a Work Shift Schedule?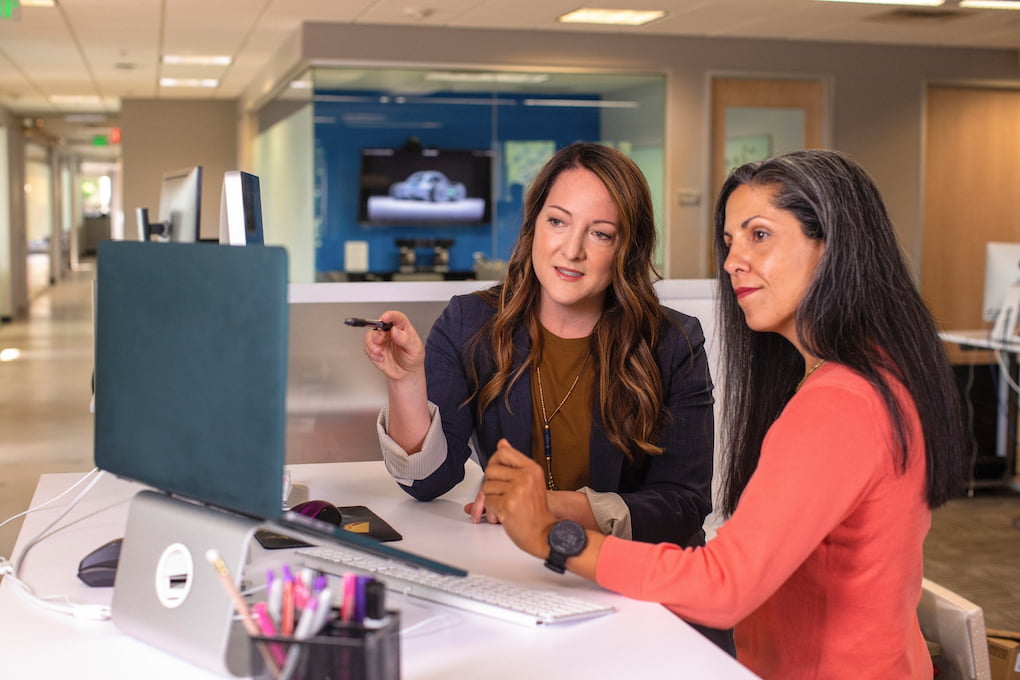 A work shift schedule outlines the times when each employee is scheduled to work. Some businesses choose to create shift schedules themselves, while others turn to shift scheduling software. The schedule includes the start and end times of shifts and break times. Creating employee shift schedules that work for all team members is a challenging task. As a result, many organizations use software to make work shift scheduling easier and improve employee experience.
❓ What is included in a shift schedule?
Shift length
The shift length is the period of time a team member works during one shift. Shift lengths tend to vary by industry and experience level. Some shift workers prefer to work longer shifts rather than shorter ones, as this promotes a better work-life balance. Shift workers' schedules should reflect their needs as much as possible.
Employees looking for a better work-life balance may opt for 12-hour shifts, which are also a great option for businesses that are open 24 hours. However, a 12-hour shift may only be suitable in certain environments, as you must consider the implications of shift work schedules on health and safety, employee motivation, and productivity levels.
Schedule format
The schedule format is how shifts are combined into a schedule—the two most common are fixed and rotating shifts. Fixed shifts are where employees work the same shift pattern each workday. Rotating shifts are when the shift schedule rotates through different shift patterns over a given period. Fixed shifts are typically favored in sectors with set work to finish each day.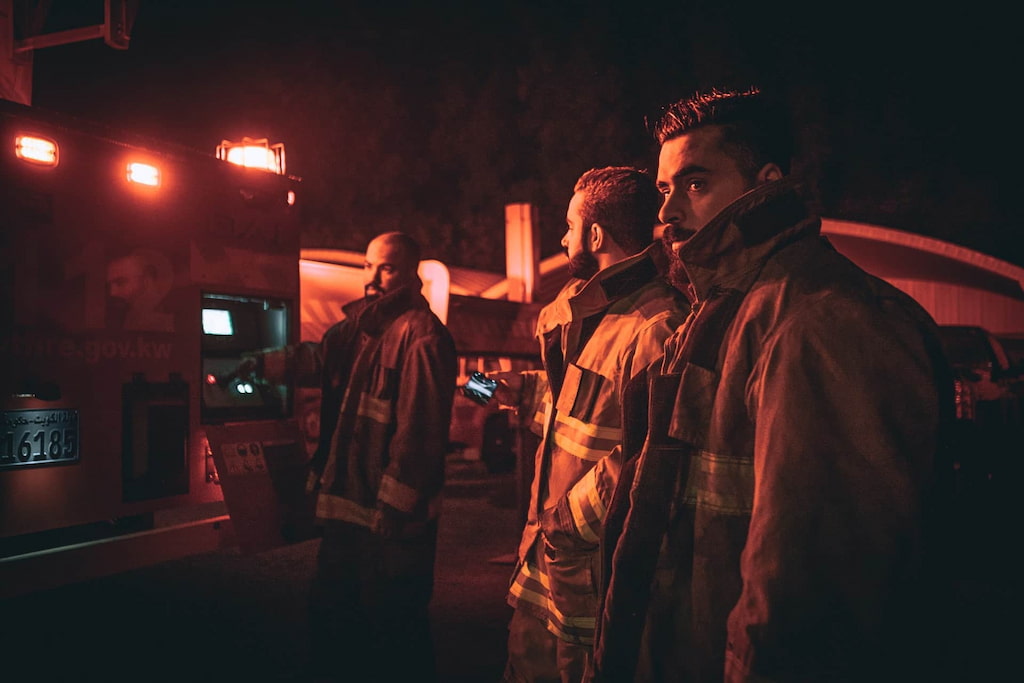 Alternatively, rotating shifts are commonly used in industries where the volume of work needing to be completed changes regularly. Rotating shifts are also useful when it comes to night shift scheduling, as employees can share night shifts between the entire team, rather than having one group of employees always working nights.
Overtime
Overtime is the amount of time an employee works beyond their normal working hours. It can be voluntary or mandatory, depending on the needs of the business in question. Voluntary overtime is when a team member chooses to work overtime, and they are paid more for picking up overtime shifts. Alternatively, mandatory overtime is where a team member who works full-time is required to work more than their standard hours, usually when there is a larger than normal work volume.
On-off work pattern
An on-off work pattern is the number of days team members are scheduled to work, followed by the number of days they have off work. There are several different types of on-off work patterns, including consecutive days off, weekends off, and consecutive days worked.
Consecutive days off means the team member has days off during the week, weekends off means the team member works Monday to Friday and has weekends off, and consecutive days worked means the team member has a day off after working for several days in a row, but this can fall during the week or on weekends.
Company scheduling policies
Every business has its scheduling policies, the rules that dictate shift workers' schedules, and how changes are made to the schedule. Common scheduling policies include pay policies, call-in procedures for unscheduled absences, overtime limits, maximum consecutive work hours, and more.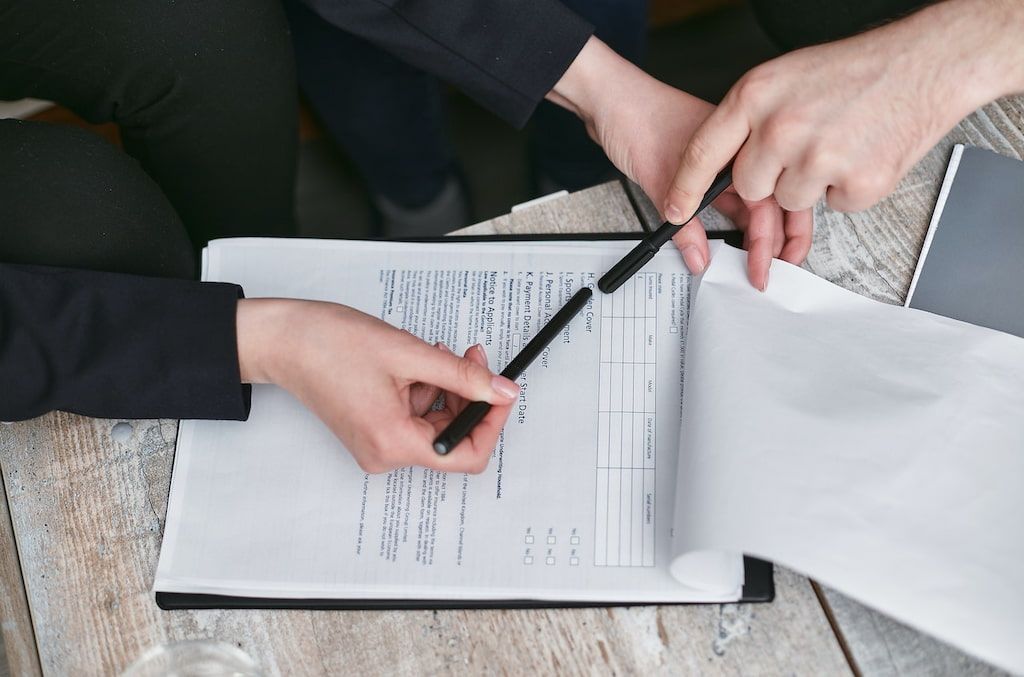 To ensure your scheduling policy is followed, you should have documentation that team members can access at all times. This will help to reduce conflict between team members and managers, as scheduling policies are more likely to be followed if everyone in the company has access to documents outlining guidelines clearly.
❓ How do shifts work?
When it comes to scheduling work shifts, there are many types to choose from, including day shifts, evening shifts, early morning shifts, night shifts, split shifts, and rotating shifts. So, how do these shifts work?
Early morning shifts
Early morning shifts typically fall between the hours of 4 am and 8 am. They are usually common in industries such as farming, manufacturing, and logistics.
Day shifts
A day shift typically occurs between 9 am and 5 pm. Day shifts are common in all industries, especially retail, where some stores are open during 'normal' working hours.
Evening shifts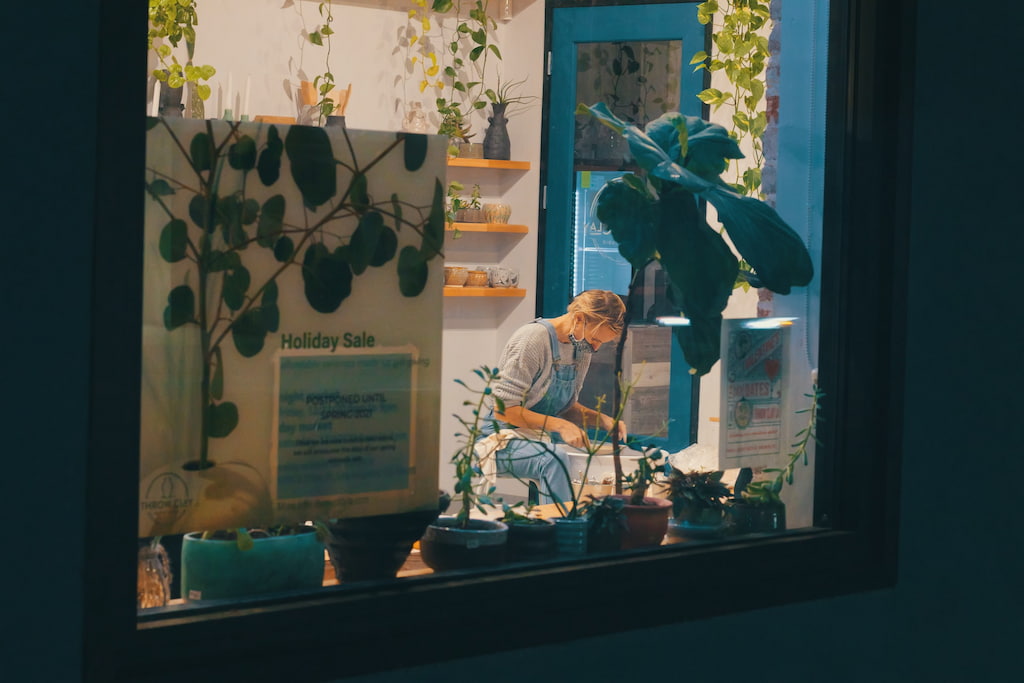 Evening shifts typically start after 5 pm and are common in the hospitality industry, where bars and restaurants are usually open until midnight.
Night shifts
Night shifts generally occur between 11 pm and 6 am. They are prevalent in industries that must be operational for 24 hours, including emergency services, security, transport, hospitality, etc.
Split shifts
A split shift involves dividing an employee's day into two (or more) parts. This allows them to rest, attend appointments, or provide childcare in between shifts. Split shifts are most common in retail, hospitality, construction, and public transport. 
❓ What is the healthiest shift work schedule?
The healthiest shift work schedule for an employee depends on their personal needs and preferences. In general, it is vital for shift workers to get enough sleep, eat a healthy diet, and maintain a regular exercise routine. Additionally, it is beneficial for employees to have a consistent schedule, meaning you should try to minimize the number of times they change shifts.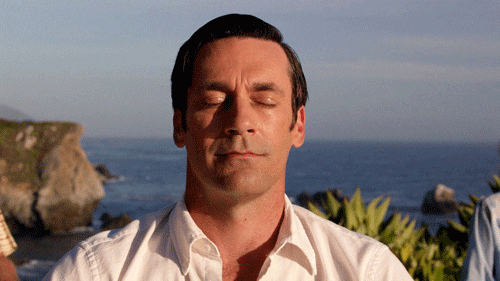 Finally, it is important that shift workers feel they can communicate with their manager and co-workers to ensure the shift schedule works for their specific circumstances. Many managers find that using a scheduling software tool helps them create a shifts work schedule that takes the wants and needs of all workers into account. You should take all of this into account if you want to master how to schedule shifts in 2023 and create a healthy and thriving team.
How to Schedule Shifts in 2023
So, now you know the ins and outs of shift schedules, you're probably wondering how to schedule shifts in 2023.
❗ Establish tasks: The first step in creating a shift schedule is to establish what you need to do. For example, what should each employee be able to complete in a given number of hours? Then, specify tasks for each employee so there are clear goals to complete within those hours.
📅 Account for current activity levels: The next step is to look at when your business is busiest. Doing this will allow you to allocate the correct number of staff members to ensure everything runs smoothly. It will also reduce unnecessary labor costs from having too many people working during quiet periods.
☔ Forecast future activity levels: Next, you'll need to try and forecast future activity levels to give you a better understanding of how many staff members should work and who is better with different activity levels based on their skills, experience, and personal circumstances.
💁‍♀️ Consider personal circumstances: Optimizing your shift schedule requires you to consider the needs of your staff. For example, you must match shifts with the right staff members based on their level of experience and skills, allocate a fair amount of shifts to each staff member, and clearly define roles and tasks to avoid unnecessary confusion.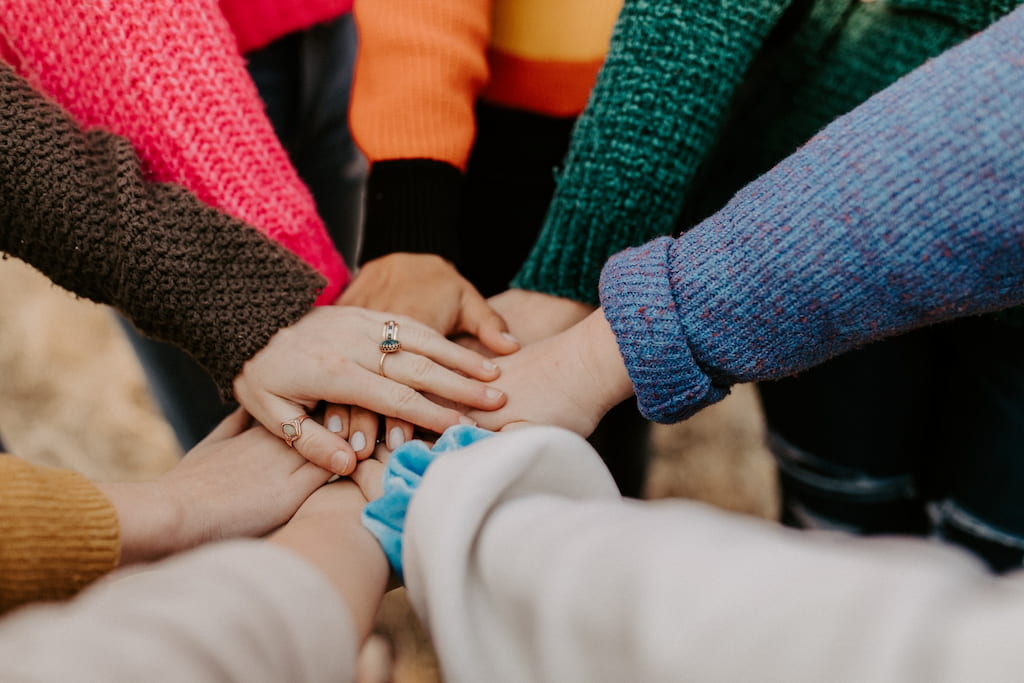 In addition, you should give employees the option to switch shifts easily because sometimes circumstances change, and a staff member may not be able to make a shift after previously agreeing to work one. Finally, you should allow employees to self-manage time-off requests.
🤔 Choose a shift scheduling method: Once you've done the steps outlined above, you'll need to create your shift schedule. Some choose to create shift schedules on Microsoft Excel or Google Sheets, and others prefer to do it the old-fashioned way and write shifts down using pen and paper—but this is a recipe for unnecessary confusion, so we don't recommend it. Instead, more businesses are choosing to use shift scheduling software. Thankfully, there are several excellent software tools out there to make shift work scheduling easier.
Shifts by Everhour
An excellent shift work scheduler to consider is Everhour. The employee time tracking tool is launching Shifts by Everhour, a shift management software for shift-based teams and non-desk employees.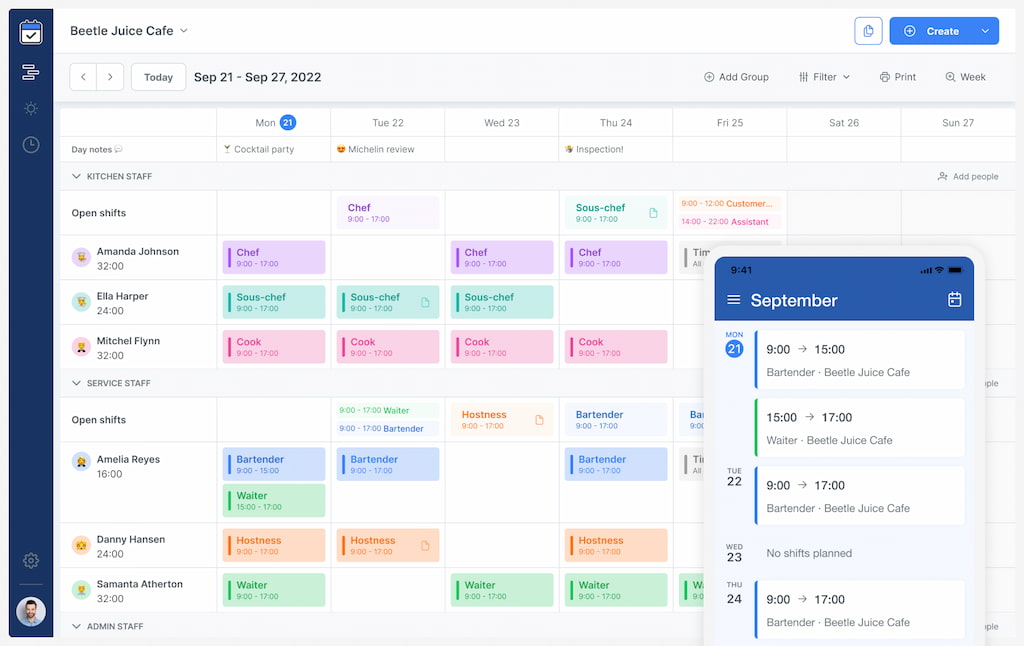 How can employee scheduling help my business?
Shifts by Everhour enables you to access shift schedules anywhere at any time. As long as you can connect to the internet, you can access shift schedules to create new shift schedules and make changes to existing ones. In addition, you can create the ideal schedule in minutes, instead of spending many hours that could have been better used elsewhere. Spend the time you save on more important tasks that require your attention.
Shifts also alerts you when there is an error with time off, hours worked, or other shift variables. If you accidentally schedule something incorrectly, the shift scheduling software will let you know that there is a mistake. Finally, working in schedules outside of 9 am to 5 pm may be better suited to some of your team. As a result, a reliable work shift scheduler can help employees work at a time that suits them best, meaning your team feels more job satisfaction.
How to use Shifts
Shifts allows you to set up work shift schedules in minutes. Here are the key features that make this possible:
Workplaces: Set up several workspaces if your business operates in various locations and regions or if you need to build separate schedules for different teams and departments.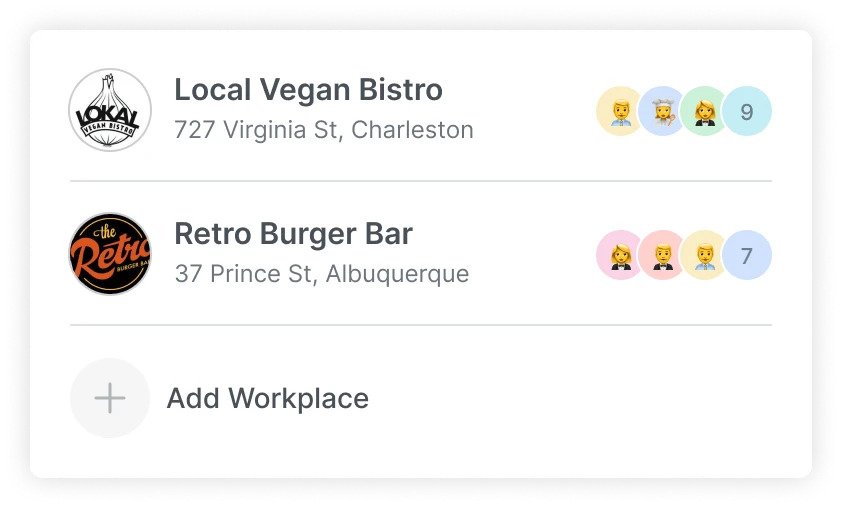 Employees: Add as many employees to the scheduler as you need. Plus, you can add people to the schedule before inviting them to access the account, giving you time to make sure everything is in order.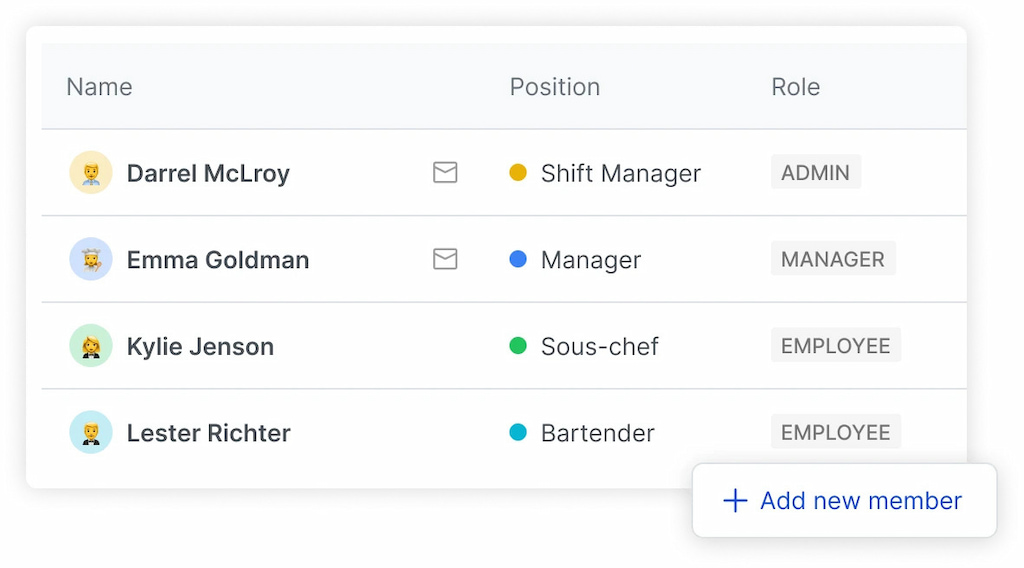 Groups: Organize teams into groups and name a group (such as a job type or a specific location) to keep everything as organized and clear as possible.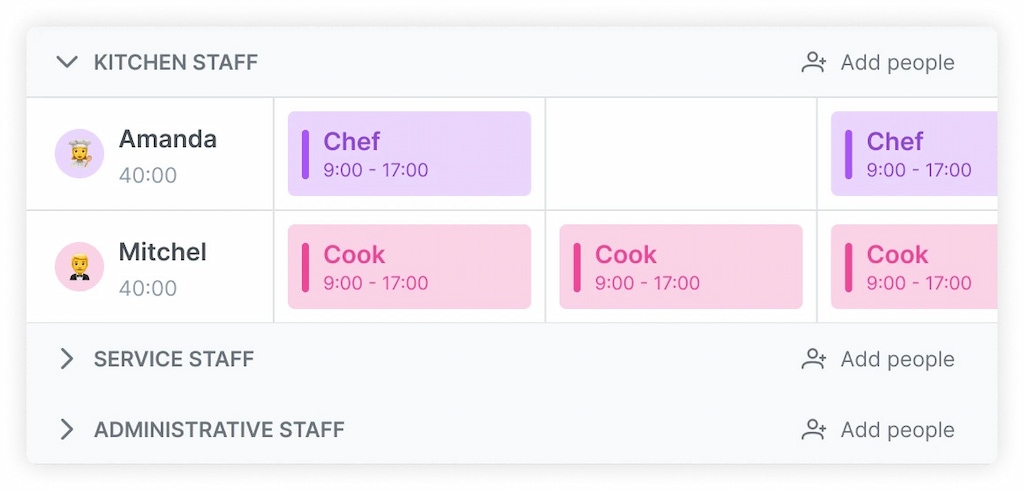 Shifts: Create, edit and manage employee shifts with ease. You can create shifts from scratch or copy previous shift inputs to save time. Plus, you can avoid schedule conflicts with up-to-date employee availability and time-off requests. If shifts end up overlapping, the software will notify you so you can amend the schedule.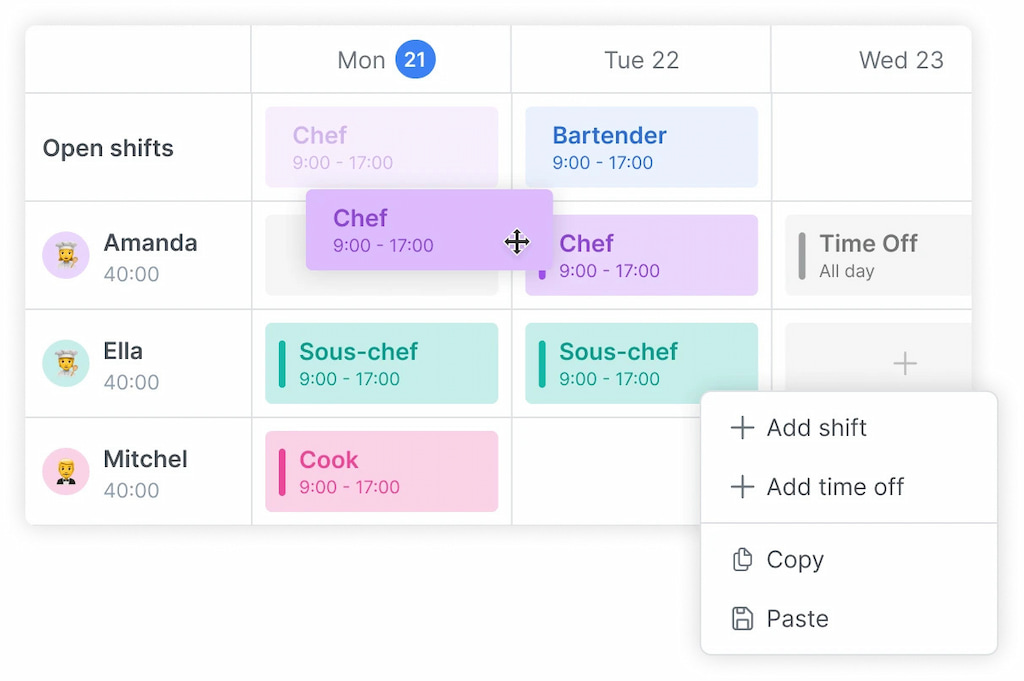 Day notes: Context is important. With the day notes feature, you can include essential notes about the shift schedule for each day of the week.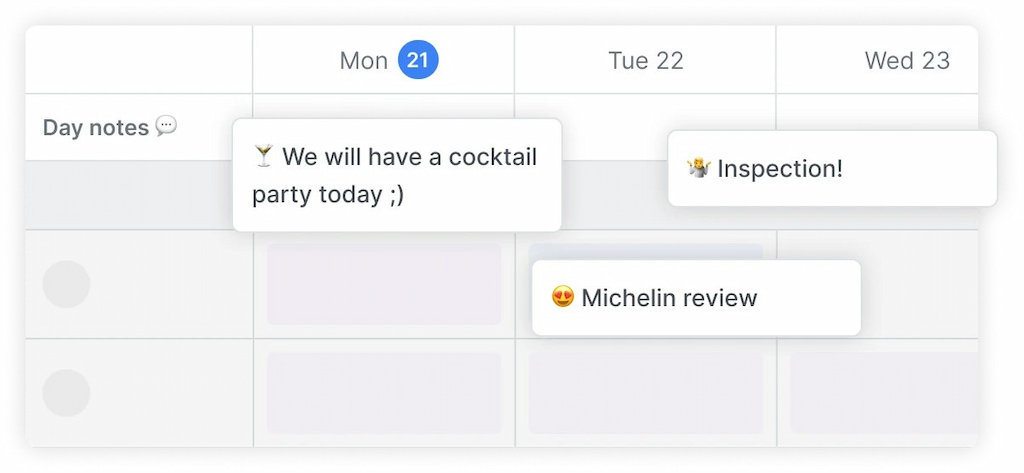 With Shifts by Everhour, shift working scheduling has never been more straightforward. Even better, you can try Shifts for free to see if it works for your business! The platform offers many useful features that allow businesses to supercharge their efficiency and productivity.
What Challenges Come With Scheduling Shift Work?
Scheduling shift work can be a challenging task.
1️⃣ First, shift work can affect the health and well-being of employees, so you must carefully consider the specific needs of their employees when creating a shift schedule.
2️⃣ Second, shift work can disrupt the natural sleep-wake cycle. It can cause insomnia, excessive sleepiness, and recurring sleep loss over time, all of which are incredibly damaging to health.
3️⃣ Third, shift work can also have a significant impact on the social life of their employees. For example, regularly scheduling an employee to work night shifts may mean that they are not able to spend time socializing with their friends and loved ones. This has a knock-on effect which impacts their relationship with those around them and, by extension, their mental health. As a result, you should ensure that employees aren't only doing night shifts.
4️⃣ Finally, you must consider the operational needs of the business when creating a shift schedule. This can be complex and challenging because you must weigh up employee well-being with the needs of the company. However, using a shift scheduler will allow you to make informed decisions on who to assign to specific shifts.
How to Schedule Shifts in 2023: Final Thoughts
Scheduling shifts is not a straightforward task. It requires you to find a good balance between the needs of your staff and your business because favoring one will cause personal problems for the employees or operational issues for the business.
However, scheduling shifts in 2023 is infinitely easier thanks to shift scheduling software like Shifts. With a shift scheduling tool, you can improve efficiency by creating schedules easily, reducing time and effort. Shift scheduling software also facilitates better communication between managers and employees, reducing misunderstandings and last-minute schedule changes. In addition, shift scheduling tools improve compliance, making compliance with local laws and regulations much easier. Finally, shift scheduling software enables you to create schedules that optimize labor costs, which improves your bottom line.