Asana vs. ClickUp: Comparing Two PM Tools [Ease of Use, Customization, Pricing & More]
Maria Kharlantseva, October 28, 2023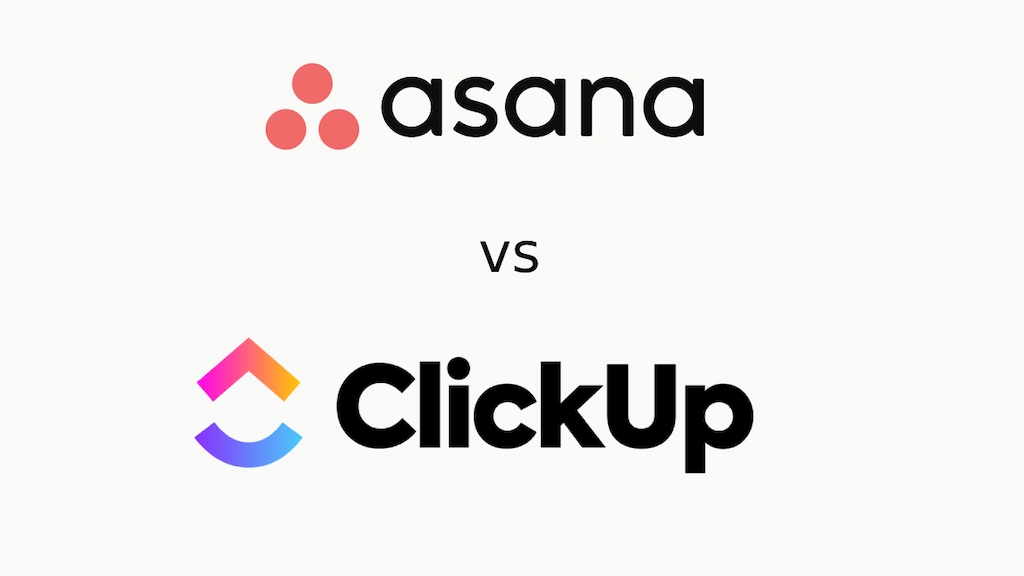 Asana vs ClickUp are two of the world's leading project management tools. Whether you're running a business alone or have a team of ten or 500 team members, both software can do wonders for organizing and optimizing your workflow. While both software share quite a few similarities, they are also very different. So, if you're sitting on the fence and aren't sure which one to pick, read this article until the end. In this article, we'll give an overview of both Asana project management tool vs ClickUp project management tool in terms of ease of use, integrations, pricing, and more.
At the end, we'll let you know which of the two software we think is better depending on a range of different needs.
Asana vs ClickUp: At a Glance
Here's a brief rundown of how these two software stack up against each other.
| | | |
| --- | --- | --- |
| | Asana | ClickUp |
| Best for | Smaller teams looking for simple and intuitive project management software | Larger teams that require customization and a robust feature set or have a 0$ budget |
| Ease of use | ⭐⭐⭐⭐⭐ Super easy to use with a minimal learning curve | ⭐⭐⭐ Has a decent learning curve due to the sheer number of features |
| Integrations | ⭐⭐⭐⭐⭐ There are over 200 native integrations | ⭐⭐⭐⭐ There are over 50 native integrations, which is more than enough for most users |
| Customization | ⭐⭐⭐ Decent options for customization, but most are available in the premium plans | ⭐⭐⭐⭐⭐ You can customize every aspect of the software, even in the cheaper plans |
| Customer support | ⭐⭐⭐⭐ There is 24/7 support but it's only available in the top-tier enterprise plans | ⭐⭐⭐⭐⭐ There is 24/7 support included with all plans (including the free one) |
| Pricing | ⭐⭐⭐⭐ There is a free tier available, which includes some basic features and you must pay if your team has more than 15 members | ⭐⭐⭐⭐⭐ The free tier has everything your team may need. There is also no limit on how many users you can have |
Now that you've gotten a good idea of what these two platforms have to offer, let's dive into the details of each characteristic.
Ease of use
As we're delving deeper into the Asana vs ClickUp comparison, we can see that Asana is the clear winner in terms of ease of use. The main reason for this is the traditional interface that is reminiscent of any other project management tool you may already know. So, adopting Asana into your daily operations is extremely easy and you won't have a hard time doing so at all.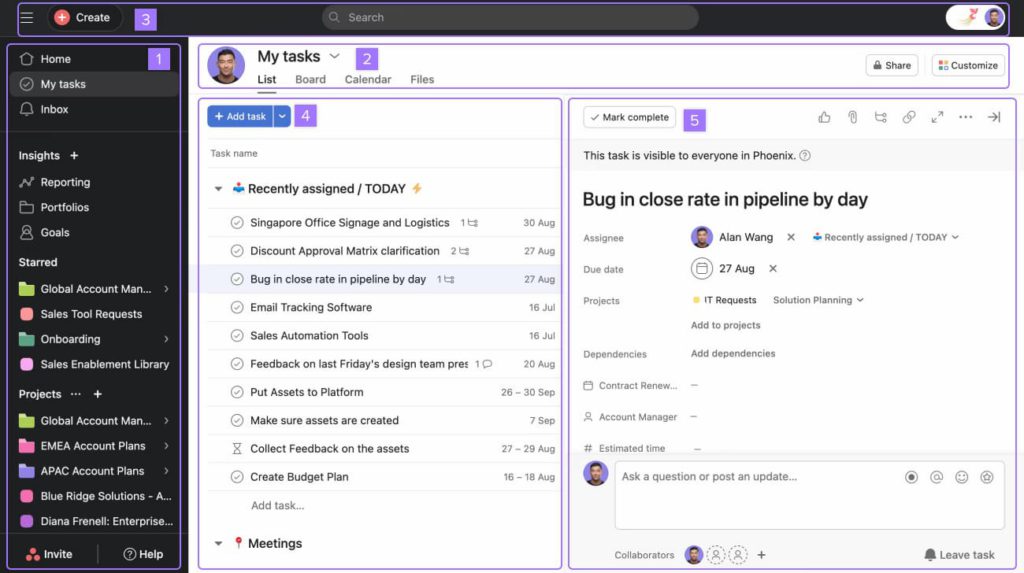 On top of that, Asana gives you a quick guide on how to use all the platform's features that you can view at any time. This means you can always refer to the user guide whenever you get lost and need guidance.
On the flip side, ClickUp definitely has a steeper learning curve than Asana. There are innumerable reviews online coming from people experienced with similar platforms who say ClickUp was a challenge to learn at the start.
All in all, if you're looking for a platform that you can download, subscribe to, and use right away without spending hours and hours trying to figure everything out, Asana may be the better pick for you.
Integrations
Nowadays, every team uses multiple platforms for managing their team and workflow. So, it's important that any task manager you adopt into your workflow can integrate with the other tools that you already use in your regular activities. Luckily, both Asana and ClickUp integrate well with some of the most common workplace tools.
Since it's a simpler system, it comes with a smaller feature set. So, it won't be able to handle as many tasks, which is why it has native integrations with more tools than ClickUp.
But even if ClickUp doesn't have as many integrations, it takes on so many tasks that you won't need that many additional tools to manage your workforce.
Customization
One of the standout features of ClickUp is customization. As mentioned earlier, this is the trade-off you get for the steeper learning curve when using the app for the first time. ClickUp boasts an intuitive interface that you can tweak to your team's specific needs. That way, you can streamline operations by creating a tailored system for your team to keep everyone aligned on their tasks.
Asana offers some customization options, but it is far from what ClickUp offers. Since Asana is designed to be easy to use and integrate, you don't have that many options to customize the app. You can tweak templates and create your own Asana templates for your team, but aside from that, Asana doesn't offer much in regards to customization.
This is why we believe that ClickUp is the superior option for larger teams that handle specific and repetitive tasks.
Support
When we compare ClickUp vs. Asana in terms of customer support, neither of them is lacking. The customer service and support teams of either app are known to respond to problems and issues right away. On top of that, there are many online tools and resources available on their respective websites that can help you get over minor problems that are common for users.
That said, Asana's customer support system could be better. Specifically, the app doesn't offer 24/7 support for its free users. Instead, you have to be part of the top tier of paying customers to access 24/7 customer support, which comes free with ClickUp.
Pricing
Both Asana vs ClickUp offer their customers a number of different plans to pick from based on their needs. With each plan up, you get a more comprehensive set of features Here, it's also worth mentioning that both software companies give their customers the choice to pay for their plan either monthly or annually.
The catch here is that if you pay annually, both companies will give you a reasonably big discount. For a better price reference of how much each plan costs for both Asana and ClickUp, please refer to the tables below.
| | |
| --- | --- |
| Asana pricing plans | Cost of plan |
| Basic | €0 Forever |
| Premium | €10.99 per user per month when billed annually. €13.49 per user per month when billed monthly. |
| Business | €24.99 per user per month when billed annually. €30.49 per user per month when billed monthly. |
| | |
| --- | --- |
| ClickUp pricing plans | Cost of plan |
| Free Forever | $0 |
| Unlimited | $7 per user per month when billed annually. $10 per user per month when billed monthly. |
| Business (Most Popular) | $12 per user per month when billed annually. $19 per user per month when billed monthly. |
| Enterprise | Get a quote |
The Pros & Cons of Using Asana
Asana is one of the top workplace and team management apps for a reason. That said, like any software, it comes with its pros and cons.
✅ The pros
It's super user-friendly
For what it is and what it offers, Asana is super user-friendly. One of the first things we highlighted about this platform is how quickly you can get the hang of its features. While it has a robust feature set, managers and employees alike won't sweat figuring out how to tweak schedules, read tasks, change task statuses, or even communicate with other team members.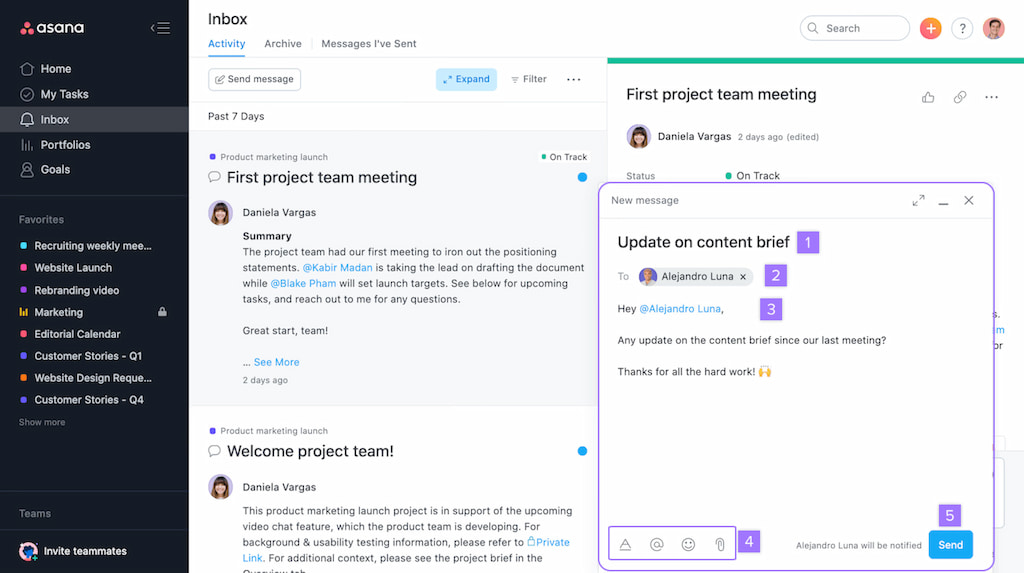 Integrating a new tool brings about a change in your workflow that can disrupt operations and cause an awkward adjustment period. But if the team doesn't have to deal with a steep learning curve, there's less of an adjustment, which gives Asana an edge over the competition.
If you don't want to disrupt operations or give your team a headache when integrating a new workplace management tool, you may want to consider using Asana.
It's fantastic for smaller teams
Asana is a low-cost, simple, and fairly traditional workplace management app that gives you everything you need.
This helps managers stay on top and employees on track to achieving company goals. While it may lack some of the customization and time-tracking features necessary for large companies, it provides all the necessities for smaller teams that need a budget-friendly solution for task and general team management.
Great for task management
Another huge benefit of Asana is its task management capabilities. This is the platform's primary function and the main reason so many small teams utilize the app day-to-day. A reliable and solid platform like Asana allows you to assign, track, and comment on tasks for every employee. That way, you can reduce errors, maintain a healthier work environment, and boost productivity for everyone on the team.
Task management is one of the areas where Asana truly shines. If all you need for your team is a task manager with a few extra features for boosting productivity, Asana is exactly what you need.
❌ The cons
There are many benefits to using Asana, but like many platforms, it comes with some downsides too. These downsides shouldn't discourage you from using the platform, but you should be aware of them before subscribing so you can create realistic expectations.
Very basic time tracking
Asana time tracking can be tricky: while Asana does have a native time tracker, its functionality is extremely limited and it's not great for anything beyond estimating tasks and recording the actual time spent working on them. It doesn't offer detailed reports and you can't set up project budgets or configure project billing.
You also can't set up individual estimates and you'll have to turn on the native time tracking feature for each project you work on, which can be quite time-consuming if you constantly need to switch between projects back and forth. It means that you have to employ third-party time tracking integrations, such as Everhour + Asana time tracking integration.
Limited task dependencies
Asana's task dependency feature is very limited compared to other project management tools on the market. While you can create dependencies, they are relatively basic and may not fully support more complex project workflows.
You get a ton of notifications
Users often complain that Asana generates a significant number of notifications, which can be quite frustrating, especially if you're a user who's in multiple teams or projects. This notification overload can be quite distracting for people who lose their focus easily.
---
The Pros & Cons of Using ClickUp
Next up, we have ClickUp, a robust and highly customizable project management application designed to handle larger projects and big teams. ClickUp offers a plethora of features to cater to diverse needs, but it does come with a few challenges you should know about before becoming a paying customer. To give you a comprehensive overview, here's a breakdown of the platform's pros and cons.
✅ The pros
Many pricing options
As mentioned earlier, ClickUp has various pricing options. Arguably the most popular of these options is the free version. This is because the free version comes with a ton of features that are usually reserved for the premium plans on other platforms. So, if you have a large team, but you're working with a tight budget, ClickUp's free plan might be exactly what you need.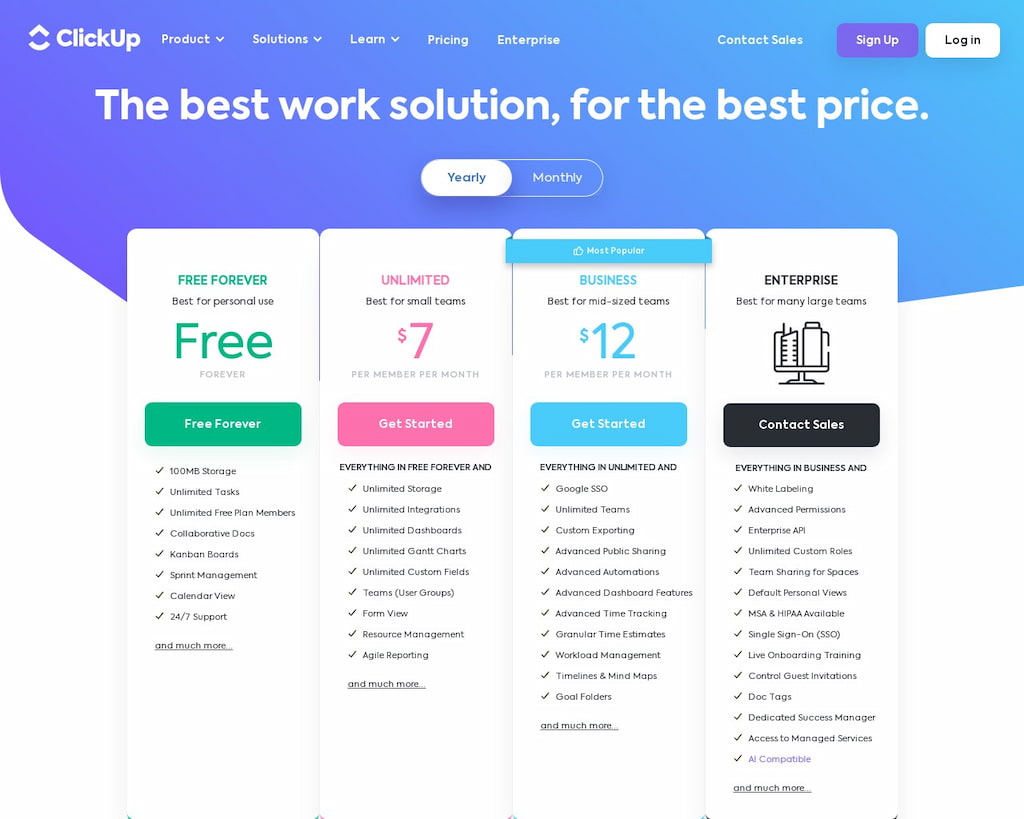 On top of the free plans, ClickUp has three premium tiers and one custom-priced enterprise tier for businesses of all sizes. So, regardless of how large or how small your organization is, you can trust that ClickUp offers the tools and features that you need for your business.
Customization
ClickUp's standout feature is its high level of customizability. Users can tailor their workspace, task views, and workflows to match their specific needs and preferences. This adaptability allows teams to create a project management setup that aligns perfectly with their unique processes.
Gantt charts
When we compared ClickUp vs Asana, the first thing we noticed is that ClickUp offers Gantt charts. If you don't know what those are, they are like a secret weapon when scheduling and assigning tasks.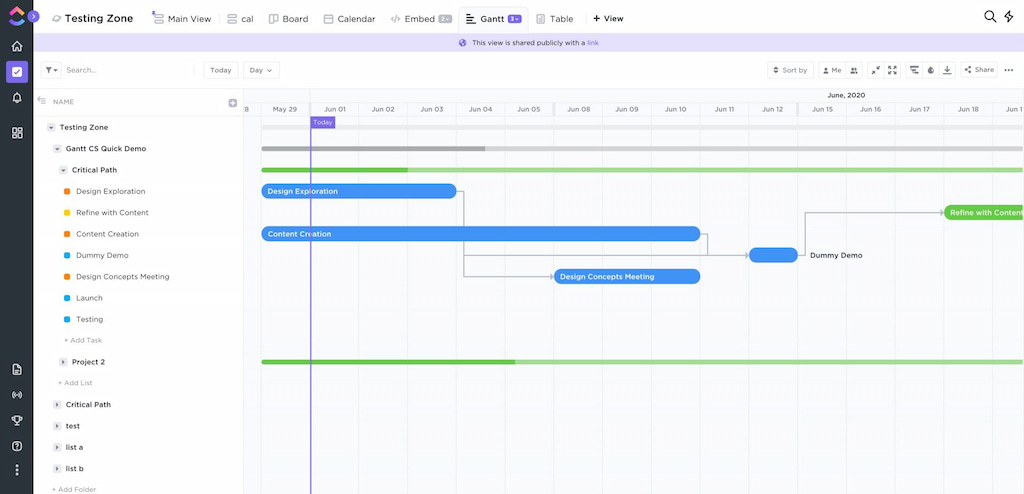 They allow for quick visualization of everything that's going on. That way, managers stay on top of operations, and workers are constantly informed of their schedules and task assignments. This reduces redundancies, increases transparency, and can even boost productivity as workers will never miss a task assignment.
Real-time chat
If you have a large team, it's hard to facilitate communication and keep everyone on the same page. That said, ClickUp is built with features for real-time communication so you can instantly get a hold of team members to give updates or just keep everyone informed.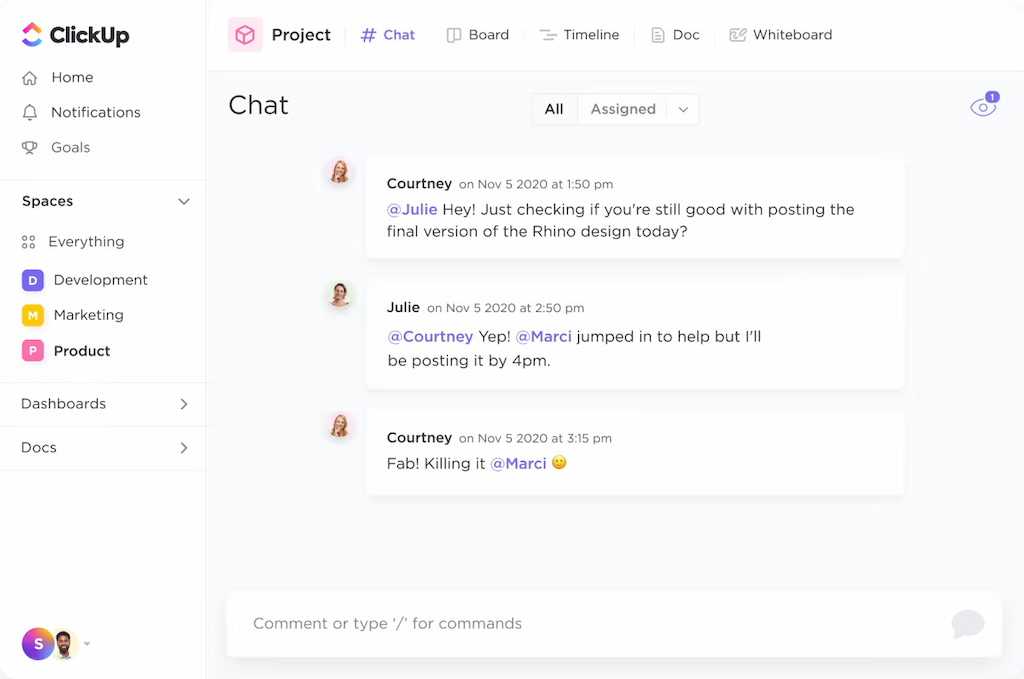 ClickUp also integrates with Slack, one of the most popular workplace communication tools available. So, even if you use other communication programs, you can integrate them with ClickUp to keep your operations as smooth as possible.
❌ The cons
As we've mentioned already, there's hardly any tool out there that is perfect. So, let's take a look at some of the drawbacks of using Click Up vs. Asana.
Lackluster mobile app
Nowadays, it's not uncommon for employees to work from various different devices – be it a laptop, tablet, or mobile phone. Sadly, ClickUp doesn't have that as the mobile app definitely needs some work. However, if they get to update and improve the mobile app, it will become one of the best all-in-one task management platforms on the market.
Steeper learning curve
ClickUp is hard to learn. This is because the app has so many different features that it's tough to learn how to use all of them at the same time. But again, the effort is more than worth it due to how well ClickUp integrates with existing systems and how easily you can mold the platform to the specific needs of your team and business.
---
Asana vs ClickUp: Conclusion
When you compare ClickUp vs Asana, you'll quickly realize that both are great project management tools and it can be hard to make a decision on which one to use. So, if you've reached the end and still aren't sure whether you should go for ClickUp or Asana, let us help you out.
Use Asana if you have a small to medium-sized team that needs a simple and intuitive project management software that has the most features and is easy to learn.
Use ClickUp if you have a larger team, want access to all the project management features available, and need to customize the platform to your company's needs. It's also great for larger teams that have 0$ to spend on a project management platform.