Asana is a powerful project management tool that allows you to streamline communication and optimize collaboration across teams. It provides project management, communication, and reporting tools to help you organize your workload in the most efficient way possible. One of the best aspects of Asana is the availability of Asana integrations and templates—let's explore them in more detail.
What Are Asana Templates?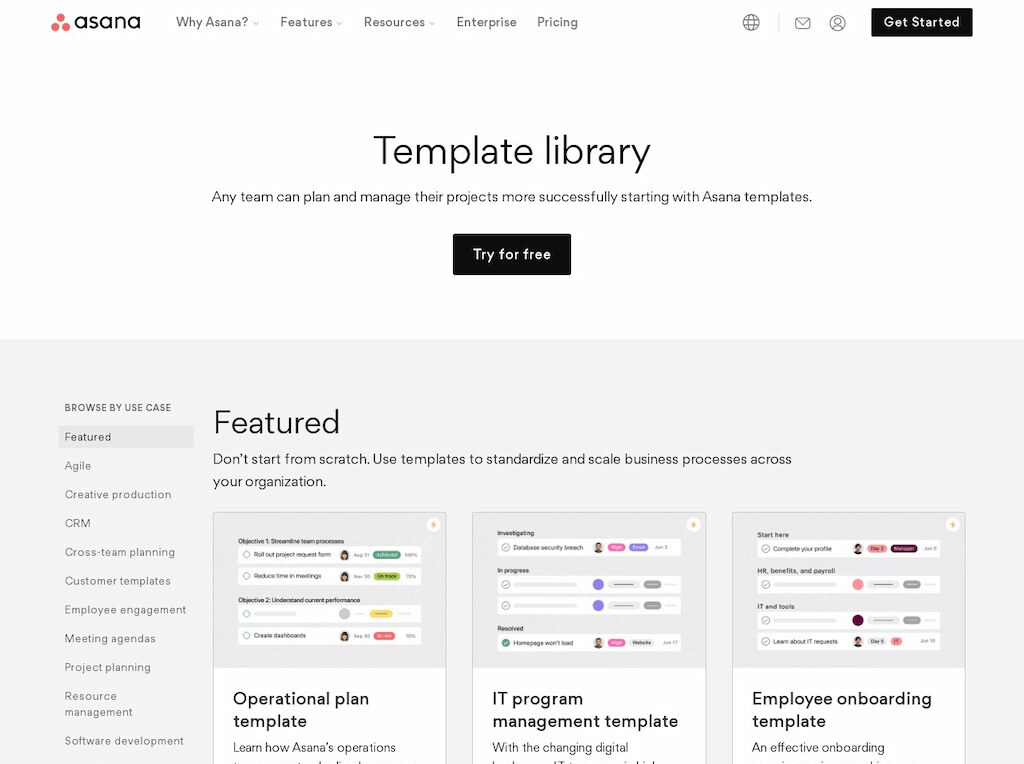 Asana templates are pre-built or customizable project management structures that provide a starting point and can be adapted by users to suit a range of tasks, projects, and workflows. Project templates are particularly helpful to those who are new to the platform, providing them with a place to start. Templates help individuals and teams save time and maintain consistency by providing a structure that can be easily amended and reused when required.
---
How Asana Templates Work
Creating an Asana template allows you to access a pre-built structure for tasks and projects, which can be customized to suit your personal needs or the requirements of your organization. The platform allows you to use pre-built templates or create your own custom template from scratch. Once you've selected or created a template, you can add tasks, assign team members, and set task or project completion deadlines within the project team template. Another benefit of Asana templates is that they are shareable, allowing you to collaborate to make projects run smoother.
---
Types of Asana Templates
📦 Pre-built
Pre-built templates are made by Asana and can be quickly adapted to the specific needs of various tasks and projects. They can be project or team-specific, such as an HR project plan template or an Asana onboarding template, or they can be more general in their nature, such as a management template or a plan for success template. So if you're looking for easy-to-use, free project templates, Asana is the ideal platform for you.
🔧 Custom
For those with something specific in mind, custom templates are more suitable. Users create Asana custom templates to meet their specific needs should they fail to find a suitable pre-built template. They can be created from scratch. Alternatively, to save time, they can be heavily adapted from existing templates. For example, if you're planning to use a team management template, you may decide to create one from scratch to ensure it accurately reflects your organization's processes. Create your very own Asana CRM templates, IT templates, and project templates for free.
---
Asana Template Examples
One of the main advantages of Asana templates is that there are so many options available. You can choose from these various examples.
Asana project templates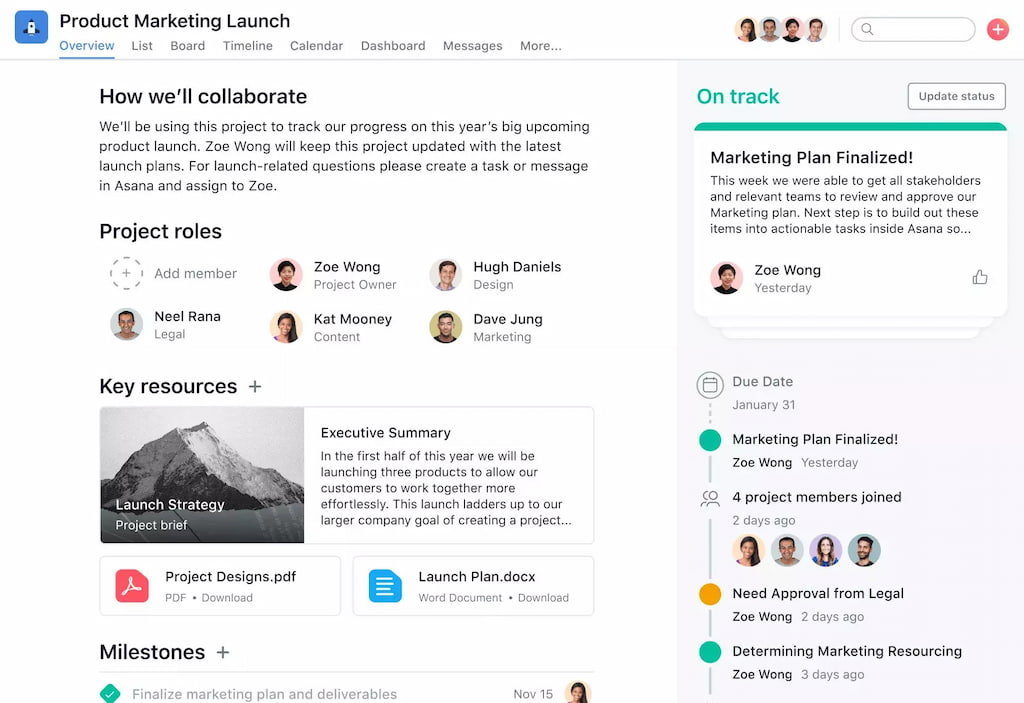 Asana is the place to access project management templates for free. The platform provides a wide variety of project planning templates to help you coordinate tasks, schedules, and assignees. Pre-built templates in this category include contingency plans, production schedules, capacity planning, process map templates, and more. With Asana, you can use time-saving, efficiency-boosting templates for project management for free!
Example: Imagine that you manage a content creation team for an online publication. In this case, you would use a pre-built Asana template to streamline the content creation process, including planning, creation, review, and publication. The template would have headings such as "Assigned," "In Progress," "In Review," or "Scheduled for Publishing." Tasks included in the Asana task templates would likely include content brainstorms, writing articles, editing, and proofreading, getting approval, and publishing.
---
Program management templates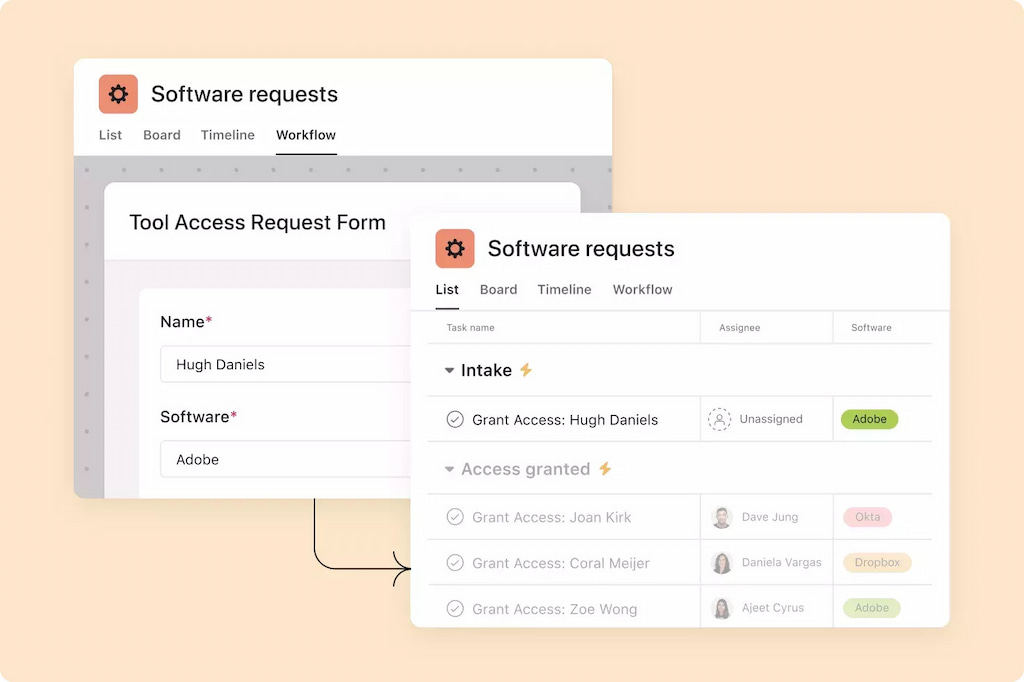 Program management templates are also available on Asana, helping organizations plan, track and manage several projects all at once, ensuring resources are allocated properly, and deadlines are met across the business. Templates that fit into this category include project scope management plans, resource allocation, resource management, and capacity planning templates.
Example: Imagine you're managing the launch of a new software product, and the process involves coordinating various teams. To manage this process, you could use a pre-built Asana program management template to create a clear plan covering all tasks and containing information regarding the software product launch.
---
Project board template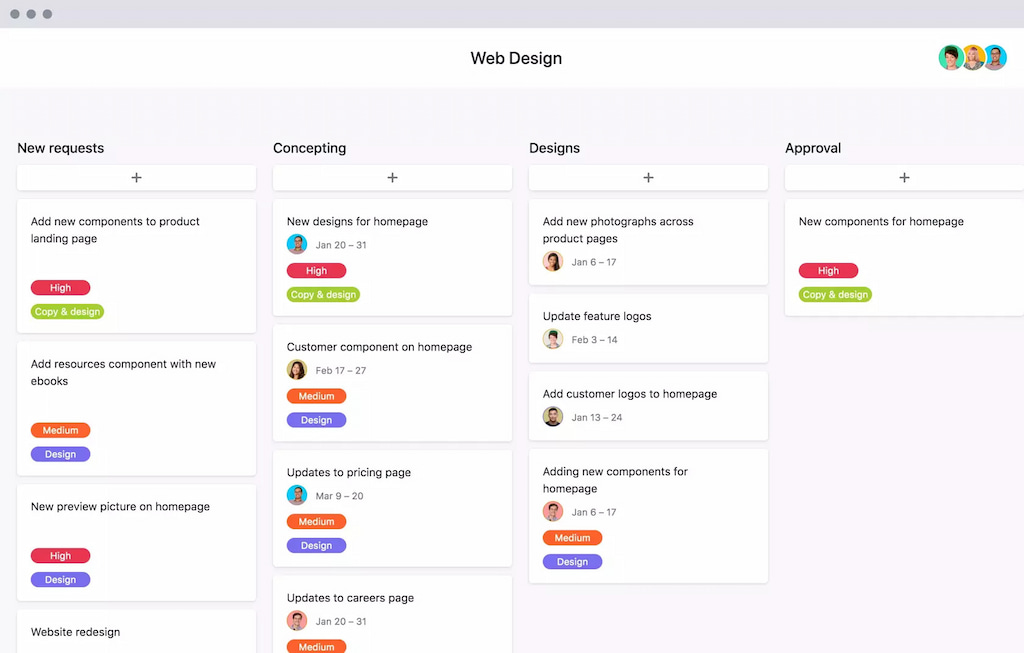 Asana's project board templates are similar to the ones you'd find on the project management tool Trello. You can track all aspects of your project in one place, on one easy-to-navigate board that shows you the status of all tasks.
Example: Imagine you're managing a team that has been tasked with redesigning the company's outdated website. To ensure all team members are aware of their responsibilities and the tasks involved, you use Asana's project board template to create an easy-to-digest visual overview. You'd make use of columns including "To Do," "In Progress," "In Review," and "Approved." As tasks are completed, the task cards are moved to the completed column so it's clear that no more action is required on that specific task.
---
Asana onboarding template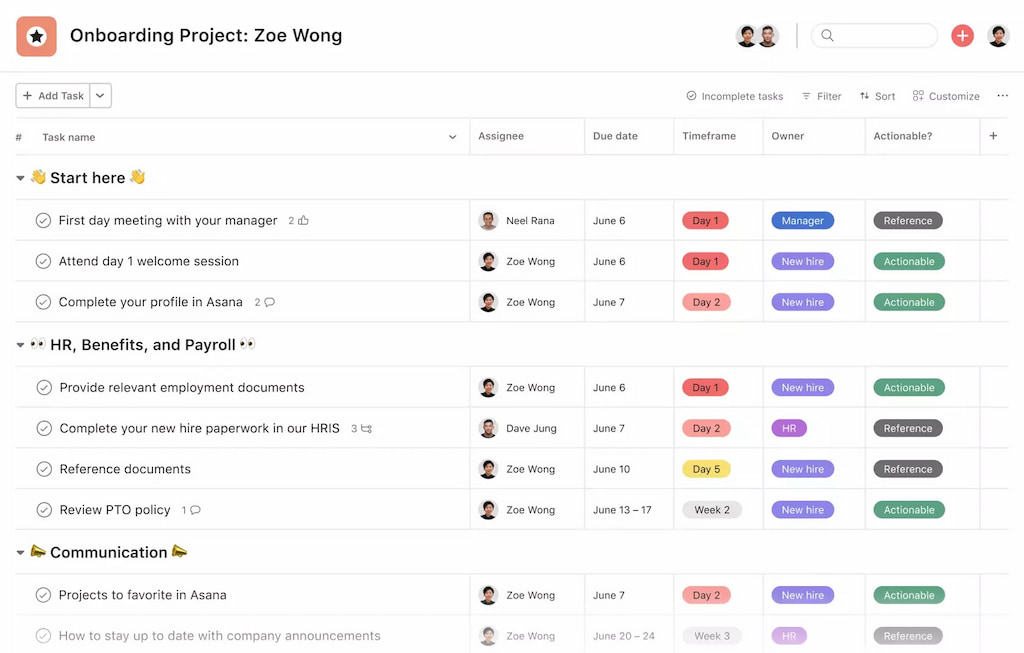 Asana's onboarding template gives new team members an easy way to track their onboarding to-dos in one place. Integrated features include list views, custom fields, subtasks, and multi-homing, making it easier for new hires to set themselves up for success.
Example: Imagine you're an HR Manager, and you've just hired a new team member. To ensure their onboarding process goes smoothly, you use Asana's onboarding template to ensure the new hire understands their responsibilities and has sufficient information about the company and its culture. The template is split into digestible sections, such as "Start Here," which includes information on welcome meetings and other tasks that will happen on their first day. The next section includes information on HR, benefits, and payroll, allowing the new hire to access paperwork they need to fill in and read company policies.
---
Vendor management template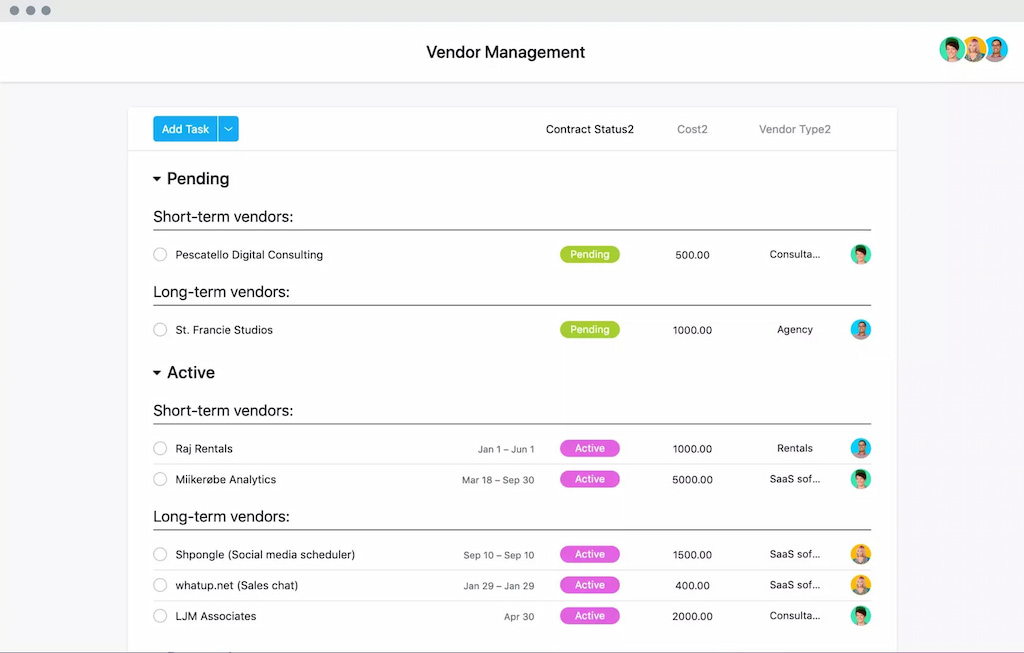 Asana provides several vendor management templates to help you track supplier relationships and get the very most out of business resources. Template options include vendor management, construction project plans, agency collaboration, and freelancer management templates.
Example: Imagine you're the Operations Manager at a company that works with various vendors. To ensure that all goes well, you use Asana's vendor management template to keep careful track of all vendor-related tasks. The template includes such information as start dates, status updates, the initial project brief, and approval workflows to ensure work stays within scope.
---
Asana event planning template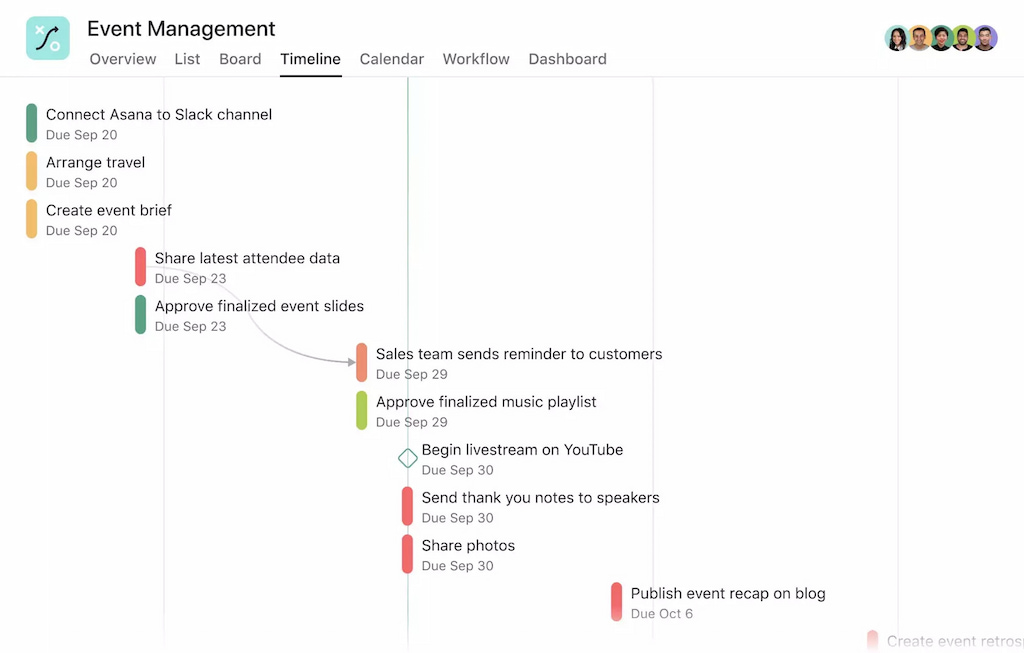 Asana's event planning template allows you never to lose sight of vital event planning details. You can track your information from one place, including a budget, vendor information, and other essential to-do's. The template includes useful features, such as status updates, milestones, dependencies, and timelines, and can be integrated with Gmail, Microsoft Teams, Slack, and Outlook.
Example: Imagine that you're a busy event planner and you're organizing an annual conference for a B2B company. You decide to use Asana's event planning template to ensure all tasks are completed, and the information you need is in one easy-to-access place. The template includes helpful sections such as "Venue and Logistics," "Catering," "Speakers and Agenda," and "Registration Management." You also add custom fields to this template to track the event's budget and vendor contact details.
---
HR project plan template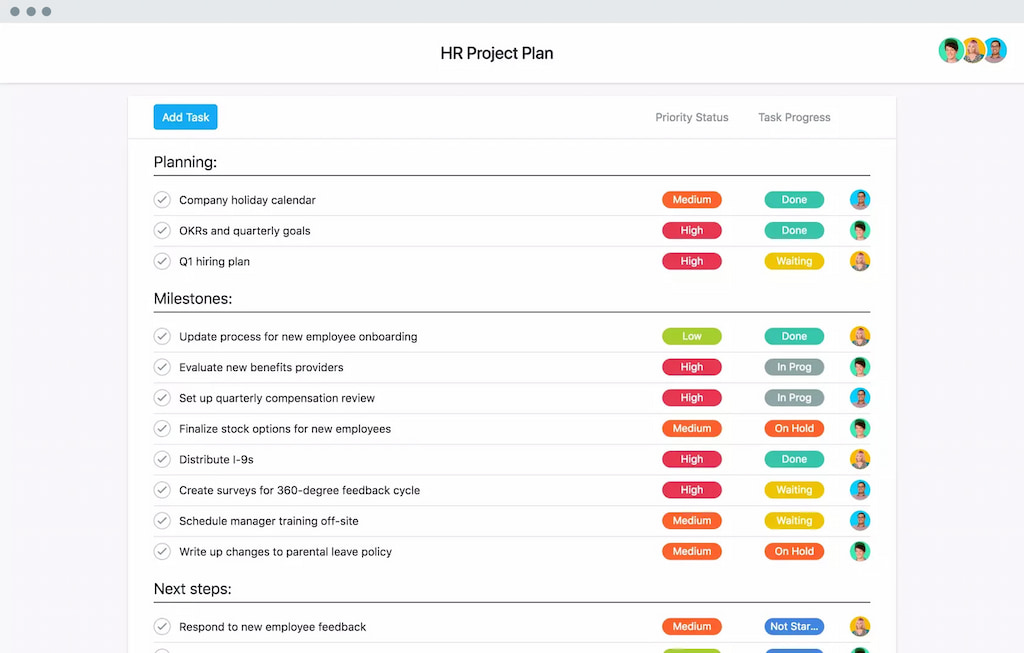 Human resources teams handle a wide variety of tasks, from payroll to onboarding and offboarding and so much more. The Asana HR project plan template allows HR teams to keep up with all tasks thanks to useful features like status updates, workload, workflow builder, and calendars. The handy template allows HR teams to streamline recurring work, set team priorities and communicate progress quickly and easily. But that's not all—you can also integrate the template with popular apps such as Google Workspace, Gmail, Outlook, and Clockwise.
Example: Imagine you're an HR Manager at a fast-growing company, and you need to streamline the department's processes as a result. You decide to use Asana's HR project plan template to help manage team workloads and keep careful track of tasks. You include sections such as "Planning," "Milestones," and "Next Steps" to ensure everyone is aware of what is being done.
---
Asana marketing templates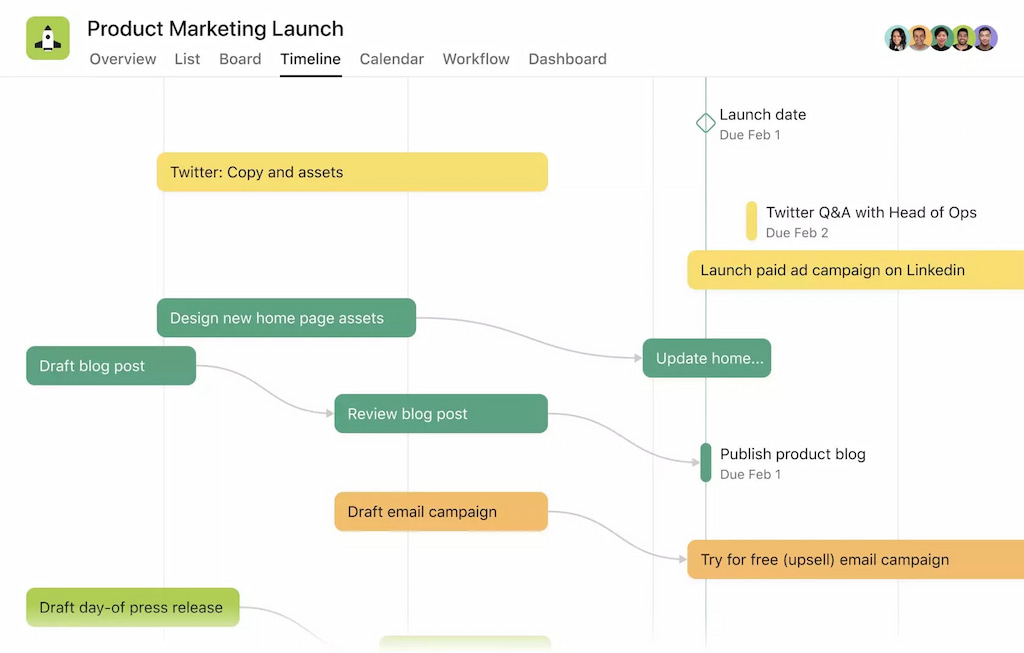 Asana provides several pre-built templates for marketers. Improve the marketing team's performance by utilizing the marketing budget, marketing campaign plan, marketing project plan, and marketing strategy templates. The marketing budget template allows you to bring clarity and visibility into your budget, while the marketing campaign plan allows you to keep tasks on track and hit all deadlines. Similarly, the marketing project plan guides you through project management best practices, while the marketing strategy template acts as your team's North Star, guiding your actions at every turn.
Example: Imagine you're a Marketing Manager at a company, and you're launching a new product. To ensure your team is as efficient as possible, you use Asana's product marketing launch template. The template includes a launch timeline, including the tasks that must be approved and ready to go before the launch date.
---
Customer success template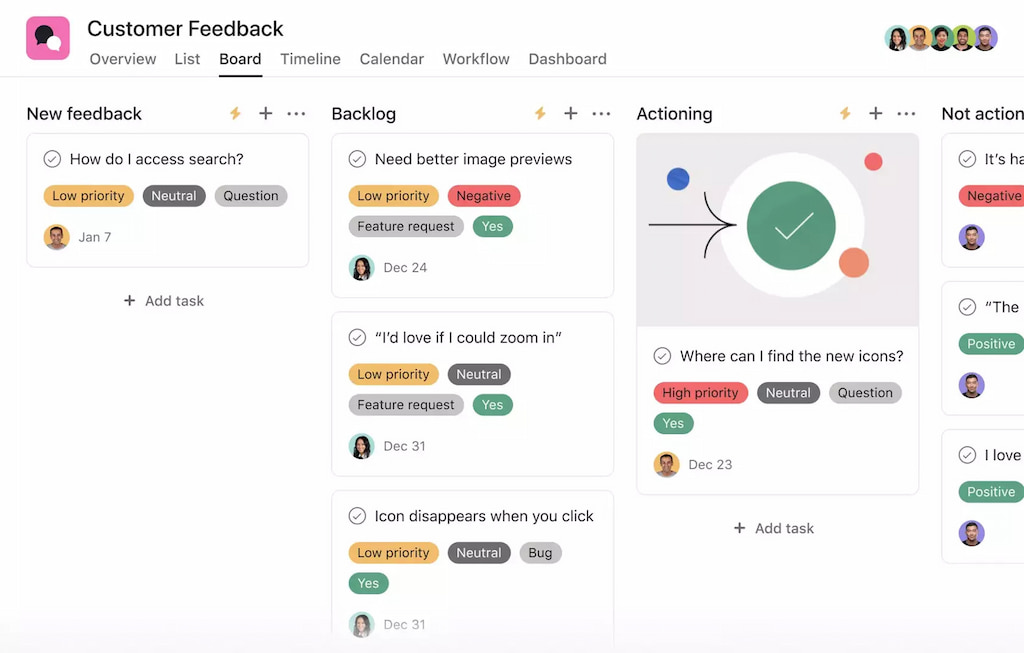 You must take care of your customers at every stage of their journeys. With pre-built Asana customer success templates, you can ensure all team members know how to care for customers at every step. Choose from a range of useful templates, including post-sales handoff, customer feedback, pre-sales deal support, and customer implementation templates.
Example: Imagine you're the Customer Success Manager at a SaaS company. You decide to use Asana templates to help you manage various aspects of the customer journey. You use the pre-deal support template to help your team communicate with prospects and leads, the post-sales handoff to ensure a smooth transition from sales to customer success, and the customer implementation template to manage the process of setting up your service for customers.
---
How to Create Asana Templates
If your team repeats projects or tasks, you don't need to recreate them in Asana every single time. Instead, you can create a custom template or use a pre-built Asana one. But if you get stuck, don't be afraid to have a look at pre-built templates for some Asana template ideas.
How to create a custom template
Creating templates in Asana is a straightforward process:
1. Create a new project (or duplicate one you already have, removing unneeded details) to capture tasks your team regularly does. Complete all task details, such as due dates and attachments.
2. Once you've completed the template, click the project header drop-down and select 'Save as Template.'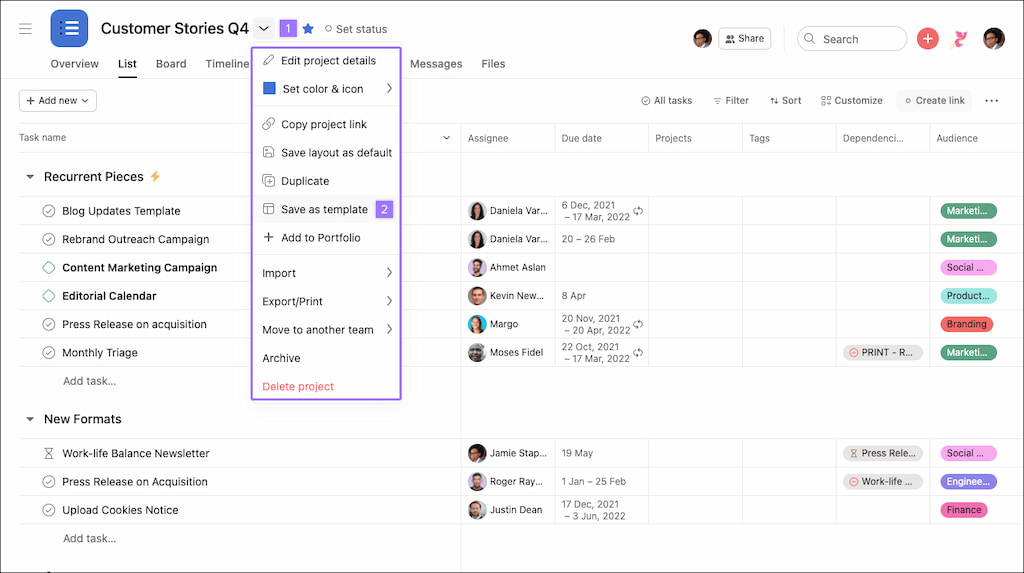 3. Create a new project using the + button in the top bar to use your newly-created template.
4. Next, click the 'Templates' tab on the new project screen. You will see custom templates organized by each team in the tab with your organization's name.
How to use Asana-created templates
If you're new to Asana or you don't want to create a custom template, use an Asana-created template. In the templates library, you'll find various free templates for project management workflow templates, business management templates, website project templates, graphic design project management templates, team management plan templates, and much more. 
To use Asana-created templates, you follow the same steps outlined above, but instead, you stay in the 'General Templates' tab.
To add a pre-built template: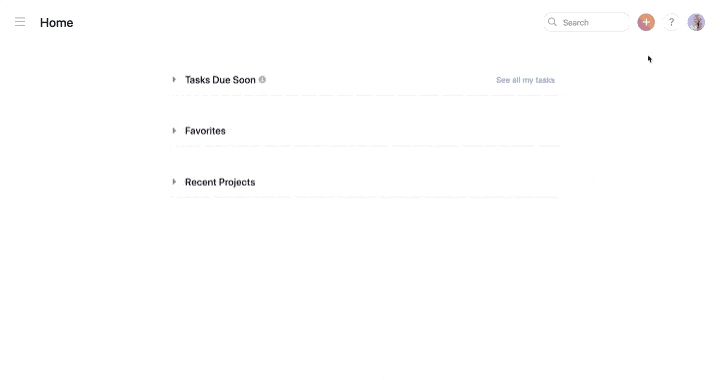 1. Click on the 'Customize' button.
2. Scroll down and click 'Add Template.'
3. Include the word 'template' in the task name so it's easy to search for.
4. To duplicate the task, select the three dots button in the top right corner of the task, then click 'Duplicate task.'
---
TL;DR: Asana Templates
Asana templates are structures that benefit users by streamlining project management, saving time, and maintaining consistency across organizations. Just like most Asana alternatives, it provides various templates, such as project management, marketing, onboarding, and customer success, which can be edited to include various tasks, projects, and workflows.
Track time with Everhour
Employee time tracking helps boost your organization's efficiency and productivity, which results in a stronger bottom line. Everhour is an intuitive time tracker that can be used to track time inside Asana. Key features include a time clock app, attendance tracker, timesheet app, and work hours tracker to take the hard work out of team management. So if you're looking for an all-in-one solution with time management, billing and budgeting, task management, team management, and expense tracking features, consider Everhour.