Remote work software is an umbrella term for a wide variety of software that businesses with remote staff can use to communicate, stay on track with projects, and do their work all while being up to speed with their in-house colleagues.
There are many different kinds of remote working software. Think time and productivity trackers, communication tools, project management software, and others. Some of the key benefits of using tools for remote teams include:
More accessible, smooth, and instant communication with the team
Increased efficiency and productivity
Increased flexibility
Reduced operating costs
Improved workplace satisfaction
More transparency
Increased inclusion in the workplace
Time Tracking and Productivity Monitoring Solutions
Time tracking and productivity-monitoring remote work software are essential for businesses with remote workers. Making use of a time tracker allows managers and team leaders to better understand how their staff uses their time, spot areas for improvement, ensure all work is completed within budget, and overall ensure that everyone is doing exactly what they're paid to do.
There are many different time tracking and productivity management solutions on the market, so it's essential to pick the one that is most versatile, integratable, and customizable so it meets your every need. Some of the key features that you can expect from quality time tracking and productivity monitoring solutions include:
⌛ Time tracking
The main feature of every productivity monitoring tool is the ability for you and your employees to log time (whether manually or automatically). Keeping track of time at work allows you to streamline the productivity management of your entire team, without having to be everywhere to make sure your staff are getting their work done.
📃 Reporting
Every major time-tracking and productivity-monitoring software has the ability to generate reports for you using the data that was logged, on-demand. Reports will give you a clear overview of how well your team is performing based on the time they log on to the app. That way, you can identify areas for improvement and make your employees more productive and efficient at their work.
📝 Billing and budgeting
A good time tracking and productivity management tool is almost always capable of helping you bill your clients accordingly and budget for each project with profitability in mind. Using a time tracker that is capable of keeping track and monitoring your billing/budgeting is essential not only for accuracy but because it will lift a lot of stress off your shoulders so you can focus on other more important tasks that can't be automated.
Take a look at the best time tracking tools that will be perfect for remote time tracking.
Everhour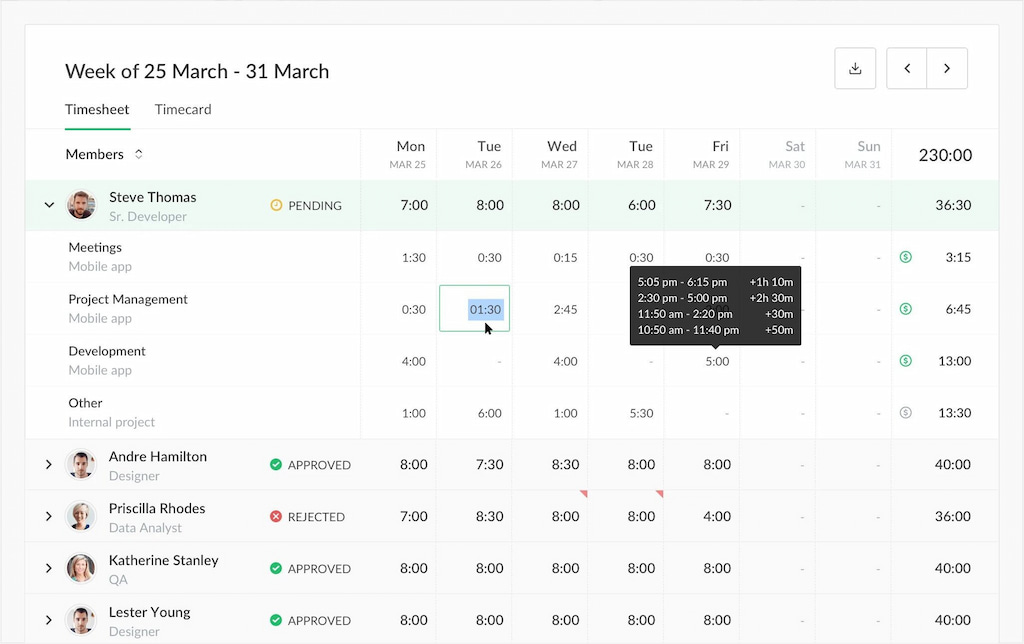 Everhour is a beginner-friendly time-tracking and productivity-monitoring tool that features an intuitive interface and requires a minimal learning curve. Some of the platform's most prominent features include time tracking, reporting and analytics, billing and budgeting, tracking expenses, and generating invoices.
Everhour is also capable of integrating with a variety of mainstream remote working software in the likes of Trello and GitHub. That way, if you and your team use a range of popular tools as part of your workflow, integrating Everhour within your processes will be a smooth experience.
Harvest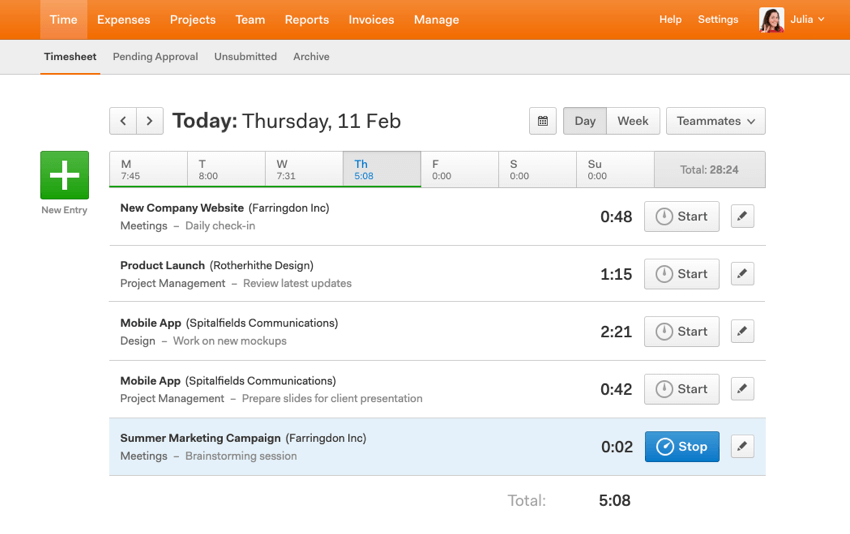 The best time-tracking software is the one that is versatile, and Harvest definitely delivers on that end. One of the most prominent Harvest features is that you and your team are given the flexibility of how you can track time. With Harvest, you can either do it using the time tracker or enter it manually.
This is great if your time performs tasks away from their computers and in the field where no internet connection is available. That way, they can still log their hours and keep accurate work records even when performing tasks offline. Some other features that Harvest has to offer include expense tracking, project management, team collaboration, and insightful reporting.
RescueTime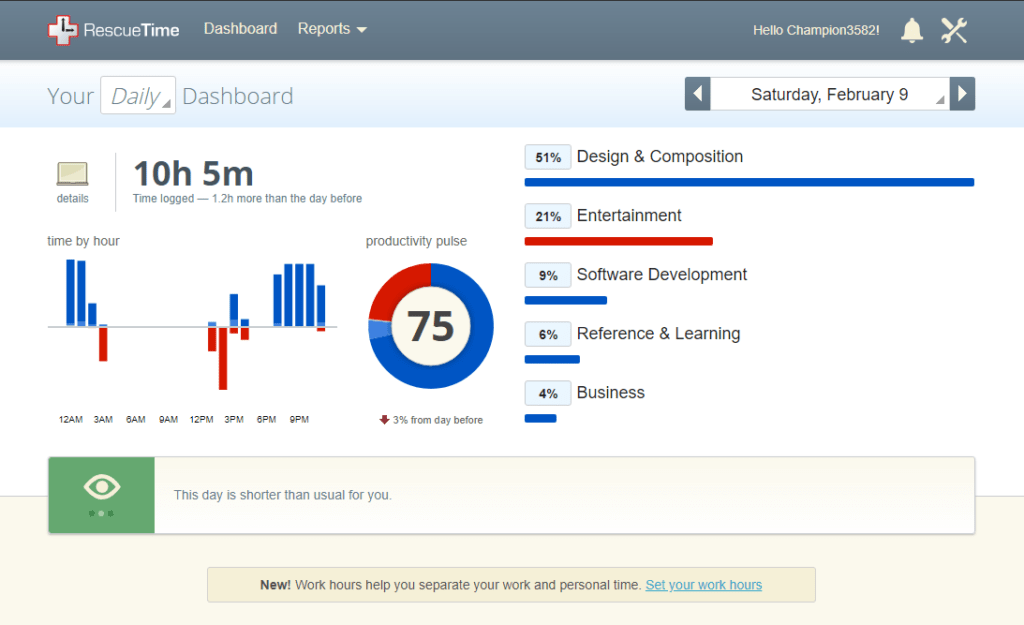 If you're looking to gain a more accurate insight as to how your team spends their time at work, RescueTime is another great software you should consider. The way this time tracker works is different from the options above. This is because RescueTime focuses on which software and apps you use when tracking time.
For example, if your team spends a lot of time using Microsoft Office for documents and presentations, the app can track how much time is spent on these programs.
On top of that, you can generate detailed reports with all the data recorded about the apps and applications. This allows the entire organization to make informed decisions on creating a better workflow and optimizing its processes.
Lastly, RescueTime also has one of the easiest-to-use interfaces. It can be challenging for organizations to integrate new software into their workflow. However, RescueTime is designed to make things easy for your team, which is why this tool is so popular, especially amongst smaller companies.
---
Communication & Collaboration Software
When your business has staff that is working remotely, establishing smooth communication and remote collaboration between each team member is absolutely essential. This is because, with remote teams, you can't just go over to someone for a quick chat. Everything is done over the Internet, so ensuring everyone is in the same place and can see and answer messages and calls is essential.
The large majority of prominent communication and collaboration tools on the market can offer you the following three features:
🤖 Virtual team meetings
When you have staff that works remotely, getting your team to come together for an in-person meeting can be quite tricky. Fortunately, nearly every mainstream communication and collaboration software allows you to host virtual team meetings with your team. That way, you and your team don't need to wait for everyone to be in the office to catch up. In fact, some businesses prefer to catch up over the Internet as it's often much faster and more efficient.
💭 Instant messaging
E-mails are great communication tools, but sending and receiving messages is slow and inefficient. That's why most communication software nowadays offers instant messaging. That way, you and your team can chat back and forth in real-time.
📁 File sharing
Some communication and collaboration software allows its users to share files (as opposed to just links). This is great for keeping processes within the company simple, efficient, and straightforward. Most such tools even keep a history of every file that was shared, meaning you and your team can always go back, find, and grab a file from a while back if and when needed.
In the section below, we'll show you some of the best communication and collaboration tools you and your team should consider.
Slack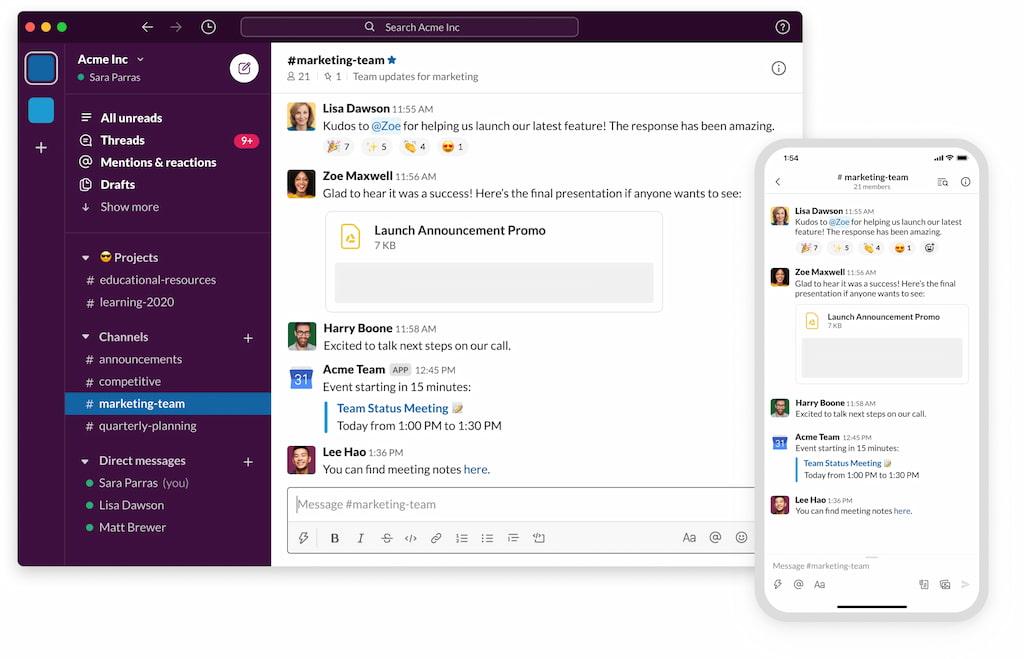 Slack is arguably the most popular internal business communication tool in the world. This is because the software makes it really easy to send and receive messages, no matter how big or small your team is.
What makes Slack especially popular is the lack of a learning curve involved. The large majority of people with basic knowledge of using computers will get a grasp of using Slack within minutes, which is why Slack is so widely adopted. And should your team require most instant communication such as jumping on a call, doing that over Slack is incredibly easy.
Additionally, Slack allows you to create an unlimited number of groups within the channel, all serving different purposes. That way, each team and each member within the team can have access to all of the relevant channels for them.
Zoom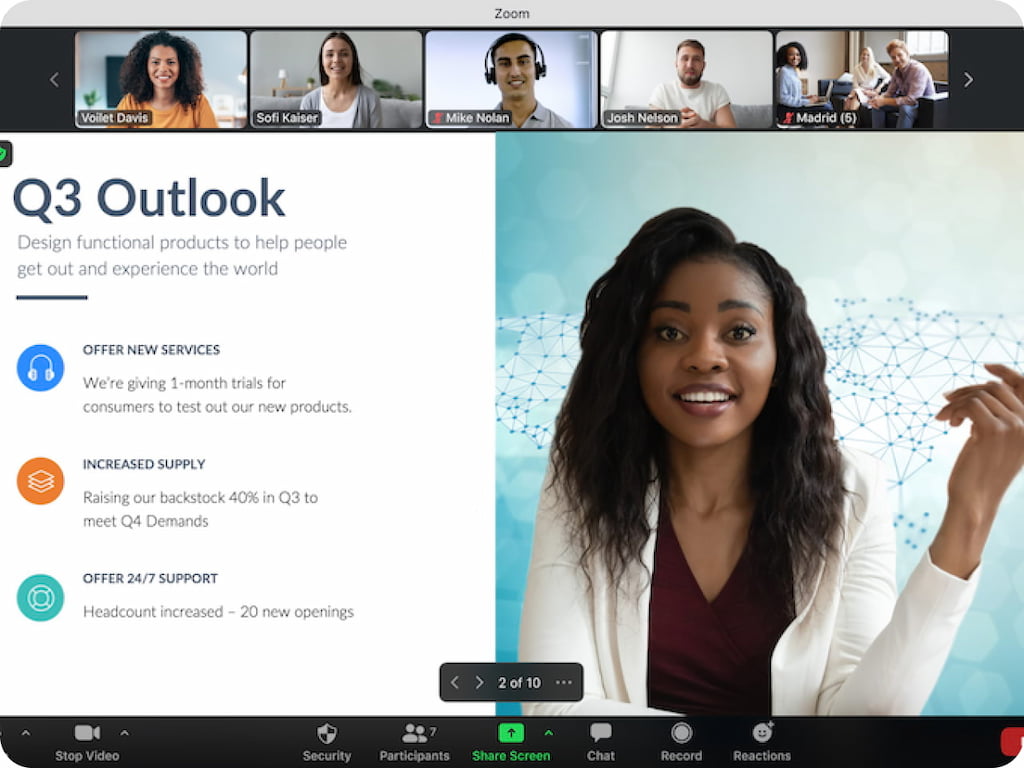 Zoom rose to the top of the list of popular remote working apps during the pandemic. This is because the app offered a great solution for teams that needed to conduct remote meetings online. To start a meeting with Zoom, all you need to do is create a meeting and send everyone that you want to join the invite link. It's as easy as that.
Once everyone is on, you and the team can enjoy high-quality and latency-free video calls for as long as you need. This makes it much easier to conduct remote meetings that are as effective and comprehensive as in-person meetings. And since conducting good meetings is one of the hardest parts of running a remote team, Zoom is a huge help for many organizations.
Microsoft Teams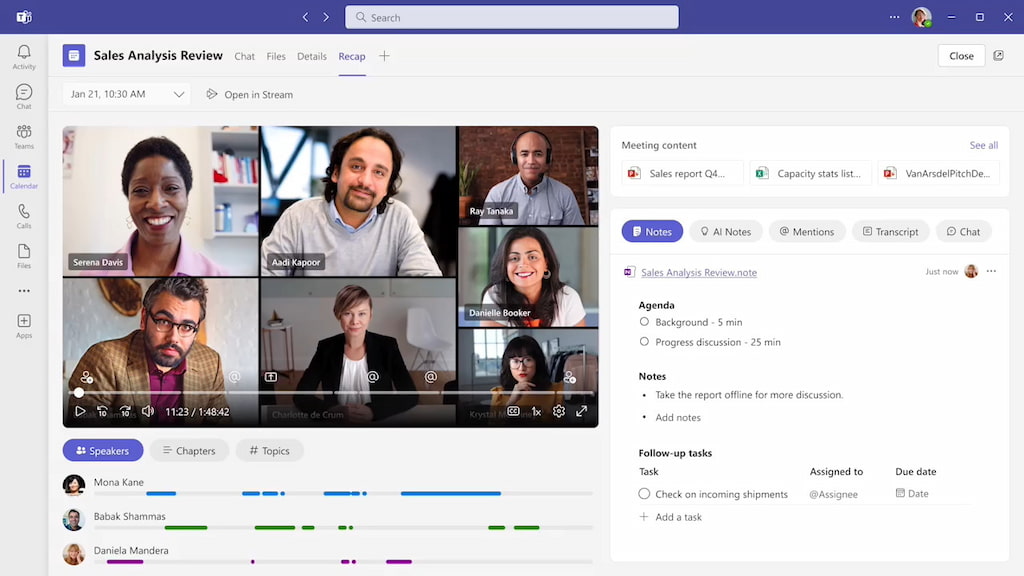 While Microsoft Teams is a comprehensive file-sharing and collaboration platform, it has integrated communication features. So, you can still message and talk to your teammates in the same way as the software above (Zoom). However, the main difference is that Microsoft Teams also allows you to share files, host webinars, and even group different teams into channels if you want to take the organization of your team members to the next level.
When communication within your team is flawless (despite everyone or some of your team working remotely), the whole business will run smoother. So, if you're looking for software that can serve as your center for communication while also giving you different features for collaborating with your employees, Microsoft Teams is a great remote team tool to consider.
---
Remote Work Software for Project Management and Task Tracking
Project management and task tracking is arguably the most important part of any business. Without software that can help you keep track of progress, it's exceptionally hard to keep a business running, especially one with dozens of employees.
There are a handful of truly fantastic remote work software dedicated specifically to helping businesses manage projects and the tasks each team member needs to complete to successfully and profitably complete any given project. Some of the core features you can expect from project management and task-tracking software include:
💡 Task creation
Long gone are the days when you have to manually write down and give an employee a to-do list. Most project management and task tracking software allows you to create tasks, set deadlines, and assign them to a particular team or employee within the company. This allows you and the people/person responsible for the task to know exactly what they need to do and when they need to do it.
🔎 Progress tracking
Keeping track of tasks that you've set out manually and sticking by deadlines is extremely challenging, especially if you run a bigger team that's working on a large, multi-faceted project. Fortunately, the large majority of popular project management software allows you to keep track of progress with ease. Some even give you multiple options, such as having a birds-eye view of the progress as well as the ability to get down to the details of where each task is currently in the workflow.
💲 Budget allocation
Every project has a budget that it needs to stick to. And while keeping track of the budget isn't too difficult when working with a handful of people, it gets complicated quickly the more employees you have on your payroll and the trickier the project is to complete.
When using a good project management tool, its budget allocation and tracking features will ensure that your team sticks within budget for every task that is assigned. And should any task go or is about to go over budget, you will be made aware beforehand so you can take the necessary action.
In the section below, we're going to go over some of our favorite project management and task-tracking software that every business needs to start using if they want to streamline the productivity and efficiency of their team.
Trello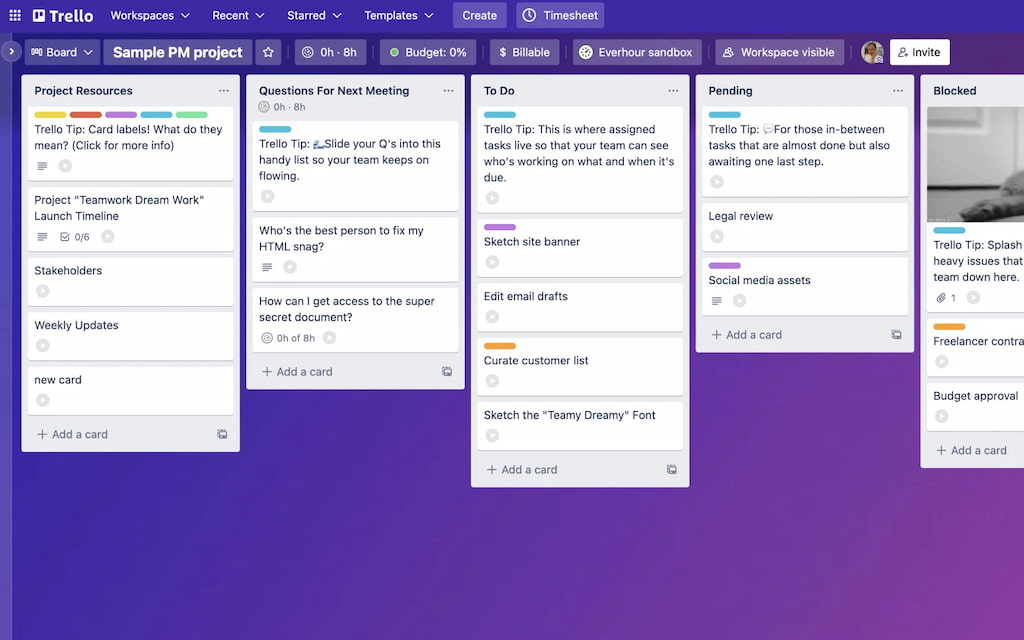 Trello is one of the more flexible project management apps on the internet. This means you can easily use it for small and large projects, which is another reason it's one of the most popular options available today.
With Trello, you can create and assign tasks, set deadlines, add comments and give feedback, and much more. That way, both you as the team leader, and everyone within your team will know their responsibilities and what they need to do.
The software also sports one of the cleanest interfaces of all project management tools on the market. This makes it easy to view and visualize all the data and your team's progress without having to go through a steep learning curve. It features loads of Trello templates and power-ups to expand your Trello functionality even further.
Asana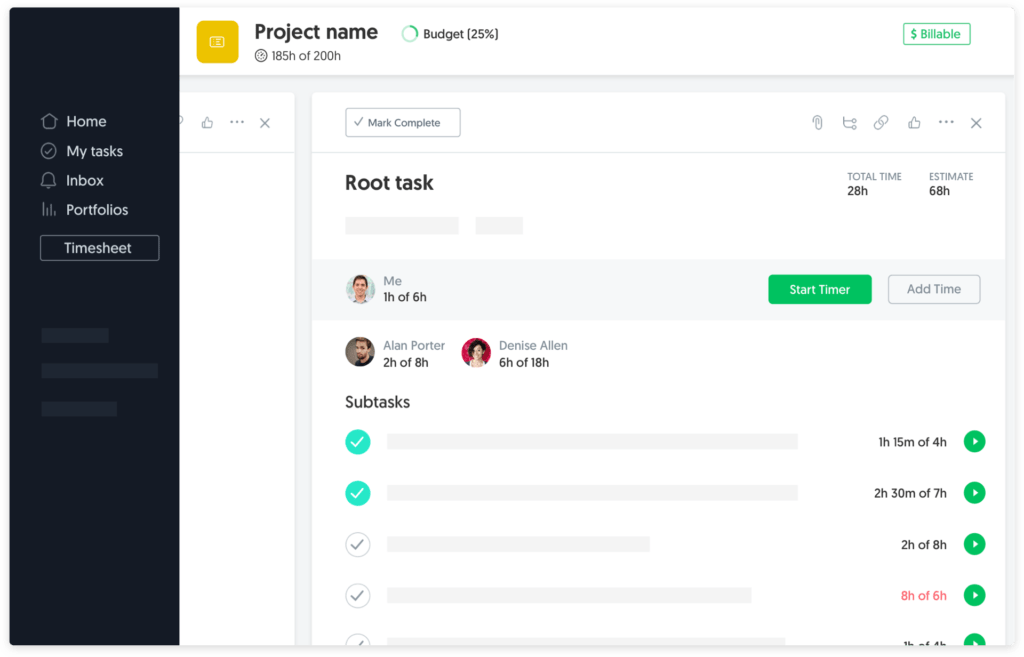 Asana is even more popular than Trello and for all the right reasons. The software has all of the project management and tracking features you and your team may need. These range from creating and assigning tasks to setting deadlines, attaching files, leaving comments, and a whole lot more.
Asana is used by millions of people from all over the world, so if you and your staff want to be on the right track for success, you've got to give Asana a try. Once you integrate Asana with your workflow, every aspect of running your business will be made smoother.
Basecamp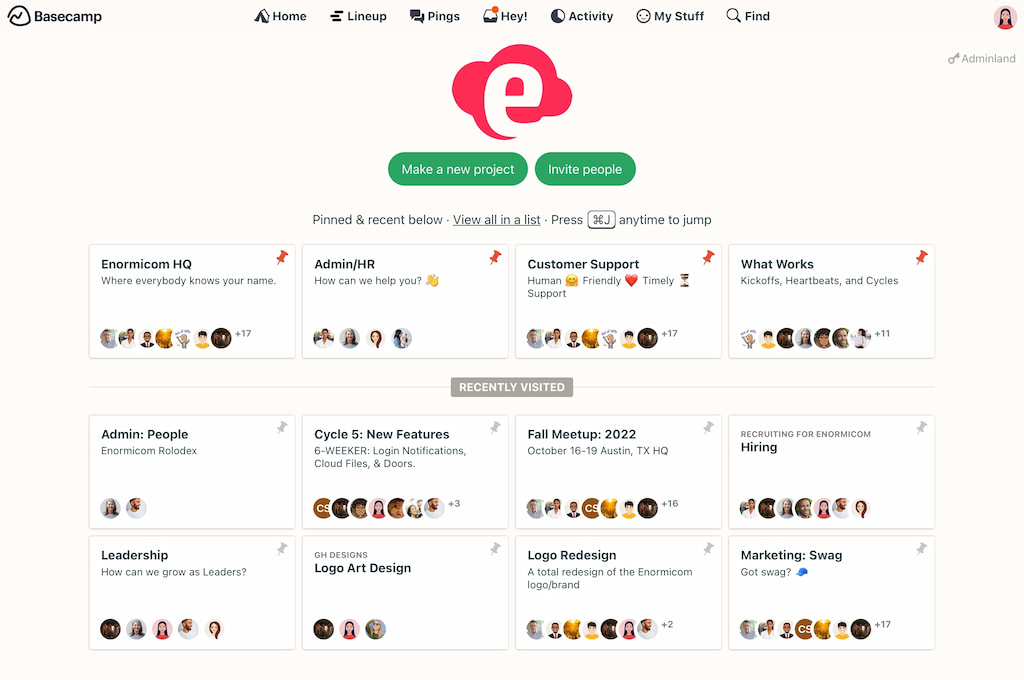 Basecamp is another project management platform that gives you a clear overview of everything that's happening in real-time. You can create separate schedules and spaces for different aspects of the project. Or, you can create different pages for each project, which is great for large teams that handle multiple projects simultaneously.
On top of that, the Basecamp project management platform comes with various Basecamp PM integrations. While you can perform all the management tasks you need directly on the app, the integrations allow you to use other tools and platforms in tandem with Basecamp, which is very important as well.
---
Solutions for File Sharing and Document Collaboration
When working remotely, file sharing and document collaboration is essential. Some of the main features you can expect from common day file sharing and document collaboration software include:
⛅ Cloud storage
Companies don't have to have in-house servers so they could store every file that was in their possession anymore. Today, every file-sharing and document collaboration software has cloud storage that you and your team can use to store files safely and securely over the cloud. Aside from the security aspect, cloud storage makes sharing and accessing company files significantly easier and much more efficient.
📝 Document editing & co-authoring
If you and your team are dealing with a lot of files that are in writing (website content or blog content for example), once the file is submitted, most file sharing and document collaboration tools will allow everyone with the correct access to edit and co-author the file. The editing can be done seamlessly and without interrupting someone else's work.
⛔ Permissions and access control
Sharing sensitive files over the internet can be seen as a less secure option compared to having everything on your company servers in the office. However, that's not the case, especially with the most popular file-sharing software on the market today.
As the team leader or manager, you will have the ability to set permission and layer the access control within your entire organization. That way, people will only have access to the files that you want them to have and anyone outside of the organization will have no access to your files at all.
If you're in need of a solution for file sharing and document collaboration, the following three remote work apps are some that you should definitely consider.
GoogleDrive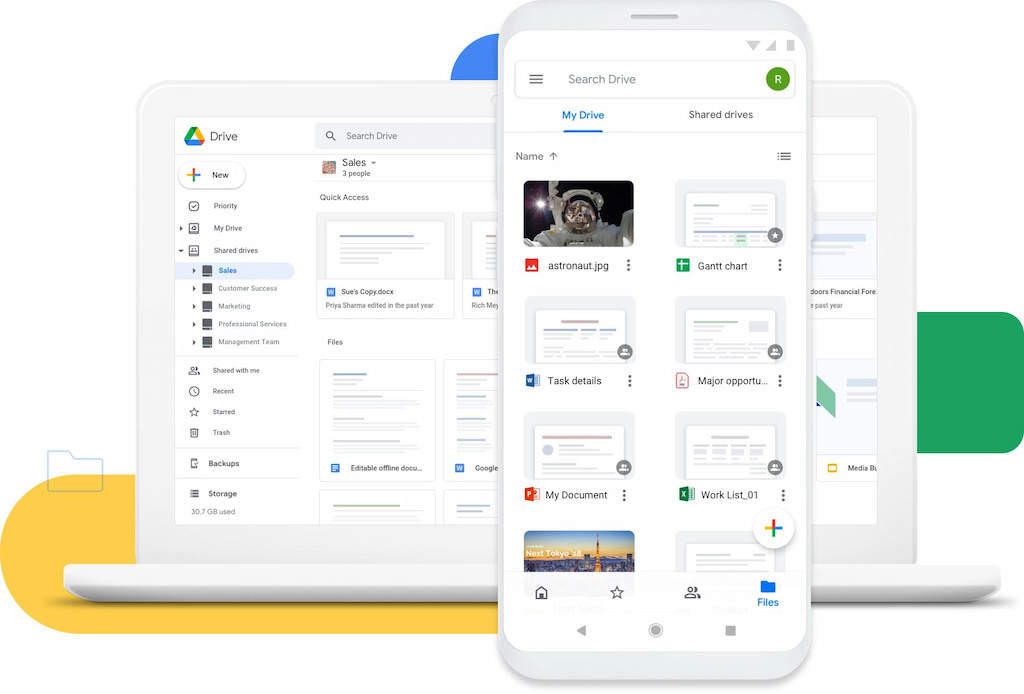 Made by Google, Google Drive is easily the most popular cloud storage solution available out there. It's used by billions of people every day and millions of businesses from all over the world are using it right this moment.
As a team leader, you can create a Google Drive space for your entire organization, allowing all of your staff to access, edit, and upload files and information seamlessly as and when needed. Not only that but using Google Drive, you can also set the correct permissions based on the individual team member's involvement in the project. That way, people will only have access to the features of Google Drive that they need to get their work done.
Dropbox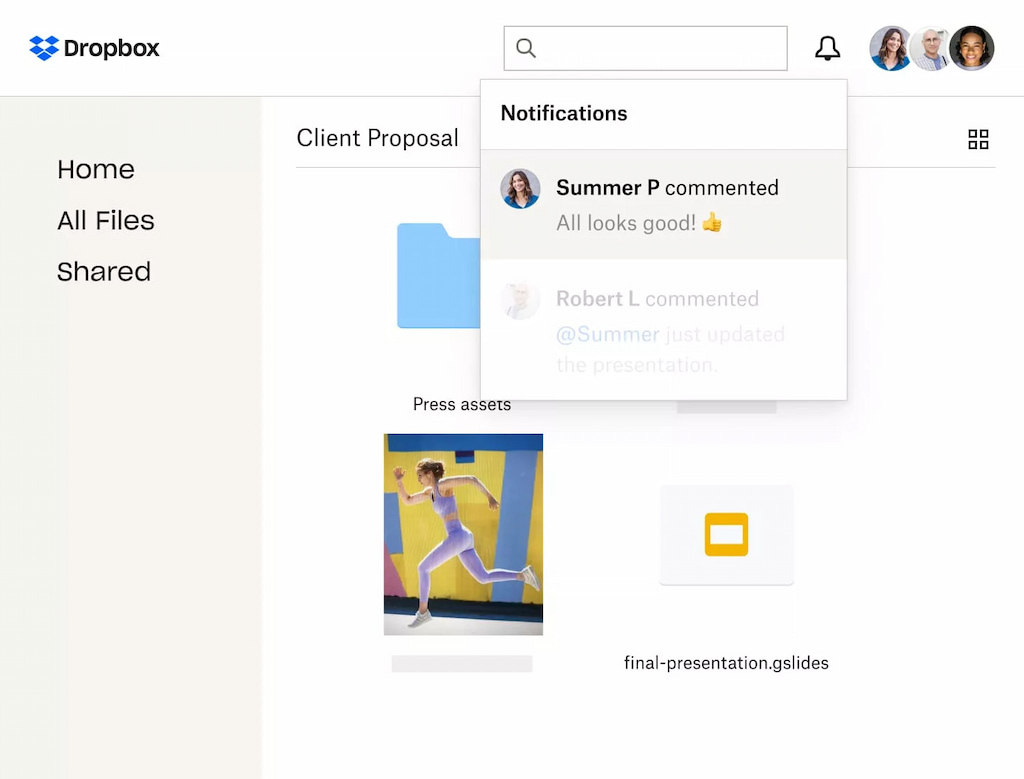 A popular alternative for file sharing and collaboration is the Dropbox software. It comes with a wide range of features that make it ideal for organizations of all sizes. With Dropbox, it's incredibly easy to share files with team members, making the process of reviewing and revising work, leaving feedback and comments, and editing documentation a whole lot easier. What's more – you and your team can do that offline without having online access to the organization's Dropbox, which is just another plus.
MicrosoftOneDrive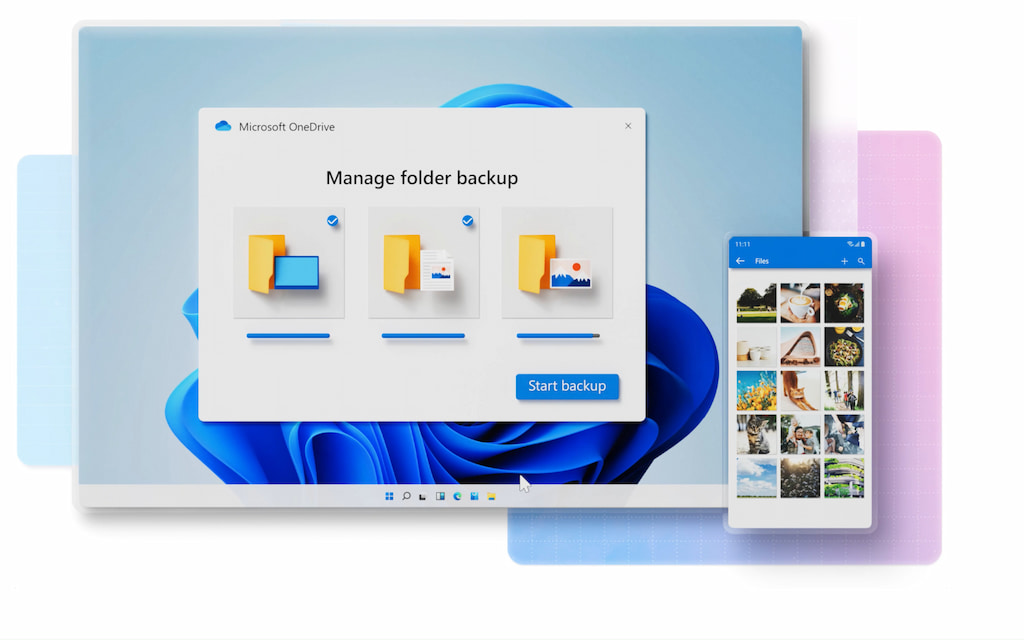 If you and your team regularly use Microsoft Office, using MicrosoftOneDrive will make a lot of sense. That way, you and your team can upload, send, and edit files seamlessly without interfering with each other.
On top of that, MicrosoftOneDrive doesn't require you to learn a completely different workflow when creating documents. So, you can still use Microsoft Word, PowerPoint, and even Excel while still easily sharing files with team members across the internet.
---
Remote Access and Virtual Desktop Solutions
It goes without saying that remote access is necessary when you work with remote teams. Some of the core features you can take advantage of when using such software include:
🔐 Secure remote access
If a remote team member is struggling with getting a particular software working, you can't just go over to them (like you could in the office) and show them. When you make use of remote access software, you can take control of your computer in real-time across the internet and do whatever it is that you need to do in seconds.
🥽 Virtual desktop infrastructure (VDI)
If you have staff with flexible schedules, using remote access and virtual desktop solutions allows your team to access their in-office computers remotely when needed without compromising their safety and security. This enables your staff to work with their familiar desktop setup and applications from any device, anywhere. Some of the best software for remote and virtual desktop access include:
TeamViewer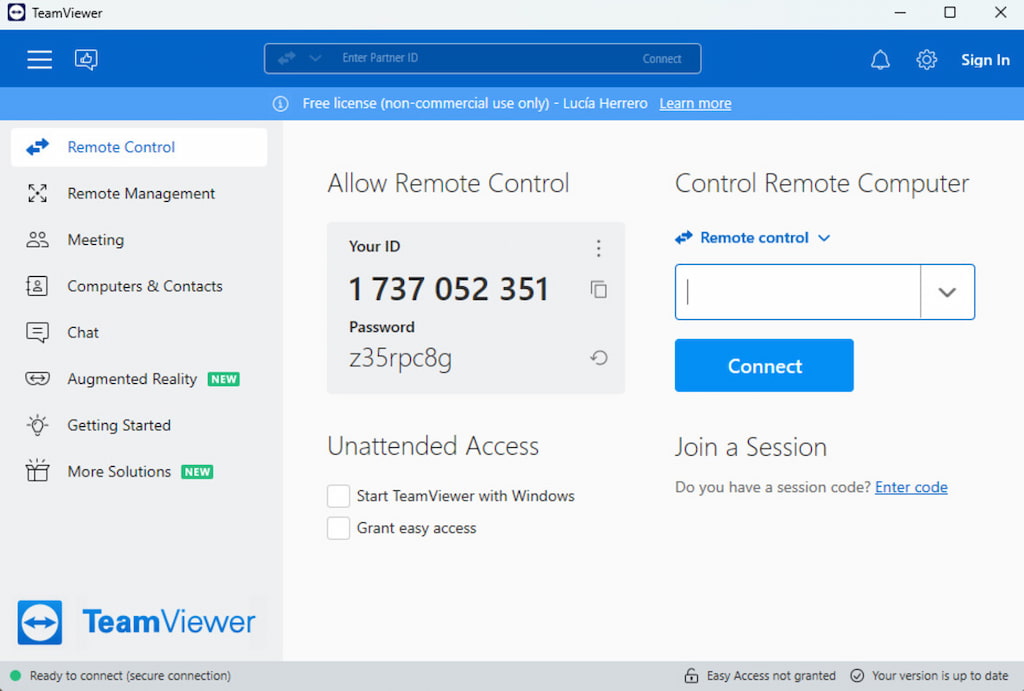 TeamViewer is one of the leading and most popular remote access and virtual desktop solutions on the market. With its intuitive interface and robust feature set, TeamViewer is trusted by businesses and individuals for secure remote connections and efficient collaboration. It also offers a minimal learning curve, which is always great if you and your team have never made use of such software before.
AnyDesk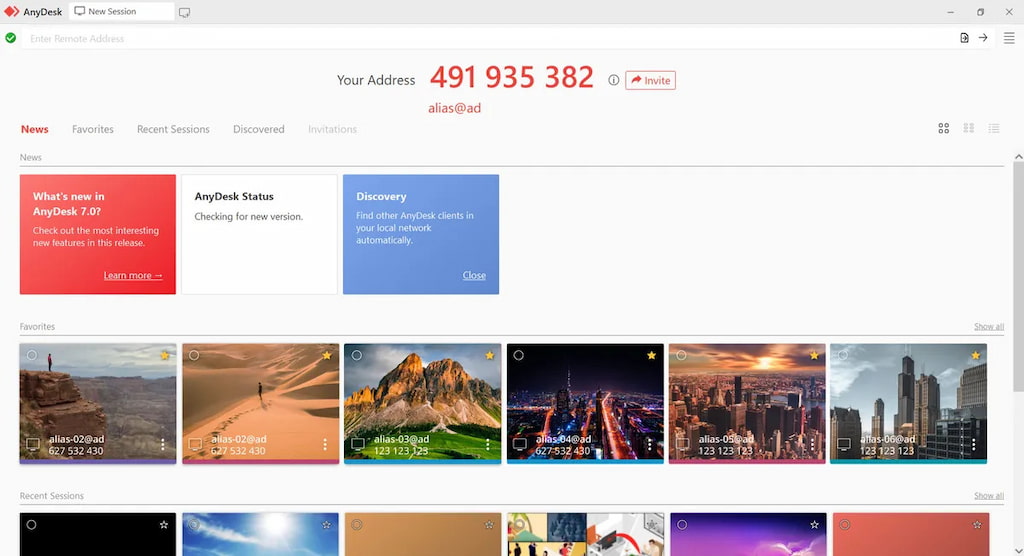 Like TeamViewer, AnyDesk is also made for remote access. It offers everything you'd need from a remote desktop solution and it's also one of the fastest and most-responsive options available. Some of the tool's core features include:
High-speed connectivity
Cross-platform compatibility
Remote control
File transfer
Unattended access
Multi-monitor support
VMware Horizon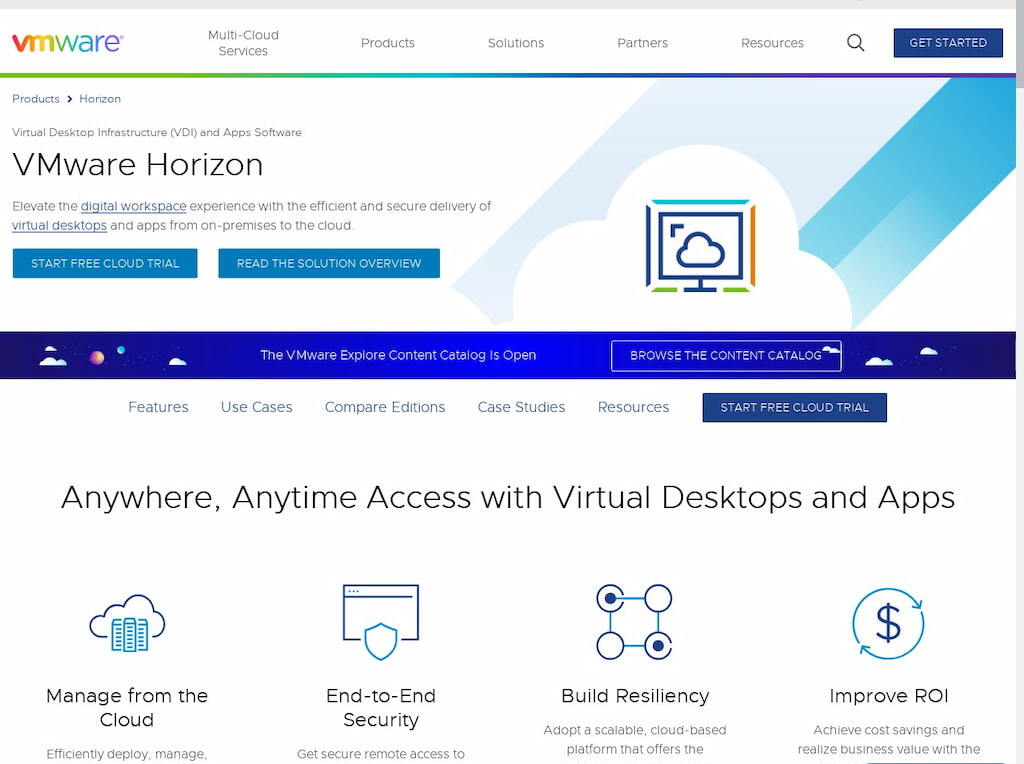 VMWare Horizon is remote work software that serves as a centralized hub where you can control and access every desktop computer in your network. Some of the platform's most prominent features and capabilities include:
Virtual desktop infrastructure (VDI)
Desktop and application virtualization
Centralized management
Remote access to virtual desktops
High performance and scalability
Multi-platform support (Windows, macOS, Linux, etc.)
---
Security and Privacy Considerations
When using remote team software, there's a high chance that you'll be sharing sensitive information with your staff that shouldn't become publicly available. For this reason, there are several security and privacy considerations that you need to keep in mind when using remote working apps.
End-to-end encryption

To start, you need to make sure that the data you share on the remote work software is encrypted on both ends. This prevents hackers from intercepting your system and accessing the information you and your team are sharing with each other – whether it's files or text messages. End-to-end encryption is very complex, so even the best hackers will have a tremendously difficult type of decrypting encrypted data.
Two-factor authentication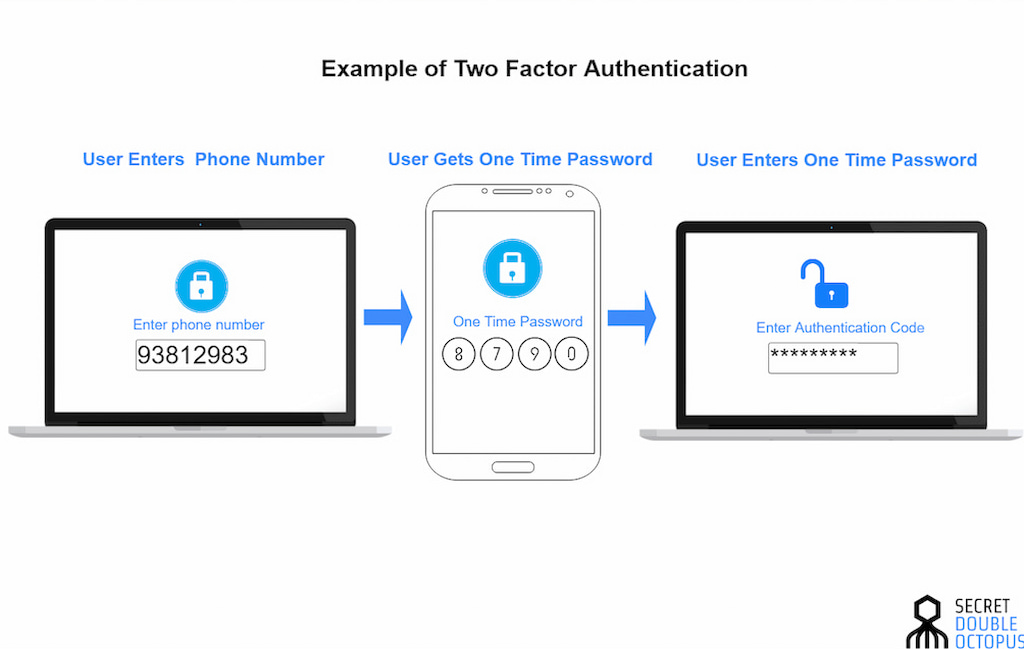 Another feature you'll need from apps for remote work is two-factor authentication. You may already be familiar with this feature as many platforms use this for adding an extra layer of security.
If you don't already know what two-factor authentication means, you're basically required to verify your identity twice before accessing the platform. This is most commonly done by entering your password, followed by a confirmation which is sent to your email or phone number (which typically only you will have access to).
The large majority of remote team management software already has this feature, but please make sure it is available for the specific tool you plan on using before paying.
GDPR compliance
Lastly, you have to make sure that the remote work software you choose is GDPR-compliant. GDPR is a set of rules and privacy practices that software companies are required to follow if they operate in the EU. If you see that software is GDPR compliant, this is a great indicator of security.
It's worth noting that if you stick to using the tools we have suggested above, you won't have trouble with GDPR compliance because all the best apps for remote workers are almost guaranteed to be compliant.
💡 Check The Tool's Integration Capabilities with Other Tools
Before you choose the best remote work software for you and your team, it's a great idea to check what other tools the software is integratable with. That way, using the tools within your workflow will be much smoother and easier for your entire team.
To give you an example, if you decide to use Everhour as your time-tracking tool, this tool can be seamlessly integrated with project and task management tools like Trello and ClickUp.
Other tools that are highly integratable with many of the remote worker software on the market today include Zapier, Integromat, and Microsoft Power Automate.
Remote Work Software: Conclusion
Making use of remote work software is absolutely essential for any business with remote workers. These remote tools make communication, collaboration, and organization of tasks much smoother, more efficient, and easier.
Thankfully, there are many great tools out there, regardless of what you're looking for. Above, we walked you through some of our favorites for a wide range of needs, ranging from task and project management to time and productivity tracking.