Working remotely can be both fun and challenging. The fun part is that you can do the work from whatever location you desire and at whatever hour you desire. But the challenging part is that issues regarding teamwork, collaboration, and team communication might arise. 
However, modern-day technology and software offer a wide range of useful tools to turn remote work into dream work.
Team Collaboration Tools for Remote Work
Team collaboration is a must regardless you are working in the same room or remotely. Because you always need to discuss something with your teammates. Hence, we have picked two team communication tools for you. Let's see what is what and whether you can use them effectively or not.
Workplace
Workplace is like a private Facebook for businesses. You can use it for making company-wide announcements, having casual conversations, etc. The interface is cool and easy to use. This is mostly because we all know Facebook too well and we can deal with it too easily.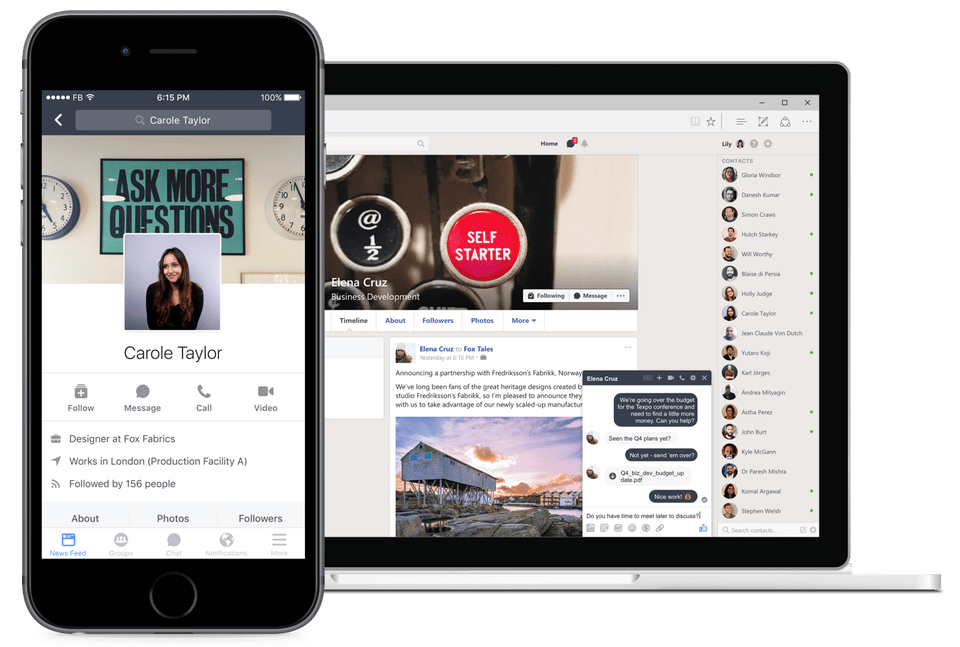 Generally, people don't like change and it takes time to grow accustomed to any new software. But Workplace's entire selling point is that it isn't a change and everyone already knows how to use it. So you can try and see how it goes for your team.
Facebook announced that they aim for Workplace to appeal to everyone from CEOs to factory workers to baristas. 
The workplace offers the basic Facebook features we all know like mentioning, liking, and commenting. If you want your team to actively socialize and get to know one another well, then Workplace can be the right choice!
Last but not least, I have much more faith in the infrastructure, servers, and expertise of Facebook to prevent any kind of downtime in the workplace.
Slack
Slack is sure one of the best communication tools for remote work.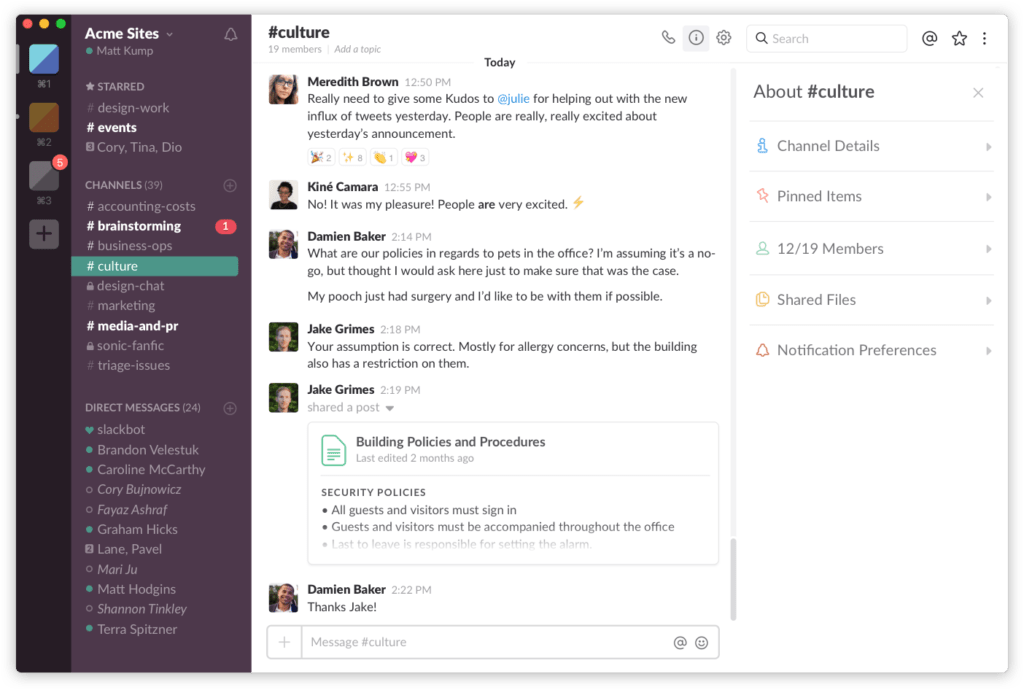 Slack allows for making company-wide announcements, notifying everyone about them, create different channels and group chats for different projects. It's a great way of collaborating in small teams. This will give you the feeling of a real office.
But the learning curve for Slack might be bigger for new users, especially non-techies/busy people.
Plus be careful with it, since it's a real-time communication tool and if you have a large team, you might not be able to catch up to what is being said and done by the team on Slack. It's a good idea to set up rules and guidelines for using Slack. Your employees should be able to use Slack in a way so as not to distract others or get distracted themselves.
While Facebook Workplace and Slack are communication tools for remote work, they have quite a lot of differences. The workplace is more social-wise and Slack is more project-wise.
RE pricing, both the platforms have a free version, Workplace has an advantage in the pricing of the premium version. Slack costs about $6.67 per user for the Standard paid version, and $12.50 for the Plus version. Workplace costs $3 per month per user, and down to $1 a month per user for groups over 10,000.
On the integration side, Slack offers hundreds of apps like Google Docs, Asana, Dropbox, etc. The workplace hasn't mentioned much but has said this is intentional. They want to focus more on usage and engagement before working on integrations.
The only challenge for Workplace is to convince employers in terms of allowing their staff to Facebooking all day 🙂
Maybe you could combine these two and get the perfect remote work environment you have been dreaming about. Give it a try!
File-Sharing Tools
Communication is great. However, the actual work most of the time is done on files, spreadsheets, and documents. So, you need proper tools to share them with your team. Let's see what tools you can use for file sharing and real-time collaboration.
Google Docs
Uncle Google can do it all for you. Whether you need to share documents in a word format, excel spreadsheets, or PowerPoint presentations, Google is there for you.

Note that you can manage access to each and every Google document you are creating. You can grant someone access to only view it or offer suggestions. One great feature of Google Docs is that several people can work on it in real-time and they all are able to see the changes made by their co-workers. Also, people can chat while working on the same document.
You can use Google Docs as a place to store your stock photos purchased from paid photo stocks or downloaded from free stocks. And you can have different folders for different projects or team members.
Google Docs is like a virtual shelf where you can store all your important project-related information.
Dropbox
Dropbox is another tool for file sharing and collaboration. All teams have those PDFs and scanned invoices and PowerPoint presentations that they are no more using. However, they just keep it because why not? You might need them one day.
Dropbox is the answer!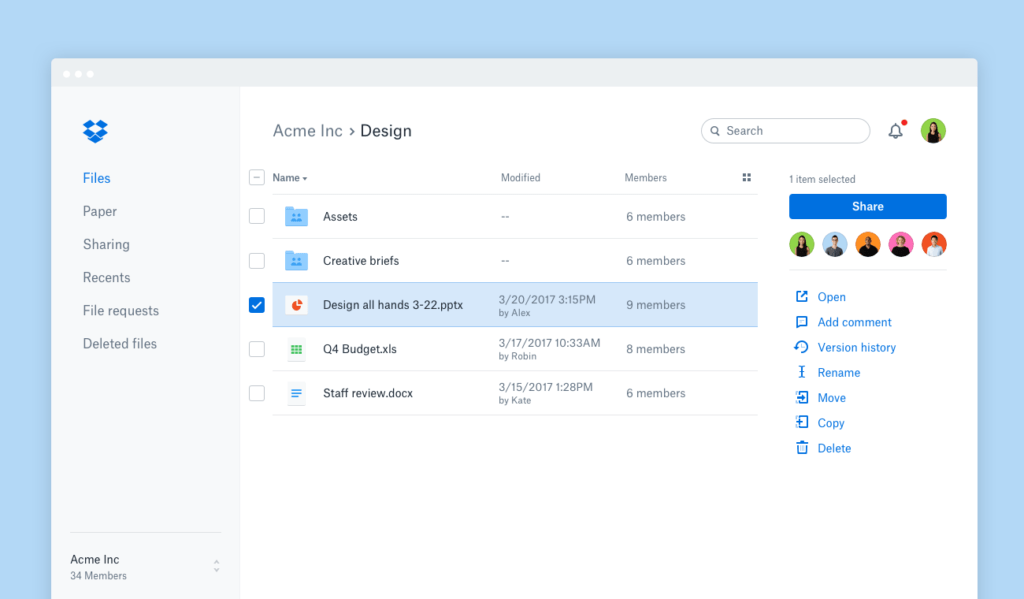 While Google Docs is good for sharing and collaborating, Dropbox is just perfect for storing files and then forgetting about them. Kidding, it's a really good place to keep your stuff like HR and legal paperwork, third-party documents, and any other form of virtual data.
Both services are good!
One problem I see with Google Drive is that it is very confusing, probably because all of its services (G+, Google Photos, Drive) are interlinked. Dropbox, on the other hand, is very simple and easy to use.
In terms of privacy, with DropBox, you own your data. With Google Drive – they own your data.
Project Management Tools
We all love projects and we all work on them. And, accordingly, we all use some kind of a project management tool. Some of them are good, others are better. It's a matter of features,  compatibility, and of course, personal preference.
We have a very detailed review of the 14 best project management tools. Read to decide which one fits your needs the most.  
Time Tracking, Reporting, and Invoicing Tools
It is a good idea to have a project management tool in place. And it is even a better idea to add a time tracking tool to it too. This will help see how much of the planned work has been completed successfully and even how productively you have been working. Pick the best time tracking software and you won't regret it1

Did you know that employee reporting issues cost $1,085 on average per employee per year? Or that the average time employees incorrectly report is 4.5 hours/week – the equivalent of 6 weeks of vacation.
Everhour
Everhour is a time clock app and an attendance tracker, a tool number one for time tracking, reporting, and invoicing built on top of the most popular project management tools. It offers transparent time tracking by integrating such tools as Asana, Trello, Basecamp,  ClickUp, Jira, GitHub, Teamwork, and BitBucket. You can set up your Monday time tracking or Jira time tracking easily with one click!

Everhour allows finding out who is working on what in real-time. In addition, if someone in the team failed to report time, you can track it really easy with the help of the tool. Also, you can get summary emails weekly and see how many hours each of your employees has worked.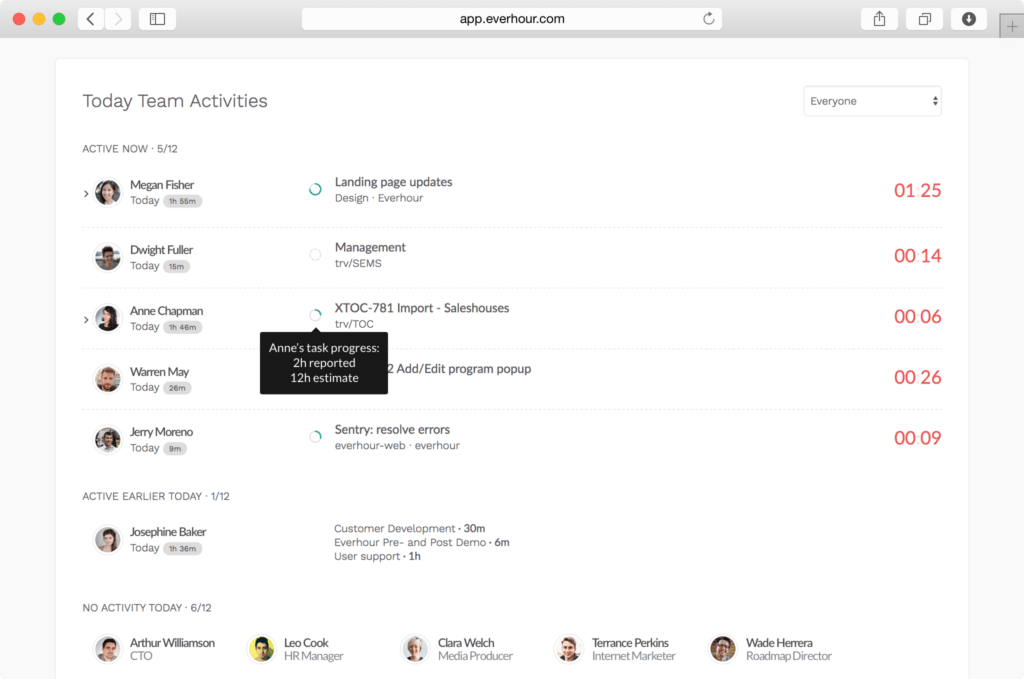 Over 1,000 companies are using Everhour already. Join the fun and increase your team productivity through accurate time tracking at work and monitoring.
Bonus: Here is another detailed review of the best time tracking apps for freelancers and companies.
Remote Work: Video Calls and Screen Sharing
Chatting might be helpful if you want to share ideas. However, there can be topics you might want to talk about in person. And since the distance does not allow that, you can use video calling tools. Screen sharing is another must-have for remote work because sometimes showing something might be way more helpful than texting about it.
Whereby
Whereby will be just perfect for those who hate installing extensions or web applications. Your online experience will be completely browser-based. No need to install anything or create an account. You just have to share the URL of your meeting room with the team.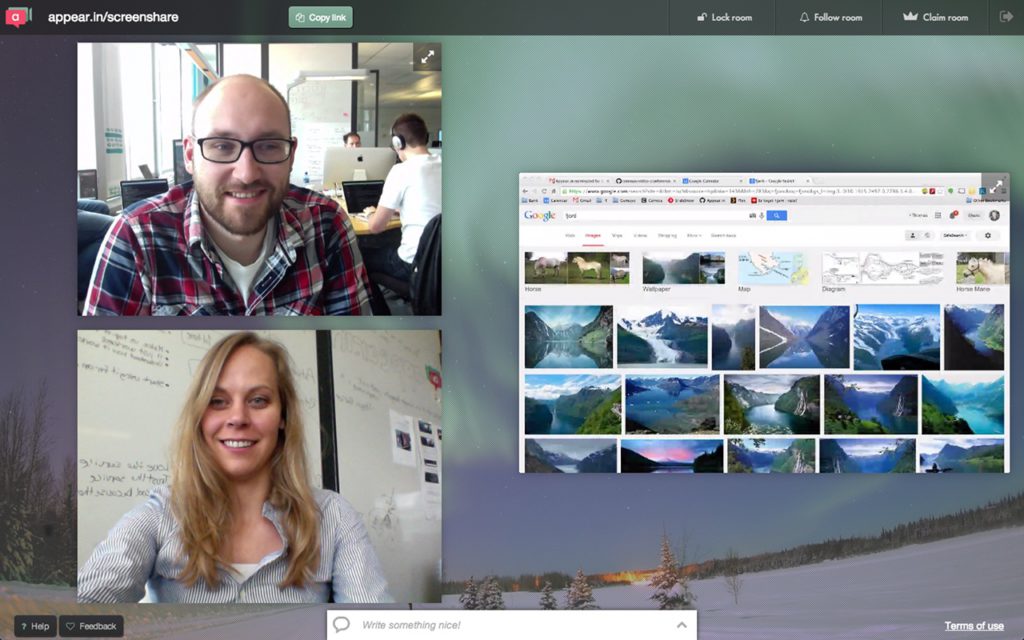 Whereby is a really good way of conducting quick video calls. Also, you can share your screen and present something. It's as easy as one-two-three. You can join Whereby from any device.
And you can then lock the chat room as soon as all the participants are in. This is an extra measure of privacy.
Zoom  
Zoom is a video conferencing and web conferencing tool. While Appear.in is just perfect for small teams or for personal use, Zoom is more like an enterprise tool. You can use it to conduct webinars and online events as well as use Zoom to empower your apps with video, voice, and screen sharing. Over 750,000 businesses use Zoom, and so can you!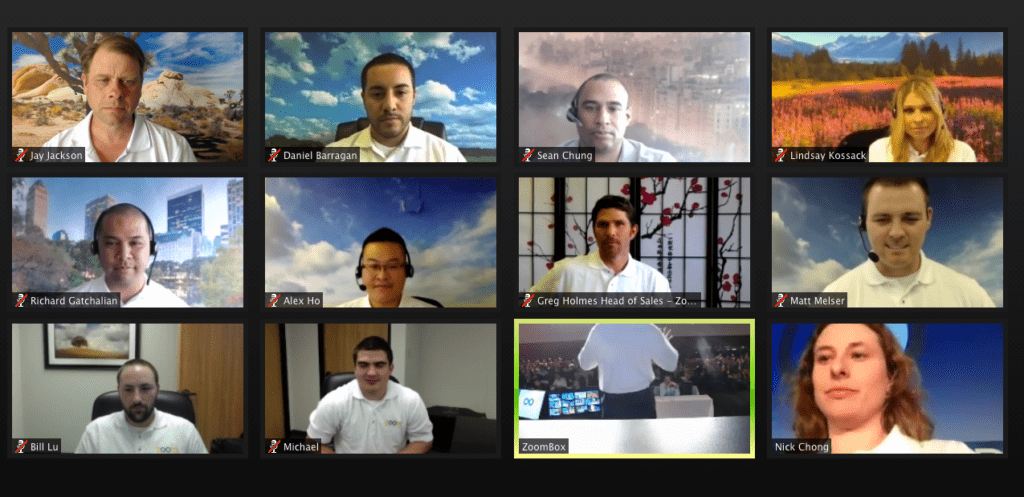 Appear.in seems to be peer-to-peer. That means the experience is only as good as your weakest link. And for a lot of our conversations, there's always one teammate with a bad connection 🙂
Privacy, Security, and Password Management
You do not always want to share passwords with people. On the other hand, you might want to give them access to the apps or tools you are using. What to do then? Well, you can use password management tools across your teams and give access to whoever you want to.
1Password
1Password is a useful tool to store all your passwords and logins in one place. You can create strong passwords that your team won't need to remember. And you can easily add new team members and grant them permission to see/use the passwords.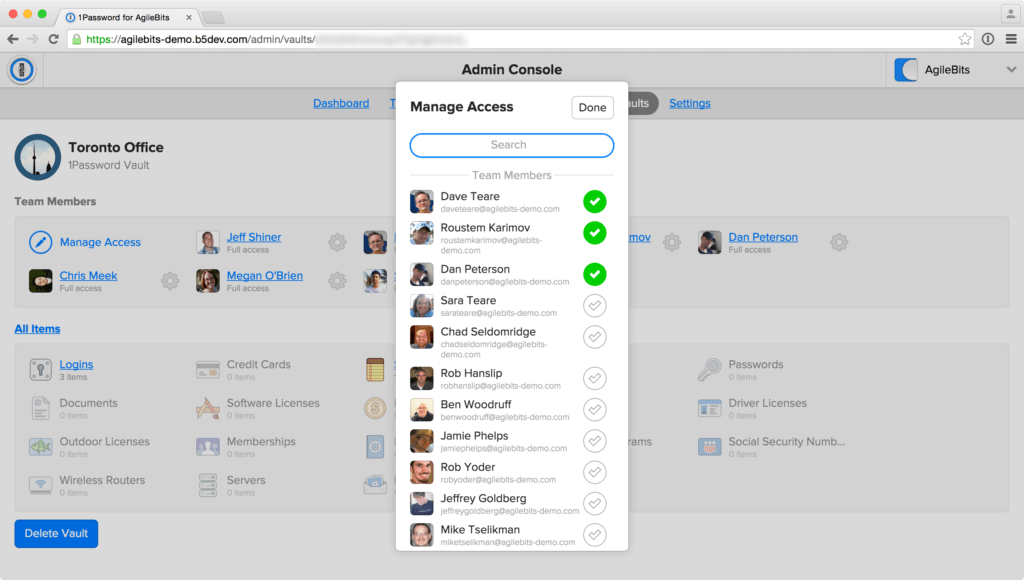 NordPass
NordPass is another awesome tool for remote work. It has a zero-knowledge architecture that guarantees your passwords are safe and there won't be any breach in your security system.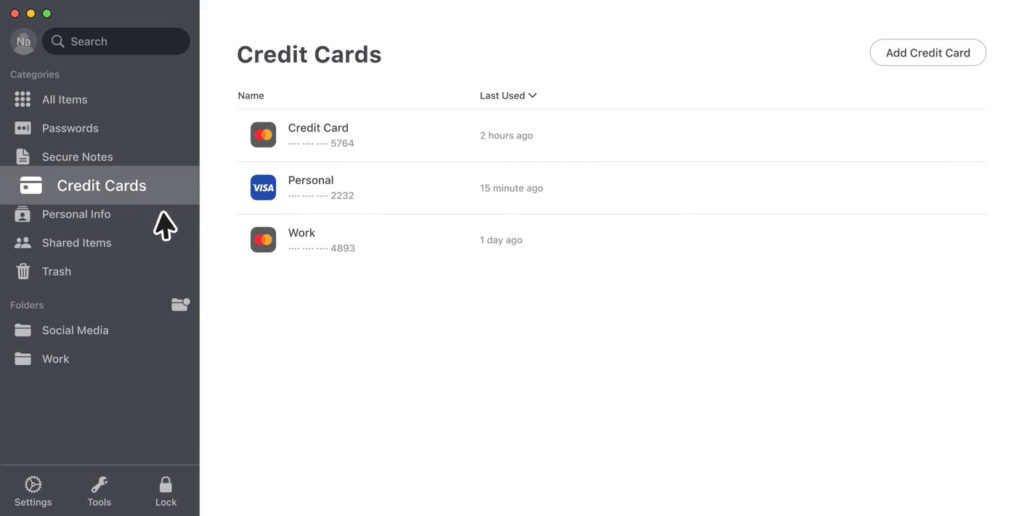 Now that you have 9 awesome tools for remote work, you know what to choose from. Start planning and delegating work to your team. Some tools might be more helpful based on a specific work scenario. Choose from what you have and get started. Do not forget to leave us a comment below.
Happy remote working!