Trello is one of the leading project management platforms on the internet. The app allows you to take control of your business, organization, or team by creating comprehensive lists and workflows for your teams to follow.
And one of the best features of Trello is the templates that you can use to make lists much quicker and with less effort, without sacrificing quality. On top of that, there's an endless list of Trello templates for sale and free to choose from that you can use for your business. And if templates aren't enough, you can always use Trello power-ups 🙂
To give you a better idea of what's possible, in this article, we'll go through some of the best Trello templates for different purposes. That way, it will be much easier to choose the perfect template for your needs.
What Are Trello Templates?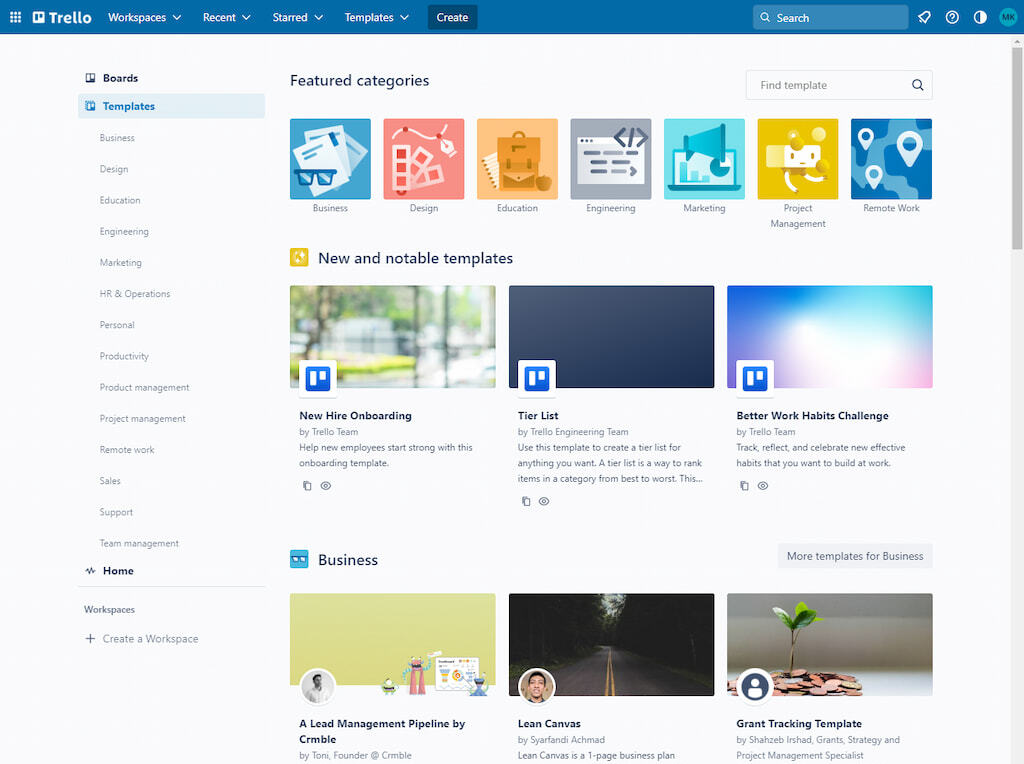 Trello is designed for organizations and teams to stay organized with Kanban-style lists and workflows. These lists are highly customizable, and you can tweak them to your specific needs. A Trello template gives you a sort of foundation for the list, making it easier to add or remove information as needed. You can use these lists for everything, from planning events and project management, all the way to ensuring team collaboration is as smooth as possible.
The best part of Trello templates is that you can further customize them according to your needs. So, if you want to tweak the design, add more points of information, or anything else, it's totally possible.
Types of Trello Templates
Writing a comprehensive list of the best Trello templates is hard. This is because there are so many categories and types of Trello templates on the market. So, there's a lot to consider when determining the best templates available.
To simplify things, we've created six Trello template categories and chosen the top five options for each category. That way, you can easily find a Trello template that perfectly fits the needs of your organization or project.
🥇 Top 5 Trello templates
Before we get into any specific categories, there are some templates we consider the best for various purposes. These are some of the best templates we found on the internet that would be a great all-around fit regardless of what your specific needs might be.
OKRs

OKRs is one of our top choices because it contains everything a business or organization would need for project management. With this template, you can set goals, track accomplished projects, divide the year into quarters, and take full control of the project all from one place.
One feature we particularly enjoyed is how easy it is to place attachments, labels, and images on the cards. This makes it much easier to visualize project progress, current goals, and tasks that you have to perform. If you're looking for a Trello template that empowers you to reach your business goals, OKRs may be just what you've been looking for.
Getting Things Done

As the name suggests, Getting Things Done, or GTD is one of the leading templates designed to keep you productive on Trello. This is a straight-to-the-point option that allows you to easily track projects, set goals and tasks, and create a calendar list.
Though this template is particularly more suitable for solo workers such as freelancers and contractors – if you're a business, don't shy away from trying it out. It has plenty of different features that will make team collaboration at the workplace smoother and more efficient.
Tier List

Tier List is a Trello template created for fun, but you can definitely use it to improve productivity as well. This template is really simple and can be used to create tier lists to rank things from best to worst. This could be your favorite sports players, actors, songs, or anything else you want. Tier List is really useful for content creators or people who just like to geek out and do their research.
However, some users get extra creative with this template and use it to improve productivity. You can use Tier List to rank tasks in order of importance or urgency. That way, you know which tasks to accomplish first and which ones you don't have to prioritize right away.
Better Work Habits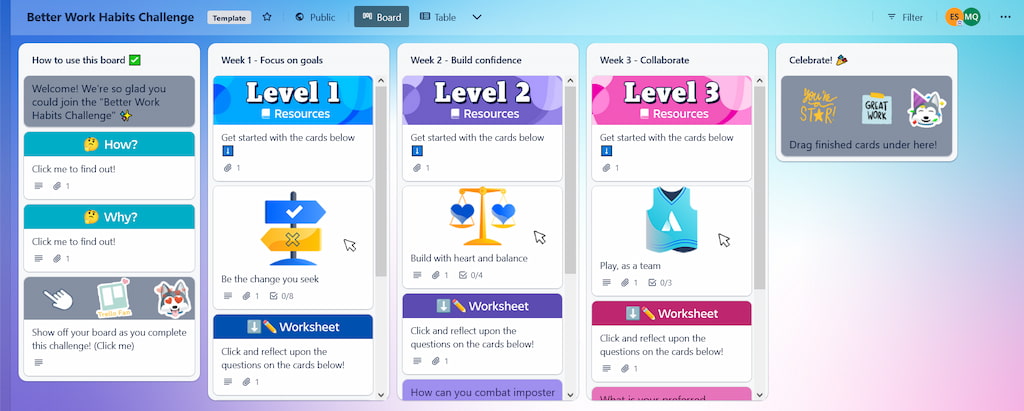 We all want to improve our work habits. The more efficiently we work, the less energy we expend and the more we get done. However, developing an efficient workflow involves creating work habits. For many people, this is tricky, especially if they don't have a platform to keep them on track.
This is exactly what Better Work Habits was designed for. With the template, you can easily go through the process of developing your work habits. This is usually done in different stages, allowing you to break down the process and keep things as simple as possible.
Project Management

As the name suggests, this template is specifically made for project management. It allows teams to easily gather project resources, create a timeline, and stay on top of all projects that are due to be completed.
On top of that, the template is specifically designed for teams and collaboration. This makes it much easier to onboard more people and ensure that everyone is following the schedule for upcoming deadlines.
That said, the Project Management template is also a great tool for individuals. If you're embarking on a solo project, Project Management is a great template for staying on track. Not only does it offer all the features you need, but it's also incredibly easy to use, which is why it's one of the most popular Trello Templates available.
📈 Top 5 Trello board templates
Imagine the Trello platform as a whiteboard. On the whiteboard, you can place anything you want, whether it's project timelines, reminders, or to-do lists. This is where board templates come in, which allow you to maximize the platform for your own benefit. So, here are some of the best paid and free Trello board templates.
Agile Board Template

The Agile Board Template allows you to track the entire project. It isn't just for checking off a list, it's a template that forces you to turn accomplishing tasks into a whole process. This is great for developing better work habits and keeping the whole team on the same page, especially if you're working on a larger and more complex project.
Basic Board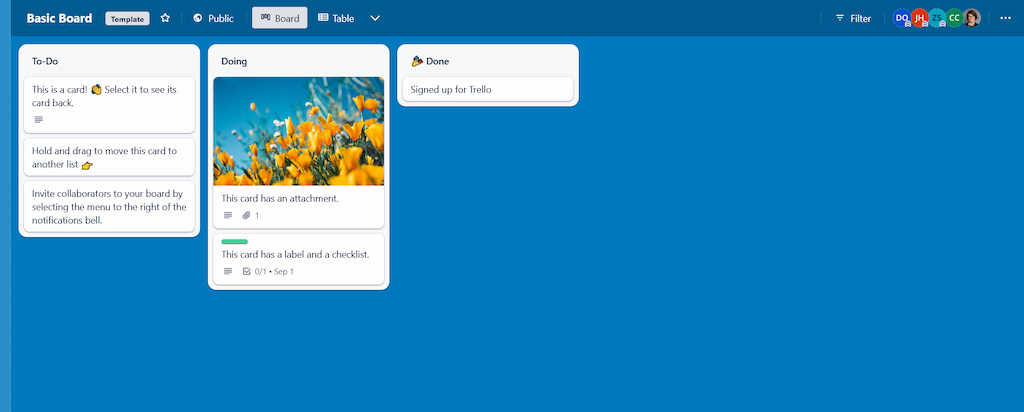 This template comes directly from Trello and is a simple but highly effective option. With the Basic Board, you have three cards: a "To-Do", "Doing" and "Done." This makes it much easier to figure out what you have to accomplish and even the things you've already accomplished.
Collaboration Board

Sometimes, getting a whole team to collaborate smoothly is a simple process, especially when you have tools like the Collaboration Board. The board makes it easy to post memos, priorities, and even roadblocks when working toward the completion of a project. That way, each team member will not only know where you and everyone are at, but you can help each other in time of need.
Design Project Board

Design projects are very unique tasks to take on. This is why this Trello template is specifically created for design teams. That way, it's easier for architects, illustrators, and designers to stay on the same page while sticking to the schedule.
Decision Tracking Board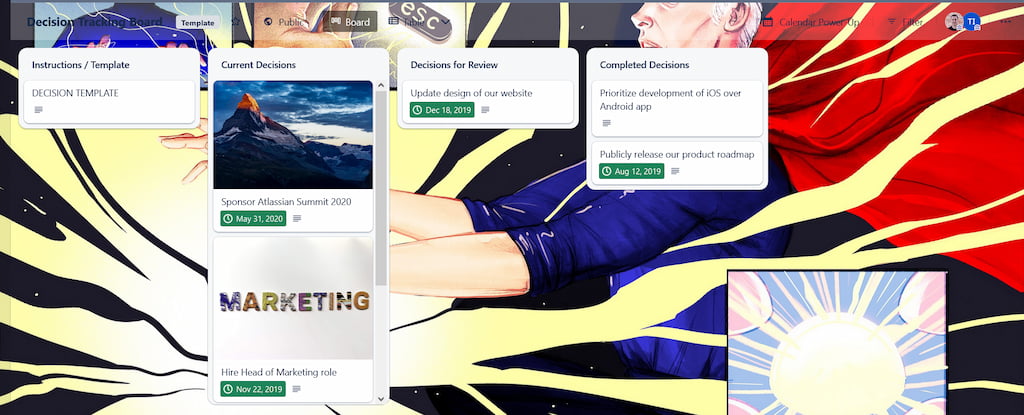 Small decisions have major consequences in the marketing world. This is why this decision-tracking template is really useful. You can use the Decision Tracking Board to record all the decisions you made in a certain timeframe, analyze the effects of the decision, and review it 6 months later. That way, you can assess whether or not it was a good decision and how you can make better decisions in the future.
🆓 Top 5 free Trello templates
You don't have to spend money to use certain Trello templates. This is great for individuals and teams on a budget. However, it's still important to find the best free Trello templates for your needs. So, to help you narrow down your options, here are some of our picks for the best free Trello templates that are currently available on the market.
Pitch Deck

Startup companies rely on pitch decks to keep everyone on track. The first few years as a company are crucial, and pitch decks are great for sharing ideas and exploring possibilities. This Trello template makes it easy to create a comprehensive Pitch Deck for free, which would have otherwise cost you quite a decent chunk of money.
1-on-1 Meeting Agenda

1-on-1 meetings can be challenging, especially when you're pressed for time. This template is designed for you to set the agenda for one on one meetings, making it easier to stay on topic and efficiently communicate your message without wasting any time. This is a great tool for managers and team leaders that you can get for free today.
Atlassian's 90-Day Plan

Atlassian's 90-day plan is one of the best free templates available on Trello. This is because the template allows you to plan far ahead (90 days). After all, the further ahead you plan, the easier it will be to stay on track throughout the project's duration. So, whether you're working alone or with a team, this is a very useful Trello template that you should consider using.
Daily Task Management Template

Trello is great for individuals and teams, and a big reason for that is templates like this Daily Task Management Template. As you might guess, the template allows you to easily visualize everything you have to do in a day, allowing you to stay on top and never miss out on a task again.
Risk Report

Risk reports are necessary for navigating the business world, especially during economic uncertainty. This is why this Trello risk report template can be so useful. A lot of the time, risk reports are very complicated and take a lot of time to accomplish. But with this template, rest assured that you'll generate comprehensive risk reports in minutes, saving your organization a lot of time and resources.
📁 Top 5 Trello card templates
Making use of suitable Trello card templates can help you with standardizing information and tasks while saving time by using a pre-designed framework. The card templates we will show you below are also great for improving productivity throughout the organization, facilitating collaboration among team members, and ensuring consistency in all workflow processes.
Simple Project Board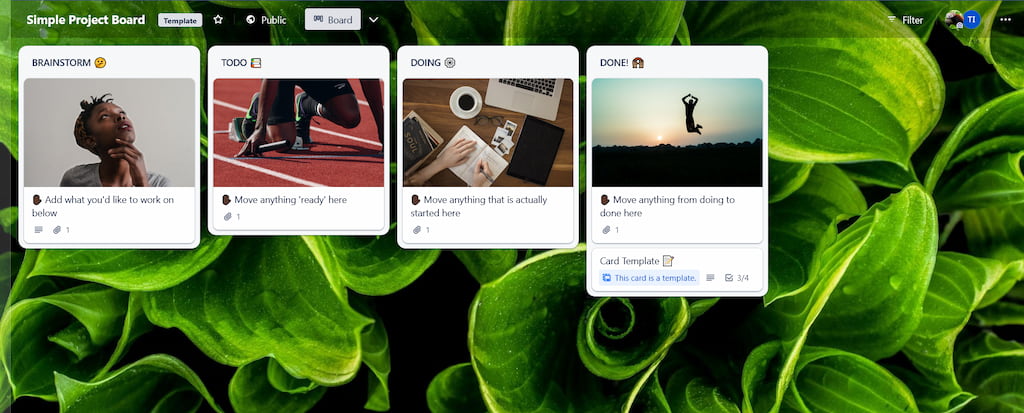 Whether you're running a business or want to create some routine in your day, the simple project board is a fantastic template for the job. It's simple and straightforward. All you do is create new cards with what you want to achieve and move them along as you complete them.
Content Creation Template

If you're a blogger, or YouTuber or deal with any type of content creation at all, this template is great for you. Using it, you can note down and keep track of ideas, tasks, editing, and proofreading. You can also customize the template further to meet your specific needs.
Certification Prep Template

Planning on studying towards a certain certification? This simple card template allows you to break down the course into different segments so you can study in a more organized manner and learn everything you need to know to obtain the certification before the exam.
Sales Pipeline Template

Those responsible for the performance of a sales team have a lot on their shoulders. This is where the Sales Pipeline Template comes in. It's capable of not only streamlining your responsibilities but keeping track of leads, prospects, and deals much easier. On this template specifically, you can enjoy a number of different tabs, including "Prospect," "Qualified Lead," "Proposal Sent," "Negotiation," and "Closed-Won", allowing you to move cards through as the deal progresses.
Office Party Planning Template

If you're responsible for organizing an event within the company, this Trello template can help you manage and keep track of everything in one place. That way, you can rest assured that you haven't overlooked or missed out on any details that could impact the outcome of the event.
👩‍💻 Top 5 Trello templates for project management
One of the best use cases for Trello is for every project management need you can think of. This is because Trello allows you to schedule, keep track of goals, and make sure everyone on the team is pulling their weight. Below, we will go over some of the best Trello templates for project management.
Scrum Template

Scrum is a unique method for project management that involves tracking methodologies, which is very useful in engineering and other similar fields. This scrum template is also great for software development and is one of the most popular templates in the industry.
Kanban Template

The Kanban method is a very useful way of staying on top of projects and teams. This Trello template allows you to adopt the Kanban methodology in your project. That way, it's much easier to adopt this way of working with your team.
Government Project Management

This is one of the most unique templates currently available on Trello. The Government Project Management template is designed to help government agencies and offices with their projects. This makes it much easier to follow the rules and regulations that come with government projects and ensure complete compliance.
Simple Project Board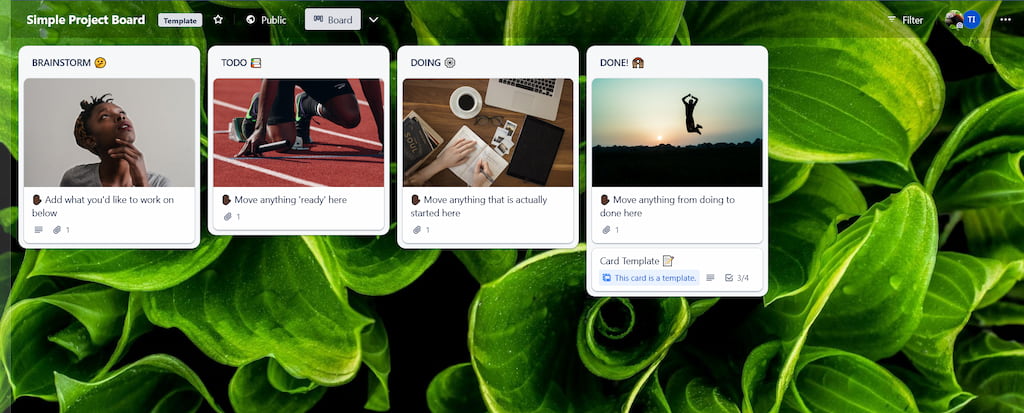 This Trello template is great for those looking to accomplish simple projects that aren't too time or labor-intensive. This is a very bare-bones template that offers a lot of room for customization while including all the necessities.
Example Roadmap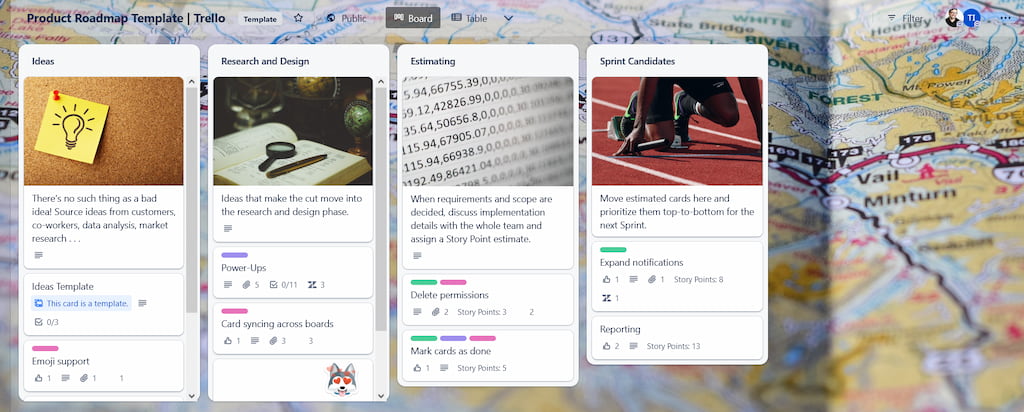 This template is great for creating a project roadmap. This gives the entire team a guide to follow when entering the market. However, it can also be used for tracking backlogs. You can never eliminate the chance of backlogs during a project, so this template allows you to track the backlogs and get back on track right away.
🤝 Top 5 Trello templates for business
Nearly every business uses Trello as part of the internal workflow. And it's easy to see why. As a result of Trello's popularity amongst businesses, there are many different Trello templates for business use, and below, we will go over five of our favorites.
Company Overview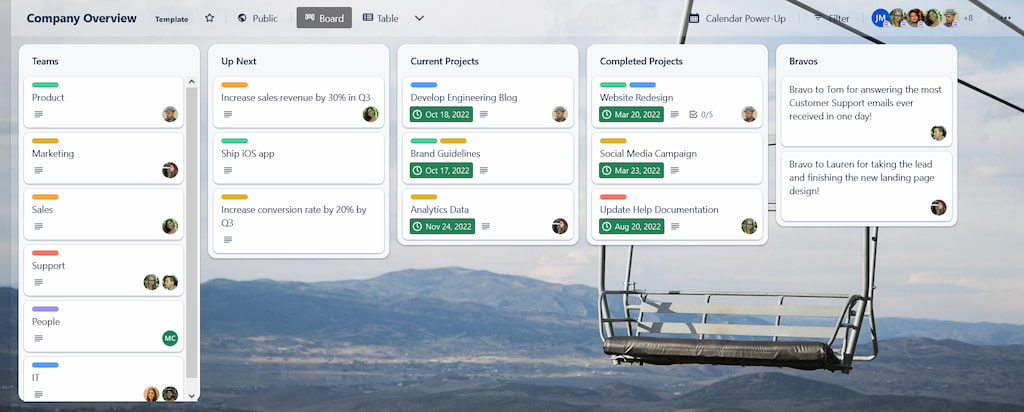 It's always best to have a bird's eye view of the company and how each team is progressing, and the Company Overview template allows you to do just that. Besides, you can even attach reminders for different teams and leaders about their work for the week in case projects change direction or something else needs to be urgently addressed.
A Lead Management Pipeline

Lead management is one of the most important aspects of business management. With this template, you get to easily manage the entire process and make it faster and easier for the entire organization. That way, you start seeing the bigger picture and not just a simple spreadsheet.
Business Model Canvas

This is a lean startup template for strategic management. If you're looking to optimize your team and workflow, this template helps put you on the right track. This is a visual chart, which makes it much easier to analyze and take in information.
Lean Canvas

This is a simple, one-page business plan that is great for any organization. It divides workflows into three categories that are very easy to understand. That way it's easier to identify problems and explore possible solutions as a team.
Business Plan

If you're starting out and need to create a business plan, this template can put you on the right track. It contains all the basics you need to place in your business plan, which gives you a general framework to follow as you start your company.
Conclusion
And this wraps up our article on the best Trello templates that will cover all of your needs. Whether you're a project manager or a freelancer, using the perfect Trello template for your needs will always be beneficial.
What's more, if the software is a big part of your job and you want to start time tracking on Trello with Everhour, it is totally possible to do that. All you need to do is integrate Trello with Everhour (it takes less than a minute) and you'll be all set and ready to go.
Also, Everhour provides lots of information on how to use in the most effective way – either in its Help Docs, Youtube channel, or blog.