Streamlining Time Tracking with Tempo Timesheets[+Tempo vs. Everhour Comparison]
Maria Kharlantseva, February 22, 2023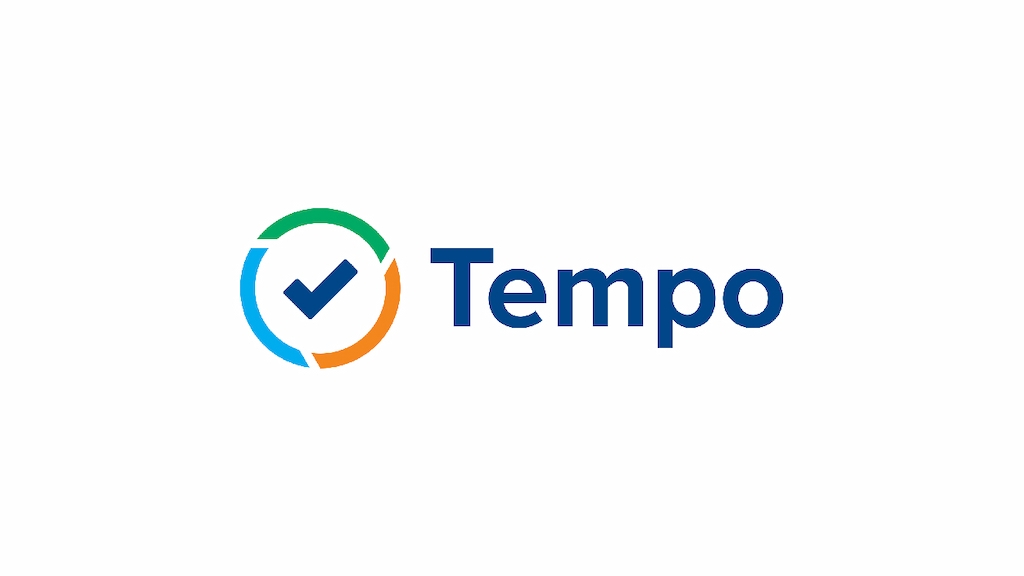 Tempo Timesheets is a group of project, product, and strategic portfolio management solutions that integrate with the popular issue and project tracking tool, Jira. Tempo has almost 30,000 global users, including Netflix, Airbnb, Slack, Cisco, and Airbus. The tool is used for resource and capacity planning, program and project portfolio management, budget management, and road mapping. Let's see how Tempo Timesheets works and compare it with another powerful time tracker in our Tempo vs Everhour comparison to see how it holds up!
Tempo Timesheets Product Features: Overview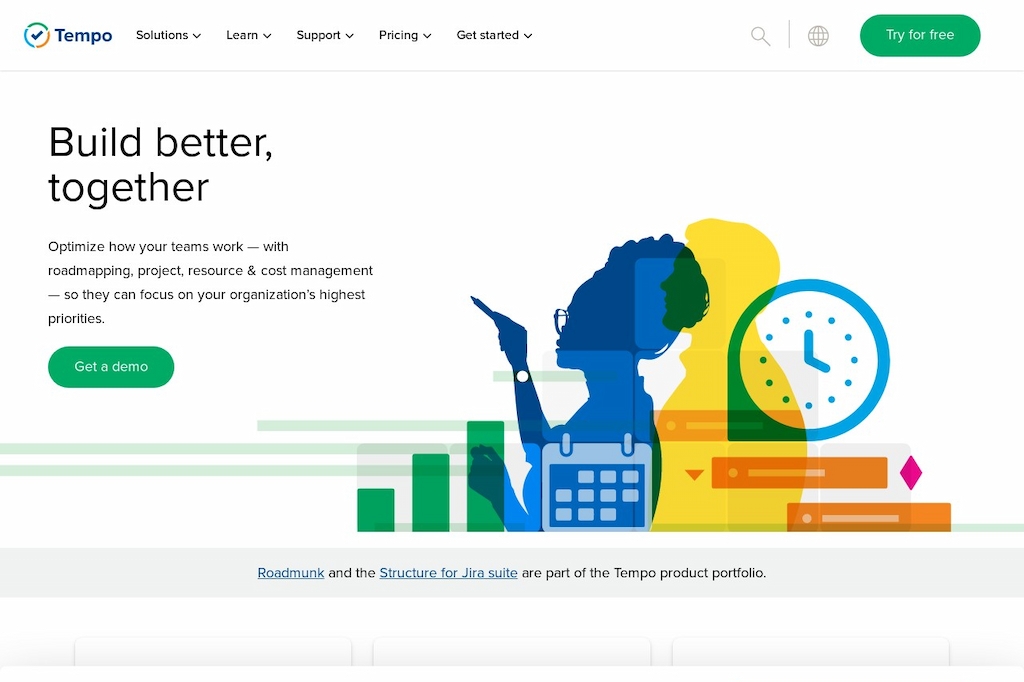 Tempo Timesheets has several useful features, including timesheets, planning capabilities, a cost tracker for timesheets, budgets, and reports and gadgets. Let's explore these features in a bit more detail.
⏰ Time tracking/Timesheets
One of Tempo's most popular tools is embedded time tracking for Jira. This feature enables users to carefully monitor and gain insights into their time working with automatic time tracking. One of Tempo's most useful time tracker capabilities is automation tools. You can integrate it with Google and Microsoft calendars to receive automatic meeting reminders and receive automated suggestions to make filling in time sheets simpler than ever.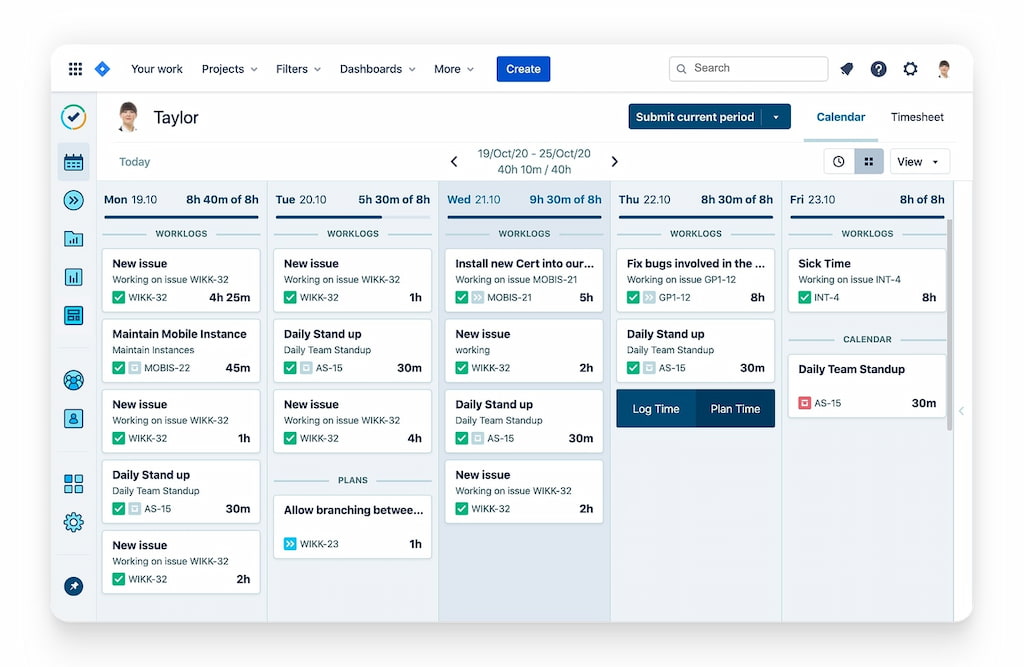 Once timesheets have been populated with data, users can make the most of Tempo Timesheet's valuable insights. Create utilization reports to keep track of overall time spent on accounts, custom reports to filter and display report results in a way that suits you, and capacity reports for more effective resource planning.
💸 Billing and invoicing
Tempo's detailed time tracking reports allow users to bill and invoice accurately. Gather the data you need and build insightful reports quickly and easily. Reports can be saved and exported in several file types, including XLS, CSV, and PDF. To ensure billing and invoicing are accurate, managers can verify their team's timesheets in Tempo Timesheets, resulting in fewer billing errors. Approval logs are also kept to ensure all actions are traceable for better transparency.
Finally, Tempo Timesheets makes it easy to keep data organized. Users can log time as either billable or non-billable hours and can categorize time entries by type and client, ensuring that information is stored in the right place. That's not all—users can link Jira issues directly to billable and non-billable accounts and log time to the relevant issues to ensure clients know exactly what they are paying for.
With Tempo, tracking project costs is easy. Tempo's cost tracker tool translates Tempo timesheet data to reveal the true costs of projects. Users can monitor financial health at any level by viewing a high-level overview of all projects, labor costs by role, and project expenses by category. Users can also see cost results dynamically by defining project scope and setting a budget and global cost rate to see results immediately.
🤑 Payroll
Tempo Timesheets does not currently have built-in payroll capabilities—the platform's primary focus is time-tracking and project management. Users requiring payroll systems should use payroll software such as Sage, Intuit Payroll, Xero Payroll, FreeAgent, or BrightPay. Alternatively, users seeking an all-in-one solution may decide to opt for a time tracker that does have payroll features, such as Everhour.
👩‍💻 Project management
Tempo Timesheets offers several essential project management features, including a Planner, Cost Tracker, and Budgeting tools. We explore the Cost Tracker and Budgeting tools in the billing and invoicing section above.
Tempo Planner allows for efficient resource planning in Jira, enabling users to centralize and fast-track planning processes and capture valuable insights into your business's operations. The planner offers extended visibility, allowing users to oversee all plans and sources in one view. Users can filter resources to find the right people to support organizational goals and stop overcommitting to new projects when resources are unavailable. Thanks to Tempo, there's no longer any need to rely on static and unreliable spreadsheets that lead to errors and project mismanagement.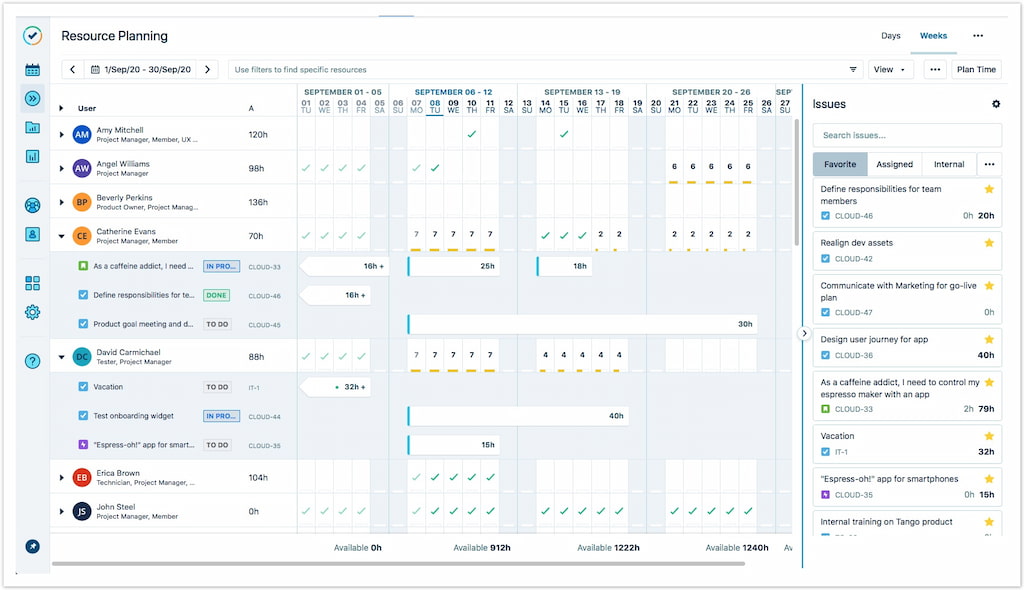 Tempo's planner tool also allows users to optimize their workforce. For example, the platform allows users to prioritize work according to full-time equivalents and ensure that supply is balanced against existing capacity constraints. Additionally, a Tempo Timesheets planner enables managers to find the resources required to complete projects, including from other teams and departments or based on skill set, to design an effective action plan that gets results.
📃 Reporting
Tempo Timesheets provides several reporting tools that provide users with valuable, actionable insights into general productivity, performance, and project status. Tempo's timesheet reports provide a detailed breakdown of the time spent on projects, tasks, and clients, allowing users to analyze progress and workload effectively. Tempo's budgeting tool also offers reporting features, which provide an overview of project budgets, including planned costs versus actual costs, remaining budget, and project resource allocation.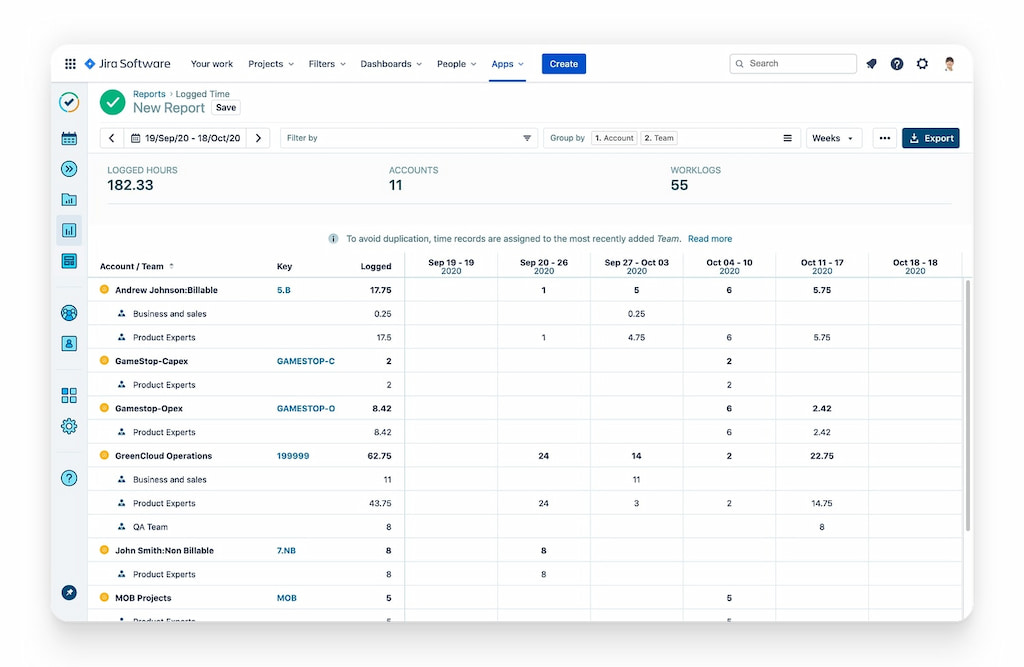 One of the main reasons Tempo's reporting tools stand out from other software is its customizability. Users can also filter Tempo Timesheets reports by projects, teams, roles, accounts (categories and types), customers, issues, epics, and users. In addition, users can sort data alphabetically or numerically and add Jira fields to track the time spent on issues linked to specific accounts.
🔁 Integrations
Tempo integrates with various automation, reporting, and project management apps, allowing you to do more with the application. For Jira users, Tempo Timesheets is one of the best time-tracking and project management tools because it integrates directly with the platform and through it, other Atlassian integrations. Users can also integrate with other platforms. For example, automation software, such as Adaptavist or Anovaaps, to save time on repetitive tasks or supercharge reporting and invoicing capabilities with Alpha Serve or Hello Clerk. Users can also make the most of several project management integrations, including Aptis, Structure, and BigPicture, to take projects to the next level.
🔧 Platforms and support
Tempo is available to use as a web-based and mobile application. Tempo Timesheets mobile app for iOS and Android lets you keep a close eye on your workload wherever you are, giving you the flexibility to work wherever feels right for you.
It also offers extensive support via the Tempo Help Center. Users can access the knowledge base, read server and cloud news, watch videos and webinars, leave feedback about the software, and access further support should it be required.
💰 Pricing
Tempo's pricing depends on the products you plan to use and how many people require access. For example, if you want to use Tempo timesheets, the planner, the cost tracker, reports, and gadgets for 20 Jira users as a cloud subscription, a monthly subscription will cost $171. Alternatively, if you only want to use Tempo timesheets, the monthly subscription will cost $76 per month for 20 users. If you only require a subscription for one user, all four products cost $31 per month.
✅❌ Tempo: pros & cons
✅ Pros
Easy to use
Perfect for Jira users
Highly customizable reports
Available on the web and mobile
❌ Cons
No payroll features
Costly subscription
Confusing permissions structure
Everhour Product Features: Overview
If Tempo doesn't offer the features you require, consider using Everhour instead. Everhour is an intuitive time-tracking app that also provides task management, team management, budgeting, client invoicing, and payroll capabilities. Let's explore Everhour's key features in more detail to explore the Tempo vs Everhour comparison further.
⏰ Time tracking/Timesheets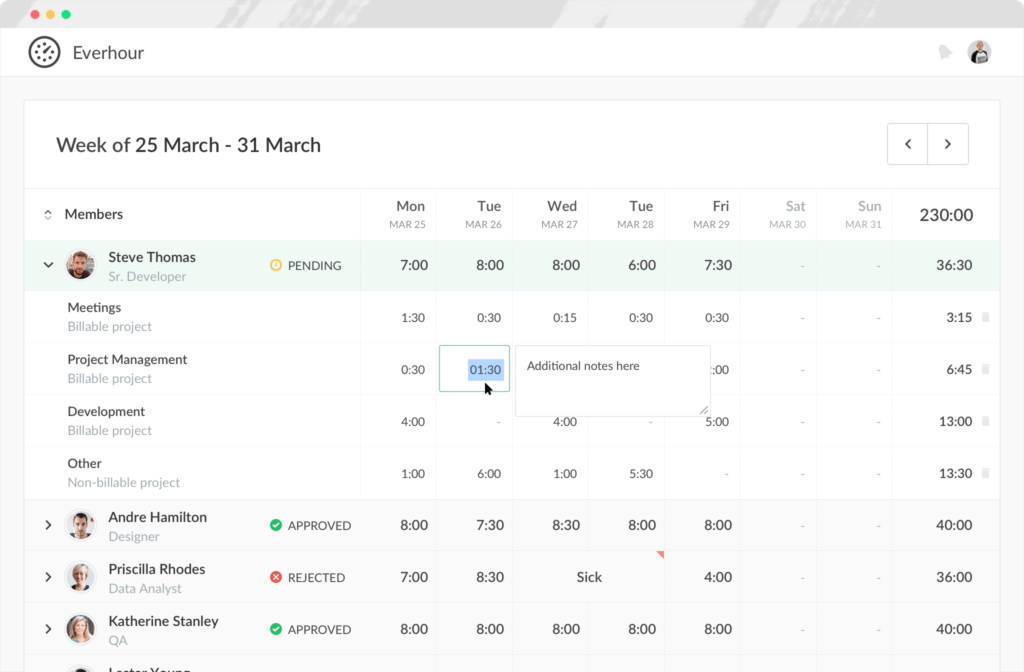 Everhour offers a host of time management features that make employee time tracking infinitely easier. Track time with a time clock app, or manually enter hours later, set time estimates to view how much time you have left on a task, set reminders to receive notifications about timers, configure autostop timers, and clock in and clock out to log all work and break time.
💸 Billing and invoicing
Everhour's time & billing and invoicing capabilities enable your business to avoid debt and boost revenue. It allows you to choose flexible billing methods (non-billable, time and materials, or fixed-fee), set capital or recurring budgets, receive alerts when budgets reach a set percentage, track employee and contractor labor costs, prohibit reporting time if the budget is exceeded and set custom task rates.
🤑 Payroll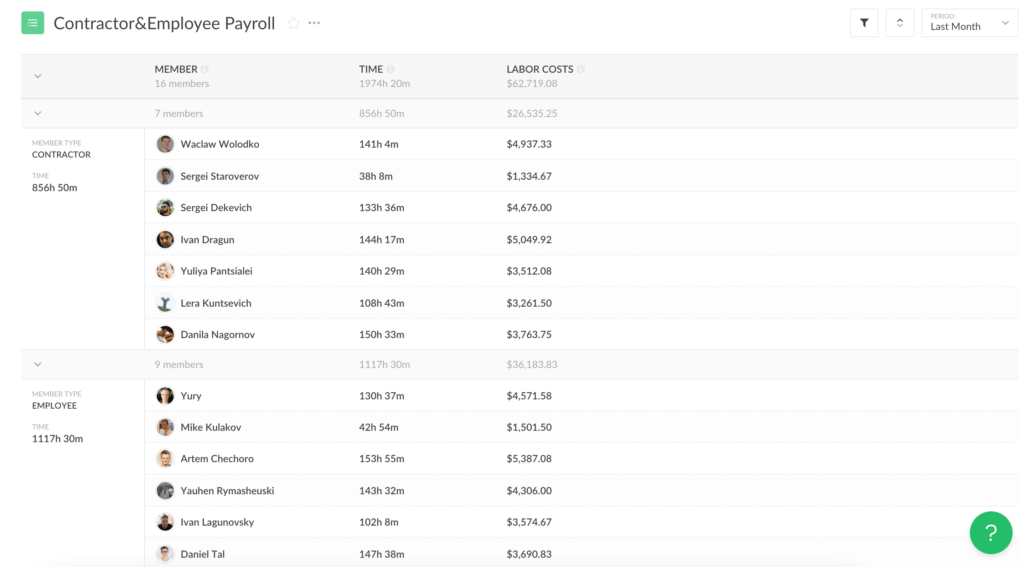 Everhour also makes payroll easier. Its timesheet app enables employees to clock in & out to ensure they are paid correctly, with the added benefit of acting as an attendance tracker as well as a tool for managing payroll. You can spot the overtime or see if sick leave needs to be calculated before paying out at the end of the month.
👩‍💻 Project management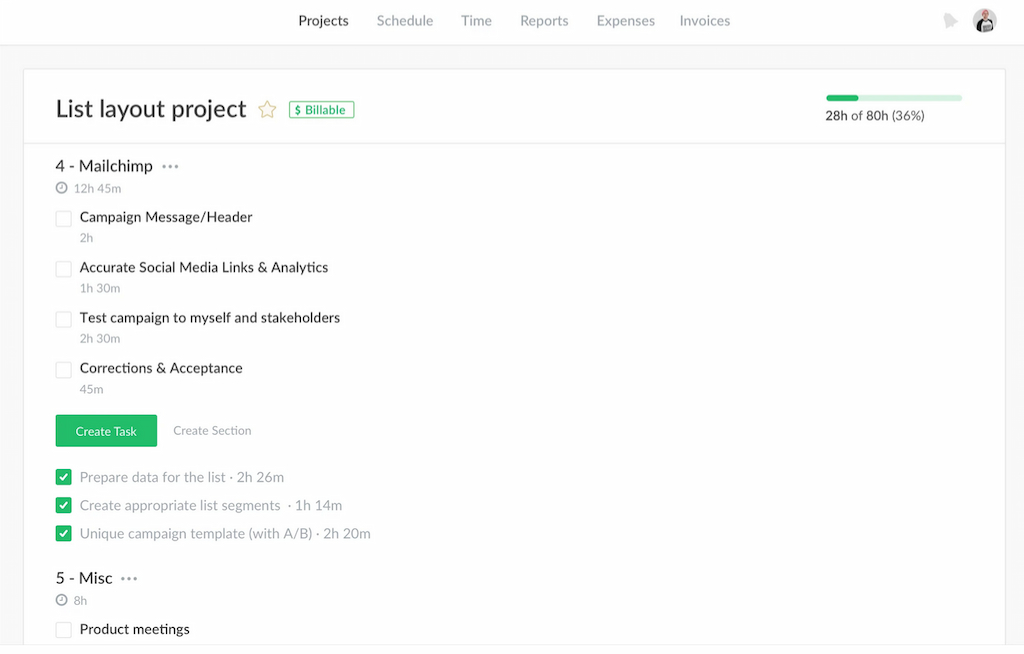 Everhour allows you to run more profitable projects through better task management. The all-in-one solution allows users to create new tasks in seconds, set work priorities and deadlines, and assign tasks to team members. But that's not all—organize tasks into sections and add tags, change to board or list views, copy templates to save time, set estimates to keep careful track of how much time you have left on a task, and archive projects you no longer need to work on.
Effective project management also involves managing your team. With Everhour, you can do it. View summary charts to evaluate team progress, set roles and permissions for different team members, organize team members into groups that reflect your company's structure, and set maximum hour limits that employees and contractors can report in a given time period.
📃 Reporting
Everhour's reporting capabilities are vast and powerful. It allows you to view analytics to improve productivity and boost client confidence by presenting evidence of the time spent on specific tasks. Use filters, add conditions and arrange columns to create custom reports, conduct deeper analysis by including meta information, such as task types, tags, and milestones, highlight data in reports, and schedule reports to be sent on a daily, weekly, or a monthly basis to keep stakeholders in the loop.
🔁 Integrations
One of Everhour's main strengths is the sheer number of platforms users can integrate with. Choose from project management tools such as Asana, Basecamp, and ClickUp, accounting tools such as FreshBooks and QuickBooks, git repositories such as GitHub, and integration software such as Zapier. That isn't the end of it—users can also use the Everhour browser extension to track time from inside the interfaces of popular websites, such as Canva, Gmail, Freshdesk, Hubspot, Salesforce, Pipedrive, and many more.
🔧 Platforms and support
Everhour is a cloud-based solution that can be assessed online on Windows, MacOS, and iOS devices. Regarding support, Everhour's Help Center contains informative blogs, videos, and extensive documentation to help users solve any problems they may come up against. Should users need further assistance, they can reach a member of the Everhour team via the messaging function.
💰 Pricing
Everhour offers a free plan and two paid plans: Free, Lite, and Team. The Free plan is suitable for up to five users and includes unlimited time tracking, projects, and reports. The Lite plan, which costs $5 per month per user, starting at two users, gives users more control. Lite plan features include everything in the Free plan, plus up to 10 users, more integrations, budgets, invoicing, reminders, and billable rates, cost and profit capabilities.
Finally, the Team plan, which includes all features as well as the best-in-class integrations, costs $8.50 per month, starting at five users. This plan includes everything in the Lite plan, plus unlimited users, time approval, scheduling, expenses, time cards, priority support, and API access, and it works inside all integrations.
✅❌ Everhour: pros & cons
✅ Pros
Free plan available for up to five users
Dozens of integrations are available
In-depth reporting capabilities
Work hours tracker for better team management
❌ Cons
No offline version is currently available
No issue tracking capabilities
Tempo vs Everhour: Final Thoughts
Both Tempo vs Everhour are two popular time-tracking apps that have many excellent features to help teams. Tempo is a great choice for Jira users, as it integrates directly and offers tools specific to issue management and project tracking.
However, for those requiring an affordable, all-in-one solution, Everhour is more suitable. The software's extensive time tracking, project management, billing and invoicing, payroll, and team management features empower organizations of all sizes by giving them tools to boost productivity and profitability.