My Hours vs Everhour: which one is better and if there is even a point in comparing the two? Both tools have a lot to offer for businesses and professionals who need to track billable and non-billable hours. However, the two tools cater to different audiences. Whereas My Hours is skewed more towards freelancers and contractors, Everhour works best for small businesses and teams.
While there may be an overlap between both tools, My Hours and Everhour serve their respective audiences with specific features to optimize workflow and project management. With that in mind, let's put the two tools against each other and see which comes out on top with regard to various criteria.
In the My Hours vs Everhour stakes, we're going to look at things through the lens of features that could help you and your business increase output and boost productivity levels.
Product Features
While My Hours certainly isn't bare-bones in terms of features, it offers fewer than Everhour. To give you a clear idea of what to expect when you sign up, here are some of the most important features of the two software solutions at a glance:
My Hours
Billable and non-billable hours
Billing and invoicing
Timesheet management
Everhour
Activity dashboard and tracking
Billable and non-billable hours
Billing and invoicing
Budget management
As you can see, while My Hours allows users to track both billable and non-billable hours and keep on top of their invoices, it doesn't have advanced features such as budget management and collaboration tools. Everhour is packed with useful features such as these and covers every area of project management for teams. Now let's take a closer look at My Hours vs Everhour comparison: what the individual features of both tools mean for you as a user.
My Hours Features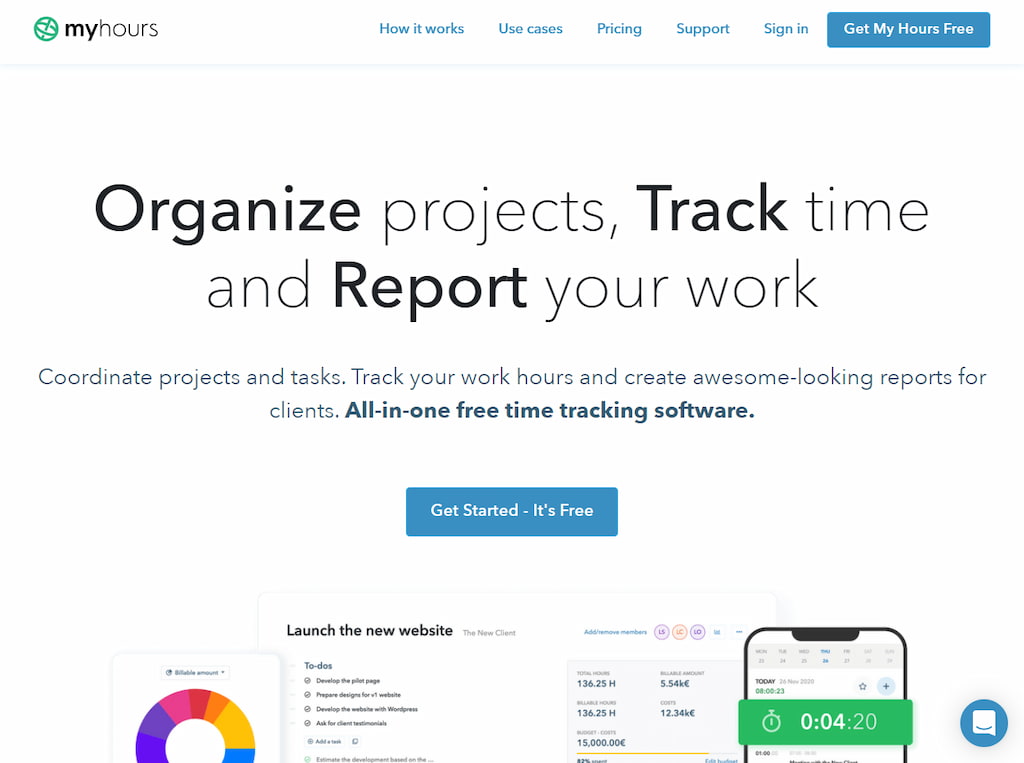 Billable & non-billable hours
My Hours bills clients based on the exact number of hours you spent working on the project. You can also factor non-billable hours in too, so you can keep track of time spent on non-work-related activities such as lunch breaks and time off.
Billing & invoicing
With My Hours you can take care of client invoices easily enough. With the 'Pro' package, you'll be able to create and send invoices using the software. In the free version, you can take the data you've collected in the app to generate your own invoices.
Timesheet management
It's important to stay on top of your time as a freelancer, and My Hours helps you do this with timesheets. If you need an account of how you've spent your time that you can check at a glance, simply view your timesheet. It's also helpful for full transparency, as clients will be able to see how much work went into the project.
Everhour Features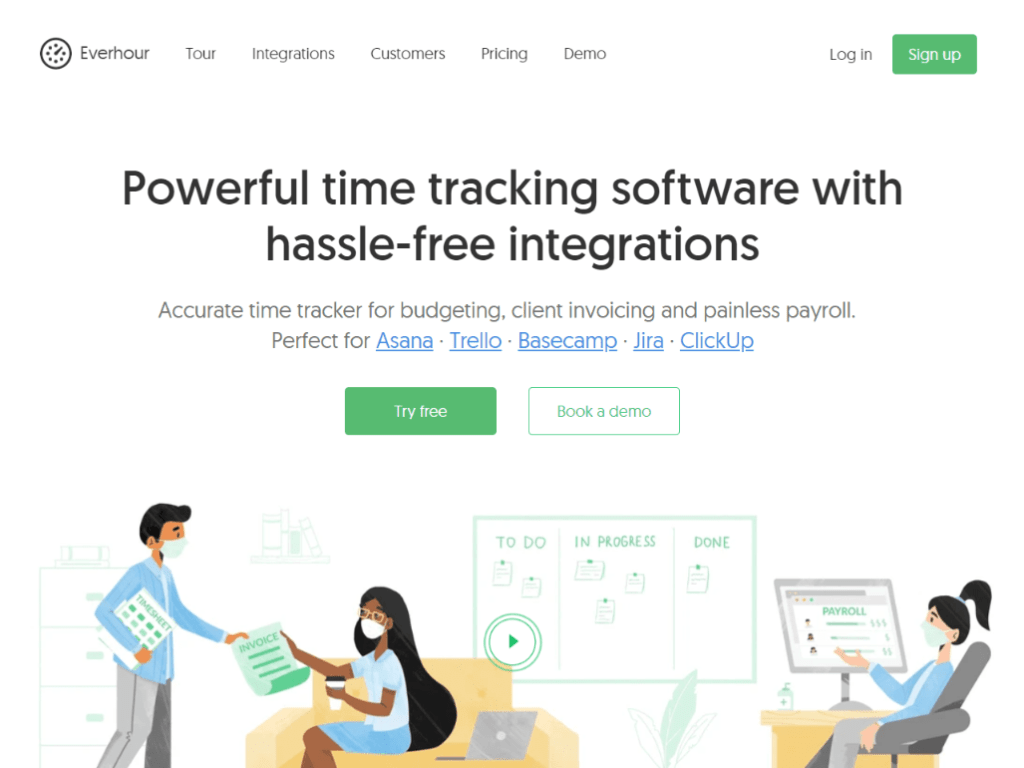 Activity dashboard and tracking
With Everhour, you can see all of your recent activities on tasks and projects in one place. The activity dashboard will show you all the useful information, and you can set up multiple dashboards for different projects. Custom reports are also available for when you need to track a specific activity or assess progress made by your team or coworker.
Billable & non-billable hours
Like My Hours, Everhour allows users to keep tabs on both billable and non-billable hours. This can be a huge help when it comes to sorting out the salaried hours since you can see at a glance what each employee is owed. What's more, Everhour also accounts for vacation time and sick leave, so you can factor those in when it comes to paying the workforce.
Billing & invoicing
When you're working directly with clients, you need a system in place for billing and invoicing. Without one, you'll quickly lose track of how much the project will cost and come across as unprofessional. Everhour provides you with everything you need to generate invoices and bill clients using all of the data you've collected with the time tracking feature.
Budget management
One useful feature Everhour has that many time trackers omit is budget management. When you're managing multiple projects simultaneously, and you have a budget to stick to, you want to make sure you stay within your financial limits or you risk going over budget.
Collaboration tools
The task management feature in the Everhour app might be all you need to streamline your efforts as a team and increase work efficiency on an individual and organizational level. Moving tasks from one column to another is not only satisfying as it indicates tangible progress on a project, but it's also helpful for communicating to your team without constantly updating them. Everhour lets users set time estimates for every task and project too, which can help ensure everyone is on the same page and working at the same pace.
Time Tracking
My Hours
Apply rates to past work using hours worked
View time in dashboard
See current tally of billable hours on various projects
Everhour
Use budget estimates to calculate project cost
Track billable and non-billable hours
Monitor sick and vacation time
Whether you decide to go with My Hours or Everhour, one thing is guaranteed: you'll be able to track both billable and non-billable hours for your business.
What this means in basic terms is that you'll be able to see how much time has been spent working on a particular project or assignment. This valuable information can be used to make an estimate of how long it will take to submit work to a client or to call a meeting to address productivity levels or individual worker performance. Both tools take time tracking seriously, though they approach it from slightly different angles.
My Hours Time Tracking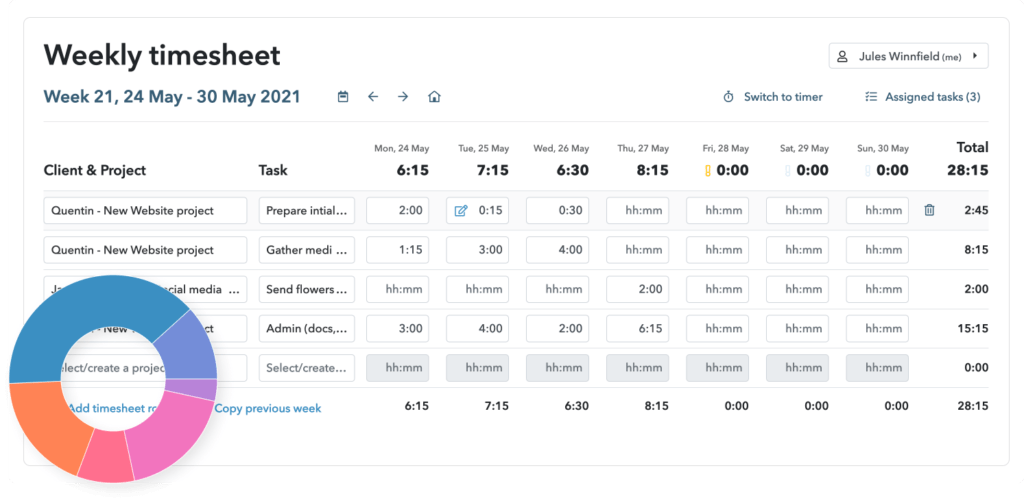 My Hours takes a meticulous approach to time tracking, which includes offering users the ability to change rates and apply these new rates to past work.
The tool also allows you to view the time you spend in various ways, so you can set the dashboard up in a way that makes sense to you. At a glance, the interface will tell you everything from your current tally of billable hours on a specific project to your average bill rate.
Everhour Time Tracking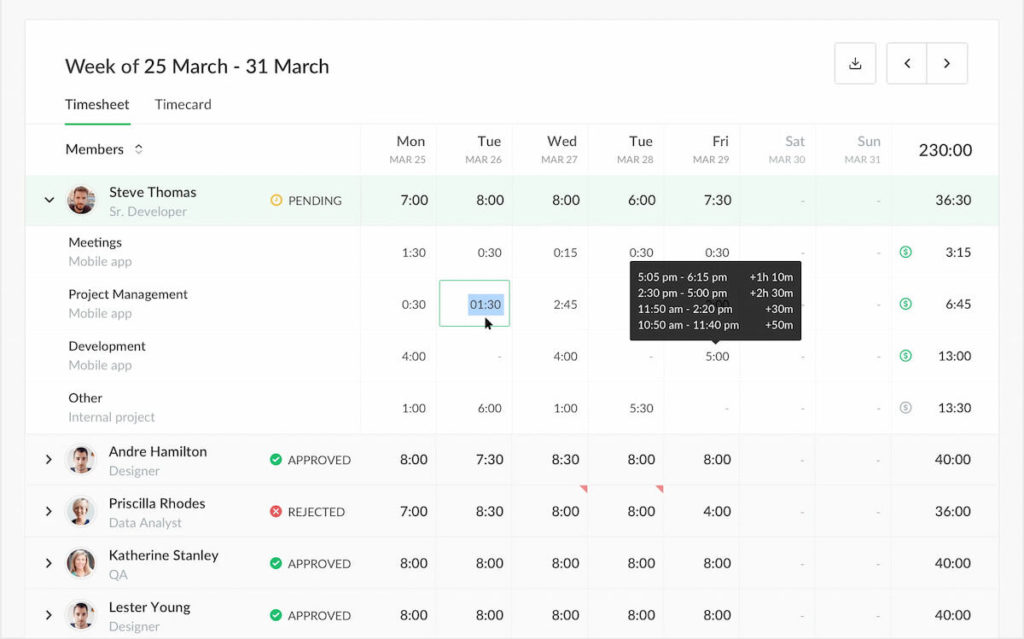 Everhour on the other hand offers a comprehensive time tracking system, complete with budget estimates, detailed reports, and more. With Everhour, you can track every billable and non-billable hour spent by your team, including time taken for vacations or sick days. This means you'll never again have to wonder whether worker A is due some time off, or if worker B has taken one too many sick days.
Integrations
My Hours
2 integrations: Quickbooks and Zapier
Everhour
15 integrations, including Asana, Github, Quickbooks, Xero, Zapier, Trello, and more
My Hours Integrations
My Hours supports third-party integrations with both QuickBooks and Zapier, which can help users balance their books in accordance with the time tracking features offered by the software.
Everhour Integrations
Everhour goes above and beyond with integrations to deliver the complete package to its users. When you sign up for Everhour, you can get more out of your subscriptions to other top project management tools such as Asana, Basecamp, and ClickUp. With these integrations, you'll be able to do everything from tracking tasks through the pipeline to checking in on various projects and deadlines at every level of your business.
Billing and Budgeting
My Hours
9 options for tracking time, including both billable and non-billable hours
Everhour
Manage both billing and budgeting needs
View information in detailed dashboard
See real-time budget for projects
With My Hours, you can track both billable and non-billable hours, which allows you to bill your client accordingly. However, what you can't do is manage your budgets for various projects.
My Hours Billing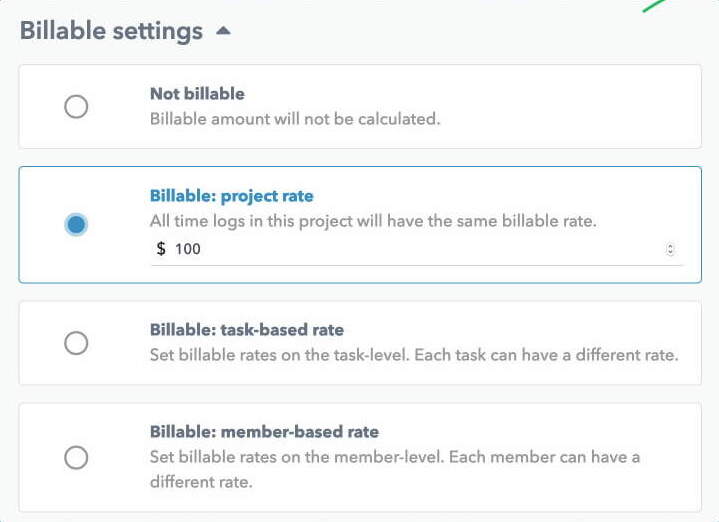 Billing with My Hours is simple and flexible, and the software offers several ways to go about it – nine, to be precise. Here are the various billing methods My Hours offers users:
Project-based hourly rates: Bill your clients according to how the number of hours you spent on a project for them, also accounting for materials used, distance covered, and other factors if applicable.
Task-based hourly rates: Define different hourly rates for different tasks within a larger project.
Employee-based hourly rates: Designate a specific hourly rate for each employee in your team or company.
Daily rates: Assign a day rate for a certain type of work, and establish with your clients how many hours that would amount to.
Weekly rates: Weekly rates are for setting a fixed rate for a whole week's work, regardless of the exact number of hours worked.
Fixed project fees: A good option for quick workers, fixed project fees are agreed-upon ahead of time with the client.
Monthly retainers: Monthly retainers are common with long-term clients and involve a monthly payment at the same rate.
Fixed task rates: A fixed task rate is when you bill a client for a task no matter how many hours it took to complete.
Non-billable: Non-billable hours can include time taken for lunch, breaks, and other non-work-related activities.
Everhour Billing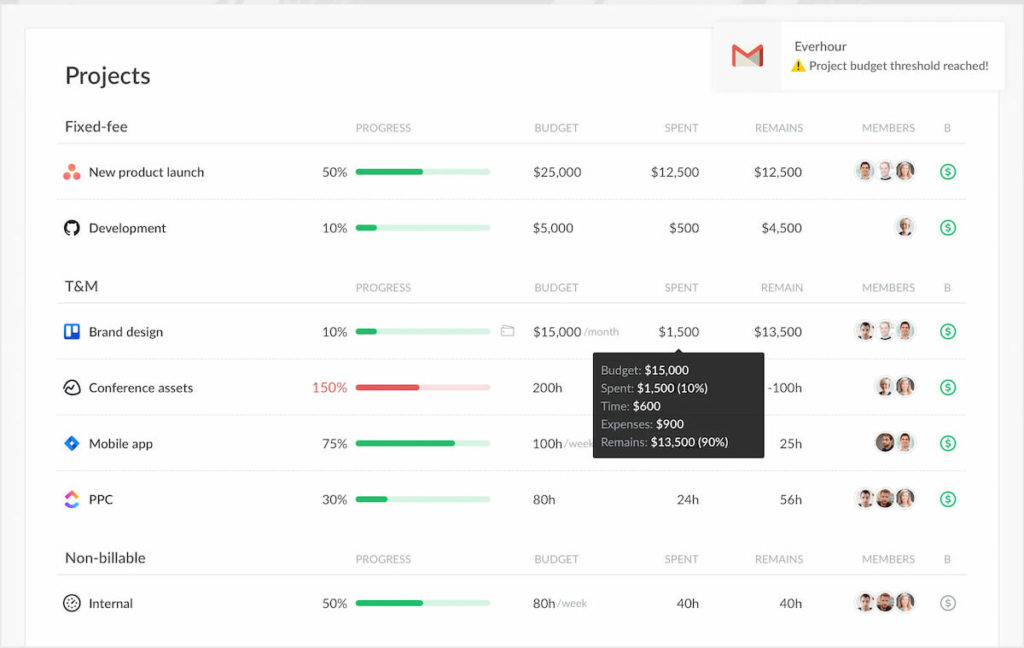 Everhour allows users to manage both their billing and budgeting needs in one place. For billing, users can divide their time up into non-billable hours, time and materials, or fixed fees.
Once you've entered billing information for your projects or clients, Everhour will present you with a detailed dashboard that has a progress bar, the budget you set, and how much money you spent versus how much is left.
As for budgeting, Everhour lets you manage your allowance for various projects and clients which can help you stay on track and within budget. The real-time budget progress tells you in an instant if the project you're working on is profitable or not, so you can make data-driven decisions for your business.
As an extra measure to ensure you stay in the loop with your budgets, Everhour can send you budget alerts when you reach a certain threshold.
Project Management
My Hours
Create projects
Assign tasks
Set up to-do lists
Everhour
Create and organize tasks
Divide up projects with tags and sections
Collaborate with team members
Customize display with list and board views
My Hours Project Management
If you're looking for a simplistic take on project management, My Hours has you covered.
All of these project management features incorporate the software's time tracking functionality, which means that you'll be able to do the project tracking by means of how many hours have been poured into it or how much has been spent on it thus far.
Everhour Project Management
While Everhour also offers a simple selection of project management features, the software offers more potential for collaboration, third-party integration, and customization.
For example, one of Everhour's project management features is the ability to create and organize tasks but also add tags and sections. As such, every task and project can be laid out comprehensively for someone else to come in and take a look at. This is ideal for teams who rely on collaboration to make progress on projects.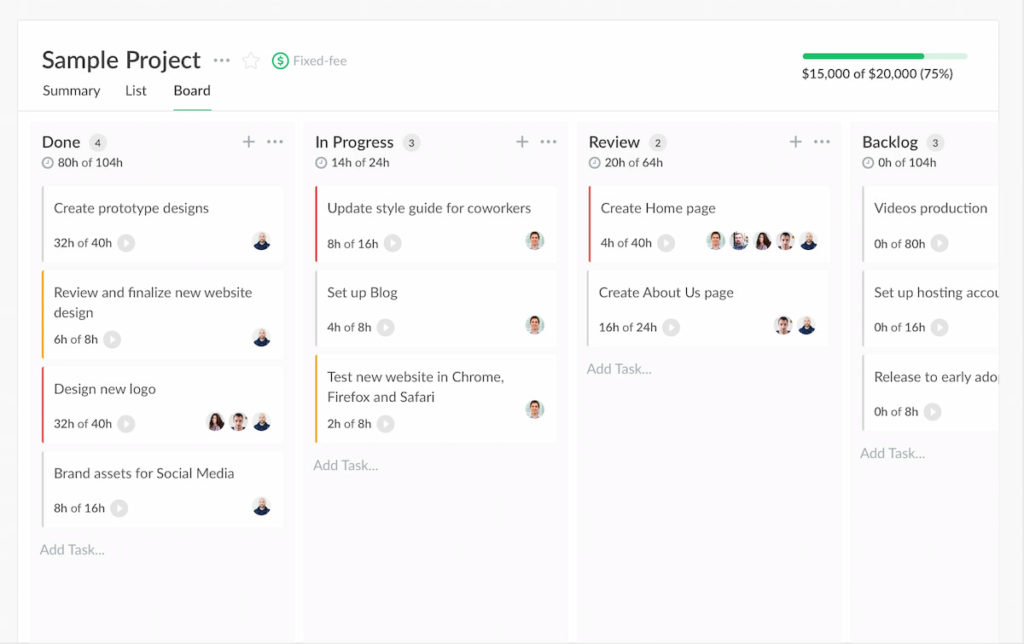 As for customization, Everhour allows users to display tasks and projects in either a list or board view. This toggle switch between different views, coupled with the many third-party integrations, allows users to see tasks and projects as they would in their minds. It's no surprise that third-party software such as Asana and Basecamp add a lot of value to the Everhour project management proposition since the combined features of the apps give users the tools to manage projects as they see fit.
Invoicing
My Hours
Create invoices in the app with the 'Pro' plan
Everhour
Send out invoices with data in the app
Use third-party integrations to sync your invoices up with your financial information
My Hours Invoicing
With the 'Pro' plan, My Hours allows users to generate and send out invoices to their clients. If you opt for the free version, though, you'll still be able to use the information you've gathered in the software to create your own invoices. With detailed reports based on the number of hours worked, it's relatively straightforward to create accurate invoices.
Everhour Invoicing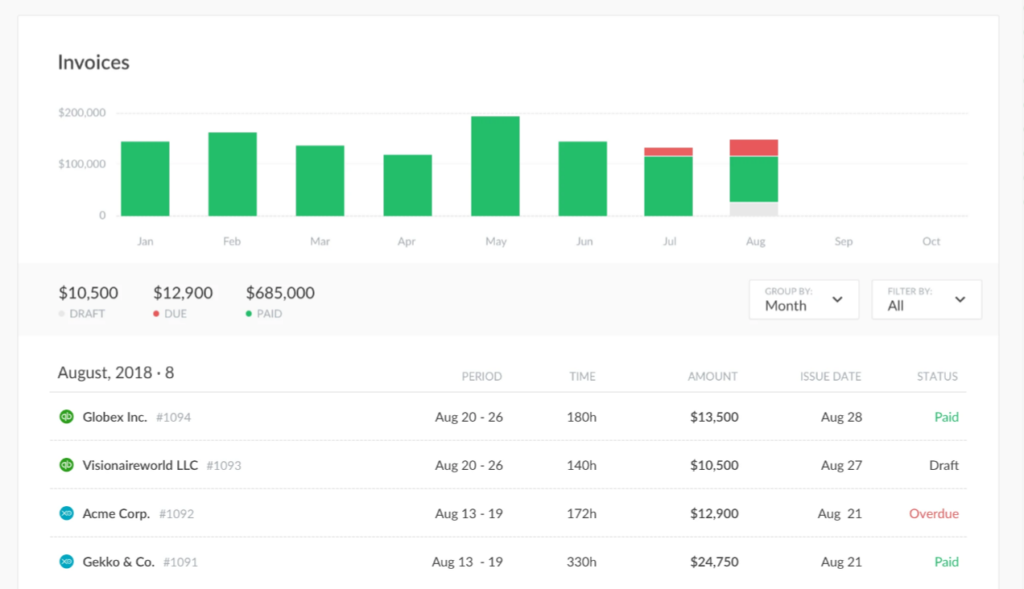 Everhour makes it easy for users to send invoices out to clients using the information gathered in the app. Based on the time tracked and expenses recorded, users can write an invoice to their clients with minimal stress.
What's more, Everhour has paired with QuickBooks, Xero, and FreshBooks, which means that you can seamlessly sync your invoice information between the platforms. As a result, if you use one of the aforementioned apps to balance your books, then it should be easy to stay on top of your business finances when you use Everhour.
You can also download your invoices through the app, track the invoice to its destination so you can see when it has been received by your client, and add notes to your invoices to inform future invoices. You can even translate your invoices to another language, in case you're dealing with overseas clients.
Team Management
My Hours
Attendance and absence tracker
Everhour
Create and view plans with colleagues
Use filters to find a shared project
My Hours Team Management
Working as part of a team can be tricky, but with the help of software like My Hours, you can make your job a little easier. Even though the software serves freelancers and contractors best, it does have some features to help you keep on top of your team's performance and progress.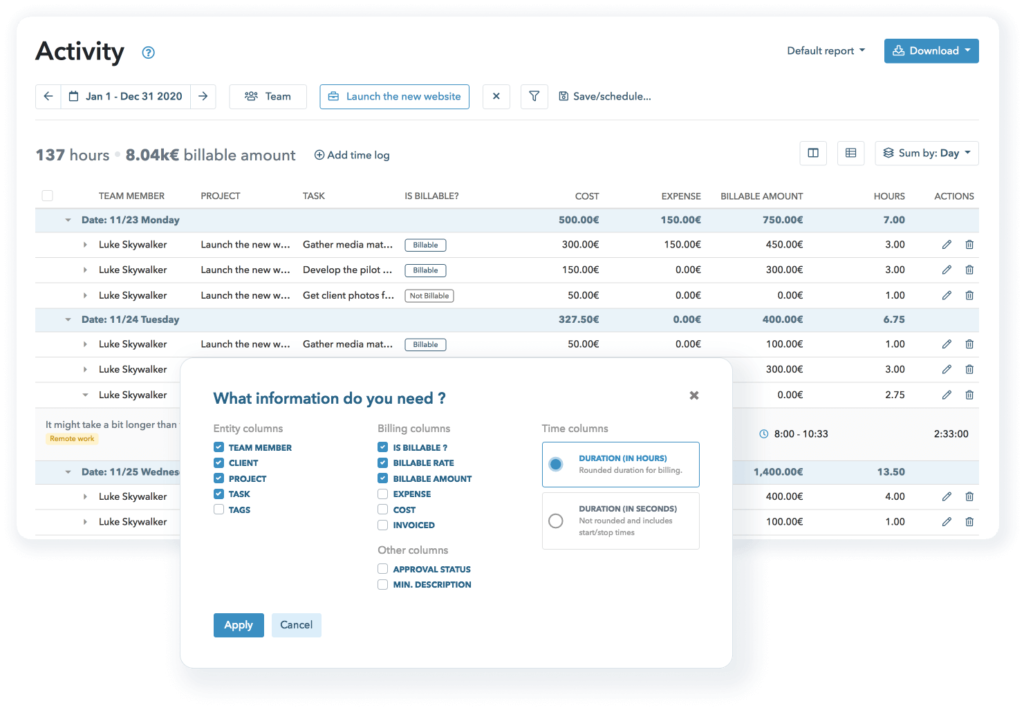 For example, one My Hours feature that many team leaders would appreciate is the attendance and absence tracker. If you thought the software could only be used to track billable hours on the clock, you're mistaken. My Hours lets you keep tabs on how much time your team members have taken off, which can help you create accurate timesheets and organize the payroll.
Everhour Team Management
When you use Everhour, collaborating on work tasks and projects in a team is a breeze. For a start, you can create and view plans you're working on with colleagues. At a glance, you'll be able to get a good idea of where your team is at with the project and where you still need to go. Using the filters, you'll also be able to zoom in or out of any project, to assess the overall progress or how a particular team member is doing.
Like My Hours, Everhour lets you track both billable and non-billable hours so you can see exactly what your workers have been up to which makes creating performance reports simple. It also features an attendance tracker that can be used for a variety of purposes and functions.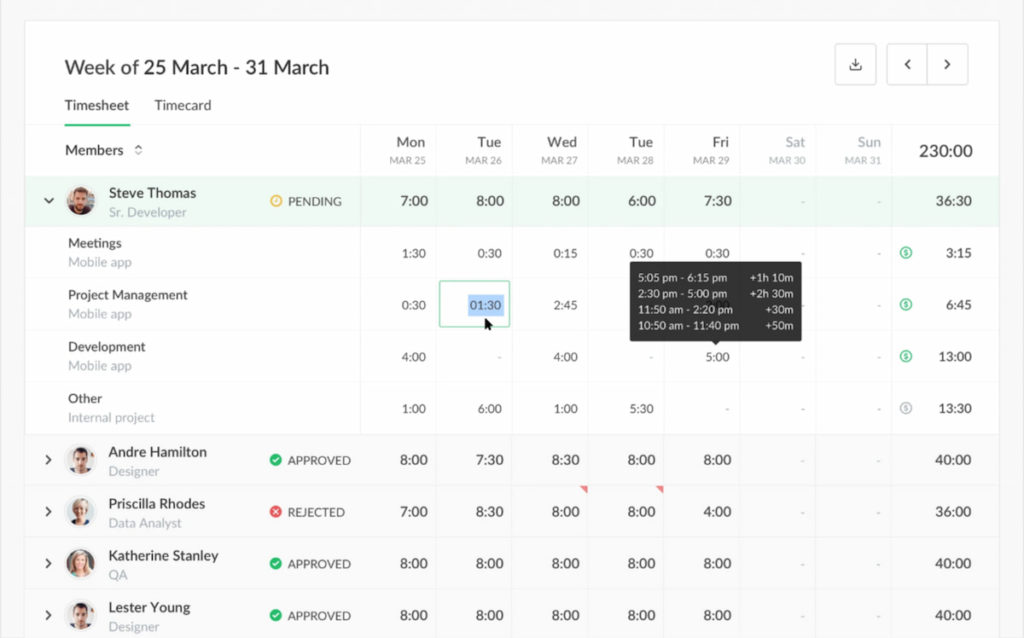 Reporting
My Hours
Access time and activity reports
Colorful dashboard report
Everhour
Create custom reports and dashboards
Share reports with your team, highlighting key data for your coworkers
Download or export reports
The minds behind both My Hours and Everhour were conscious of the importance of detailed reports when they created the respective tools. The two software solutions do their best to provide users with a host of information that they can then see and share through visually appealing reports.
My Hours Reporting
My Hours features a comprehensive reports system that users can make the most of for invoicing, calculating expenses, and making data-driven business decisions.
Time and activity reports give you a clear idea of individual and team performance, while also informing your payroll. They can also be useful for clients who request to see how the project you're working on is coming along. When you do want to show off important data to your clients, the My Hours dashboard report provides an excellent way to do so. The colorful dashboard report will display all the relevant information on a single page, featuring a pie chart that details where the hours went.
Everhour Reporting
Data and analytics are two of the main driving forces behind the software, and the tools offer users easy ways to access both. In Everhour, you can create both dashboards and reports. It can help you measure productivity among your team, and make data-driven changes where appropriate.
With custom reports, you can create the exact reports your team needs according to filters, conditions, and more. These reports can be easily shared and distributed among your team. Individual team members can highlight important data for their colleagues to check over. You can then decide to download or export these reports, depending on who needs to see them.
Support
My Hours
Email
Contact form
Live chat
Help center
Everhour
Live chat
Email
Knowledge base
My Hours Support
If you want to get in touch with My Hours regarding any issue, you can use the following mediums:
Email
Contact form
Live chat
The My Hours website claims that someone will be in touch with you within 24 hours.
If you're just looking for a quick fix, you might find the My Hours Help Center to be useful. The Help Center features questions and answers from the My Hours team, so you can search the guides for the answer you're looking for.
Everhour Support
With Everhour, you can reach out in the following ways:
There's also an extensive knowledge base, categorized into sections such as 'Navigating Everhour' and 'Team Settings'. They can help you get to the bottom of any issue you may have with the software.
Supported Platforms
Everhour
iOS
Browser extension
Mac
Windows
Pricing
My Hours
Free
Pro ($6/month billed annually/ $7/month billed monthly)
Everhour
Monthly ($10/month).
Yearly ($8.50/month), including all features
My Hours vs Everhour: The Bottom Line
If you're looking for software that covers the basics of project management and includes detailed time tracking and reports, My Hours is an excellent option. It's best suited to freelancers looking to build their businesses from the ground up, and track every hour of their time to optimize productivity.
On the other hand, if you're after a comprehensive tool that can do it all, then Everhour is your best bet. Everhour is software that every team could benefit from. It helps keep everyone in the loop with annotated tasks and projects and encourages accountability through meticulous timekeeping.
All in all, your choice in the My Hours vs Everhour battle depends on your team's size, needs, and financial opportunities.