Whether you are working on a personal project or managing a team, you will agree with me that free software for task management is what you need.
You can be the best project manager and have the best team in the world; if nobody knows who is doing what and when your projects will definitely fail. And to avoid that, that's why we use task management software. In fact, task management software is an interface that connects team members and allows them to manage tasks and successfully handle projects.
Whether you are looking to use the tools for yourself or to manage a team, this curated list will reveal to you the best eight task management software in 2023. Let's get started!
Task Management Software: Top 9 Picks
Asana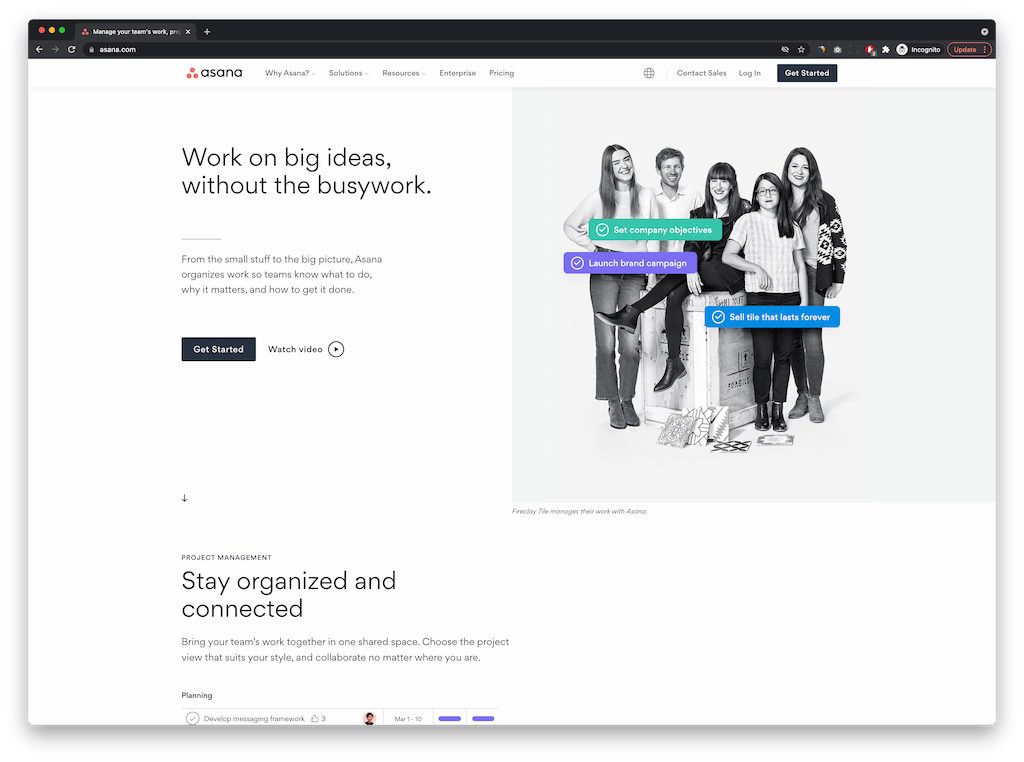 💡 Best for: Large teams working remotely
One of the most reputed tools in the market today with lots of Asana alternatives (for example, check this article on Asana vs Monday). The word Asana means 'Easy' in Sanskrit and the tool lives up to the name. A fantastic UI and entering tasks into a project is a breeze. If prioritizing tasks and meeting deadlines is your priority, then Asana can be a great choice for you.
Asana is best for teams of 15+ members working remotely. Basically, it allows you to create departments of your company (i.e. Marketing). Then in the department, you can create projects (i.e Google Ads Campaigns), and tasks. Its management features make Asana one of the best project management software in the market.
✨ Key features:
Projects, tasks, and subtasks creation
List view, timeline, board, calendar
Goals setup and monitoring
Workload: manage your team's workload in real-time
Seamless integration with 100+ tools
Routine tasks automation
Forms and rules creation
Real-time team's progress reporting and much more
💻 Platforms
As expected of a giant project management tool, Asana delivers Asana for desktop (Windows & Mac) and mobile (Android & iOS).
👩‍🏫 Onboarding & Support
Signing up for Asana is as easy as putting butter on a slice of bread. Plus, you access hundreds of premade templates immediately. Finally, Asana provides support with agents, Asana Academy, guides, and a forum.
💰 Pricing
Basic: forever free for a maximum of 15 users
Premium: $10.99/user/month billed annually
Business: $24.99/user/month billed annually
Enterprise: for companies that want more.
Jira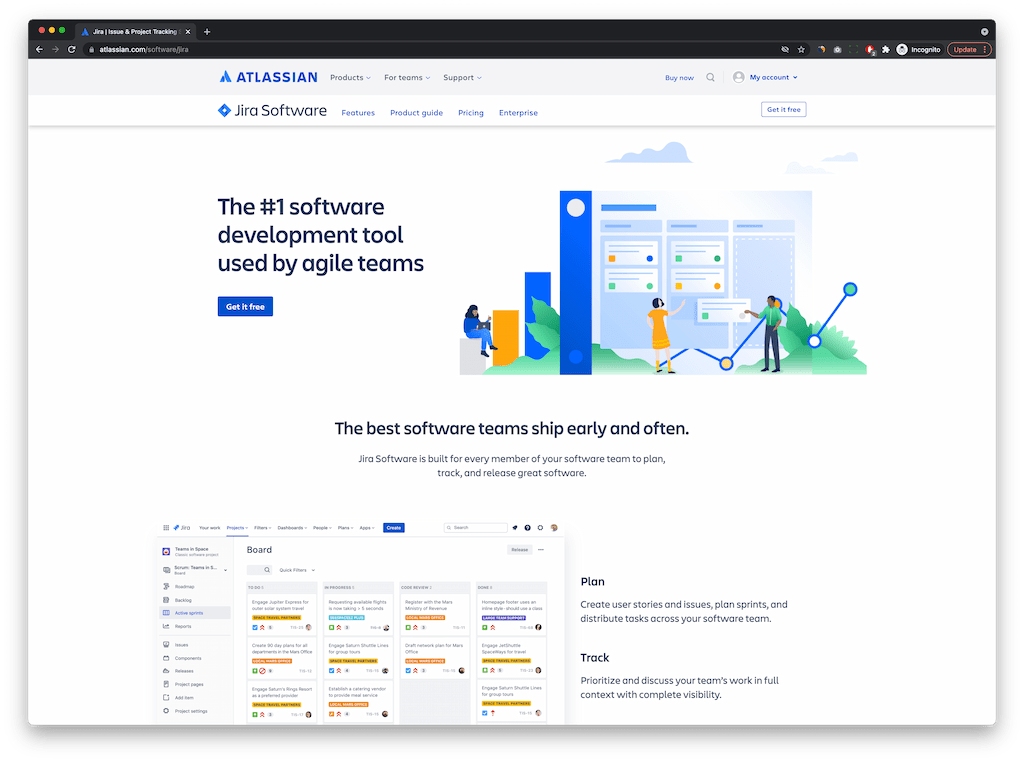 💡 Best for: Developers with Roadmap based projects
Created by Atlassian, Jira is best for developers. You can make roadmaps when designing your project. The parent company is a trusted name in software development so you can be sure you will get the best support. It is built for every member of a software team to plan, track, and release great software.
One of Jira's key features is its issue development panel. In this panel, you can view and create branches, and pull requests so that your team can immediately work on them.
Jira is very modular. So you can interconnect different pieces to build yourself a system that contours exactly to your existing workflow. Its basic and advanced features plus its flexibility really make many believe Jira is the #1 software development tool for agile teams.
✨ Key Features
Kanban boards
Roadmaps
Agile reporting
Jira time tracking, billing, budgeting
Over 3000 integrations plus much, much more.
💻 Platforms
With Jira, you can track and manage projects in real-time on iOS and Android. Unfortunately, when writing this article, there was no Windows or Mac app for Jira.
👩‍🏫 Onboarding & Support
All Jira clients have access to resources such as support articles, a community. Nevertheless, depending on your plan, some premium users get 24/7 support.
💰 Pricing
Free: for up to 10 users
Standard: $7/ user/month with a user limit of 20,000 per site
Premium: $14/user/month with a user limit of 20,000 per site with extra features
Enterprise: For enterprises with global scale, security, and governance needs
Trello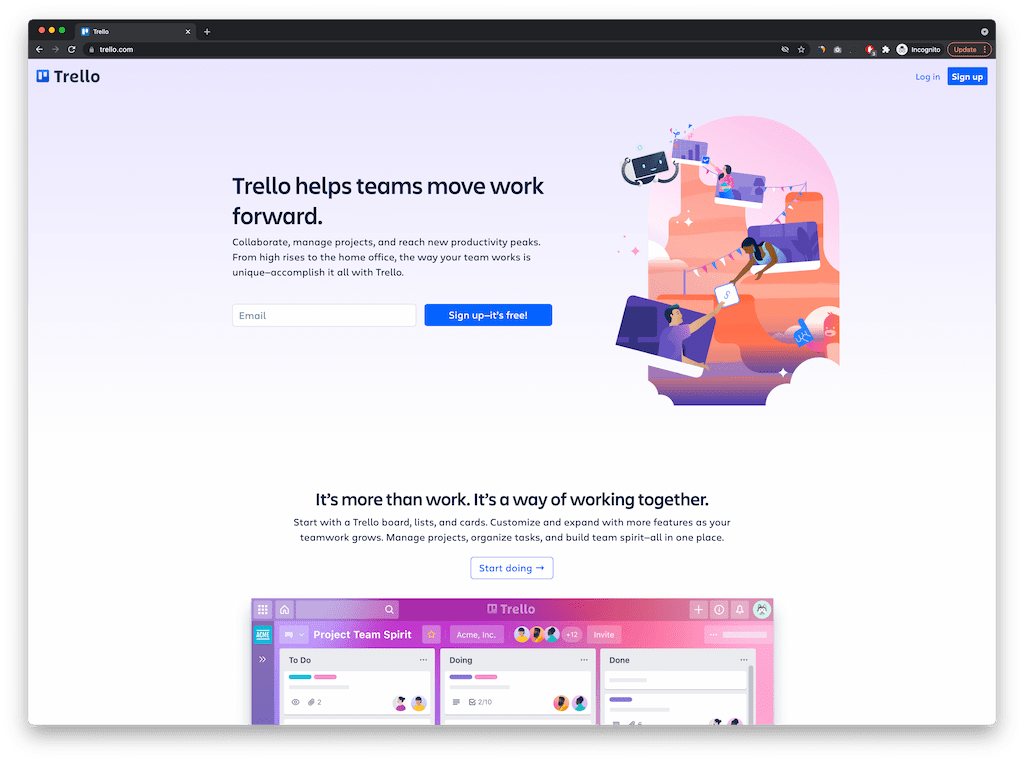 💡 Best for: Rapid project management prototyping with templates
Are you planning to occupy a new planet? Not to worry – in all probability, Trello will have a ready-to-use template for it. They have a template for everything!
Why use Trello? Also created by Atlassian, Trello is one of the most popular task management tools worldwide. Used by over 1,000,0000 teams, Trello is very famous for its Boards and Cards. Basically, all you need to do is create a board (e.g. Sales) and create and assign cards to your team within the board.
Trello is best for small teams and focused groups.
✨ Key Features
Intuitive user interface
Easy kanban boards and cards management (more on how it's different from Jira in our Trello vs Jira article)
Integrate top work tools
No-code automation
Estimate tasks, set budgets, customize reports & keep time with Everhour's Trello time tracking tool
💻 Platforms
Besides the web platform, Trello works seamlessly wherever you are: Mac, Windows, Android, and iPhone.
👩‍🏫 Onboarding & Support
Joining Trello is pretty straightforward. As a popular task management software, there are tons of tutorials on platforms like YouTube.
However, Trello itself provides lots of support articles and premade templates ready for you, no matter your market. When you are stuck, you have a support agent ready to assist you with a click of a button.
💰 Pricing
Free: for unlimited members
Standard: $5/user/month billed annually
Premium: $10/user/month/ billed annually
Enterprise: for teams that need to do more.
Basecamp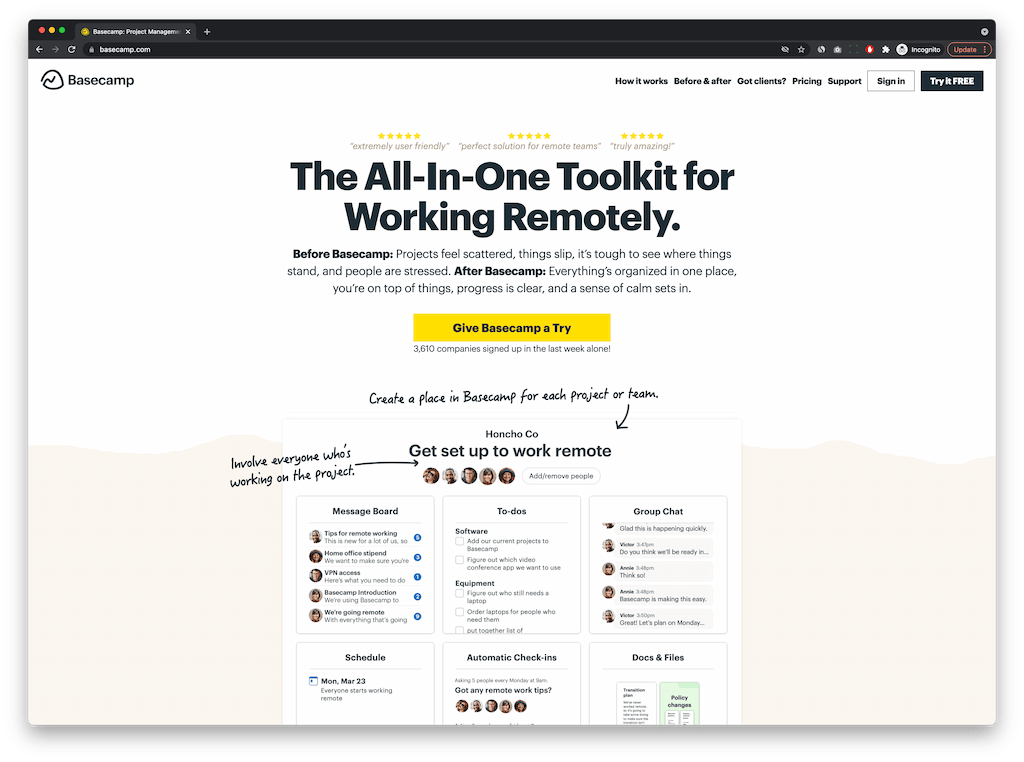 💡 Best for: Customer facing project managers
Good communication makes a project great. Basecamp features group chats and message boards that ensure everyone is on the same page – all the time.
So, unlike competitors, Basecamp adds all the necessary tools inside every project (i.e., Message Board, To-dos, Group Chats, etc.). Although these tools serve different purposes, they all keep conversation and updates in the corresponding project.
Also, Basecamp is best for the web. With one click, you can share an update or a post with a client. They see nothing else but that particular post. You can retain the privacy of all internal communications.
✨ Key Features
Message board
Automatic check-ins
Group chats
Advanced client access
Company HQ
💻 Platforms
Access Basecamp for iOS, Android, Mac, and Windows so you can use it wherever you are.
👩‍🏫 Onboarding & Support
Unfortunately, when writing this article, we couldn't find premade templates for their users, which is disappointing considering what the competition offers. However, as a client, Basecamp promises priority support.
💰 Pricing
Personal: free for up to 20 users with limited features
Basecamp Business: $99/month for unlimited projects and users.
ClickUp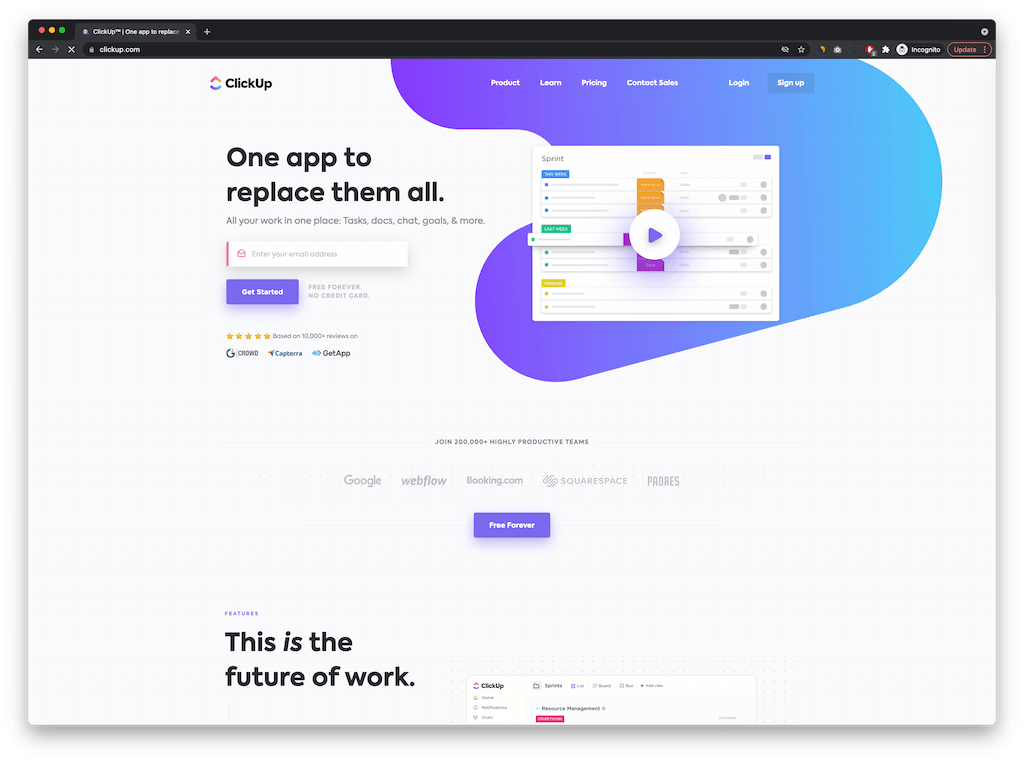 💡 Best for: Multi-project management
ClickUp does well when it has to integrate with other software. It syncs up easily with Google calendars so that your project milestones are mapped automatically. In short, create a task in ClickUp, add a start and end date, and it will appear in your Google Calendar at the same period.
ClickUp is best for advanced project management. It features the concept of 'Spaces' and these virtual areas manage information very well. All information about a particular space is easily found in a single location.
Although ClickUp may seem to fit large teams only, it actually matches smaller groups. In fact, a single person can quickly and efficiently manage their projects.
✨ Key Features
15+ views such as list, board, calendar, activity, Gantt, workload, etc.
Built-in time-tracking tool
Goals
Thousands of integrations with your favorite tools (including ClickUp time tracking integrations) and much, much more.
💻 Platforms
Just like all the ClickUp alternatives mentioned above, ClickUp obviously provides a web platform. Moreover, ClickUp is very proud of its desktop apps (Windows, Mac, Linux) and smartphone apps (Android & Apple).
But where others struggle to provide value with their smartphone app, ClickUp fantastically works on it, consistently adding the web features into the app.
👩‍🏫 Onboarding & Support
Regarding onboarding, ClickUp sets the tone in the market. With massive documentation, on-demand demo, support articles, webinars, coaching, onboarding video series, and consulting, you have a beautiful headache when deciding where to start. And when you have issues later, you can count on their 24/7 world-class support. All this customer care makes ClickUp one of the best task management software out there.
💰 Pricing
Free: for unlimited members
Unlimited: $9/member/month + additional features
Business: $19/member/month + advanced features
Enterprise: for those who need more.
Todoist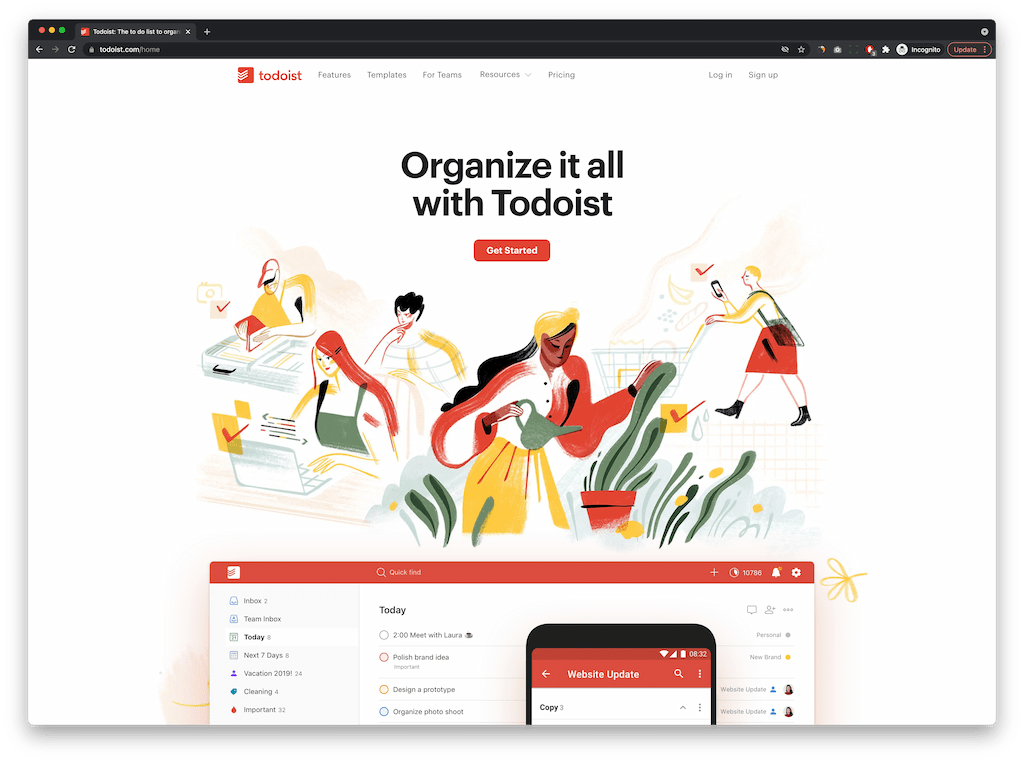 💡 Best for: Simple task lists and mobile access
Sometimes all you need is a simple task management tool. Todoist is precisely that. You can add tasks within seconds, prioritize them, and delegate them. The tool will set up automated reminders and deal with repetitive tasks intuitively.
In fact, if you just want a task management tool to add work and personal reminders quickly, this is the tool for you.
Unlike all the tools in this list in the business project management genre, Todoist is also a personal life management tool. Its goal is to help you regain clarity and calmness by getting all those tasks out of your head and onto your to-do list.
✨ Key Features
Quick Add: lets you capture and organize tasks in seconds
Recurring due dates: help you remember deadlines and build habits
Extensive integration list
Productivity visualization
Different tasks and project views
💻 Platforms
Given its approach to task management, it might be surprising to learn that Todoist provides desktop (Windows, Mac, Linux) and mobile apps (Android, iPhone, and iPad).
👩‍🏫 Onboarding & Support
Todoist even gives users dozens of premade templates to start with an idea. Moreover, customers have access to a vast list of support articles. And as a paid customer, priority support gets you covered.
💰 Pricing
Free: for five active projects and five
Pro: $3/month billed annually
Business: $5/member/month billed annually
SmartTask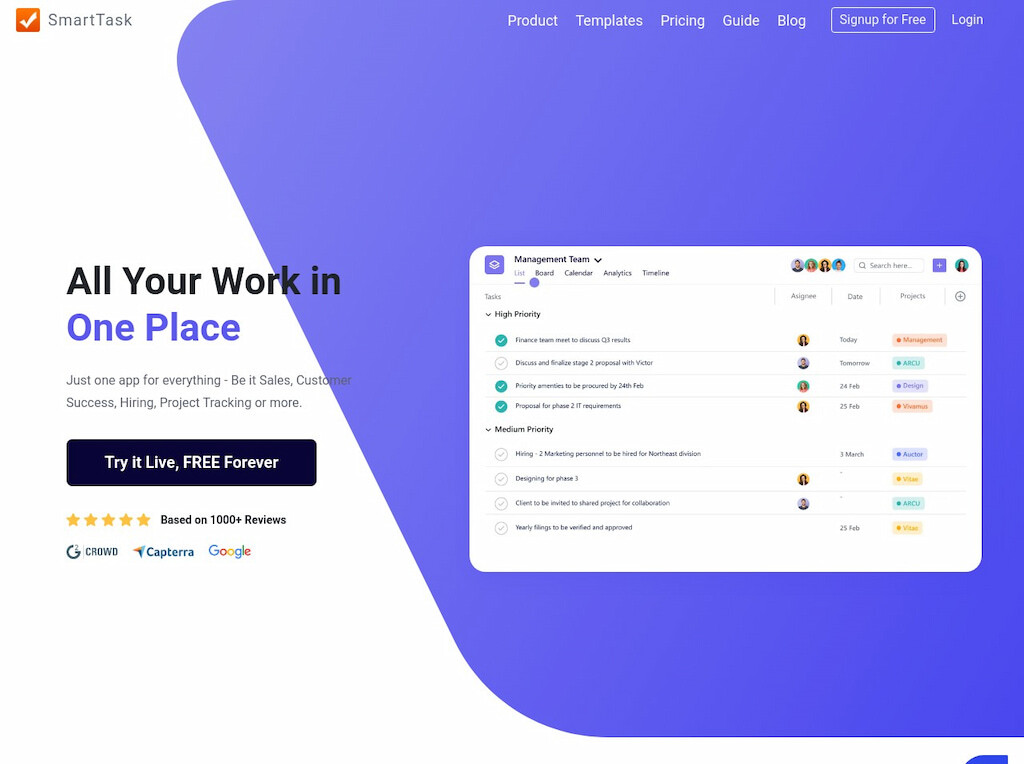 💡 Best for: Project & task management with advanced team collaboration
SmartTask replaces several tools in your tech stack with one centralized platform. Packaged in an intuitive UI, It offers a pain-free way to go after your goals. Whether you're trying to plan the entire year or the next few hours, SmartTask has project views for each.
Adding tasks is straightforward, but there's room for depth. With nested sub-tasks and custom fields, you can go as granular as you like.
Automated check-ins and reminders ensure critical work never slips through the cracks. Chat, video conferencing, and voice calls centralize team communication, saving you countless hours.
All these features (and more) come together seamlessly, helping 20,000+ teams triple their productivity.
✨ Key Features
Intuitive user interface
List, board, calendar, and timeline views
Nested sub-tasks
In-built CRM
Workload management
Team performance dashboards
Project-level instant messaging
Time-tracking
Client Portal
💻 Platforms
SmartTask is available across the board. On the cloud, desktop (Mac and Windows), and mobile (Android and iOS).
👩‍🏫 Onboarding & Support
SmartTask comes with dozens of templates so you never have to start from scratch. The in-app onboarding experience strikes the perfect balance between being helpful and not getting in your way. And of course, there's 24/7 support and comprehensive documentation for when you're in a jam.
💰 Pricing
Free forever: for unlimited projects and tasks
Premium: $5/user/month billed annually
Business: $8/user/month billed annually
Enterprise for teams that need more
Wrike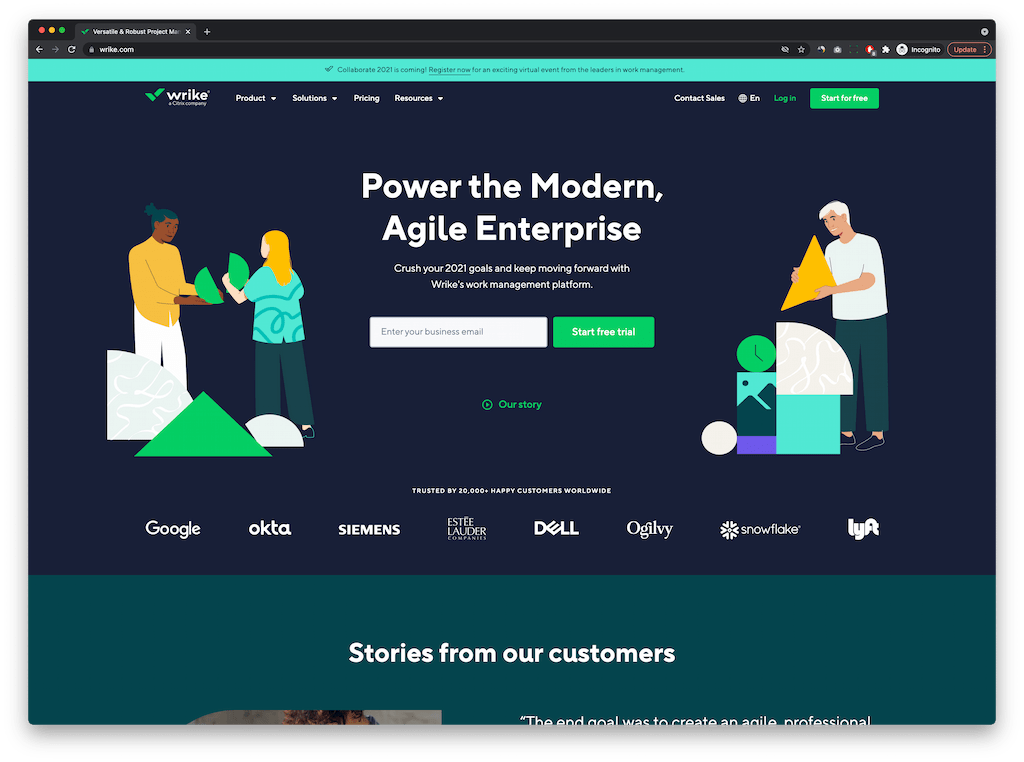 💡 Best for: Agencies and creative projects
While Todoist provides a straightforward solution, on the other hand, sometimes you need elaborate workflow design. This is where Wrike is valuable. It allows you to design custom workflows.
And to efficiently manage your projects, Wrike gives you access to beautiful Gantt charts and additional views.
A key feature that stands out is the ability to comment on images, documents, and even videos. If you are a creative agency or you often deal with unique projects – give Wrike a try.
✨ Key Features
Customizable tools
Work Intelligence
Visual proofing
Digital publishing
Shared team calendars
Approval process automation
Time tracking software, etc.
💻 Platforms
Wrike for Windows and Mac enables you to break free from your browser since the apps offer the same features and UX in the browser. Do you use an Android smartphone or have an iPhone? Wrike got you covered too.
👩‍🏫 Onboarding & Support
Any excellent task management software must facilitate onboarding for new clients. And that's exactly what Wrike does. A simple email in a small box and you've signed up. To even get you started fast, you have access to free webinars, resources, and templates. Finally, Wrike does deliver 24/5 customer support to freemium users and 24/7 to paid users.
💰 Pricing
Free: for unlimited users with limited features
Professional: $9.80/user/month for 5 to 200 users + additional features
Business: $24.80/user/month + additional features
Enterprise and Pinnacle for teams that need more.
Monday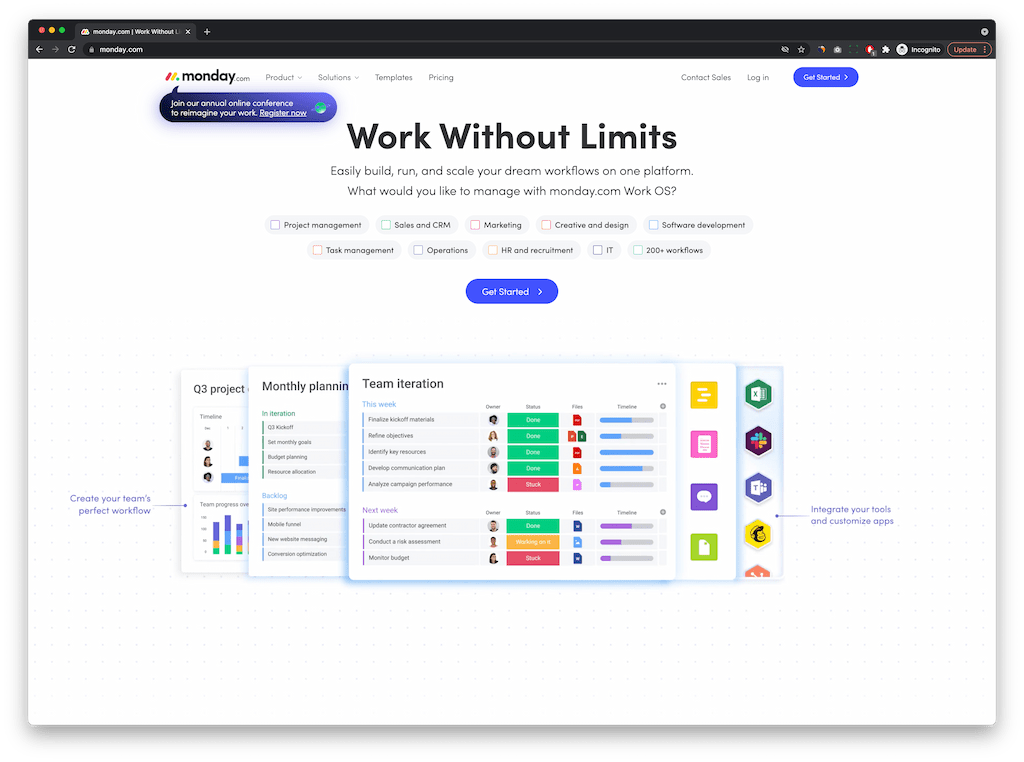 💡 Best for: Agencies and creative projects
True to its name – Monday is the tool you should log in to on a Monday morning. Built for enterprises and small teams like most of Monday alternatives – it is a comprehensive project management system that will cater to all your needs. Brilliant support makes this product stand out. Monday is so visual, easy, and intuitive. All you need to do is drag and drop.
✨ Key Features
8 different data visualization modes
Exportable data
30+ customizable column types
Live doc editing
Unlimited automation
Powerful Monday project management capabilities
Seamless connection with your favorite tools and many more features.
💻 Platforms
Get access to Monday on smaller devices like your Android and iPhone because you have access to these apps as a Monday customer. And like most of its competitors, Monday also has a desktop app for both Mac and Windows.
👩‍🏫 Onboarding & Support
Onboarding for such a task management tool is relatively easy. Monday gives you access to webinars and hundreds of articles to get you started. Plus, there is a vast list of ready-to-use templates. Regarding interactive customer support, Monday also gives 24/7 to all its users.
💰 Pricing
Individual: free for up to 2 users
Standard: $12/seat/month for unlimited seats
Pro: $20/seat/month for unlimited users
Enterprise: for those who want more
Everhour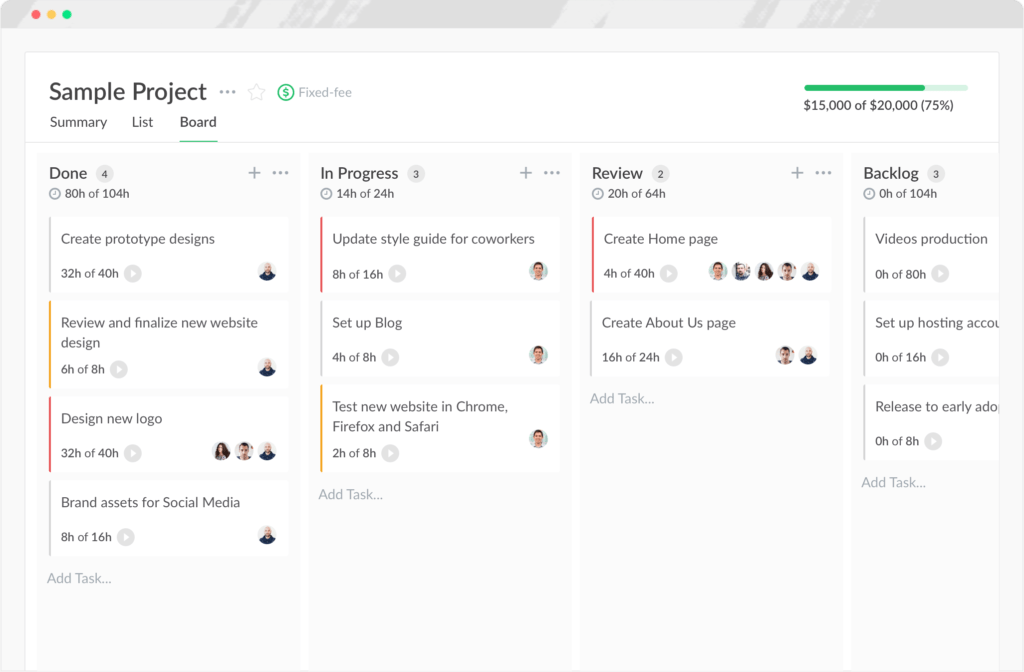 There is ONE feature about any project management software that makes it stand out – Time Tracking. Unfortunately, not all tools come bundled with it.
As one of the best time and attendance software out there, Everhour is the comprehensive time tracking toolkit that, among many other things, allows you to keep on top of every project by tracking time and progress. All you need to do is use the Chrome extension, and the time-tracker embeds directly into your favorite management tool.
With a simple click, you can track time on any tasks, see who is tracking time, how the time is spent, hours of work, breaks for each employee, generate beautiful reports, and send invoices to clients.
What else can Everhour do:
Manual time entry
Budgets and Expenses monitoring
Payroll
OverBudget Disallow
Task management in List and Board views
Native integration with your favorite tools like Asana, Trello, Basecamp, Jira, ClickUp, and many more.
Find out more about what you can do with Everhour here, including all its 50+ time management features to not let finances catch you.
What is the Best Task Management Software?
In this article, we've dissected the best time tracking apps, best productivity apps, task or project management software in the market. We've covered their best features and what makes the tool stand out. Each of them lets you manage your projects and teams on your mobile devices.
So now you may be wondering: "well, I have checked all of them. But what do you recommend? Which one is the best?" The answer is simple: it all depends on your needs and your goals.
Will you work alone, or do you have a small/huge team? Are onboarding and support crucial? Or do you prefer a modern and futuristic interface?
Check their website, read their features, see if you like the user experience, and watch their demos. You will always feel that 'aha' moment and choose the right software.