When using the right call center scheduling software, your company can reduce customer waiting times and take a big leap forward in optimizing your staff's schedules. In return, your staff will be more productive, your customers will be happier, and your company will soon see an increase in profitability. In this article, we'll introduce you to the seven best call center scheduling software that you should take into consideration. Then, we'll discuss the key features and benefits of using call center work schedule apps and what factors to consider when choosing software.
Shifts by Everhour
Shifts by Everhour is the perfect choice for teams that have shift-based non-desk employees. This particular tool can be especially beneficial for various industries including call centers, retail, catering, healthcare, construction, entertainment, and travel and tourism.
✨ Key features
There are many benefits to using Shifts by Everhour thanks to the many integrated features users can take advantage of when using the software. You can easily learn how to schedule shifts with Shifts – and quickly! The core features of the software include:
Staff scheduling
The Shifts tool allows you to simplify the process of creating and managing your staff's schedules. Not only that, but the software pushed for optimal optimization, efficiency, and productivity. That way, the resources your company wastes when scheduling staff is brought down to a minimum.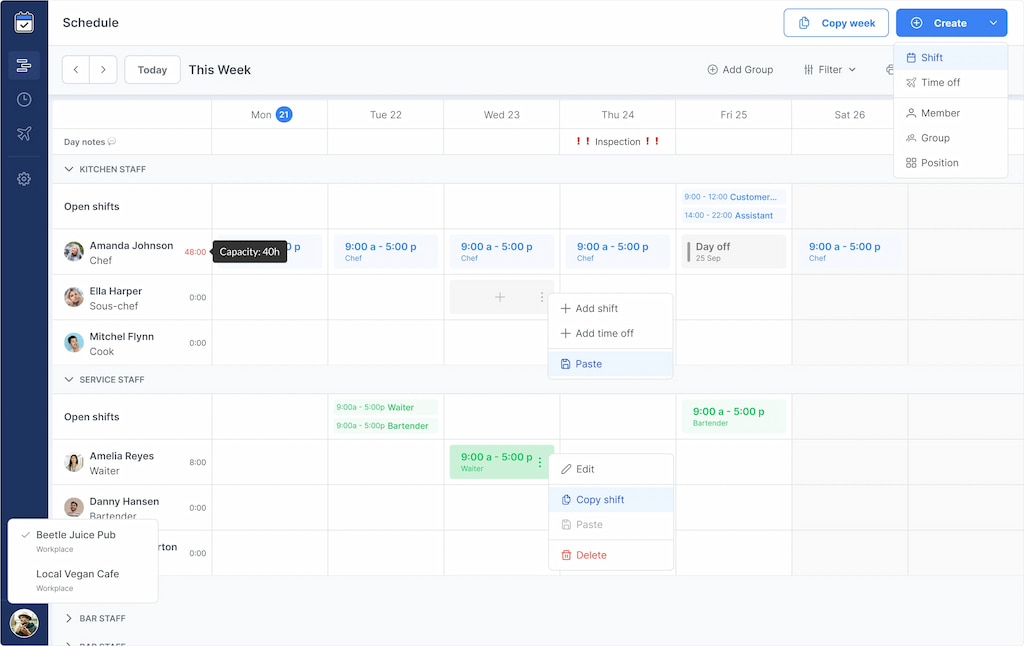 With Shifts by Everhour, you can also copy across single shifts or shifts over several weeks. That way, if a lot of the shifts you set are repetitive, you'll save time by not having to do them all manually all the time. There are also a few scheduling templates ready-made for you!
Kiosk
Shifts by Everhour also allows you to set up a dedicated device (such as an iPad), which your team can solely use for clocking in and out. The clock-in/clock-out terminal can be set in any convenient area, such as the break room or the entrance of your workplace.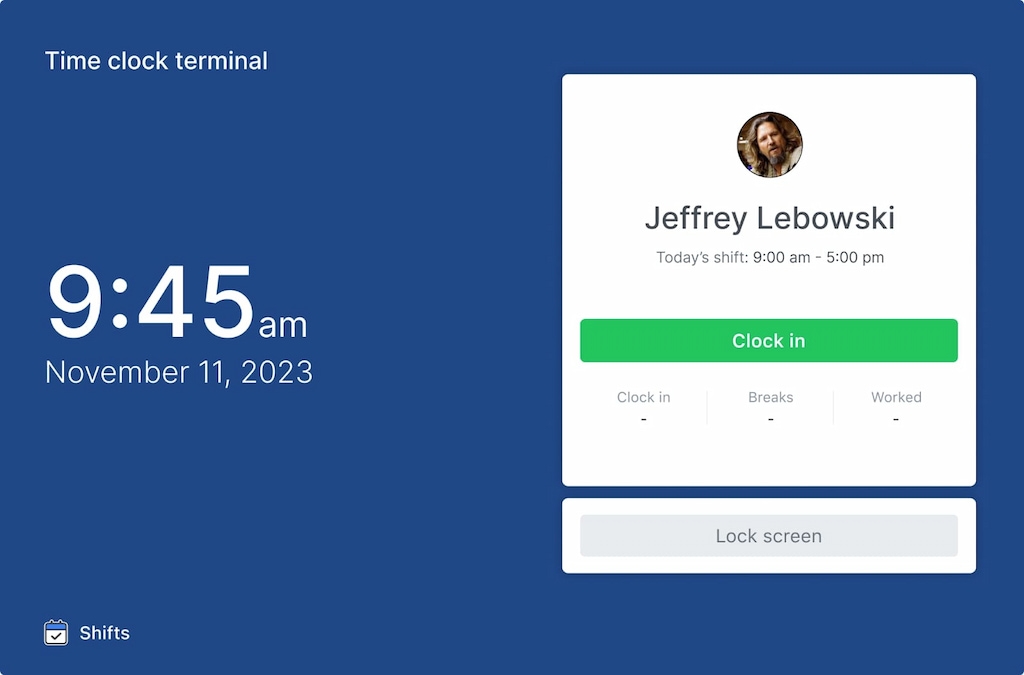 Mobile clock-in and clock-out
Using Shifts by Everhour, your employees can use their mobile phones to keep track of their schedules and track their time. This is perfect if they're away from the desk but are still working.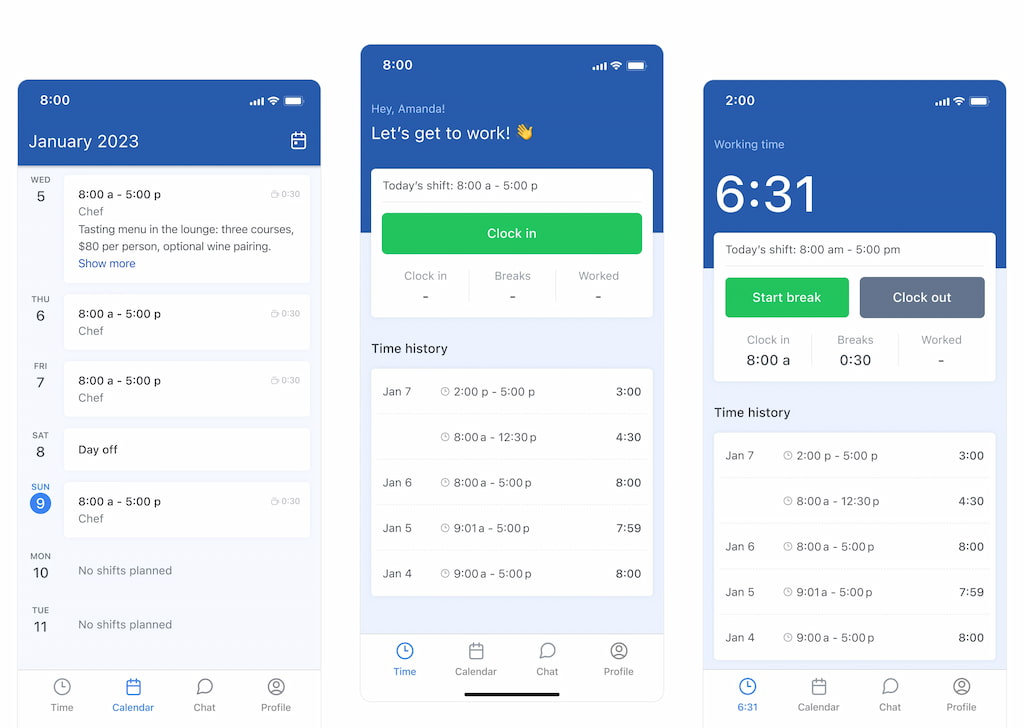 Attendance and payroll
You can view all scheduled spots and attendance statistics in one place, make changes if necessary, leave notes, and later use this data for payroll – with no third-party tools!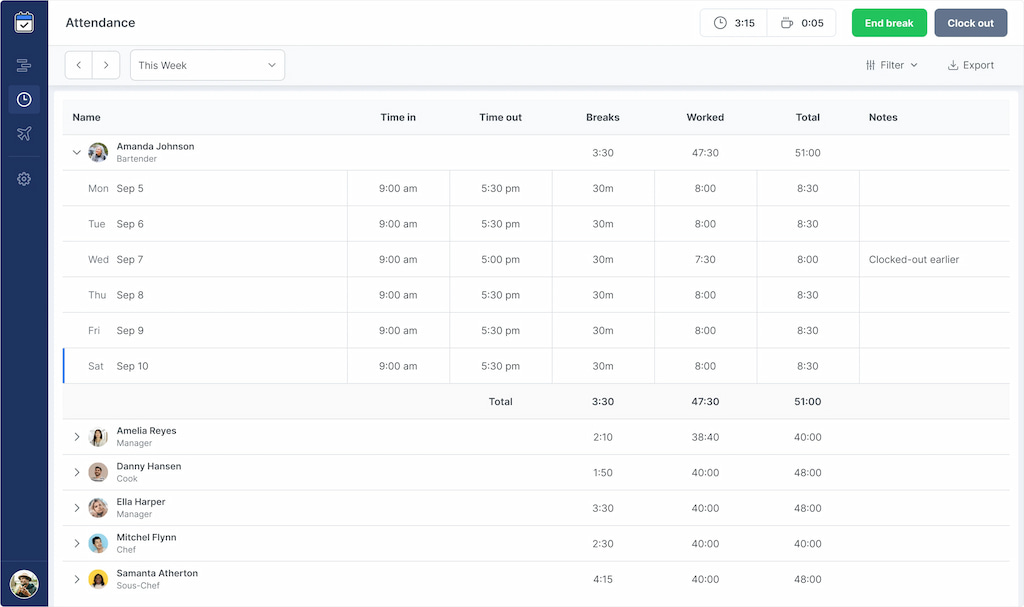 ✅ Pros:
Perfect for non-desk employees
Intuitive user interface
Mobile-friendly
Simple and easy to use
❌ Cons:
---
Connecteam
Connecteam is considered one of the best all-in-one employee scheduling software for a call center, which is why it's also one of the most popular options available on the market today. With Connecteam, employees will always stay informed on what they have to do and when they're scheduled for a shift. On the flip side, managers can easily track employee attendance and avoid scheduling redundancies and human error.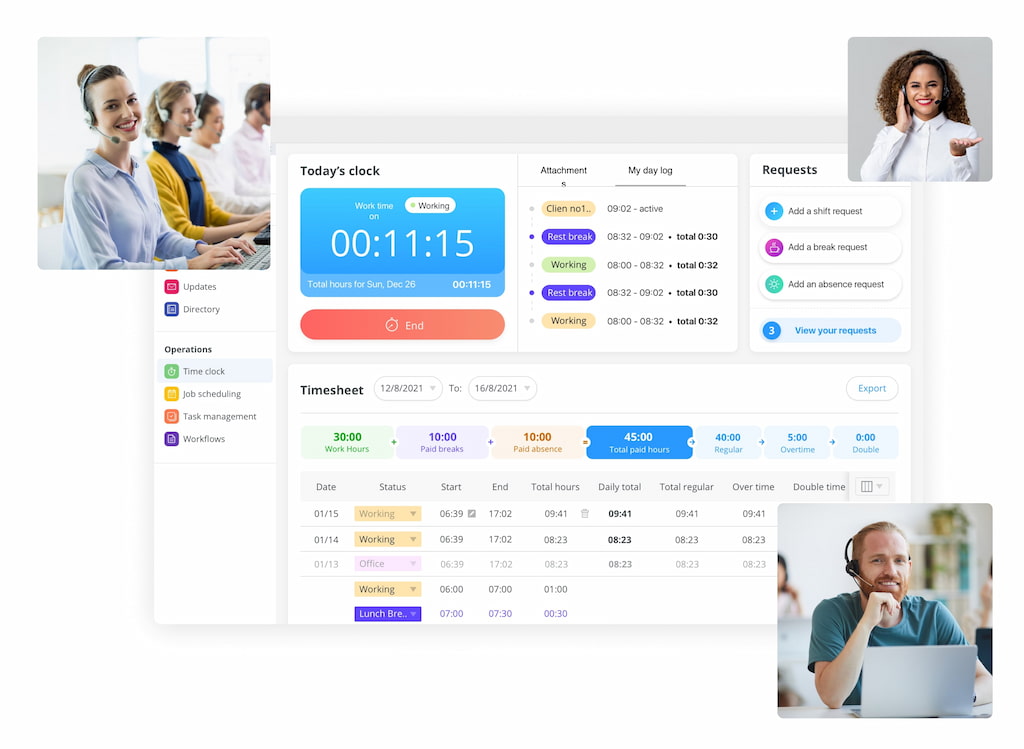 ✨ Key features
Smart scheduling
Connecteam comes with a smart shift scheduler. With the tool, you can customize schedules and tailor them to single or multiple shifts. That way, you greatly reduce the time it takes to schedule every single employee and team member. The scheduler allows employees to submit preferences, availability, and even qualifications.
Conflict detection
With Connecteam, you can detect conflicts in the schedule automatically. That way, there's little to no chance of making errors when scheduling employees. Some common examples of human error include scheduling two employees for the same shift or scheduling an employee for a shift when they're on leave/off sick.
Smooth communication
Connecteam has an integrated feature that allows team members to communicate with each other easily. Since call center shifts can be sporadic, having an open communication line allows you to quickly make adjustments on the fly.
✅ Pros:
Various scheduling options
Automatic notifications
Drag and drop interface
Ready-made templates that you can use
View employee preferences and availability
❌ Cons:
Integrations are still in development
---
Shiftboard
If you run a call center with staff members located in different geographical locations, Shiftboard is a great call center appointment scheduling software. Thanks to its real-time reporting, alerts for cost and overtime issues, shift swapping, vacation requests, and auto-scheduling, the software is one of the most versatile in terms of capabilities.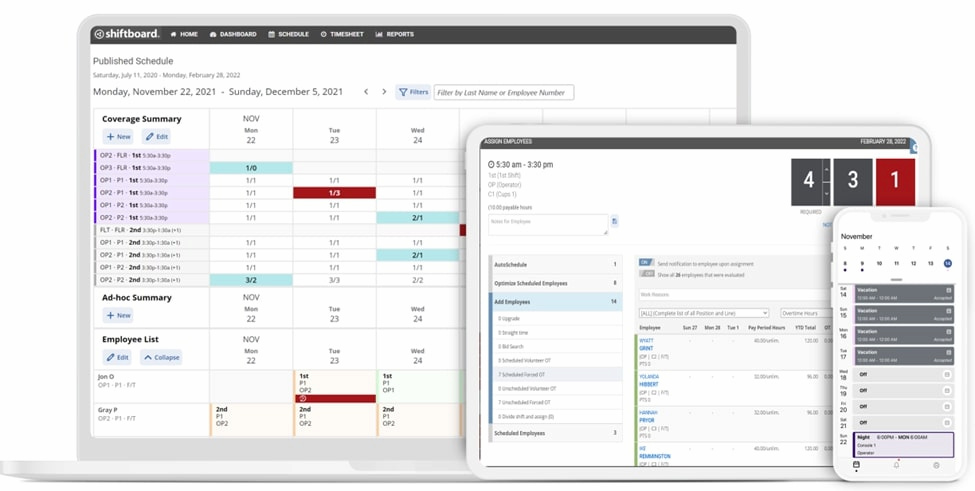 ✨ Key features
Automated scheduling
Scheduling each and every staff member that you have manually is a super repetitive and never-ending task that can take hours every week. Fortunately, with Shiftboard, you can automate the entire process and let the software handle employee scheduling for you.
Worker-friendly schedules
Scheduling employees based on their preferences and availability is key to boosting their productivity and keeping them happy at work. When using Shiftboard, employees can set their preferences and availability and leave the software to decide when it's best for them to be scheduled for a shift.
Time clock
The integrated Shiftboard time clock allows you to easily track the time and attendance of your workers. You can view areas of improvement and move things around to boost efficiency if needed.
✅ Pros:
Simple and effective user interface
Automated reminders and shift notifications
Overtime status alerts
Forecast labor demand
Ideal for large teams and organization
❌ Cons:
Limited integrations with payroll systems
Last-minute changes can be quite tricky
---
Humanity
Humanity is one of the leading cloud-based employee scheduling software for call centers. It's a great choice for BPO industries since a lot of processes are mostly done online today. It also has a simple interface, giving managers a bird's eye view of their employee schedules.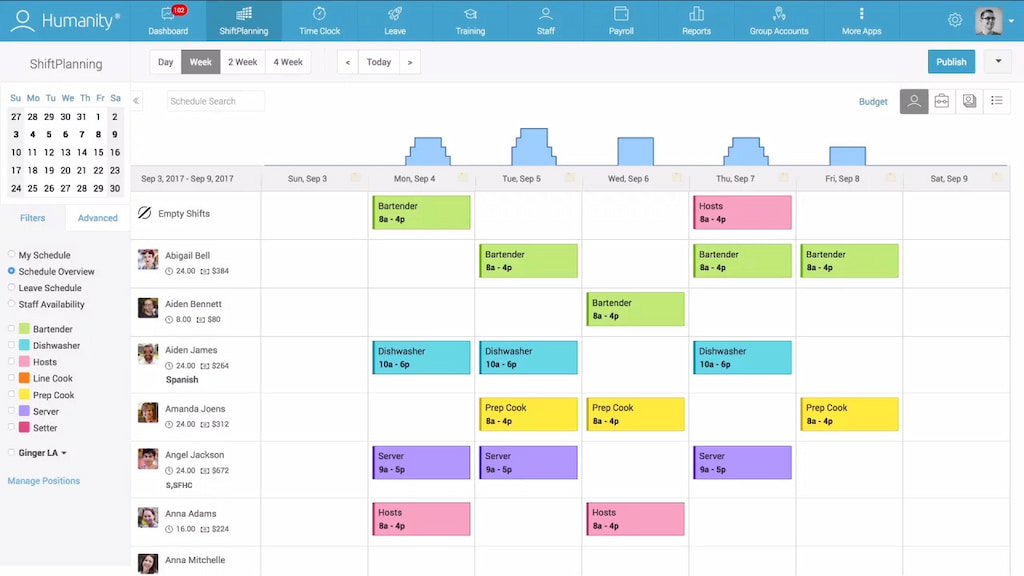 ✨ Key features
Cloud-based automatic scheduling
Humanity has everything you need to bring your scheduling system into the future. Since it's cloud-based, employees and managers can access schedules wherever they are, as long as they have access to the internet. On top of that, you can automate various scheduling tasks, reducing the workload and time it takes to set employee schedules.
Mobile capabilities
If you decide to use Humanity, you can do everything you can on the desktop version of the software through your mobile phone. That way, you don't even need to be at your desk to make changes or see updates in real time.
Flex scheduling
With Humanity, you can apply flex scheduling features so employees have more flexibility with their work schedules. This can boost morale and performance since employees will mostly be working at their preferred times.
✅ Pros:
Allows flexible scheduling
The software has automatic scheduling features
It's mobile-friendly
It has a simple and straightforward interface
It's entirely cloud-based
❌ Cons:
---
Sling
Sling is one of the few call center scheduling software that has gotten both scheduling and time-tracking spot-on. When using Sling, you won't need a separate software or tool to track the time employees work. Since it's digital, it also works for remote teams, which is crucial nowadays, with more and more companies going remote.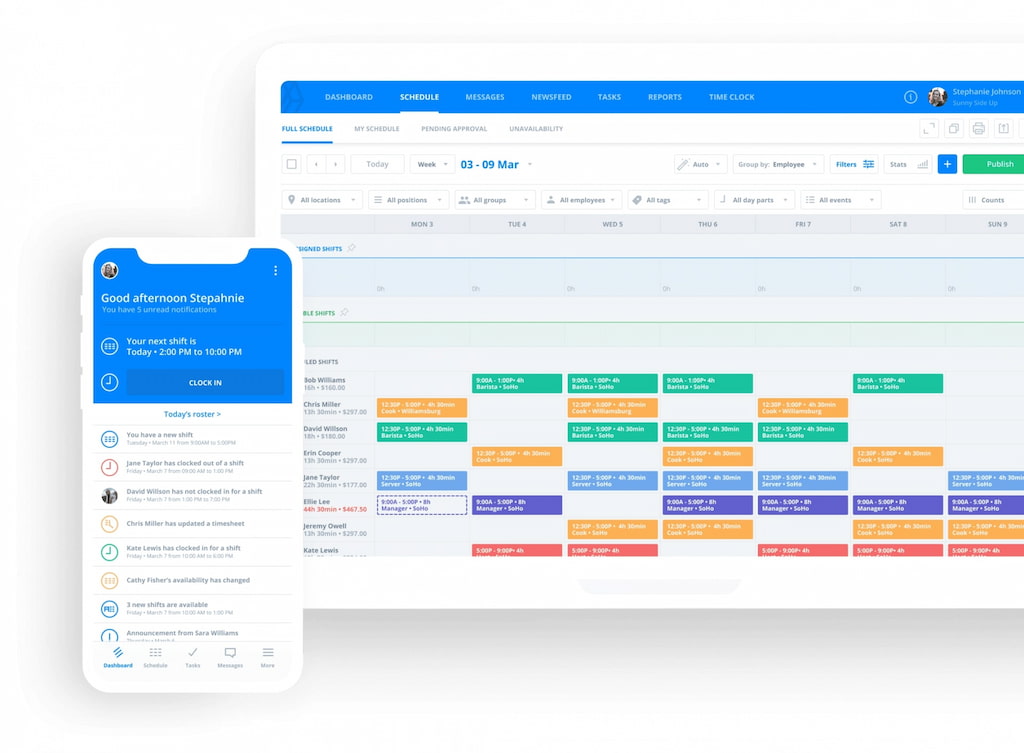 On top of that, Sling offers reporting features. We appreciate this feature as it allows organizations to keep their schedules and time logs transparent. This maintains a healthier and open workplace environment, which has a positive effect on productivity as well.
✨ Key features
Robust shift scheduling
Though Sling doesn't have automatic scheduling features, the simple interface and the ability for you to copy and paste similar schedules make the software a great choice as it allows you to save a ton of time.
Time & attendance tracking
Tracking the amount of time workers punch in is crucial for call centers. Since most workers are paid per hour, you need to have reliable software to track how much time they spend working. That way, everyone is paid exactly what they're owed. And best of all, you don't need to do any of the calculations manually.
Task management
Call center workers deal with multiple tasks at once. Whether you offer customer service or booking solutions, there's a high chance workers will have to finish multiple tasks each shift they work. With Sling's task management feature, you can set individual tasks for each employee that they need to get done.
✅ Pros:
Copy and paste repetitive schedules to save time
Track attendance and time spent working
Set a budget to cut costs
Employees can apply for shifts that are available
❌ Cons:
Limited messaging feature
The mobile app could be better
---
Tixtime
When it comes to creating custom schedules, Tixtime is the best in the game. While this is a common feature with call center scheduling software, Tixtime's customization capabilities are much more robust than the competition. So, if your call center operates with unique schedules, Tixtime allows you the complete freedom to customize the software to your needs.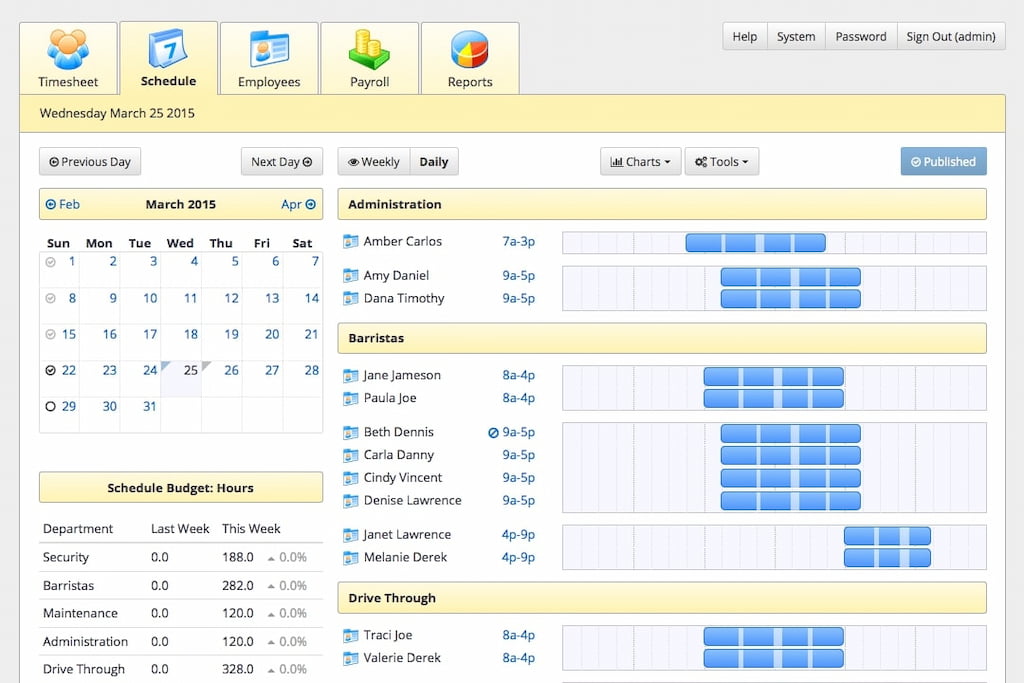 On top of that, Tixtime is a very accessible application. Aside from their web software, there's also a mobile app available. This makes setting and checking schedules and shifts much more convenient for employees, ensuring no one misses a shift.
✨ Key features
Employee availability
Knowing when your staff is available to be scheduled for a shift is essential if you want to schedule your staff for work without making any mistakes. When using Tixtime, your staff can mark themselves whether they're available or not, allowing you to instantly see the talent pool available to you when scheduling employees for work.
One-click payroll exports
Your staff relies on you getting their salary right every time. Simple mistakes can lead to problems, and that's something you want to avoid at all costs. This is where Tixtime comes in. The software can automatically calculate your employee's working hours and what they need to be paid with a single click of a button.
Email notifications
This is a fairly underrated but also important feature and one of the things that sets Tixtime apart from the competition. When you create schedules on Tixtime, you can also send email notifications to all employees with their schedules attached. That way, you know that everyone is informed on when they're supposed to clock in, avoiding attendance issues.
✅ Pros:
Export employee payroll with a single click of a button
View schedules and timesheets simultaneously
Fantastic customer service team
❌ Cons:
Not ideal for large teams
Doesn't offer the best reporting capabilities
---
Deputy
In the call center industry, Deputy is a well-known scheduling software. This is mainly due to its vast range of features and capabilities, some of which include time and attendance tracking tools, a digital time clock, and tools to help you with labor compliance.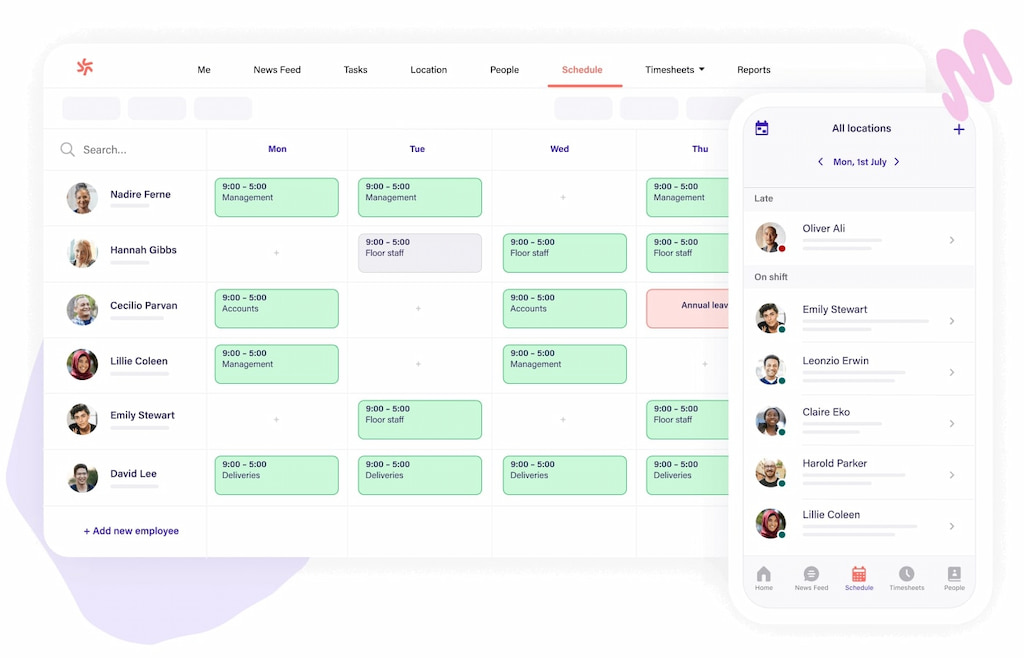 Using Deputy, your staff can also swap around their shifts with the click of a button without having to go through management. That way, they're happy, and managers don't need to spend time dealing with unimportant tasks. Here, we'd like to add that Deputy also offers discounted pricing for charities, nonprofits, and community organizations.
✨ Key features
Deputy is most well known for three core features, which include:
Fully customizable schedules
When using Deputy, you can customize various schedule templates based on position, time, date, location, and more. This makes scheduling employees from various departments for various shifts much faster and easier. On top of that, it takes away a lot of the repetitiveness that may come with scheduling call center shifts.
Quickly find shift replacements
The call center industry is sporadic. It's easy for managers to find themselves scrambling for someone to take on a vacant shift, especially when facing last-minute changes. With Deputy, you can easily find shift replacements as employees can swap shifts at the click of a button, reducing the number of steps it takes to find replacements.
Track employee stress
With Deputy, you can create stress profiles for employees to keep stress levels in check and ensure that you aren't overworking employees or scheduling them at times when they won't be able to perform to the best of their abilities.
✅ Pros:
Great for last-minute shift replacements
Ability to create custom schedules
Simple and easy-to-use interface
Track employee stress
❌ Cons:
You can only plan one week in advance
Doesn't integrate with Google Calendar
---
Key Features & Benefits of a Call Center Scheduling Software
If you're on the fence regarding whether or not you may need one, we'll go over key features and benefits that call center scheduling software users are currently experiencing.
Shift & schedule management
When managing small or large teams, it can be hard to keep track of everything and every one manually. With each employee working at different times and clocking in separately, it can be a huge headache for managers to stay on top.
And this is where call center scheduling software can come in very handy. These software are designed to manage schedules digitally, making it easier to plot out time slots, track employee attendance, and ensure that employees are clocking in when they need to. And if they are not, you will be made aware rather than having to find out later when it's too late, and your company's workflow is disrupted.
Real-time monitoring
A large-scale call center can get very busy very fast. With multiple employees handling calls and servicing clients every minute of the day, it's tough to keep track of every single employee and how they're performing.
Rather than micro-managing and trying to be everywhere all the time, you can delegate this repetitive and time-consuming task to the computer. That way, you can keep track of your employee's performance in real time without having to be right next to them.
Forecasting
The volume of calls your call center can receive on any given day can vary quite a lot, making manual forecasting difficult and often inaccurate. When you rely on high-quality call center scheduling software, it can use data from the past to accurately forecast the volume of calls your call center may experience in the future. That way, you can take the necessary steps and ensure that there are enough staff at work to handle the predicted volume.
Time off management & employee availability
When manually planning your employee's shift work, it's easy for managers to accidentally schedule an employee for a shift when they have scheduled time off or when they're not available. This is usually an honest mistake, but it can have huge repercussions, as finding last-minute replacements for a shift can be tough and very stressful.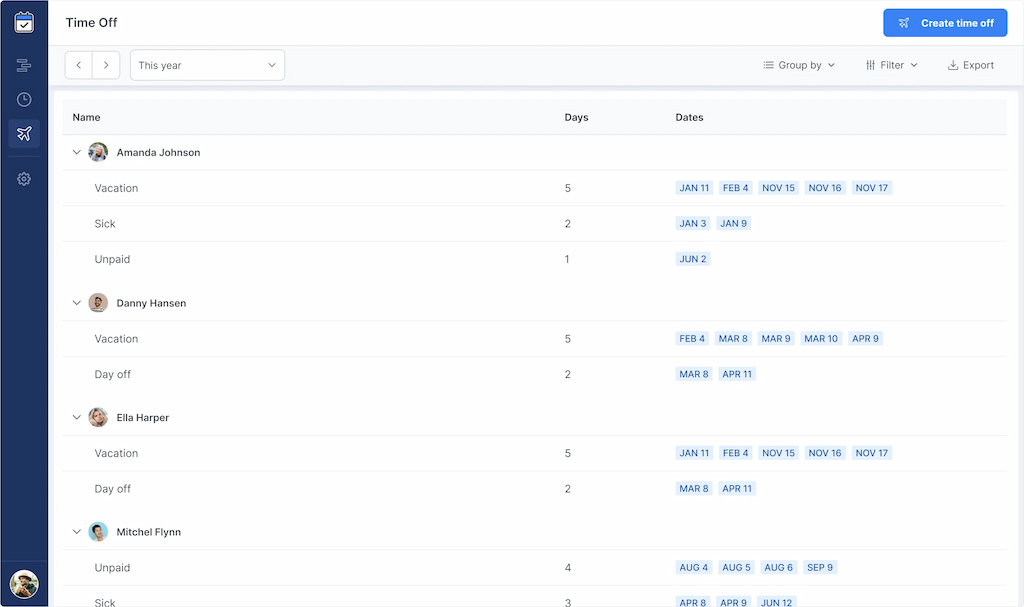 Call center scheduling software automatically tracks availability and whenever employees schedule time off. This reduces human error while also helping with shift planning and boosting efficiency in the organization.
Overtime & workload balancing
A good working schedule allows you to get the most out of your employees without overworking them and burning them out. This is why many new call center scheduling software also come with overtime management and workload balancing features.
There will always be times when overtime is necessary. However, it's important for managers to keep track of their team's overtime hours so they can balance costs and ensure employees aren't overworked. The last thing you'd want to do is pay your employees an excessive amount of overtime, which not only costs you extra but contributes to overworking your staff.
---
Factors to Consider When Choosing Call Center Scheduling Software
📈 Scalability
As your call center grows, the last thing you want to stress about is finding replacement software for the one that you've been using and are comfortable with. To avoid such scenarios, make sure to choose software that is scalable and can adapt to the growth of your call center.
👍 Ease of use
Adopting new technology as part of your workflow doesn't need to be stressful or take months to implement. That's why it's essential that you choose software that is easy to use and doesn't have a steep learning curve.
🔄 Integration capabilities
It's not uncommon for call centers to use time trackers such as Everhour, task management software like Trello, and many others to optimize their workflow, improve organization, and delegate time-consuming and repetitive tasks. So, when choosing a call center scheduling software, you've got to make sure that it can seamlessly integrate with all or most of the tools that you're already using.
🤖 AI and automation
When choosing software, we advise that you look for one that either has already got AI/automation features or plans on adding them soon. AI and automation can do wonders for the business and help you with crucial aspects such as predicting call volumes based on data and optimizing shift assignments.
Not only that but by the software taking care of these things for you, the level of manual effort will be dramatically decreased. That way, you'll have more time to pay attention to your team and more important things that keep the business moving in the right direction.
📚 Implementation and staff training
Lastly, you have to consider how well the software will integrate with your current workflow. Ask yourself how much the team will have to adjust to the new software, whether you will have to conduct training sessions for the tool, and similar concerns.
It's best to choose software that you can easily implement without that much training for a smoother and less costly transition. Remember, change can be hard for every team. This is why you need to make things as easy as possible when adopting a new system, tool, or in this case, software.
This is why we highly recommend opting for software with simple interfaces, intuitive controls, and a minimal learning curve.
---
Call Center Scheduling: Conclusion
Whether you're after a paid or free call center scheduling software, if you make the right choice based on your company's needs, you'll feel the benefits right away. That said, it's worth mentioning that the large majority of great call center scheduling tools are paid. If you want to get a call center scheduling tool for free, one of the best ones we'd recommend is Tixtime (up to three teams).
Please note that while all the above-mentioned software are great, they all offer slightly different features. That's why we recommend that you do some more research on each one and see which makes the most sense for your call center.