Google, the company behind enormously successful products like Youtube, Gmail, and—you guessed it, Google Search, is also a juggernaut in the business tools and software field. Some project management tools Google offers include Drive, Sheets, and Calendar. These Google tools for project management are famous for being lightweight—yet extremely functional, easily accessible, and well-connected. There are also tons of Google Chrome extensions that can expand its functionality even further.
In the right context, these Google project management free software could certainly replace popular project management tools like ClickUp and Asana. If you are a project manager and you'd love to manage your projects in a familiar environment, stick around because this article will highlight all the best google project management tools, including their description, pros, cons, and pricing.
---
What Does Google Use For Project Management?
Google does not yet have native project management software. The closest thing is Google Workspace—a cloud-based digital office suite consisting of apps you may already be familiar with, including Calendar, Chat, Gmail, Drive, Docs, Slides, Meet, Keep, Forms, Sites, and Sheets. Workspace brings these apps even closer together, deeply integrating them into the user experience.
However, despite lacking a dedicated Google project management software, Google still lets you manage your projects by combining these different Google project management apps to get the necessary functionality.
Even though they were designed with different objectives in mind, Google's apps work well together, so you'll get a more cohesive experience than you would combining any other rag-tag set of apps.
---
Best Google Project Management Apps
Google app project management tools let you execute various project management functions. The most important one to you will depend on your organization's objectives, processes, and workflow. However, across the board, some of the most popular Google apps for project management include the following tools:
Google Sheets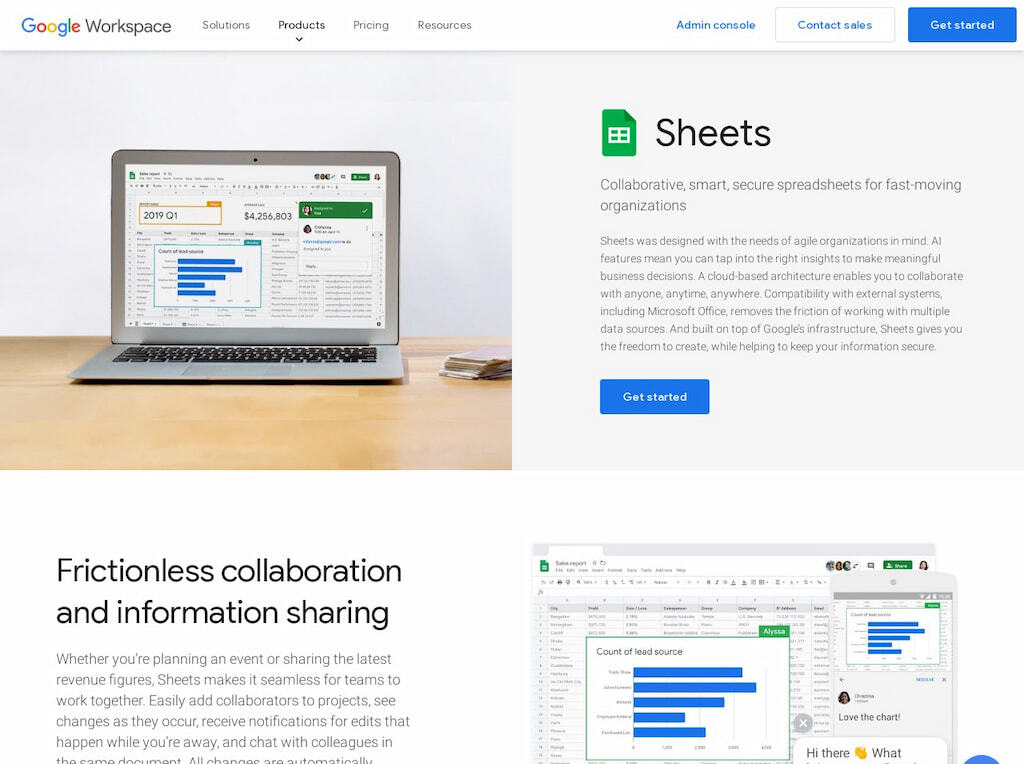 Google Sheets is an online spreadsheet software and project management tool Google users use to organize and analyze data. This Google project management app works similarly to Microsoft Excel and even has much of the same functionality.
Sheets is a handy Google app for project management, task management, project planning, and tracking. Its tabular design makes it easy to create task lists, and by simply sending a link, you can share it with the rest of your team. It also supports real-time collaboration and version history, so you can easily make or reverse edits and reflect your changes across the board.
Using free project management Google Sheets templates, you can easily use Sheets to create a project timeline, Gantt chart, project tracker, and several other tools (including Google Sheets time tracking). You can even create dashboards to visualize your project performance with little effort.
👍 Pros
It is intuitive and easy to use
It has a version history
Its templates make project management easy
🤔 Cons
You cannot set up reminders for your tasks
You cannot filter tasks according to their elements
It is difficult to use on mobile
---
Google Drive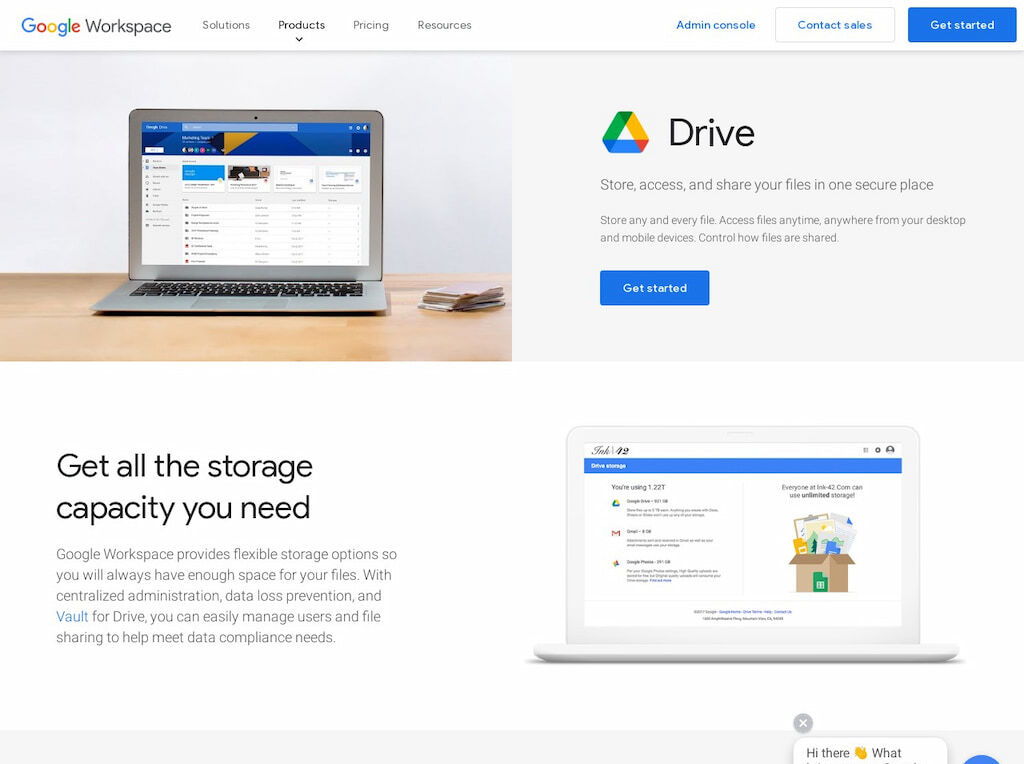 Google Drive is a cloud-based storage solution that enhances your collaboration by letting you store, share, and synchronize files and folders across devices. Ordinary users enjoy up to 15GB of free cloud storage, while paid users can enjoy up to unlimited amounts of storage.
Google Drive project management is mainly about content management. You can use it to store all kinds of project documents, whether documents, images, video, or audio, and also organize them into folders and subfolders. Google's advanced search ensures that nothing ever gets lost, and you can rest assured that your data is safe thanks to built-in protections against malware, spam, and ransomware.
Team collaboration and communication is another project management function of Google Drive. You can easily share files with teammates and set permission levels to regulate access. Drive integrates seamlessly with Docs, Sheets, Slides, and other cloud-native collaboration apps, allowing you to collaborate more effectively in real time.
👍 Pros
Large storage space
Hierarchical file organization
Integrates well with other Google project management tools
🤔 Cons
You can't create or assign tasks
You can't view project progress
The user interface may not be to your liking
---
Google Docs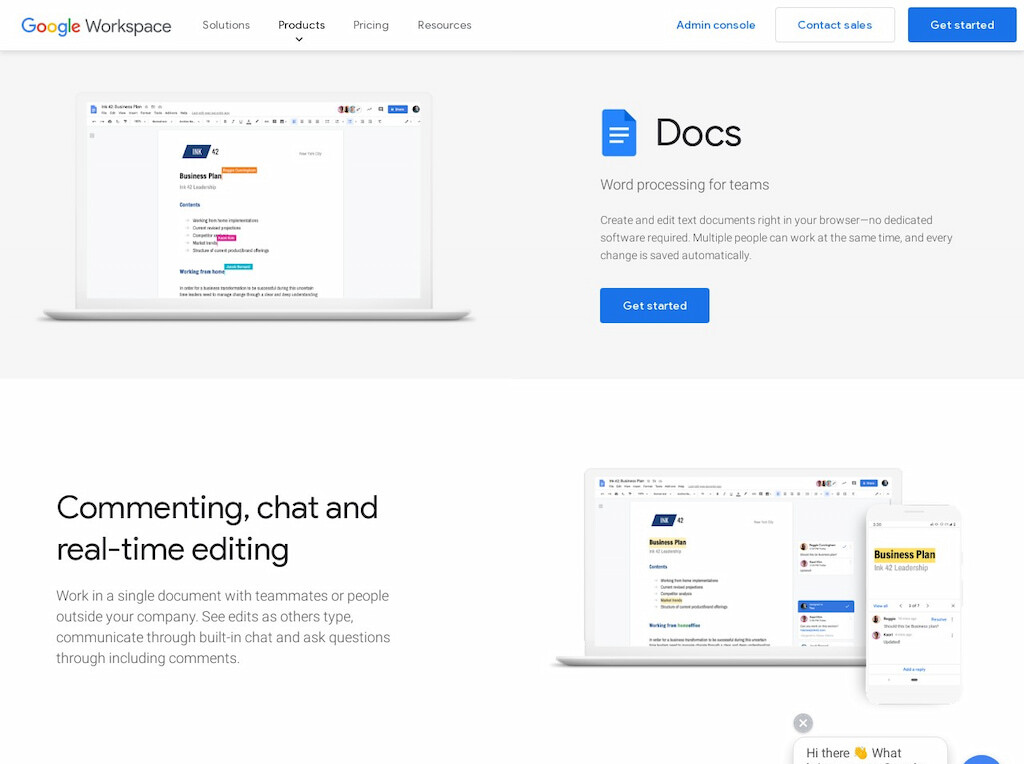 Google Docs is a word processing and project management software Google created to rival Microsoft Word. However, Docs is unique because it is cloud-based and specifically designed for collaboration.
Docs ties into project management by serving as a document manager and collaboration tool. Instead of sending multiple versions of a single file back and forth, Docs' version control lets you smartly manage changes to your document. The newly introduced project roadmap also lets you keep track of and assign statuses to your projects.
👍 Pros
Real-time collaboration
Project roadmap
Intuitive editing tools
🤔 Cons
Not a dedicated project management solution
No project tracking functionality
You must integrate it with other Google tools to use it for project management
---
Gmail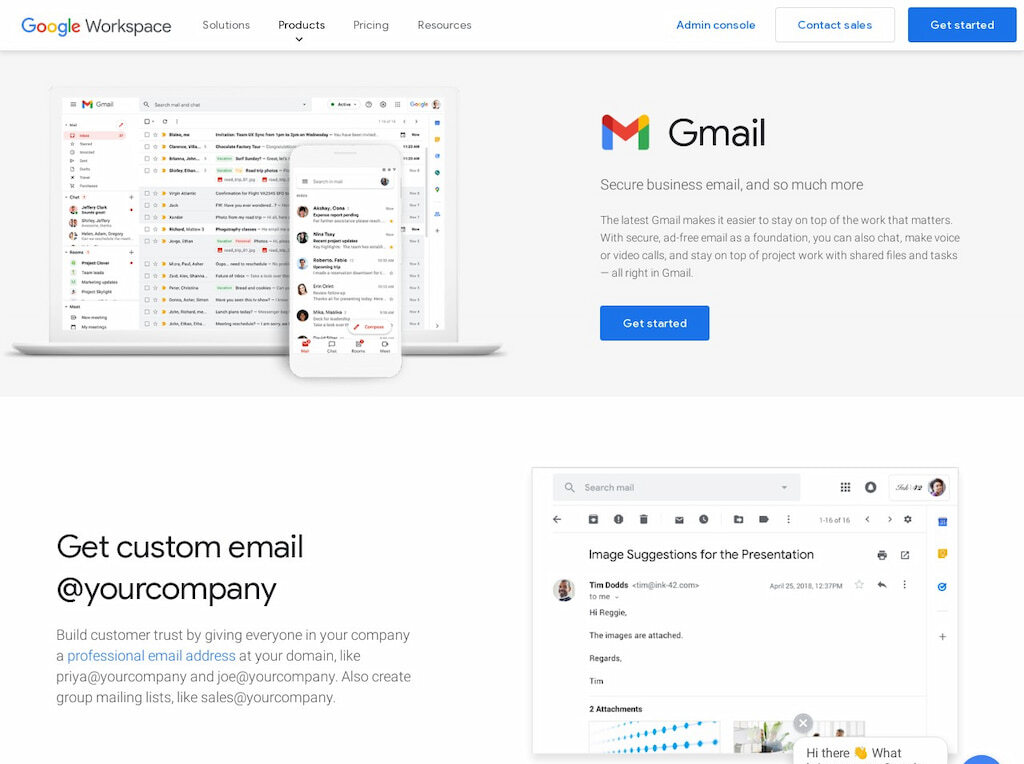 Gmail is currently the world's most popular email service, with more than 1.8 billion users. As a project management tool, it comes in handy for communicating with teammates, clients, and other project stakeholders. In addition to emails, it also lets you send files and media as attachments and Google Drive links. You can also track time inside Gmail easily.
👍 Pros
Great for formal communications
You can send files and media as attachments
It integrates well with Chat and Meet.
🤔 Cons
Emails take up a lot of time
There is no way to know the status of your email after sending it
Emails can get lost in Spam folders
---
Google Meet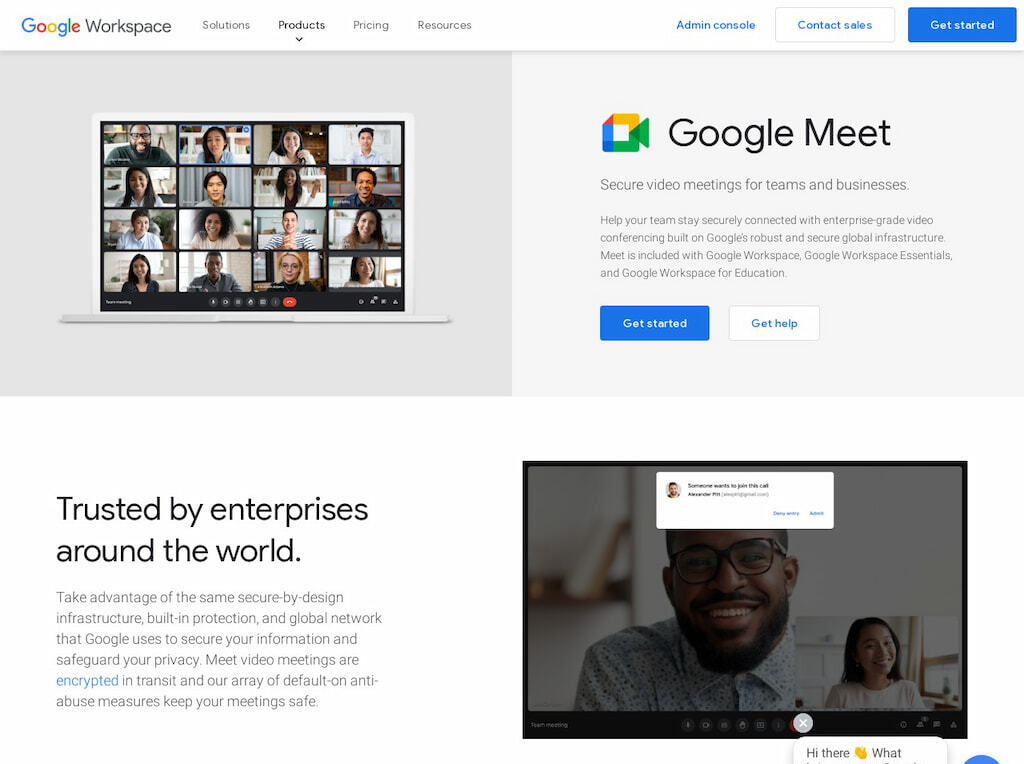 Sometimes words are just not enough, and that's where Google Meet steps in. It is a video conferencing solution that lets you schedule and hold meetings with all your stakeholders from anywhere in the world. Its value as a project management tool is most apparent when the project includes visual ideas that cannot be satisfactorily conveyed with words.
👍 Pros
It integrates well with Calendar, Chat, Gmail, and Slides
Secure design
Easy frictionless video calls
🤔 Cons
Live captioning can be improved
Uninviting user interface
Low participant limit
---
Google Chat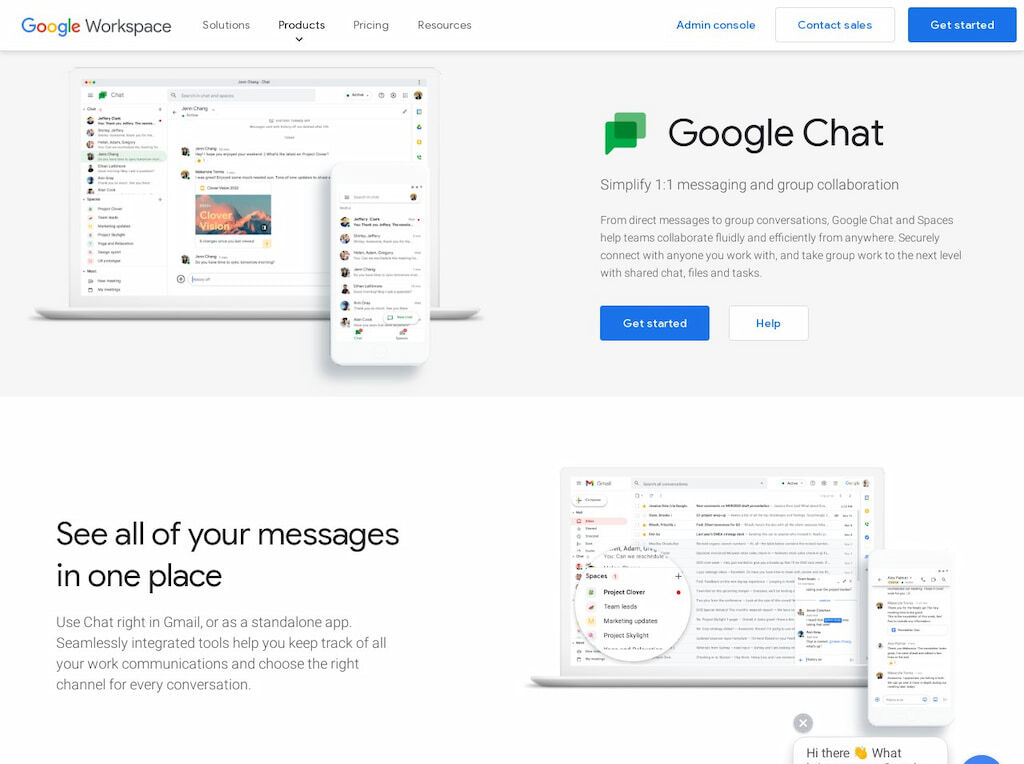 Google Chat is a free project management software Google developed to solve communication issues in the workplace. Unlike Gmail, which is better suited for formal, external communication, Chat focuses on quick and easy communication between teams. You can chat with individuals or in groups, and with Spaces, you can easily organize all your discussions by project topic.
👍 Pros
Available across devices
Simple user interface
Instant messaging
🤔 Cons
Inefficient search
Limited features
Little support for 3rd party integrations
---
Google Calendar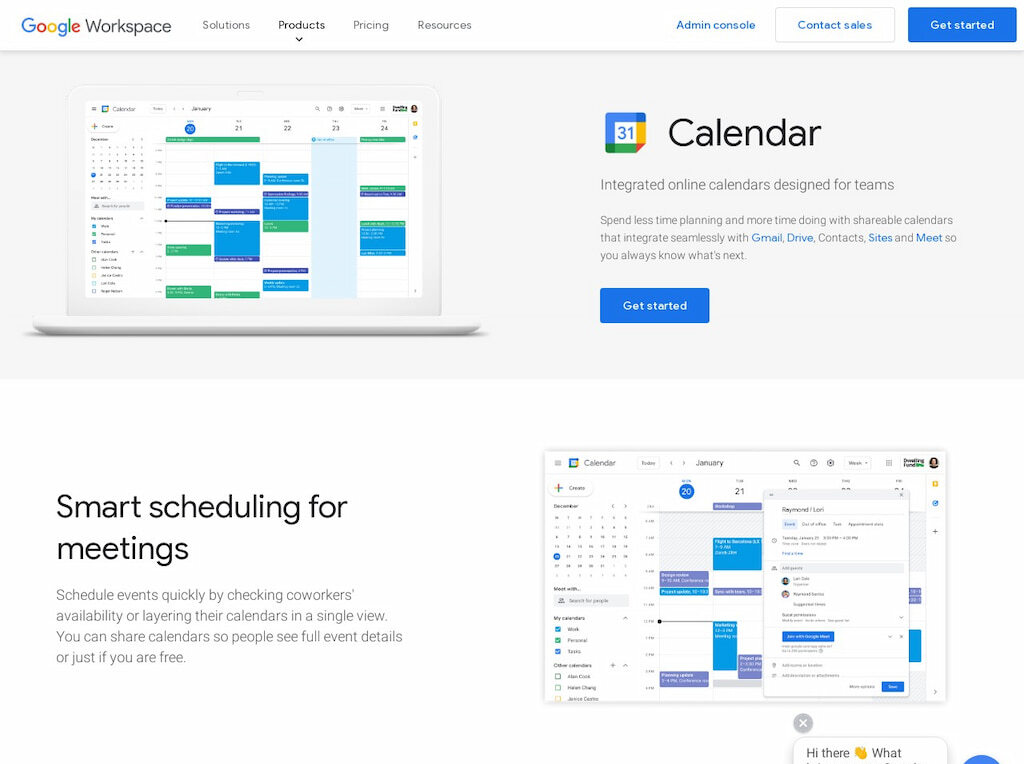 Google Calendar is an online calendar service that assists project managers with project planning and tracking. It allows you to layer your teammates' calendars so you can easily check their availability and smartly plan tasks. It is quite popular, with most productivity applications supporting project management google calendar integration.
👍 Pros
Shared calendars make scheduling a breeze
Easy to use
Integrations with popular project management apps
🤔 Cons
Limited theme and customization options
Limited search feature
Unsophisticated task management functionality
---
Google Slides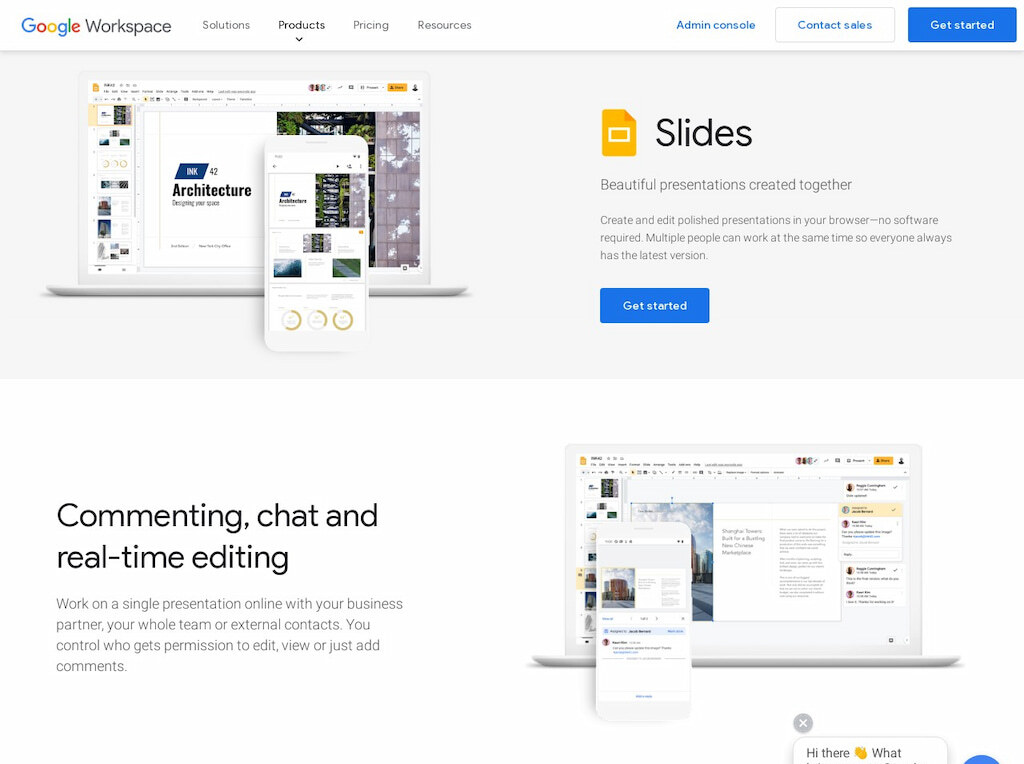 Slides is Google's take on presentation software. It is similar to Powerpoint but with greater real-time collaboration capabilities. Slides can be useful for project planning and communication. You can use it to sketch out your ideas, present your vision to your team, and create reports with stunning visual elements.
👍 Pros
Permission levels
Several sharing options
Real-time collaboration
🤔 Cons
Limited export file formats
Few themes
Limited diagram features
---
Google Forms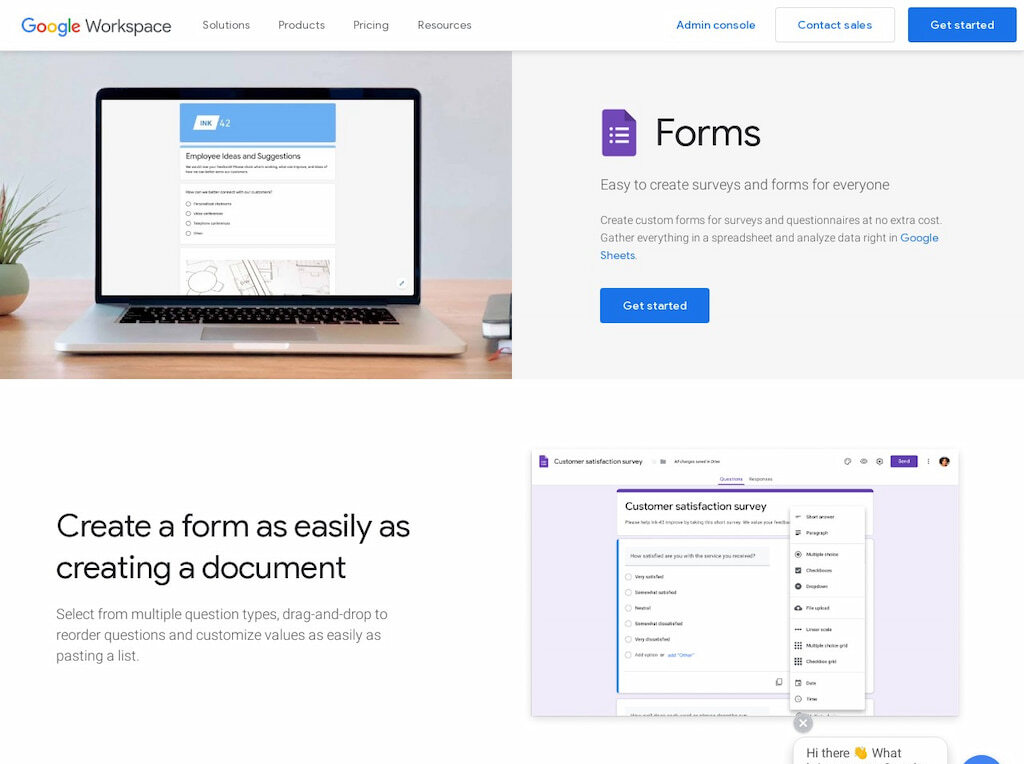 Google Forms simplifies data collection, letting you create custom surveys and questionnaires. You can see the data you gather in different views, including graphs, charts, and spreadsheets. At the close of a project, it can be extremely useful for gathering feedback from your team, customers, and other project stakeholders.
👍 Pros
Automatic data summaries
Easy to create
Flexible sharing options
🤔 Cons
Few customization possibilities
Difficult to add photos and videos
Few design customization options
---
Google Keep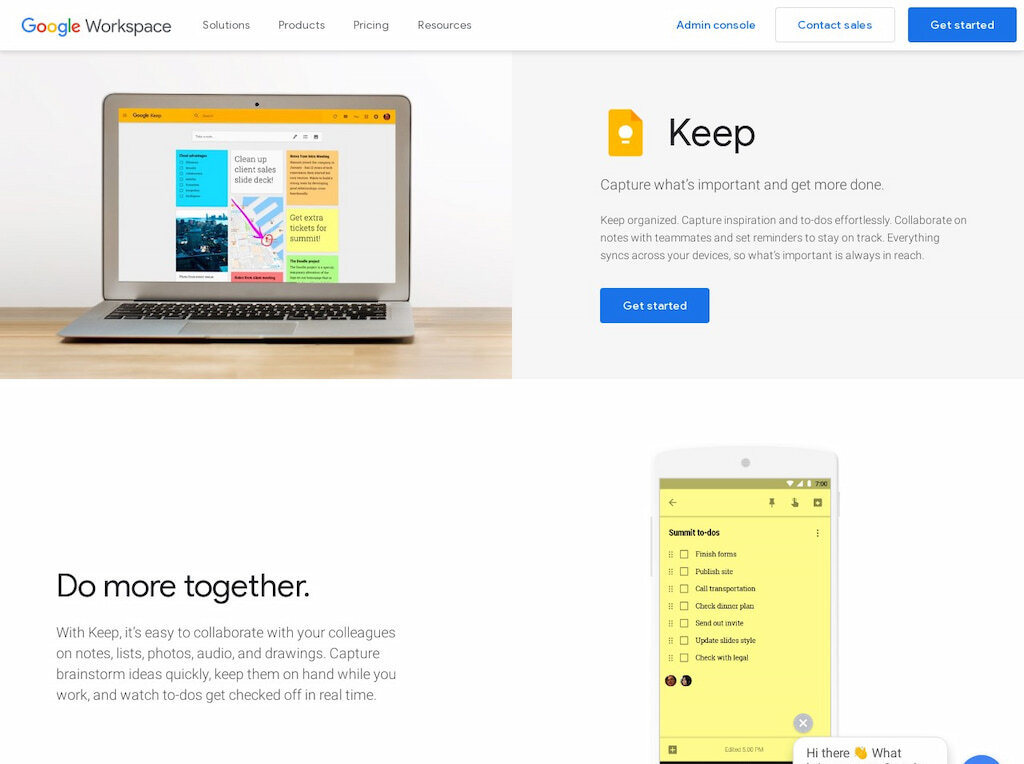 Google Keep is a note-taking service that provides a space for you to brainstorm and capture your ideas. As a project management tool, it is useful for project planning and task management. You get a clear space to plan out your project however you like, whether through text, photos, audio, or even drawings. Additionally, you can use Notes to create task lists that you and your team can access and edit in real time.
👍 Pros
Great search
Easy to use
Clean and simple user interface
🤔 Cons
Poor notifications
Limited formatting tools
No version history
---
Google Workspace Project Management Pricing
You can use the consumer version of all of the above-mentioned Google project management tools free of charge. However, the consumer versions do not include business-grade services such as custom business email, larger storage space, and 24/7 support. You can get full access to all of the apps in the Google workspace by subscribing to one of Google's four pricing plans.
1️⃣ The Business Starter is the cheapest option at $6/user/month. For that, you get, amongst other things, a custom email for your business, phishing and spam protection, and 100 person meeting limit.
2️⃣ The next tier is the Business Standard at $12/user/month. Users of this plan get advanced Meets features such as hand raising and attendance tracking, as well as improved Drive features, including shared drives and target audience sharing.
3️⃣ The Business Plus costs $18/user/month and has a 500-person meeting limit, advanced security, and 5TB of space per user.
4️⃣ The Enterprise plan is the most feature-rich of the bunch, with unlimited amounts of Drive storage and in-domain live streaming. You must contact the Google Sales team to get a quote for this plan.
---
Bonus Tool: Google Chrome+Everhour Extension
A time tracker is missing from Google's repertoire of project management tools. Luckily, downloading the Everhour Google Chrome Time Tracking extension can easily address this lack.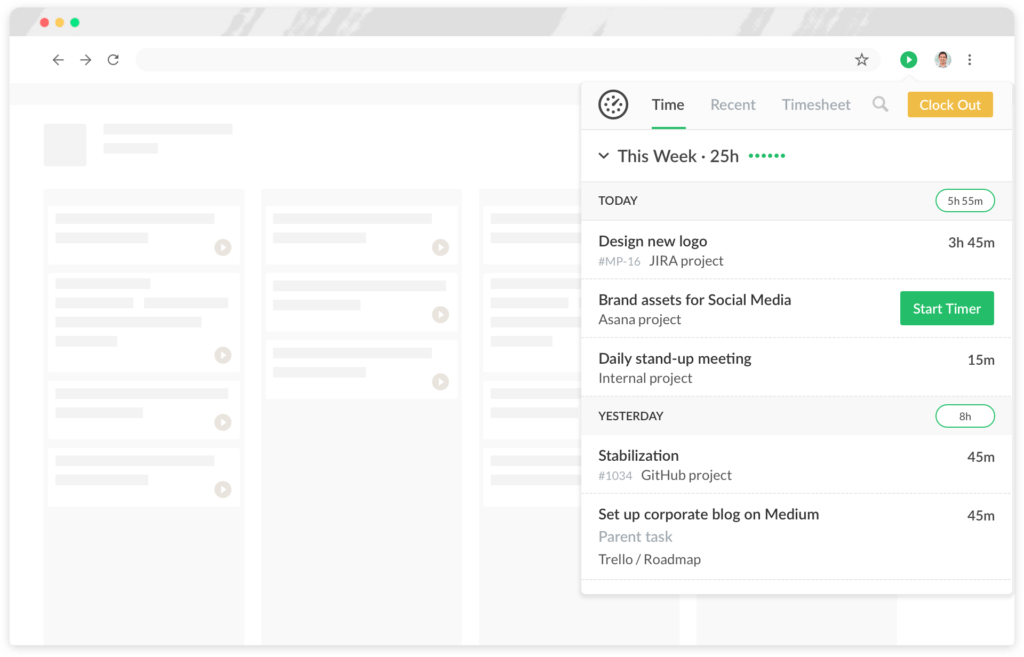 The Everhour extension assists with project scheduling and planning because by monitoring employee time per project, you can make more accurate estimates for the future. The Google time tracker can be pinned on your menu bar, so you can always access it. Simply enter your project details, and start the work hours tracker to begin.
Everhour's Google Chrome timer extension also has additional project management features such as the attendance tracker—which helps you see your employees working time—the time clock app, and employee time tracking.
Everhour also offers several templates to use in Google Workspace tools, such as, for example, the timesheet template in Google Spreadsheet or the invoice template in Google Docs.
Pricing
You and four other team members can use Everhour for free and access unlimited time tracking, projects, and website integrations.
If you opt for the Lite plan, which costs $5/user/month and supports up to 10 users, you get everything in the free plan, as well as budgets, invoicing, reminders, API, and responsive support.
The Team plan costs $8.50/user/month, supports unlimited users, and includes time tracking audits, scheduling, native integrations with sync, and time approval.
---
How to Manage Your Projects With Google Tools For Project Management
Combined, the different tools highlighted above give you access to a vast arsenal of project management features. To get the most out of your Google project management tools, follow these tips on how to do project management with google apps.
📊 Schedule, Track, and Update Project Tasks
Google Sheets is your best bet for Google apps project management. The project management template will help you create a master task list where you can assign tasks, set due dates, and track task status. By pairing Sheets with Calendar, you can make assigning tasks even more efficient since you'll have up-to-date information about your teammates' schedules.
💬 Effortlessly Communicate With Your Team
Use Gmail for communications with clients, business partners, and other external stakeholders. When the communication is internal, Chat is the better option. Plan and execute meetings with Calendar and Meets, and combine that with Slides to create stunning presentations that help you communicate more visual ideas.
Google Drive is the solution for all your document management issues. Organize your project resources into folders and subfolders, or use its powerful search to find whatever you need, whenever you need it. There is no limit on what you can share, whether an individual document or an entire folder. Do it all with a single link.
👩‍🏫 Create Reports and Presentations
Whether proposing a new project or reporting on a just concluded one, Google Sheets and Slides are your best friends for creating detailed explanatory reports and presentations. Use graphs, charts, and other visualization tools to share your vision or describe your performance.
---
Doing Project Management In Google Apps
Google does not have a dedicated project management tool. However, that does not mean you can't do project management in Google. By layering multiple google project management tools, you can get something with similar functionality to top project management tools like Asana or Click Up.
Of course, this method does come with some limitations, most obviously, the fragmentation of the project management process. Still, it remains a viable alternative for project managers who want a Google project management tool free of charge and prefer the ease and familiarity of Google Workspace.