Did you know 64.19% of people use Chrome as their internet browser? And there are some pretty great reasons for that too—it's fast, it's easy-to-use, and, most of all, it has awesome add-ons, called extensions, that make it even better.
But there are so many of them (over 150,000!). That's why we've created a list of the best Chrome extensions in 2023. Everything you may need: apps for office work, efficiency, being organized, best time and attendance software, best productivity apps, and many more.
Best Chrome Extensions for Productivity
Everhour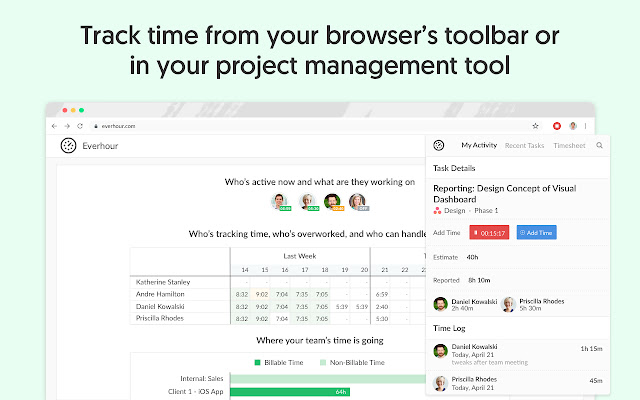 👤 Users: 60,000+
📈 Rating: 4.3 of 5
💡 Best for: project management, time tracking, billing, and budgeting
Everhour is more than just a handy Chrome time tracking app (one of the best time tracking apps, if we may say so). It's a complete task management tool in your browser. Click Everhour when you need to track your working time, create professional and beautifully designed invoices, or make payroll—it's all in there!. This intuitive and feature-packed extension will become your right hand whether it comes to freelance or business team management. All you need is to add it to your Chrome extension list.
What other features are there?
Dashboards for budget and expenses monitoring
Team timesheets with clock-in, clock-out, and breaks for each employee, as well as an attendance tracker and a timesheet app
Board layout and roadmaps for project management
Dashboards with detailed reports
StayFocused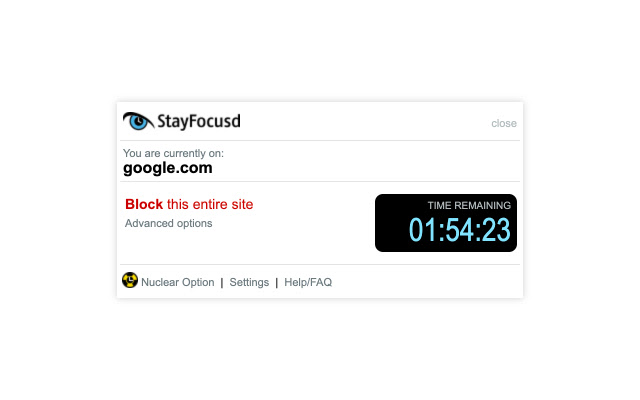 👤 Users: 600,000+
📈 Rating: 4.5 of 5
💡 Best for: Blocking time-wasting sites, productive work, and concentration
Some people call this extension a blessing. It helps them stay concentrated on their work throughout the day and be highly productive. StayFocused is a simple app that blocks the time-eating websites its users add to the list. It can even block specific in-page content such as images, games, or videos! The good thing about this extension is that you can allocate a certain amount of time for work and have rewarding breaks, spending them on your favorite websites.
Todoist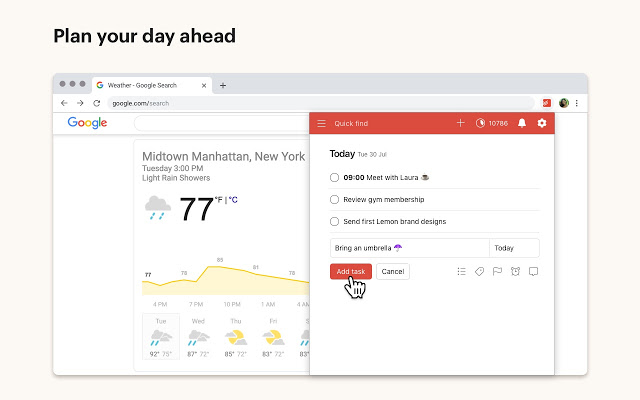 👤 Users: 800,000+
📈 Rating: 4.7 of 5
💡 Best for: personal task tracking, managing small to medium projects
If you're looking for simplicity, Todoist is the Chrome extension for you. It's a useful task manager that helps you keep track of your projects, manage tasks and organize them, all direct from your Chrome browser – simple! Easily integrated with a variety of apps, Tododist is the secret weapon of micromanagers everywhere as it lets you keep your organization as streamlined as possible.
Add to Trello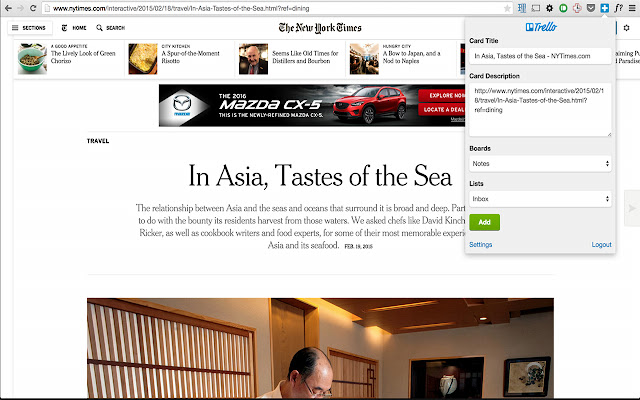 👤 Users: 10,000+
📈 Rating: 4.7 of 5
💡 Best for: Making adding task cards to Trello boards as quick as lightning
If you use Trello for task management, then Add to Trello might be the extension you've been missing. It will make your work even more productive. With this simple and intuitive app, you'll be able to add web pages as task cards to the Trello board straight from your browser. All you need to do is to click on the extension and the app will automatically fill out the web page title and the link in the Trello card you want.
Pomodoro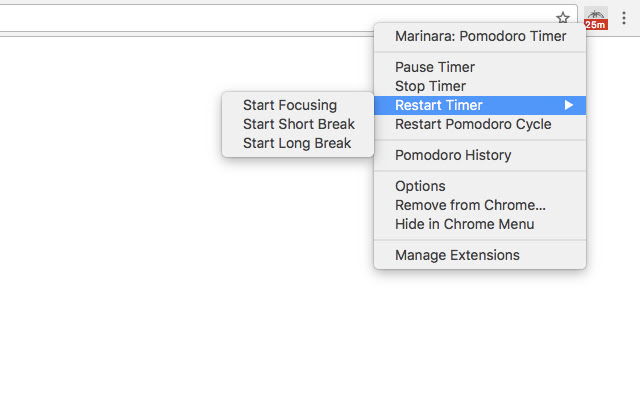 👤 Users: 200,000+
📈 Rating: 4.8 of 5
💡 Best for: Giving you concentration-building superpowers
If you're searching for a quick and super-simple time management app, then Pomodoro Chrome Extension is right for you. You can start the Pomodoro Chrome Extension in just 3 clicks and enjoy deep working mode until the time runs out. Then, it's time to take a short break. Lots of people have been using the Pomodoro time-management technique to work more productively for centuries. The only difference between the tried and tested version and the best Chrome extension? — Now you can get it in your browser.
Infinity New Tab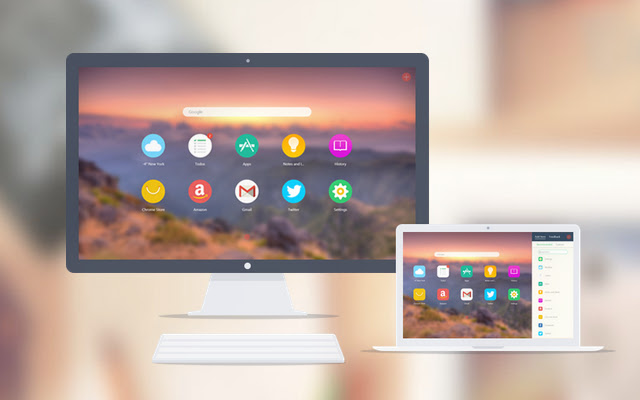 👤 Users: 700,000+
📈 Rating: 4.5 of 5
💡 Best for: Keeping all your favorite websites in one place
When you click the "New tab" button in your browser, shortcuts appear with the most visited websites under your Google bar search. If you often find yourself choosing from the list, then this swift and convenient feature is for you. Meet the Infinity New Tab. With the Infinity New Tab, you don't have to choose your top-of-the-line websites to put in these shortcuts, now you can add them all at once. The New Tab saves you from typing long lines in an address bar. Instead, get the site you need in one click.
New tab page by start.me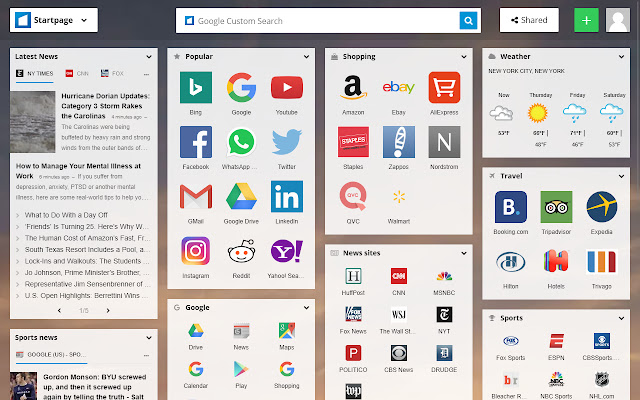 👤 Users: 80,000+
📈 Rating: 4.1 of 5
💡 Best for: Creating personalization in your web browser
Start.me turns your Chrome starting page into an actionable dashboard. If you love a systemized approach and keep everything in order then it's time to give start.me a go. With this productive Chrome extension, you'll be able to sort out all the backlogged websites into blocks by topic. Above all, the app lets you add notes and news feeds to your personalized dashboard so that you feel at home every time you open your browser.
Blank New Tab Page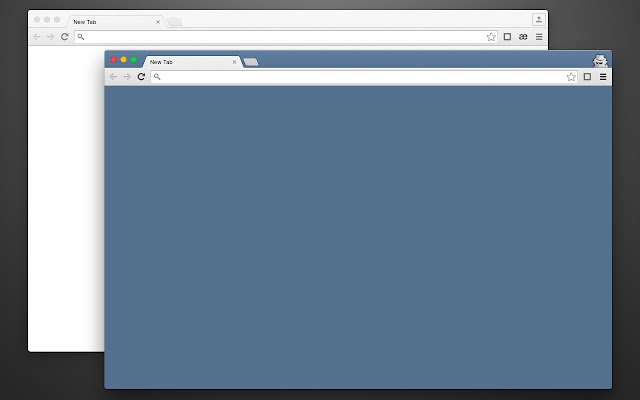 👤 Users: 40,000+
📈 Rating: 4.7 of 5
💡 Best for: Calming the mind mess and creating order
Tired of that cluttered New Tab Page? What about those endless shortcuts and bookmarks that require adjustments? The Blank New Tab Page will help you to avoid all that mess. Just open your browser and start your work with a clean slate, free of any distractions. Simple!
Dark Mode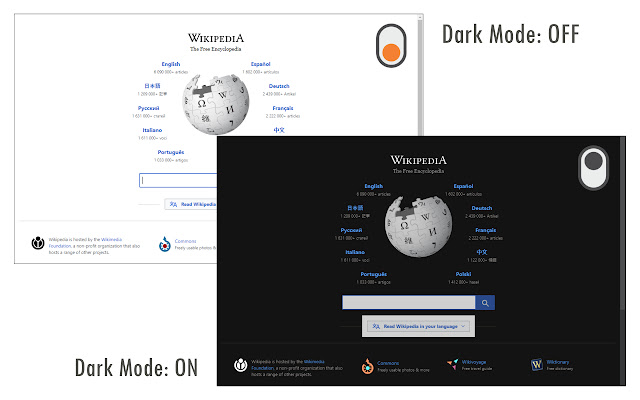 👤 Users: 1,000,000+
📈 Rating: 3.5 of 5
💡 Best for: Making pages easier on the eyes
Dark Mode is one of the best browser extensions out there. It's a particularly great choice for those who prefer working at night. Functioning as an ON/OFF toolbar button that switches your browser screen from light to dark mode in one click, it gives that slick look, and it's easy on the eyes too. And guess what? The extension isn't limited to only light/dark mode. You can use different Chrome themes and 50 presets to change parts of the website you're visiting. Moreover, if you're keen on front-end development, the extension lets you play with its CSS styles.
Web & PDF Highlighter – LINER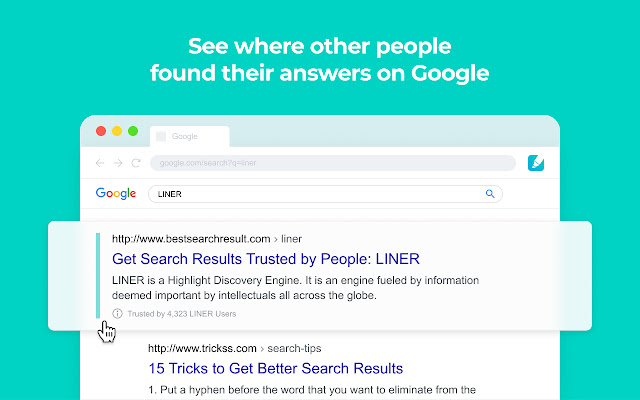 👤 Users: 100,000+
📈 Rating: 3.6 of 5
💡 Best for: Working with texts
Are you studying for a test or researching materials for a new project? Web & PDF Highlighter is a valuable discovery for quick text processing. There is no need to extract texts from websites to work with them. Use a liner to highlight, comment, and share your notes directly on a webpage. Generate simple notes and export them to MS Word, OneNote, Evernote, and more!
Best Chrome Extensions for Efficiency
Your web browser is working pretty OK for you. But if you've ever wondered what could make it even better, welcome to the best chrome apps around…
FullPage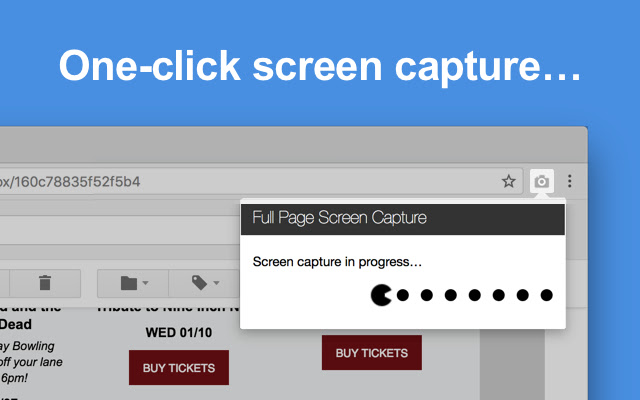 👤 Users: 4,000,000+
📈 Rating: 4.9 of 5
💡 Best for: Advanced website screenshots
GoFullPage turns web pages into screenshots. One click on the extension icon and you've saved it for later. Now, you can edit your screenshots in PNG and JPEG or export them to PDF. With GoFullPage you can make entire page screenshots or capture parts of the website.
Lightshot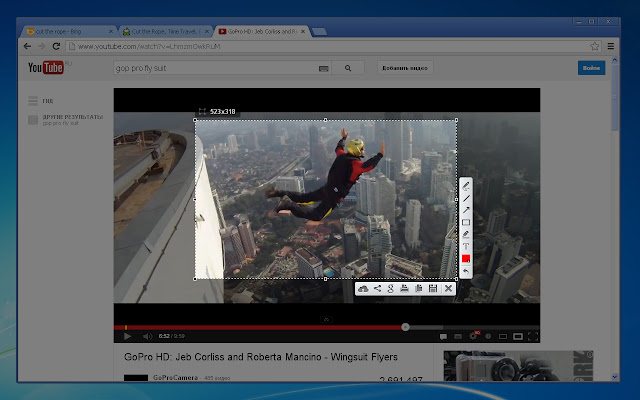 👤 Users: 2,000,000+
📈 Rating: 4.5 of 5
💡 Best for: Customized screenshots of a selected area
Lightshot is another handy screenshot tool. With Lightshot you'll be able to quickly snap any area in your browser, whether it's a game, video, or text. Just select the part you need, edit if necessary, save the screenshot on your computer or copy and paste it to wherever you need it!
Loom for Chrome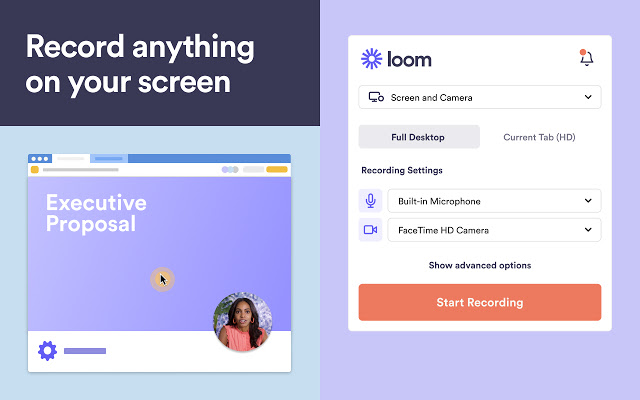 👤 Users: 5,000,000+
📈 Rating: 4.7 of 5
💡 Best for: Recording anything on your screen
They say, "a picture is worth 1,000 words," and that's definitely true for Loom. Loom for Chrome records quick and short videos for messaging. Record your browser screen, voice, and even add your face to a small window in a video. Attach your videos to your emails or share them in messengers. With Loom, you can share data, info, and ideas faster, reducing the time you spend on endless back and forth messages.
Grammarly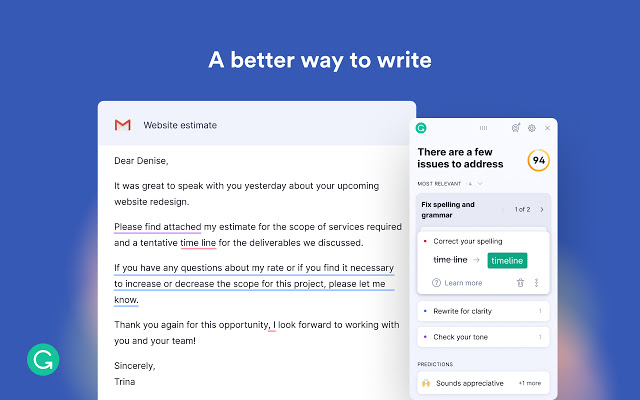 👤 Users: 10,000,000+
📈 Rating: 4.6 of 5
💡 Best for: Proofreading as you type, adapting the text to fit a style or tone
Grammarly is the savior for every copywriter, editor, and content maker. This simple-to-use and feature-packed tool turns your writing into a professional, high-quality copy. It proofreads your work for grammar, spelling, and other mistakes and provides the best advice on how to improve it. Works inside Gmail, Google Docs, Facebook, LinkedIn, Twitter, and many other sites. The app highlights the mistakes in various colors. You can check the suggested improvements by simply hovering over a mistake or referring to a Grammarly doc log with tips and corrections.
Google Dictionary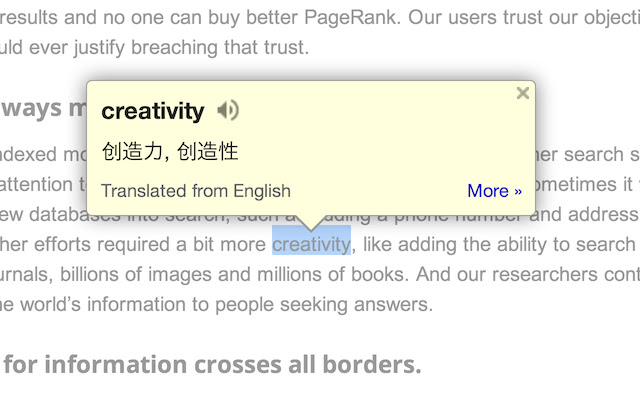 👤 Users: 4,000,000+
📈 Rating: 4.4 of 5
💡 Best for: Word and phrase translation on any web page
Starting your professional development in a new sphere and constantly stumbling over jargon and unknown words or just want to expand your vocabulary? Don't spend your time on tedious digging through countless dictionaries. With Google Dictionary extension you'll be able to quickly catch up with the words' meanings and translations by double-clicking on them. And the best part? You can store up words to put them into flashcards for later practicing!
Save to Pocket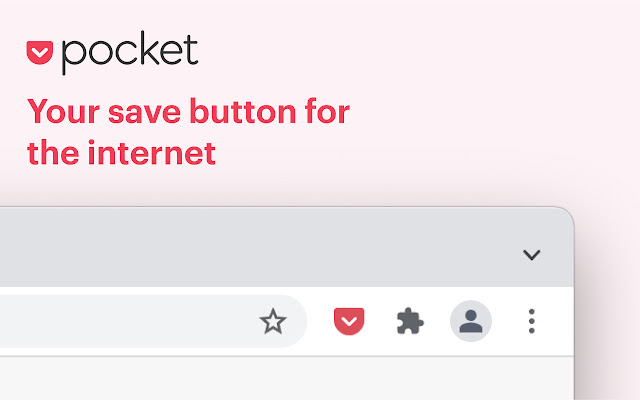 👤 Users: 2,000,000+
📈 Rating: 4.3 of 5
💡 Best for: Saving must-read content for later
Found an interesting article but don't have time to read it right now? Keep it for later with the Save to Pocket extension. It gathers articles, videos, images, and other content and saves it on all your devices so that you can read it in your free time, even while offline. There are three ways to save your content: by clicking an icon, via right-click, and via keyboard shortcuts. You can also add tags for better content organizing!
Google Keep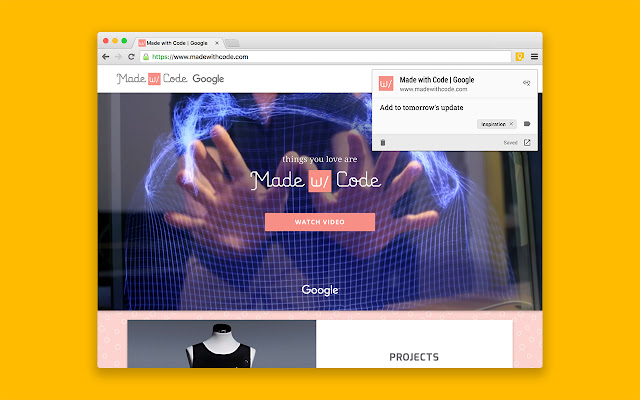 👤 Users: 7,000,000+
📈 Rating: 4.2 of 5
💡 Best for: Capturing content to access it anywhere, anytime
Google Keep is another handy extension that allows you to save online content to read offline or even just later. The app saves images, texts, and URLs of your choosing and stores them conveniently in a categorized library you can access from your browser as well as tablet or phone.
Evernote Web Clipper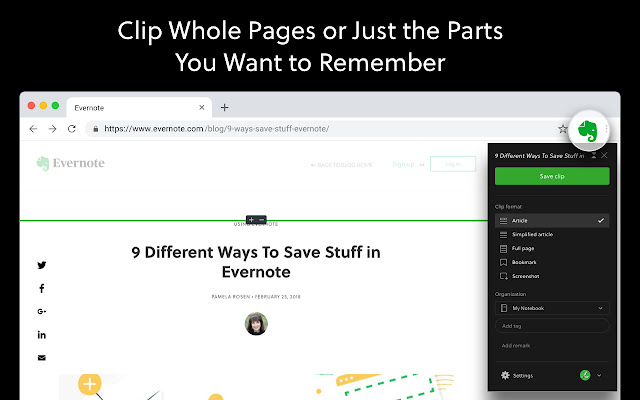 👤 Users: 4,000,000+
📈 Rating: 4.7 of 5
💡 Best for: Collecting and organizing valuable content
Do you use Evernote for storing your boarding passes, recipes, and notes on your smartphone and tablet? Then add it to your computer as a browser extension. This way you'll synchronize all your appliances into a coherent system to share your content under one Evernote account. With Evernote Web Clipper you'll be able to clip interesting web pages, highlight the most interesting information, take screenshots, and make annotations.
Speedtest by Ookla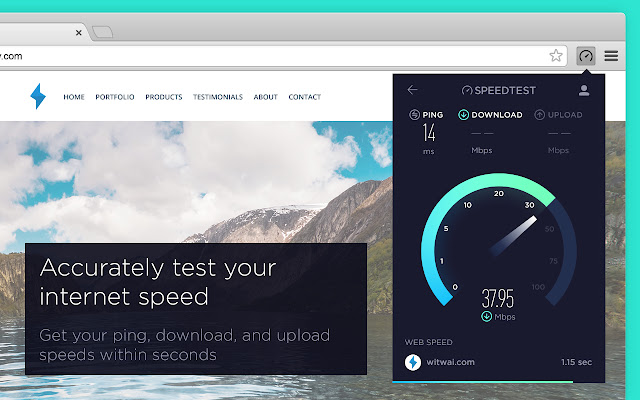 👤 Users: 2,000,000+
📈 Rating: 4.4 of 5
💡 Best for: Internet connection speed testing
Can't figure out why that webpage won't load? Want to dispute web speed with your Internet provider? Use Speedtest extension to quickly check your ping, download, and upload speeds before calling your Internet provider.
Agenty – Advanced Web Scraper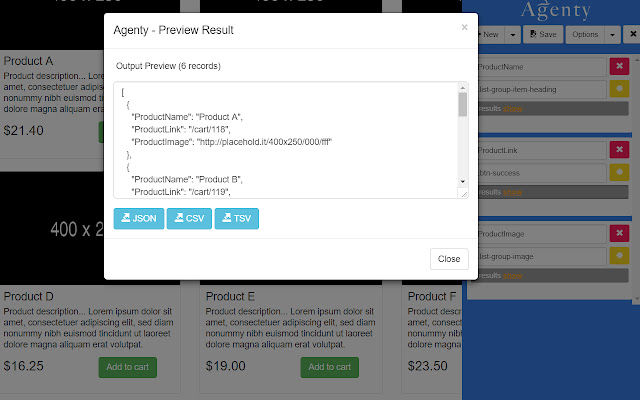 👤 Users: 20,000+
📈 Rating: 4.3 of 5
💡 Best for: Sorting and collecting data quickly
Imagine you need to collect all the prices for project management books on Amazon. How would you do that? Creating an Excel document and spending dozens of hours on copy/pasting book titles and prices isn't an option. That's where Agenty comes in handy. This simple but powerful extension allows scraping the needed data from any website in several clicks with point-and-click CSS Selectors.
Email Extractor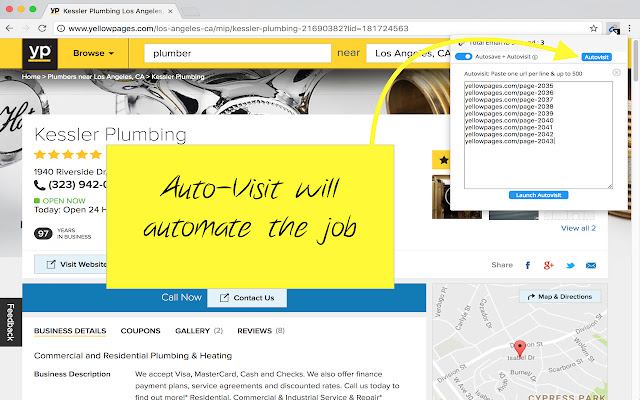 👤 Users: 100,000+
📈 Rating: 4.6 of 5
💡 Best for: Collecting & auto-saving emails from any webpage
Email Extract finds emails from every corner of the Internet you visit. It forms the extracted emails in simple lists with domain names and dates when the app found them. This way, you can form a database of your potential business partners in 15 mins.
Window Resizer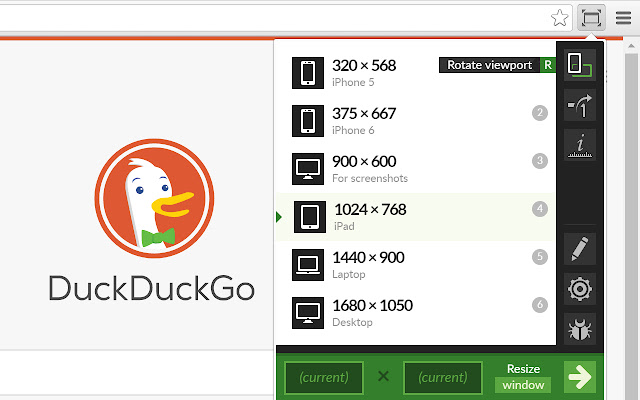 👤 Users: 600,000+
📈 Rating: 4.3 of 5
💡 Best for: Changing screen resolution
If you're a designer, software developer, or QA engineer, then Window Resizer is the right choice for your website development projects. It will show you how your website looks on different gadgets from a PC to a smartphone. The extension can set particular window width and height, change from the portrait to landscape positions, set a website's icon, and implement various window dimensions.
Best Chrome Extensions to Keep Your Workspace Organized
AdBlock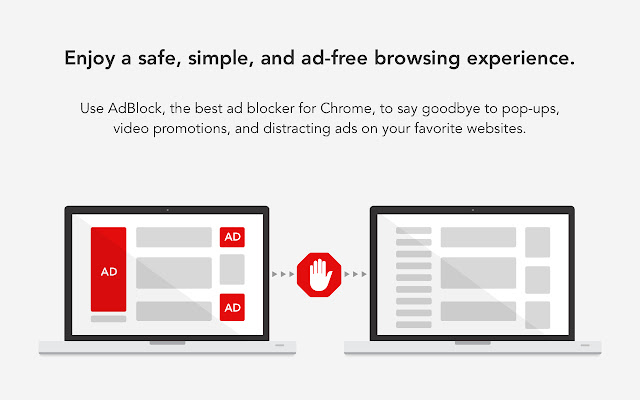 👤 Users: 10,000,000+
📈 Rating: 4.5 of 5
💡 Best for: Cutting out annoying ads on your favorite websites
AdBlock is an extremely popular extension that helps users enjoy the content instead of Ads on various websites. This inconspicuous app works by blocking annoying pop-ups, banners and even removing Ads from videos on YouTube, Twitch, Facebook, and other sites. Above all, it protects its users from scams, third-party trackers and accelerates Internet speed many times.
Fair AdBlocker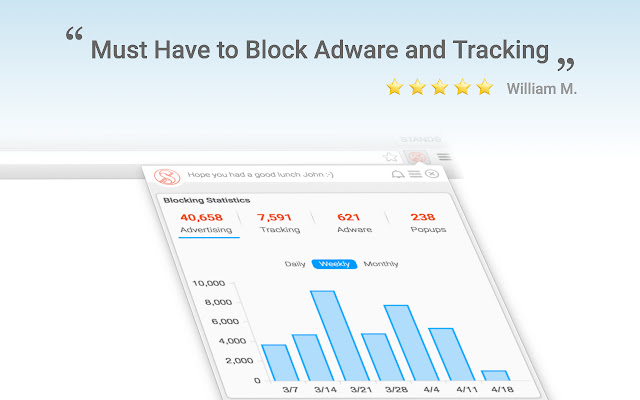 👤 Users: 1,000,000+
📈 Rating: 4.8 of 5
💡 Best for: Blocking ads, banners, pop-ups, autoplay videos
Fair AdBlocker is another extension that helps its users to cope with a wide range of Ads, malware, and trackers. Fair AdBlocker creators claim that it's "the absolute BEST adware and popup protection on the web."
The Great Suspender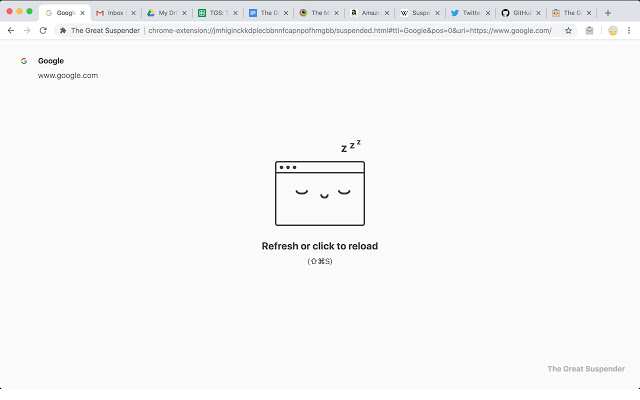 👤 Users: 30,000+
📈 Rating: 3.8 of 5
💡 Best for: Suspending inactive tabs when you have loads open
The Great Suspender will save your computer memory by suspending inactive tabs. The extension has flexible and easy-to-configure settings with suspending time sets, setting shortcuts, and much more. For those of us constantly piling up open tabs to go back to later, Suspender allows gathering tabs in groups and saving them in bulks!
Toby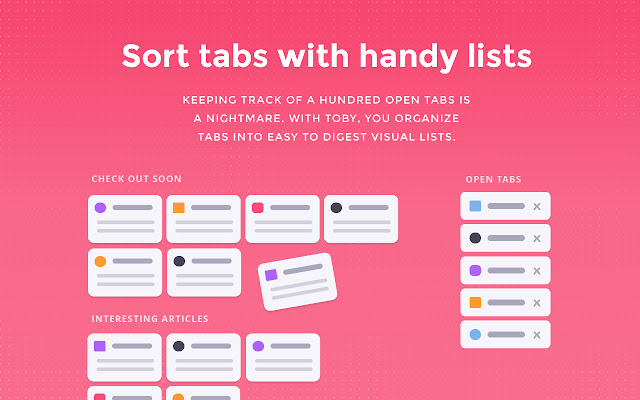 👤 Users: 300,000+
📈 Rating: 4.4 of 5
💡 Best for: Managing tabs
The Toby extension will save you lots of clicks by smartly organizing your tabs into labeled categories. Now, you don't need to search for saved tabs in the endless rows in bookmarks. Especially if you're a workaholic who loves to store tabs just in case you need them in the future. This highly visual app will easily synchronize your tab collections with other devices. All you need to do is simply drag and drop the necessary tabs into Toby's collections.
OneTab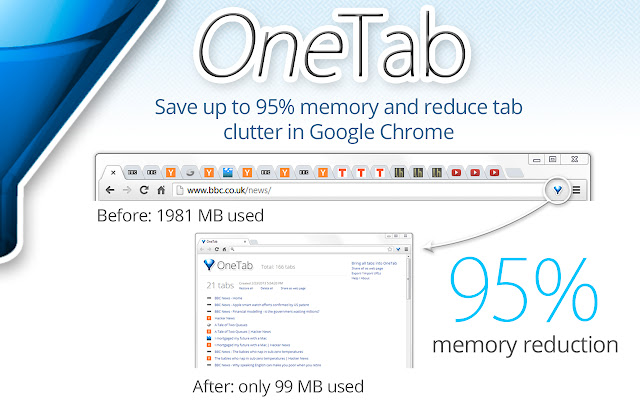 👤 Users: 2,000,000+
📈 Rating: 4.5 of 5
💡 Best for: Managing open tabs in one click
OneTab, like Toby, sets all your open tabs into a manageable and visual list. When you want to access your tabs, you can do it in one click or restore all the tabs right away. OneTab will also save your computer memory, making it up to 95% faster by temporarily deactivating inactive tabs. You can also share tab lists as a web page with other users!
Extension Manager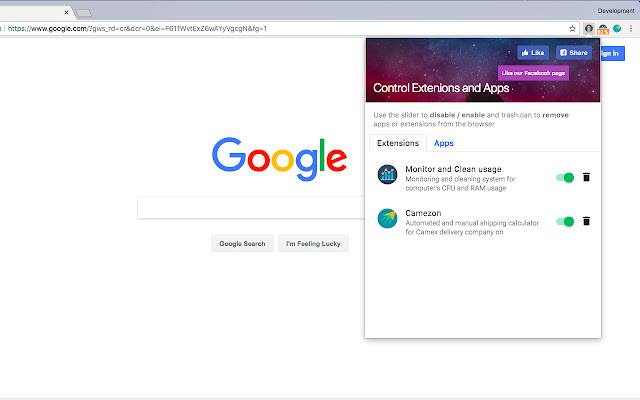 👤 Users: 9,000+
📈 Rating: 4.5 of 5
💡 Best for: Keeping all your extensions in one place
Having read this far, you may have already picked up some of the best Google Chrome extensions to improve your productivity and concentration. The Extension Manager will help you to organize your extensions well. The app can sort your extensions by groups and frequency of use. Besides that, it provides its users with additional settings like quick extension uninstalling, configurations, locking, and others.
Best Chrome Extensions for Security
LastPass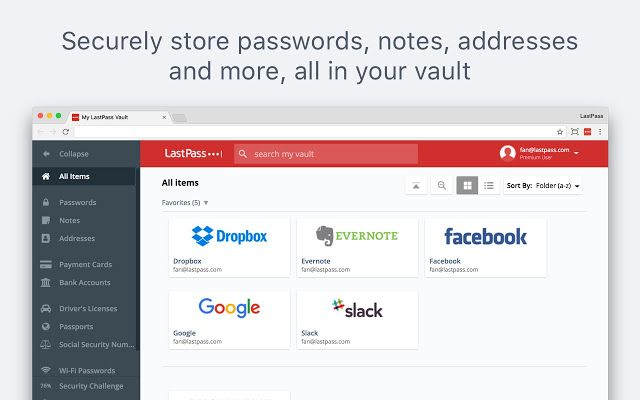 👤 Users: 10,000,000+
📈 Rating: 4.5 of 5
💡 Best for: Password management
With LastPass, you won't forget your passwords ever again. Now, you can have them all in one place for different social networks, Gmail, and favorite websites. LastPass saves all your passwords, credit card data, and other sensitive information in one place, making it inaccessible for scammers. The app will fill all the passwords out for you and simplify the access to the websites you use daily!
1Password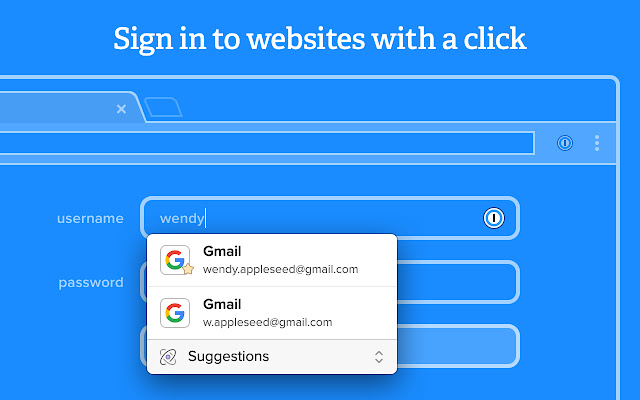 👤 Users: 1,000,000+
📈 Rating: 3.4 of 5
💡 Best for: Logging in to your favorite websites quickly
1Password manages passwords in your Chrome browser so that you don't have to store them in your brain. The app automatically signs in to your favorite websites and generates passwords for new registrations. 1Password keeps your passwords secure, saving you from painful attempts to restore your passwords every time you try to log in. You can start several accounts there—one for work, another for home use, and more!
HTTPS Everywhere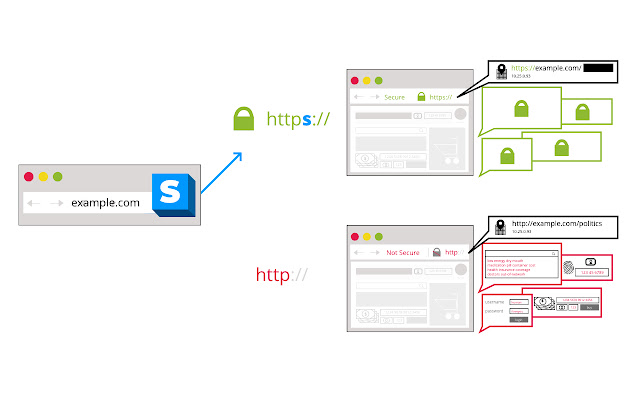 👤 Users: 2,000,000+
📈 Rating: 4.5 of 5
💡 Best for: Secure internet browsing
HTTPS Everywhere doesn't magically turn an HTTP site into HTTPS. But if an HTTPS version exists, it'll use it. Note: if HTTPS doesn't exist, it'll be plain old HTTP for you. But why does this matter? HTTPS is known to be more secure, meaning that if you want to feel safe online, this simple Chrome extension will protect you from unauthorized online tracking, account hacking, and stealing your sensitive data.
Click and Clean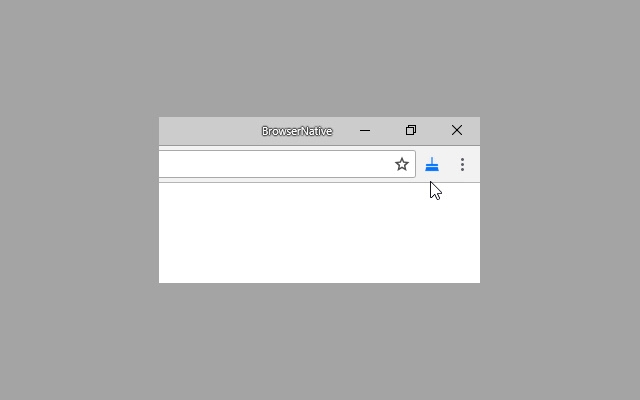 👤 Users: 10,000+
📈 Rating: 4.4 of 5
💡 Best for: Removing your browser data
Click and Clean removes all up to your browsing history, cookies, history of downloads, cache, open windows, etc., in one click. This one-button app will ensure that you've left no trace after your last Internet surfing session. With Click and Clean, one PC for several users is not a problem anymore.
J2TEAM Security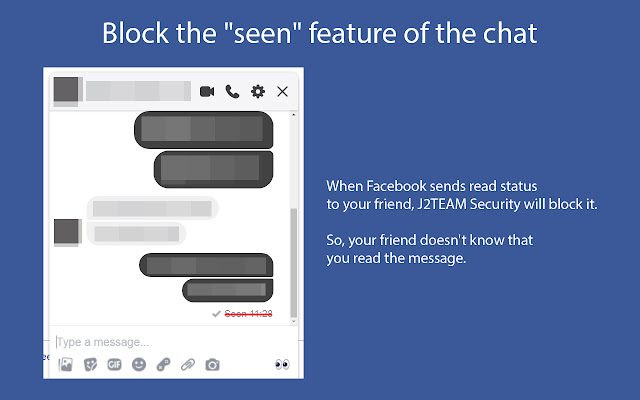 👤 Users: 200,000+
📈 Rating: 4.9 of 5
💡 Best for: Secure Facebook surfing
J2TEAM Security keeps your Facebook secure and convenient for you to use. It removes the phishing fake Facebook pages and prevents you from sharing your Username and Password with hackers.
Ghostery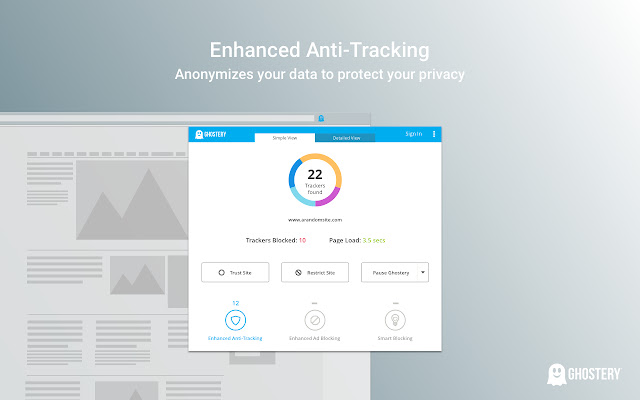 👤 Users: 2,000,000+
📈 Rating: 4.6 of 5
💡 Best for: Protecting your privacy online
Ghostery app extends your privacy online. It blocks irritating ads, removes waste and clutter on web pages, making websites load much faster. Besides that, this app ensures that nobody collects your data with trackers and that you stay private online.
Avast Online Security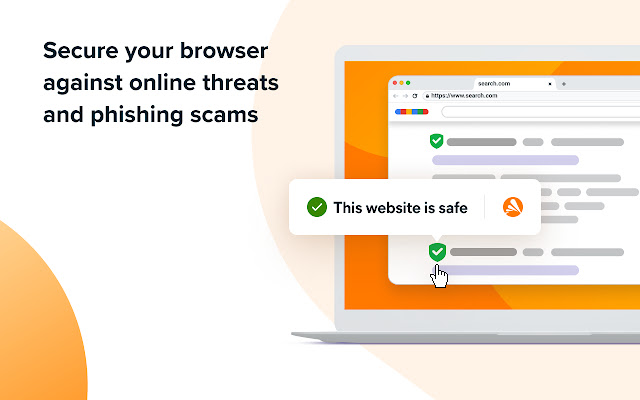 👤 Users: 10,000,000+
📈 Rating: 4.4 of 5
💡 Best for: Secure Internet surfing
If you prefer having an extensive and integrated approach to your security online, then you should consider installing an antivirus for your browser such as Avast. Avast Online Security is a lightweight solution that will provide strong protection against phishing sites, will warn you about websites with an ill reputation, block cookies trackers, and much more.
FlowCrypt: Encrypt Gmail with PGP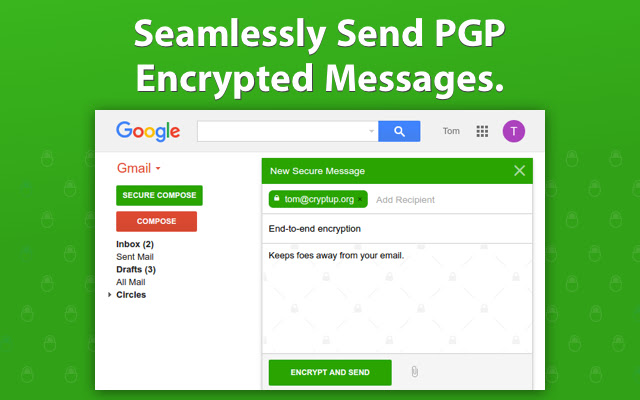 👤 Users: 70,000+
📈 Rating: 4.8 of 5
💡 Best for: Secure end-to-end email encryption
Send emails and attachments in them securely with FlowCrypt. This simple extension encrypts and decrypts any data in your emails, provides digital signatures, and allows receiving emails through the Encrypted Contact Page. Works with Gmail, G Suite, G Business, G Enterprise, and beyond!
Best Chrome Extensions for Professional Collaboration
Calendly: Meeting Scheduling Software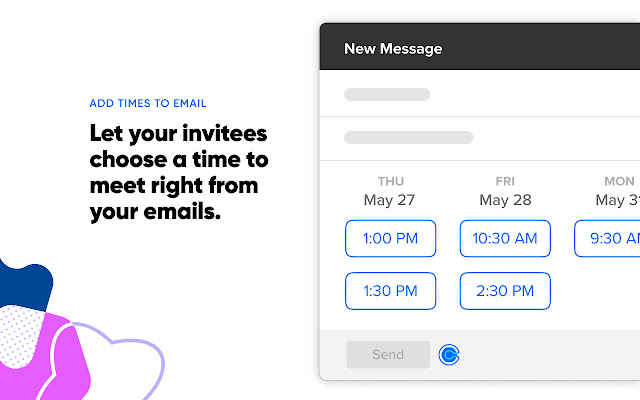 👤 Users: 300,000+
📈 Rating: 4.7 of 5
💡 Best for: Scheduling meetings without the back-and-forth
Calendly is an innovative calendar that effectively schedules and shares your events as links. Use posts, emails, whatever, Calendly makes it simple. The extension will align your events, rank them by importance, sync with all your other calendars and gadgets. Calendly makes your daily tasks management easy and enjoyable.
Zoom Scheduler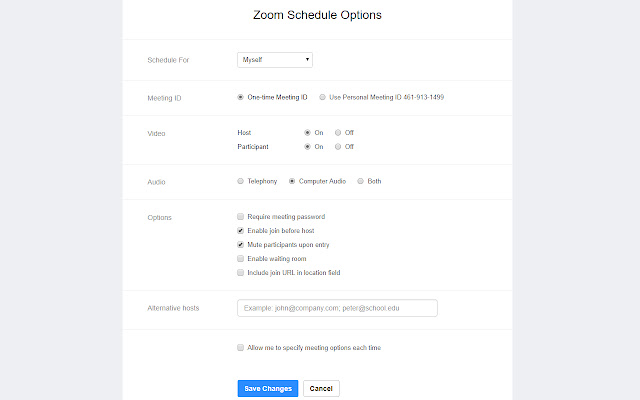 👤 Users: 8,000,000+
📈 Rating: 4 of 5
💡 Best for: Schedule meetings directly from Google Calendar
Working remotely and using Zoom? Then Zoom Scheduler will organize your calls timetable consistently. The app is fully compatible with Google Calendar and lets you schedule calls directly. Now, you don't need to remember when, with whom, and what the next call is, just click on the extension button and check your timetable with all the data inside.
Reply: LinkedIn Email Finder and Outreach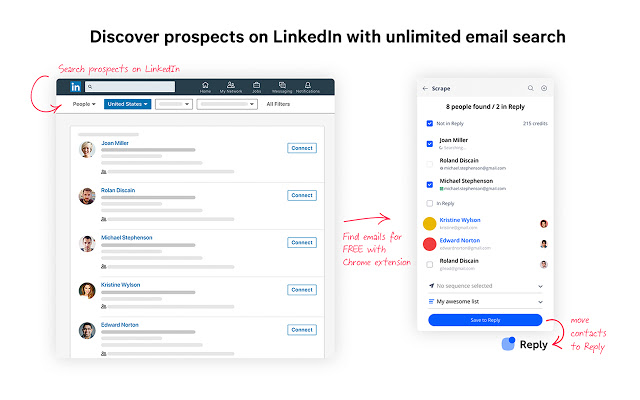 👤 Users: 9,000+
📈 Rating: 4.5 of 5
💡 Best for: Find verified prospect emails on LinkedIn
This swift app will easily find the contacts in LinkedIn for your selling campaigns, recruitment, expanding your business connections, strategic partnerships, and much more. With Reply you can move all your contacts to Gmail, Salesforce, HubSpot, Copper CRM, have direct cloud calls, create tasks, and do other activities that will make your business work even better.
Hunter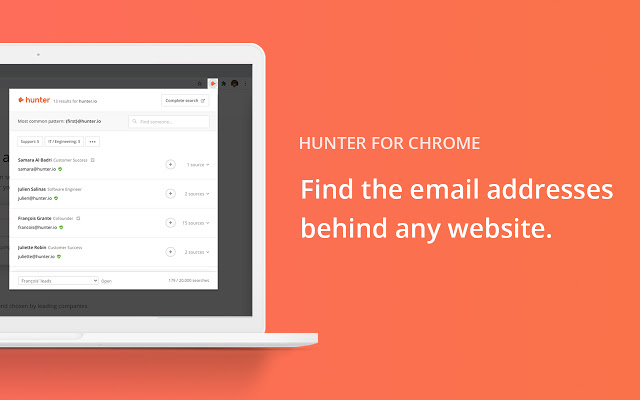 👤 Users: 400,000+
📈 Rating: 4.7 of 5
💡 Best for: Finding email addresses behind any business
Hunter is a simple Chrome extension that finds contacts on any website you visit. It can also retrieve names, social network links, phone numbers, and any other data available publicly. Form your email database with Hunter effortlessly in just a few clicks.
FoxClocks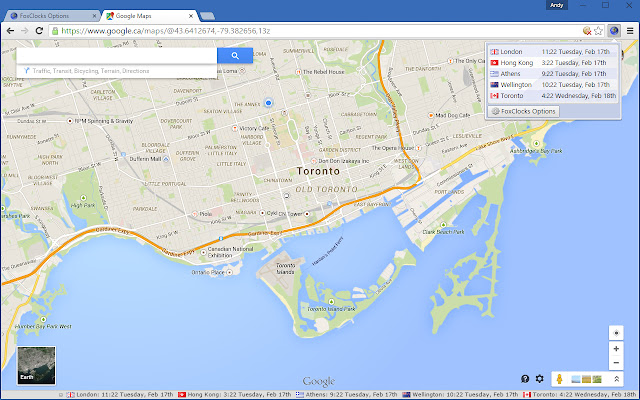 👤 Users: 50,000+
📈 Rating: 4 of 5
💡 Best for: Checking time around the world
When working with customers from all around the world, it's essential to know what time it is where they are. Nobody wants to bother their clients at night. FoxClocks is a simple extension that will keep you updated with the timezones from all over the world. Add the most frequently checked times on a simple panel and always have it available at a glance!
Volume Master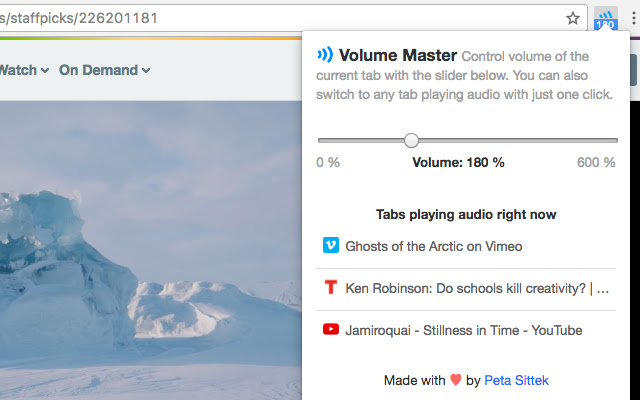 👤 Users: 1,000,000+
📈 Rating: 4.8 of 5
💡 Best for: Sound control in your browser tabs
With Volume Master, you'll be in charge of the volume in every tab on your browser. This small extension can boost the sound volume up by up to 600%. Now that's some noise level!
HubSpot Sales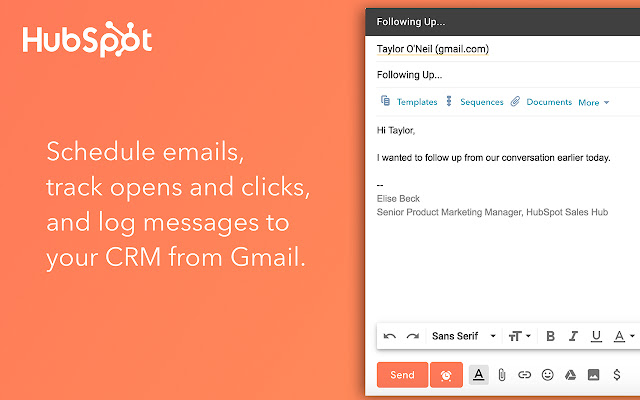 👤 Users: 800,000+
📈 Rating: 4.5 of 5
💡 Best for: Sales productivity tools in your inbox
A simple HubSpot Sales tool will add more contacts to your customer database and help to fulfill your sales deals smoother and faster. Enjoy functions like email scheduling and tracking, share email templates with the team and track their effectiveness. To use this CRM you'll have to start a free account that you can synchronize with HubSpot Sales mobile version on iOS and Android.
Mailtrack for Gmail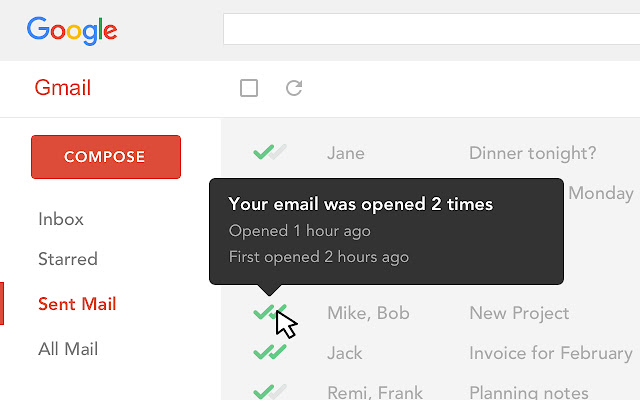 👤 Users: 1,000,000+
📈 Rating: 4.5 of 5
💡 Best for: Professional lead generation and tracking
Mailtrack for Gmail is a handy tool for email tracking. It tracks when and the number of times your contacts opened the emails you've sent. Visual checkmarks next to an email in your box let you know if the receiver got your email—one checkmark, and read it—two checkmarks. Hover over the two checkmarks and learn how many times the receiver has opened the email.
Best Chrome Extensions for Social Media
Web for Instagram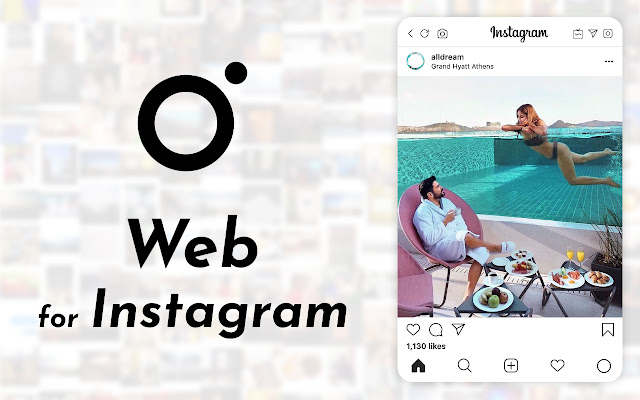 👤 Users: 300,000+
📈 Rating: 4.5 of 5
💡 Best for: Instagram management in your browser
Who said that Instagram is just for smartphones? Now, you can simply manage your Instagram account by using the Web for Instagram extension. It lets its users download and upload IG Stories, photos, and videos as well as create posts and check out your friend's updates. Have a business account on Instagram? Just manage it through your browser.
Pinterest Save Button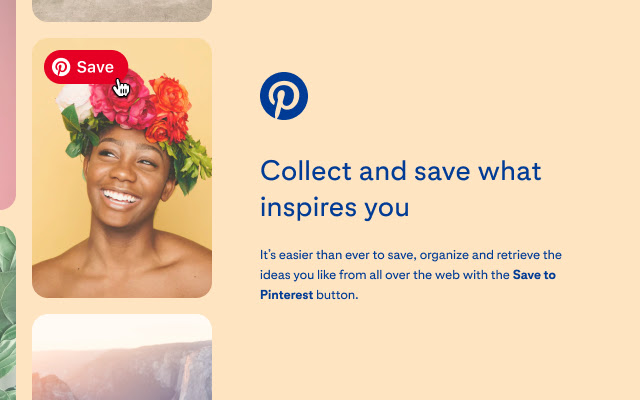 👤 Users: 8,000,000+
📈 Rating: 3.6 of 5
💡 Best for: Collecting ideas from all over the web
Pinterest Save Button is a simple way to add inspirational ideas from all over the web to your Pinterest page. It automatically pins anything you find on other sites straight to your Pinterest account. Create new boards or add new content to the existing ones.
Save to Facebook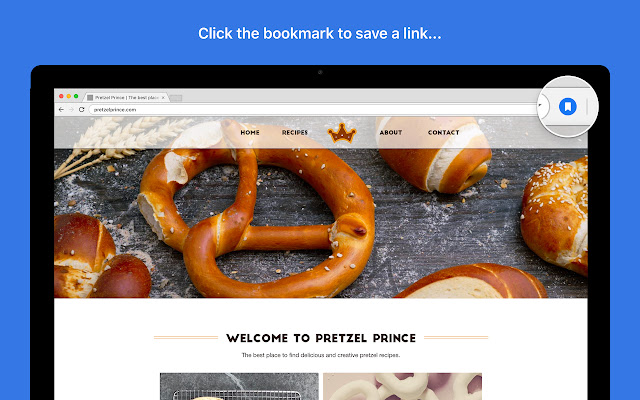 👤 Users: 2,000,000+
📈 Rating: 4 of 5
💡 Best for: Saving things you want to come back to later
If you're busy working but you constantly run into funny cat videos or delicious recipes online, save them for later in your Facebook collections. You'll always know where to find the coolest content to read after a hard day's work.
Bitly | Powerful Short Links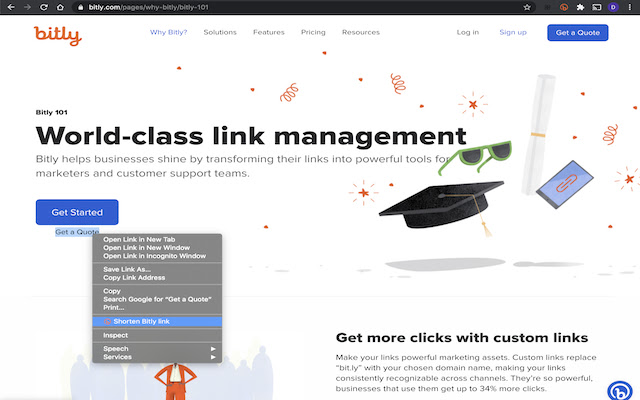 👤 Users: 600,000+
📈 Rating: 3.8 of 5
💡 Best for: Creating short and catchy links
Create share-worthy links in a snap! Bitly is a creative extension that allows you to build short and catchy links from any page and share them with the world. Attract more attention to your web content by customizing and sharing your links with others in a post, a message, or a document.
RiteTag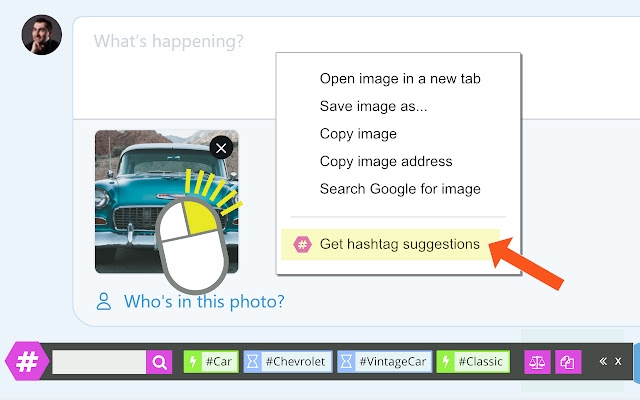 👤 Users: 30,000+
📈 Rating: 4.3 of 5
💡 Best for: Hashtag generation & effective content promotion
Breaking your head over making your hashtags precise and catchy? RiteTag will offer you the best hashtag suggestions whether it's for an image or a text. The extension works best with Instagram, Pinterest, Twitter, Facebook, and LinkedIn.
BuzzSumo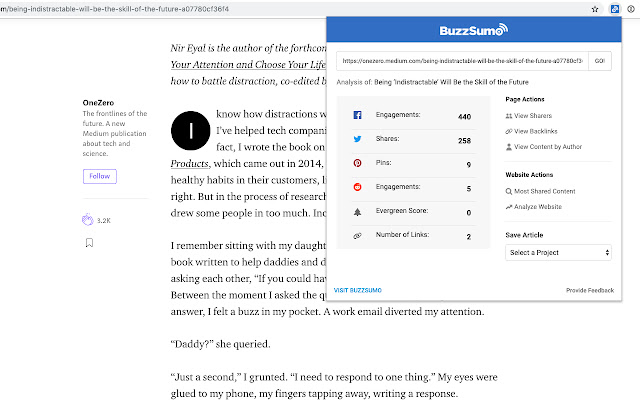 👤 Users: 30,000+
📈 Rating: 3.9 of 5
💡 Best for: Getting share counts of any page you are viewing
BuzzSumo is a tool that helps you seek out the most performing and popular content on the web. It's a goldmine for content marketers because it greatly simplifies your research experience and makes it easier to see what kind of content works and what does not.
GIPHY for Chrome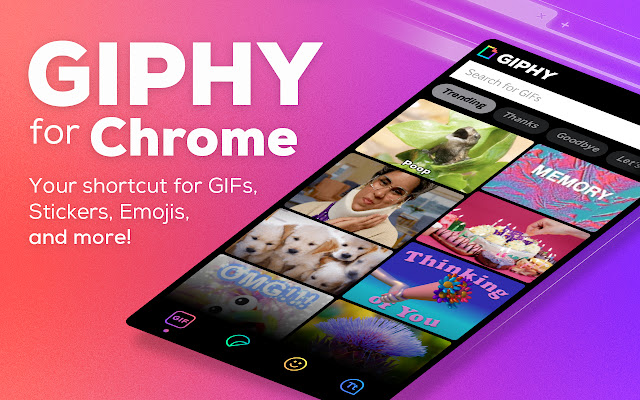 👤 Users: 400,000+
📈 Rating: 3.5 of 5
💡 Best for: Making communication fun and expressive
GIPHY for Chrome keeps all the GIPHY GIFs, Emojis, and stickers in one place. The extension has a simple search and drag-and-drop functionality so that you can use the latest and the best GIFs and Emojis for chats, emails, and messages.
Tailwind Publisher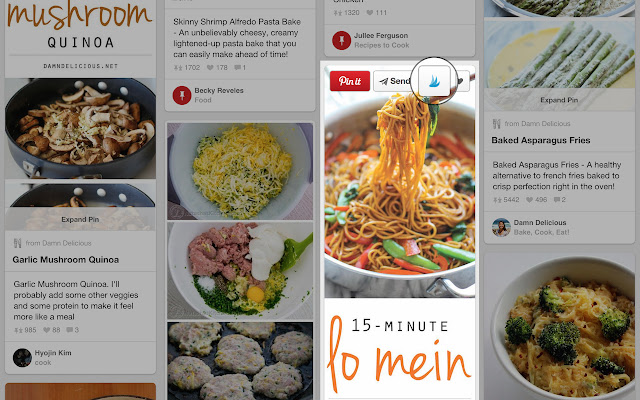 👤 Users: 100,000+
📈 Rating: 3.8 of 5
💡 Best for: Content scheduling on Pinterest and Instagram
Schedule your posts on Pinterest and Instagram with Tailwind Publisher. This fast and straightforward app allows you to gather, organize and schedule your content on social networks in several clicks.
SEMrush Social Media Poster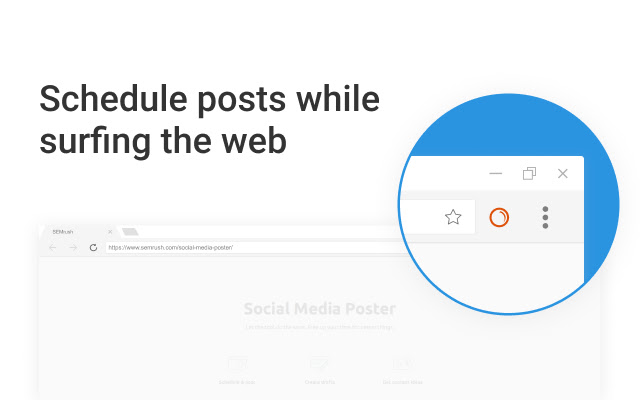 👤 Users: 10,000+
📈 Rating: 4.2 of 5
💡 Best for: Scheduling your social media posts on Facebook, Twitter, LinkedIn
SEMrush Social Media Poster helps to collect and post various content in your social media networks, including tests, images, or sites. Schedule your posts or automate them in queues on Facebook, Twitter, or LinkedIn.
Best Chrome Extensions for SEO
MozBar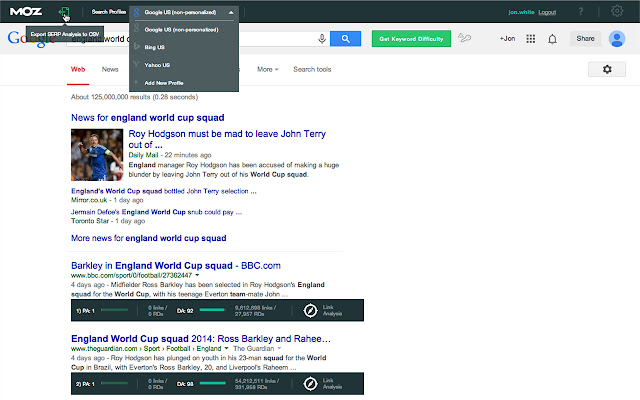 👤 Users: 700,000+
📈 Rating: 3.8 of 5
💡 Best for: Getting instant SEO metrics
MozBar is a convenient extension for quick website SEO analysis. It provides its users with the latest metrics and all the necessary tools to perform deep analysis and apply improvements to your website. View any page SERP, highlight keywords and their difficulty, and optimize your page in many ways with MozBar.
NoFollow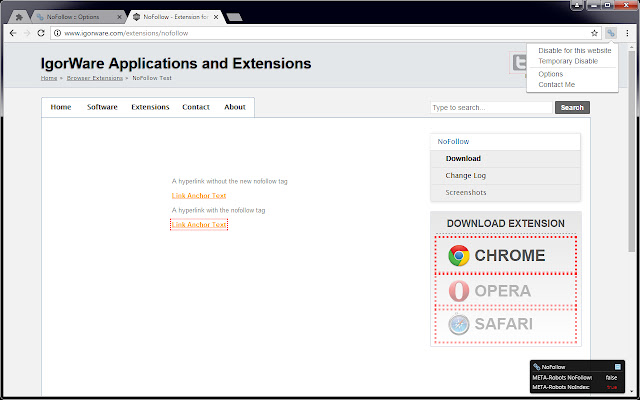 👤 Users: 100,000+
📈 Rating: 4.3 of 5
💡 Best for: Detecting nofollow and noindex links
Find out which links search engines ignore and up your SEO game with the NoFollow extension.
SimilarWeb—Traffic Rank & Website Analysis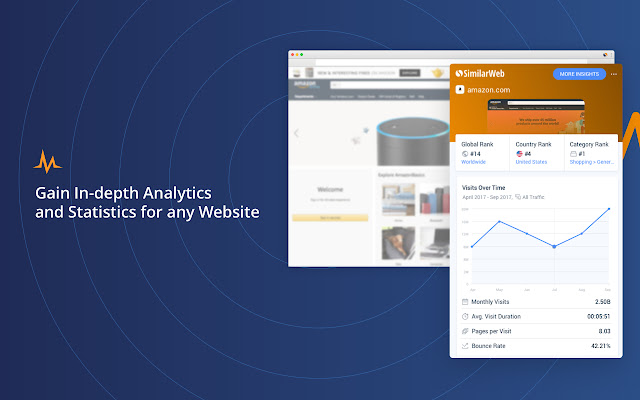 👤 Users: 800,000+
📈 Rating: 4.5 of 5
💡 Best for: Key metrics analysis for the sites you're visiting
SimilarWeb gathers and represents in-depth statistics and key metrics for the websites you're visiting. Get profound insights into improving traffic, key ranking on your website, and have a look at how your and your competitors' business develop from a different angle.
Checkbot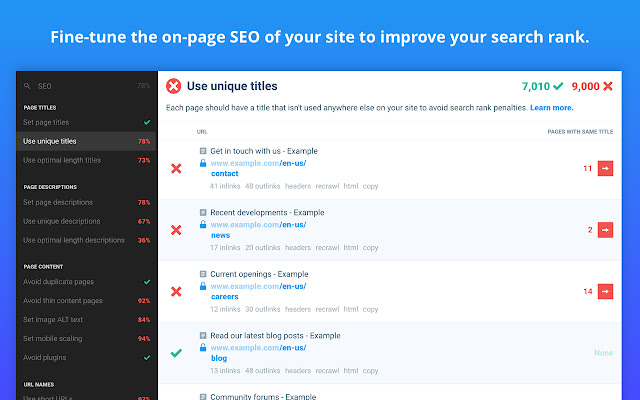 👤 Users: 400,000+
📈 Rating: 4.9 of 5
💡 Best for: Website testing for SEO and security
Checkbot is a valuable source of data for designers, front-end developers, and QA engineers. The app will test your website for SEO, security, and speed and share detailed insights on how to make it better. All the tests performed by the Checkbot are based on common Mozilla and Google practices.
Best Chrome Extensions Just for Fun
Earth View from Google Earth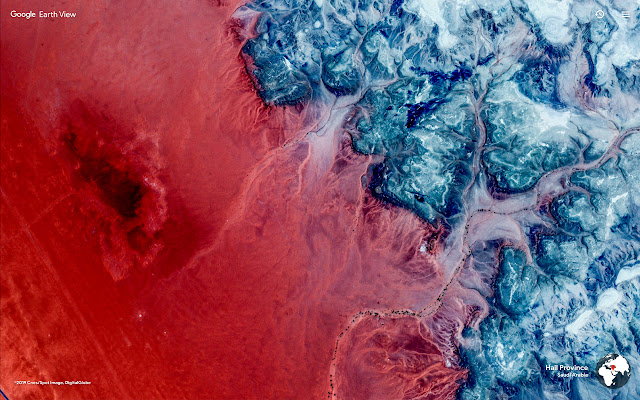 👤 Users: 900,000+
📈 Rating: 4.2 of 5
💡 Best for: Relaxation and enjoying the views
Install relaxing views from Google Earth in your Chrome browser and enjoy peaceful landscapes every time you open a new tab. The extension has more than 1,000 high-resolution images. You can share your favorite images or post them on Facebook.
Momentum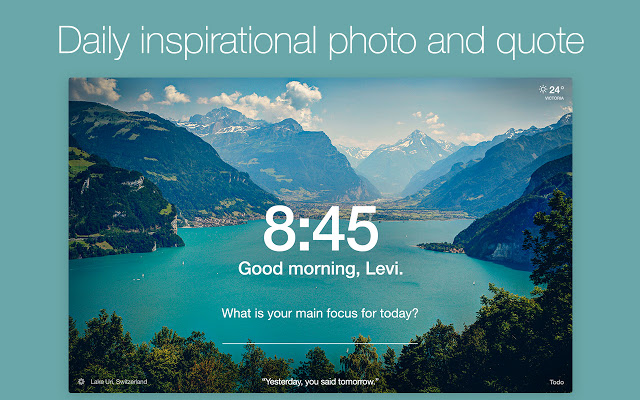 👤 Users: 3,000,000+
📈 Rating: 4.5 of 5
💡 Best for: Customizing of New Tabs in your Chrome
Make your New Tab view practical and inspiring with Momentum. With this app, you can change the New Tab background to calm and relaxing views, add a motivating quote, check your to-do list, daily weather forecast, and add a clock.
Custom Cursor for Chrome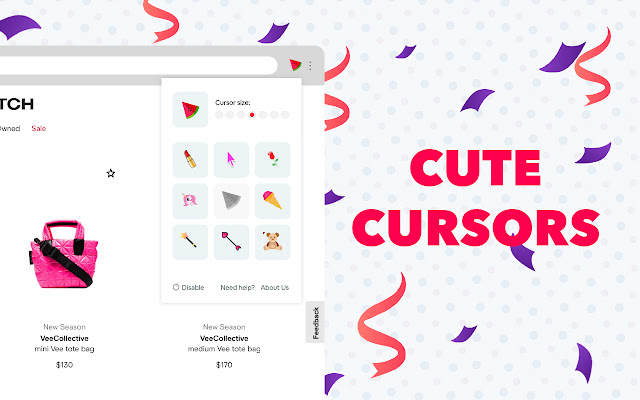 👤 Users: 300,000+
📈 Rating: 4.4 of 5
💡 Best for: Brightening up your daily routine
Fun custom Cursor for Chrome will lift your spirits up with fun sets of free cursors for your mouse. Check out extraordinary collections and upgrade your cursor with a new image every day.
Chrome's Best Extensions: Wrap Up
Thanks for reading our run-down of what we think are the best Google extensions in 2023. We hope this list will help you make more informed choices when choosing the next extension to add to your collection. Got one in mind you think we missed? Get in touch with our team and we'll share it in our next list. (You can enjoy our list of the best Microsoft Edge extensions while you're at it :))
But in the meantime, why not head over to Google Chrome and download the Everhour extension and give it a try? We promise it'll change the way you track time forever.