In the realm of effective project management, knowledge is the true compass guiding professionals towards successful outcomes. Like a well-calibrated time tracker that keeps projects on schedule, project management books offer valuable insights and methodologies to navigate the complexities of modern business endeavors.
But where to begin? To save you the trouble of sorting out the wheat from the chaff, we've prepared the list of best PM books every project manager should get acquainted with.
In this list, we've picked the best books on project management recommended by us, world-known PM specialists, and by Amazon readers. So, without further ado, here are our top 10 project management books!
Best Classic Project Management Books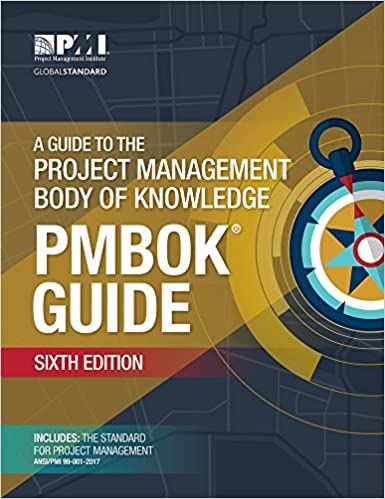 "A Guide to the Project Management Body of Knowledge" (PMBOK GUIDE)
✔️ An all-time classic; covers all the basics of PM knowledge
❌ Some claim that the materials are dry and rather packed
🔎 Amazon rating: 4.3 out of 5 (2,796 ratings)
A Guide to the Project Management Body of Knowledge has been released and updated by The Project Management Institute (PMI) six times! That says it all. The institute conducts research and sets the standards for project management. Most project managers around the globe recognize the PMBOK as an authoritative source in academic literature. That's why this book is an absolute must-have for those who want to start their careers as project managers.
The PMBOK guide represents a baseline of PM work. It contains consistent and logically structured data with lots of visual aids in the form of schemes and tables. On the other hand, some readers claim that the materials are dry and rather packed in there. But we say, there's nothing terribly wrong with that. PMBOK shows you the basics and helps you decide in which direction you should move, develop, and search for extra information.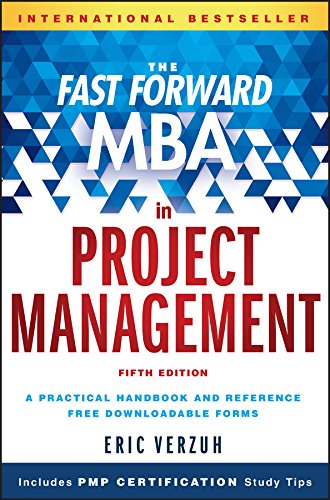 "The Fast Forward MBA in Project Management"
✔️ Links to downloadable materials and templates
❌ Could be a difficult-read for some
🔎 Amazon rating: 4.7 out of 5 (302 ratings)
The Fast Forward MBA in Project Management is a decent competitor to PMBOK with high academic standards. It's a valuable source of detailed information for university students as well as an insightful reading for practitioners.
Written by Eric Verzuh, the President of the Versatile Company. He has experience with top world names, such as Adobe Systems, Inc., The Boeing Company, EG Capital, Nordstrom, and others. This book is a great complement to any basic-structure guide. It equips its readers with the tools and techniques that ensure a successful project launch and management. Moreover, the author provides links to free downloadable materials that contain templates for creating a basic project structure.
Some readers claim that it's a challenging read. That's why it's the best choice for intermediate to advanced project managers.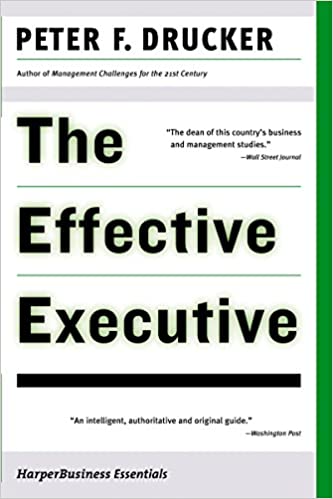 "The Effective Executive: The Definitive Guide to Getting the Right Things Done"
✔️ Deals not only with PM techniques but the habits of great managers
❌ Case studies may seem outdated to some
🔎 Amazon rating: 4.6 out of 5 (875 ratings)
The Effective Executive: The Definitive Guide to Getting the Right Things Done is a classic among project manager books. The author, Peter Drucker, is the creator of many of the critical strategies project managers use today.
To some, the case studies presented in the book might seem outdated, yet, it represents valuable reading with clear explanations and effective frameworks for managing projects, teams, and yourself. It contains not only project management techniques but also teaches its readers how to develop the habits needed to be an effective manager.
Best Project Management Books for Beginners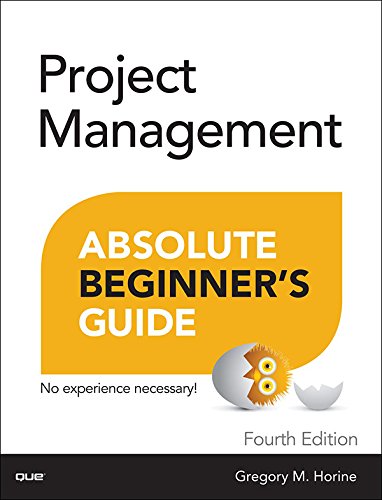 "Project Management Absolute Beginner's Guide"
✔️ Essential reading for beginners
❌ Not for experienced Project Managers
🔎 Amazon rating: 4.4 out of 5 (121 ratings)
If you need to pick up the basics of project management, The Project Management Absolute Beginner's Guide is a total catch for beginners. It is a practical guide for every project management task, starting from project budgeting to professional project closure.
This project planning book has already helped lots of project management newcomers to start their careers successfully. It helps avoid the most common project management mistakes that even professionals make and share useful advice. It's no wonder that the guide is so practical for many readers. Its author, Gregory M. Horine, is a certified PMP and CCP expert with more than 23 years of working as a PM in IT. He's gleaned and processed every piece of his valuable experience that he's put in his book. So you're getting tips from one of the best.
It is an excellent start for beginners. Though to go deeper into details as a project manager, you might need to keep reading.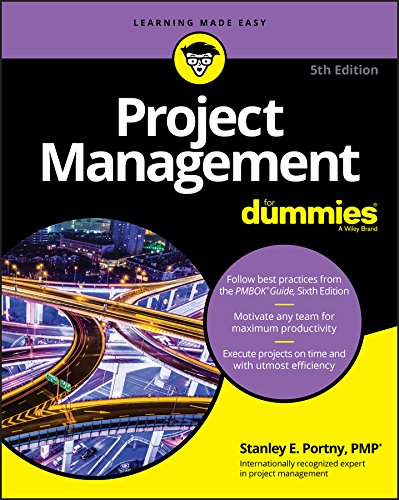 "Project Management For Dummies"
✔️ Perfect for lovers of the "Everything for Dummies" series
❌ Some might find the tips too obvious
🔎 Amazon rating: 4.5 out of 5 (269 ratings)
From the famous set of "Everything for Dummies," here comes project management. Written by an expert with 28 years of experience in the field, Stanley E. Portny, the book serves as a handy helper. Project Management For Dummies can help you to:
Organize and manage your projects from their initiation to the end
Gather and encourage your team to work productively
Embrace the best practices as stated in PMBOK
Prepare for project management exams, such as a PMP certificate.
All the above is mixed with an effortless reading style, which breaks complex ideas down into digestible chunks. Although Project Management for Dummies might not be the ultimate choice for exam preparation, it is a decent one. It deserves its place among the best project management books for beginners.
Best Practical PM Books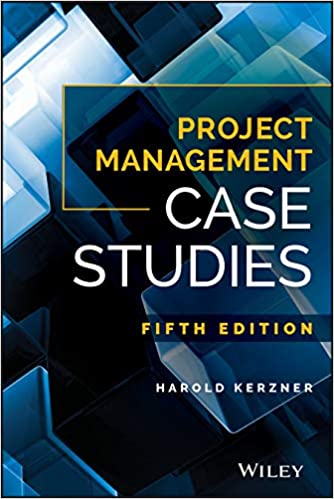 "Project Management Case Studies"
✔️ Practical, insightful project management knowledge
❌ Lots of case studies, but they don't go in-depth
🔎 Amazon rating: 4 out of 5 (20 ratings)
If you already know the basis of PM and what to get more practical, then Project Management Case Studies by Harold Kerzner is for you. Apart from having an MS, a Ph.D. in Aeronautical and Astronautical Engineering, and MBA, Dr. Kerzner applies his knowledge in practice running the International Institute of Learning, Inc. (IIL), a world-leading PM company that offers professional training and consulting services.
The Project Management Case Studies has undergone 5 editions, each time gaining more case studies and practical solutions that can be applied in the real world. Essentially a handy way to hack PM problems. Now the downsizes, not all the case studies, can be helpful as they spread too thin among various industries. Therefore, you'll find a lot of case studies in some fields but not many for others.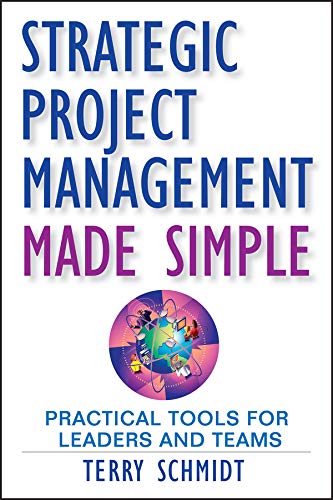 "Strategic Project Management Made Simple: Practical Tools for Leaders and Teams"
✔️ Step by step organization of a project's activities
❌ Might be a difficult-read for some
🔎 Amazon rating: 4.4 out of 5 (155 ratings)
The Strategic Project Management Made Simple: Practical Tools for Leaders and Teams is a good choice for those who want to get into project management specifics. It explains step by step how to organize various activities within a project. Besides that, if your project starts lagging or deviates from the original plan, you'll find practical and detailed steps on how to fix it. Consider this the lifehacks guide on project management.
There are barely any negative book reviews on Amazon. Its readers say that the book is easy to follow and insightful. That's why they even re-read it and recommend it to colleagues.
We are sure that this popularity is partly determined by the author's unusual life story. Terry Schmidt has worked for NASA, the US Department of Transportation in Washington DC, World Bank, and USAID-funded projects. All this experience, the author has managed to evaluate and incorporate in his book, giving readers a wealth of interesting experiences, all packed into one little guide.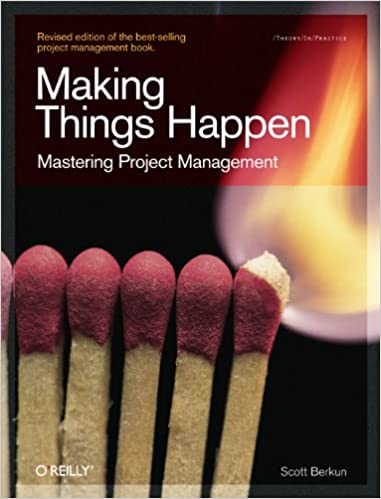 "Making Things Happen: Mastering Project Management (Theory in Practice)"
✔️ Perfect for those looking to broaden their PM knowledge
❌ Critics say there's perhaps too much of Scott's personal experience
🔎 Amazon rating: 4.3 out of 5 (130 ratings)
The Making Things Happen: Mastering Project Management doesn't represent any systematic approach or step-by-step guide of ready-made solutions. It resembles more the essence of Scott Berkun's personal experience, which doesn't diminish the book's value.
Scott Berkun is an experienced project manager who has worked for nine years on one of the most significant projects in Microsoft. In his book, he explains with simplicity what it's like to be in charge of major, critical projects. The author discusses the topics of scheduling, planning, how to keep records, time tracking, team management, and much more.
This book suits those who have already grasped the basics and would like to broaden their knowledge in project management.
Best Project Management Books for Light Reading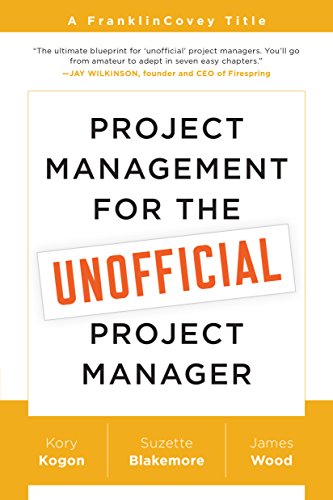 "Project Management for The Unofficial Project Manager"
✔️ Practical and straightforward for newbies and pros alike
❌ Challenging-to-read case studies
🔎 Amazon rating: 4.6 out of 5 (445 ratings)
The Unofficial Project Manager book is the guide for those who have to perform project management activities while not acting as a project manager. Often, employers expect their workers to perform project management tasks or take charge of various projects. That's why this book will be especially helpful for those workers who want to pick up some project management skills for self-development or promotion.
The book is packed with sticky explanations, proverbs, and striking examples that a non-specialist will easily grasp and understand. The authors and there are three of them — Kory Kogon, Suzette Blakemore, and James Wood — tried their best to make this book practical and straightforward to read for anyone and everyone.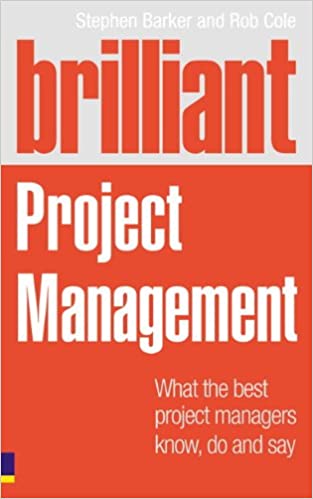 "Brilliant Project Management: What the Best Project Managers Know, Do and Say"
✔️ Avoids PM jargon and tells PM like it is. Pro tips included
❌ No terrible reviews for this gem
🔎 Amazon rating: 4.2 out of 5
The Brilliant Project Management: What the Best Project Managers Know, Do, and Say represents a practical guide through essentials in project management. It's written by Stephen Barker, who's been working as a project management consultant for more than 15 years.
Unlike most project management books, Brilliant Project Management covers the essential parts of project management while avoiding PM jargon. The book contains use cases and provides lots of tips on how to run a project successfully, communicate with stakeholders, and meet deadlines within the budget. It's a compelling and entertaining read that will be useful both for beginners and advanced managers.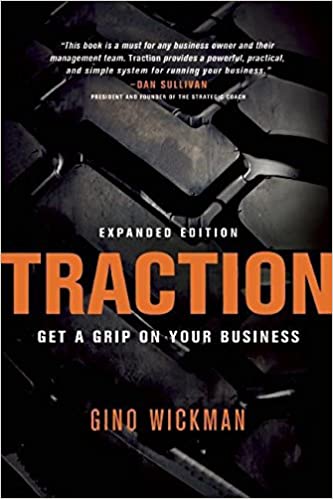 "Traction: Get a Grip on Your Business"
✔️ Project management from a different perspective
❌ Some feel the book is too "basic"
🔎 Amazon rating: 4.6 out of 5 (2,058 ratings)
Traction: Get a Grip on Your Business by Gino Wickman is an unconventional way for project managers to have a look at business processes from an entrepreneur's point of view. At the same time, it's a real helper for startups and those who want to set up their business from scratch. The book teaches how to handle various frustrating situations, resolve personal conflicts, make the right decisions, and much more.
Get a Grip on Your Business has a minimum theory and isn't very complicated for reading. It's a good choice for those who aren't professional project managers but still have to manage their work. A lot of entrepreneurs admire this book for its practical advice based on the author's real-life experience, not just theory.
Gino Wickman started his career as a businessman at the age of 21 and by the age of 25 he had already taken over the family business. He managed to bail the father's company out of deep crisis and successfully sell it after 7 years of its administration. Based on this experience, Gino developed his own practical method on how to help companies become effective, called Entrepreneurial Operating System (EOS). And this system Gino's summarized in his Traction: Get a Grip on Your Business.
Best IT Project Management Books
Apart from general theory, great project managers should know the specifics of how to manage projects and work with teams in their work. For those who want to know the peculiarities of running projects in IT, we've gathered the IT project management books that are worth your attention.
Here is a shortlist of software project management books that you should explore next once you get to grips with general PM theory:
In Closing…
We, at Everhour, hope that this article was helpful for you. If you're a beginner, we expect that you now know what books to start a PM career with. If you're a seasoned project manager, we hope that you've discovered what to read next!
P.S. You can even download these to your iPad or tablet, but we prefer the real thing. Either way, happy reading!
If you are ready to dive deeper into the topic of project management, be sure to check out the following essential guides: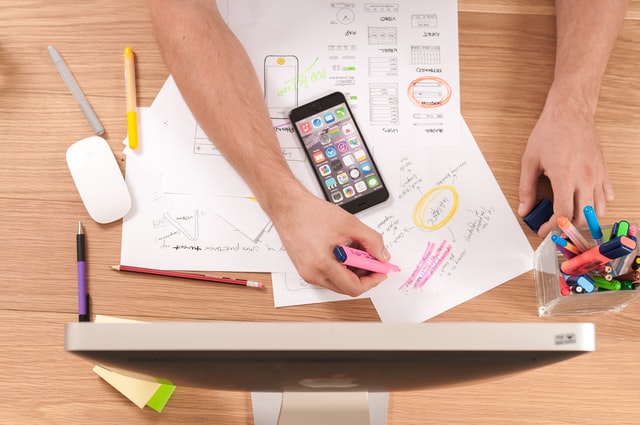 Learn about 10 PM knowledge areas (and 5 process groups), how they differ, and how to implement them in practice…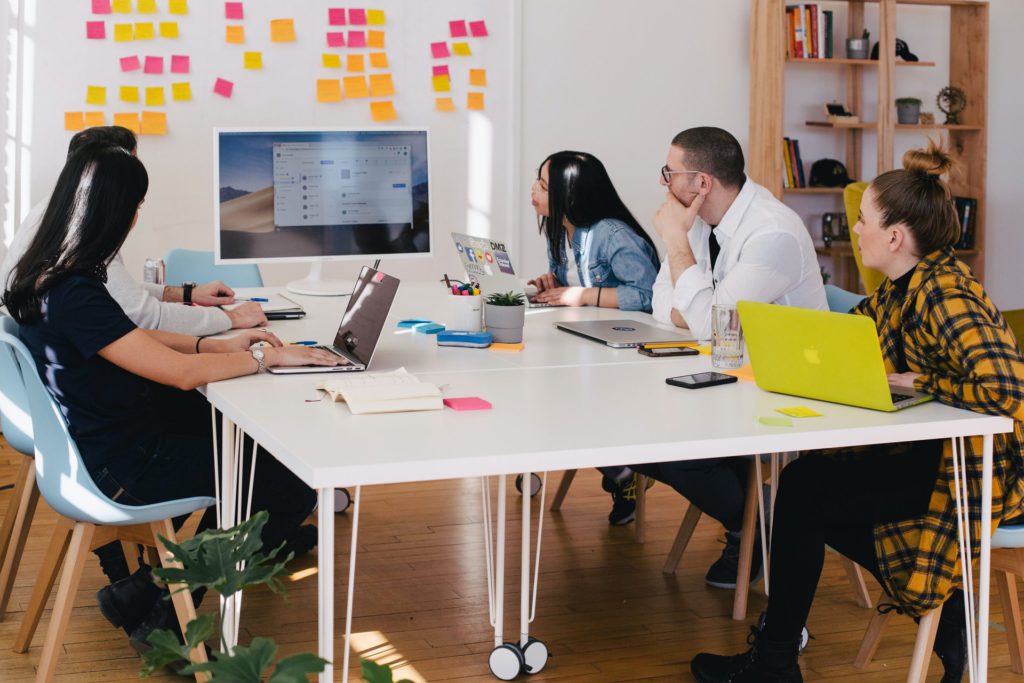 By understanding what are the 5 phases of project management (and by applying them properly) you'll achieve impressive and consistent results in any project whether you work in marketing, software development, or any other field.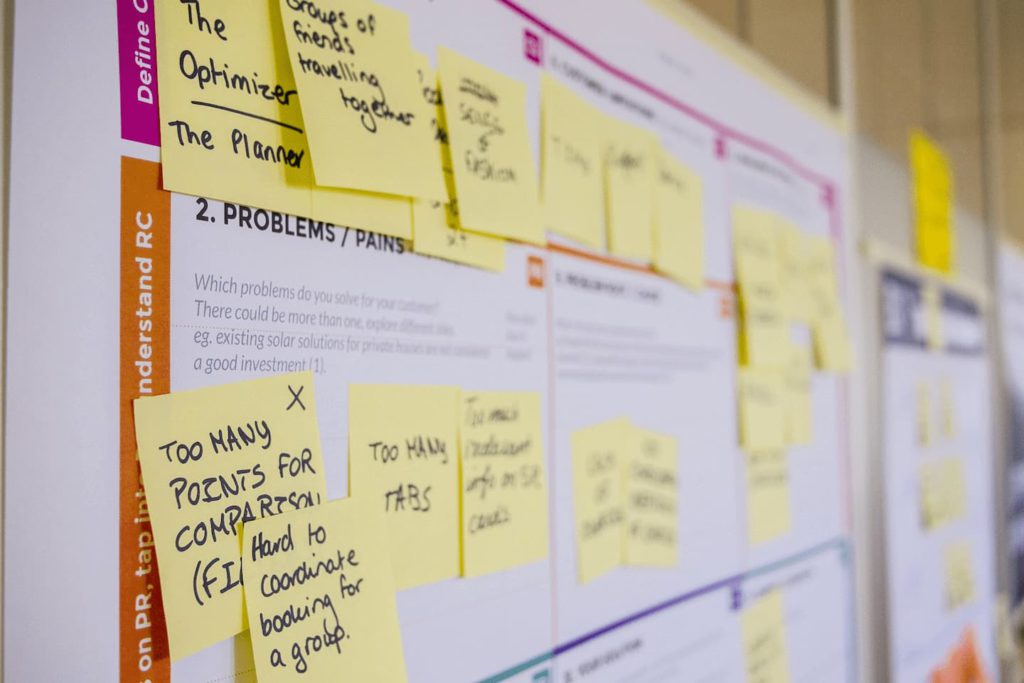 Learn the advantages and disadvantages of every project management methodology; get useful tips on how to put your project management methodology into action and get results…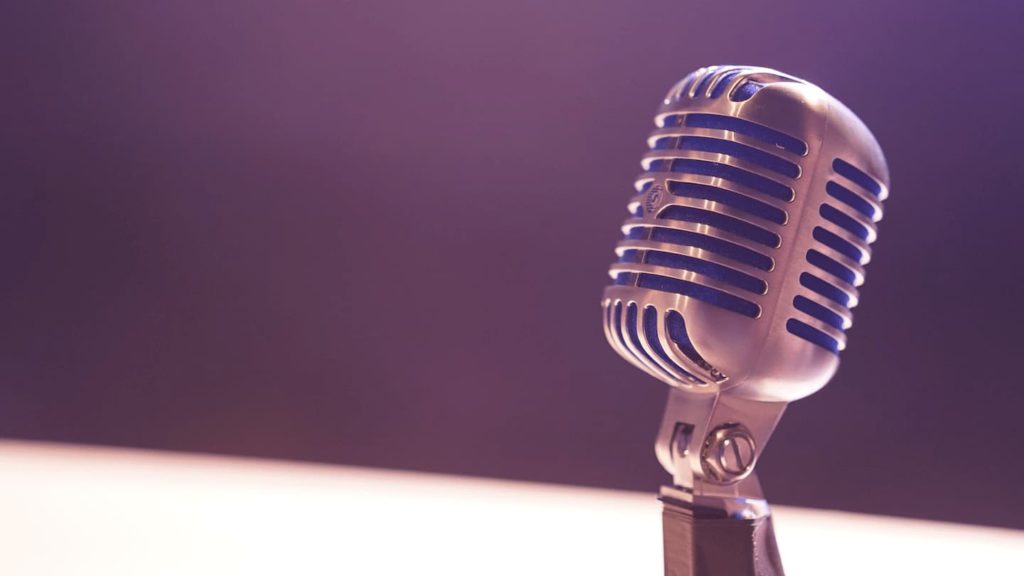 No matter whether you're just starting out on your project management journey or have been in the business a while and are seeking a refresher session, you'll find the PM tips you need in these brilliant podcasts.