For a project manager launching a new project is always connected with tension. So that everything goes smoothly, they should have a high proficiency level in project management knowledge areas and process groups.
In this article, you'll learn about PMBOK 10 knowledge areas and PMBOK 5 process groups, how they differ, and how to implement them in practice (and exploring how the incorporation of a time tracker can bolster project management endeavors). This will help project managers to:
✅ organize project parts into a logical structure with progressive steps;
✅ link business processes to each step;
✅ allocate tools, resources, individual and collective inputs, techniques, deadlines, and expected deliverables to each method.
---
10 Project Management Knowledge Areas
There are 10 major knowledge areas of project management.
These areas of knowledge are recognized and accepted by most of the world's project managers. All because they were determined and described in detail by the Project Management Institute (PMI), the world's leading association, in their PMBOK Guide, one of the more influential documents in the project management field.
PMBOK stands for Project Management Body of Knowledge. It's a standardized set of definitions and terminologies, rules, and guidelines systematized and written by the Project Management Institute.
Each of PMBOK knowledge areas covers different parts of a project and involves several project management processes. They determine the processes' requirements, tools, techniques, and outcomes for every process presented in a project.
Now, let's dive a little deeper into the PMBOK knowledge areas.
---
1. Project Integration Management
This area covers all PM activities from project initiation to closure. It helps to link processes and tasks together. This creates a single, coherent project lifecycle. Project Integration Management covers the following:
Project Charter Development to initiate your project and define the project stakeholders.
Project Management Plan Development outlines how to manage the project to get results.
Directing and Management of Project Work focuses on the production and release of the project's deliverables.
Project Knowledge Management is about knowledge acquisition and sharing. It's especially important if your team works in international or cross-functional teams. This way team members build knowledge and share it with their colleagues, improving project quality. Ensuring that it finishes on time without exceeding its budget.
Monitoring and Controlling of Project Work involves project performance monitoring, estimation of achieved results, identification of possible project challenges, and changes.
Performance of Integrated Change Control if your project needs changing administrative parts, such as a project sponsor or reviewing the project documentation, then it involves integrated change control tasks.
Closure of the Project or Phase covers tasks or objectives that are needed to close the project or its phases.
2. Project Scope Management
Project Scope Management defines the scope of work to complete during the project. It's essential as it sets boundaries to the amount of work that can be included in one project. This prevents the addition of unauthorized or unnecessary tasks. Also, it helps avoid going over budget. It includes the following processes:
Scope Management planning involves the creation of the scope management plan. It's usually included in the project management plan.
Requirements Collection involves gathering detailed requirements to define the deliverable features and project stakeholders' requirements for the project management process.
Scope Definition is about the preparation of a detailed description of the project scope. It helps to uncover the hidden risks and other issues. The project scope should be built up gradually and become more precise with each iteration.
WBS Creation. WBS stands for a Work Breakdown Structure. It involves the graphical breakdown of your project into components. These components represent the scope of work arranged hierarchically.
Scope Validation is about approving and accepting the released project deliverables by project stakeholders.
Scope Control is a revision of scope statements to ensure that the project work was completed within the set requirements.
3. Project Schedule Management
Project schedule management is one of the most sophisticated among all the knowledge areas. It requires a lot of pre-preparation. A project manager has to define project tasks first and after create a schedule where they mark the starting and finishing dates. Moreover, the project plan and timetable often change. That's why a project management schedule needs frequent revisions and stakeholders' approval. Project Schedule Management includes:
Schedule Management Planning. This activity means that you list in your schedule management plan the employee responsible for its execution, how strict it should be, and under which circumstances you can alter it.
Activities Definition divides a project into separate tasks. Basically, this activity matches with the creation of WBS.
Activities Sequence is about ordering the tasks on a timeline. That's the point where you need to allocate Finish-to-Start (FS), Finish-to-Finish (FF), Start-to-Start (SS), and Start-to-Finish (SF) times.
Estimation of Activity Durations overlaps with the previous point. At this stage, you need to define the duration of each task.
Schedule Development stage creates a diagram with a critical path. This is the longest way between starting and finishing points, a graphical bar chart with activities that have their early starting dates, and the resource usage allocated to each activity. That means you allocate your resources effectively.
Schedule Control is the evaluation of project progress following the schedule. At this stage, you can define if the project goes ahead or is late.
4. Project Cost Management
Get to know the ins and outs of estimation of the project budget. This knowledge area provides effective estimation techniques that help to define the sums you need to spend on your project. By doing so, you ensure that project owners and stakeholders stay satisfied with the amounts they need to spend on product development. Project Cost Management involves:
Cost Management Planning is the creation of a plan that determines the procedures and methodologies to estimate the project budget. It involves planning, management, expenditure, and control of project costs.
Costs Estimation includes the processes of cost estimation. Here you include the estimation of labor, materials, and equipment costs needed.
Budget Determining entails separate budget estimations into one project budget.
Costs Control involves analyzing how the project budget is spent, and its status at a definite time.
5. Project Quality Management
Project Quality Management heavily depends on Project Time and Project Cost knowledge areas. The more the time and budget, the better the quality. Therefore, the deliverable quality level should be defined at the stage of project planning and a project manager should specify it in the overall project management plan. Project Quality Management includes:
Quality Management Planning. This process involves creating a separate document that includes the specifications that define the deliverables' quality.
Quality Management entails that the quality of the deliverables. It should be regularly checked and approved.
Quality Control means that the quality level meets the quality requirements.
6. Project Resource Management
Project Resource Management includes people, equipment, facilities, and others to ensure successful project fulfillment. However, equipment and budgeting play an essential role in project performance. The project team is the key factor that often determines the time and money spent on a project and influences the deliverable quality level. That's why it's particularly important to focus on the team when planning your project resources. Project Resource Management includes:
Resource Management Planning involves a document that defines the resources for the project. Usually, this plan is devoted to human resource management. It determines the roles in a project team and role requirements, and how they're applicable to the project.
Activity Resource Estimation ensures that you have all the resources available to fulfill the project.
Resource Acquisition is about acquiring the needed resources for the project.
Team Development means that you provide your team with the needed training, if necessary. It also involves team building to establish strong interaction among the team members.
Team Management is the process of monitoring and helping your team to deliver high-quality products.
Resource Control is about monitoring and evaluating how the resources are spent. It also covers how your team interacts throughout the project.
7. Project Communication Management
When you develop your project plan, you need to establish a policy on how the project stakeholders shall communicate during the project execution, and in case of its changing. It's important to develop the communication rules for stakeholders to get in touch quickly once there appear unforeseen issues. For successful project communication, a project manager should perform the following activities:
Communication Management Planning. The development of this plan involves defining communication requirements. Including: how often and when to have meetings, what kind of means of communication to use for daily interaction, communications steps to undertake in case of unforeseen issues.
Communication Management entails the implementation of a communication management plan.
Communication Monitoring involves monitoring and revision of how the communication plan is executed.
8. Project Risk Management
Project risks are often hidden and can't be seen at a mere glance. That's why to ensure successful project execution and minimize unexpected issues, project managers should perform a deep analysis of possible risks. To estimate project risks successfully, a project manager should carry out these tasks:
Risk Management Planning involves the creation of a risk management plan that explains how to categorize and prioritize possible risks.
Risks Identification means that a project manager should identify the project risks. They record them for monitoring and prevention of their occurrence.
Qualitative Risk Analysis means classification and categorization of the risks by their probability to occur and impact.
Quantitative Risk Analysis involves estimation risks in numbers and how they influence every project aspect such as budget, team, timelines, and so on.
Risk Response Planning is the outlined way of action on how to respond if the major risks appear.
Risk Response Implementation is about executing the steps planned in the risk response planning.
Risks Monitoring is the supervision of project development and evaluation of the occurrence of the risks. If the risks become outdated or irrelevant, you can cross them off the risk register.
9. Project Procurement Management
Not every project requires the procurement of outside subcontractors to speed up the project development or involve niche specialists. However, if you feel the necessity to add an extra workforce to the project, you'll need a set of clear steps on how to do it. It'll minimize the possibility to exceed the budget or time limits. This keeps your project within the boundaries of your project plan.
For effective project procurement, a project manager should perform the following activities:
Procurement Management Planning helps to define the project needs and sets the parameters for hiring extra specialists.
Procurement Conducting involves the process of searching and hiring an employee or an outsourcing company. This step also defines under what conditions you outsource part of your work and what project requirements the responsible party has to fulfill.
Procurement Control implies management and monitoring of contracts and informing the parties in case of project changes.
10. Project Stakeholder Management
Stakeholders' management is a fundamental part of any project. They initiate the project, identify product requirements, model project processes, estimate the project outcomes, and declare project success. Each stakeholder has a set of functions in a project. Therefore, a project manager should establish these roles and responsibilities.
It's important to set the rules for stakeholders so that they effectively interact and add value to the successful project development. That's why a project manager should perform these activities:
Stakeholders Identification is one of the first steps done to initiate a project. Project stakeholders and their roles are usually outlined in one of the first project documents — a stakeholders' register.
Stakeholder Engagement Planning is about making a list of stakeholders and estimating their impact on a project, their roles, and responsibilities.
Stakeholder Engagement Management involves the identification and meeting expectations of the stakeholders. For example, if they have enough tools to accomplish parts of the project, what project problems they might face in the future, and others.
Monitoring of Stakeholder Engagement is about monitoring if the stakeholders' needs were met and what they might need in the future.
PMBOK project management knowledge areas sort 49 project processes into logical groups, facilitating their selection for a project. As a project manager, you don't need to pick up all of them. The number of processes you choose depends on the individual characteristics of each project. They can be determined by the scope of the project, budget, time, resources involved, and other factors.
Once you've decided which project processes you want to include in your project, you need to make them work. You can do it with PMBOK process groups. They line the processes upon the timeline, making it easier to understand which process you should start, move forward, and finish your project with.
5 PMBOK Process Groups
While knowledge management areas are implemented more theoretically and used to better define and understand project management processes, PMBOK process groups outline the practical approach to project organization. They represent consecutive stages on a timeline your project walks through with its development.
PMBOK process groups work like this:
At the initiating stage, a project manager drafts a document with the project idea, main objectives, stakeholders, defines general processes and resources needed to develop a product.
The planning stage involves detailing parts of the project, establishing milestones and deadlines, investigating stakeholders' needs to accomplish the project, and developing a plan on how to tackle the possible risks.
The execution stage is about bringing all the planned activities to life and working on the deliverables.
At the monitoring and controlling stage, project stakeholders monitor and evaluate project outcomes, estimate project risks, and adapt the project plan and its development in line with the stakeholders' requirements and necessities. This stage often overlaps with the execution stage.
The closing stage is about the evaluation of the final product and the retrospection of the project execution processes to improve the future projects of the company.
Any given project passes through all these stages. However, the project processes inside each stage can vary. You can learn more about PMBOK process groups here: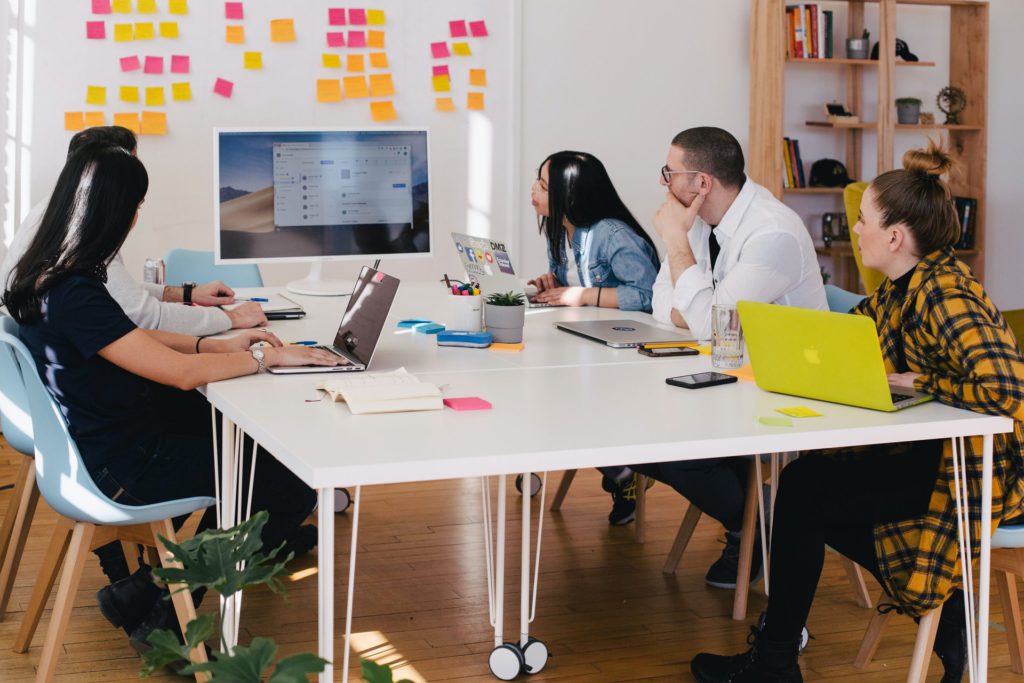 Our breakdown of project management process groups as seen by the Project Management Institute.
PMBOK Knowledge Areas VS Process Groups: What's the Difference?
As you already know, PMBOK knowledge areas cover the theoretical part of project management, and process groups have practical stages that every project undergoes. Knowledge areas are vertical and occur at any time during a project, while process groups are horizontal and time-dependent.
For you to easier understand how it works here is a table that shows how PMBOK knowledge areas and process groups correlate:
Areas
Project Management Process Groups
Initiating
Planning
Executing
Monitoring and Controlling
Closing
Project Integration Management
Project Charter Development
Project Management Plan Development
Directing and Management of Project Work Project Knowledge Management
Monitoring and Controlling of Project Work
Closure of the Project or Phase
Project Scope Management
Scope Management Planning Requirements Collection
Scope Definition WBS Creation
Scope Validation Scope Control
Project Schedule Management
Schedule Management Planning
Activities Definition
Activities Sequence
Estimation of Activity Durations
Schedule Development
Schedule Control
Project Cost Management
Cost Management Planning Costs Estimation Budget Determining
Costs Control
Project Quality Management
Quality Management Planning
Quality Management
Quality Control
Project Resource Management
Resource Management Planning Activity Resource Estimation
Resource Acquisition Team Development Team Management
Resource Control
Project Communication Management
Communication Management Planning
Communication Management
Communication Monitoring
Project Risk Management
Risk Management Planning Risks Identification Qualitative Risk Analysis Quantitative Risk Analysis Risk Response Planning
Risk Response Implementation
Risks Monitoring
Project Procurement Management
Procurement Management Planning
Procurement Conducting
Procurement Control
Project Stakeholder Management
Stakeholders Identification
Stakeholder Engagement Planning
Stakeholder Engagement Management
Monitoring of Stakeholder Engagement
PM Knowledge Areas: Wrap Up
Project management knowledge areas are an important realm of knowledge every project manager should be acquainted with. These areas help to systemize and prioritize project management processes, resulting in successful project execution.
However, project management areas relate to a theoretical part of project management. They can be traced in practical implementation in 5 PMBOK process groups. These groups show how a project develops on a timeline, passing through all the project management stages. Each project management stage involves its own project management processes which are, in turn, defined by the PMBOK knowledge areas.
We, at Everhour, hope that the project management knowledge areas have become a bit clearer to you and you can put this knowledge into practice. We wish all your projects to be a success!