Project templates are some of the best time savers when it comes to keeping your workflow on track. If you're looking for the best project management templates that you can use on various tools and software, look no further than ClickUp project management templates.
ClickUp templates are pre-made, pre-formatted, or preset sheets that are designed to help you quickly set up your projects and tasks. All you need to do is to select a template that fits your project best, fill it with the information needed in your project and you're good to go. From project planning to task organization, ClickUp has everything you need. However, not all templates are created equal, and not all of them are suitable for your specific project.
In this article, we'll list down different ClickUp templates that you can use for your project in 2024 and talk about how you can use these free templates to revolutionize the way you handle your projects.
Why You Need ClickUp Templates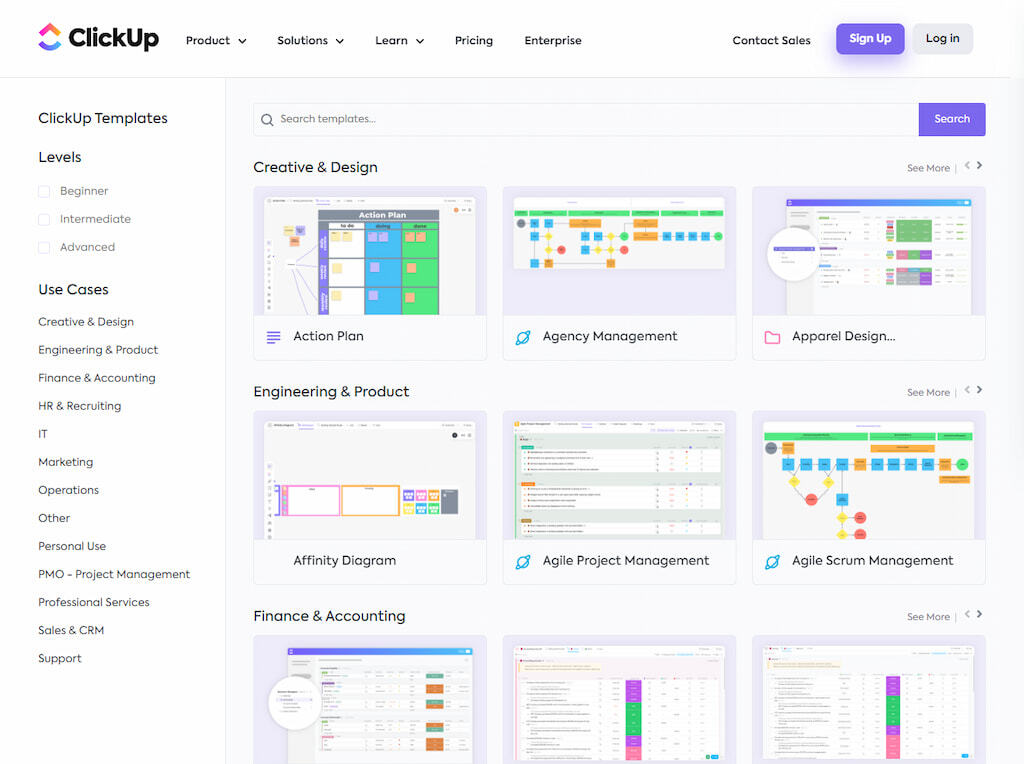 Templates are a great way to ensure that your entire team has a streamlined workflow process. Imagine you don't have a template for project status tracking. Every time someone on the team needs to create a status report, they would have to manually create one and send it out. Not only is the process unnecessarily time-consuming, but it's also inefficient.
Luckily, there are many free templates available, like those found in Microsoft's full Office suite. In fact, you're probably already familiar with Microsoft Word project management templates, also known simply as an MS Word project management template. You can see them every time you open up MS Word – they're a project plan template doc you can select to give your document some structure right from the get-go.
There are many other project plan examples in Word, program plan template Word, and project management template Word, some of which you can even get from the Internet just by looking up 'project plan template free download'. That said, although these free MS project templates–or even MOCHA project management templates–are good, they're not always the best. If you need a simple project management plan template, Word may be enough, but if you're dealing with larger, more complex projects, then you'll need something more.
And customization is one of the platform's strongest suits. ClickUp makes it super easy to create a unique template just for you, more than any project planning template Word can offer. It can be as simple or complex as you need it to be, depending on the project at hand.
To say it simply, the benefits of using free ClickUp templates are countless: saving time, keeping organized, and most importantly keeping your sanity intact. You can have a template for anything you need – weekly tasks, social media scheduling, or even one-on-one meetings.
And if you want to track your progress inside ClickUp, take advantage of one of the best time trackers out out there – Everhour, that works perfectly with ClickUp 😉
Best ClickUp Project Management Templates
As we mentioned before, there are a thousand different templates available on ClickUp. So, which one should you use? Here are some of the best ClickUp templates that can help you kickstart your 2024 projects!
---
ClickUp Agile Management Template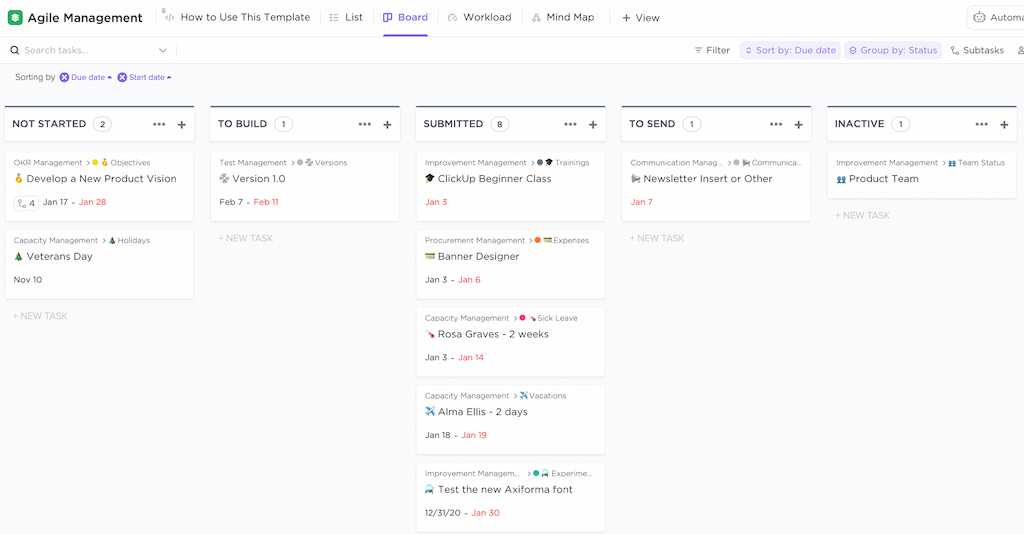 If you need something more specialized, then the Agile Management Template is perfect for you. This template can greatly help teams who utilize agile methods of project management, such as scrum, kanban & sprints.
While agile can be quite overwhelming to beginners, this template makes it much easier to dive right in and get started. It contains all the essential components of agile project management, so you won't have to worry about missing out on any important tasks.
It also features multiple views designed to help you work faster. For instance, there's a project management board layout that shows all the project tasks in a simple, easy-to-understand format.
With this ClickUp template, you can easily focus on the tasks that need to be done and get your project done quickly and efficiently without any hiccups.
💡 Features:
8 views: Projects, Kanban, Getting Started Guide, Roadmap, Intake Request, Backlog and Sprints Tips, List, Board
13 ClickApps and 2 Automations, including Sprints, Time estimates, Milestones, Priorities, and Tags
30 statuses and 2 custom fields
---
ClickUp Scope of Work Template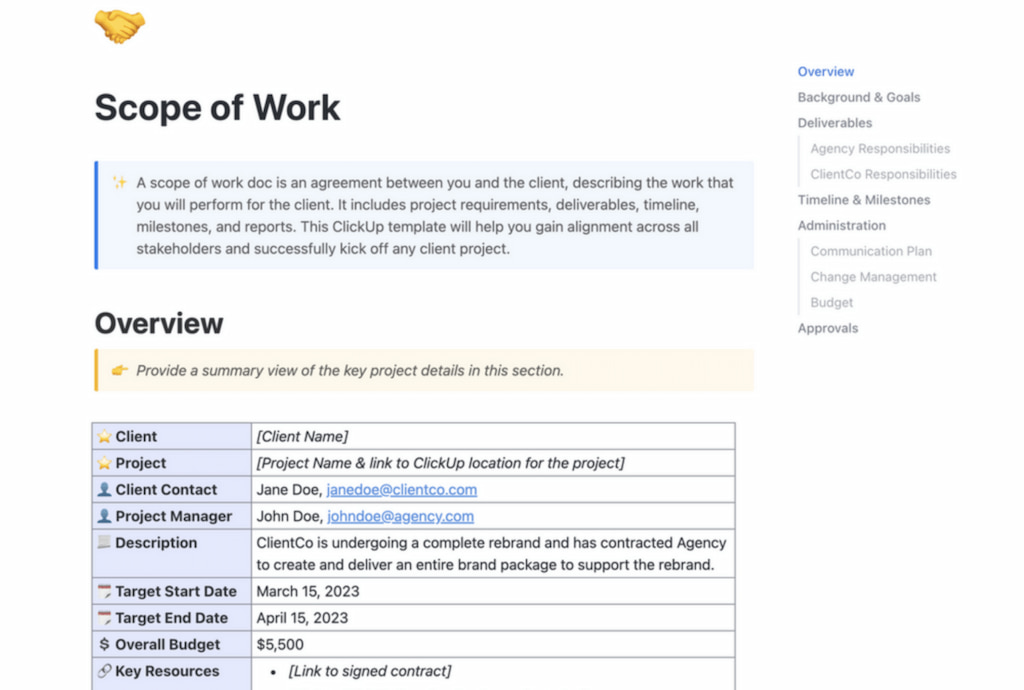 Projects also benefit greatly from having a scope of work document. This can help you make sure that you and the rest of your team are on the same page when it comes to project goals, timelines, deliverables, and expectations.
Without it, tasks can be confusing and projects can become disorganized. You may have to spend more time trying to fix what could've been avoided in the first place, had you created a detailed plan containing the full scope of work that needs to be done.
That's why the Scope of Work Template is such a great new project template. This project manager timeline template makes it much faster to create a Scope of Work document with ease, thanks to its guided sections.
It also serves as a project goals template. By adding all essential details about your project, you can reduce the risk of misunderstandings and miscommunication, therefore saving a lot of time.
💡 Features:
6 custom sections: Overview, Administration, Background and Goals, Timeline and Milestones, Deliverables, Approvals
---
ClickUp Agile Scrum Management Template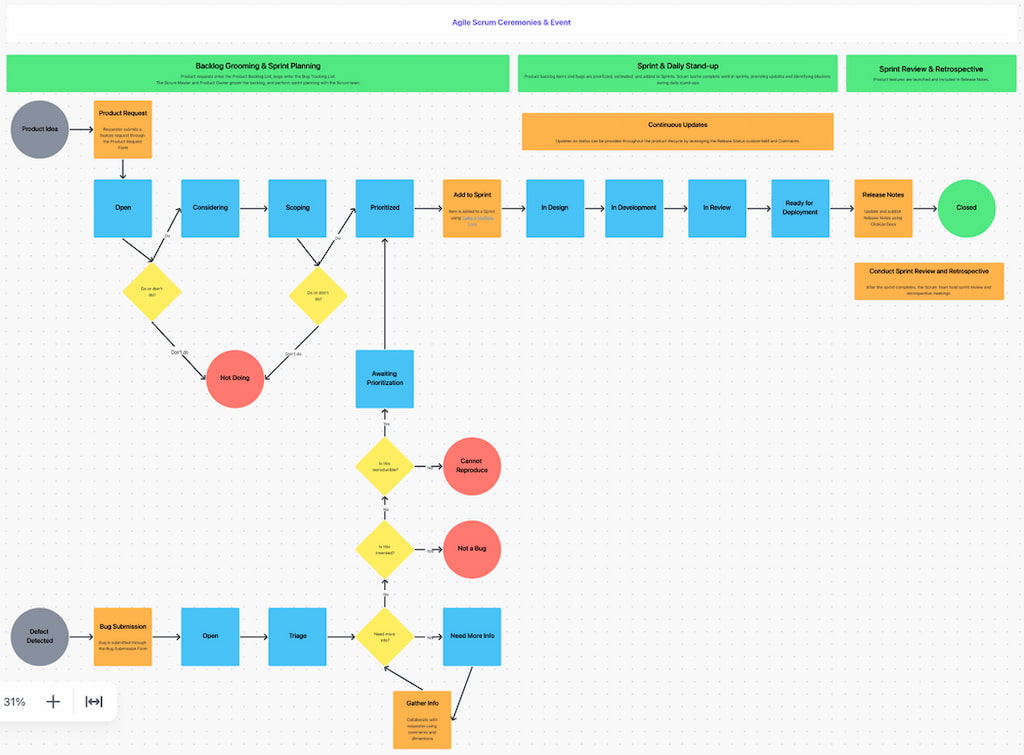 If you're managing a team that makes use of Scrum methodology, you can use this template to keep everyone on track. It's an IT project template designed to help you and your team plan, execute and review all aspects of your Agile project in an organized fashion.
This Click Up template comes with everything you need to standardize your entire process, including sprint reviews, product delivery, and quality assurance checking.
It also includes 6 custom fields, which you can use to track any additional information that your team needs. This template is ideal for Agile Scrum teams who seek out benefits, such as increased productivity and efficiency.
💡 Features:
6 view types: Welcome, Process, 2 different Boards, and 2 different Lists
13 ClickApps including Sprints, Points, Custom fields, Milestones, Time estimates, and Multiple assignees
30 statuses and 1 custom field
14 custom tags
---
ClickUp Project Management Dashboard

If you want a template that will allow you to not just monitor your project's progress but also provide you with all the important details needed to make informed business decisions, this template is the right one for you.
With ClickUp's Project Management Dashboard, you can easily keep track of all your project metrics such as budget, timeline, team workload, development, and more. Project managers and leaders can also view all the data they need in this project team template, making it easier to make essential decisions.
One of the best features of this specific project organization template is the Workload View, which shows the work assigned to each team member during the selected time period. This allows project managers to get a quick overview of who's doing what within the project timeline.
This makes it one of the best ClickUp templates free for managers who want the best for their projects.
💡 Features:
7 view types: Getting Started Guide, Activities, Board, Capacity Planning, Team Performance, Calendar of Activities, Project Gantt
4 statuses and 8 custom fields, including Planned Cost, Issue Level, Project Phase, Remaining Budget, and Duration
---
ClickUp SOP Template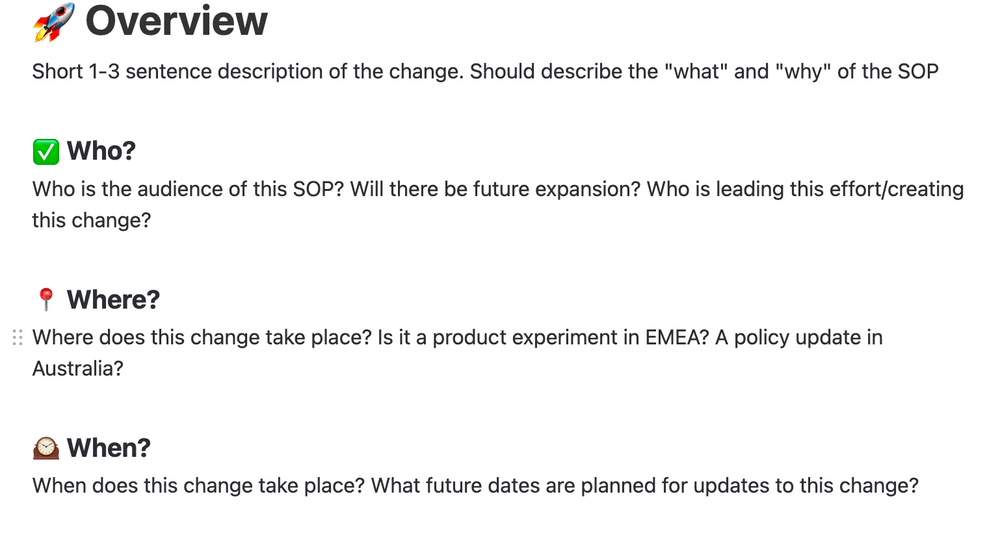 SOP refers to Standard Operating Procedure. It's basically a document that outlines all the steps needed to carry out certain tasks within your organization. Compared to the Scope of Work, an SOP is more detailed as it goes into specific steps, processes, and procedures needed to complete a task.
ClickUp offers a free project plan template that you can use to quickly create a detailed SOP document for your entire team. They can then use this document as a reference when they need to carry out specific tasks, ensuring quality and consistency across the board.
Even better, this project notes template is designed in an easy-to-understand format and includes fields for providing a summary and a breakdown of key elements. It doesn't matter if it's your first time creating an SOP document – with Clickup's SOP Template, you'll be able to get the job done as fast as lighting.
💡 Features:
---
ClickUp Project Management Schedule Template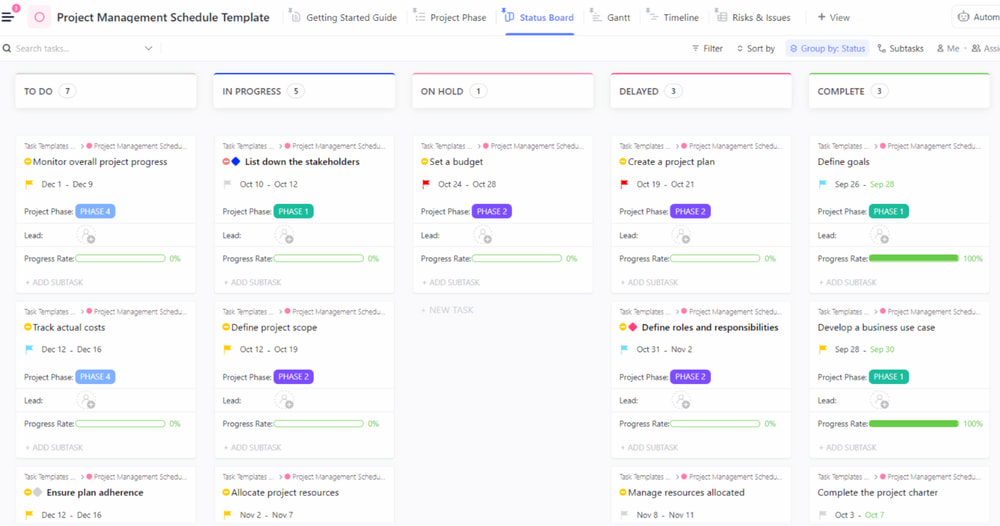 There are plenty of free project schedule templates on ClickUp, but if you want the best, then ClickUp's Project Management Schedule template is the perfect choice.
The Project Management Schedule template helps you break down your project into different views, allowing you to see your project in all its entirety. This way, you can see exactly what you need to do in order to complete the project as soon as possible, and without sacrificing the quality of your outputs.
You'll also be able to manage your project workflow using this template, as it allows you to set and track specific milestones. Again, this will help ensure that your project is completed as quickly and as efficiently as you can. It's certainly one of the best ClickUp templates free to any user.
For a more individualized template, you can also check out ClickUp's Schedule Blocking Template. You can have each member create one for themself, allowing you to easily view their availability for the project.
💡 Features:
6 view types: Getting Started Guide, Project Phase, Risks & Issues, Timeline, Status Board, Gantt
5 statuses and 6 custom fields, including Contributor/s, Progress Rate, Project Phase, and Risk Level
---
ClickUp Project Deliverables Template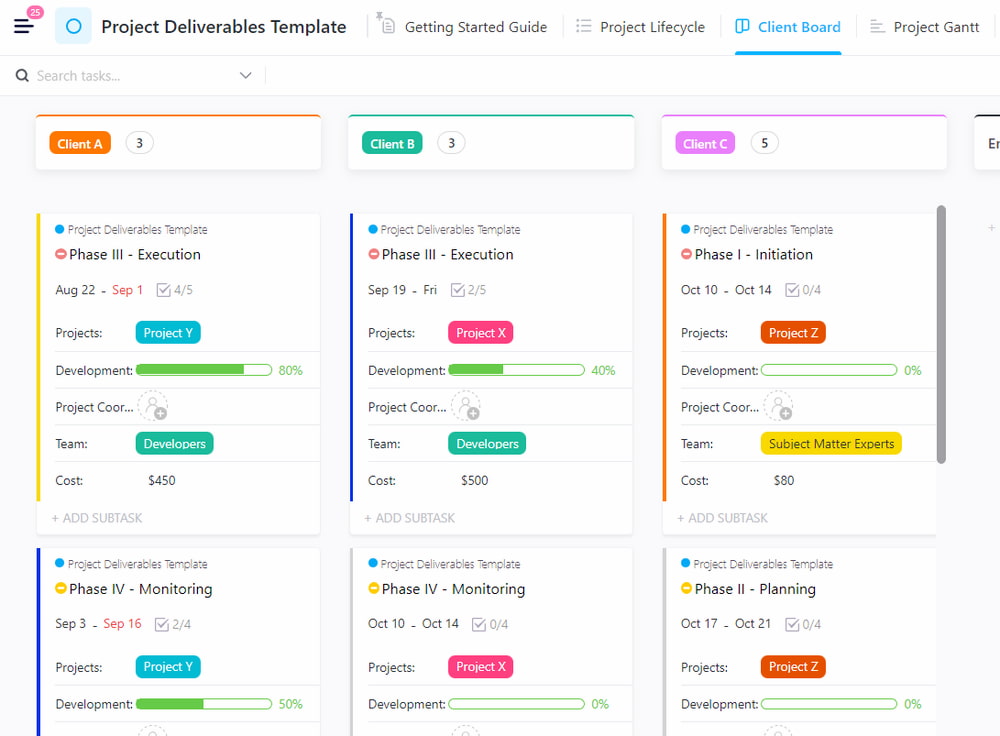 A project deliverable refers to any task, product, or service that needs to be completed and delivered by a specific deadline to reach the project's goals. Understandably, these can get pretty hard to track at times, especially when the project is huge and complex.
Of course, any project manager knows the significance of delivering the project's requirements at the end of a successful project. Incomplete deliverables can cause serious problems that can potentially affect the project's timeline, budget, and even end-user satisfaction.
Fortunately, ClickUp has you covered with this Project Deliverables Template. This free project calendar template allows you to easily keep track of all goals that need to be achieved, their deadline, and the people or organizations involved in meeting them.
You can also set up automated reminders in this project plan document template so that you won't miss a single one. Thanks to this project plan free template, you can ensure that your deliverables are completed right on schedule.
💡 Features:
6 view types: Client Board, Getting Started Guide, Status Breakdown, Project Gantt, Project Lifecycle, Team Bandwidth
6 statuses and 6 custom fields, including Cost, Development, and Project Coordinator
---
ClickUp Content Calendar Template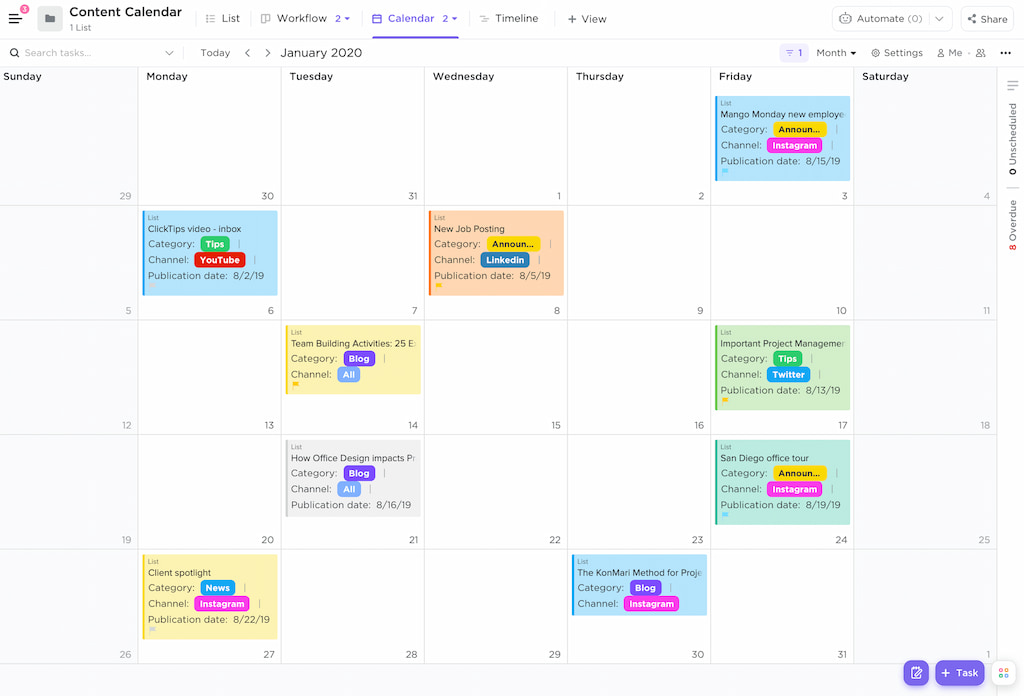 If you're managing a content team or a marketing team, you'll need to have an effective content calendar to keep your team organized.
This Content Calendar is another free project calendar template that helps you plan, track and measure the performance of every piece of content created by your team. It's a robust program management template that allows you to easily define tasks, set reminders, and track deadlines for your projects straight on ClickUp.
The template can be customized to manage various types of content from the planning stage to the publication stage. It's suitable for teams of all sizes and contains comprehensive features that help you manage the whole content creation process.
With this project plan template free for all, you can manage the workload more efficiently and ensure that everyone is on the same page.
💡 Features:
6 view types: Timeline, Workflow, List, Channels, and 2 Calendar views
8 statuses specific to content-related projects, such as Open, Concept, Ready, Closed, In Development, In Review, Published, and On Hold
5 custom fields: Publication date, Link, Channel, Category, and Shared URL
---
ClickUp 1:1 Meeting Template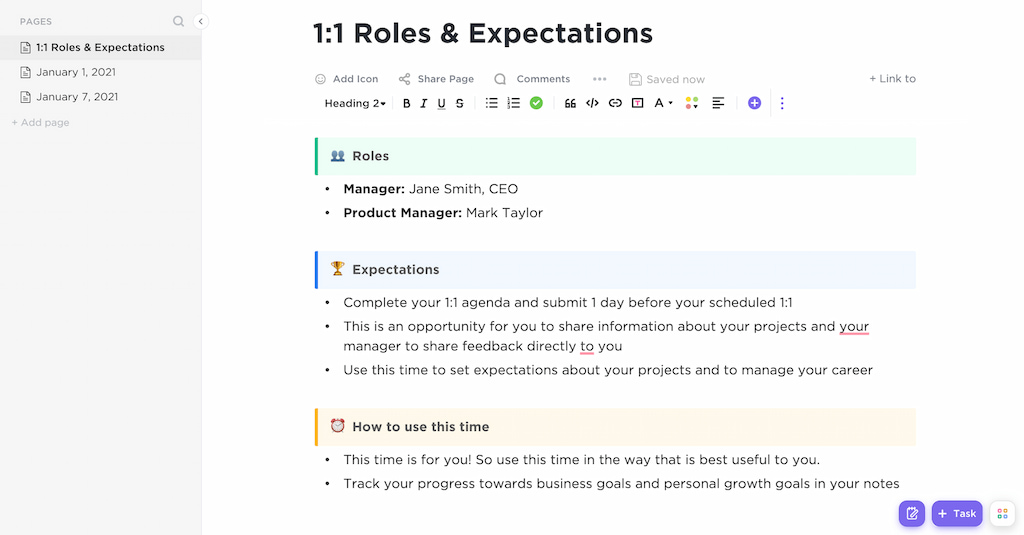 One-on-one meetings are essential to any team or organization, as they allow managers to check in with their team members and ensure that everyone is working towards the same goals.
ClickUp's 1:1 Meeting Template can make the process of having and tracking these meetings easier than ever.
This template allows you to set up a weekly meeting schedule, establish agendas, define topics for discussions, set goals and objectives, and track notes from the one-on-one meetings. You can even add fun GIFs and other visual objects such as a project management table to make it more engaging yet still informative.
You can also use this program management template to review performance, set goals for future meetings, and track follow-up items. This makes it easy to stay on top of team members' progress and make sure they're feeling supported.
💡 Features:
3 pages that you can customize and duplicate, including a page entitled "1:1 Roles & Expectations"
---
ClickUp Roadmap Template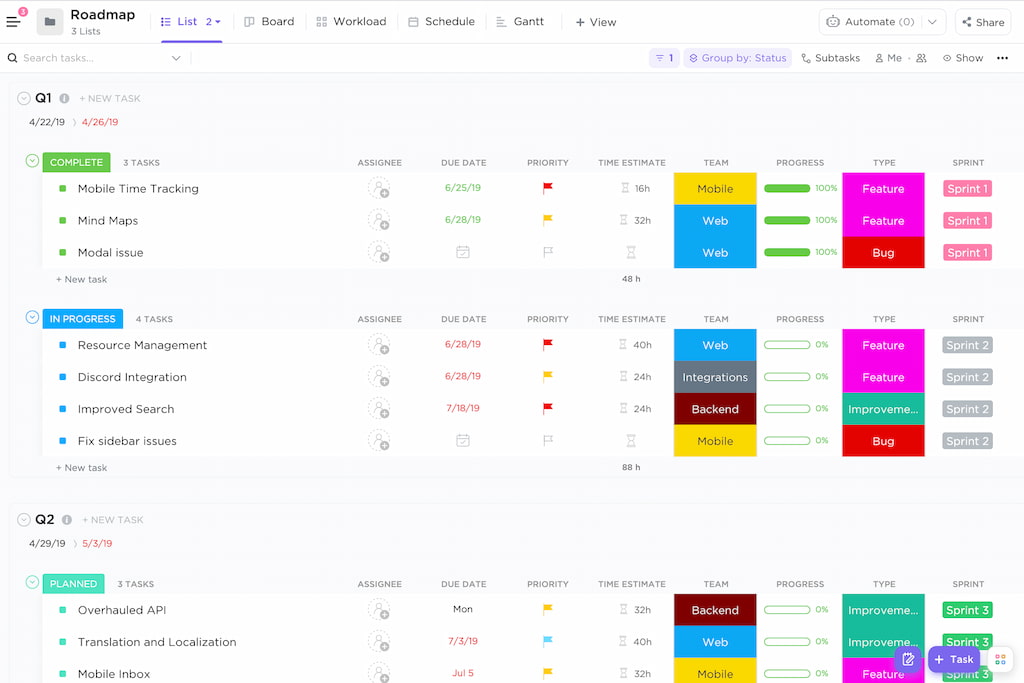 Projects tend to get complex and hard to manage over time, especially if you're dealing with multiple stakeholders. That's why having an effective project management system is essential.
Luckily, with this free Project Roadmap template, you have all the necessary tools to make your project successful, regardless of its size or complexity. This is especially true if you're managing a product development team, which typically requires a combination of agile and traditional project management techniques.
As group manager premade fields are available to you anytime. This project list template allows you to determine goals, create strategies, assign tasks, set deadlines, track progress, and collaborate with other members.
You can also include all the timelines and production stages in this project notes template, ensuring full transparency and accountability.
💡 Features:
5 view types: Gantt, List, Workload, Calendar, Board
5 statuses and 4 custom fields, including Progress, Sprint, Team, and Type
---
ClickUp Task Management Template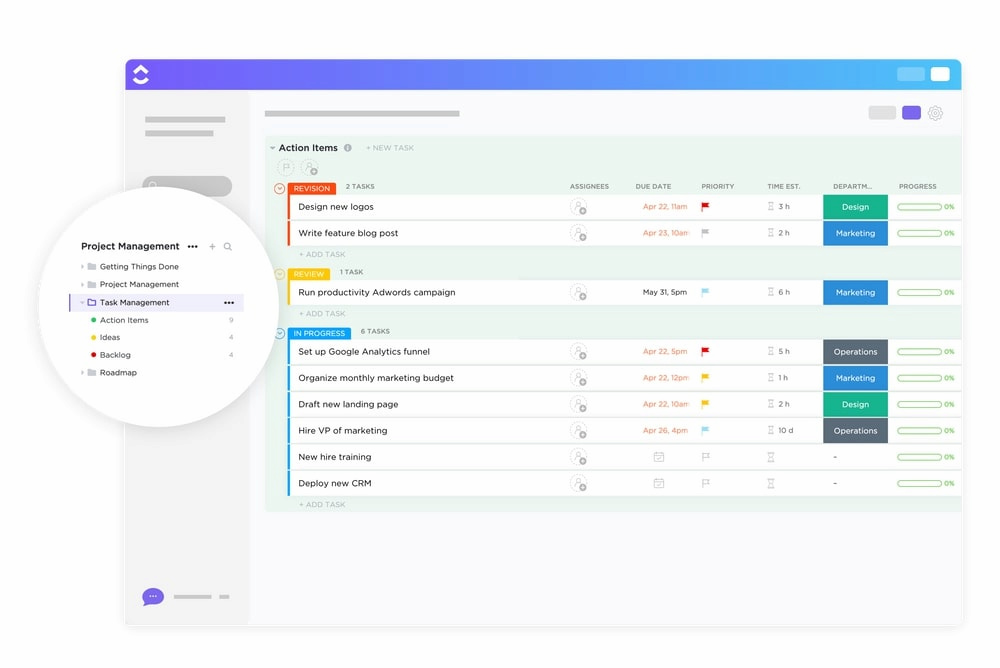 Excellent task management is key to success for any team. After all, tasks are the bread and butter of any project. Without individual tasks that make up a project, it would be impossible to move forward.
ClickUp's Task Management template makes sure that everyone knows what they're supposed to do, and when it's due. It's a comprehensive project list template that's way better than any other project management templates PDF out there.
This free project assignment template allows you to define, assign, and group tasks, as well as visualize them based on their status, priority, or department. It also enables teamwork by providing the whole team a place where they can coordinate task scheduling, assigning, and completion across different members.
Instead of spending hours revamping your current task management system, just take advantage of this project assignment template and have your team up and running in no time.
💡 Features:
5 view types: Timeline, List, Department, Workload, Important tasks
5 statuses and 2 custom fields, including Progress and Department
---
ClickUp Marketing Template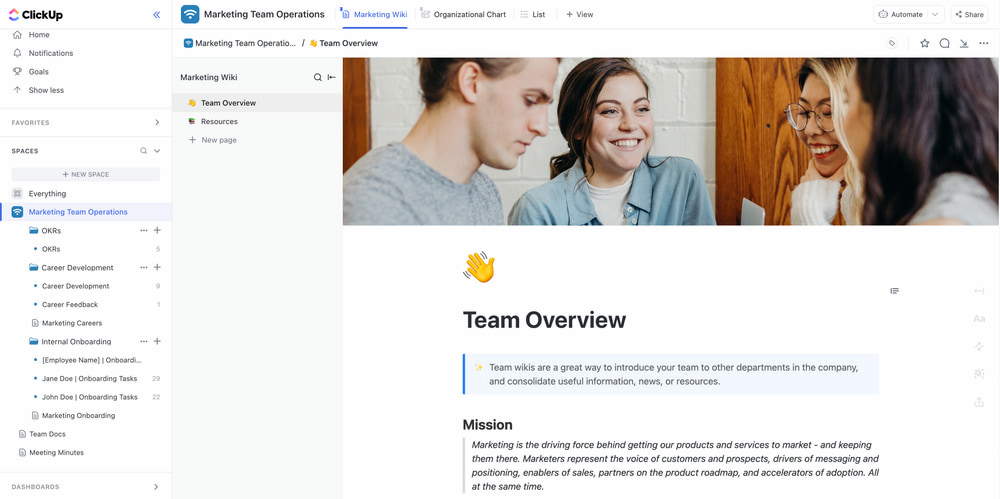 Marketing teams need to be organized and have clear project goals in order for campaigns to go smoothly. Without a proper project management system in place, it can be pretty difficult to stay on track and make sure that all tasks for the team are completed in a timely manner.
Program management tools and templates can help solve this issue. On that note, ClickUp's Marketing Team Operations Template is a great way for project managers to keep track of the entire marketing team's workflow.
This project management website template can be easily customized to suit each team's individual needs and it allows managers to develop team OKRs, onboard new members, manage resources, keep track of meetings, and of course, assign responsibilities.
By adding this template to your project management system, you will be able to effectively manage your team and their workload, freeing up more time for creativity and strategic thinking.
💡 Features:
6 view types: Marketing Wiki, Welcome!, Organizational Chart, Meeting Minutes, Team Docs, List
6 ClickApps, such as Custom fields, Dependency warnings, and Multiple assignees
17 statuses, including Open, In Progress, Cancelled, and In Review
---
ClickUp's Social Media Template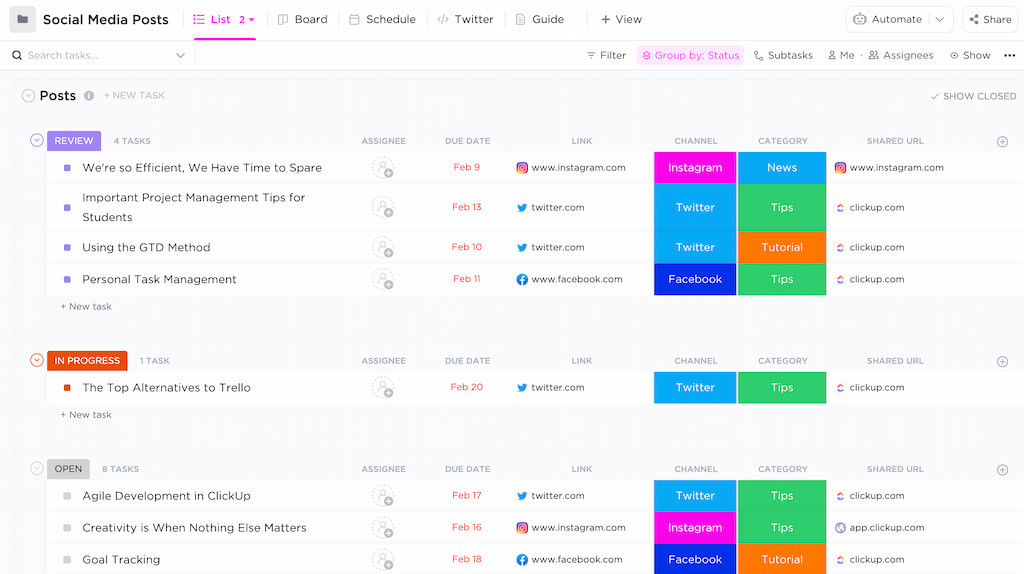 Social media campaigns can have wildly different needs from traditional marketing, which is why it's important to have a dedicated social media project management system.
ClickUp's Social Media Template allows project managers to monitor, track, and measure each campaign to yield the best results for the project.
This project manager timeline template includes a Social Media calendar, which allows managers to coordinate posts, schedule influencer collaborations, and determine the best times to post on different social media platforms. You can even embed Twitter feeds into the template so that you can easily keep track of what people are saying about your brand.
The template makes it much easier for managers to make instant adjustments to get better results. Team members, on the other hand, can view the calendar to look for upcoming tasks, assign themselves to relevant tasks, and collaborate with their colleagues.
It's basically similar to what's included in a typical project management file or a project planning form, except it's centered around social media-related projects.
💡 Features:
5 view types: List, Board, Calendar, Embed, Doc
1 automation and 19 statuses, including Scheduled, In Progress, Gathering Assets, and Ready to Publish
---
Leveling Up Your Project With ClickUp Templates
As you can see, ClickUp templates are powerful tools for streamlining and simplifying your project management process. Leveraging the platform's customizable views, templates, and integrations allows you to take your project management system to the next level and maximize efficiency. With these templates, there's practically no limit to what you can achieve. You can edit each one to make it suit your needs exactly, or you can use them as-is.
Plus, you can integrate popular tools like Everhour time tracking for ClickUp to further enhance the efficiency of your project. Everhour is one of the leading time tracking integrations for ClickUp as its time-tracking functions make it much easier to keep track of time spent on tasks and quickly adjust schedules. This allows managers and members alike to save time and effort and ultimately get the job done faster and better.
Now you can say goodbye to spending hours and hours coming up with the best way to make a plan – with ClickUp templates and Everhour time tracking, you can start your project with confidence and get right to work!