Notion is one of the most comprehensive platforms on the internet for keeping track of everything in your life. From idea mood boards to detailed notes and wide range of Notion shortcuts, there's nothing this platform can't do if you just know how to configure it from the inside.
That said, the Notion time tracking lacks a bit in comparison to some of the other features. If you're looking for a way to keep track of time in Notion, we've got some good and bad news. The good news is that there are a few ways to do time tracking in Notion. The bad news is that, depending on your needs, Notion time tracking might not be as comprehensive as some other best time and attendance software or time management apps options can offer.
We're going to show a few ways to do time tracking in Notion, including some alternatives. Let's dive in!
---
How To Track Time In Notion
There are several ways to track time in Notion, each with its advantages and disadvantages. In this section, we will discuss different ways to make a time tracker in Notion: the native way (using templates) and via third-party integrations.
⌛ Minimal time tracker template
Just like its name suggests, this Notion time tracker template is an effective way of blocking your time using simple functions on the Notion page. In a nutshell, this Notion time tracker is a Notion page template that simply contains an outline of all the hours of your day.
When you start a new day, it opens up a new time tracker page. This page is a template with the hours of the day outlined. From this template, you can block out every task you need to accomplish for the day. There's also a focus statement that you can write to help you center your day around a primary goal.
For example, if your goal is to focus on your creative work, your focus statement could be something like: "I will work on my creative project for two hours today." From here, you can write all your day's tasks according to the hours that you will do them, and then check whether they align with your focus statement. This practice is called time blocking, and it allows you to be proactive about the things that you want to accomplish for the day.
⏰ Advanced time tracker template
Although the minimal time tracker is useful, it only focuses on inputting data, which means that it doesn't really "track" your time. Instead, you're just tracking how you want to go about your day. In other words, you're just outlining your ideal way to spend your time.
Unfortunately, not only can this be considered not productive, but it's also not realistic. We all know that unexpected things can come up throughout the day that will throw off even the best-laid plans. This is where the advanced time tracker comes in. It's a Notion page template that not only blocks your time but also calculates how much time you actually spend on each task.
In many ways, it functions like an actual stopwatch or timer, making it vastly different from the minimal Notion time tracker template. It even uses databases and statistics to track the way you spend your time on certain tasks.
---
---
Here's a table that shows the two main differences between Notion's minimal time tracker and the advanced time tracker.
| Minimal Time Tracker | Advanced Time Tracker |
| --- | --- |
| Prospective looks into the future | Retrospective records of the past |
| Outlines how you want to spend your time every day | Shows how you actually spend your time every day |
How to track time with the advanced time tracker template in Notion
Since the advanced Notion time tracker template might sound complicated, let's outline how a regular user can track time with this functionality.
Once you open the template, you should be able to see an overview of it. To log your first task, go to the time tracker and select New.
The page that this will generate will contain fields that you can fill up with details about the task, such as project title, what project/area it belongs to, and the timestamp and duration.
You should then be able to see this task on different overview pages of the page, including the project and area.
Over time, the tasks you input for the day will pile up. After a week, month, or year, you can then see the entries you put in, as well as statistical calculations of how much time you spent on certain areas.
🔨 Third-party integrations
The advanced time tracker is an excellent and complex tool but it has a couple of disadvantages. First off, it's not the smoothest experience to have in terms of time tracking. You need to go through a variety of views, databases, and pages before you can log just one task. It's also not the most ideal if you're using several tools and platforms at once because you will have to keep coming back to your Notion dashboard to log each task.
Next, although the dashboards and views are comprehensive for personal use, it's not as effective for working in teams or small groups. There isn't a feature that will aggregate the results of all the individual moving parts of a team.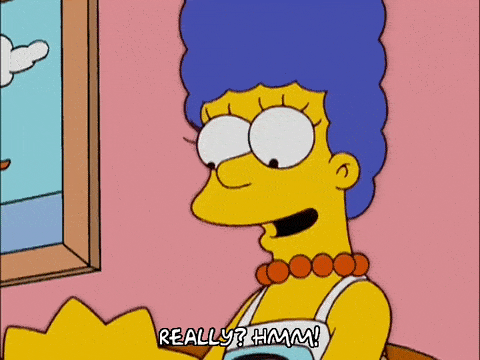 This goes to say that, although this free template is impressive and effective for personal use, there's a better method for time tracking. Third-party integrations let you have the complete functionality that you would want in a time tracker. Compared to a template, here are the advantages that you can gain from using a good third-party tool:
Immediate functionality. With third-party apps, all you have to do is press a few buttons so that you can enjoy the full functionality of the app, unlike the Notion template where you will have to set up the pages yourself to align them with your current workflow.
Real-time tracker. The past two time trackers relied on human input; even on the advanced time tracker, you still rely on your estimates. For third-party trackers, you only need to press a button on the browser to record the time.
Seamless third-party integration. Third-party apps will integrate into the browser itself, so you won't have to shift from one window to another whenever you want to track task durations.
Great team overview functionality. Apps and plugins will also have team functionality where team leaders can have an overview of the performance of their respective teams.
Comprehensive dashboard and statistics. Third-party integrations will have in-depth analytics and statistics that can reveal precious trends and insights about you and your team.
---
Notion Time Tracking Integrations
Whatever use you have for them, third-party integrations are beneficial for your Notion workflow. However, there are many of these apps on the internet – which one is the best for your needs? To help make things easier for you, here are a couple of good Notion time tracking integrations and best time tracking software to narrow down your choice.
Everhour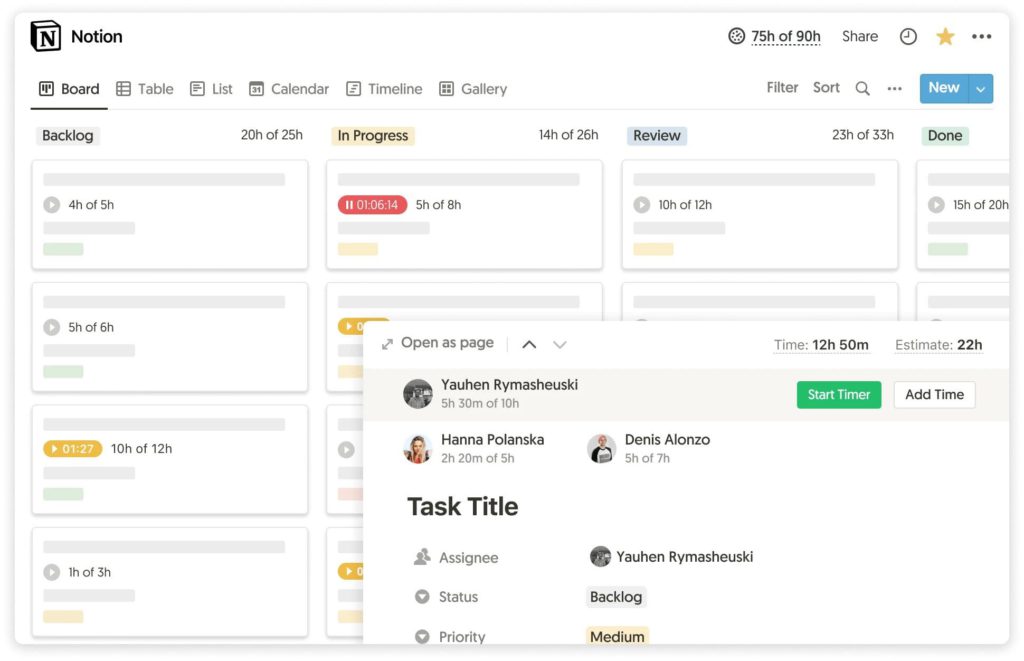 Everhour is an intuitive time tracker and one of the best timesheet apps that allows users to increase productivity and accountability. In addition, using the Everhour time tracking features improves the budgeting, client invoicing, and payroll process. By integrating Everhour and Notion, you can track time on notes within Notion, so there's no need to waste precious time tab switching! With Everhour, you can connect to Notion quickly. Projects will be synced automatically, meaning you and your team can start tracking time instantly. There's no need to spend time setting up projects manually!
Integrating Everhour with Notion also ensures that the time tracked is accurate, as switching between a time clock app and a project management app may mean that employees forget to track their time. With Everhour, you can track time from within Notion, improving time tracking accuracy. Everhour also displays time estimates beside task titles, allowing other team members to see progress on tasks, which encourages employees to be accountable for their progress.
Furthermore, if you want to track your time efficiently, why not try Everhour's free weekly timesheet template? The free time card calculator allows you to clock in and clock out and record breaks and time off. Additionally, the calculator counts overtime and double overtime based on entered time, allowing organizations to pay their employees accurately for the time they work.
💰 Pricing
A yearly subscription for the most thorough plan costs $8.50 per user per month ($10 when billed monthly). The Lite plan, which doesn't include some of the advanced features, is $5 per user per month. There is also a free plan with the basic time tracking and reporting features.
---
TMetric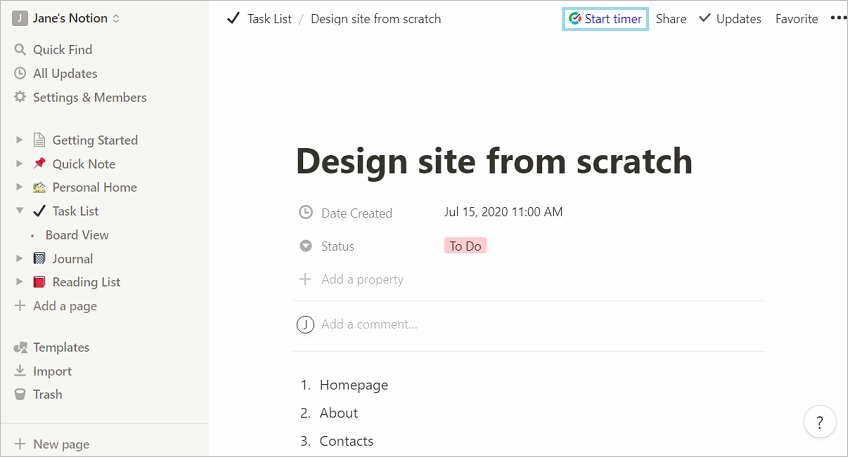 TMetric is a time tracking app that allows users to view work in progress to keep team members, costs, and quality under tight control. To track time in Notion, users can easily integrate the platform with TMetric. With the TMetric app, there's no need to manually input time—the timer button is integrated into every Notion task, so say goodbye to tab switching! Each time entry contains a link to the Notion task in question, and you have the option to edit time entries if you need to.
In addition, TMetric allows users to create powerful time reports which show all the time tracked by your team in one easy-to-access place. You can group, sort, and filter reports and send reports to clients with invoices, so they can see exactly how you've used your time.
💰 Pricing
TMetric pricing depends on how many members of your team there are. For example, for a team of 10 people, a business subscription costs $700 per year and a professional subscription $500 per year.
---
Time Doctor

Time Doctor is a time tracking app used to keep track of team progress and boost productivity in the process. It has a manual and automatic time tracking feature that allows users to track time on projects easily. Additionally, the tool tracks the idle time of employees throughout the day, allowing managers to set a minimum time that an employee can be idle. The app will send a pop-up alert when it does not detect mouse movements or keystrokes within a set time limit, which nudges employees to start working again.
Another great feature of Time Doctor is that it is also an attendance tracker and work hours tracker. The tool allows managers to easily manage employee shifts and work schedules. They can add, delete and edit shifts, bulk delete shifts, pick schedules for different employees, generate and share work schedules and set levels of permissions to view employee work schedules.
Integrating Time Doctor with Notion also allows users to generate detailed reports that enable them to evaluate team and employee productivity accurately. Finally, integrating with Time Doctor allows users to generate payroll for employees. They can approve timesheets, select currencies and date ranges, and set each employee's payment method and pay rate.
💰 Pricing
For an annual subscription, Time Doctor costs $70 per user per year for the Basic subscription, $100 per user per year for the Standard subscription, and $200 per user per year for the Premium subscription.
---
Timely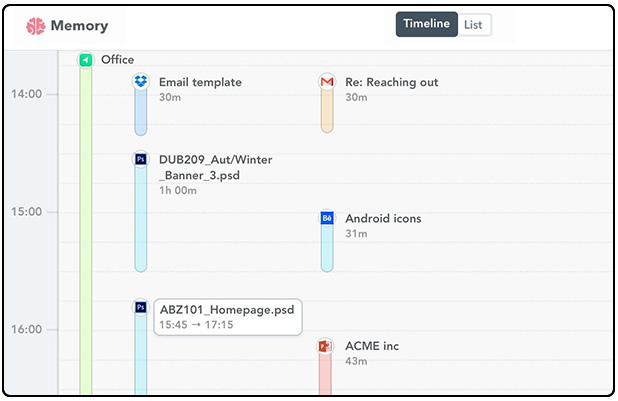 Timely is an automatic time tracking app that tracks time in web and desktop apps, allowing users to receive a daily record of the time they spend writing emails, in meetings, on websites, and in documents. Additionally, users can monitor budgets, activities, and hours in real time to run smarter projects and get an overview of team performance.
Users can integrate Timely and Notion to ensure that teams are accountable for the work they do. Timely's Memory app tracks time within Notion automatically, meaning users don't have to worry about starting or stopping timers throughout the day. Additionally, all the time spent in Notion appears in a user's private daily timeline, detailing specific access timestamps for the files users worked on.
Finally, the chart builder tool allows users to analyze and create reports on their activity within Notion. The feature allows users to see how they spend their time, enabling them to increase the efficiency of their workflows when necessary.
💰 Pricing
When paid annually, a Starter subscription is $8 per user per month, Premium is $14 per user per month, and Unlimited is $20 per user per month.
---
TrackingTime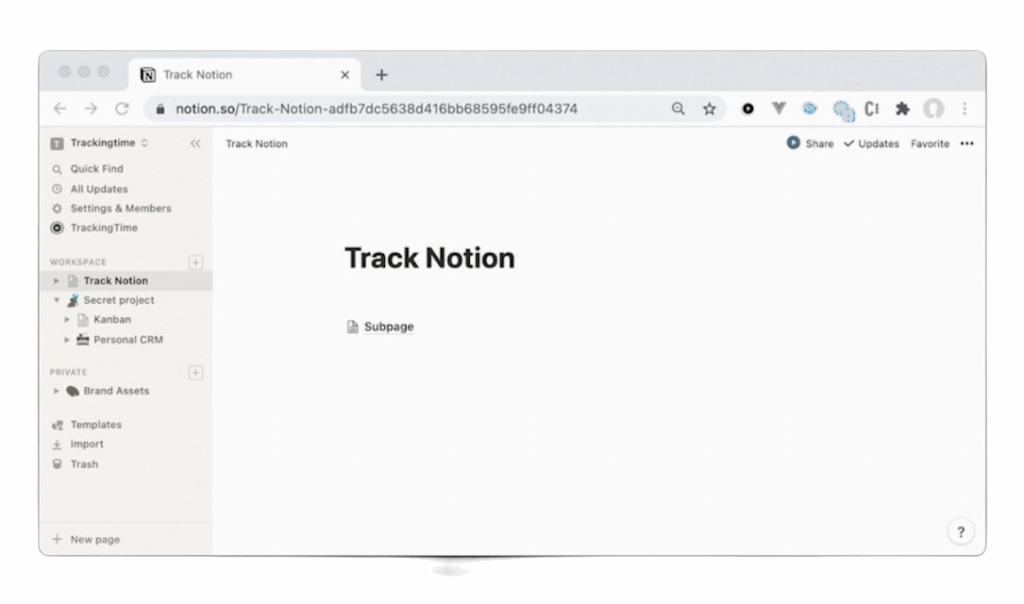 TrackingTime is a time tracking app that gives organizations all the tools that project management apps are missing, such as time tracking capabilities and project budgeting, billing, and payroll features.
Integrating Notion and TrackingTime allows users to get access to automatic timesheets and use TrackingTime's in-depth analytics to improve efficiency and productivity. There is no manual setup required, and you can start tracking time from within Notion in just a few clicks. The TrackingTime timer will appear in Notion, allowing users to keep track of time within notes and projects without having to waste time switching between tabs.
💰 Pricing
An annual Pro subscription for TrackingTime costs $5 per user per month. However, there is also a Free plan for up to three users.
---
Jibble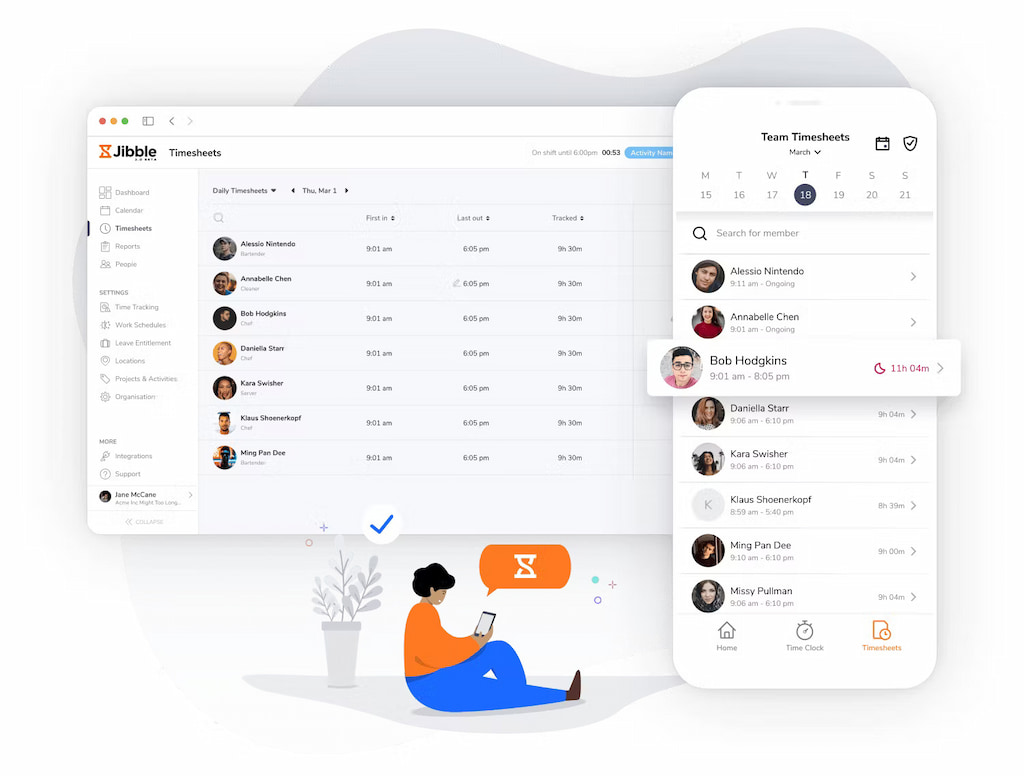 Jibble is a time tracking app that allows users to turn any device into an easy-to-use time tracker, with GPS-based tracking and face recognition technology to eliminate buddy punching. Alternatively, users can opt for web time tracking, where the time tracking software is integrated into the browser. There, users can edit timesheets and create advanced reports which offer insights into productivity.
By integrating Notion and Jibble, users can sync pages with activities or projects in Jibble in just a few clicks. Then, users can easily monitor time spent on tasks and create insightful reports about exactly how time is spent. Additionally, Jibble sends users daily and weekly updates on team timesheets, so managers are always up to date with their team's activities.
💰 Pricing
Jibble is free to use for unlimited users. However, if you want to access additional features such as advanced time tracking with GPS, multiple workgroups, and overtime calculations, a Premium membership costs £1.50 per month for a single user when billed annually. Alternatively, the Ultimate membership costs £3.00 per user when billed annually.
---
Notion Time Tracking: Final Thoughts
Notion is one of the best productivity apps and an excellent project management tool for organizations of all kinds. You can plan (for example, using these Notion weekly planners) and collaborate on projects and tasks on the platform with ease. However, using Notion time tracker templates or other time tracking software enhances the functionality of the platform, allowing users to keep careful track of how they are spending their time.
Ultimately, the perfect tool for you will depend on your requirements. For example, if you are a freelancer and you would like to see how much time you spend on tasks each day, you may opt for the Notion time tracker template. Alternatively, SMEs may benefit from using a third-party integration that offers various other useful features, such as time tracking, invoicing, payroll, and reporting capabilities. In any case – pick a tool of your choosing and enjoy great Notion project management experience!