Within Notion, you can create tables, boards, wikis, and more. This means that virtually any business, regardless of its needs, can start and make the most out of Notion immediately.
But that's not all. Thanks to all the Notion integrations, you can use the Notion workspace in combination with your favorite productivity, communication, and other workplace applications your team is currently using (including our own Notion time tracking integration 🙂 ).
In this article, we're going to walk you through why you might need Notion integration and list the 17 best Notion integrations when it comes to time tracking, communication, file sharing, and more. And in the end, we'll show you how to create a powerful workspace with Notion and all the Notion integrations currently available at your disposal.
Why You Might Need Notion Integrations?
Think of Notion integrations as add-ons to the already amazing platform. In other words, while Notion is highly flexible and adaptable, different businesses have different needs and make use of different apps, and it would be a shame for you to have to leave those behind just to use Notion.
Thankfully, Notion is highly integratable with many of the popular apps that modern-day workplaces use, meaning you and your team don't have to jump around the different apps during your daily operations. Rather, they will all be in one place, on the Notion platform.
Notion Integrations can make your workflow much smoother and improve productivity. So, if you're considering using Notion, this is probably one of the key features you will need to know about.
Top 17 Notion Integrations
The library of Notion integrations is truly impressive, which is why Notion is a popular platform used by millions of companies worldwide. And as much as we'd like to talk about all the awesome Notion so integrations available, that would take us a very long time. Instead, let's look at the top 17 Notion integrations you can start using right now.
Everhour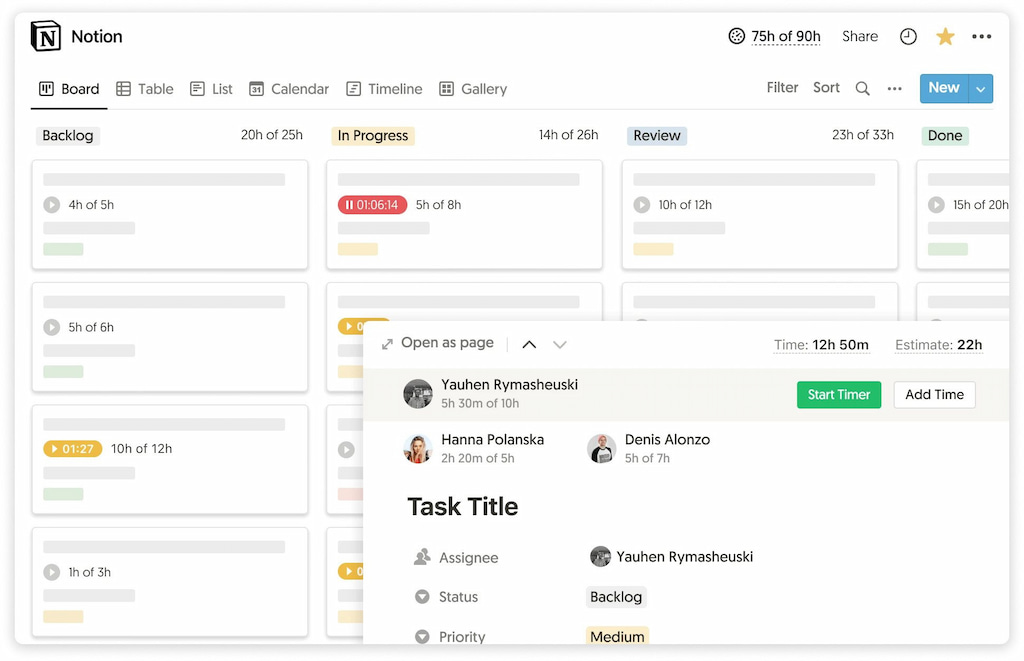 Everhour is one of the best time management apps out there and most sophisticated time clock app on the market today. Using Everhour, you can undertake employee time tracking using the work hours tracker, which lets you know who is doing what and how long it's taking them. On top of that, you can also make use of the attendance tracker, which shows when your colleagues are working and when they are off.
All the data collected is then stored in the timesheet app of Everhour, readily available to access by the management team.
Besides, once you integrate Everhour with Notion, you can start the time tracker right from Notion. That means you no longer have to tab switch every time you start or end a particular task, all while still enjoying accurate Notion time tracking for robust reporting, budgeting, and payroll.
Jira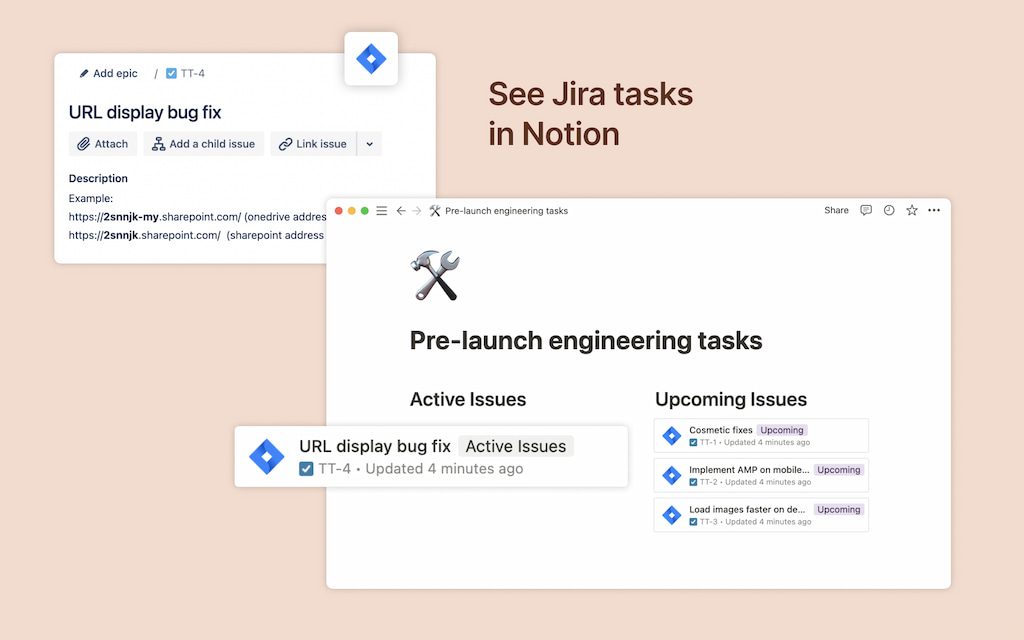 When Jira first came about in 2002, it was initially used to keep track of bugs and issues. Since then, the platform has evolved into one of the most powerful work management tools for all kinds of use cases ranging from agile software development to requirements and test case management.
The Jira + Notion integration is very powerful because you can sync all your Jira boards and projects into Notion as databases, meaning your team can access virtually any aspect of their day-to-day responsibilities solely through Notion, reducing their need to switch between tabs while increasing their productivity.
Besides, integrating Jira with Notion takes just a few minutes, meaning you can increase your team's productivity pretty much right away.
Asana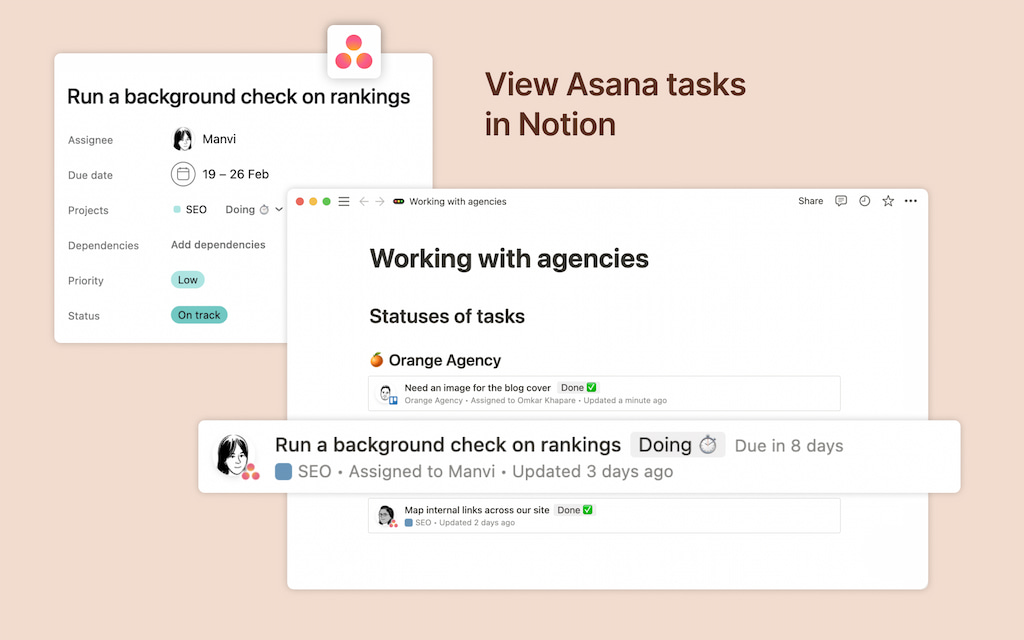 Asana is arguably the most popular app in the typical modern-day workplace. Asana's project management features make it one of the best PM tools for teams. This is because the tool does a great job organizing different work and tasks all in one place. This can greatly reduce confusion and redundancy in the workplace, which, in turn, will increase employee productivity.
With the Notion integration, you can bring Asana tasks to your Notion space to make everything from existing to undergoing tasks easier to view.
Slack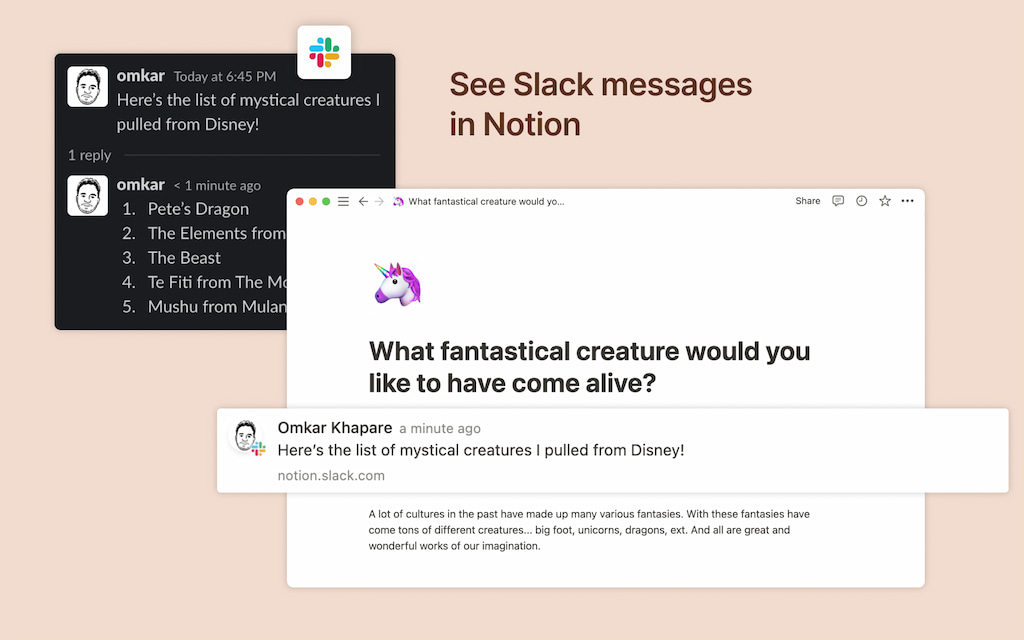 Workplace communication is very important. In this day and age where many workers work remotely, it's crucial to have a proper means of communicating with each other. This is why Notion made sure to include Slack in its list of integrations.
In Notion, you can build high-quality workflows with all the context workers need to get the job done. But if there are any questions or special instructions, you can use Slack with Notion to communicate with other team members without switching between the different apps.
Zapier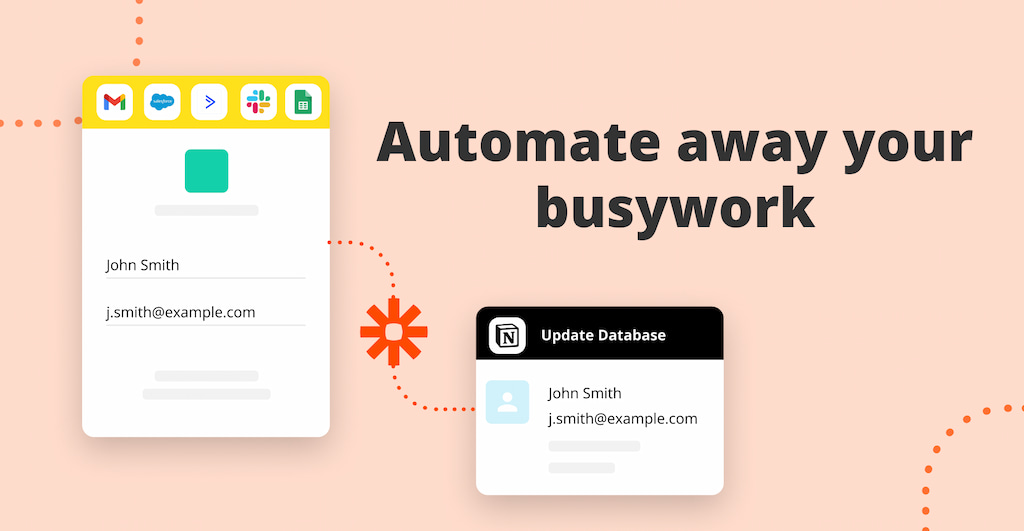 If you use various workplace apps, then there's a high chance that you've heard of or even used Zapier. Zapier is a tool you can use for smooth integration between other apps. With Zapier, managers have a clear-cut way of eliminating repetitions and redundancies in workflows.
When an app performs a certain task, Zapier can keep track of it and make sure the process isn't unnecessarily repeated. Since Notion Integrations are vast, having another app to ensure all the integrations are smooth, like Zapier, is very important.
Tray.io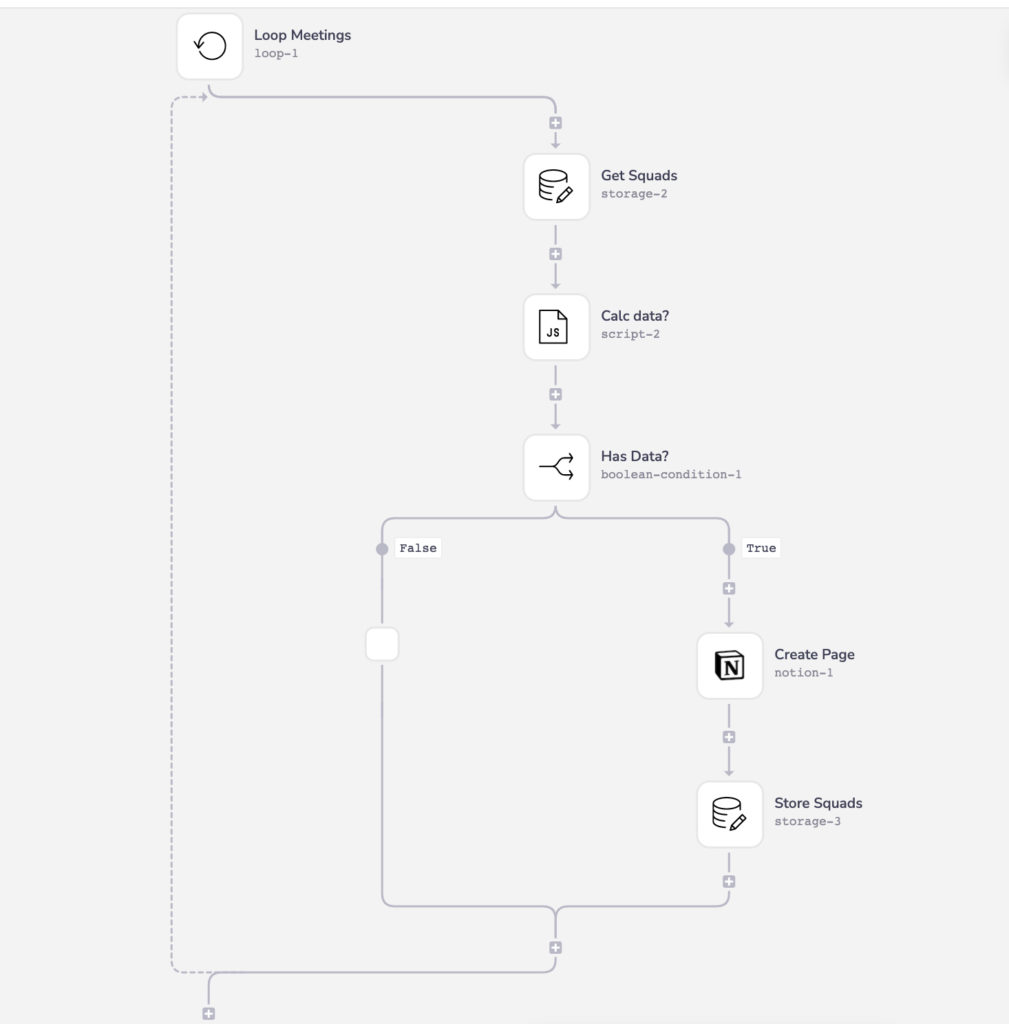 Tray.io is a very popular automation and integration tool. It works similarly to Zapier as it can connect different apps together. This is great for Notion as it will allow you to integrate the tool with other apps that may be part of your workflow.
Make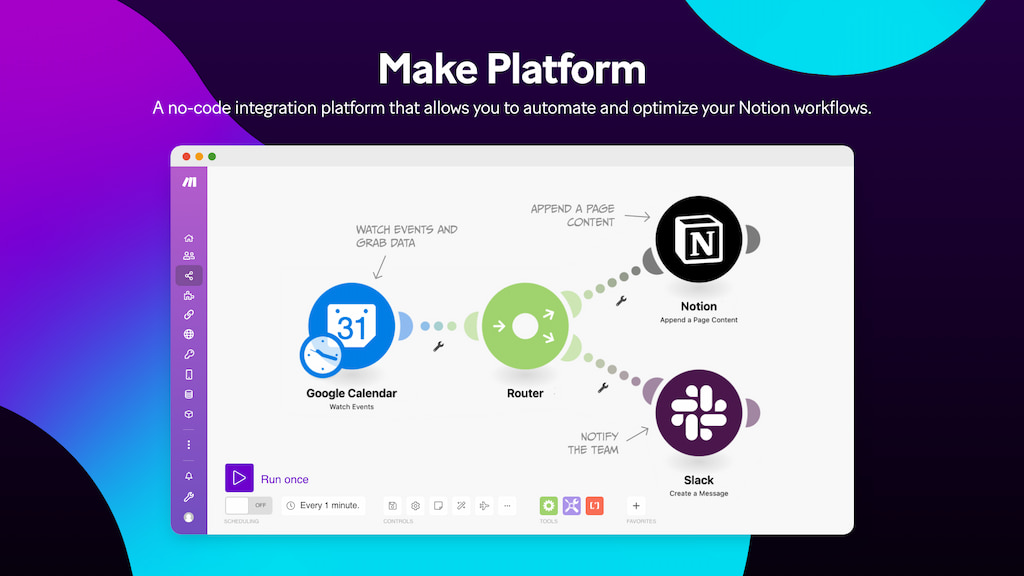 Make is another widely-used automation tool. The tool allows users to send various data sets and information from Notion to other apps in their workflow. Doing so manually can be a tough, annoying, and time-consuming process, which is where Make comes in.
With Make, you can design custom workflows, and calendars that can simultaneously boost productivity while ensuring everyone is on the same page. There are tons of companies that use Make on a daily basis, and integrating it with Notion is a great way to take productivity to the next level. Make even claim that their tool is a better replacement for Zapier, Workato, and Tray.io.
GitHub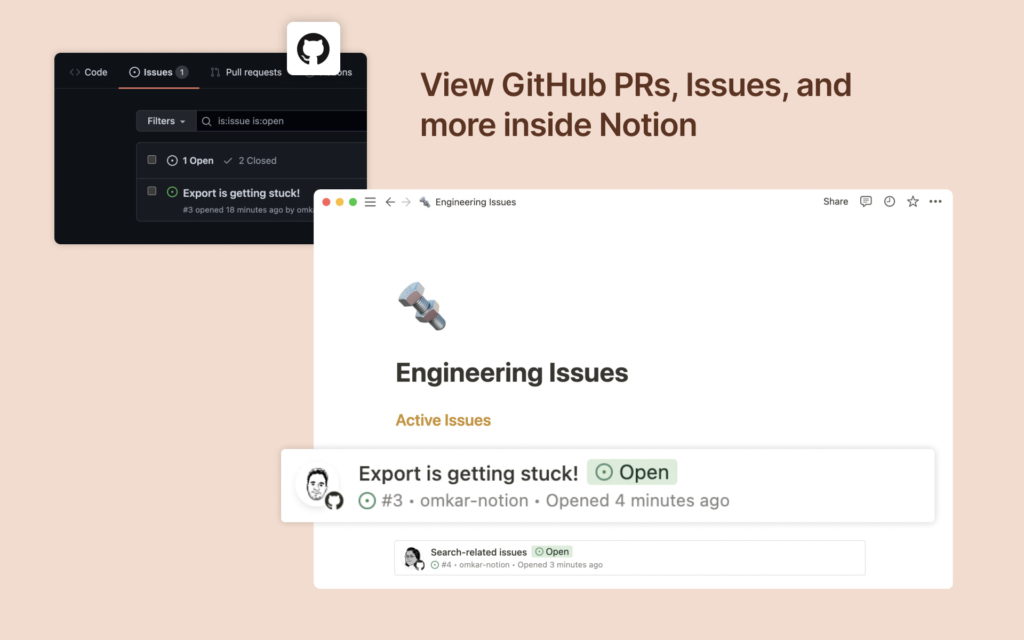 GitHub is a game changer for developers. It allows them to test, maintain, and build their software very quickly and efficiently. This is a very important tool in the digital workspace, having lots of GitHub alternatives, and is one that Notion integrates with very smoothly.
When you use the Notion GitHub Integration, you can view issues from a GitHub link right on Notion. That way, you won't have to constantly jump between different apps just to look for different issues with their code or software.
You can also sync databases to bring your GitHub repository right on Notion as a database. This way, it's much easier to connect everything together and make for a much smoother workflow for everyone in the team.
Trello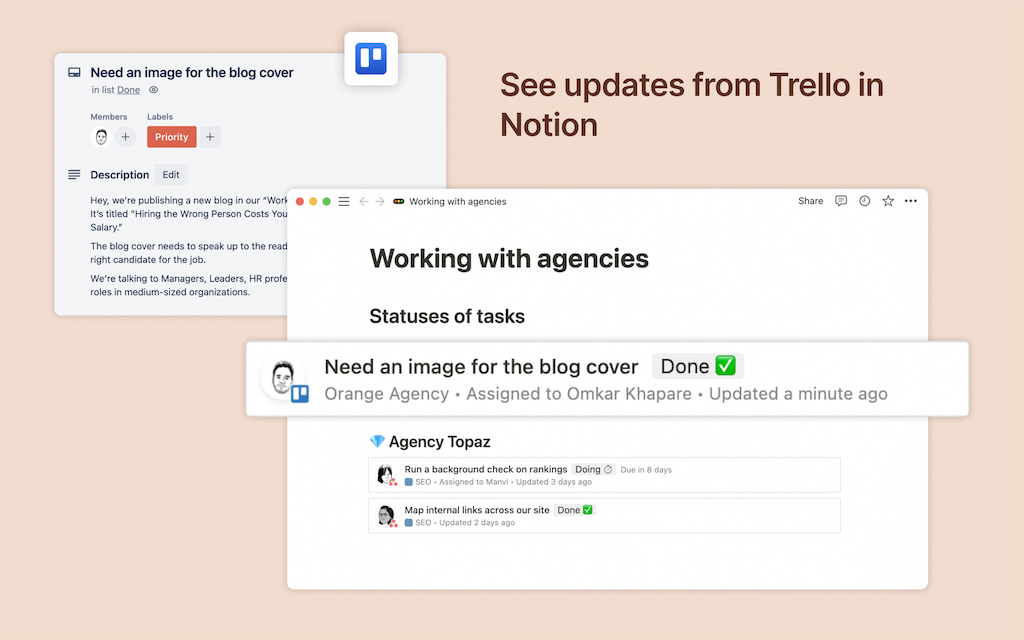 Trello has become one of the go-to apps for building workflows and general project management activities. Using Trello, you can create cards, and when linked with Notion, you can view the cards that are being done on Trello within Notion, meaning you won't have to jump between the two apps to keep track of where you and your team are currently at. You can also take advantage of various Trello Power-Ups as well.
Having two workplace management apps can be very beneficial, especially if you want to boost productivity, and with Notion Integrations, doing so is more than possible.
Google Calendar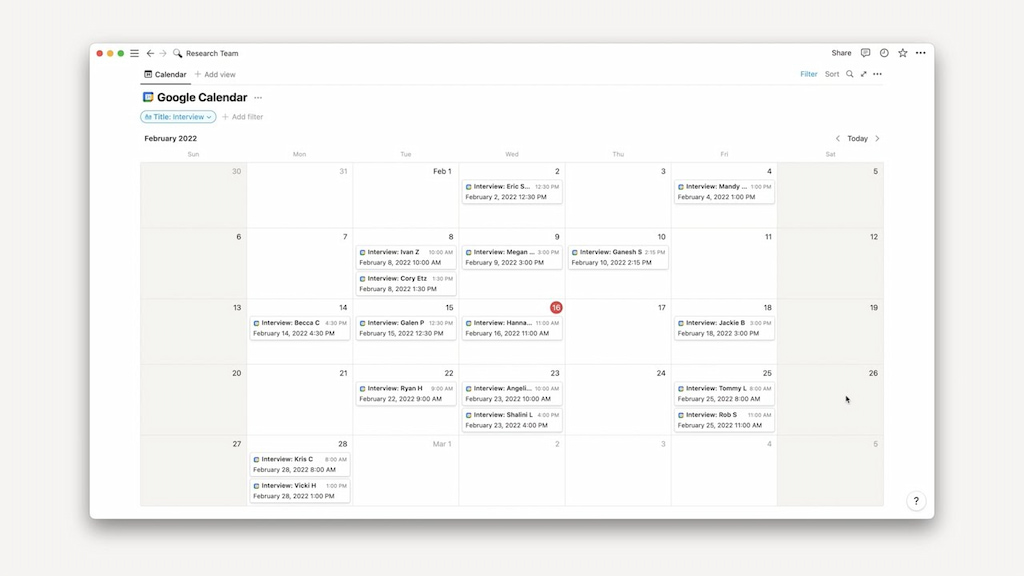 Google Calendar is a very useful tool for keeping track of your daily schedule. With Google Calendar, you can also sync all your devices to the same schedule, which is super handy if you make use of a number of different devices as part of your working activities.
For example, you can set a 2 PM meeting on your Google Calendar using your work computer. And if you are away from your computer at the time, Google Calendar sends a notification to your phone to remind you of the meeting.
Notion integrates very well with Google Calendar. Once you've linked the two apps, you can go on Notion and see all of your scheduled meetings and events all in one place while keeping track of your current workflow. Having access to these vital pieces of information in the same place is extremely beneficial as it can help you plan your meetings more effectively and reduce redundancies while increasing productivity.
Dropbox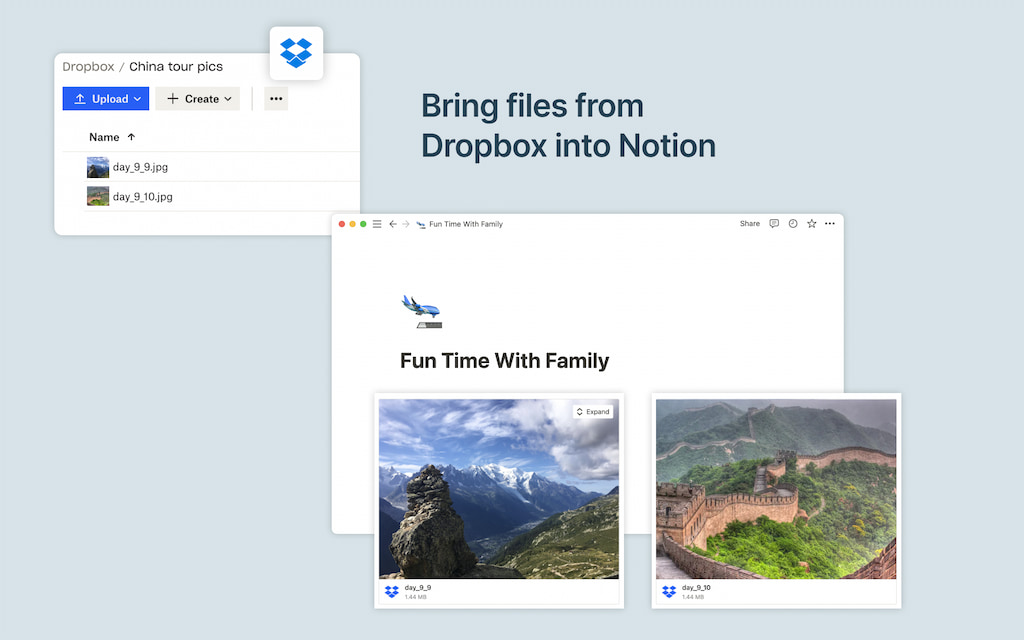 Dropbox allows companies and their staff to share a singular Cloud space. This means that every single file or piece of company information can be uploaded to Dropbox for managers and other employees to use as intended.
Before apps like Dropbox, managers would have to organize files themselves or hire someone else to do it. With Dropbox, workers can instantly sort their files in the appropriate folder to make it easier for everyone later on.
With Notion, you can add files to Dropbox right on the app. On top of that, you can preview the files, so you don't even have to open Dropbox to see what's in the file. While this seems like a small detail, it can save workers a lot of time.
GoogleDrive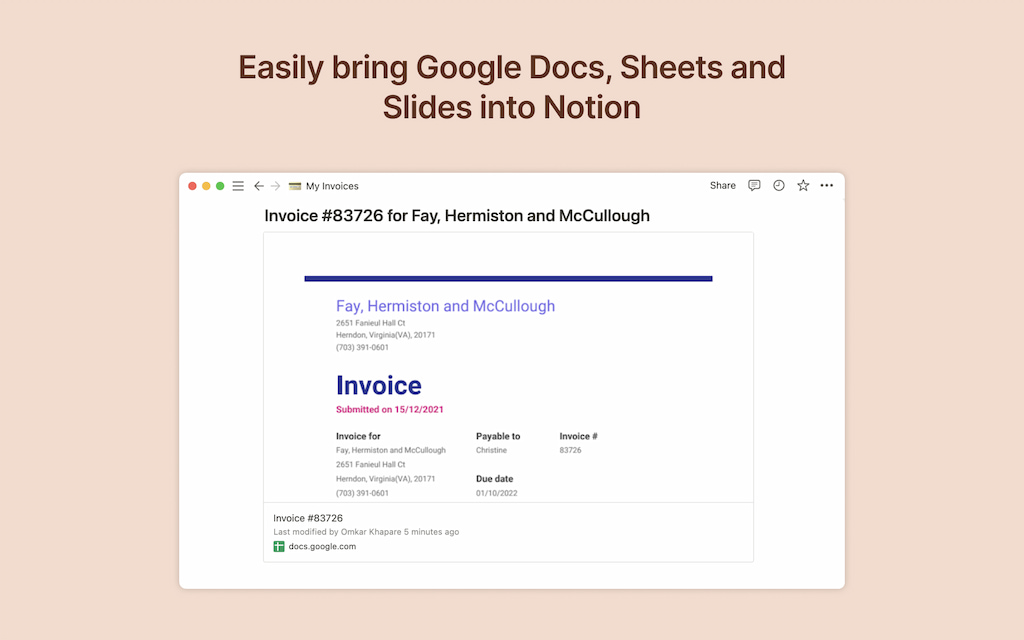 GoogleDrive is similar to Dropbox. It's an online cloud-storage service that millions of companies from around the world make use of. And since it integrates directly with Notion, you don't have to worry about having a hard time previewing links you paste on Notion from Google Drive.
Like Dropbox, through Notion, you can previse files inside GoogleDrive and save yourself and your employees hours every year just by using this awesome feature.
IFTTT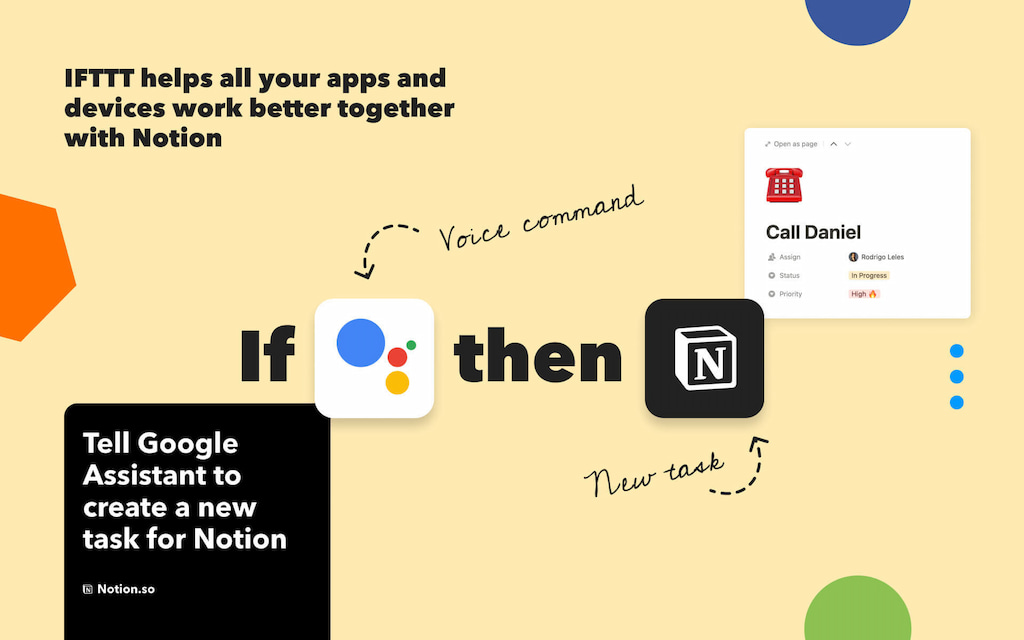 IFTTT is another dedicated integration app that works very well with Notion. It works similarly to Zapier and is one of the most useful workplace apps for modern organizations. It has the capacity to integrate with over 700 different tools and apps available on the market, so connecting it to your Notion space will unlock many new ways to optimize your workflow.
Neeva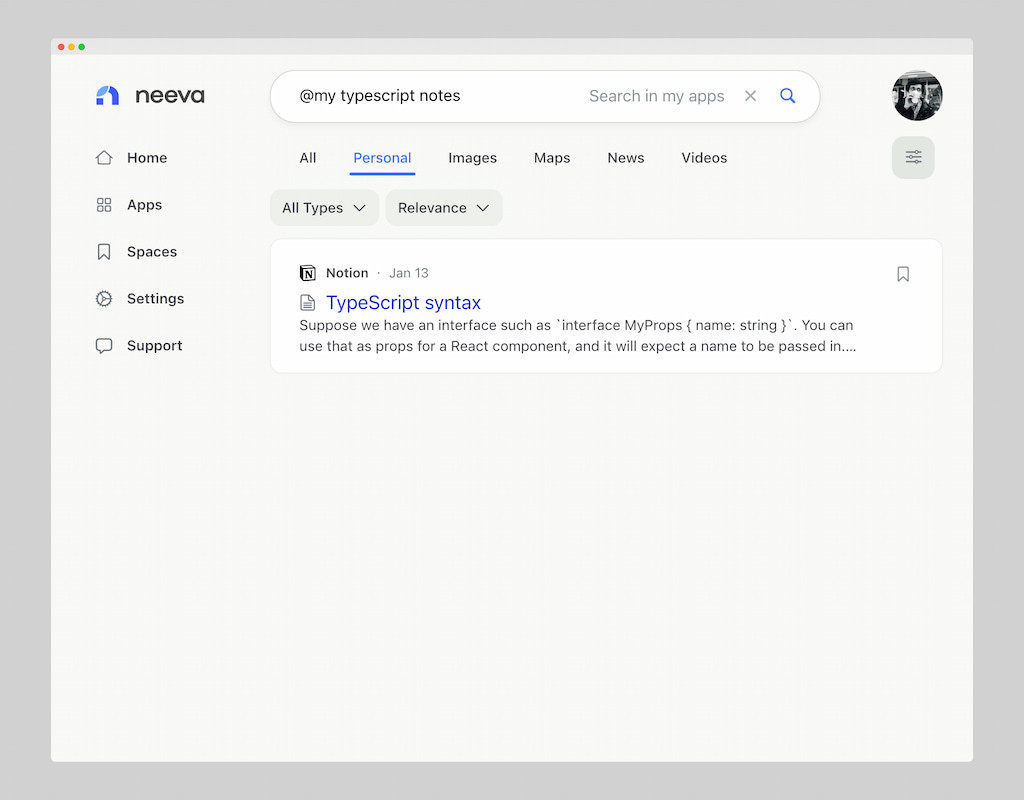 Neeva is a very useful tool for people who work with a lot of data and files. In essence, Neeva is a private search engine that can scan through all your files and public databases to find what you're looking for. This is a very convenient app, especially if you have difficulty searching for files and data when you are working.
With Notion, you can add your data and notes to the Neeva database. That way, you can search for specific notes that you saved on Notion using the Neeeva engine. It may not seem like it initially, but the Neeva integration can be one of the most useful ones that Notion has to offer.
Typeform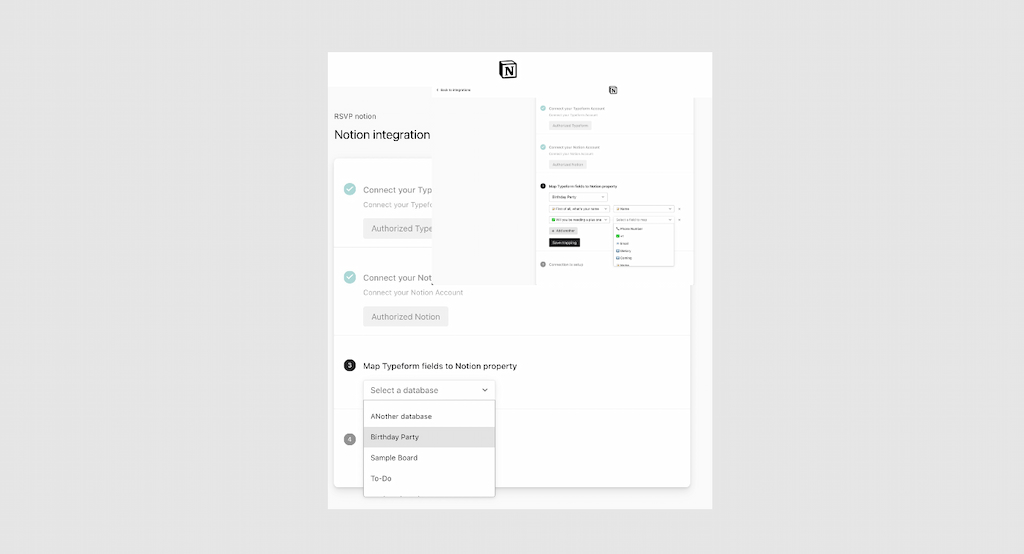 Typeform gives organizations a convenient and non-intrusive way to connect with customers. With Typeform, you can create forms that customers need to fill out when making orders, contacting the company, and more. With Typeform, you can make hyper-specific forms with great designs that your customers will find interesting and want to fill out.
And with Notion, you can sync the Typeform responses to your database. From there, you can view it, filter out the results, and do a lot more, making it much easier to analyze the data and answers collected from the forms.
Qonto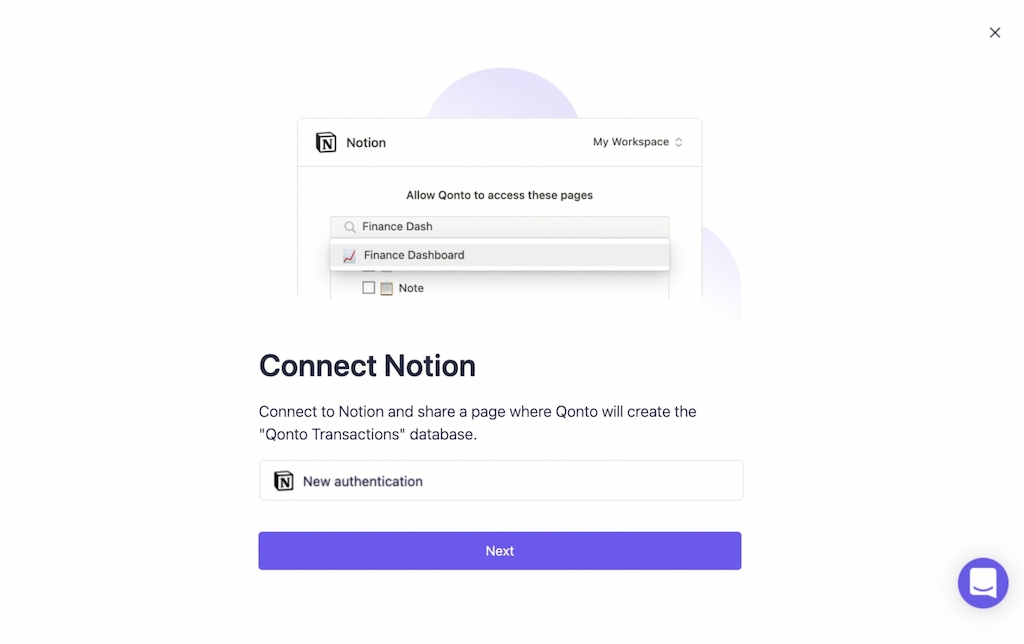 The Qonto app allows you to manage your finances, bookkeeping and spending all in one place. With Qonto, keeping track of your finances is made very simple and can be used by both businesses and individuals, which is what makes the app so popular.
There's a specific Qonto integration for Notion which allows you to view data, analyze spending, and track expenses right on Notion. This is great for individuals and managers looking to make sure all the finances are in check and that the company remains profitable after the completion of every project.
Webex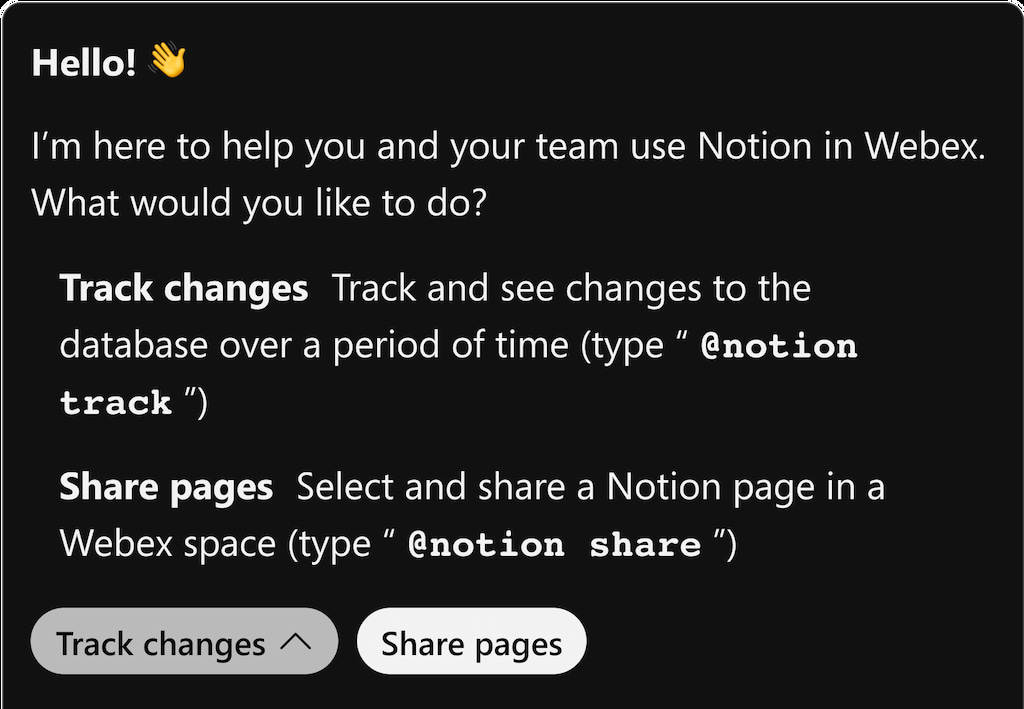 Webex is a cloud-based tool for conducting online meetings and video conferences. It offers a wide range of features, including screen sharing, file sharing, and whiteboarding. Webex also has a mobile app that allows users to join meetings from their smartphones or tablets.
Webex is also fully integratable with Notion, so if you're currently using Webex, you'll find this Notion integration a whole lot more useful. The Notion Bot in Webex let you track your Notion databases there and keep your team updated on any Notion changes.
How to Create a Powerful Workspace With Notion Integrations?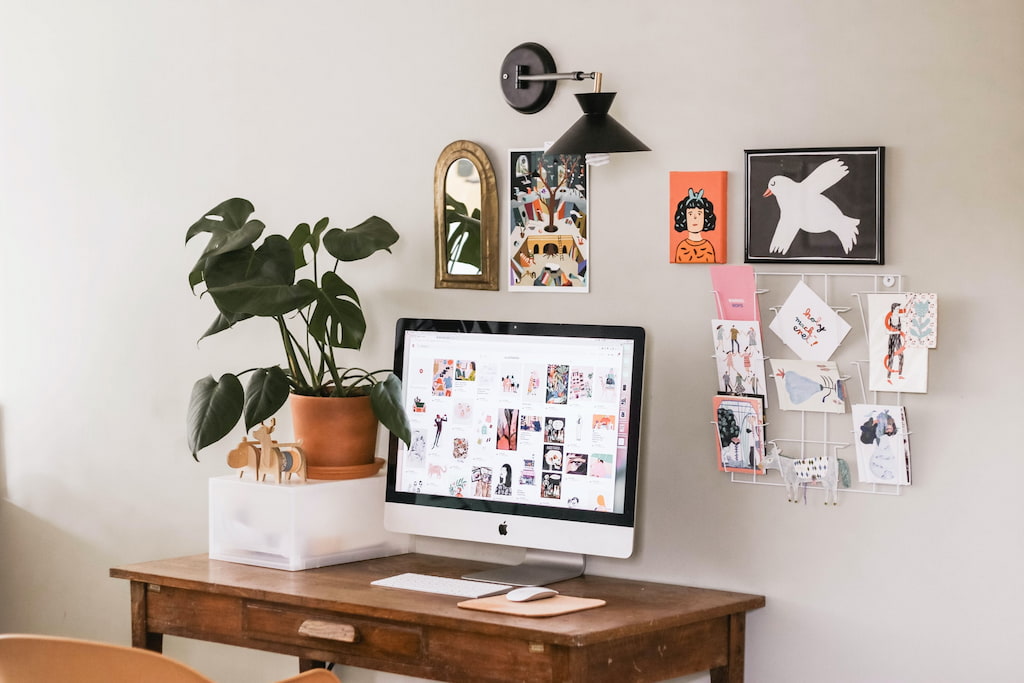 To someone who has never used Notion before, the platform might seem a little confusing to navigate and figure out. Think of Notion as the hub of your business. The place where you go regardless of whether you want to keep track of time, assign tasks, check your calendar, chat with a colleague, or do anything else that you or your team might need to do to fulfill the responsibilities at work.
While Notion project management features are quite extensive, thanks to the vast Notion integrations available, businesses can link up all of their existing tools and software together thanks to Notion and make use of them all in one place – on the Notion platform.
To help you better understand how to automate Notion, how you can make the most out of it, and how to create the best workplace for your needs, we'll detail how to do that in the simplest possible way below.
Create Your Workspace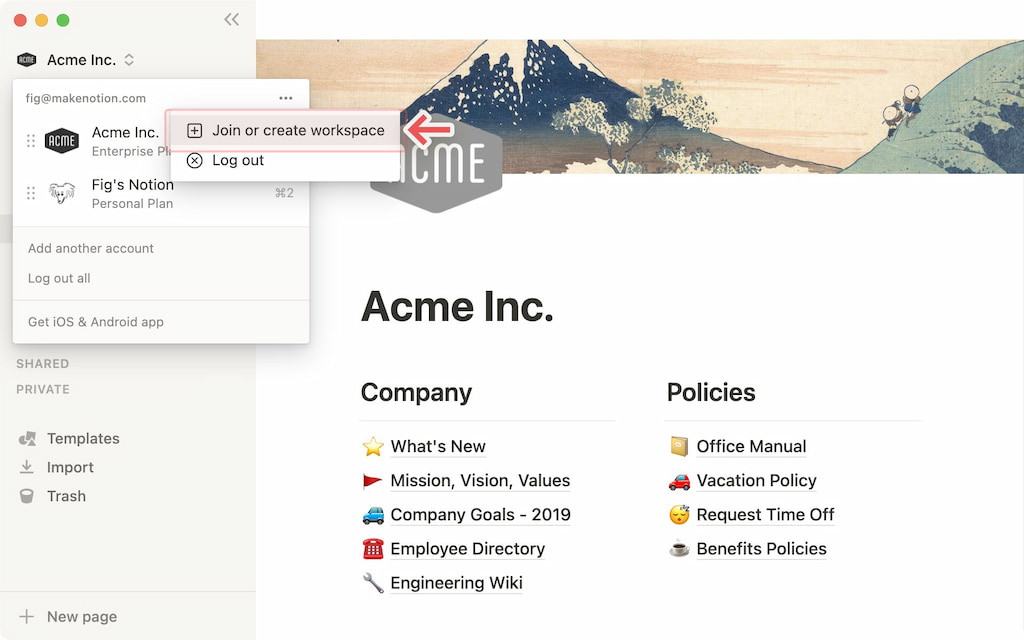 First, you need to create a workspace in Notion. You can do this by clicking on the "Add Workspace" button in the top left corner of your screen.
Add Content to Your Workspace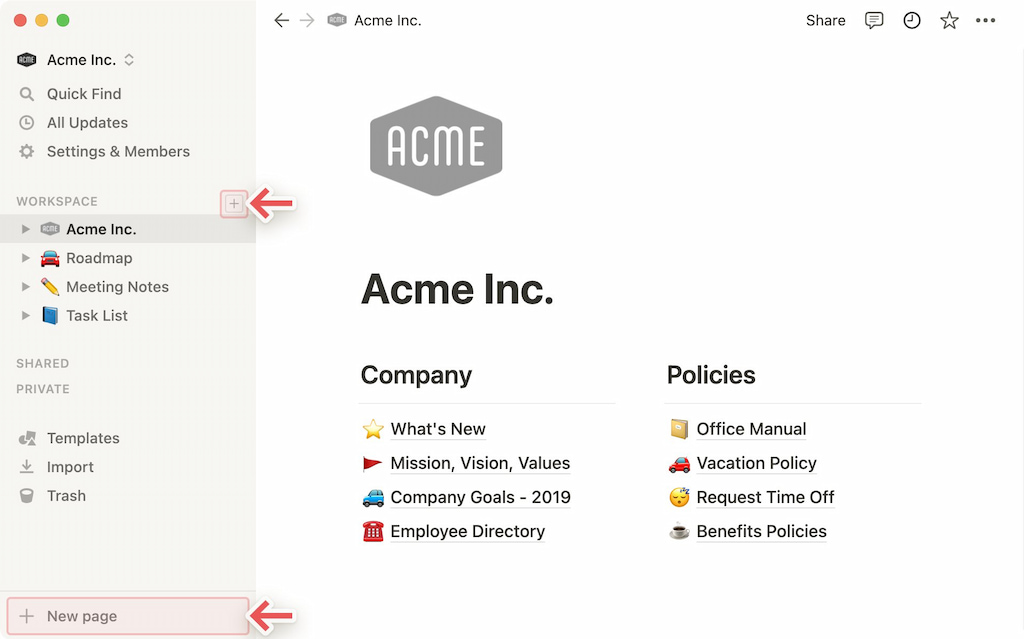 Once you have created your workspace, you can start adding content and pages to it. To do this, simply click on the "+" sign in the top left corner of your workspace and select the "Add Page" option.
Integrate All Apps & Software With Notion
Once you've created your workspace and have added all the necessary content, you can finally integrate all of the apps and software like Everhour, Slack, Google Drive, and anything else that you and your team use on a daily basis with Notion.
To do this, simply click on the "+" sign in the top left corner of your workspace and select the "Add Integration" option.
After the workspace is created, the content is added, and the integrations are connected, you and your team can access every piece of content, and every app or software you use through Notion.
Notion Integrations: Conclusion
The way modern-day businesses work has changed forever. In the past, we used to keep track of time, tasks, and project progress manually. Today, all that is completely automated by handy tools, applications, or keyboard shortcuts (like Notion shortcuts).
While making use of all these different apps and tools available on the internet to meet your individual business needs is great, you can take the productivity and efficiency of your workplace one step further by having them all in one place – like the Notion platform. That way, you and your team don't need to waste tabs all the time to find a file, chat with a colleague, or track time for work that is currently being done.