It's never enough to sit down, get all the information you need, and proceed to create a schedule for your employees. It can be draining to figure out the time employees spend at work, on shifts, and other parameters that cover their roles. Even when you've managed to sort things out, some changes can affect proposed schedules, including acts of nature and employees' personal lives.
If you swear never to schedule work again, you'd be within your rights, but with a work schedule maker, you can get things right from the onset. A schedule maker for work is a tool designed to make work scheduling easy for employers and managers. Additionally, a shift schedule maker has features that allow managers to monitor and track hours scheduled for each employee and even their holidays.
Using an employee schedule creator keeps your business moving because there's so much to track, especially if you use things like spreadsheets, or manual pinups on your bulletin boards. If you want a genuine, well-worked schedule maker for employees, this article helps you find the best tools to improve your scheduling experience.
Key Features of Work Schedule Maker Tools
It's expected that a shifting schedule maker will have some features that make it worth it or stand out. When you're looking for such tools to complement your effort and your business, look out for the following key features.
📆 Shift planning and scheduling capabilities
A schedule shift maker has many jobs but none more important than shift planning and scheduling. The app or tool you choose should be able to offer these capabilities in a balanced way. Since your employees will follow the schedule you set, the shift maker must carry such features to help you plan.
👩‍💼👨‍💼 Employee availability management
Another key feature is employee availability management. The shift work schedule maker should be able to highlight when your employees are available to work and when they're not. With the information you get, it's easy to plan accordingly and set schedules.
🔧 Automated shift assignments and swaps
An automated schedule maker tool can automate your shift and swap policies. Due to some emergencies and regular work circumstances, shift swapping has become a common practice in many workplaces. Employees trade shifts with each other, keeping them happy, and ensuring that work operations get done. Shift swaps can help you run a successful business even when a schedule planner for employees doesn't go according to plan.
⌛ Time-off and leave management
Managers and the administration can use a staff schedule maker to manage employees' time off. Businesses have to comply with local rules and regulations, and a good work shift schedule maker can make sure of that. This includes time off due to ill health and leaves, which could be annual, or as defined by the organization.
🗣️ Communication and collaboration features
The schedule maker work tool should offer strong communication and collaboration features. Seamless communication and collaboration are essential so that everyone is pulling in the same direction. With a tool that has these features, the workforce stays connected, aligned, and productive.
Everhour is a leading tool that businesses can use alongside their shifty schedule maker. Everhour carries features for collaboration, and these features make communication within teams and among units seamless.
📃 Reporting and analytics functionalities
It's not enough to have employees using an auto-schedule maker. The tool should be capable of analyzing data to identify patterns and report on them. This way, it's easier to plan and have insight into future decision-making.
---
Benefits of Using Work Schedule Maker Tools
There are many benefits and advantages of using a work schedule maker for your business. They are discussed below.
💪 Increased efficiency and time savings in the scheduling process
Scheduling takes time and no matter how good you are at it, there's always that risk of not getting it right. With a worker schedule maker, things are different and you don't have to create new schedules from scratch each time you need one. This saves you valuable time and allows you to streamline your experience without breaking a sweat.
⚠️Improved accuracy and reduced scheduling errors
Since you'd mostly be using an automatic schedule maker, there's limited room for scheduling errors. Most of the processes in such software are digitized or computerized, meaning there's every chance of having accurate data around the clock. Issues with scheduling employee tasks, time off, and other parameters are better managed.
😊 Enhanced employee satisfaction and engagement
With the ideal work schedule builder, employees can enjoy better work experience, satisfaction, and engagement. They know more about the workload ahead of them for a specific time and prepare accordingly. Further, such tools will keep the employees notified about their upcoming projects and tasks, leading to reduced burnout and increased productivity.
🤔 Optimal staffing and coverage for business operations
An employee schedule generator software can help you optimize staffing and coverage for your business operations. The software does this by identifying hours off or frequency of downtimes where employees have the opportunity to develop new skills. When properly carried out, your business will not suffer.
Another aspect of optimal staffing centers on the strength, skill, and certification of your employees. You can schedule work and time according to these parameters so that your business continues to run smoothly.
🤝 Simplified communication and seamless collaboration
Effective communication and collaboration are essential for any business to succeed. An employee work schedule maker guarantees the simplified presence of these two factors in the workplace. Workplaces are often diverse and if not properly and professionally monitored, can lead to problems. Thankfully, these tools provide a solid means of communication and collaboration along with a centralized platform for managers and employees to work together.
💡 Greater visibility into labor costs and resource allocation
Money is a huge factor for any business, so an app that helps to save much of it is a breath of fresh air. A work schedule planner vastly improves your outlook on labor costs and resource allocation. You can use the software to track scheduled and actual hours worked, overtime, breaks, and more. With this information, you can correctly calculate each pay period and plan future budgets.
---
Types of Work Schedule Maker Tools
The type of work schedule maker you need is often determined by the kind of business or organization you run. Below are the main types of schedule generator for employees.
Online/cloud-based scheduling software
An online or cloud-based employee schedule maker works via the internet and related tools, helping you and your employees to quickly access the workplace, tasks, and projects. For example, Google Docs is a cloud-based word processor that you can use to create a schedule online.
One of the major advantages of using a work schedule maker online is the ease of distribution and access by multiple authorized users. For example, you can create your schedule online via your preferred internet browser, save it in the cloud, and grant concerned employees access by sending them a link.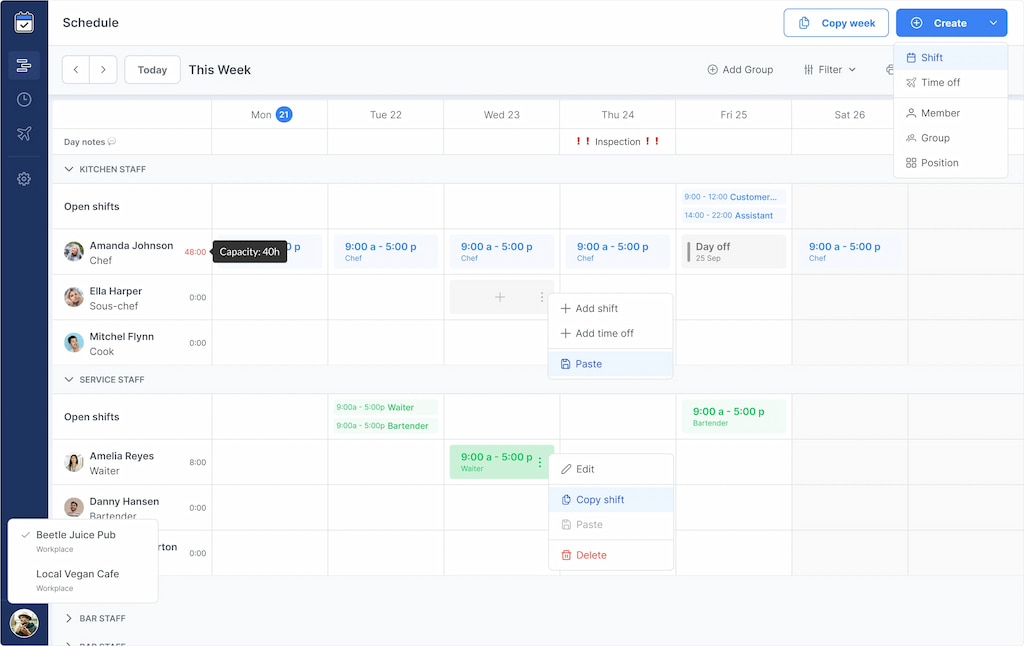 Cloud-based scheduling puts the schedule in everyone's hands, making for a more productive team. Employees and other team members can leave notes regarding their activities, and much more. While you can make a work schedule online, some changes can add complex angles. However, such issues are far easier to deal with than physical changes.
Mobile scheduling apps
A mobile employee schedule builder helps book events, plan work schedules, and monitor workers' productivity via mobile devices. As an employer or manager, you know how difficult it is to consistently develop schedules and chains of information for staff members. You might even lose track of time and appointments because staying updated, especially on the go, is challenging.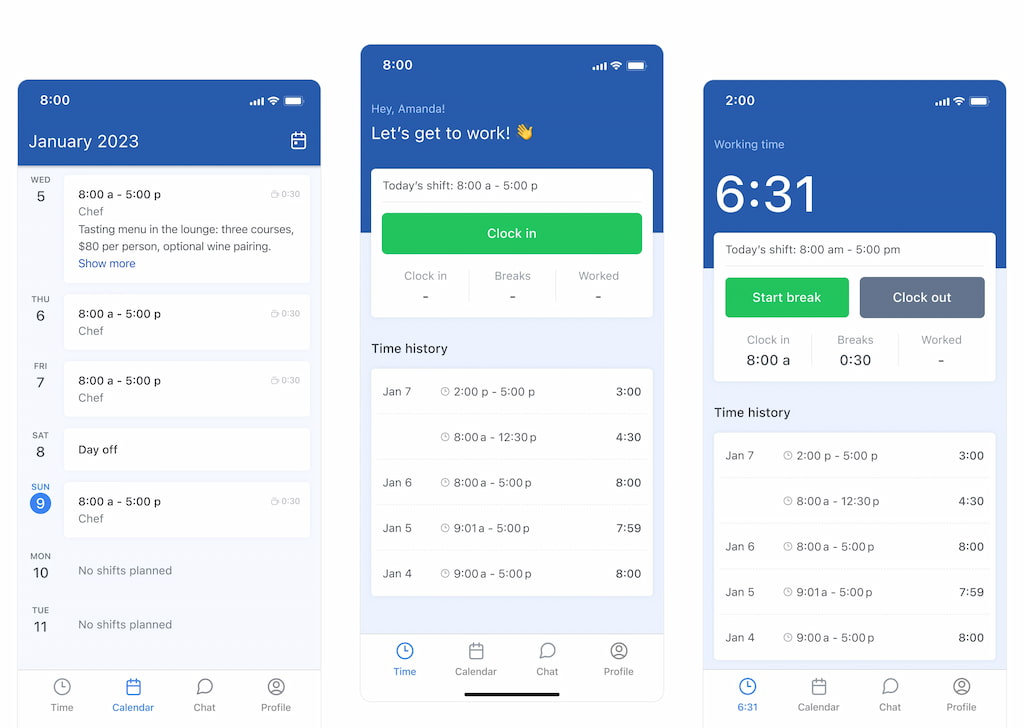 The answer to such problems is a mobile scheduling app or a mobile work schedule generator. Generally, such apps are better alternatives to desktop systems. It's true that web or desktop applications carry wide-ranging features, however, scheduling mobile apps gives you much-needed flexibility and mobility. As a result, you're better equipped to keep up with staff schedules, appointments, and other fast-paced business demands.
Integrated workforce management systems
Integrated workplace management systems largely refer to platforms that seamlessly combine many disparate software systems into one. Also called IWMS, such software combines essential data into a single system so that leaders and managers can make more informed decisions about their workplace and real estate portfolio.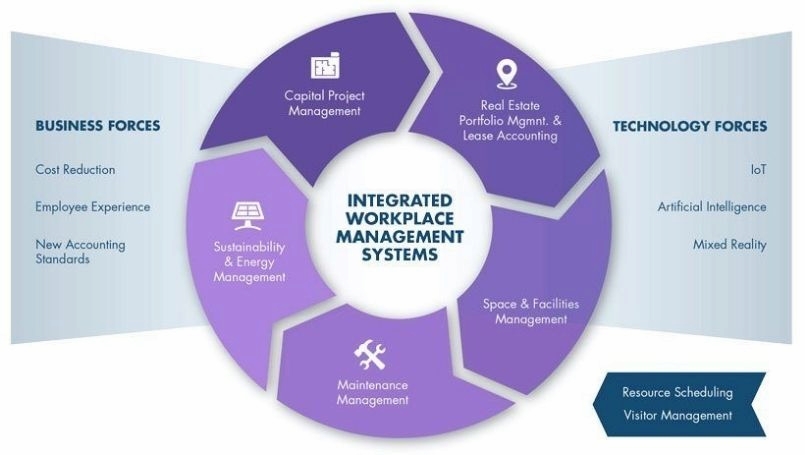 As a type of work schedule maker tool, IWMS has and promotes several key features. That includes flexibility, data-driven decisions, and more collaboration and transparency.
Workplaces will always evolve, so the right technology must be in place to offer support. For this reason, many organizations opt for IWMS software as a tool to give them more solutions.
Data is an important piece of the process. With IWMS software, your business can gather and merge real-time data into a single system. That makes it easy for managers to find accurate information quickly, and collaborate across various fields.
Spreadsheet-based schedule templates
Spreadsheet-based schedule templates provide an easy means to keep the workplace moving. There are a bunch of tools that can provide templates you can work with. One such tool is Excel, where you can find templates beaded on monthly schedules, weekday displays, and more. Most of the templates are pre-made and formatted, ready for you to adopt for your organization.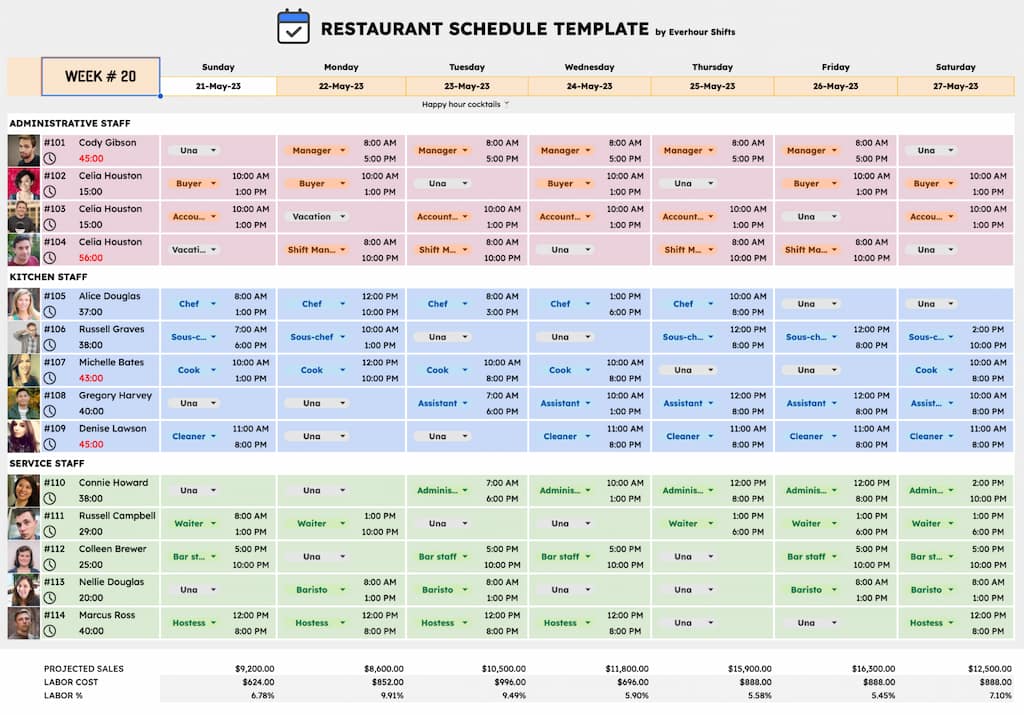 When you think of the best work schedule organizer for your workplace, spreadsheet-based schedule templates will help you find what suits different teams and projects. The templates help you maintain a detailed list and description employees can easily fill in and follow.
In addition, employee time-tracking capabilities are part of the mix. Keep your employees honest with time logs and hours spent on various projects.
---
13 Popular Work Schedule Maker Tools in the Market
Whether you're a business owner or manager, responsibilities are always part of the process. That includes planning projects, coordinating tasks, organizing employees, and ensuring a smooth operation. To do that efficiently, you need a leading work schedule maker tool. 13 of the most popular tools are discussed below.
Shifts by Everhour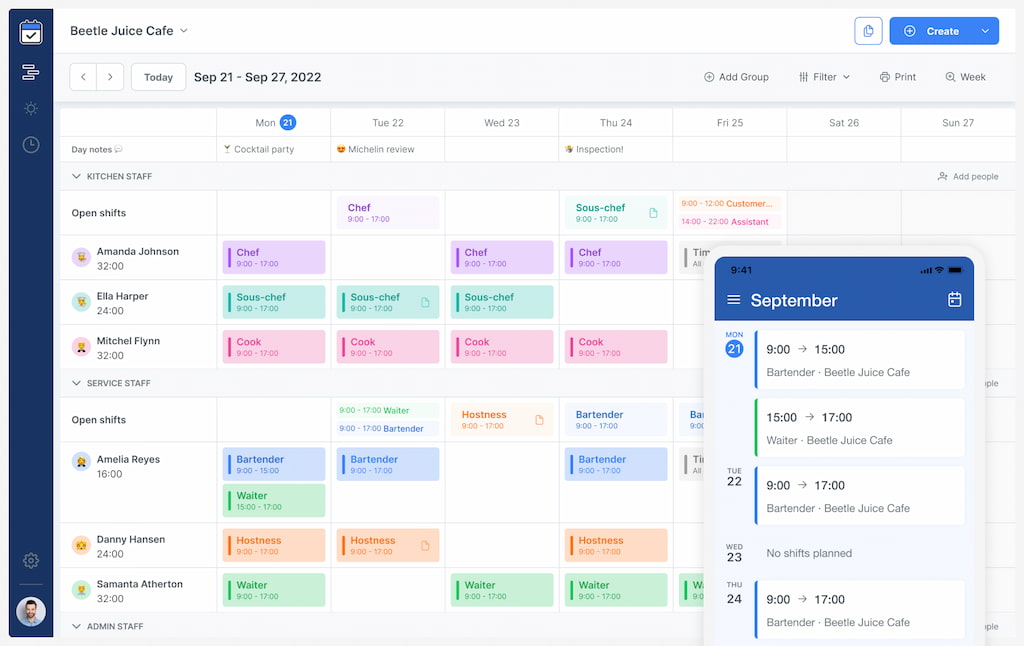 Shifts by Everhour is an employee and work schedule maker for shift-based teams and non-desk employees. With its work planning capabilities, staff and tasks scheduling are much smarter.
✨ Features
Scheduling: With this tool, the process of creating and managing schedules is easy. It helps your team to achieve maximum productivity and efficiency. You can add as many employees as you want, and even organize them into groups.
Mobile clock-in and clock-out: Since employees can use their mobile devices to view schedules and track working hours, managers encounter fewer complaints.
Time off: This software helps you to create different time off categories. You can view a detailed report on the number of days used by each employee via the time-off tab.
💸 Pricing
Completely free: $0 monthly/yearly
💭 User reviews
"UI is well-made. I'm a current Everhour user and already used to your UI. Good job with Shifts!"
---
Calendly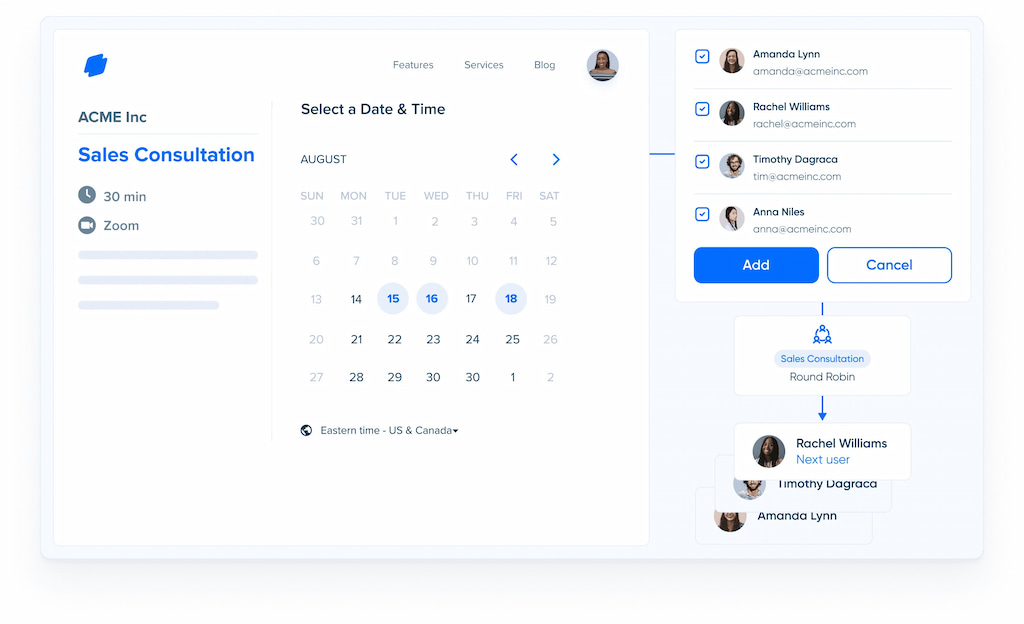 Calendly is an automated schedule builder for employees that lets you program availability, share it with others, and schedule directly to employee calendars. It's specific, streamlined software that makes booking and appointments easier. Get your employees ready at all times, while meetings with clients get the deserved attention they need.
✨ Features
Easy and intuitive user interface: Scheduling is quick and easy with this schedule creator for employees. After inputting your availability preferences, Calendly does the rest for you. Every process is streamlined without fuss.
Automation: Calendly automates every task, including bookings, rescheduling, appointments, and even emails.
Calendar integrations: This software integrates with multiple calendars and scheduling systems like Outlook, Google, iCloud, etc.
💸 Pricing
Basic: Totally free
Essentials: $8 per seat, monthly
Professional: $12 per seat, monthly
Teams: $16 per seat, monthly
Enterprise: Based on derived quotes
💭 User reviews
According to a business owner, "Calendly is fantastic. It helps me schedule multiple individuals for the same time slot." Another one stated that "it is super quick and easy to use."
---
When I Work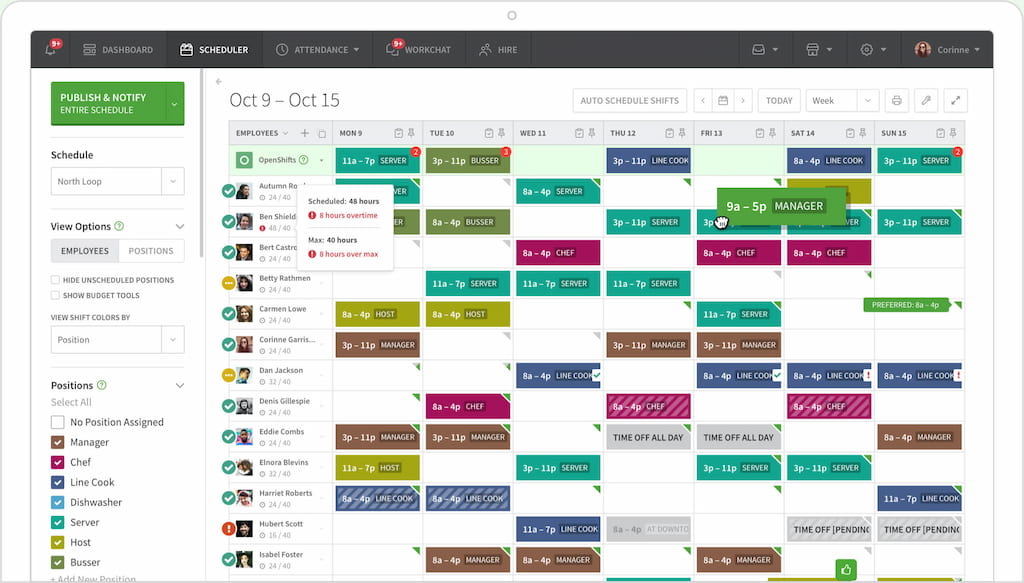 When I Work is a popular scheduling solution and employee schedule planner that works across many industries. It has a drag-and-drop interface you can use to customize your dashboard at your instance. Your employees can use it to swap shifts, manage time off, etc. It has options for both manual and automated scheduling.
✨ Features
Time tracking: It is easy to complete timesheets and track time for projects or tasks.
Reporting: When I Work provides analytics tools that showcase vital business metrics and track progress.
APIs/integrations: Interact and communicate with other software, thanks to APIs that enable integration of data, logic, and objects. This shift schedule creator also offers mobile user support.
💸 Pricing
A free trial is available
Standard: $2.50 one user, monthly
Standard + Attendance: $4 one user, monthly
Advanced: $6 one user, monthly
Advanced + Attendance: $8 one user, monthly
💭 User reviews
One user said, "I like the scheduling feature on this software and its ability as a time tracker."
---
Doodle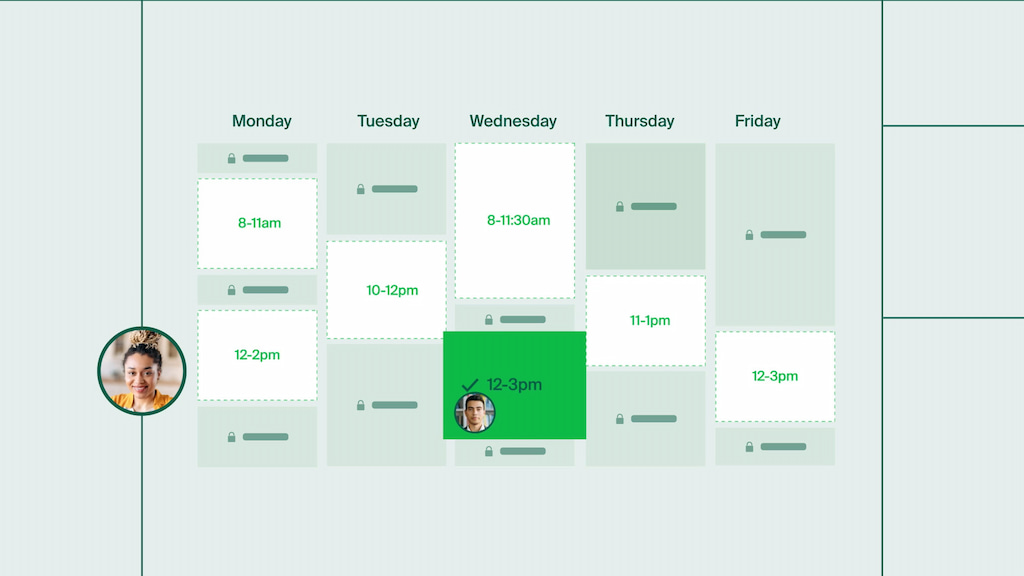 Doodle is an app that helps you to schedule meetings with team members. While it doesn't have as many features, it offers a simple functionality that beats using pen and paper.
✨ Features
Attendee management: Learn when your employees come to work and sign out. Doodle will help you analyze their productive times, and reasons for time off.
Personalization: Create custom schedules that fit your business or organization. You can have work processes clearly streamlined to match your needs.
💸 Pricing
Free: $0 one user, forever
Pro: $6.95 one user, monthly
Team: $8.95 five users, per user, monthly
Enterprise: larger teams, per quote
💭 User reviews
One user had this to say about Doodle: "I like the high degree of customization, scheduling, and priority support."
---
Shifty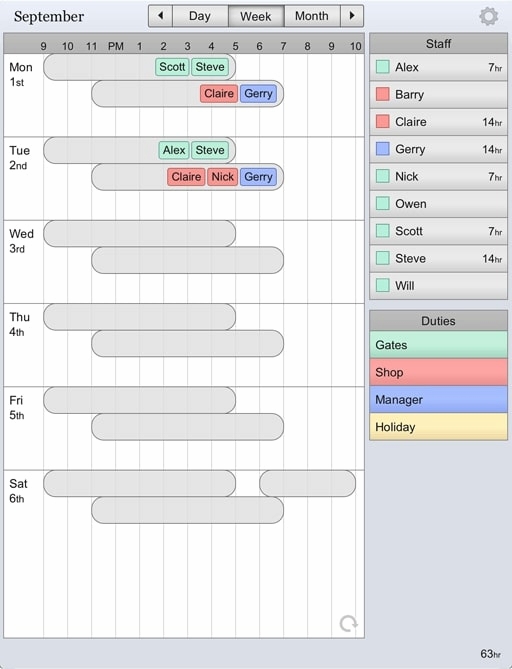 If you want to create a work schedule free, Shifty is the mobile app to trust. It's simple app individuals and small businesses will appreciate. Shifty lets you schedule multiple employees among multiple shifts.
This application comes with an intuitive drag-and-drop interface, allowing you to quickly and easily manage one person or all of your staff.
✨Features
Scheduling: You can use this app to manage your staff, assign duties and tasks, and even attach time slots.
Mobile-friendly: Your workforce can use this app on mobile devices and connected apps. That makes it way easier for them to manage their schedules.
💸 Pricing
💭 User reviews
"I'm surprised it's free! I'm yet to have a hard time scheduling multiple shifts with the number of employees I have working for me."
---
HotSchedules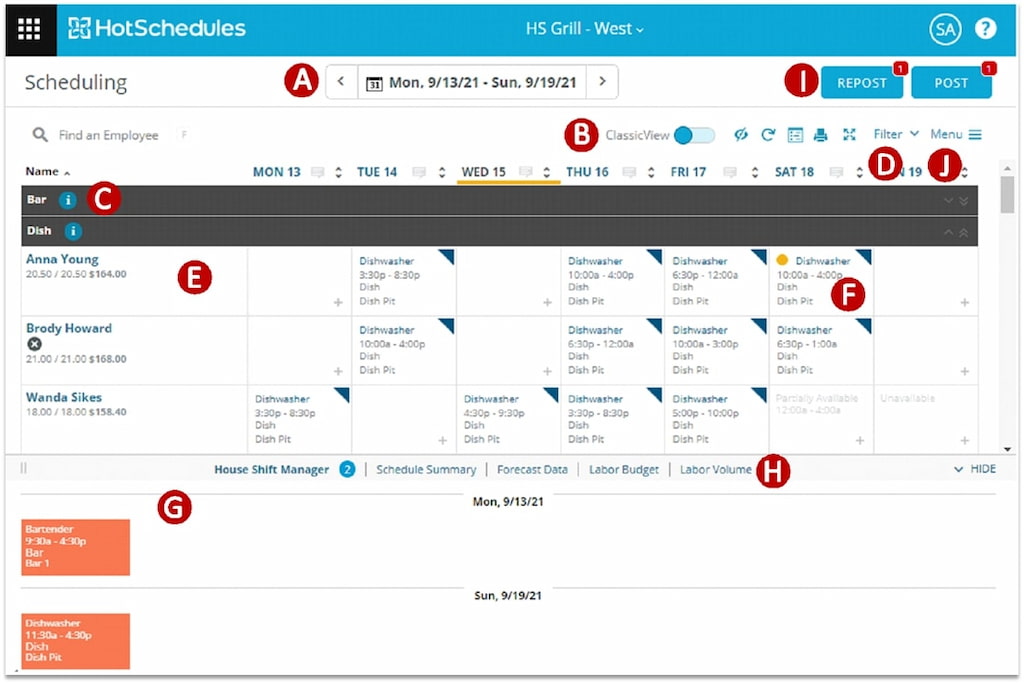 HotSchedules is a business schedule maker much like other schedule makers, thanks to its easy-to-use calendar interface and a mobile app for employees to access their schedules. With it, you can handle shift swaps and other scheduling requests. It's primarily designed for managers who are trying to get time management under control.
✨ Features
Automated scheduling: HotSchedules has an auto-schedule generator feature with pre-built templates based on predictive scheduling. You can approve or deny shift change requests and set limits to time.
Reporting and analytics: Generate reports and analyses that help you chart the course of your business.
💸 Pricing
Free: 14 days
Paid: Starting from $40 per user monthly
💭 User reviews
According to a long-time user, "It got to a point where our business couldn't function without HotSchedules. It offers great flexibility my small business has found extremely useful."
---
Sling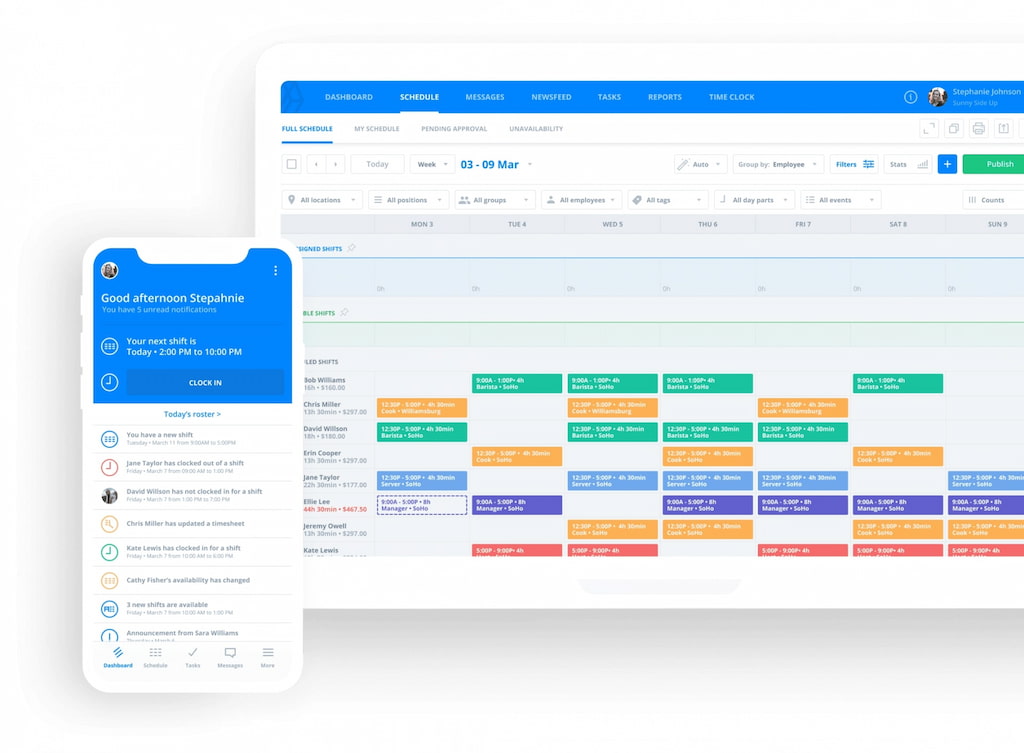 Sling comes with a calendar interface with a drag-and-drop ability to manage shifts, swaps, and even vacation requests. You can use it to set up alert notifications overlapping shifts or multiple scheduling.
✨ Features
Scheduling: Schedule and manage employee activities on tasks and projects.
Time tracking: With the two paid plans, you can track time for all employees, such as regular work hours, overtime, sick days, and paid vacations.
💸 Pricing
Free version
Premium: $1.70 per user, monthly
Business: $3.40 per user, monthly
💭 User reviews
"I found Sling to be an affordable and smart way to track my employees via its integrated time clock, and other cool features."
---
Homebase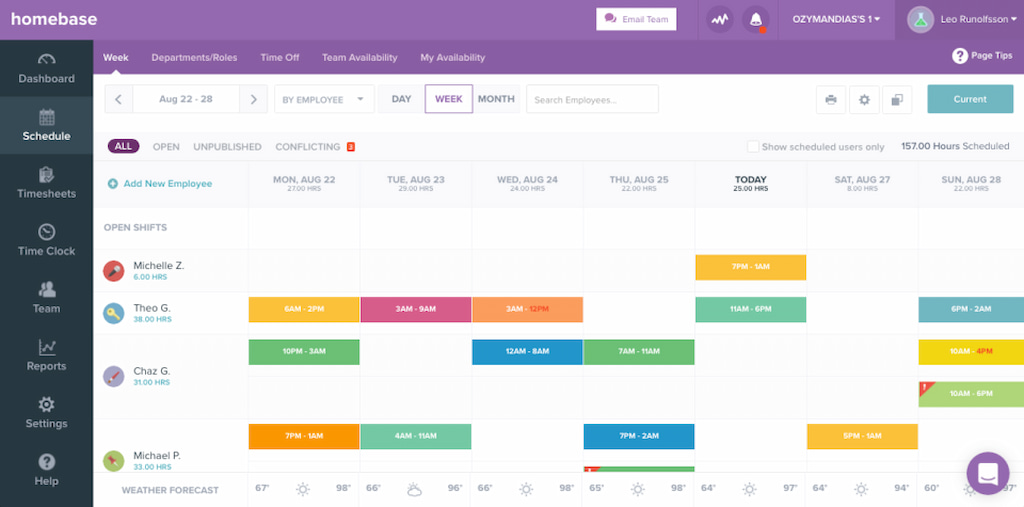 Like the others on this list, Homebase carries a simple calendar interface for easy shift management and employee requests. In addition, Homebase has web and mobile software that lets you and your employees handle scheduling from anywhere.
✨ Features
Detailed scheduling: Homebase is also an automatic schedule generator that allows employees and managers to provide information to generate an optimal schedule. Employees can make adjustments on the fly.
Time tracking: Homebase doubles as a timesheet app, often turning almost any device into a time clock to track hours, breaks, and overtime.
💸 Pricing
Basic: $0 for one location, 20 employees
Essentials: $20 per location, monthly, unlimited employees
Plus: $48 per location, monthly, unlimited employees
All-in-One: $80 per location, monthly, unlimited employees
💭 User reviews
"Homebase is as essential as it gets for my business, with all the features I need to keep my operations running smoothly."
---
Appointy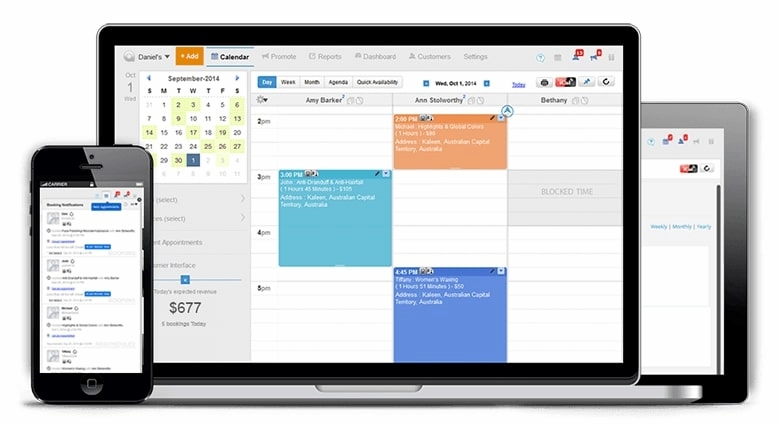 Appointy helps you to convert website visitors into customers, with the Appointy website widget seamlessly integrating with your existing website. If you don't have a website, Appointy comes with a unique sub-domain you can use to create your booking page.
✨ Features
Scheduling: This tool gives you complete control over your schedules, including setting working hours for staff, customizing time-slot intervals, and simplifying reciting bookings.
Billing and invoicing: Create bills and invoices to issue to clients.
💸 Pricing
Free: $0 monthly
Growth: $19.99 monthly, billed annually
Professional: $49.99 monthly, billed annually
Enterprise: $79.99 monthly, billed annually
💭 User reviews
"While it works as a schedule maker for a single individual, Appointy has helped me manage employees efficiently."
---
mHelpDesk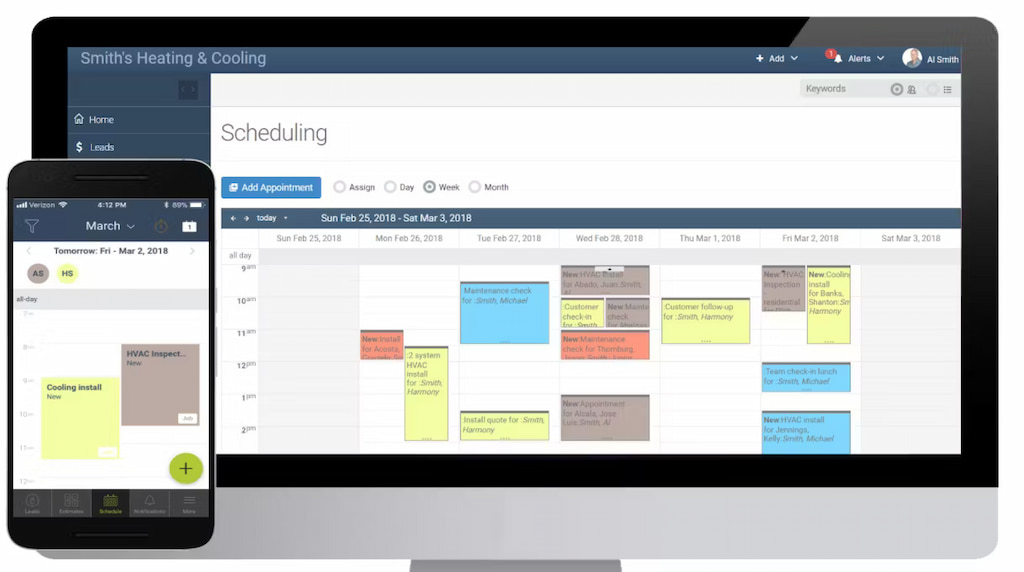 mHelpDesk is an employee shift schedule generator app geared for businesses that send employees out on service calls. This tool is structured in a way that makes it easy for you to see which employees are available for dispatch, like a police officer scheduling system. It's easy to see employee and customer notes at a glance and avoid over or under-booking team members.
✨ Features
Integrations: mHelpDesk integrates with popular tools like Google Calendar, Home Advisor, and Quickbooks, making it highly useful for service industries and your business.
Activity dashboard: Get a clear summary of what your employees are up to, including daily and monthly reviews.
💸 Pricing
Free trial: 14 days
Starting price: $169 per month
💭 User reviews
"I found mHelpDesk easy to use and navigate. The free trials set me on the right path to get the best results."
---
Jolt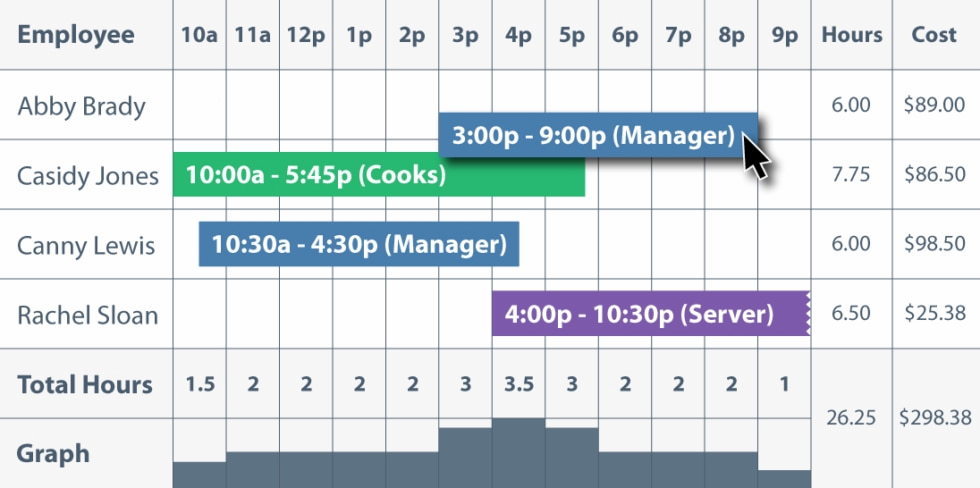 Jolt is an online employee scheduling and task management tool. Companies and businesses of all sizes can use it to create work schedules online. Also, it comes with various modules and capabilities to help you manage your business.
✨ Features
Employee management and scheduling: Assign tasks to your employees and team, and watch them go to work. Manage their time spent at work and on your projects.
Mobile access: You and your team can manage situations on the fly, thanks to the link-up with mobile devices.
💸 Pricing
Quotation-based: Starting from $79 per user, per location
💭 User reviews
From a user: "Jolt helps me automate many tasks, manage them, and keeps my employees honest."
---
Free Cloud Solutions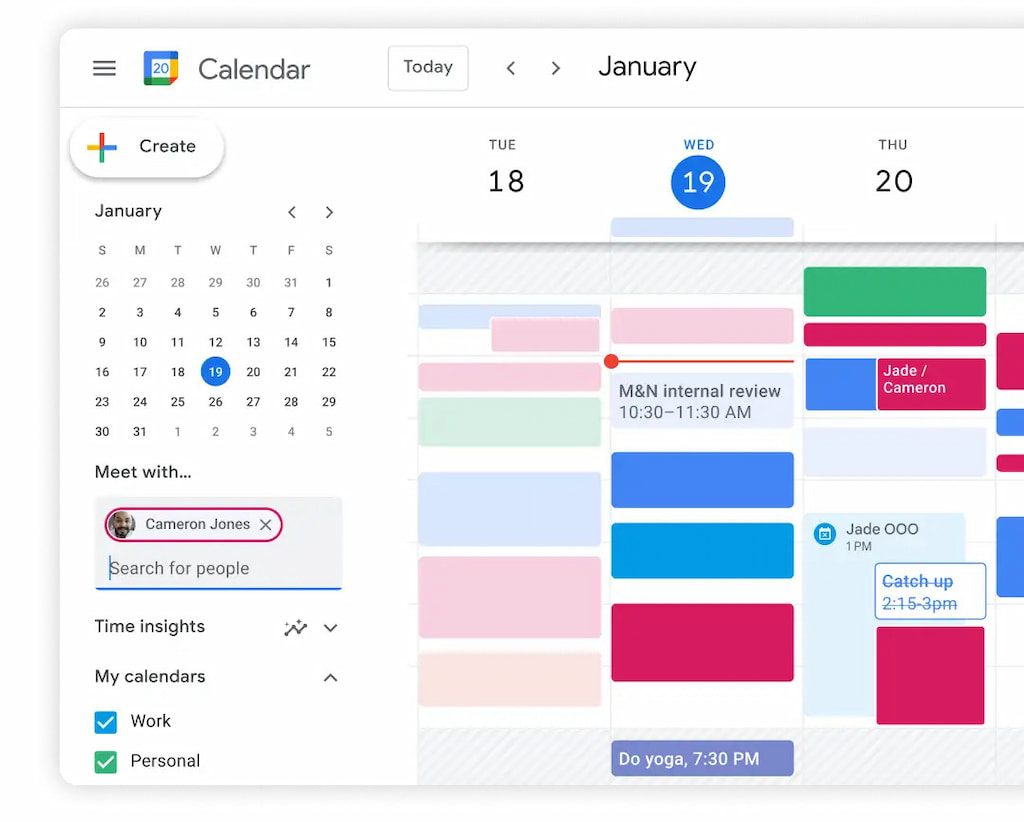 You can take advantage of the cloud to have the best experience managing your employees. With work schedule creator free cloud solutions like Google Calendar, you can efficiently plan and communicate with your employees.
✨ Features
Cloud-based: Your team only needs an internet connection to use a cloud solution. It's safe to store data and other information necessary for your team. And for the most part, it's a free work schedule creator.
Employee scheduling: Stay on top of overtime, time clocks, and other aspects of your business. Scheduling is easy, even if updates are manual, but you can get your employees working with a plan.
💸 Pricing
💭 User reviews
"For a small business like mine, free cloud solutions present many positives, including a secure space and effective scheduling."
---
Setmore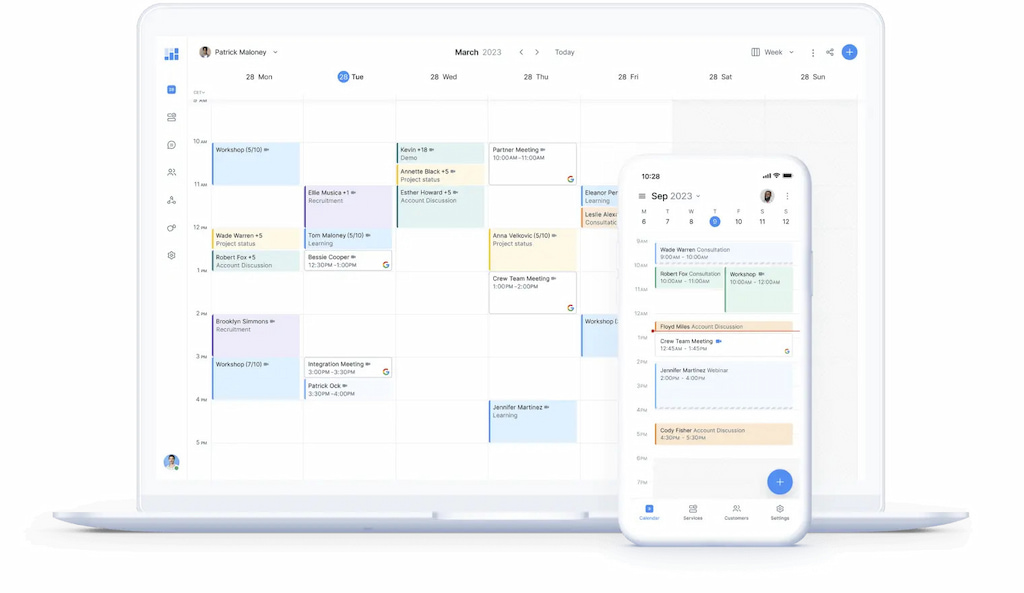 Many users continue to think Setmore is a shift schedule maker free app. However, it's not free but with the features and capabilities available costing little, your business will benefit. The Setmore schedule maker is an automated online appointment app that you can use to reach customers and book appointments in an easy-to-manage calendar view. This way, you save time and your business grows.
✨ Features
Appointment scheduling: This app offers intuitive appointment scheduling through your browser, desktop/laptop, or mobile device. Book an appointment on your Setmore calendar in just a few seconds.
Time zone detection: Setmore is also a shift schedule generator that can automatically detect and update time zones, and reflect changes in daylight saving time.
💸 Pricing
Free: $0 per user, monthly – up to 4 users
Premium: $5 per user, monthly (billed annually) – 2 users
Team: $5 per user, monthly (billed annually) – unlimited users
💭 User reviews
"The intuitive interface, powerful features, and low pricing rates make this tool a huge advantage for my business."
---
Best Practices for Using Work Schedule Maker Tools
Generally, there's no universally acceptable work schedule maker. Even a free automatic schedule generator should be adopted in a way that considers everyone concerned. Therefore, you need to pay attention to the following:
👩‍⚖️ Establishing clear scheduling policies and guidelines
Getting a free work schedule generator or paid one is half the job. What you should do next is establish clear scheduling policies and guidelines your employees can follow. To do that, you must consider existing laws, so the guidelines you set don't become illegal. Specify the amount of time between scheduled shifts, guidelines for time off, and more.
🤗 Involving employees in the scheduling process
Schedules are almost always created for employees. For this reason, it's best to involve them in the process. Know what they want and how you can create guidelines that suit them and your business. Since some of these tools have reporting and analytics features, use them as pointers for future schedules.
💻 Regularly reviewing and optimizing schedules
Schedules aren't set in stone. Ensure the ones you make can be regularly reviewed or even optimized to match current trends and workplace practices.
🔁 Maintaining open lines of communication with staff
Without open lines of communication, work schedules assume a dictatorial form. You can stop that from happening by establishing and maintaining clear and open lines of communication with your employees. This fosters growth, team spirit, and productivity.
📊 Leveraging analytics for continuous improvement
Analytics are great. How else would you know whether your business and employees are doing great or wrong? Measure productivity, check time stamps, and more.
Everhour could be the perfect tool for this, with its ability to provide leading analytics and subsequent reports of your business and workplace schedules. Take things further with Everhour's ability to complement your time management and invoicing needs.
---
Conclusion
Whether you have an automatic schedule generator free or not, using work schedule apps or a maker for your business is a no-brainer. The benefits are so many, including increased employee efficiency, accuracy, and detailed performance. You'll get more attention to your tasks and projects, and schedule times for your employees.
Choosing the ideal schedule maker for work is essential to the growth of your business. Check out the features, costs, and reviews of your top choices. Additionally, ensure you involve your employees in the process, use open lines of communication, and adopt proper guidelines.