When creating their project plans, project managers pay a lot of their attention to the project idea, objectives, and the development process, sometimes overlooking the importance of resource allocation.
But, seasoned managers know that project resources are always limited and require careful handling. To avoid unexpected shortages in staffing, equipment, budget, or other resources, you need to learn how to allocate what you have the right way.
In this article, you'll discover:
What is resource allocation?
Why is resource allocation important?
How are resources allocated?
What challenges can you run into when allocating resources for your project?
What are the best tips for effective resource allocating?
Resource allocation definition and types of resources
When referring to resource allocation, a lot of project managers use this as code for staff management—finding the right people and efficiently assigning project tasks among the team.
However, resource allocation is so much more than that. It also includes other types of resources that managers should wisely distribute throughout a project so that it achieves its goal within the budget and time.
Other examples of resources for allocation include:
Stakeholders—in most cases it's team members who possess expertise in various fields, e.g. designers, software developers, risk managers, or anyone who can contribute their skills to the project.
Tools and equipment—any inventory, including hardware and software needed to complete the project. The type of inventory will vary depending on the project and the organization's activity.
Facilities—the working environment needed to launch, manage, and fulfill the project. This could be an office, workstation, a meeting room, a testing ground, and others.
Materials—any expendable items such as office supplies, specific product components, fuel for commutes, and many others.
Budget—the money needed for purchasing the resources listed above.
This list of resources contains the most common examples, though they aren't standard and you can change them according to your project needs and requirements.
Why is resource allocation important?
The availability of the right resources at the right time is essential for a project's success.
Any project consists of interconnected tasks; when one activity depends on the others. This means that if a team doesn't have the needed resources to finish a task on time, other tasks will move further down the timeline. As a result, the team will miss its deadlines.
Lack of specialists, equipment, and materials always delays tasks, extends deadlines, and can eventually lead to project failure. To avoid the negative consequences, project managers should be well-trained and implement project resource planning techniques in advance. This will help them to ensure the availability of resources throughout the entire project, avoid resource conflicts with other projects, and define the resource gaps in time.
Carefully performed project resource planning can benefit your project in many ways:
Lower project resource costs
Improved resources visibility throughout the company
Efficient use of resources
Improved employees' engagement and satisfaction
Successful product development
Effective resource planning in case of any resource constraints
Simple resource booking and its negotiation with other project managers.
How are resources allocated?
Now we know what resource allocation is and why it is important, let's move to the practical steps and have a look at how to allocate your resources effectively. Here is what you need to do.
1. Build your project timeline
For proper resource allocation, you need to start with your project plan and identify the methodology and its main phases. The phases usually include 5 major stages—initiation, planning, execution, monitoring and controlling, and closing.
Then, define the length of each stage and mark their milestones.
As you've divided your project into measurable parts, define and add the key tasks to each phase.
Now, you can place all your project phases, milestones, and the most important tasks on a project timeline. The timeline will help you to determine the project initiation and its closure dates, task dependencies, deadlines, and other important factors that ensure the stable development of your project.
2. Identify project resources
The project framework is ready and by this time you're clear with the activities that are going to happen at each stage. Now, you need to consider what type of resources you'll use to pass through each stage successfully.
It's easy to do with resource management systems. They gather all the data from the previous projects and indicate the resources available in the organization.
The hardest part at this stage is to define the scope of the project team, their experience, skills, qualifications, availability, and costs. Project managers have to gather a team of professionals with sufficient qualifications and diverse expertise who would fit the project budget.
Besides that, they need to make sure that the specialists they choose aren't overbooked for other projects and are in the same time zone if the team is remote. And the equipment needed for sustainable project development will be available at the right time.
3. Allocate the resources
When allocating resources the three most important questions for project managers to answer are:
What tasks does the team need to perform and by what time?
What resources does the team need to complete these tasks?
Are these resources available?
At this stage, it's essential to keep the balance—under-allocating, as well as over-allocating, can be bad for the project. When under-allocating, the productivity of your team and project revenue can decrease. Overallocation can lead to burnout and poor quality output.
This way, project managers should plan the current and further resource allocation carefully to optimize resource utilization, resulting in improved business efficiency.
4. Monitor project schedule
Resource allocation in project management is a subtle process. The availability of resources or their amount can suddenly change with the project development challenges or schedule adjustments. Therefore, resource allocators have to keep their eye on how the project is developing and its schedule.
The aspects to watch over:
Any delays in the tasks that can cause the deadline shifts in the dependant tasks
Team members with too many put-in hours
The shift of business goals or objectives that can result in resource allocation changes
Sudden sick leaves or unscheduled day-offs.
To estimate if the team members work to their full potential, you can use a simple formula:
Resource utilization = Team members busy time / Team members availability time
Most common challenges and solutions of resource allocation
A smoothly developing project is a joy for a project manager. Though things don't always go according to plan. The best way to avoid challenges and bottlenecks with project allocation is to prepare. Let's have a look at the most common issues that can happen when allocating resources and find out what you could do in each case.
Project scope changes
🧐 Problem: Project scope changes can happen anytime throughout the project development. Especially when it comes to Agile methodology when project requirements often change on the customer's demand. This results in an adverse impact on the project resource planning.
✅ Solution: To tackle this problem, a lot of project managers rely on an up-to-date resource calendar and frequent resource allocation. The calendar helps to easily adjust the resources whereas frequent allocation better adopts them to the project needs.
Absence of data on resource availability in the company
🧐 Problem: Sometimes it can happen that an organization has enough resources for a project but the manager doesn't have access to this data. This issue occurs when a company lacks a visual hub that could gather information on resource availability in one place.
✅ Solution: Project managers could use centralized resource planners that contain the data on each employee, their current workload, their engagement in various projects, etc. For example, Everhour's resource planning feature. This simple and user-friendly tool visualizes the working process and resources involved in the project. This way, project managers can absorb all the data on resource availability and project advancement at one glance: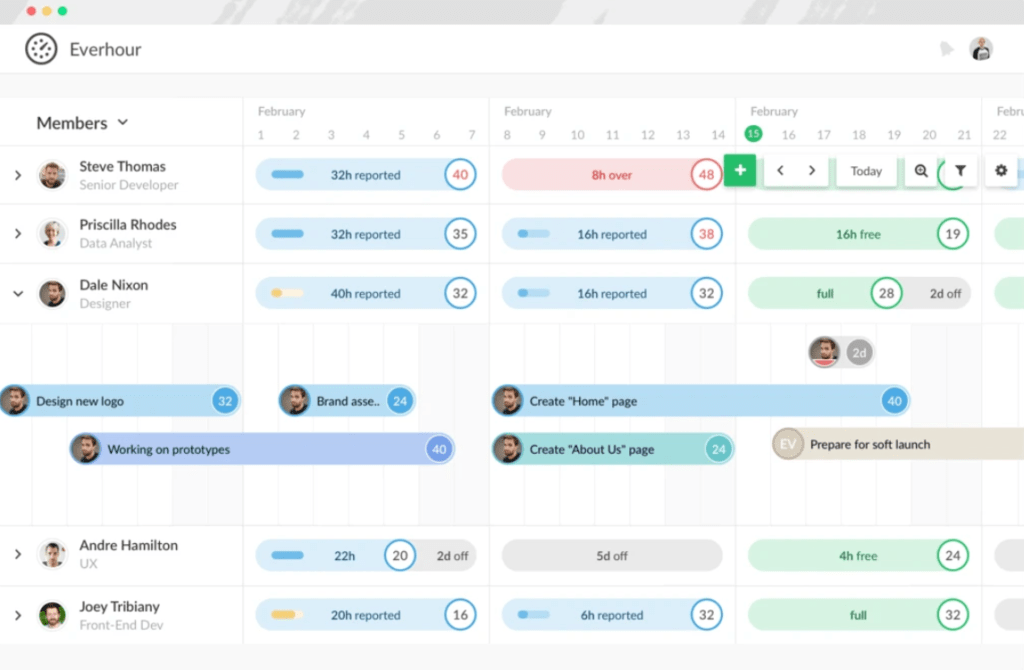 Project dependencies
🧐 Problem: It's highly likely that your project will include the major tasks that your team needs to fulfill first and the minor ones that go after. That's what's called task dependencies. Unfortunately, when you don't have enough resources for the major tasks, you can't move further in your project. As a result, the team misses deadlines and the attempts to catch up with the schedule may result in poor product quality and team members' burnouts.
✅ Solution: To define task dependencies on a project, project managers have to deeply analyze and prioritize the tasks, and visualize their dependencies. For this, they use a time-tested method—Gantt charts. These charts display all the project tasks and their dependencies placed on a timeline. This allows all the project stakeholders to quickly examine the data and realize what task goes next.
Priorities across the company
🧐 Problem: Running more than one project simultaneously is a common practice for many companies. The downside of this routine is that similar projects often have an alike set of resources and can have the same timeframe. Unfortunately, the total amount of resources in any company is always limited and it can lead to conflicts over them between two and more projects.
✅ Solution: For effective resource allocation, project managers should learn how to prioritize and negotiate over resources for all the projects' needs. It's much easier to do when you have effective software that gathers the data on resource availability across the entire company.
Outdated project resource planning tools
🧐 Problem: Some managers prefer using good old-fashioned tools like spreadsheets and others for quick project planning and resource allocation. Although this approach may seem super-fast at the beginning, it's highly likely to result in delayed project development and confusion later on. The reason is a cumbersome interface for other stakeholders which takes time to figure out how to use the software and read the data.
✅ Solution: Project managers need to find a digital solution with an intuitive and visual interface clear for every project stakeholder. This will accelerate project development and allow the project participants to quickly grab the data on resource allocation and project progress.
Best tips on allocating your resources effectively
There is no limit to project perfection. If a project manager decides to improve their project, this activity can turn into endless work. Nevertheless, there are always some quick, practical steps that can significantly improve the current situation. Here, we would like to share the most valuable tips to help you make your resource allocation more effective.
Know your project team
Project success greatly depends on the project team's efficiency. However, gathering a team of experts who have sufficient skills and experience to meet all the project demands can be challenging. For this, you have to go further than just job titles and deeply investigate each team members' capacity, knowledge level, and experience.
Uncover risks at the early stage
A forewarned project manager is forearmed against the possible risks. Project managers have to pay much attention to each project detail and analyze the possible project risks. For example, you can calculate the Critical Path of your project and find the best way to avoid any potential problems, and allocate your resources wisely.
Analyze your projects
Use the data from the previous projects to forecast the development of the current one. Just find the project management tool that can generate detailed reports on projects' outcomes, teams' performances, and other metrics to better estimate the project's KPIs, employees' payroll, and other essential factors.
Encourage your employees to choose the projects of interest
If possible, give your employees a chance to choose from several projects to their tastes. This will invoke their genuine interest in the project they are working on, and they'll be more willing to contribute to it. Also, this simple trick can help the employees to avoid burnout and encourage them to be more creative in their work.
Promote skillsets diversification among your employees
Motivate your employees to have more than one skill. This way, it'll be easier to allocate resources, choosing from various skill sets. This approach also encourages employees to grow in their job, becoming more experienced and better prepared for upcoming projects. You can do this by establishing some extra courses in the office or sending certain employees on further training courses.
Conclusion on resource allocation
A well-established process of resource allocation is a sure way to project success. It helps you to save the budget and your project team to use the best project resources and meet the project deadlines.
We, at Everhour, hope that now you know how to allocate your resources wisely and wish you success in the upcoming projects.