As a business owner, one of your top priorities should be effectively managing expenses to facilitate profitability and business growth. A robust, feature-rich expense tracker can make your life significantly easier by saving you time and effort that you can use elsewhere. Using a reliable expense tracker gives you greater control over your business's finances, allowing you to make better-informed decisions and optimize operations for success.
This article explores the 14 best expense trackers available today, exploring their key features, how easy they are to use, and the different pricing options to help you choose an expense tracker that works for you.
What is an Expense Tracker?
An expense tracker is a web and/or mobile application that helps you monitor and record your expenses. But not all expense trackers are built equal—expense tracking methods vary from handwritten ledgers to feature-rich apps that are accessible from any device as long as it has an internet connection.
For instance, a personal expense tracker app provides insight into areas where you could do with cutting back or identify spending patterns that you may not have been aware of previously.
Expense-tracking apps have various useful features, including expense categorization, receipt scanning and storage, budgeting and goal setting, real-time synchronization, reporting and analytics, credit card expense tracking, and more. Monitoring spending, tracking purchases, and managing budgets has never been easier!
---
5 Key Features to Look Out For
When choosing the best expense tracker app, you must consider which features you need. Here are some key features to look out for:
Expense categorization
Categorize expenses into different categories, such as utilities, office supplies, travel, and other key expense areas. Doing this makes it easier to analyze company spending patterns, allowing you to identify areas of excess spending.
Budgeting and goal-setting
Expense trackers should also offer budgeting and goal-setting features, allowing you to set financial targets and manage budgets effectively. This might look like setting spending limits for different types of expenses or creating a pot of savings for future business investment.
Receipt scanning and storage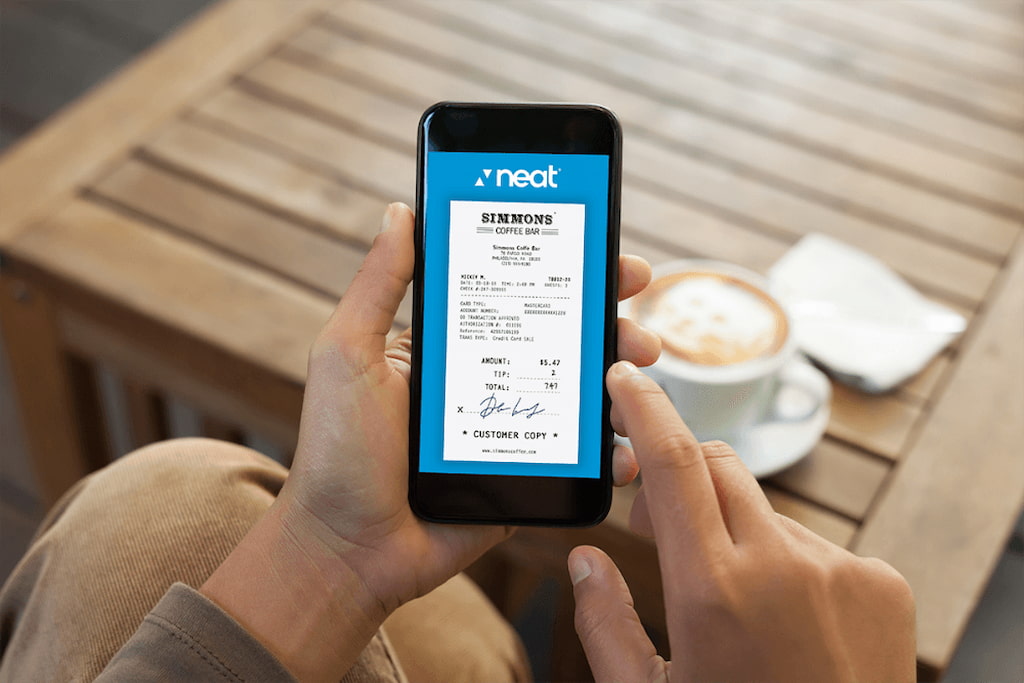 The expense tracker you choose should also have receipt scanning and storage features. Easy access to receipts is essential for preparing for tax filings, processing reimbursements, and keeping a detailed record of all business-related transactions.
Real-time synchronization
Many companies operate with multiple bank accounts and credit cards, making it difficult to understand financial health. However, an expense app with real-time synchronization lets you view all financial activity in one place.
Reporting and analytics
One of the most important features of an expense tracker app is reporting and analytics. Having access to detailed reports on spending habits makes it easier for you to identify areas where you can cut costs.
---
14 Best Expense Trackers for Businesses
We've uncovered the best expense management apps for businesses in 2024. Below are our top 14 picks:
Everhour
💡 Best for small teams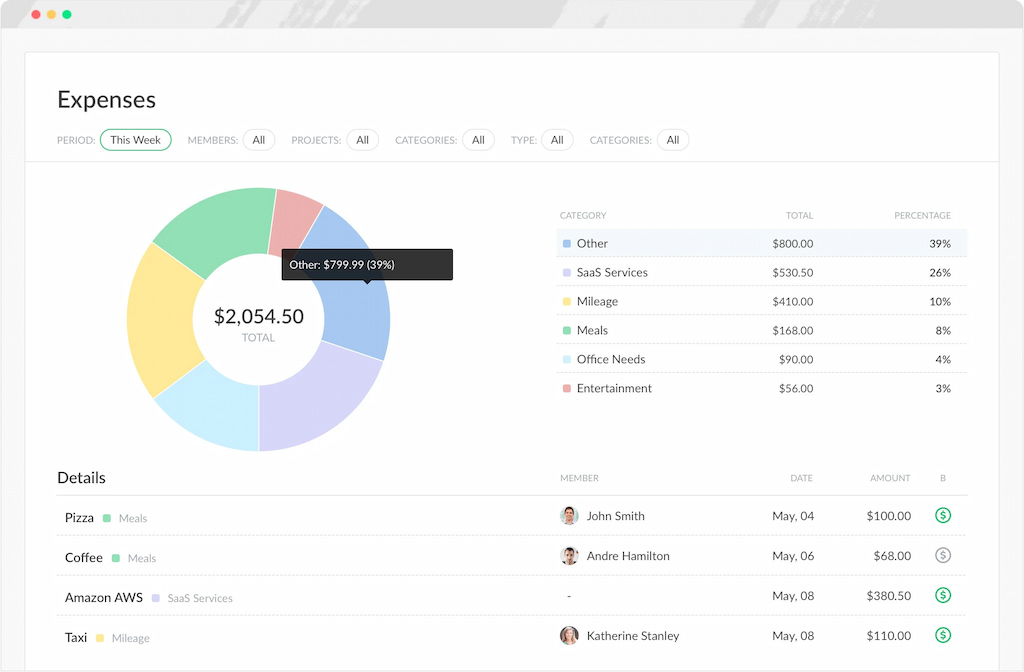 Everhour is an intuitive time tracker and timesheet app designed to streamline and optimize workforce management. In addition to being a reliable time tracker, Everhour also includes comprehensive expense-tracking features. Track-work related expenses such as materials, travel, and other costs and attach receipts to record all expenses. But that's not all—Everhour also offers a work hours tracker and attendance tracker to ensure working hours are recorded.
👩‍💻 User-friendliness
Everhour has an intuitive interface, allowing for easy navigation and simple expense tracking without a daunting set-up process.
💸 Pricing
Free: For up to five users.
Lite: $5 per user per month, billed annually, starting at 2 users.
Team: $8.50 per user per month, billed annually, starting at 5 users.
---
Expensify
💡 Best for freelancers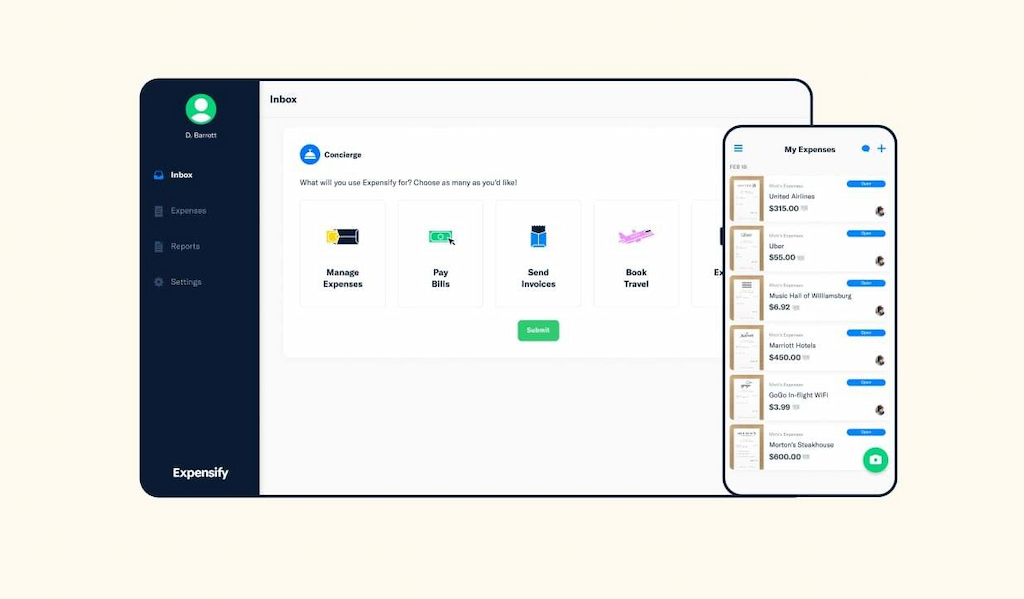 Expensify is a spending management tool that offers a host of useful features, including one-click receipt scanning, credit card import, corporate card reconciliation, customizable workflows, accounting, HR and travel integrations, and advanced tax tracking. The software is one of the most popular expense trackers available today, with over 10 million users.
👩‍💻 User-friendliness
Expensify was designed for easy use, ensuring smooth navigation for expense-tracking beginners. The free expense tracker app allows users to track expenses wherever they are, whenever they spend money.
💸 Pricing
Free
Collect: $10 per user per month.
Control: $18 per user per month.
---
QuickBooks
💡 Best for SMEs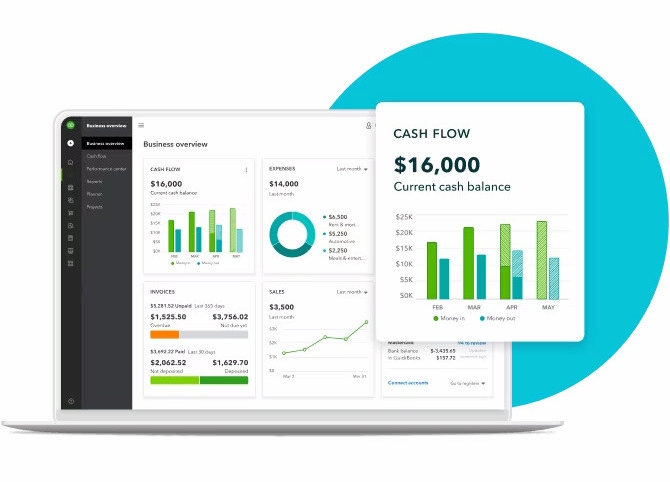 QuickBooks is a popular business expense tracker that allows for seamless connection to bank accounts, expense sorting into pre-defined or custom categories, and cash flow tracking features to ensure accurate data.
👩‍💻 User-friendliness
It's important to note that QuickBooks has a steeper learning curve than other expense trackers. However, it makes up for this by providing users with resources and tutorials to help them navigate the platform and make the most of all the available features.
💸 Pricing
Simple start: $9 per month.
Essentials: $13.50 per month.
Plus: $19 per month.
---
FreshBooks
💡 Best for client-facing businesses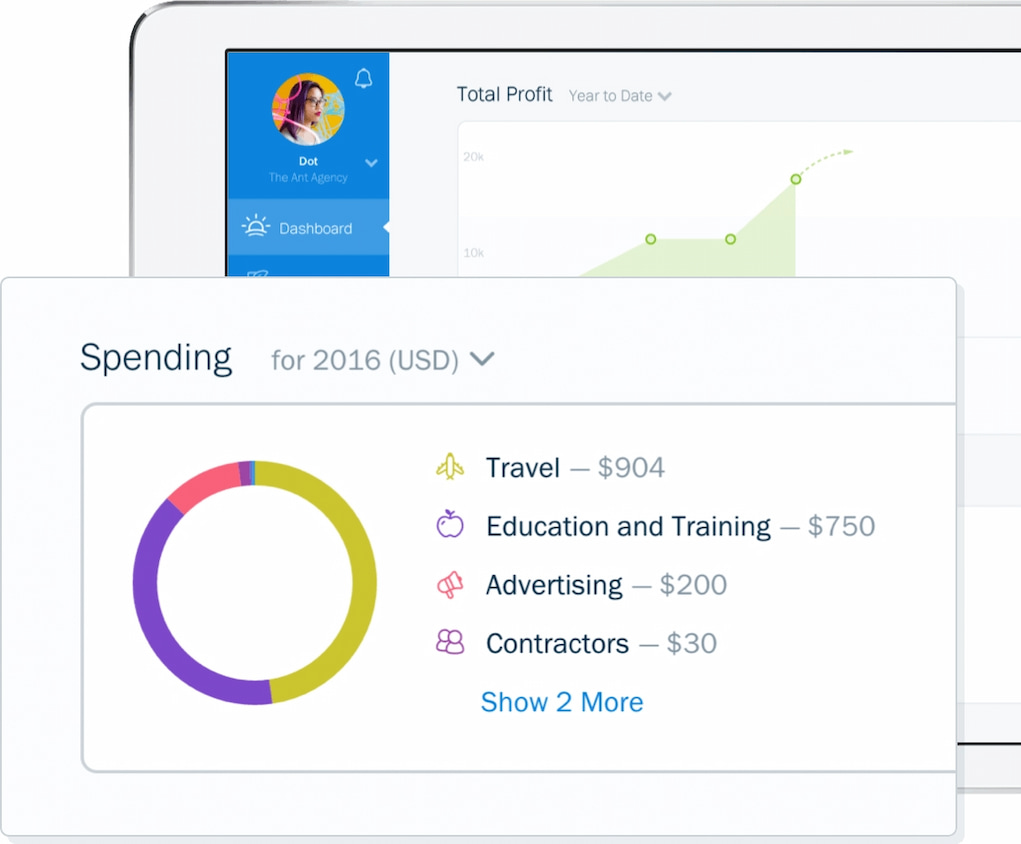 FreshBooks has powerful and simple expense-tracking features that make tracking business expenses easy. Receive daily spending updates, automatically scan mobile receipts, bill clients for expenses, track project spending, and file your taxes effortlessly when the time comes.
👩‍💻 User-friendliness
FreshBooks provides a simple user interface alongside a handy mobile app that allows for expense tracking on the go, making it the ideal expense-tracking companion.
💸 Pricing
Lite: $142.80 per year.
Plus: $252 per year.
Premium: $462 per year.
Custom: Customize your plan to suit your business needs.
---
Zoho Expense
💡 Best for corporate travel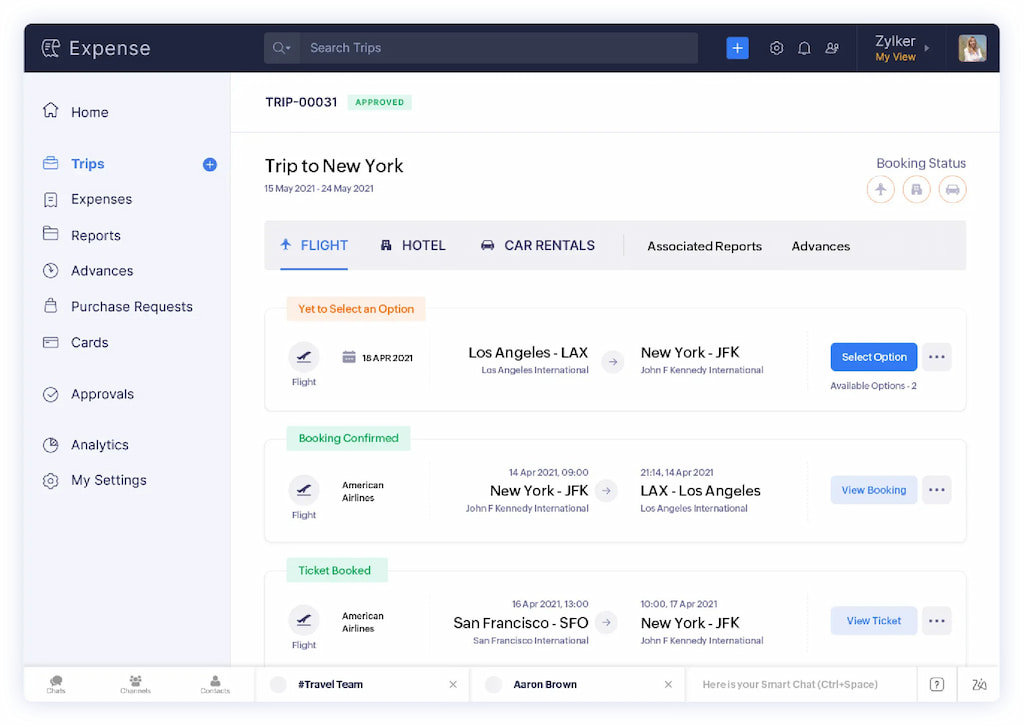 Manage corporate travel and expense reporting with Zoho Expense. Benefit from easy receipt management, which includes the ability to auto-scan receipts, forward them to recipients automatically, and import them from cloud applications. Manage expenses by uploading them to the system and then itemizing, splitting, or adding them as per diem allowances. Finally, track mileage with 100% accuracy and add expenses in the way that suits you best, such as by Android, iPhone, or even your Apple Watch!
👩‍💻 User-friendliness
Zoho Expense is user-friendly, thanks in part to its dashboard feature. The platform allows users to organize data in a way that makes the most sense to them, providing a comprehensive overview of expense reports at a glance.
💸 Pricing
Free
Standard: $3 per user per month.
Premium: $5 per user per month.
Enterprise: $8 per user per month.
---
Rydoo
💡 Best for real-time expense tracking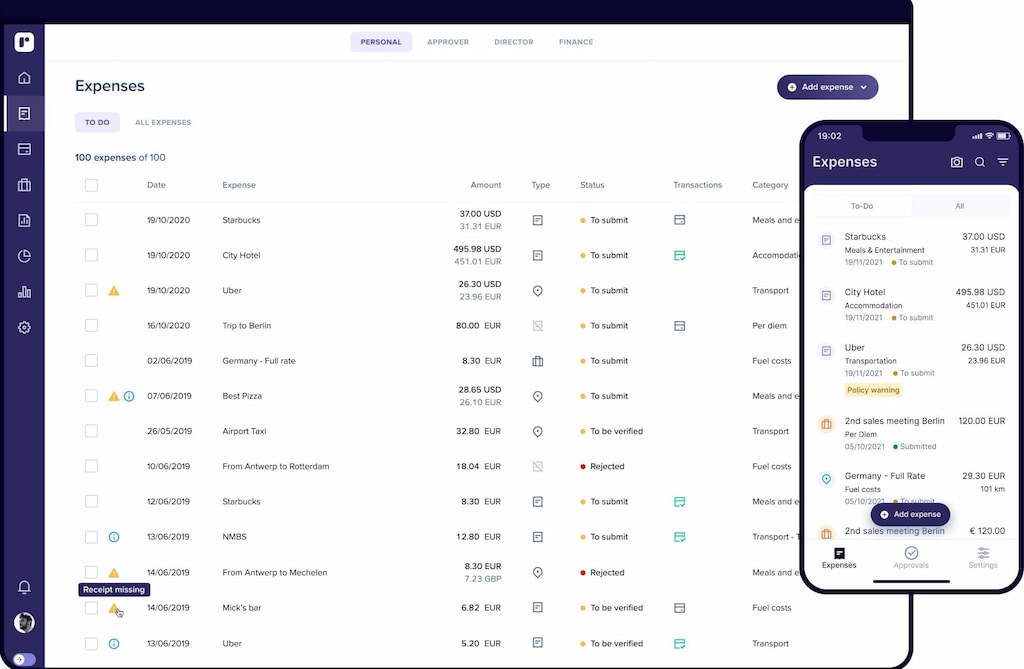 Rydoo is an expense-tracking tool with several valuable key features, including on-the-go expense approvals, paperless receipts, rule-setting for groups or people or expense types, real-time expense tracking, and the automatic reconciliation of transactions.
👩‍💻 User-friendliness
Features like real-time expensing and paperless receipts through the Rydoo web or mobile app make the platform very user-friendly. Plus, the platform connects seamlessly with the tools your team already uses, such as QuickBooks, Xero, Wise, Workday, and TravelPerk.
💸 Pricing
Essentials: $10 per user per month.
Pro: $12 per user per month.
Enterprise: Contact the Rydoo team.
---
SAP Concur Expense
💡 Best for large companies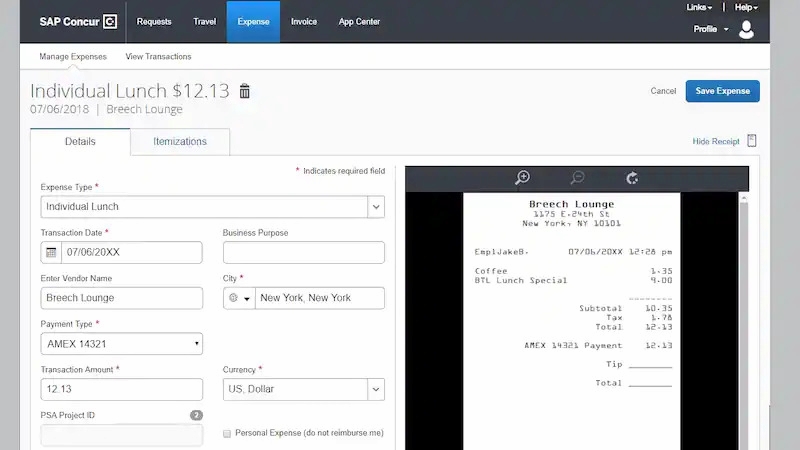 SAP Concur gives businesses the power to automate and simplify the expense, travel, and accounts payable processes. Submit expenses from anywhere, automate and integrate your accounts payable processes, and capture travel regardless of where it's booked to control spending and create a financially strong enterprise.
👩‍💻 User-friendliness
Its intuitive platform, which spans the web and a mobile app, is easy for employees at all levels to navigate. Additionally, SAP Concur supports integrations with several other popular business tools, enhancing its appeal.
💸 Pricing
SAP Concur will provide you with a tailored quote when you fill in their quote form.
---
Wave
💡 Best for invoicing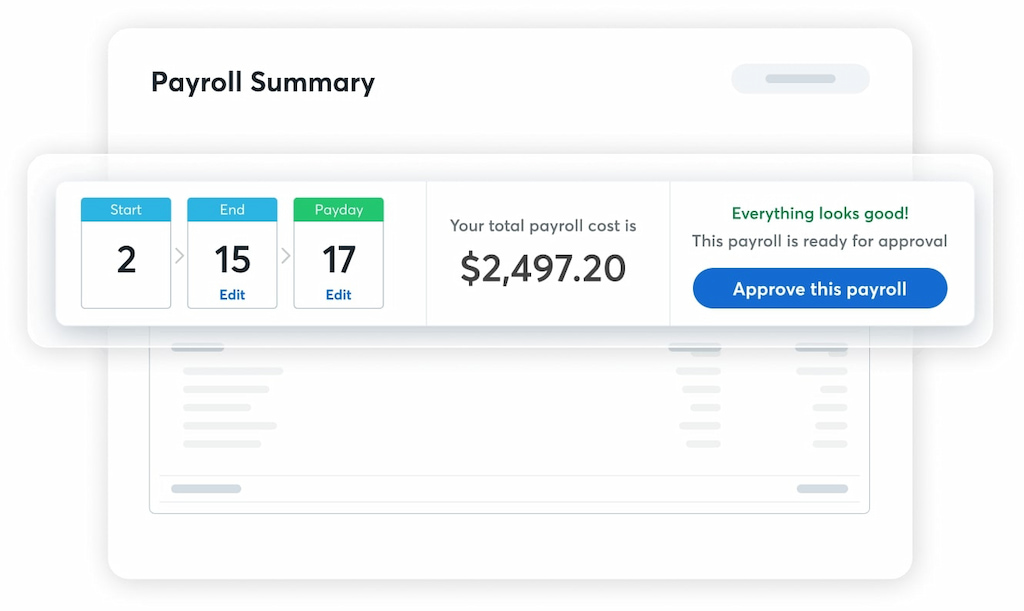 Wave is a money management tool designed for small businesses. The platform empowers users to create beautiful invoices that reflect their business's branding, automate overdue reminders, set up recurring bills, add notes to terms of service, make online payments, and record transactions ready for tax season.
👩‍💻 User-friendliness
Wave is a user-friendly platform with a dashboard built with business owners in mind rather than experienced accountants. It provides a comprehensive overview of the business's financial health without a lengthy set-up process.
💸 Pricing
Wave's pricing is determined by the specific service you require. The options are invoicing, accounting, payment, mobile receipts, payroll, and advisors.
---
Shoeboxed
💡 Best for physical receipt scanning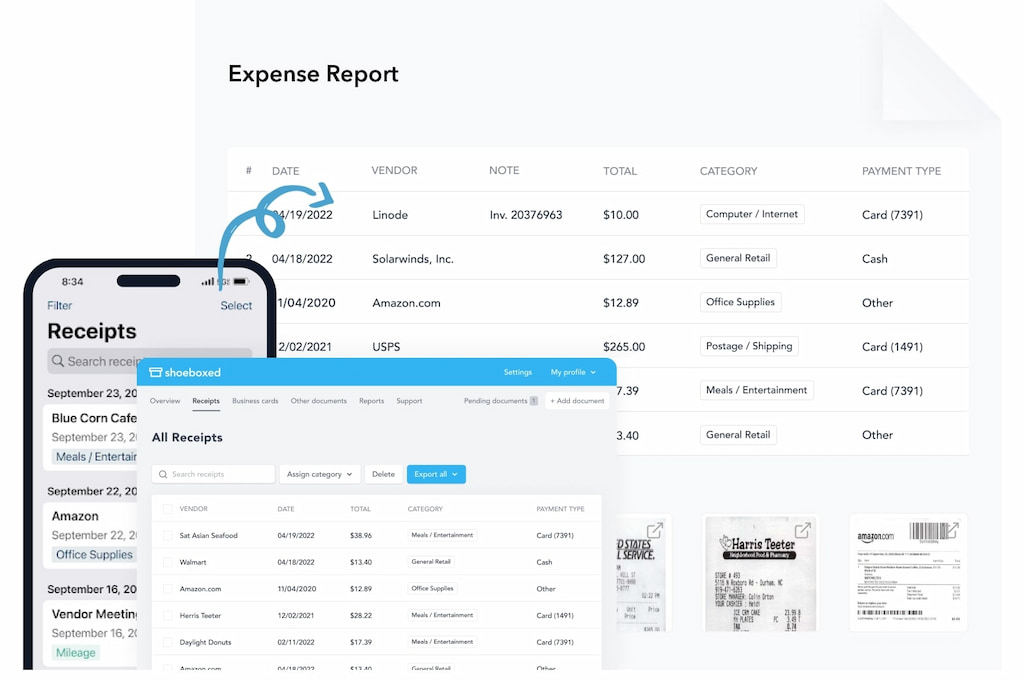 Shoeboxed is primarily a receipt scanner app where users scan physical receipts, and the data is extracted and added to their dashboard. Users can create expense reports that include images of their expenses, which can be exported or shared for tax or reimbursement purposes.
👩‍💻 User-friendliness
Shoeboxed is popular due to its user-friendliness. With a simple process for sending receipts and viewing data on a visual dashboard, users can track their expenses quickly and easily.
💸 Pricing
Startup: $18 per month.
Professional: $36 per month.
Business: $54 per month.
---
Emburse Spend
💡 Best for controlling employee spending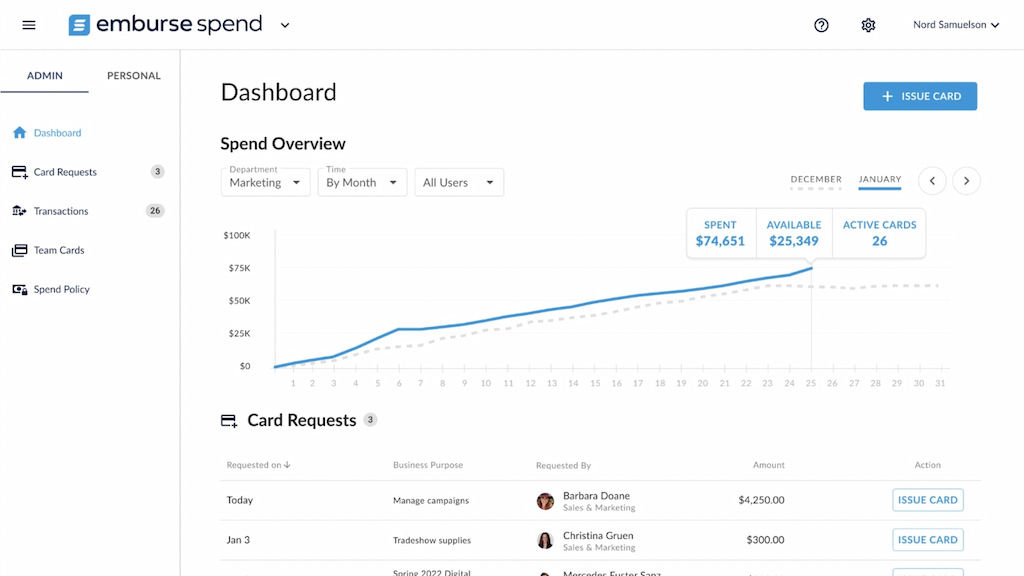 Transform team spending with Emburse Spend. The platform allows for reviewing and approving employees' spending requests and customizing card restrictions before spending occurs, providing greater control over business finances. Issue unlimited single-use and recurring virtual cards to team members, auto-reconcile receipts to streamline bookkeeping, and maintain high levels of security at all times.
👩‍💻 User-friendliness
Emburse Spend is easy to use thanks to its cloud-based corporate card and expense management solution that removes the need for time-consuming expense reporting.
💸 Pricing
Emburse Spend is priced according to the specific features required and the size of the company using the platform.
---
Abacus
💡 Best for real-time expense reporting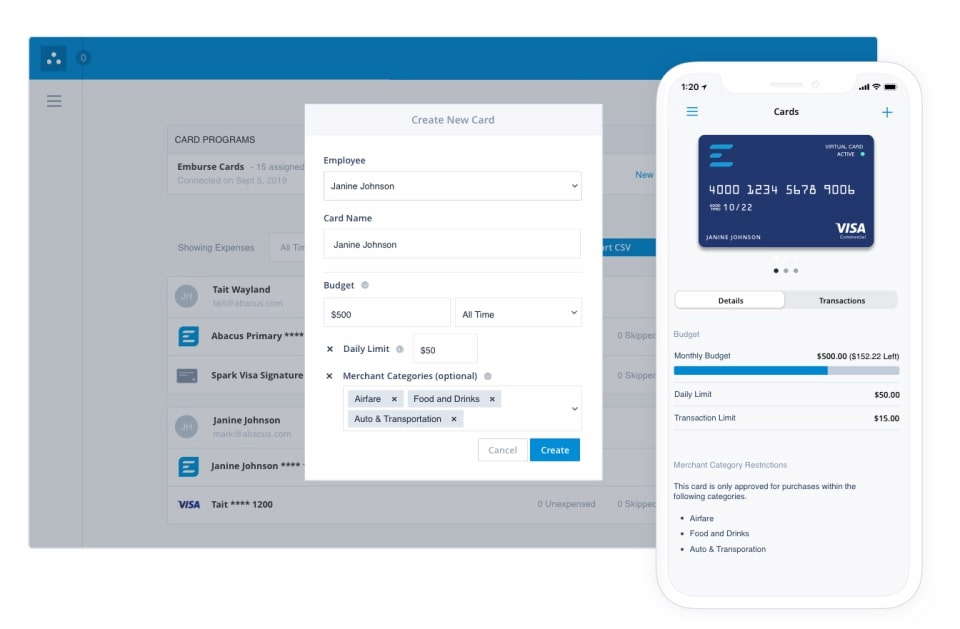 Abacus is a real-time expense reporting tool that allows users to automate team reimbursements, reconcile corporate credit cards, and implement expense policies. Get instant visibility into spending and budgeting, capture accurate expense data from team members, and automate spending policies and approval hierarchies to prevent policy violations.
👩‍💻 User-friendliness
Abacus has an intuitive user interface, and the application is packed with features that simplify the traditionally complicated expense reporting process. Submitting expenses is easy, as users use their mobile phone or web to submit a photo of the receipt, which is then logged so appropriate action can be taken.
💸 Pricing
Abacus pricing varies by company size and the features required.
---
ExpensePoint
💡 Best for mobile expense reporting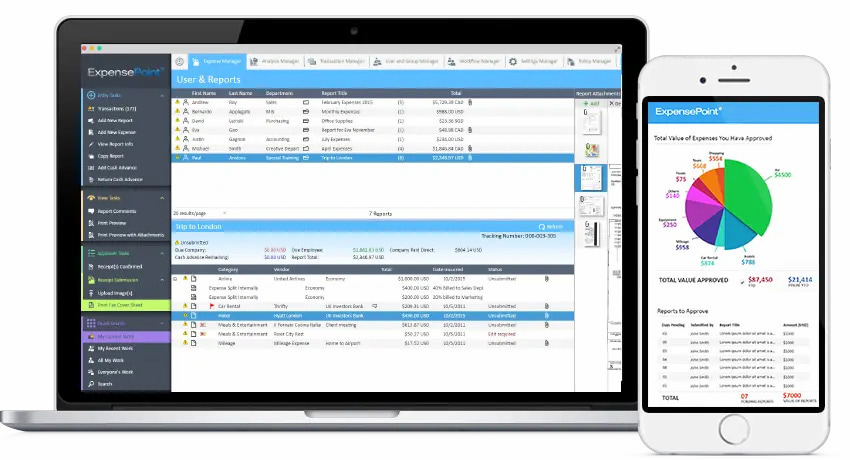 ExpensePoint is a feature-rich expense reporting tool. The platform offers mileage tracking, a receipt imaging system, credit card integration, data integration, employee reimbursement, and the ability to analyze spending data. For those who need a solution that allows them to track and manage expenses on the go, the ExpensePoint Mobile™ app makes expense reporting easy.
👩‍💻 User-friendliness
ExpensePoint boasts a user-friendly interface, accessible on the web or via the company's mobile app, as well as several useful features that simplify the process of creating and approving expenses across global teams.
💸 Pricing
ExpensePoint offers 'all-in' pricing, meaning you get all the platform's features for $8.50 per month.
---
Neat
💡 Best for receipt and document management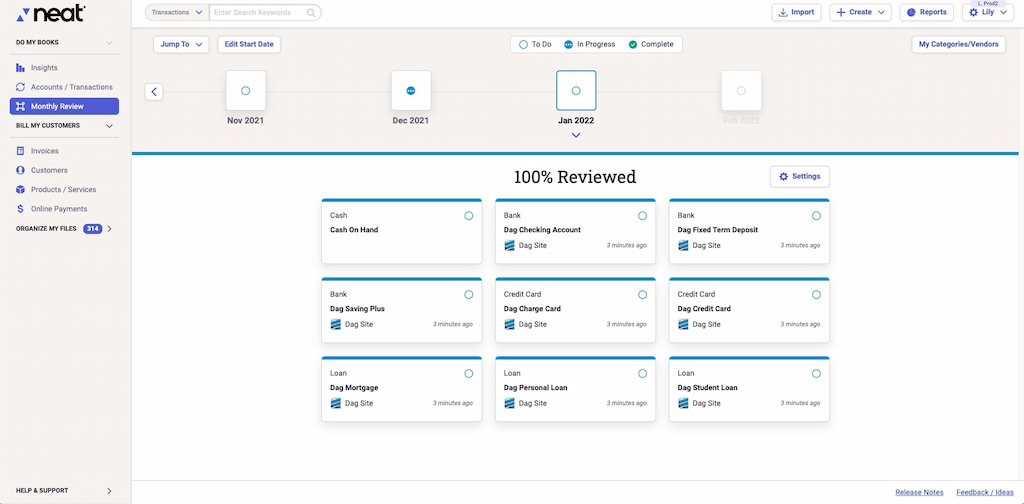 Neat provides you with a smarter way to manage receipts and documents. The handy tool allows you to capture receipts and invoices with a snap of a picture and reduce manual data entry with Neat's patented technology that extracts vital information from documents and turns it into usable data. In addition, you can create custom expense, spending, sales, and income tax reports for easy filing and less headaches when tax season comes around!
👩‍💻 User-friendliness
Neat offers a user-friendly interface that allows users to upload receipts and other financial documentation, and the platform's data extraction tool captures all the important information for you, making tracking and managing expenses a breeze.
💸 Pricing
Neat costs a flat fee of $200 per year, but you can purchase base subscription enhancements such as specialized support and automated insights.
---
Kashoo
💡 Best for micro businesses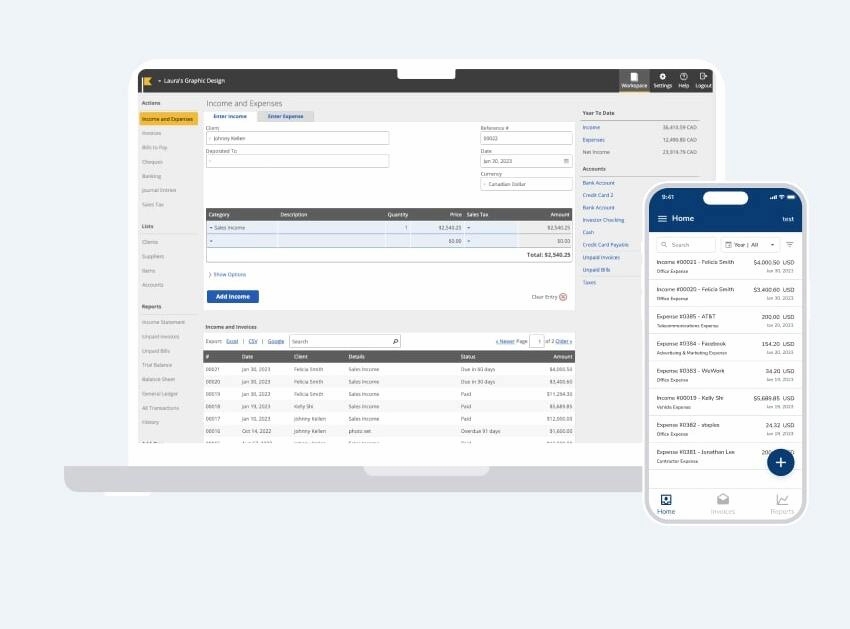 Kashoo is an accounting tool aimed at small or micro businesses and accountants and bookkeepers looking for a simple solution for their clients. The platform offers several valuable features, including expense tracking, invoice and payment tools, automated bookkeeping, bank reconciliation, and reporting capabilities.
👩‍💻 User-friendliness
Kashoo is aimed primarily at small and micro businesses and, as a result, has a straightforward user interface. The Kashoo mobile app is the ideal companion to the web app, as it allows users to capture receipts, update expenses on the go, and invoice clients and customers wherever they are.
💸 Pricing
TrulySmall Accounting: $216 per year.
Kashoo: $324 per year.
---
6 Tips for Effective Expense Tracking
Effective expense tracking is a core element of sound financial management. But with a wide range of expense tracking apps to choose from, selecting the tool that fits your specific requirements is possible. Here are some tips to ensure you're making the most of the expense-tracking tool you've chosen:
🆕 Update records regularly
The cornerstone of successful expense management is regularity in maintaining records. Ensure you and your colleagues log all transactions, regardless of their size, within your chosen expense tracking system. Small transactions may seem insignificant, but they add up over time and can impact budgets. Using a basic expense tracker or an advanced online expense management platform gives you and your team an accurate view of company finances.
🔧 Make the most of integrations
Most expense-tracking apps allow you to integrate with your favorite accounting, payment gateway, HR, project management, and communication business tools. Make use of these integrations to streamline your company's workflows and improve overall efficiency.
📊 Utilize reporting and analytics capabilities
The majority of expense tracking offers have reporting and analytics capabilities, allowing you to maintain up-to-date financial records and track spending behavior over time. Creating reports is crucial when tax season comes around and ensures you're prepared for audits.
📜 Implement expense policies
To ensure your team uses expense tracking apps correctly, it's important to put clear expense policies in place. Most apps will allow you to set up approval workflows based on your company's expense policies, reducing non-compliance.
📱 Make the most of mobile apps
The majority of expense tracking tools offer a mobile app for on-the-go expense management. This is particularly beneficial for teams that are remote or travel on a regular basis. Encourage your employees to use the mobile app to capture receipts instantly and submit expense reports, simplifying the traditionally complex reimbursement process.
😊 Train and support your team
The make the most of the expense tracking tool you choose, it's crucial that your team knows how to use it properly. Offer regular training and ongoing support to ensure your team is comfortable using the tool and can make the most of all the available features.
---
In Summary
Effective expense management is essential, whether you're managing your own business or you're part of a larger company. Whether you're trying to keep your personal budget in check or ensuring your business's long-term financial health, harnessing the power of expense management apps will make a noticeable difference.
The best app to manage expenses depends entirely on your needs. For example, if the most important feature is easy on-the-go receipt scanning, Shoeboxed is the most suitable online expense manager app. Alternatively, if you require an all-in-one solution with expense management capabilities, you're better off using Everhour.
As we've demonstrated, dozens of expense-tracking apps are available, many of which cater to individuals without accounting experience. You can ensure a smoother and more efficient expense management process by maintaining complete financial records, setting realistic financial goals, regularly reviewing spending, and making the most of all the expense-tracking app features available.