While salaried employees aren't typically subjected to hourly tracking, monitoring their time can yield valuable insights into productivity, workload distribution, and resource allocation.
In this article, we explore the significance of tracking salaried employees' hours and how employing a time tracker can provide a comprehensive view of their contributions, ultimately contributing to improved efficiency and informed decision-making within your organization.
We will address the most burning issues you can run into when dealing with salaried employees, including:
✅ Why you need to track salaried employees working hours;
✅ How many hours can a salaried employee be made to work;
✅ How to calculate salaried employees' work hours;
✅ How to use timesheets for salaried employees.
Why Track Salaried Employees Working Hours?
The reasons to track salaried employees' working hours may not be so apparent. But that doesn't mean they aren't important. Here's why:
1. Time tracking motivates
Time tracking is a great psychological technique that can help avoid senseless multitasking. Sometimes when planning our working schedules, we tend to overpack our timetables with tasks. This results in slipping into multitasking fuss and by the end of the day, we accomplish only one-two planned activities but are extremely tired.
Allocating time for each activity doesn't let us overwhelm our schedules with unnecessary things. Forcing us to choose only the most essential tasks. Besides that, the set time helps us focus on our work. We don't rush between the tasks, knowing that each has its own time.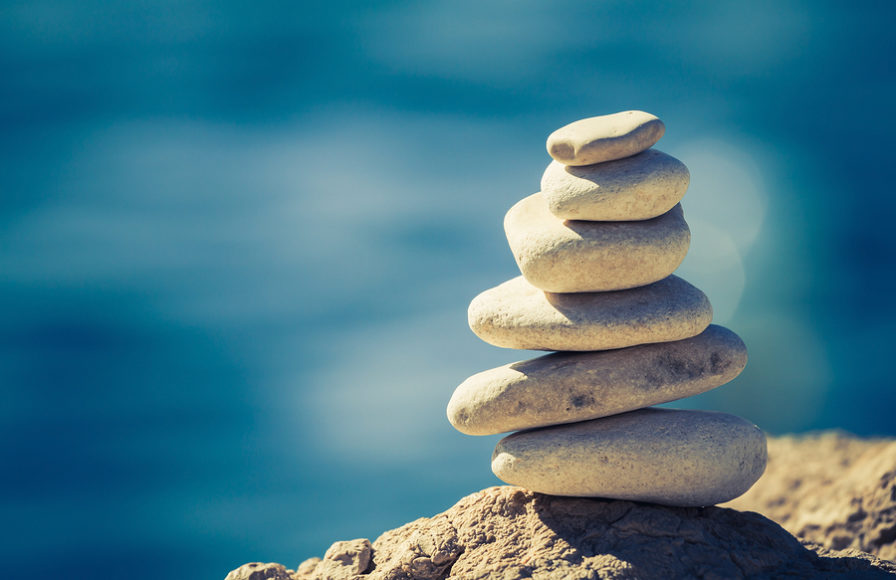 A master list of the best time management quotes out there to keep you inspired and away from procrastination.
2. It helps measure costs
Another reason why salaried employees do have to clock in is that it helps to estimate their job costs. As a business owner, you can get insights into how much you pay each salaried employee for their job. Therefore, it gets easier to estimate the cost of services the company performs for its customers and put fair price tags.
3. It boosts company effectiveness
When your salaried employees have to clock in and out, use an attendance tracker or clock-in and clock-out apps, and monitor their activities throughout the day, it gives you a wealth of valuable information. You can analyze how much time each employee spent on a particular task, see the ways to improve your business workflow, and how to automate the working processes to help your employees with their tasks.
At the same time, time tracking gives us the sense that we're treated honestly. If the time tracking system is transparent and employees and managers have equal access to it, then both can see how well an employee performs and negotiate the workload and payment.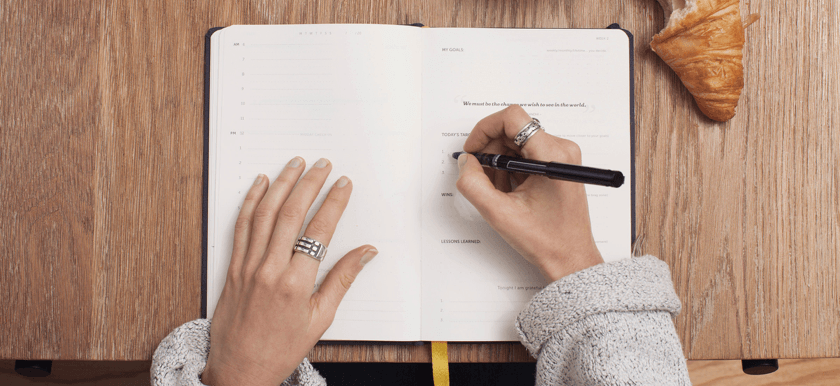 Learn how exactly you can measure productivity and boost it for a more efficient result.
4. It saves you from violating the law
Knowing the details of the labor legislation system can save you lots of money. FLSA regulations cover not only hourly-paid employees but can be applicable to salaried ones as well. In the US Labor regulations, white-collar employees have always been considered as exempt from FLSA minimum wage and overtime pay protections. However, if their annual salary doesn't reach the sum of $47,476, they become non-exempt.
If you overlook this rule and your employees work over 40 hours, it may lead to legal proceedings. And that's where time tracking comes in handy. They help to track your salaried employees' work hours, preventing them from overwork. If they reach the threshold of 40 working hours, you can always re-check under which conditions each employee works for your business. Finally, if an employee claims that their working rights were violated and you underpay them, their timesheets could be used as proof in court.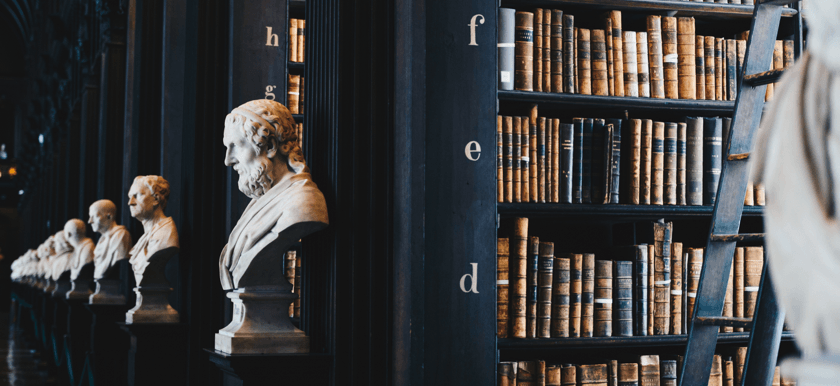 If you haven't been tracking your employees' time yet, then it's about time to start doing so…
5. It helps to incentivize your employees
However, most of the salaried employees are not covered with FLSA regulations, you still can compensate them for their efforts. Once your salaried employees exceed their working hours, you can pay them back by providing days off work.
If your enterprise has more than 5 salaried employees, tracking their work can be a challenge. You need to track each employee's working hours and their accrual of time off. A paperwork nightmare. The best solution, in this case, is to automate overtime monitoring with time tracking apps.
With a time tracking solution like Everhour, you can also evaluate your employee's performance. This makes it easier to determine their pay rise or promotion!
---
---
How to Calculate Salaried Employees' Work Hours
To calculate salaried employees' work hours, we need to define how many hours is a salaried employee is expected to work and how many hours they actually work.
A typical working week in the US equals 40 hours a week. A standard working day lasts from 8 a.m. to 5 p.m. However, salaried employees often exceed the standards and tend to work extra, and bring their work home. Some employees may also set their own schedules, working flexible hours, often from home. About 13% of salaried employees have a second job where they work 13.2 hours a week above the standard.
Putting it into perspective
Let's calculate the minimum hours for salaried employees. For this, you need to divide the yearly salary by 52 weeks. For example, let's take the minimum yearly salary for FLSA – $47,476.
$47,476 ÷ by 52 weeks = $913. This is the weekly payment. If you want to know an hourly rate then you need to do a little extra maths: $913 ÷ 40 hours per week = $22.80. Meaning the hourly rate is $22.80.
Once a salaried employee overworks this and they do it on a continuous basis, then their actual hourly rate is different.
Recalculating working hours fairly
Use the formula above to calculate a salaried employee's working hours per week and calculate the subsequent payments you could be liable for. Remember, paying your employee fairly is not only a legal requirement, but encourages them to stay loyal to your company and work efficiently.
Now, let's get going. For this example, let's assume the average hours per week worked is 49. But you can repeat this example with any number of hours worked over their official contracted hours.
Step 1. Take the average over time per week and multiply that by time (1.5) and a half or double time (2.0) for a regular rate of pay, and add standard weekly working hours.
The formula is as follows: ((actual worked hours per week) – (full time working hours)) x 1.5 + standard weekly working hours. In figures, that's: (49 – 40) x 1.5 + 40 = 53 hours.
Note: For purposes of our example, we will use time and a half. To use double time, simply replace 1.5 with 2 in the equation.
Step 2. Now, define the weekly payment by dividing the annual salary by 52 weeks. Let's say, for example, that the yearly salary is $70,000.
Then you should have the following formula: (yearly salary) ÷ (weeks in a year) = amount per week. In figures, that's: $70,000 ÷ 52 = $1, 346.
Step 3. The last step is to divide your weekly salary by average hours per week.
The formula is as follows: (average weekly salary) ÷ (average hours worked per week, including time and a half) = price per hour. In our case, that will be 1,346 ÷ 53.5 = $25 per hour.
Remember: You can use this method only if an employee's overtime hours are stable, otherwise, these calculations may be inaccurate.
---
Timesheets for Salaried Employees: Pros, Cons & How-To's
So, how to track salaried employees working hours effectively? And which timesheets for salaried employees are the most effective and easiest to manage?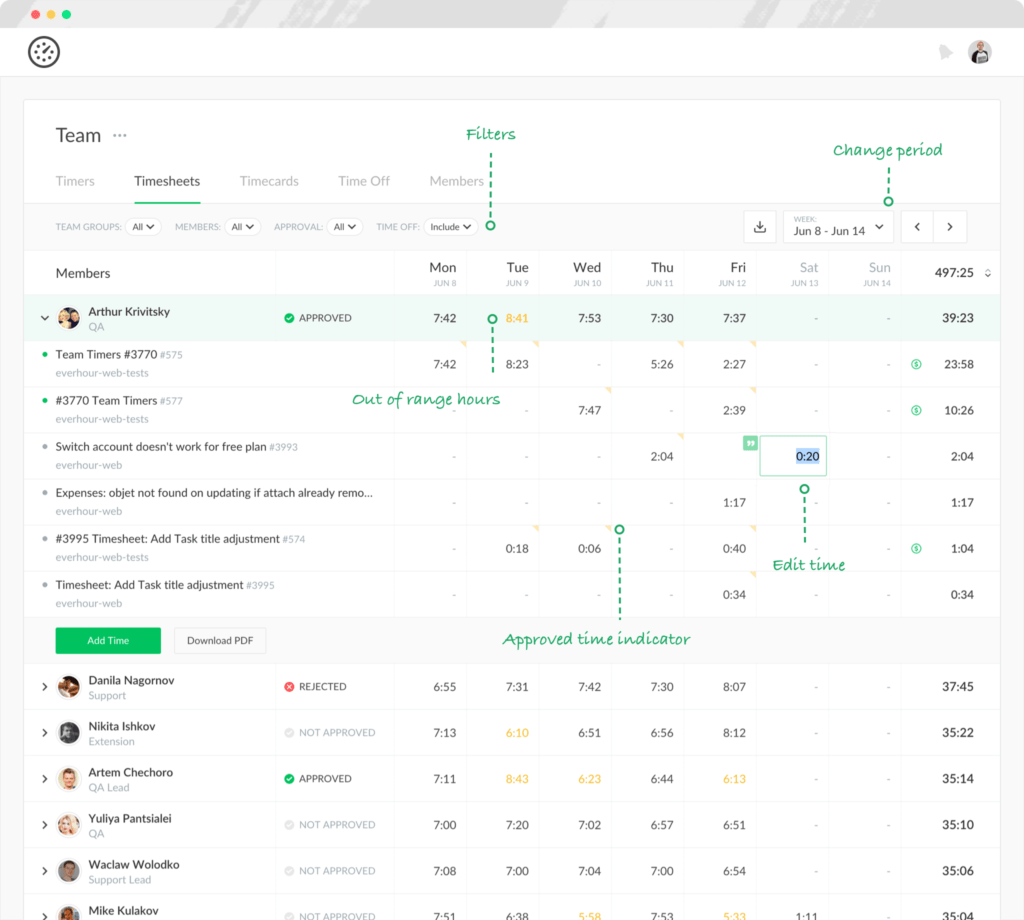 You can use various types of timesheets for your salaried employees to fill out calculating work to do and done on paper. Alternatively, you can choose a smarter option and use a time tracker. Let's take a look at some of the pros and cons of each option!
Pros and cons of digital solutions
Track your employees' time, projects progress, and finances in one handy app.
Integrate the time-tracking app with the accounting software you use daily at work and project management apps.
Evaluate each employee's performance and the success of a whole team.
Get automated statistics reports on your project's progress, resources spent, and budget estimations.
Receive notifications once you reach the budget threshold for your projects.
Quickly generate professional invoices for your clients.
Automatically account time accrual to pay back time-offs to your employees later as well as counting holidays and sick leaves.
Some of them may charge you with small fees for using their apps. On the other side, it guarantees you the quality of the app and good technical support.
Not every app works without internet access, meaning you need to ensure a stable internet connection or that your data updates when you go online.
There may be an adaptation period of your staff. If they are not used to specialized time tracking apps or Excel tables, it may be a challenging experience to start with as they adapt. You will need to carefully plan how you integrate to ensure efficiency in your business.
If you feel that using digital timesheets is the right move for you and your business, but you're not ready to commit to advanced software… Pick up this awesome FREE weekly timesheet template designed exclusively to make your life easier!
Pros and cons of paper timesheets
If you have a small enterprise of 1-2 workers, then it might not be a problem for you to track your time and project progress in printed copies as you do not have too many staff to manage.
If your company keeps their documentation in hard-copy format, then timesheets will be a good fit, as in any case, you'll have to print the timesheets.
When your employees are used to paper-style work, then switching to digital solutions might require some time and can be inconvenient for them.
You can't amend your documents without crossing out the data or writing on margins. Eventually, this can lead to a total mess on one paper and you'll have to rewrite.
They can get lost from time to time.
It's not environmentally-friendly as you have to use paper, ink, and printers to print your templates. (We do hope that you're not fascinated by the idea of drawing tables with a ruler.)
Tracking Salaried Employees' Hours: In Closing
Time tracking at work is a powerful tool that keeps employees informed about their work performance and motivates them to do even better. Meanwhile for a business owner, it's a valuable source of data that helps to improve business strategies and planning further company's development. Therefore, time tracking should be applied both to non-salaried and salaried employees.
If you want to track your employees' time effectively, it's better to opt for digital solutions such as specialized time tracking apps. They help not only track time but provide detailed statistics on employees' and projects' performance. Moreover, they're usually packed with useful features that businesses use in their daily work such as invoicing and resource expenditure tracking.
Everhour is one of the best digital solutions for time tracking today, our team is ready to help you get to grips with time tracking and how it fits with your business. So, please do not hesitate to get in touch. Until then, happy time tracking!