Businesses big and small are always seeking ways to boost their employees' productivity levels. While there are many employer-provided benefits that a company can offer to a potential worker, let's take a look at one of the top runners – paid time off – and see how it can affect your business.
Below we'll explore the ins and outs of what a paid time off policy is, what is flexible paid time off, and how to develop an effective structure for your company to incentivize your employees and make your business more productive.
What is Paid Time Off?
Paid time off (PTO), also known as personal time off, is non-working hours that are compensated that an employee can take during a year for various reasons.
The purpose of PTO hours varies from company to company, and the hours are often given depending on the years of service. Such policies are standard practice in the United States and some European countries.
This is because, in the USA, there are no nationwide laws that determine the minimum time for vacation, leaving this question to individual states. As a result, each state has its own vacation and paid time off laws, and employers should consider them before establishing internal PTO policies in their companies.
Aside from the legal challenges, PTO is often implemented to create a stable work-life balance, meaning companies should have effective time tracking strategies and a well-developed vacation policy.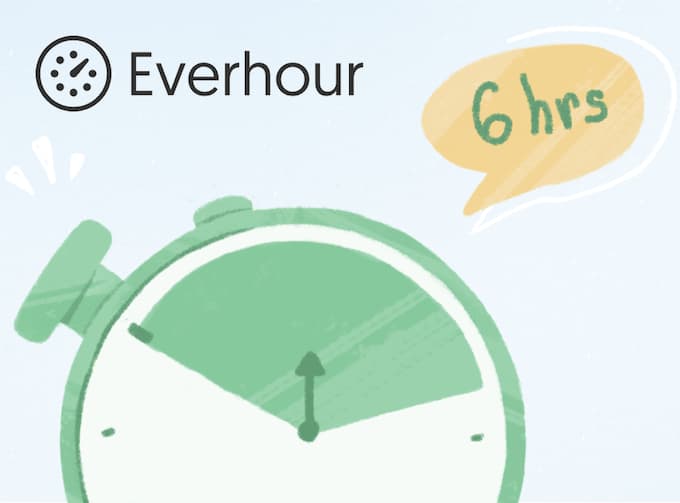 Fact: In many larger companies, there is a common practice not to differentiate PTO hours. They combine sick days, personal time, or even vacations into a single unit under the PTO umbrella.
What's the Difference Between Paid Time Off vs Vacation?
If there is no state law, does it mean that Americans have no right to vacation? Of course, they have, but to understand how it works, let's take a look at the definitions.
Vacation
The term vacation means that an employee can have a certain number of days off work which are set by the law (how many days can be taken) and agreed with the employer (when these days can be taken).
Paid Time Off
PTO is a much wider term that includes all paid days which can be taken off work throughout the year. Meaning that PTO can be a vacation, but vacation can never be PTO. Some examples of PTO going beyond the term 'vacation' include medical leave, sick days off, jury duty, maternity leave, community leave, and others.
It's hard to say for certain which one is better, vacation or PTO. The former is guaranteed by the law and is somewhat consistent for an employee. The latter is far more flexible and can be managed by a company's internal procedures.
Paid Time Off Pros and Cons
This indicates a clear, rising preference for PTO; let's explore why this might be.
PTO benefits
Employees can get a little extra time off, without feeling the need to lie or disclose the reason;

As employees don't have to report on the purpose of their days off, they are more likely to be honest in PTO scheduling and notify the employer about it beforehand allowing for scheduling changes to be made;

Employees can schedule their own vacations, which can be shorter but more frequent, leading to less disruption in the workplace;

Flexible PTO plans attract more young workers who value their work-life balance, bringing diversity into the workplace;

With PTO, it becomes easier to track and manage employees' days off, as they are more flexibly scheduled and combined into one unit.
PTO disadvantages
Some employees may be reluctant to switch to PTO plans as they may not see any direct advantages, preferring old-style system;

When employees aren't motivated in the first place, they may abuse PTO policies, causing disruption;

If employees fall ill but have used almost all their PTO reserves until the end of the year, they may have to keep going to work, causing stress for the employee and affecting their productivity;

If PTO hours aren't accumulated and forwarded for the next year, some employees may deliberately call in sick by the end of the year to use up their PTO time;

Before establishing a new PTO plan in your company, you need to make sure that it complies with the policy of your state or country which can reduce flexibility.
How Does Paid Time Off Work?
When negotiating vacations and days off with a new hire, companies can offer 2 PTO options:
Banked PTO
This is when a company allocates a definite number of days to its employees which they can use throughout the year. With banked PTO, employees usually receive PTO days depending on the number of years spent with the company. In addition, companies allow their staff to roll over several days of unused PTO to the following year.
Paid time off averages for banking PTO are usually the following:
Every 1 year of serving is around 10 days;
Plus 3-4 days for every 5 years of serving;
Meaning that when an employee has worked for 10 years for the same company, they can acquire up to 3 weeks of PTO.
Accrued PTO
Paid time off accrual or accrued PTO is when a company counts the hours worked by an employee and calculates PTO based on this amount. Here's how it works:
Employee's hours are estimated and tracked using special timekeeping software (like Everhour);

The company then calculates the employee's PTO based on the business's time off policy. For example, if an employee earns 1 hour of PTO for every 40 hours of work during a week, then in a month he or she will acquire 4 hours of paid time off.
With accrued PTO employees can't roll over any days for the next year. Company policies usually set a limit of accrued days, so that an employee can't accumulate more days until he or she uses the available ones.
Trends in Paid Time Off
Apart from standard PTO plans, there are also non-standard approaches to PTO accrual. For example:
Unlimited paid time off
You may have heard of companies offering unlimited holidays and wondered "what is unlimited paid time off and how is it possible?" Unlimited PTO is when a company puts trust in its employees and lets them take an unlimited number of days off work. It might sound rather inspiring for a company to treat its workers as responsible, focusing on the results, not on the time spent on a project. But, it can be a great incentive, leading to increased productivity and workplace transparency.
On the downside, this policy can be abused by both employees and employers, leading to employees working away from the office while on vacation or even taking more time off than they really deserve.
Floating holidays
Paid days off a company may give to its staff aside from PTO. These days can be spent on non-federal holidays, for example, to celebrate religious festivals of various denominations or spend a day or two with a family on a special occasion.
Floating holidays are determined by the internal policy of a company and can be provided as a benefits package, meaning that there is no compensation for floating holidays upon resignation or retirement.
9/ 80 work schedule
To improve employees' productivity, some businesses may apply a 9/80 work schedule. When an employee works 9 hours 8 days and 8 hours one day during a 2-week period getting an extra day off, meaning 3 days off one week every month. More info on 9/80.
Buy/sell PTO program
Some companies include a buy/sell program in their PTO plans, allowing their employees to sell the unused time of PTO to the employer or buy more time for themselves. Employees can receive the money for PTO in cash or in their flex credits to purchase non-taxable benefits available under a cafeteria plan provided by their company.
Creating a PTO Policy For Your Company
Every company seeking to create its own PTO policy, tailored to the company's business needs to take into account a number of factors, including workflow and type of work before creating a policy.
While PTO is a great way to attract new employees and improve workflow processes for your business, it's best to be realistic in what is reasonable for your company.
How you can develop a clear and transparent PTO policy that is accessible for your employees:
Come up with the type of PTO
Decide on the type of PTO plan you require – banking or accrual.
Decide on the holidays
Count the holidays throughout the year, including federal holidays and major religious festivals. Consider if you want to include paid holidays in your PTO policy.
Think about the way to track time off
For this, you may need a specialist and a simple time-tracking app. If your company uses project management tracking software, you can integrate time-tracking apps to keep things nice and simple.
Describe special cases
Develop instructions for special cases, e.g. long vacations, days off for the newcomers who haven't accrued PTO yet, long-term sick leave, etc. Consider non-standard approaches you could include in your PTO policy.
Decide on compensation
Consider what to do if an employee has unused time off and if you will provide monetary compensation.
Decide on unused time off
Consider what to do if an employee has unused time off and if you will provide monetary compensation.
Draw up your policy
Once you've undertaken all these steps, you're ready to draw up your policy. Be sure to run it by your legal department to ensure it complies with national and local laws.
FREE Paid Time Off Policy Sample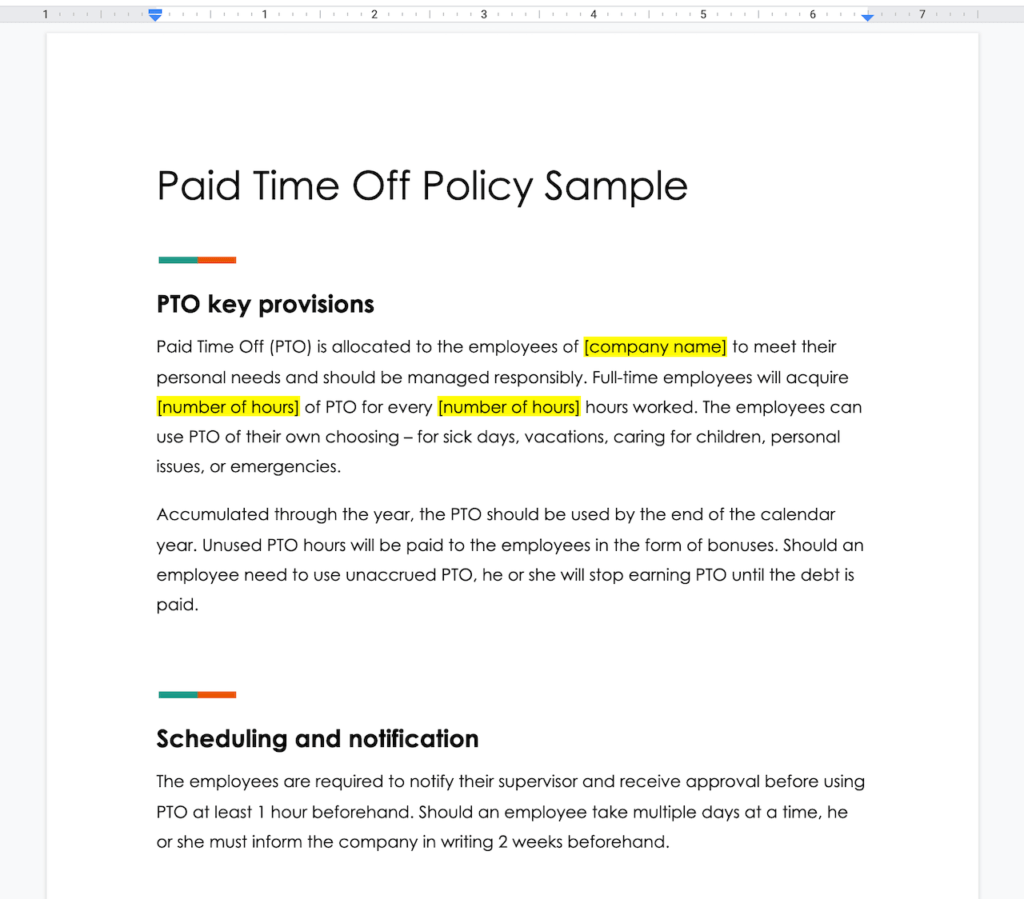 How Everhour Can Help You Manage PTO
Paid time off is a powerful instrument for staff management in almost any business. It attracts new employees to a company and retains highly-skilled specialists. That's why it's important to develop an appropriate, understandable, and easy to access PTO policy for every staff member.
To make your PTO policy work, you need to implement not only a great PTO strategy but also have the tools to back it up.
Everhour provides integrated software that allows you to track your employee's time directly in your project management system and see detailed reports on its use (see why tracking that time is so important), making it a breeze to calculate PTO.
Alternatively, to help you get started on PTO tracking, you can download this handy and FREE timesheet and timecard, be warned, more human resources are required to calculate the final PTO hours.
By implementing paid time off in your business, you can boost employee satisfaction, productivity and bring your company into the future.
We, at Everhour, wish you luck with your PTO journey, and remember, we're always here to help with your time tracking needs.