With Notion's popularity, Notion template or widget for Notion is now commonplace, thanks to massive support for third-party widgets. These widgets transform Notion into a convenient control center for almost anything. That's because Notion has more than its fair share of customizable native features to tweak things like calendars, boards, and tables.
In this article, you will learn how a widget Notion adds style, beauty, and functionality to your apps and workspace, coupled with the twelve best widgets for Notion.
What Are Widgets for Notion?
Widgets are easy-to-use applications that you can integrate into another app. In this case, a Notion widget is an aspect of web code inserted into the Notion dashboard or even a single page.
Widgets provide relevant information about your environment, lifestyle, tasks, schedule, etc., and they usually come with customizable features to meet your needs. Depending on the website you get a widget from, you can add a wide range of items and capabilities to Notion. The following sources offer numerous Notion widgets with impressive features:
When you enhance your Notion page with various widgets, it becomes a one-stop shop for your weather reports, social media feeds, daily inspirational quotes, calendar, and many more features. This way, you don't have to leave your Notion page frequently and you can stay productive on your tasks.
Once you add a particular widget, you don't have to update it frequently. That's because widgets automatically update.
How to Add Widgets in Notion?
You have decided to add a widget to Notion, so you're wondering how to go about it. Well, it's quite easy to add widgets to Notion. After all, Notion is a note-taking app that uses codes to import widgets. That means you only have to copy the embed URL of the widget you want to add, then insert it into the Notion app with a simple command.
The command above will work if you're using the desktop version of Notion or the web version. That means you can add the widgets anywhere. If you need help understanding this explanation, the following steps will help you quickly add a widget to your Notion page or platform.
1️⃣ Open your Notion app or web platform and create a new page.
2️⃣ Go to another window and open the widget page before copying the Embed URL from the widget you want to add. The page might carry some unique looks depending on what you're using.
3️⃣ Once you've copied it, head back to your Notion page or document and type /embed (forward slash). Select the first option from the list that appears.
4️⃣ Paste the link in the text box and click the Embed link to add the preferred widget to your Notion document.
If you want, you can use the borders around the widget to resize it. It doesn't end here. You can always repeat the above steps to add as many widgets as you wish.
12 Best Notion Widgets
Once again, a widget is an application you can integrate into another app. In line with this, a Notion widget is a piece of web code you can insert into a Notion dashboard or a single page. As a result, you can achieve exceptional results via relevant information and still make custom arrangements according to your preferences.
Whether you're pro or new at this, you need the best Notion widgets to work with. Twelve of them are discussed here!
Free Notion Widgets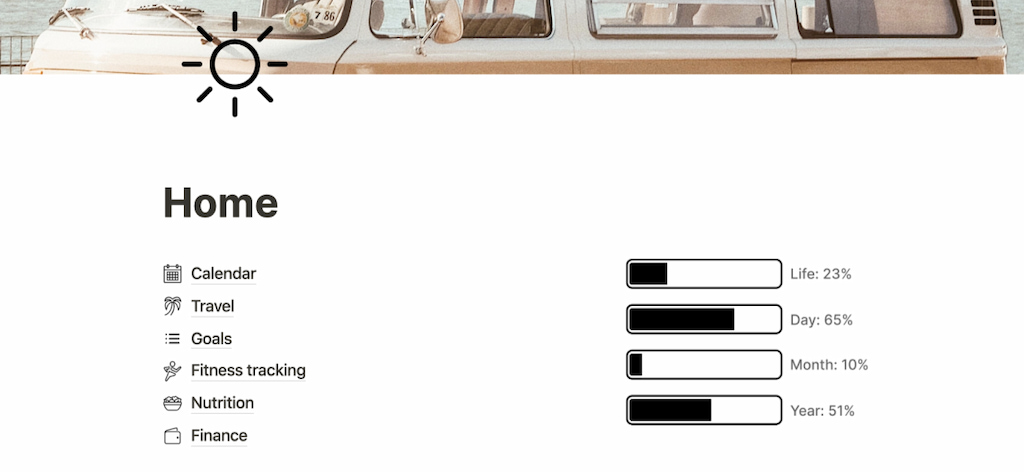 Whether you want free Notion widgets for a progress bar or something else, you can always simplify your functions. For example, the Life Progress Bar widget from Indify represents how much time a person has on Earth. Additionally, Indify is customizable and lets you change the settings to transform it into a progress bar for other purposes.
Colors, aesthetics, and size are some of the things you can tweak on Indify. Toggle between views and make custom choices to match your preferences. You can also have fun with your display images on your Notion page so that several images are neatly displayed in a gallery.
Notion Android Widget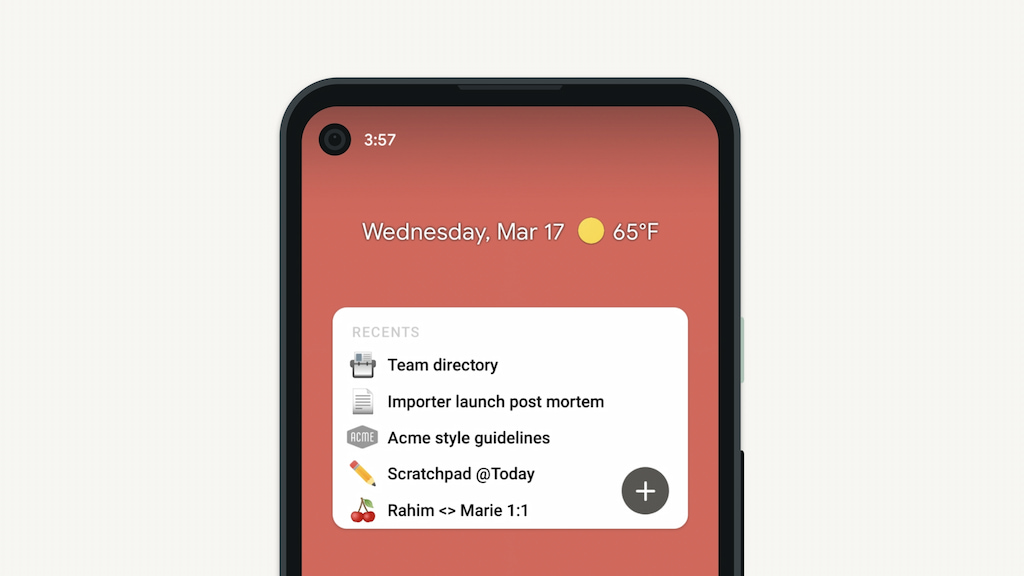 Tap your phone and hold on a bit longer. You might see an image-like form pop up or slide. Yes, that's a widget right there! You can easily access your Notion pages from your Android phone screen.
Further, you can use your Notion widget Android to add a widget that links to any workspace or page of your choice so that it is easy to access frequently visited pages. Examples of Android Notion widgets include Favorites, Recents, and Page. Follow these steps to download the Android widget:
Download the Notion Android app from the Google Play Store.
Go to your Android home screen, long-press the Notion app, scroll in the menu, and tap Widgets.
Swipe around the widget options, then touch, hold, and drag the widget to rearrange it on your home screen.
Tap the widget and select the workspace or page you would like the Notion Android widget to display.
Your widget will appear on your screen. Go ahead and add as many widgets as you like or edit the content of your existing widgets at any time.
On some Android devices, you can also edit the widget size.
Calendar Widget Notion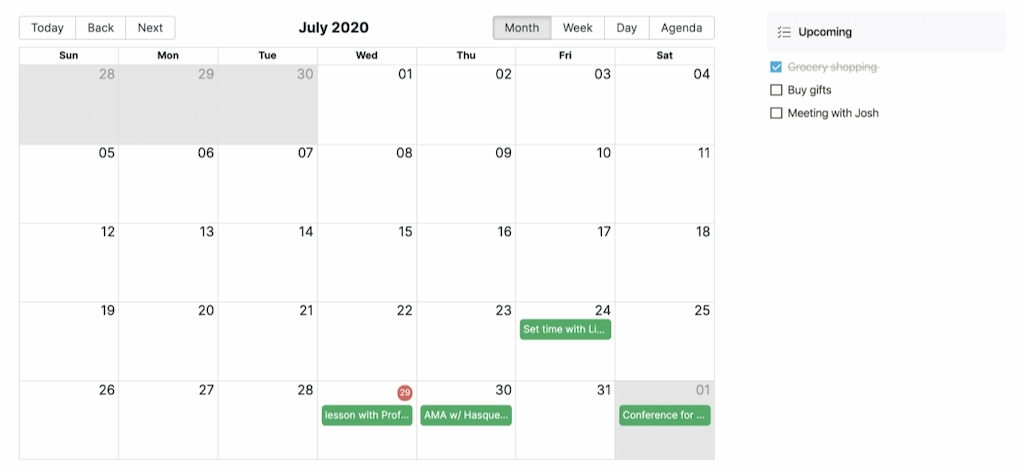 A calendar widget is a superb tool if you use Notion for planning and organization. The calendar widget Notion from Indify packs the perfect view in your Notion workspace, saving the time of referring to an external calendar on your wall, phone, or desktop.
Further, the colors of the calendar text, background, and headers can all be customized to your preferences. You can keep track of all your events. Everything will be available immediately after you add this widget, from task reminders to meetings.
The Notion calendar widget is a must-have for you if you view your calendar frequently or work with strict schedules. You can add the calendar widget from WidgetBox or Google calendar widget. If you use Google, ensure you sign into your Google account, enable permissions, and properly add the widget.
Clock Widget Notion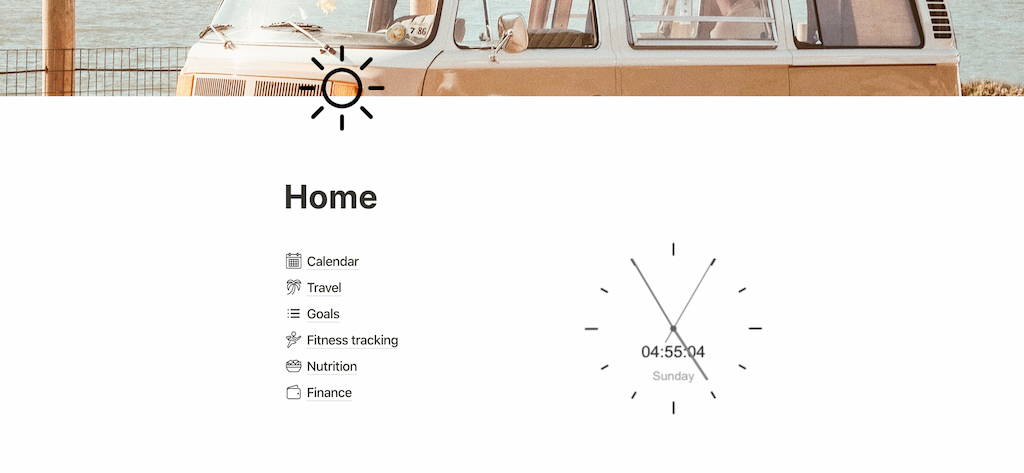 A Notion clock widget takes your tasks to the next level. With the growing work-from-home culture, it is even more critical for people to manage their time better with a time clock app or widget. In addition, deadlines and other schedules mean that you always have to be conscious of time, especially when you have multiple clients. These reasons make it necessary to have a widget clock inside Notion.
Further, you can customize the clock widget Notion to match your preferences. A digital clock has many aspects you can use, including changing the time zones, having fun alarms, and much more. Indify and WidgetBox Clock are some of the options you can choose.
You can also use it alongside a work hours tracker. This makes sense for teams using Notion as one of their work tools.
Weather Widget for Notion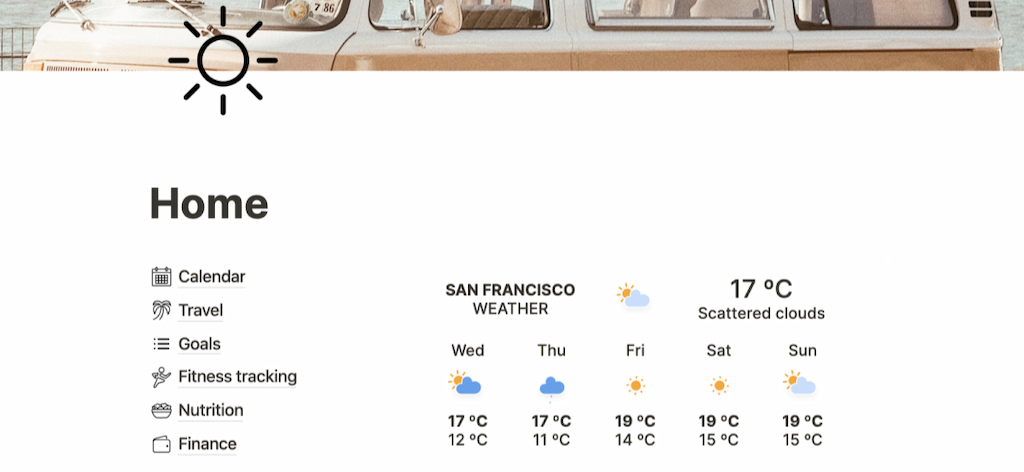 The weather conditions often go unheralded, but they are essential nonetheless. Almost everyone checks to see if the weather is favorable the next day. However, it can be frustrating to open your phone multiple times. For this reason, beautiful and functional weather widgets provide updates right on your Notion page.
The best part? You don't have to leave any Notion page. Animations and other impressive aspects of the widget add some entertainment. While waiting or checking for incoming forecasts, you get treated to a mini-show. Top examples include weather widgets from WidgetBox, WeatherWidget.io, and Indify.
The Pomodoro Widget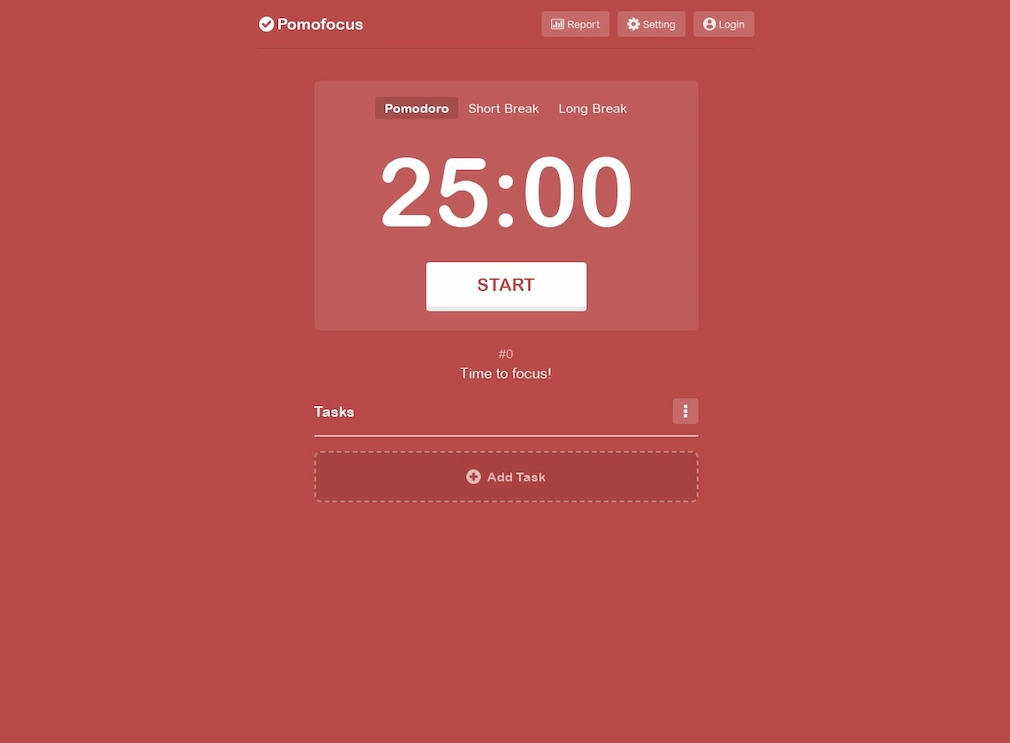 Firstly, the Pomodoro technique is one time-management method that has stood the test of time. If you're reading about it for the first time, it is a method wherein people use slots divided into 25 minutes to work, followed by a 5-minute break. The Pomodoro widget is a great choice if you're looking to boost productivity without using a challenging app.
If you work daily on Notion, this widget should be close to you. So add it and try working in 25-minute bursts. Also, Pomodoro comes with different customizations to boost efficiency, including apps that combine well with the widget. You can also get suitable Notion Pomodoro widgets from Flocus.io, StudyWithMe.io, and Pomodoro Tracker.
Calculator Widget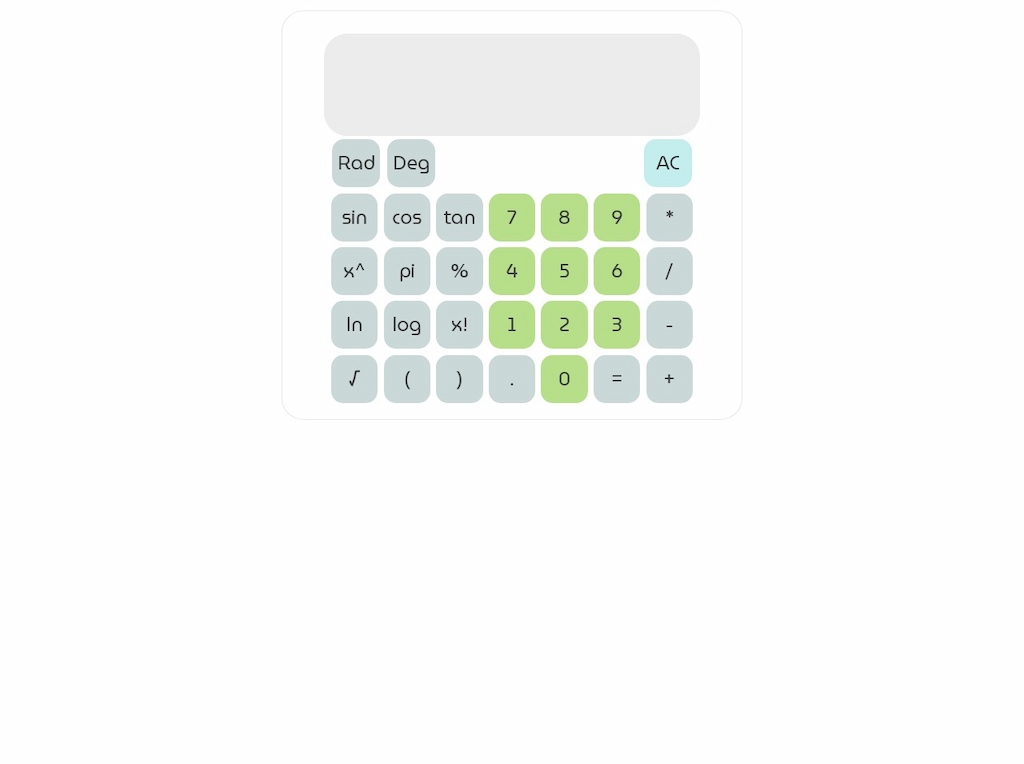 Having a calculator embedded into your workspace is essential, especially for freelancers and other work-from-home experts who have to calculate project costs. Having a widget for Notion means you do not have to take a peek outside your Notion page.
A calculator widget for Notion gets embedded into your dashboard to help you deal with quick calculations. And you don't have to open up your phone for every calculation. It gets more interesting! The calculator widget has attractive buttons and colors to make your work worthwhile.
Twitter Widget for Notion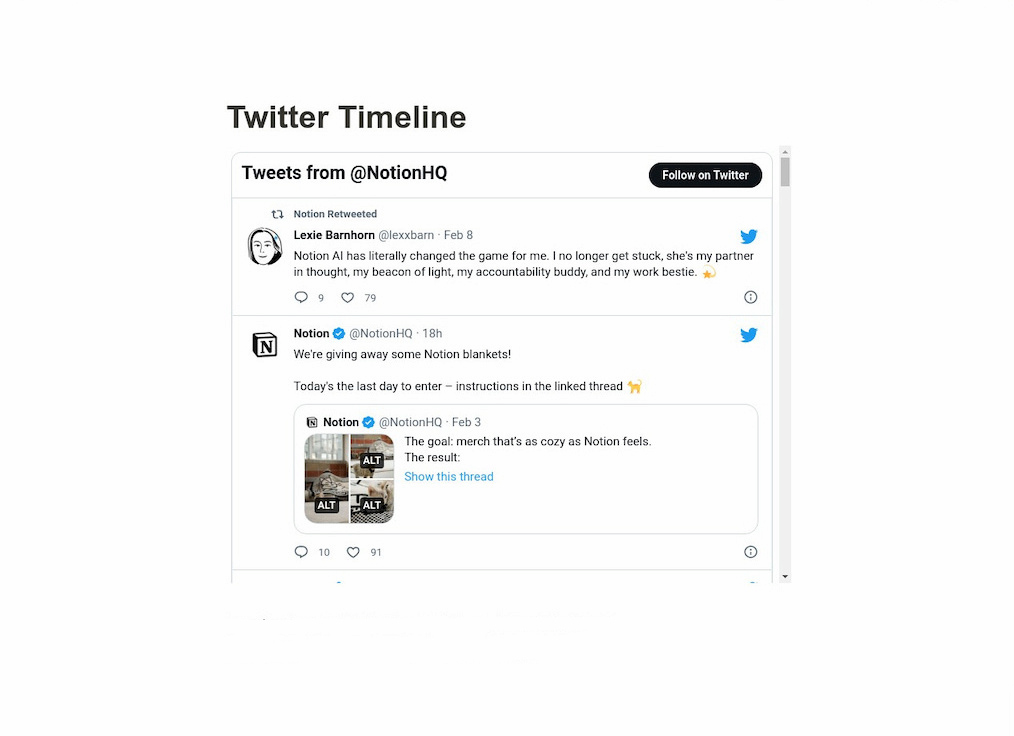 It's challenging to stay focused when social media creeps into your work schedules, but almost everyone pauses to check some trends and live feeds. Twitter is one tool with millions of users posting per time. So if you have to check updates on Twitter, you can at least do it correctly.
Whether you want to watch the news, check updates from your favorite celebrities, or game, Twitter feeds can be integrated into Notion. This widget can help you add any Twitter timeline to your Notion page. Just visit the Twitter widget page and follow the instructions. You will also find a live widget demo to help you understand how it works.
Google Trends Widget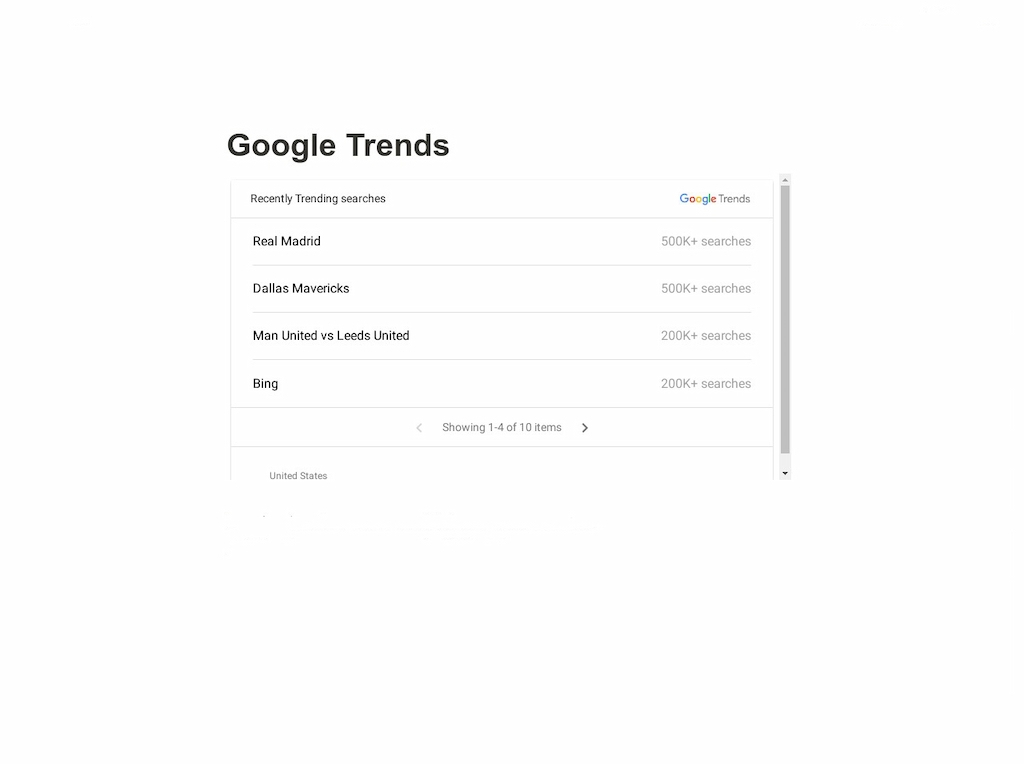 Much like Twitter, this is one of the best Notion widgets around. The Google trends widget provides a professional touch and helps you stay updated on general news. In addition, it is more suitable for a content creator who wants to embed it into their Notion page. So if you're fond of using Google, get the Google trends widget for better productivity.
The Google Trends widget will help you track the most searched keywords on the search engine giant. Depending on your country of choice, the widget will provide a list of searches, search volume, and other information in Notion. However, ensure that you adjust the country before you add it.
Daily Quotes Widget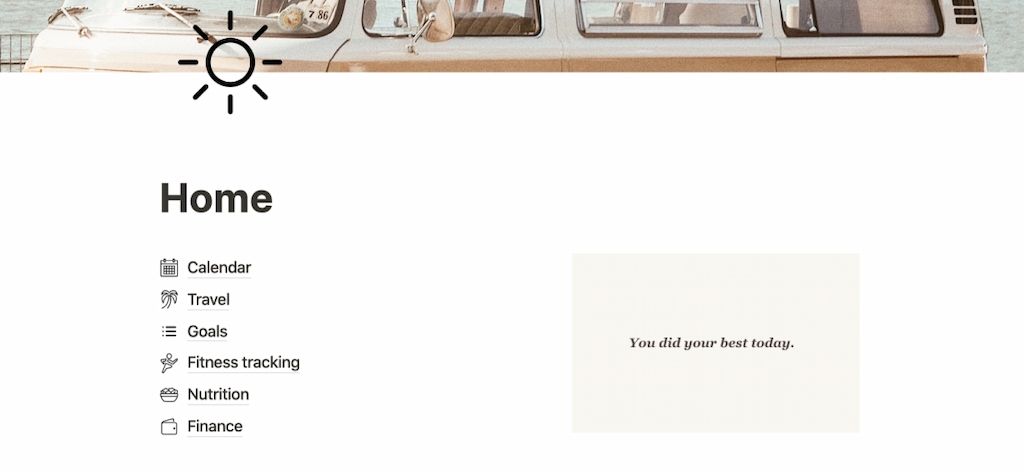 You may have seen a laptop computer with flashes of quotes or words of wisdom at intervals. Well, this isn't about laptops, but the Daily Quotes widget does almost the same thing for you, only that Notion provides the base this time. So if you're a Notion user with a strong desire to have a bit of motivational wisdom by your side, the Daily Quotes widget is the perfect widget for you.
Quote widgets hardly come with just quotes to keep you going. They also have images that bring your Notion page to life. For example, you can add the Daily Quotes widget from WidgetBox or Indify to your Notion and enjoy various daily quotes. Also, these widgets are updated daily with new quotes, meaning you get to see fresh content every day.
You can choose beautiful images to accompany the quotes as well. For example, aesthetic quotes offer unique images you can enjoy alongside daily quotes. Just embed this widget into your Notion dashboard or document, and you are all set.
Buy Me a Coffee Widget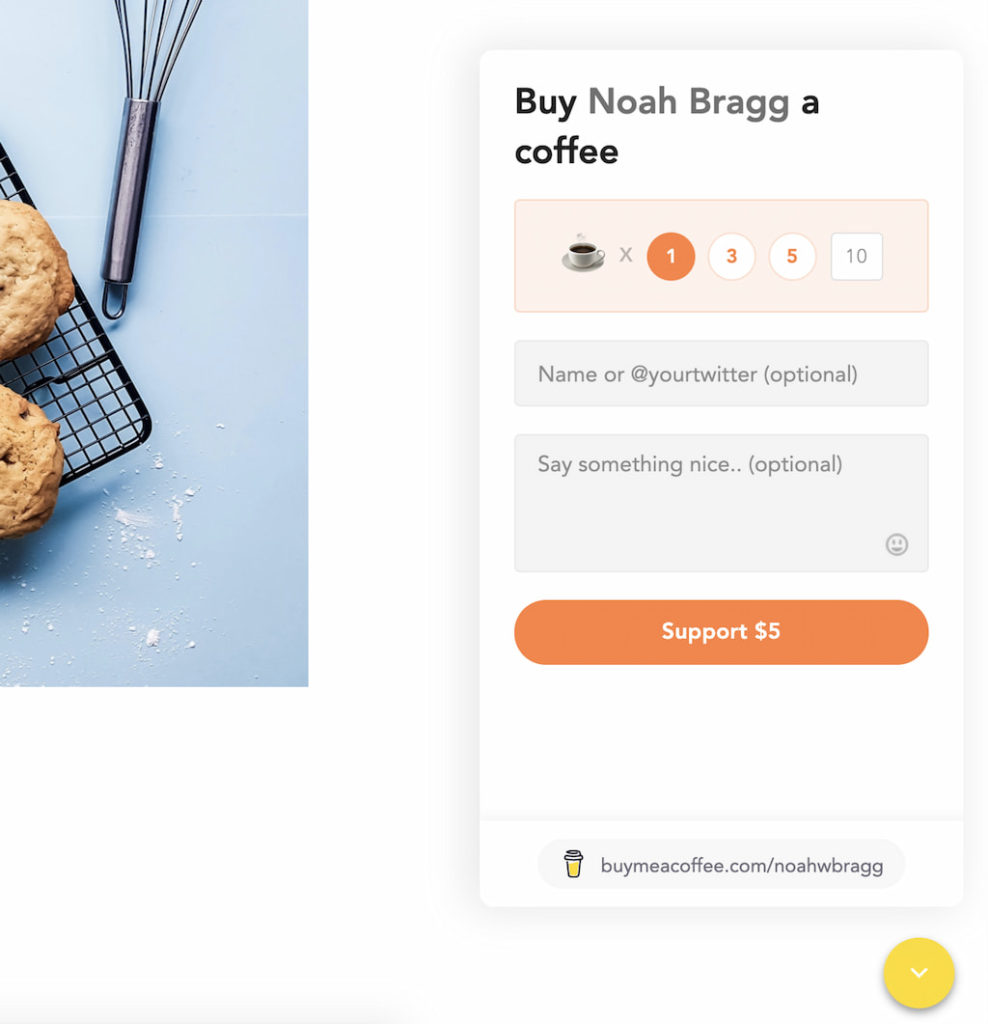 Now and then, you or someone you know may have to solicit some help. It is only natural as human beings to seek support, especially when creative works are involved. This will help keep the job going and give you a platform to showcase your talent.
As a creative professional looking to promote their work or help others, the "Buy Me a Coffee" is the most suitable Notion widget for you. The widget allows you and other users to collect small donations through their Notion dashboard.
The Buy Me a Coffee widget helps collect payments while settling your art, accessories, and other creative services.
Ambient Sounds Widget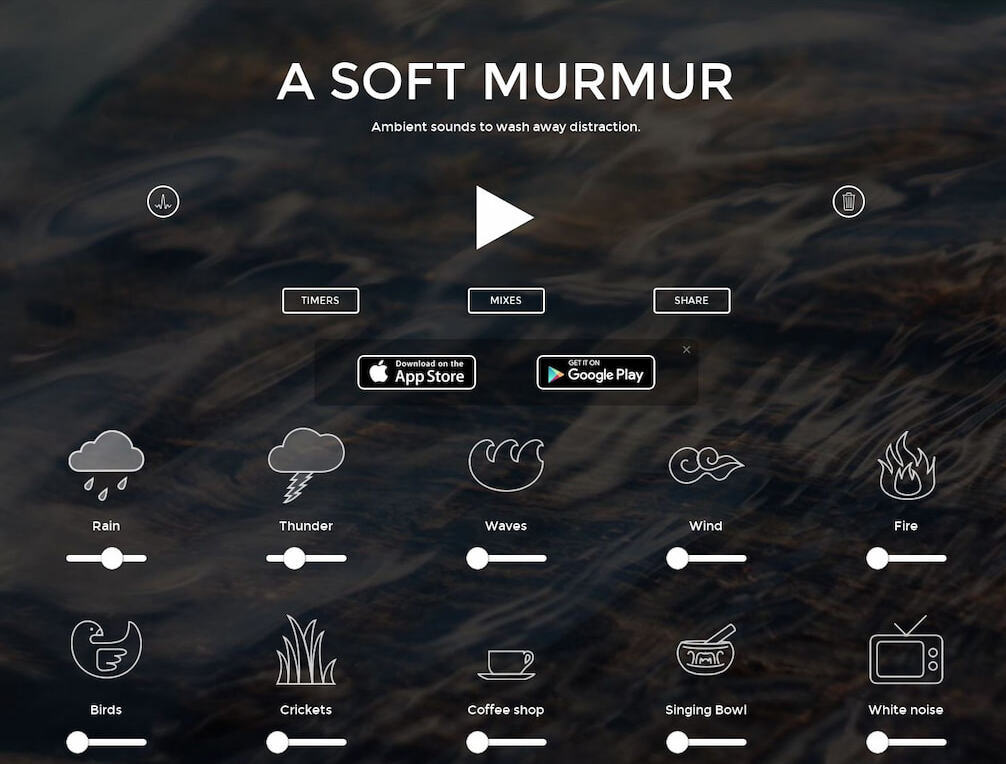 The Ambient Sounds widget comes with the tranquility of the outdoors. It brings that feeling close-up and personal so that you don't have to fuss about heading outside. Generally, it features calming sounds of rain, rustling trees, and nature.
Whether you're working or need a moment of peace and relaxation, these sounds will help you find comfort. There's a website called 'A Soft Murmur'; it has various ambient sounds you can choose from, ranging from rain and coffee shops to other sounds. These sounds are perfect for washing away distractions. Try to embed it into your Notion workspace.
Conclusion
These widgets for Notion are primarily free from complications, and they are designed to help you maximize productivity through any process. Even if you get tired of some widgets, you can always integrate others into your Notion page.
Whether you want sounds, images, greetings, social media feeds, and more, you can enjoy each of them in the comfort of your home. That's why widgets almost always feature in the lives of those that work from home. That said, pick what's best for you and fits your business/work.
Even though a platform like Everhour does not have a set Notion widget, it offers the best Notion time tracking services, thanks to its Notion time tracking integration. Use it to stay on budget, analyze reports, monitor employees, and automate payroll.