Notion Weekly Planner: Streamline Your Productivity and Stay Organized
Maria Kharlantseva, May 19, 2023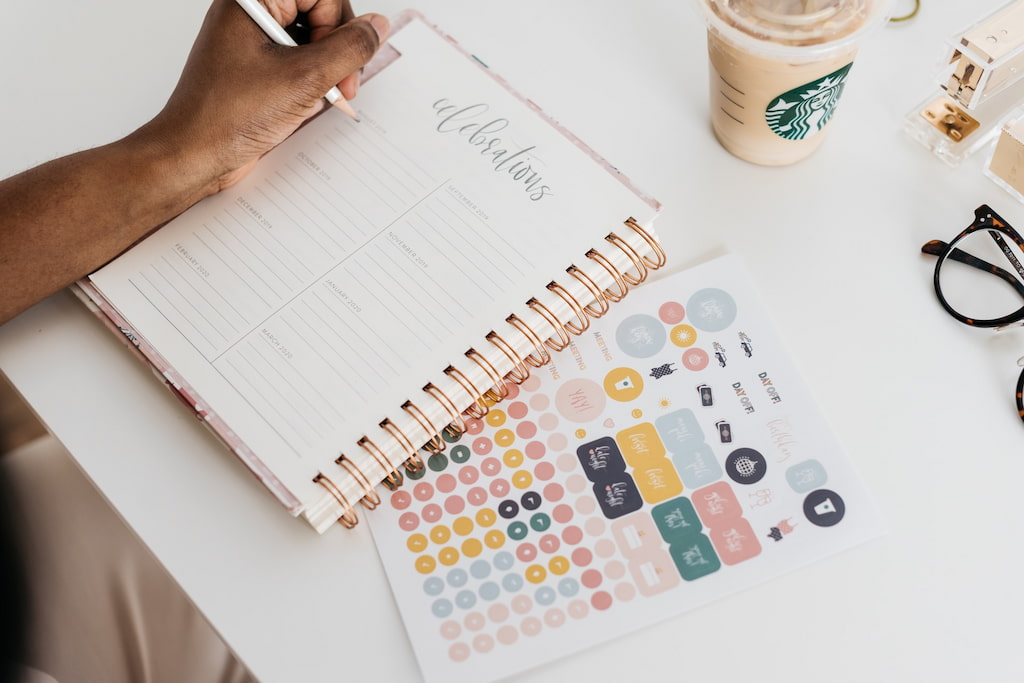 Notion is an all-in-one workplace tool that can do wonders for your productivity. The tool can be integrated with all other applications you and your team might be using. For instance, you can implement a Notion time tracking integration using time tracker apps like Everhour or manage tasks via ClickUp.
However, one of the most useful features of the Notion app is the weekly planner. With the weekly planner feature, you don't have to worry about which tasks you need to perform on certain days. Instead, you get to view all the tasks laid out for the week, prioritize them, and accomplish them in time.
One of the best parts of this tool is that it comes with tons of Notion templates. If you know how to effectively use the Notion weekly planner template, you can create customized weekly plans for yourself and your team in a matter of minutes.
In this article, we will take a look at the different types of Notion weekly planners, what form can they take, why they are useful, and how you can start using them. On top of that, we'll look at a couple of Notion weekly planner templates available on the app that can make planning your week even easier.
🧱 Notion Block Type Weekly Planner
The block-type weekly planner is the most popular Notion time tracking format on the app. This is the simplest and most straight-to-the-point planner, which is why it's the most common format for aesthetic planner templates. It's a pretty bare and simple planner, which allows for a lot of customization based on your needs.
While this is a simple and easy-to-understand format, it's not perfect. Compared to database-driven planners, this type of weekly planner isn't as flexible and lacks the important details you might find in database-driven planners.
In this format, the days of the week are divided into headings. From there, users can add columns below the headings that contain the tasks you or your team need to accomplish throughout the week. This makes it easy to determine which tasks have been completed, are due very soon, or are due later in the week. That way, you can organize and prioritize tasks accordingly so you and your team never miss a deadline.

When the week is over, you can simply delete all the items on the to-do list and make a new one for the upcoming week. Or, if you have similar tasks to accomplish the next week, you can use the previous block-type Notion weekly planner as a template.
With all that being said, here are the pros and cons of using Notion's block-type weekly planner.
✅ Pros:
Easy to use
Easy to understand
Neat and simple layout
Tons of great aesthetic templates available for this type of planner
❌ Cons:
Not that flexible
Lacks a lot of the features you can find on a database-driven planner
📚 Notion Weekly Planners Based On a Database
If you wish your daily tasks for the week to be more detailed and informative, you can use a Notion weekly template based on a database. This is the preferred option for the large majority of professionals as it can be really easy and straightforward to use while being able to squeeze in every last piece of information you or your team need to know before starting work. That being said, you need to know how to set it up properly, while still maintaining a lot of detail if you know how to set it up properly.
As you might already know, these types of weekly planners are formulated around a database, which is one of the Notion's key features. You can think of a database on Notion as filing cabinets that contain tons of information and data.
For example, you can have a Notion database filled with different Excel sheets and documents that relate to a larger plan. Then, when you build a weekly plan with the database, you can allocate every single piece of information (excel sheets or other) to that specific task.
You can even relate the planner to other databases for even more convenience. This is great if you deal with multiple teams or clients, as it makes it much easier to group your tasks and lay them out in a clean and concise manner.
On top of that, you can make a weekly planner based on a database and view them in different ways. For many people, the best ways to view these planners are in Kanban, Calendar, or table view. There are tons of Notion weekly templates available for database-style weekly planners and could be a much more convenient way to plan out your week.
That said, there are still some kinks in the Notion weekly database planner. It offers a lot of functionality and is pretty easy to use. But it's pretty obvious that there are some developments that need to be done before the planner can reach its full potential.
✅ Pros:
Can add more detail to each task than the block-type weekly planner
You can link different databases together
Offers a lot of clarity
You can view the plan in different ways
❌ Cons:
Can be confusing at first
Not all the data fits on one page
---
💬 Weekly Agenda Planner
Another way you can plan out your week is through a weekly agenda template in Notion. The Notion weekly schedule templates and agenda features offer a really quick and easy way to plan out your week.
With the weekly agenda Notion template, you get a zoomed-out view of the week. Though doing this doesn't offer that much detail on each task you need to do, it still offers a great overview of what needs to be done during the week. This feature is an upgrade to the current calendar feature, which allows you to view the task from a bird's-eye, allowing you to get more perspective of what's to come in the next 7 days.
Recently, Notion made it so that you can now focus on the different weeks of the month and view them in more detail. This is a great feature for project managers as it allows them to look at both the bigger and the smaller picture in a matter of seconds, which is very important when you're planning out tasks or projects across big or multiple teams.
This also solves one of the biggest complaints about the monthly Notion agenda template: it was a bit too general. Notion fixed this not only by adding the weekly agenda view, but it tackled the issue by introducing new Notion weekly agenda templates, that offer a quicker and easier way to plan out the week.
If you're managing a fairly large project and you need to be able to view the plan with more detail and from a broader view, this is one of the Notion planners you definitely need to pay closer attention to.
---
📅 Notion Weekly Planner Based on Weekdays
If you include the weekend in your planner, then there's a high chance you'll end up assigning tasks on your day off, which is why using the weekly planner that is solely based on weekdays is a good idea.
And while there's nothing wrong with putting in a bit of work when you're away from the office, this isn't the best approach for a lot of people. Most people work their best when they have the right amount of rest and breaks in between tasks.
So, if you base your planner on weekdays online, you get a more organized view that can reduce the chances of you assigning tasks on your rest days. This feature gives you a kanban-like board view of the tasks at hand, which is very easy to read and understand.
The biggest advantage of using this feature is that you get a clear and simple view of all the tasks you have to finish within the week. However, this is also far from a perfect type of planner and it has some flaws.
To start, this type of planner is a pretty large table, so it won't fit on one page. This can remove the convenience factor for a lot of people. On top of that, this is a recent weekly planner Notion template, and it requires some additional development in order to become a great asset.
But if you need a quick and simple way to view the tasks at hand for the week, the weekly planner based on weekdays is a great place to start.
---
💡 Use Notion Weekly Planner Templates to Simplify Your Day-to-Day
The Notion weekly planner is one of the best features of the app. Being able to view your weekly schedule in Notion weeks in advance with the different tasks you and your team have to accomplish each day is a great way to stay on track and complete your projects within the desired deadline. On top of that, you also have a bunch of options when it comes to how to set up the planner, giving you even more control.
But if you want to simplify the process further, you can try using the different Notion weekly planner templates available in Notion. This allows you to create a customized weekly plan that works best for you and your team while aesthetics and functionality meet perfectly in the middle. Here are some of the top Notion Weekly planner templates you can find on the app to make things much easier for you.
All-in-One Planner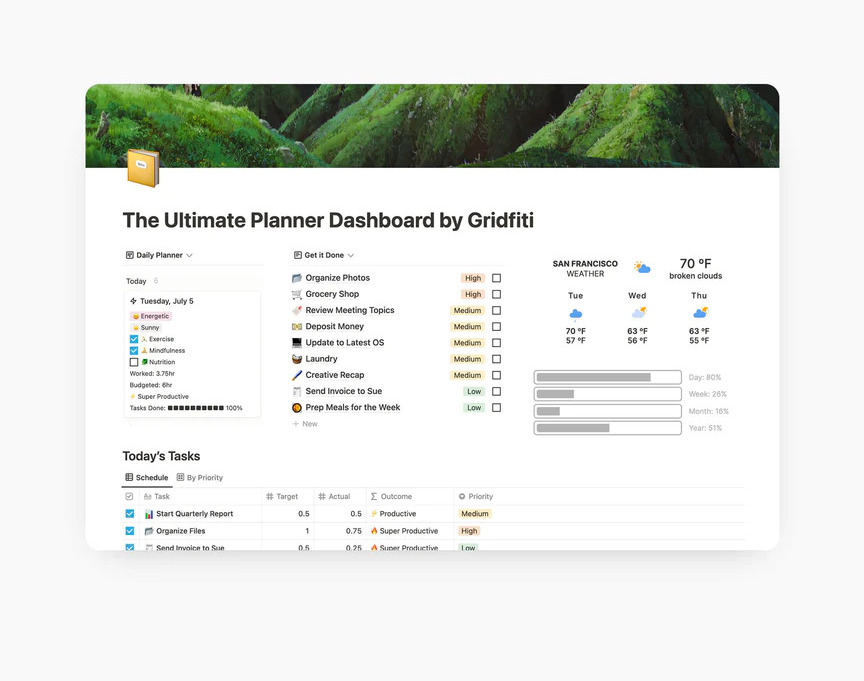 The all-in-one planner is really easy to use, but also contains tons of data and information that can guide you throughout your week and give you a much easier time handling your workload.
The reason this template works so well is that it has daily, weekly, and monthly plans. So, you can outline larger monthly goals and things you need to accomplish and break them down into smaller tasks that must be done throughout the days and weeks of the month.
With this planner, you have everything available to you on the dashboard. This makes it easy to expand and view different tasks and projects while also taking a look at the more specific daily and weekly schedules.
This template even has a cool productivity tracker to check if you're up to speed with your productivity goals for the week or the month. And with this planner, you can create a whole plan in a matter of minutes, saving you tons of time which you can then use as you find best.
Simple Essential Planner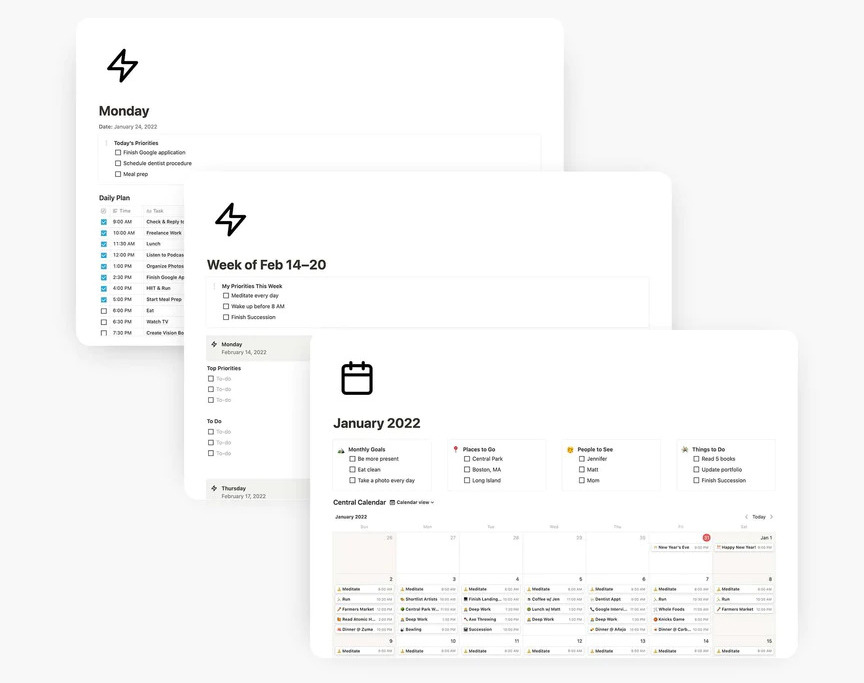 If you're looking to save money on a template that can still do the job, this Simple Notion weekly planner template is a great idea. It's one of the most affordable Notion weekly planner templates on the platform and contains all the essentials.
Basically, this is a block-type Notion weekly planner template. Granted, a block-style planner does have its shortcomings, but it also has a lot of advantages. To start, this is a very simple and easy-to-understand planner. This allows you to get a quick and easy overview of the different tasks at hand that you will have to finish on any given day of the week.
Additionally, you can still plan out the weeks, months, and workdays ahead. There is a weekly, daily, and monthly view with this planner, which is a great feature as it allows you to zoom in and zoom out of your project to see the smaller or the bigger picture.
On top of that, you can also set monthly goals that you can strive towards every month, which can help keep you focused and aligned, even when things get busy.
That said, we still understand that this is one of the bare-bones templates on Notion. This isn't ideal for people who need highly detailed plans to share with the team or with their workmates. However, for simple personal weekly planner needs, this template offers some of the best value available.
Manifest Weekly Planner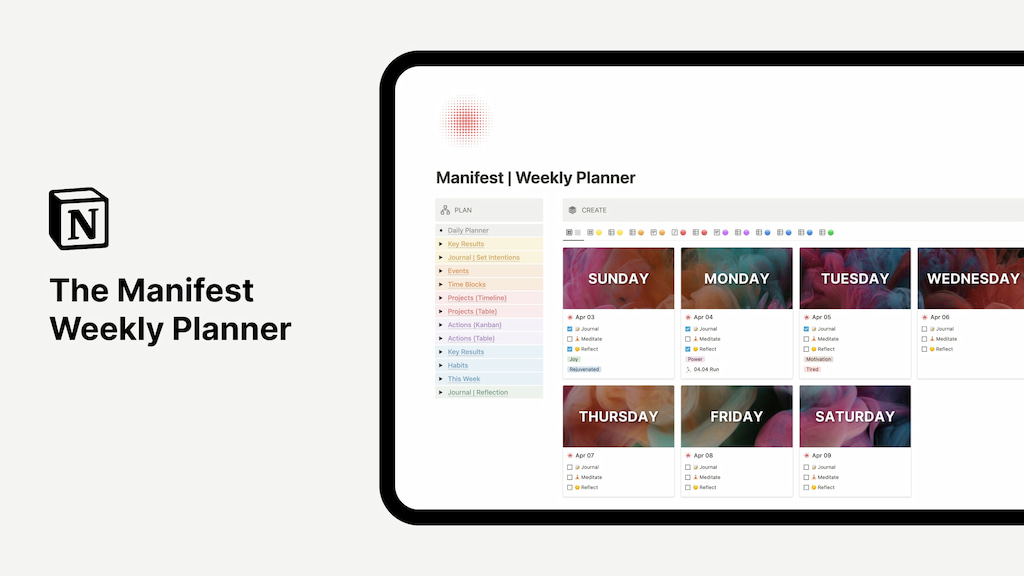 With the hustle and bustle of modern day life, it's pretty common for people to get burned out trying to accomplish every task at hand. And if you don't organize and schedule the tasks properly using a work hours tracker, the chances of burning out get higher.
This Manifest weekly schedule template in Notion helps you minimize the risk of burning out at work as it even incorporates databases to make things even simpler.
We've already gone over the benefits of using a database Notion weekly planner. And while most of the aesthetic planners are made for the block-style planners on Notion, this is one of the templates available for database planners that can make things even simpler for you.
With this Notion weekly planner template, all of your databases are one click away. This means you can easily jump to a different database to view the files and documents that you stored. It also allows for weekly, daily, monthly, and quarterly views which is great at providing you with much-needed perspective on the progress you and your team are making.
This is definitely one of the standout templates on the Notion platform and is definitely worth your time. If you're looking for an all-in-one aesthetic weekly planner template that incorporates databases, this is the one for you.
---
❗ In Conclusion
Notion is a comprehensive workplace tool designed to improve productivity by keeping you and your team more organized. And one of the best ways it does that is through its various weekly planner templates.
While taking things day by day is fine, weekly planning allows you to have more of an overview of your tasks, giving you much more control and organization. This is particularly beneficial for those large multi-stage projects that don't take one or two weeks to complete.
So, if you want to keep yourself and your team on track in the most productive and effective manner, make sure to try out one of the many Notion weekly planner templates available.