Upwork Competitors Breakdown: 14 Sites Like Upwork for Businesses & Freelancers
Mike Kulakov, June 2, 2023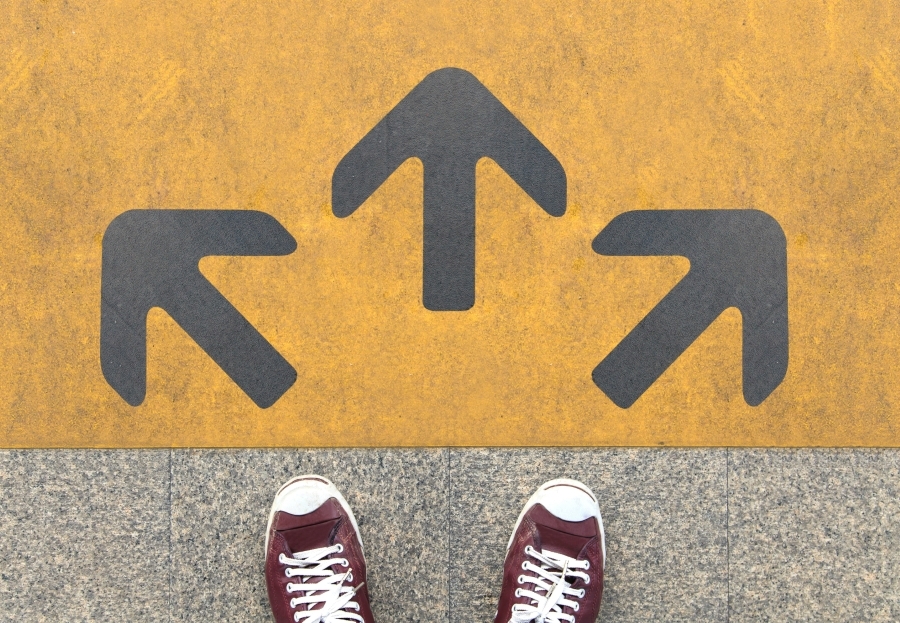 Over the past few years, Upwork has rapidly scaled the market to become what it is today: one of the largest freelance platforms on the planet. Due to its remarkable success, multiple new Upwork competitors are emerging, in addition to established and well-known platforms for freelance work. In this article, you will learn:
✅ Upwork's strengths, weaknesses, and issues;
✅ What do websites like Upwork offer to compete against it (for example, Upwork time tracking);
✅ Which Upwork competitors to turn to with your specific needs.
---
Top 5 Upwork Competitors in 2023
The main strength of Upwork is the impressive number of companies, entrepreneurs, and freelancers who support it worldwide. To a large extent, this is due to the three key factors:
💸 payment protection (= secure cooperation for both parties);
👨‍💻 a user-friendly interface;
👥 an efficient support team.
The platform's growing popularity resulted in a self-amplifying effect: the more companies bring their projects onto the platform, the greater the number of freelancers who come looking for work, the easier it becomes for companies to find vetted freelancers to entrust their projects. And the more companies will take their business to Upwork.
So, what do websites like Upwork offer to compete against this? Below you will learn what are the five most popular Upwork competitors, and how they compare to the giant of the industry!
---
1. Fiverr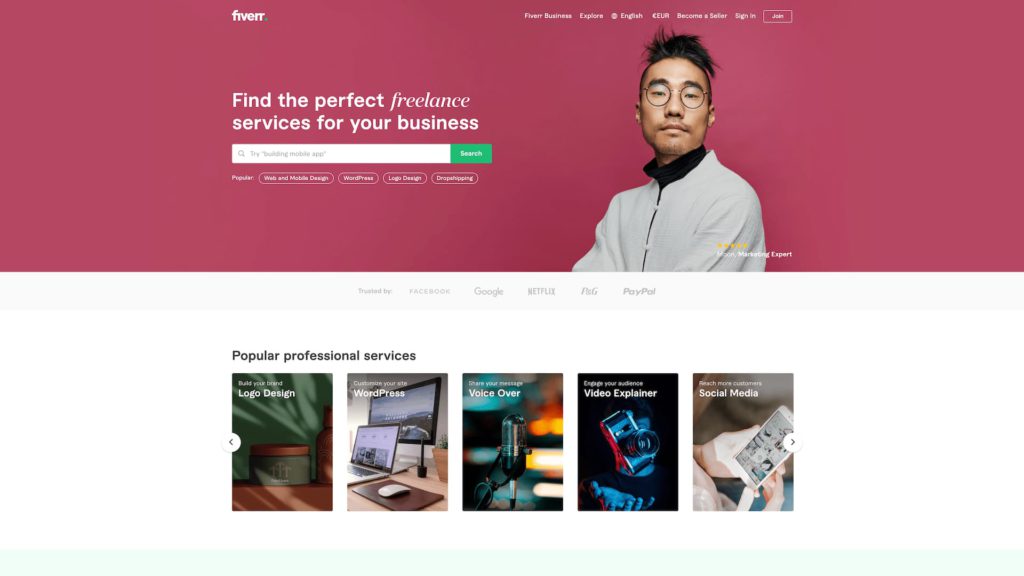 Fiverr is one of the best-known independent marketplaces where small businesses and individuals can buy or sell a product or service for as little as $5 (which is what gives the website its name).
While the services freelancers offer vary widely, the most popular services are graphic design, content writing, digital marketing, and web design.
Taking into account that Fiverr is an easy-to-use website and probably the platform with the most affordable prices, it's no surprise that it attracts so many users looking for jobs and purchasing services in the low-budget category. It's perhaps the most prominent difference between Fiverr and Upwork.
There are some similarities, though. In both cases, if your goal is to grow as a freelancer and achieve a good reputation in the community, it's essential to get a good rating through the scoring system.
Pros and cons for businesses
Fiverr has a wide range of categories and subcategories. Those searching for a specific product or service can quickly and effectively locate suitable and specialized sellers in that niche.
Businesses find many different prices and choose the one that best suits them.
The Extra Fast Delivery option is available on Fiverr. Clients who need a service in a period no longer than 24 hours can opt for this method.
The percentage of well-trained sellers to perform the services they offer is low.
There are still cases of fraud in Fiverr, the most common being that the seller deceives the buyer by delivering a very low-quality product. It tarnishes the platform's reputation. On websites like Upwork, these events are sporadic.
Pros and cons for freelancers
It's an excellent opportunity to take advantage of the skills that you have and earn extra money with relatively low commitment.
It's available in any region and country in the world.
Unlike other Upwork competitors such as Guru, the freelancer doesn't need to apply to a particular project. Buyers come to you if they're interested in your product or service.
The competition to get the first projects is fierce. Some freelancers never manage to win a client.
The 20% fee discourages freelancers, especially considering that the projects are usually small to begin with.
Once you deliver your project, you will not have the money in your pocket until 14 days later, which is a long wait.
🎓 PRO TIP. Fiverr is about fixed-price projects. For hourly projects, you might need the best time tracking app to record the hours you've rendered and the proof that you are working on the project. While Upwork has a native desktop app, which you can use to log your time, these features are missing in other tools. If that's important for you – try using Everhour.
2. SolidGigs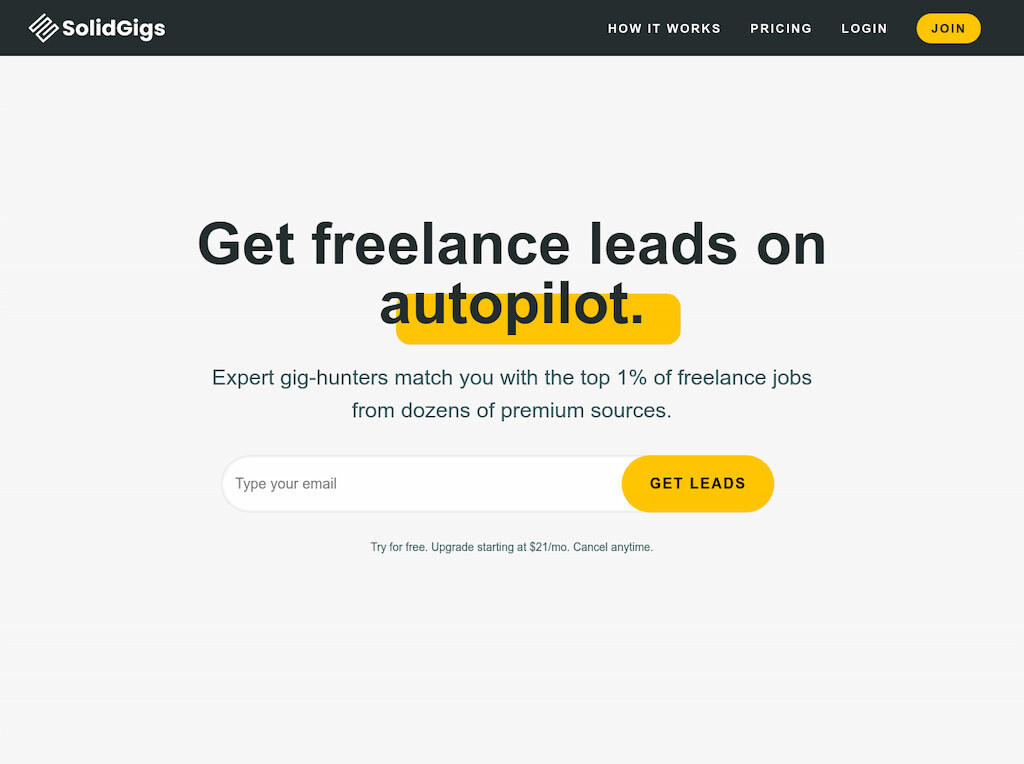 If you feel like you spend way too much time searching through sites like Upwork and other Upwork competitors, then you should sign up for SolidGigs. SolidGigs isn't a marketplace like Upwork—which means they don't take a percentage of your client revenue. Instead, it's a lead generation tool to plug directly into your current freelance business.
With SolidGigs, you're assigned your very own gig-hunter who combs through thousands of job listings and sends you only the very best matches every weekday. That way, you save time, see the top 1% of freelance job listings, and spend more time doing work you enjoy.
Pros and cons for businesses
SolidGigs doesn't take a percentage of your client fees like Upwork or other competitors. It's just one low monthly price.
SolidGigs isn't run by robots or AI. You're connected with a real human being who works for you to find great leads every weekday.
You save hours of combing through job boards yourself every week so you can do more of the work you actually enjoy.
You still have to pitch your services once SolidGigs delivers the leads to your inbox.
SolidGigs is better at finding gigs for writers, designers, marketers, and developers. They serve other freelancers, just often not as well.
3. Freelancer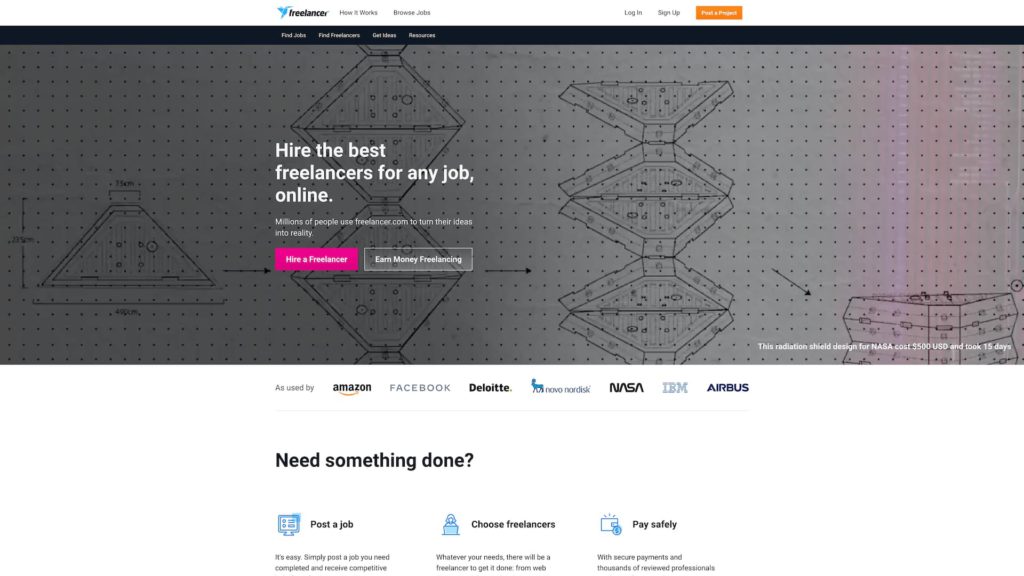 With 1800 categories and around 32 million users, Freelancer is considered to be one of the world's largest Marketplace-type platforms. During their more than 10 years on the market, they have become the go-to place for thousands of businesses and freelancers to collaborate over projects of all scales.
For freelancers, the clear key benefit of this platform is the immense offer of projects to choose from. In turn, businesses find all kinds of freelancers here, capable of doing almost anything, at an affordable price.
Pros and cons for businesses
Freelancer offers various payment systems.
Businesses with lower budgets can get more competitive prices on Freelancer as opposed to Upwork, where freelancers' rates are typically higher.
The platform includes tools such as private chat (via text, voice calls, and video calls) to communicate directly with the person you hire.
The presence of low-skilled freelancers can make it difficult to choose the right person for the job with so many profiles to review.
Hiring is slightly more expensive and additional upgrades (such as marking an offer as private, urgent, featured, etc.) are paid separately. In that particular aspect, Freelancer isn't the best among Upwork competitors.
Pros and cons for freelancers
The doors of Freelancer.com are always open to everyone. There's practically no impediment to putting your skills to use in any niche.
Freelancers are absolved from paying their fees when they bring an employer to the platform. In that case, the earnings from work done with that person will be 100% (similar to Upwork).
Customer service is good, according to both employers and freelancers.
You can withdraw your earnings in multiple ways including via PayPal, ACH, and more.
Freelancer doesn't encourage the hiree to work with the same client. Fees remain fixed regardless of the amount of money you've earned with that client.
Freelancers must pay a subscription if they want to apply for more than eight jobs in a month. That's a high barrier for beginners.
4. PeoplePerHour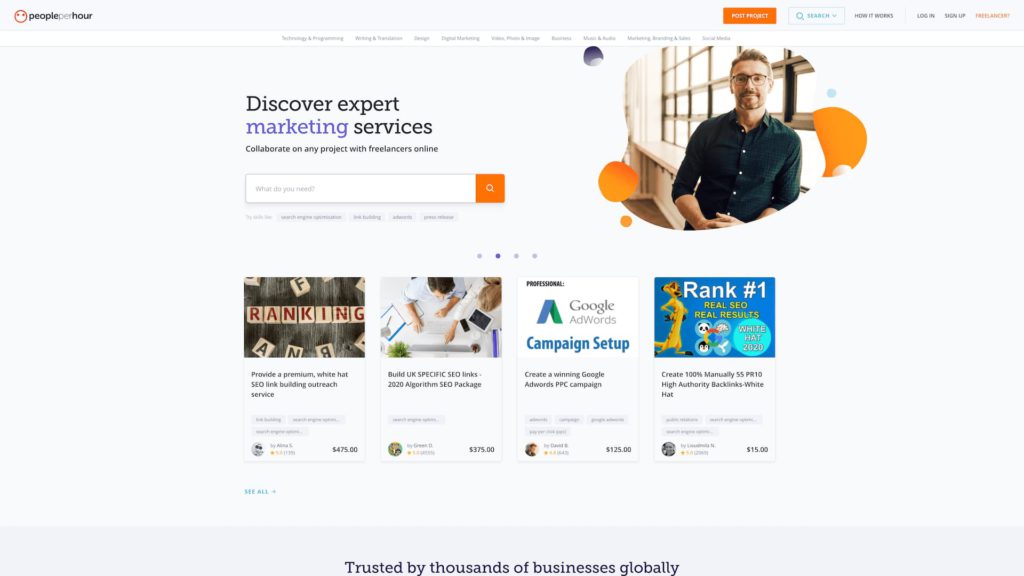 PeoplePerHour is a British platform that mainly focuses on the European market. What's truly interesting about PeoplePerHour is how they combined what Upwork and Fiverr offer within a single platform. Employers can post a job to which freelancers apply; freelancers can offer their services as gigs, which on PeoplePerHour are called hourlies.
Pros and cons for businesses
PeoplePerHour supports businesses by guiding them from the first moment. The goal is that the hirer chooses wisely from the outstanding talent pool of freelancers.
The hiring process is easy for both parties. Businesses have profiles, feedback, and all the information at hand about the candidates at their fingertips.
Posting a job is free on PeoplePerHour.
If a problem or dispute arises, customer service isn't available 24/7.
Clients often feel overwhelmed by receiving so many applications on their projects.
Pros and cons for freelancers
A high volume of jobs offered daily, giving opportunities to freelancers to choose and apply.
You can rest assured that once the client makes the deposit, you will get your money when you finish the project.
It's easy to operate the site as a freelancer, and there are applications available for Android and iOS.
You can withdraw your payment through multiple payment systems, such as Skrill, Payoneer, PayPal, bank deposits, etc.
Fees are up to 20% of the earnings, but there could still be additional charges in case of disputes.
In the event of disputes, customer service will almost always be on the employer's side.
As great as the volume of jobs offered is the demand. The competition is tough to win a project.
5. Hubstaff Talent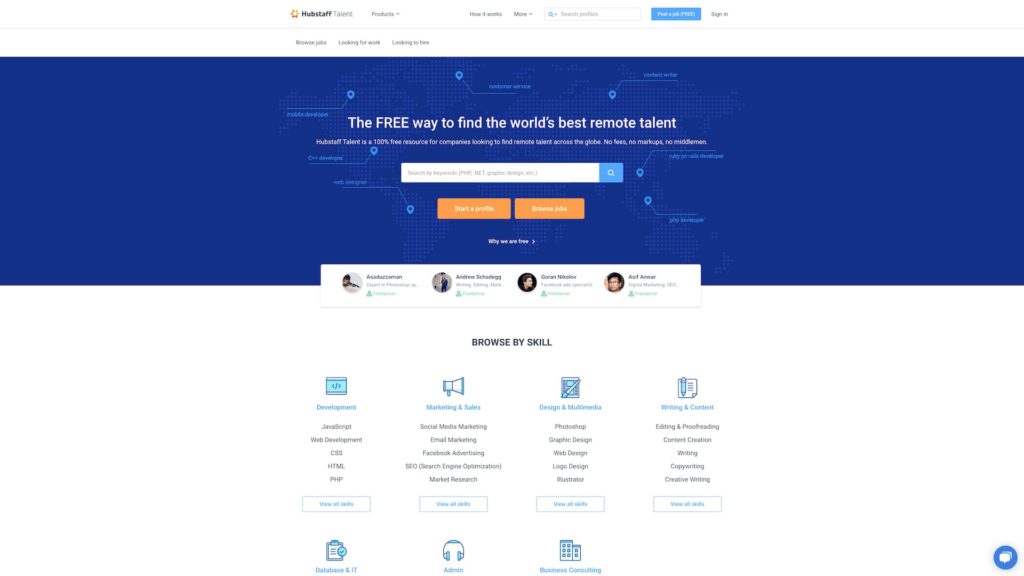 Hubstaff Talent was founded recently in 2013 to become one of the strongest platforms among Upwork competition. Its goal is to help all types of companies or individual employers choose trained and skillful freelancers from a large pool. Generally, small projects are offered on this site that can be paid for at a fixed price or hourly.
Numbers don't compare to those of the largest freelance platforms. According to the same website, as of this article's writing, Hubstaff Talent has 108K profiles registered in 100+ countries. The number of published jobs, on the other hand, is only in the lower four figures. It doesn't mean that there are no opportunities to make money on this platform, but indeed, these are not the same conditions as those offered by larger Upwork competitors.
Pros and cons for businesses
Hubstaff Talent makes all the tools for optimal customer service available, including a live chat.
It's easy to monitor and view the freelancers' activity reports.
The Hubstaff Talent application can be integrated with other apps.
The presence of highly qualified freelancers to whom you would entrust your most complex projects is still scarce.
Due to the bugs and failures in the time tracking system, sometimes there are issues with hired freelancers that may result in disputes.
Pros and cons for freelancers
As a freelancer, you're able to send personalized messages to potential clients. This improves the chances of getting the gig.
Hubstaff Talent has good filters to search for projects that most appeal to you.
No matter where you're from, if you want to showcase your skills and earn extra money, you can join Hubstaff Talent.
With the number of jobs that are available, it's a small market for now.
Freelancers quite often find interesting projects, but sometimes clients don't specify the budget. In this scenario, the freelancer will have to take the risk and invest time in applying for a job, only to later learn the suggested budget is not acceptable for them.
The time tracker has room for improvement, including options to enter time manually and to continue tracking time during a video call.
Other Niche Upwork Alternatives For Design, Content & More
Best for design
99Designs: Perfect for small and medium businesses looking for skilled graphic designers.
DesignCrowd: The best place for businesses to hire graphic and website designers from a large pool of candidates.
Best for content writing
TextBroker: Provides ongoing content writing services in line with your specific needs and budget.
Best for developers
Gun.io: Designed for companies that need short-term and straightforward projects done by skilled developers.
Toptal: Only for businesses willing to pay the top developers worldwide.
Flexiple: Perfect to choose from a large pool of talented developers with lower rates.
Best for musicians & producers
SoundBetter: Here you can find music producers, vetted musicians, and vocalists.
Melody Nest: Hire vocalists and music producers, and even graphic designers for album cover designs.
AirGigs: Ideal for businesses looking for songwriters and professional studio talent in general.
Upwork Competitors: the Bottom Line
Essentially, all these platforms pursue the same goal. However, depending on your specific needs, some sites will be better than Upwork and others not so much. Ideally, allow yourself to try various alternatives. Sometimes it's just a matter of testing until you find the best fit for your unique situation!
While there are many other Upwork competitors, we have pulled together the best of the best in every industry. We hope that you found this roundup of companies like Upwork helpful!
Ready to learn more? Check some of our most helpful articles on remote work below: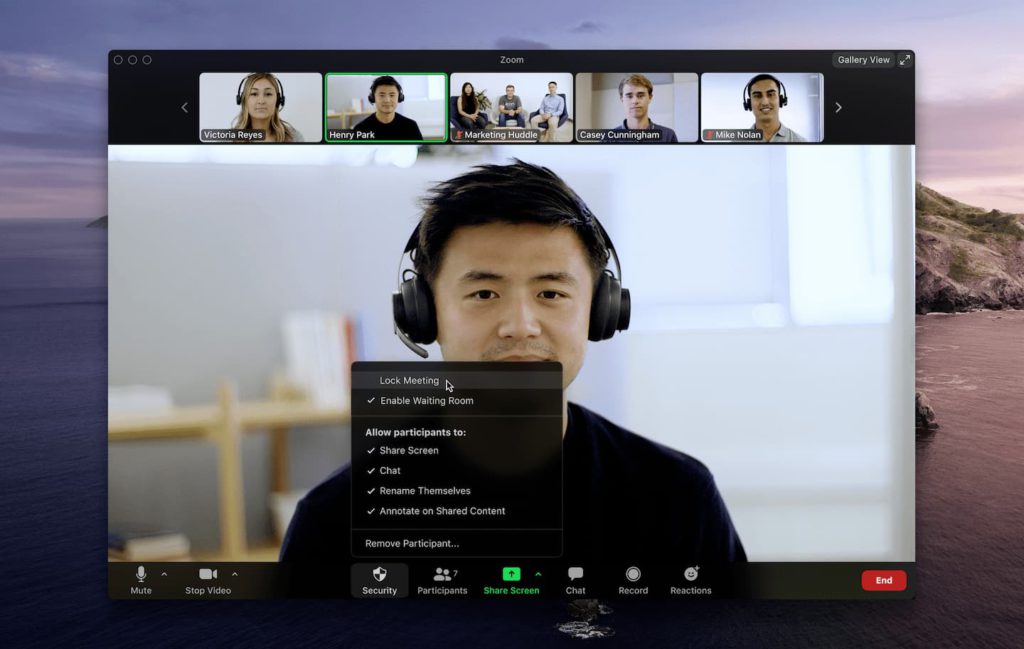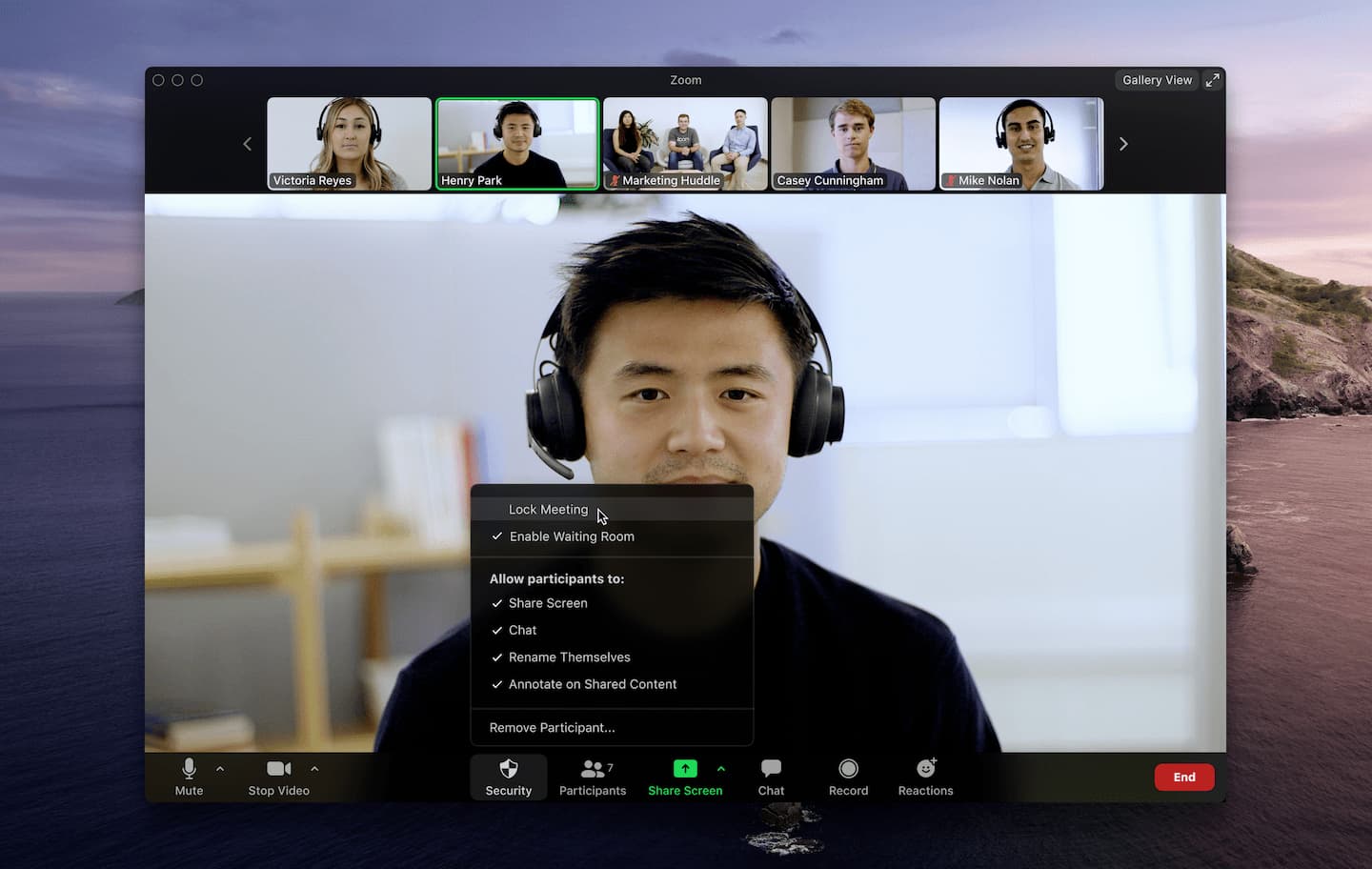 Working from home is becoming the new norm. But it's not without its challenges. Learn the techniques and methods for remote team communication that'll keep everyone on track, in touch, and ready to meet their goals.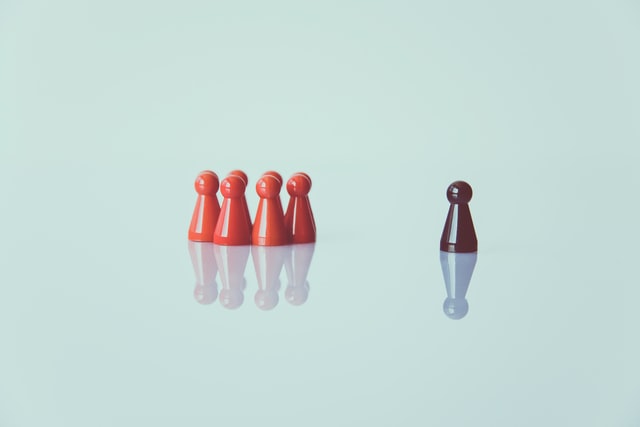 In the world of business, managers have to up their game every day to stay competitive. Those who stand out have these people management skills in common…