There are plenty of articles around trying to tell you which time tracking software is best. But it all depends on your own business needs. What is best for one business might not be best for yours. So here we will give you an overview of some of the most popular apps to see how well they perform in different areas.

TSheets, Toggl, Everhour and RescueTime are among the top options for business. But we will also look at Hours which is a personal time tracking app that can also be useful for business.

TSheets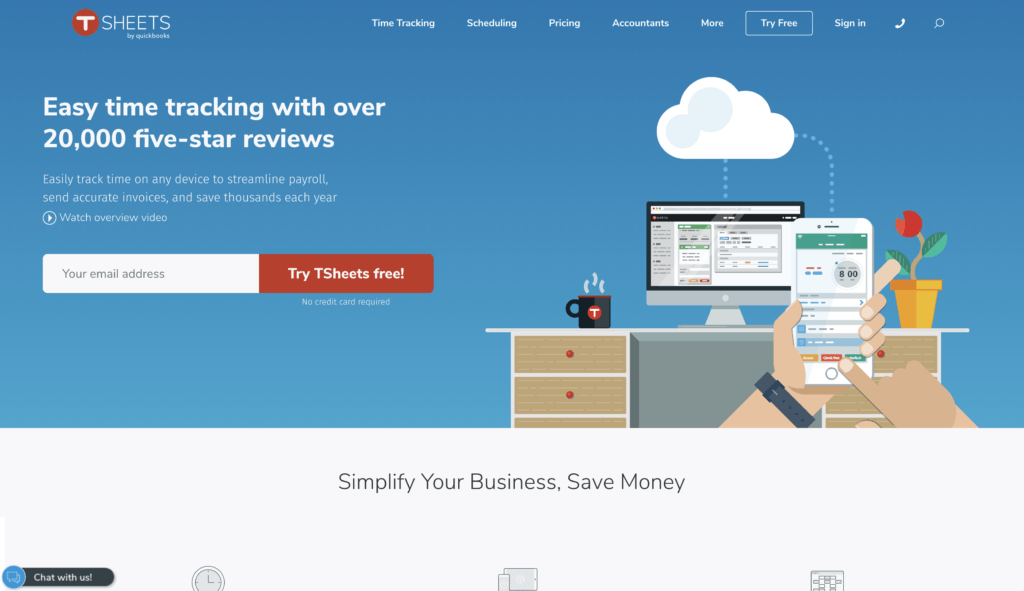 What it claims: "Easily track time on any device to streamline payroll, send accurate invoices, and save thousands each year"

TSheets is aimed at businesses whose employees regularly work out on site, such as construction and cleaning companies. The focus is very much on knowing who is where, and doing what. Tsheets accurately records clocking in and out, and notes breaks and overtime. It also tracks the location of workers using GPS.

Tsheets offer a free version but only for a single user. Teams start at $4 per user + $16 base fee per month. You can take advantage of their free 14-day trial to decide if it is right for your business before you commit.

Pros 👍
Saves time spent managing timesheets. Information can be sent directly to accounts or payroll department.
Simple and easy to use
Good customer services
Cons 🤔
Floating window can be a bit complex
Limited functionality – mostly just for clocking in and out
Doesn't integrate with a wide range of other apps
To get the most out of it you need Quickbooks
Verdict: Best for businesses just wanting timesheets logged where location is an important factor.

Toggl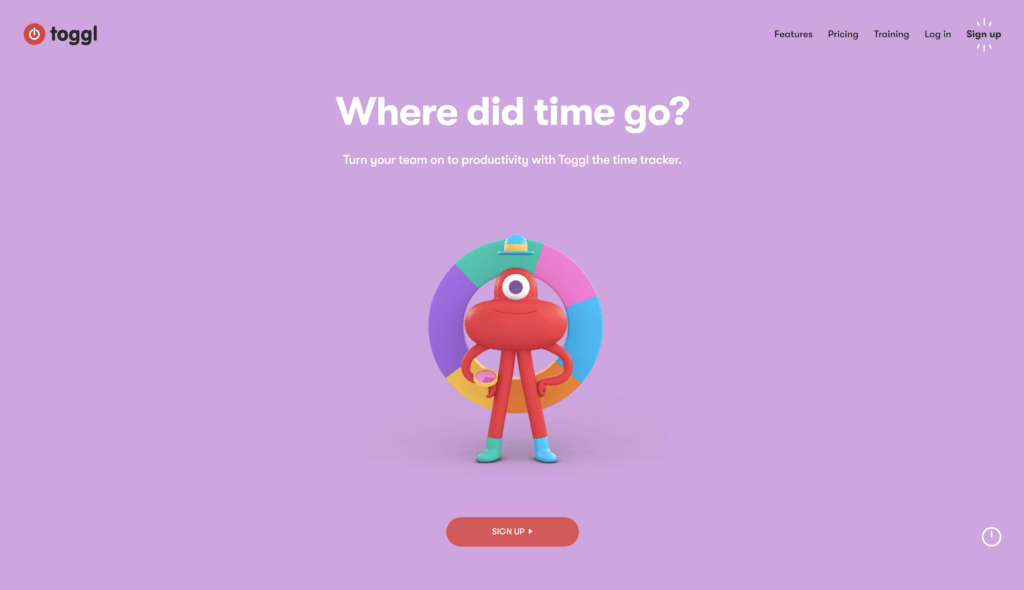 What it claims: "The simplest time tracker to help you get things done"

Toggl is a simplified version of a time tracking app offering you all the core features you'd expect. Its one-click tracking style allows you to effectively track time without the other bells and whistles.

Free plan gives you useful basic features with the paid plan starting at $9 per month per user. Offers a free 30-day trial on any version.

Pros 👍
One-click time clock app
Easy to use
Works with almost any mobile or desktop device
Cons 🤔
Paid packages more expensive than similar apps
Time is hard to analyze if there are multiple entries
Integration with accounting software not available
Verdict: Best for smaller teams and freelancers looking for a free tier and very basic functionality. Check Toggl vs Everhour comparison page.
Everhour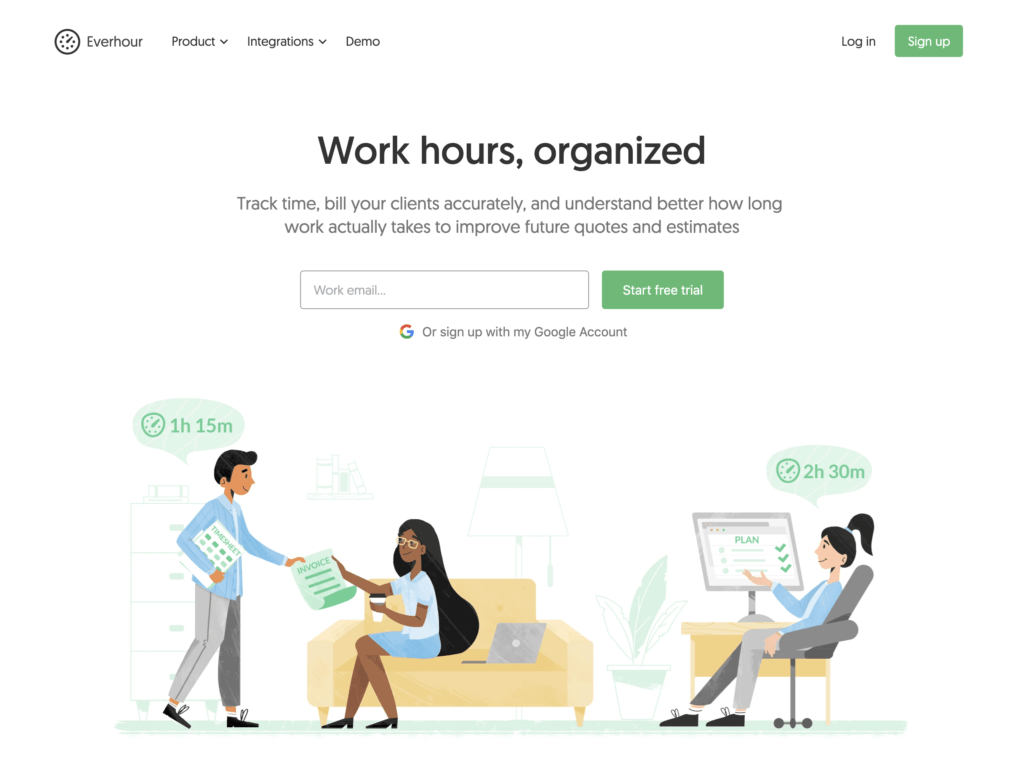 What it claims "Work hours, organized"

Everhour provides easy to use time tracking, expense tracking and reporting for businesses. Can be customized by integration with a wide range of other tools for effective business management.

Pricing starts with $7 per month per user. Minimum of 5 users.

Pros 👍
Cons 🤔
No free plan
Teams of 2-4 still need to pay for a minimum of 5
No screenshots, keystrokes and apps tracking
Verdict: Best for businesses of more than 5, needing a customizable tool integrating time, expenses and project management options. The best choice if you are looking to integrate the time tracker directly into your project management system, such as Asana, Trello, Basecamp or Jira.
RescueTime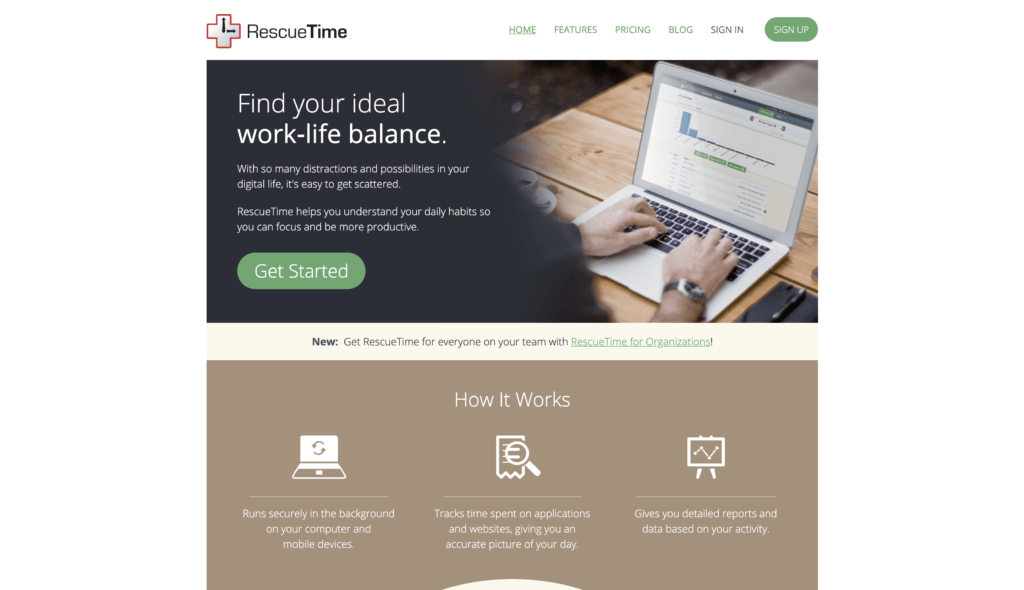 What it claims: "Helps you understand your daily habits so you can focus and be more productive"

RescueTime runs in the background and tracks how much time is spent on different apps and websites. Allows employers to ensure that work time is not being wasted. It can also block selected websites.

Lite version is free and offers basic useful features. Premium is $9 per month

Pros 👍
Fully automatic and runs unobtrusively in the background
Provides proof of work to ensure payment is accurate
Useful for improving personal productivity
Cons 🤔
Data isn't categorized
You cannot bill and report to clients
Employees may feel they are being spied on.
Verdict: Best for employers concerned about how work time is being used, or individuals wanting to use their own time more effectively.

Hours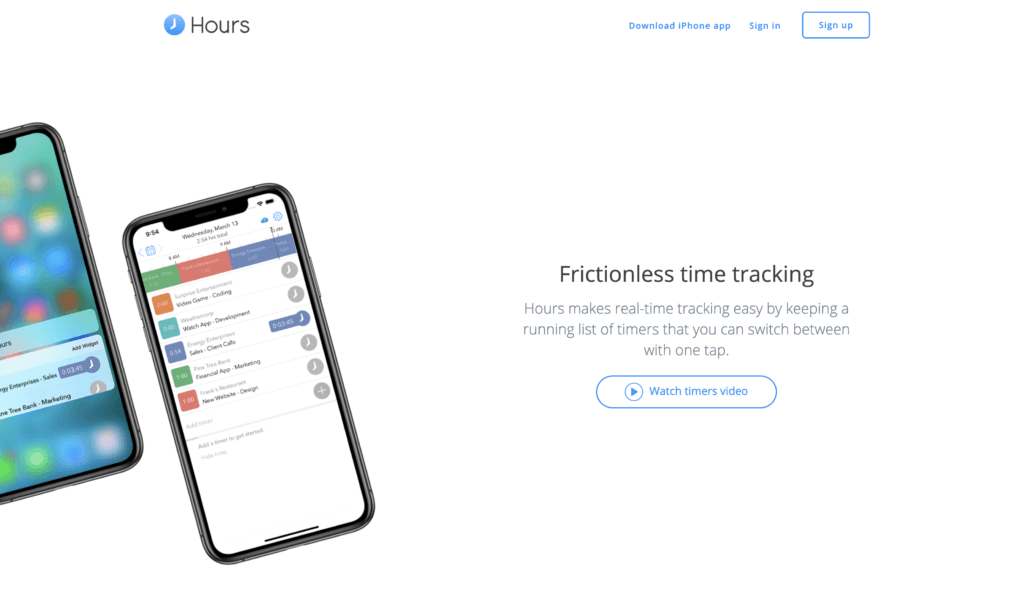 What they claim: "Track time as you go to live more productively"

Hours is not a business app but can still be useful for sole traders and freelancers to keep track of own work. Allows you to set a series of timers to plan and monitor time.

Pricing is $8 per user per month per account. Offers a day free 30-day trial

Pros 👍
Simple and easy to use
Very mobile friendly
Cons 🤔
Doesn't offer features for business
Need to sign up for trial to find out prices
Verdict: Best for individual freelancers and for personal use.
Why people choose Everhour
Teams of different sizes and industries choose Everhour to track time and expenses, properly bill their clients and better understand how long specific jobs took for future quotes and estimates for a reason. But don't just take our word for it. Here's what some real people say (taken from Capterra, G2Crowd and TrustRadius):
"We are using Everhour as a core business software, because our business is to sell our time. When you use such software, what you care the most is speed, flexibility, ability to integrate with all major project management software. And Everhour is exactly that kind of software" – Ivan M., Owner, 1-10 employees
"The most important gain from using Everhour is that we can track our tasks in real time without having to leave the browser. The Chrome add-on helps us initiate the time for a specific task. If we are already on Asana a simple click does the job" – Dimitris R., Partner, 11-50 employees
"Everhour helps me manage/plan my weekly activities a lot more effectively, since I know how much time I have to work on things each day, and can quickly update estimated times to reallocate tasks as needed". – Dan S., Team Lead, 501-1000 employees
"Everhour's integration with Asana is wonderful for a remote team. We track all activities in Asana, but before Everhour I often wondered how long it was taking to do a task, now I know exactly. I can see who is working right now and a summary each day" – Doug H., Principal Laboratory Informatics Scientist, 11-50 employees
"With Everhour, time reporting and project follow-up is so much easier and faster. We have total visibility of the estimated time and reported time. One plus feature that would be great to have would be a gantt view that would receive the information of the estimated times and calculate the available time for the resources depending on their allocated tasks/time" – João V., Head of Digital Communication & Lead Motion Designer, 11-50 employees
"Everhour has already paid for itself for the year by helping me track time I was missing in client projects. It is easy to use, has friendly customer service people and the reports make it easy to invoice clients and track projects" – Jenifer D., Owner
"We are a 15 people team working remotely from different cities of Latin America and Europe, and time tracking for each client, project and task has been always a major issue. We've been using Everhour for the past year or so, and it has become an essential tool for our team. Is not just that gives us the ability to track how much time we have dedicated to a project, but also to estimate how much time a particular task will need in order to be completed next time and by who. Easily create sand save reports with just a few clicks" – Daniel Y., Creative Director, 11-50 employees
"Love Everhour's integration with Asana. It allows my team to record time against the tasks so that I can review their effort – all within Asana. Reporting and monitoring is in Everhour itself. My contractors support their invoices with reports from Everhour" – Trevor K., CEO / CTO, 1-10 employees
"We looked at a lot of software to integrate with Asana and Xero to track our project time and Everhour one was the only one that ticked all the boxes. The feature set is great at achieving what we need and helping us better understand how we spend time on projects. It works seamlessly with our other apps! The support is also really responsive, answering any questions we've had and taking our recommendations into account on product updates" – Kim H., Creative Director, 1-10 employees
"Everhour is bar-none the best software for time tracking I've used. I needed to capture our team's hours in Asana, but didn't want to slow them down too much. Everhour makes it easy to start time tracking in a task, your browser or in their app. It feels native to asana. It's a well-built app too. The user interface is simple yet smart. It works like you expect it too. And it seems like every time I go to their online app there is some small, smart, new functionality. Lastly, the support has been spot on and responsive. So there you go. I don't often write reviews but felt these folks deserved one" – Steve C., CD, 501-1000 employees
Try Everhour
Interested to see if it works for your business? Everhour comes with a Free Trial for 14 days with all the features unlocked. Give it a try today!