We fell in love with today's participant of our case study immediately after he wrote a great article about why Everhour became a time tracking tool of his choice.  We swear we didn't ask it on demand 🙂
The guest's name is Kenny Lange, Founder of The PHNX21creative Agency.
He calls himself a Founder and Caffeine Enthusiast. He likes to speak, coach, and do blogging. He claims that he loves Jesus, his family, and cheers for Chelsea FC (who are highly likely to win the Premier League title this season).

Hi Kenny, we usually start with asking to tell about your company. What's unique in your team?
The PHNX21creative Agency is a digital-first agency focused on coaching small businesses to take their next marketing step. We are unique in that we form partnerships with our clients, educate them, and then become their marketing department.
Why does time tracking matter for your company?
Time is a factor in how we measure profitability per project or per client retainer. No one wants to bill $500/month for services and find out you made $5/hr for the month because you were way over-serviced.
What tool or software helps you to do project management?
We use Basecamp 3. We were using some Basecamp alternatives, Teamwork Projects and others, but found that it was too robust for our purposes. The main reason, besides simplicity, is the ease of use for our clients. We are hyper-focused on effective, quick communication with our clients and if they have trouble using the tool, then WE are the ones with the problem.
Have you ever used any other time tracking tools? Why Everhour?
Teamwork Projects had a built-in time tracker and I liked it, but it was exclusive to Teamwork. Getting a project management tool that worked for us was our top priority. After that, having the best, most deeply integrated time tracker was our mission. As the owner, I had a few key pieces of criteria (see the above-mentioned article for those) and I went about researching the top-rated and most recommended and narrowed the options against that list. Eventually, it came down to Toggl and Everhour. See them compared. We chose Everhour because it looked like it was developed for time tracking in Basecamp 3 and the deep integration caused the least amount of friction. Everhour was also the most affordable among Basecamp integrations for the number of users and feature set.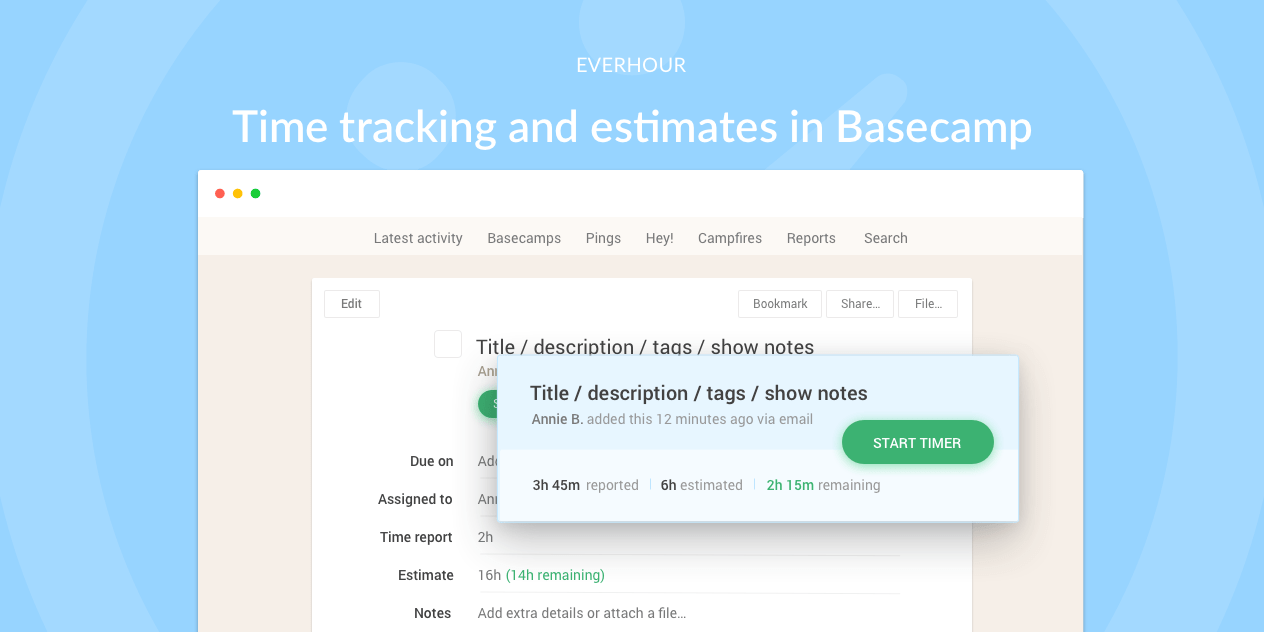 What Top 3 things do you love about Everhour? How does it help your business?
Here are our top 3:
Seamless integration into our key apps (BC3, GitHub, and BC2): We don't have to learn a new time tracker for each app. It dramatically lowers switching costs which help us maintain better profit margins.

Simple reporting: I can, at any time, see how much time we've spent on anything during any time period with very few clicks. Plus, the reports are simple and easy to understand.

Quick responses from the support team: Sometimes I'm genuinely stumped on how to work the app and other times I'm a little lazy and just want someone to tell me how to do what I want. The support team responds within hours with a complete answer that isn't condescending. That's something we try to model in our agency so aligned values are very attractive to me.
Thanks, Kenny, and keep rising!