When you're running a business or managing a remote team, keeping track of your tasks can be a real headache. Not for lack of skill on your part but because large projects often have too many moving parts for you to keep track of them all.
Luckily, you don't have to. With ClickUp project management, you can easily handle the planning, organizing, and managing of extremely complex projects without missing a beat. We'll show you what we mean further on in the article when we explain what ClickUp is, how it works, and how to use ClickUp for project management. Also, stick around for tips that will take your ClickUp project management game to the next level.
---
🤔 What Is ClickUp?
ClickUp is an all-in-one work management solution that replaces every other productivity tool in your arsenal. Its creators believe that "productivity, in general, is broken"–fragmented between too many tools in wildly different ecosystems. This, in turn, makes it nearly impossible to keep track of anything and ironically leaves you even less productive than you were before.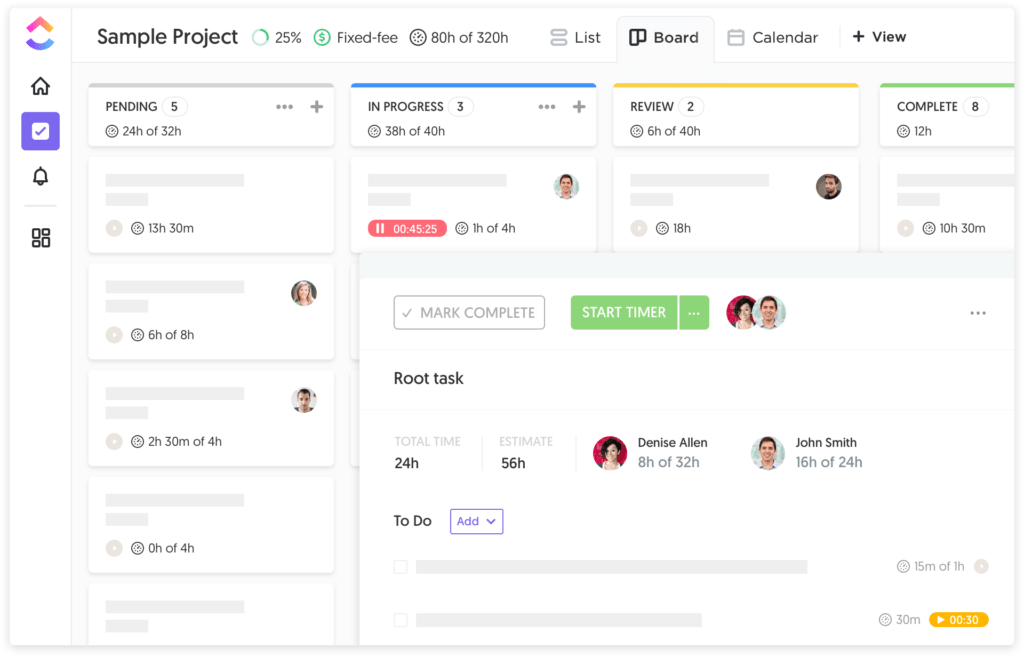 They created ClickUp to solve this problem. The "one app to replace them all," ClickUp combines goal tracking, project/task management, note-taking, communication, and much more so that you don't have to juggle multiple apps. You can be more productive and save at least 20% of your time just by using ClickUp.
---
🪜 The ClickUp Hierarchy Explained
ClickUp keeps you organized through a hierarchy structure that segments work into manageable chunks. Using the different levels of this hierarchy, you can create the perfect infrastructure that organizes your work and scales with your business. Let's explore the different levels.
Workspaces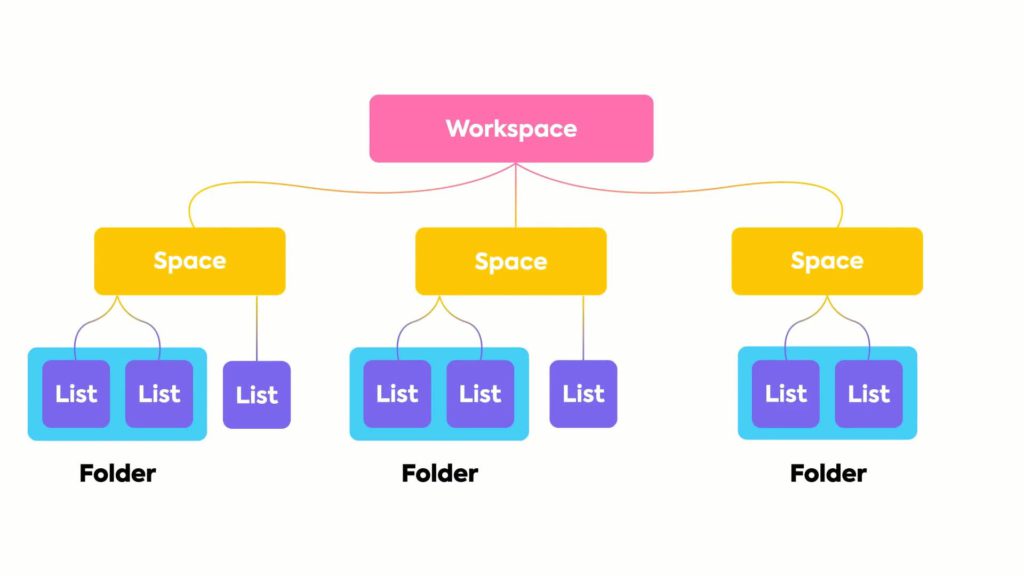 The workspace is the highest level of organization in the ClickUp hierarchy. Think of it like your company building, where everything and everyone in your organization resides. You can create a new workspace in any ClickUp account, join an existing one, and freely switch between different workspaces.
Each workspace you create is completely separate from any others. That includes the tasks, lists, and docs that live in it and the people who have access to it. Therefore, multiple workspaces are best when working on projects for different organizations.
Spaces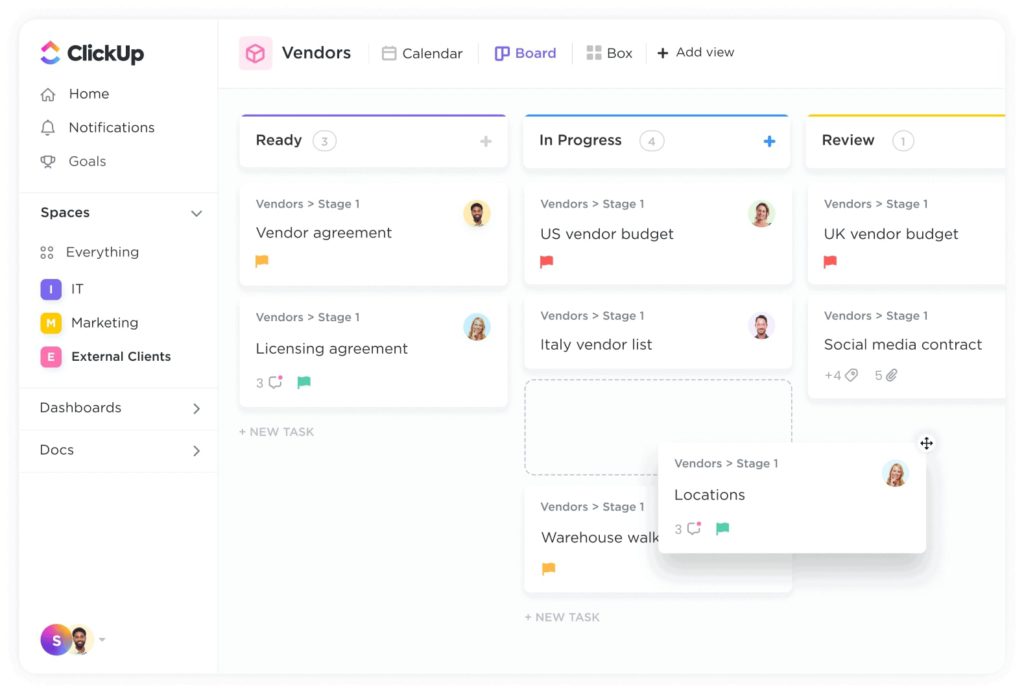 If the workspace is the company, then spaces are the different departments. They allow you to separate work and teams so you can achieve multiple objectives while simultaneously heading towards a common goal.
Each space has its own settings and ClickApps, which you can use to create workflow setups that meet your departmental needs. You can also seamlessly transfer information between spaces and switch between them.
Folders
Within spaces, you can use folders to categorize and organize your lists. We'll get to what lists are in a moment but think of folders like paper folders that help you organize related projects, campaigns, or databases. They are optional, so you don't have to use them and can instead create tasks directly into your spaces. However, folders add an extra layer of organization to your workflow.
Lists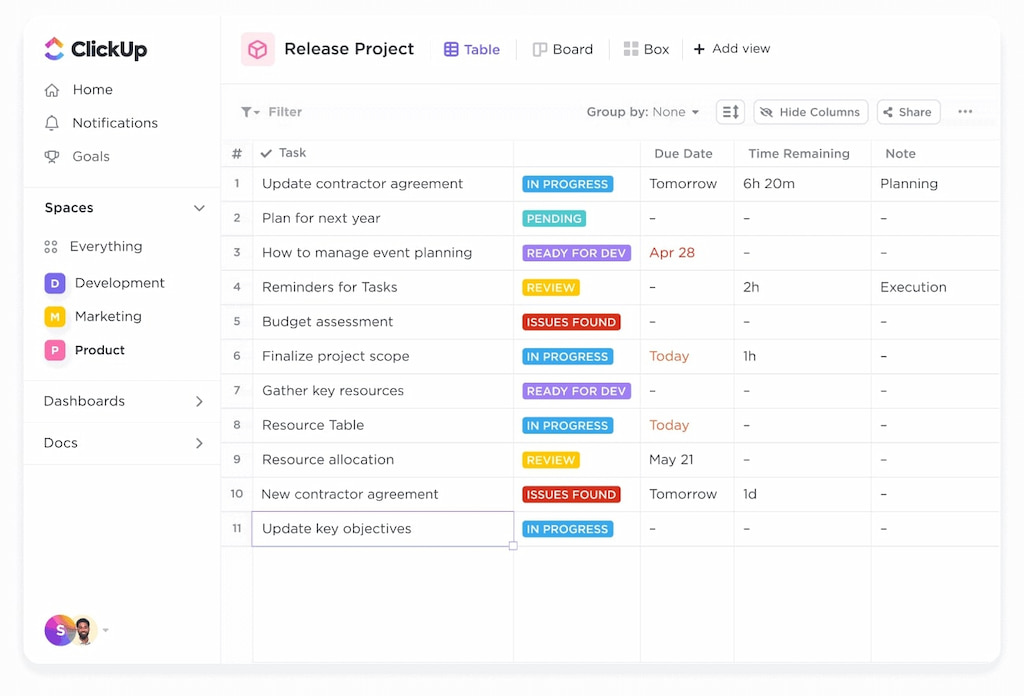 Lists exist either in folders or directly in spaces and are basically containers for your tasks. They help you organize work by different characteristics such as time frame, location, or phase. You can also use them to provide context for your tasks and add extra information.
Tasks
Within lists, you have tasks, the heart of ClickUp project management. They are the individual action items and to-do's that add up to complete your project. Each task lives in its parent list, although you may share it with other lists.
Subtasks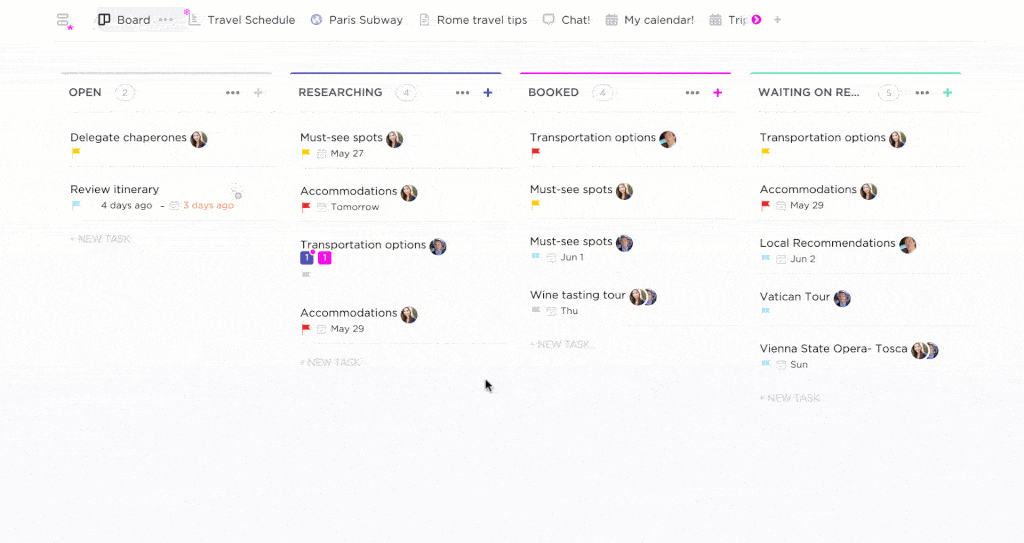 You can break down particularly complicated tasks into smaller levels with sub-tasks. Each sub-task can have its own description, due date, and assignee, and you can create multiple nested subtasks.
Checklists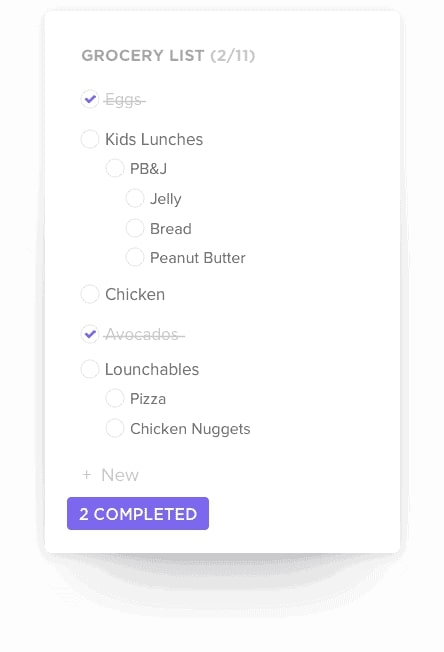 Checklists are on the same level as subtasks. You can nest them within tasks to spell out the items you need to complete your task.
---
---
🔧 How to Use ClickUp for Project Management
ClickUp is an extremely versatile productivity tool with several different applications. However, this article focuses on its application as a project management system. Below we'll show you how you can leverage ClickUp's features to do project management.
Visualize and plan
Thanks to Clickup's wide selection of views, you can visualize and plan every minute detail of your tasks, projects, and workflows. It includes core views like list, board, and calendar, as well as less common views such as Gantt, table, timeline, mind map, and box.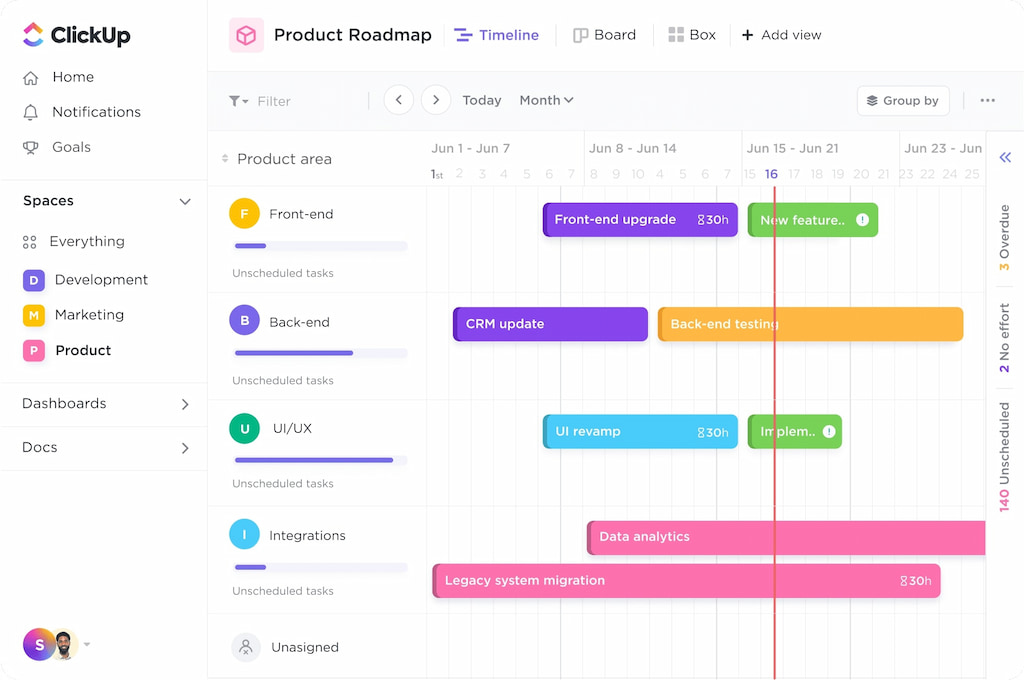 Leveraging these views, you can get a deeper insight into the nature and progress of your projects. You can also use them to get a birds-eye view of your project, manage your time and resources, and prioritize tasks.
Communicate and collaborate
ClickUp has several features that make it easier than ever to collaborate with your team. An example is the Whiteboard–a real-time visual canvas–that you can use to generate ideas together with your team.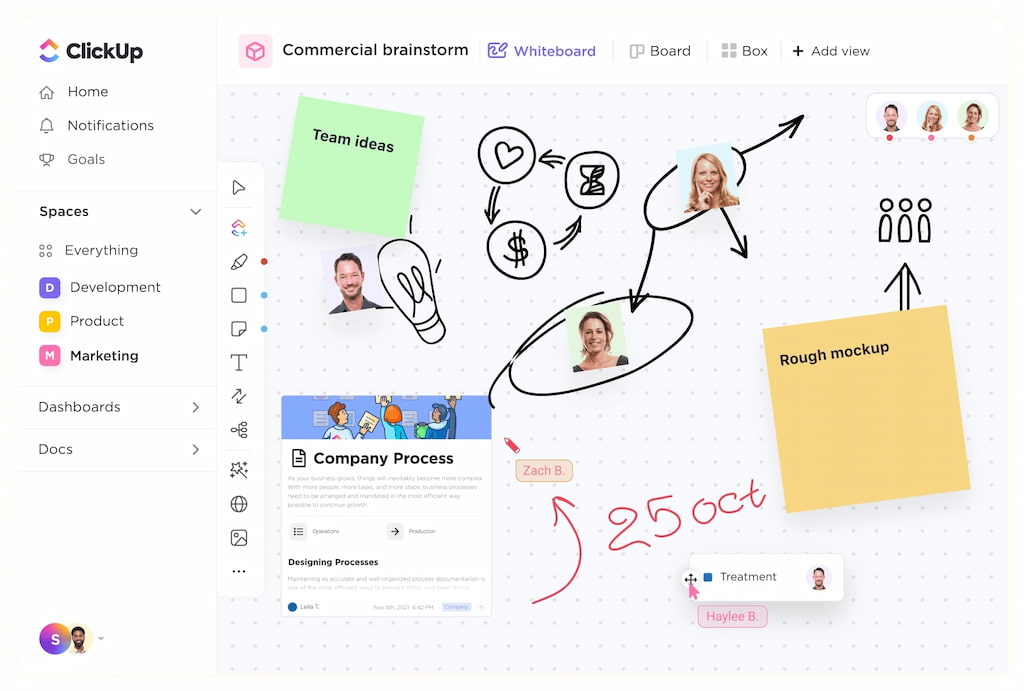 You can communicate through comments and even integrate your email app into ClickUp to send and receive emails directly. You can also chat with your team, share documents, tasks, and links, as well as tag individual team members.
Integrate your best project management tools
You can use ClickUp to unify your fragmented project management system. It supports over 1000 ClickUp integrations, so you can quickly sync all your most important apps in seconds.
Keep a bird's eye view
You can create dashboards in ClickUp that let you see everything about your project at a glance. You can add widgets and visuals to make this information easier to understand and structure it however you like.
Track your progress
When you enable ClickUp time tracking, you gain access to ClickUp's native time tracker, which works across desktop, mobile, and chrome. You can use it to monitor time spent, draw insights about time expenditure, and set accurate time estimates for your tasks and projects.
If you already use a popular time tracker like Everhour, you can simply activate the ClickUp time tracking integration to access it within ClickUp directly.
---
❓ Why Use ClickUp for Project Management?
We've already established that ClickUp is a powerful productivity tool, but why should it supplant your existing project management system? Below you'll find a list of all the things ClickUp does better than your current project management tool.
All-in-one tool
Whatever your needs, Click-Up does it all. It condenses all your project management solutions into one tool, so you never need to switch between apps again. You can use it for project tracking, collaboration, note-taking, document management, planning, team management, time tracking, and much more.
Even if you happen to use an app whose function ClickUp cannot replicate, you can easily integrate it into ClickUp and work directly from there.
Accessibility
Many project management apps are confined to your desktop, meaning you cannot access them once you're away from work.
Offline mode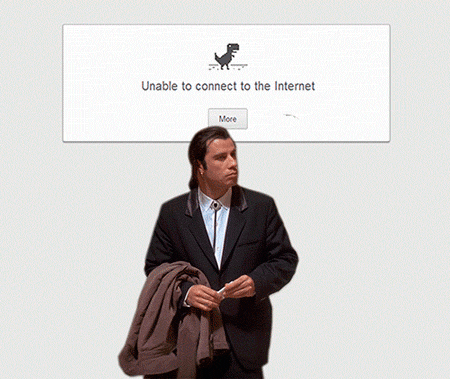 ClickUp's offline mode lets you stay on top of your tasks and projects even when you don't have internet access. While offline, you can view your tasks and make changes to them. Any changes you make while offline will automatically sync once you have an internet connection and become visible to your team.
Scalable hierarchy
ClickUp's hierarchy is logical and easy to understand, even for novice project managers. There are multiple levels of the organization, each of which is customizable. You can arrange your work by department, client, or whatever method suits you best. Best of all, the ClickUp hierarchy scales with your project, so it works just as well handling big or small projects.
Customization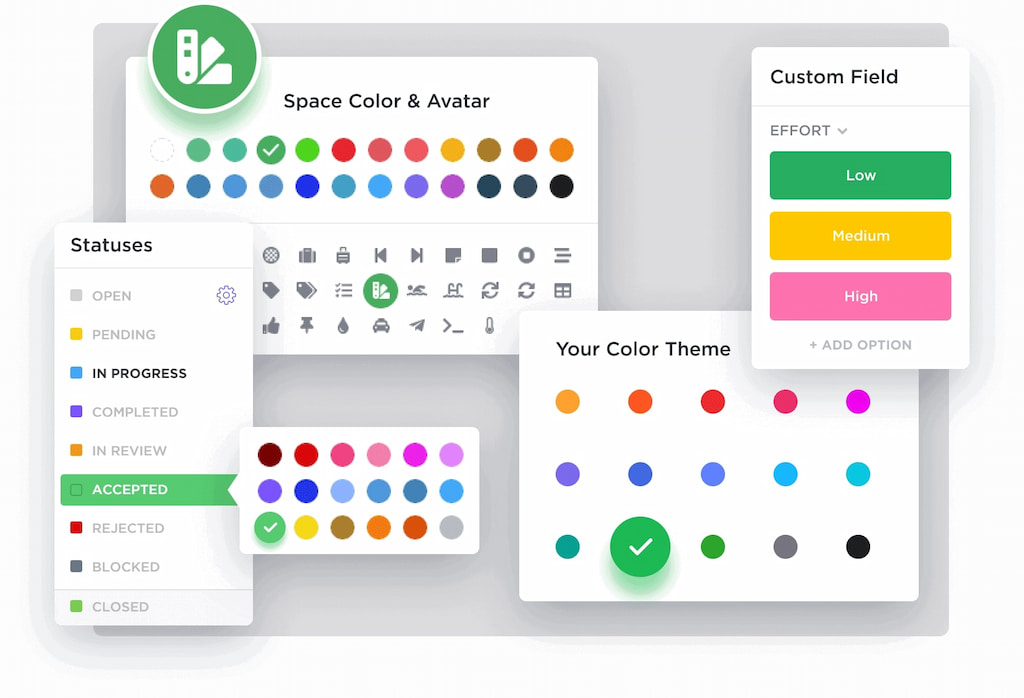 ClickUp is infinitely customizable and can change to meet your project needs. Instead of the one-size-fits-all format that other project management apps adopt, ClickUp gives you the freedom to structure your workflow however you like. You can create custom fields, task statuses, and dashboards and include or remove features by enabling and disabling ClickApps.
---
❗ Tips for ClickUp Project Management
If you're new to ClickUp, you'll quickly find that it is highly intuitive and very easy to use. However, since it is an unfamiliar app to you, you may struggle to unlock the maximum levels of productivity when you do ClickUp project management. Luckily, we've highlighted a few ClickUp project management tips that will help you become a ClickUp project management power user in no time.
Understand the ClickUp hierarchy: Whether you join an existing workspace or create your own, invest some time to learn how the hierarchy works. A solid understanding of the hierarchy will help you navigate it seamlessly and avoid wasting time.

Integrate your clients: Anytime you want to update your clients on your project status, do it within ClickUp. Add your client to your workspace as a guest, and set the right permission levels.

Use time blocking and batching: Use ClickUp's calendar view to do time blocking and batching. Applying these two time management techniques within ClickUp can help you boost your productivity and avoid distractions.

Draw insights from reports: ClickUp reports can estimate your ongoing projects and inform you which of your tasks are completed, overdue, or ahead of schedule. Take advantage of these reports to draw insights about your workflow and make corrections where necessary.

Use views: ClickUp has over 15 views that can give you different insights into the state of your project. Use them to get a bird's eye view of your project and spot any problems before they snowball.
---
💰 Is ClickUp Project Management Free?
1️⃣ You can use ClickUp with a Free Forever plan and retain access to many features that make it unique such as whiteboards, collaborative docs, and real-time chat. However, if you want the full functionality that ClickUp offers, you'll need to pay for one of its subscription plans.
2️⃣ The cheapest of these plans–The Unlimited Plan–costs $5 per member per month and includes perks like unlimited storage, integrations, Gantt charts and dashboards, two-factor authentication, and native time tracking.
3️⃣ The Business Plan is slightly more expensive at $12 per member per month and includes unlimited teams, custom exporting, guests with permissions, and advanced automations.
4️⃣ The Business Plus Plan is best for multiple teams and costs $19 per member per month. Subscribers get access to team sharing, custom permissions, increased automations, API, and much more.
5️⃣ Finally, we have the Enterprise Plan, which is best for many large teams and gives you outstanding features like live onboarding training, a dedicated success manager, and access to managed services. You'll need to contact the ClickUp sales department to get a quote for this plan.
---
ClickUp Project Management: Is ClickUp Right for Me?
ClickUp is chock-full of features that adapt to meet your every need. If you need a personal productivity app, you can use ClickUp to take notes and make lists; if you manage a remote team, ClickUp can become a task manager; and if you are a freelancer, ClickUp can help you keep track of your clients, tasks, and payments. ClickUp alternatives may provide some of these features too, but not many of them can be as flexible and efficient as ClickUp.
Ultimately, ClickUp is an all-in-one tool that can serve your project management needs. Whether you're running a personal project or working with an organization, it is up to you to use it to take your project management to the next level.