The 35 Best Notion Aesthetic Templates in 2023 [For School, Journaling, and More]
Maria Kharlantseva, July 13, 2023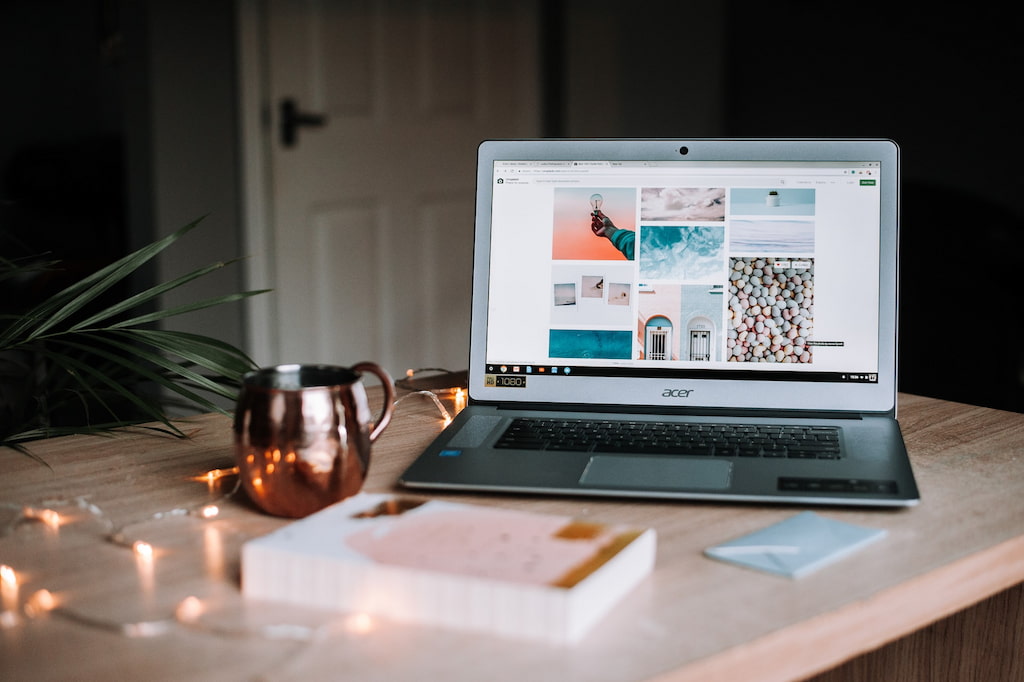 There are thousands of Notion templates available for you to use (paid and free). Scrolling through each aesthetic Notion template and filtering out the ones that you like can be a very time-consuming task. So, we've done all the hard work for you.
Below, we'll go over the 35 best Notion aesthetic templates, which we've split into several categories including:
Free aesthetic templates
Aesthetic templates for students
Aesthetic templates for journaling
Notion dashboard templates
Aesthetic Notion templates for school
To find the perfect aesthetic template list for your needs, keep on reading.
---
Our Favorite 35 Notion Aesthetic Templates
During our research, we came across a large variety of paid and free aesthetic Notion templates. To keep things nice and concise, we narrowed down our list to the top 35 templates across five categories (as can be seen in the introduction of this read).
🆓 Aesthetic Notion templates free
To kick off our list, let's take a look at the best free Notion aesthetic templates. You can download any of the below without paying a penny and access all of their features and functionalities fully.
---
Notion Personal Dashboard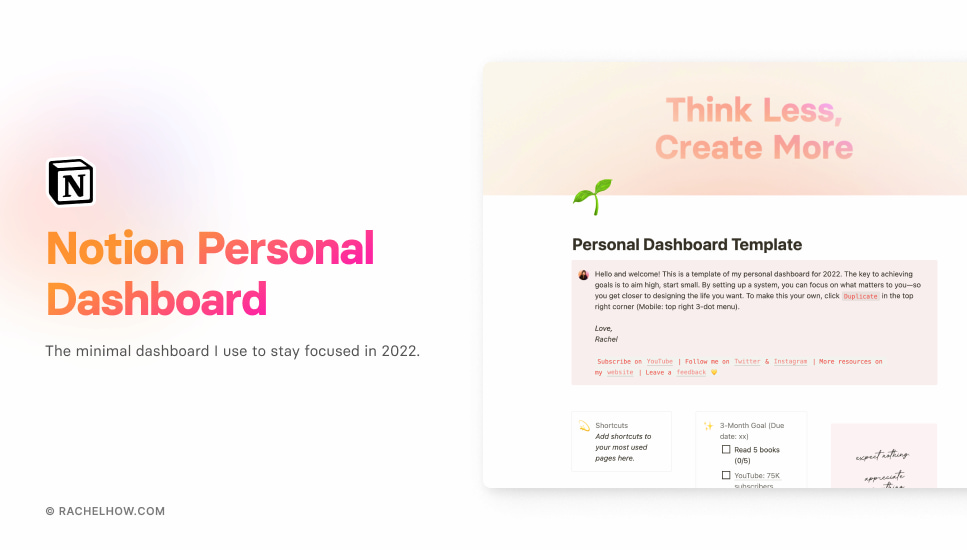 The Notion Personal Dashboard is a great free Notion template with a simple yet intuitive design. Made by Rachel How, the primary goal of this template is to help you organize your day-to-day tasks without any distractions.
What's more, this template allows you to have a bird's-eye view of all your responsibilities for the day. If you want to do some longer-term planning, you could set up goals 3 months in advance.
It also comes with several great Notion widgets, but if you want to take your day-to-day planning one step further, you can make use of the popular Notion time-tracking integration. Everhour is a time tracker that can be integrated with Notion and help you keep track of time. Whether you're working on a project and want to see how long it takes you to complete it or just want to stay more focused, it's a great tool for your every time-tracking need.
---
---
Animedoro Dashboard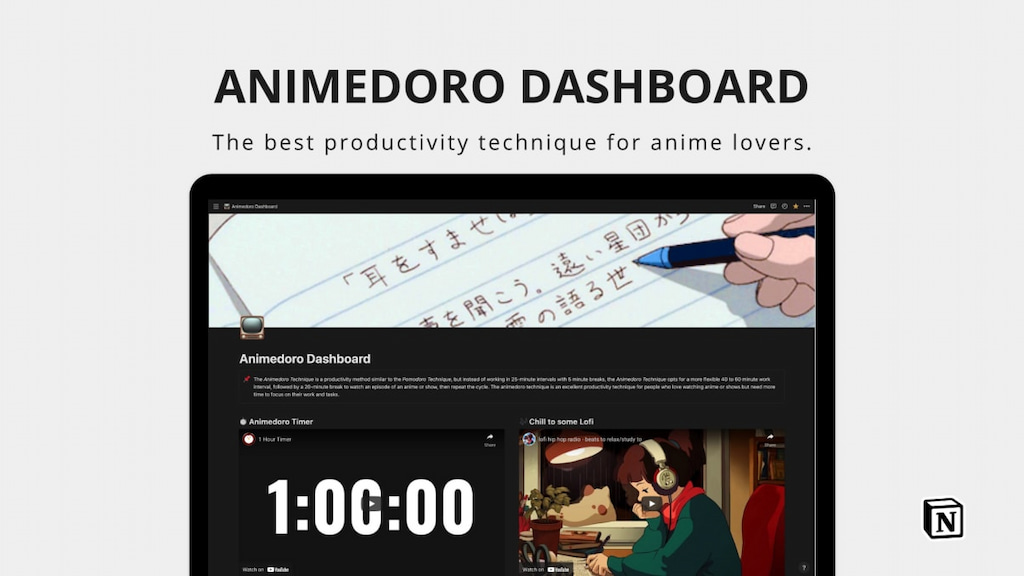 The aesthetic Animedoro Dashboard template isn't for everyone. With that said, it's a great pick for you if you're a fan of anime art styles. It features classic homages to some of the best anime ever released and makes it easier to stay organized.
The reason we like this template is that it engages people right away, so sticking to plans and reaching your goals will be much easier! To date, it has just over 1,700 downloads, making it a popular free choice of template for anime lovers.
---
Notion Habit Tracker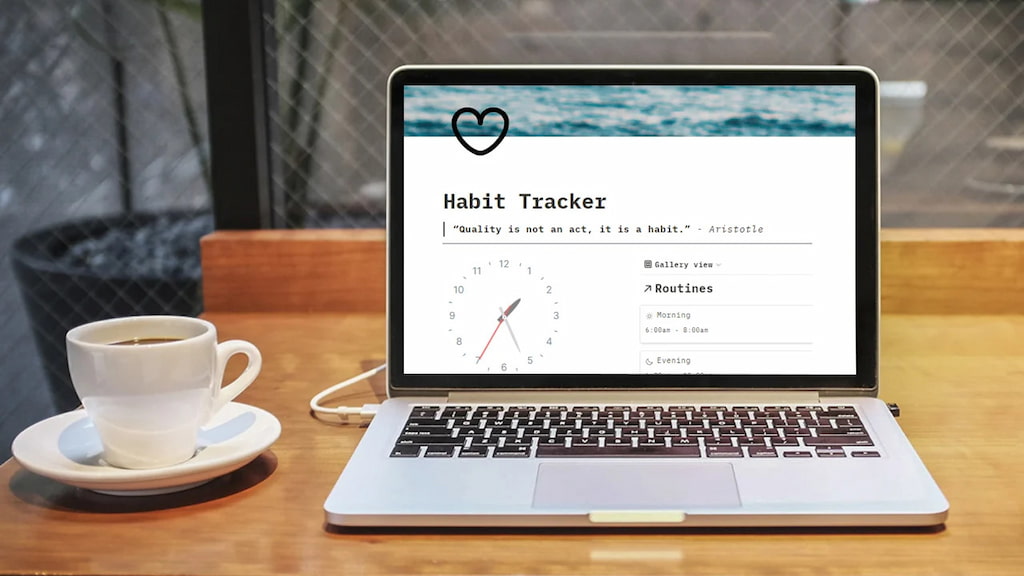 One of the best ways to see how you spend your time is to track your habits. The Notion Habit Tracker template is specifically designed for that. This template will help you turn daily tasks into habits that you practice without having to force yourself to do them.
It's a great choice of an aesthetic template if you want to get back into working out, improve your levels of productivity and focus, or just keep yourself on track each day. The simple checklist layout and minimalist design make this one of the best free Notion aesthetic templates available.
---
My Plant Planner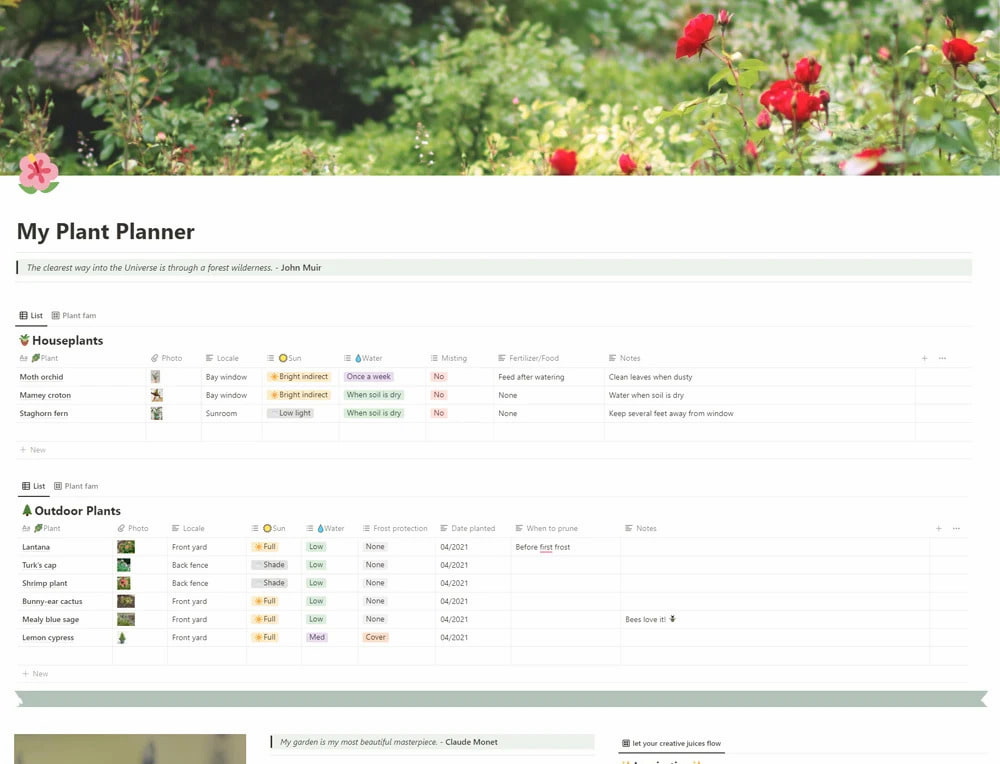 If you're into plants, My Plant Planner is a great template that will help you take care of your plants. It is a free template and comes with a garden-themed aesthetic, so all those gardening activities will feel much more fun to do. My Plant Planner is full of features, so here are a few reasons why you should try it out.
You can keep track of all your plants
Keep a record of each plant's unique needs
You can take notes about your plants
Add pictures of your plants
Add pictures of your plants
You can even keep a wishlist of plants you want to buy in the future
---
Job Search for Notion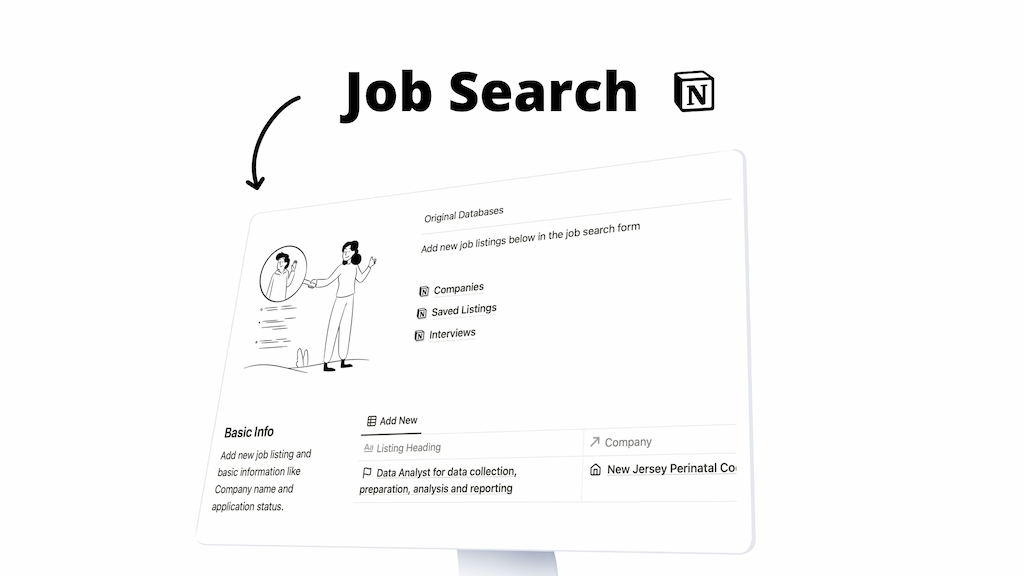 Created by Red Gregory, the Job Search for Notion template is a great place to start if you're on the lookout for your next professional opportunity. Using this template, you can save new job listings, information about the company, as well as any upcoming interviews you have scheduled. Job Search Notion also allows you to keep a record of any notes that you've taken before, during, or post an interview that you can review at a later date.
---
Tomato – Notion Pomodoro Template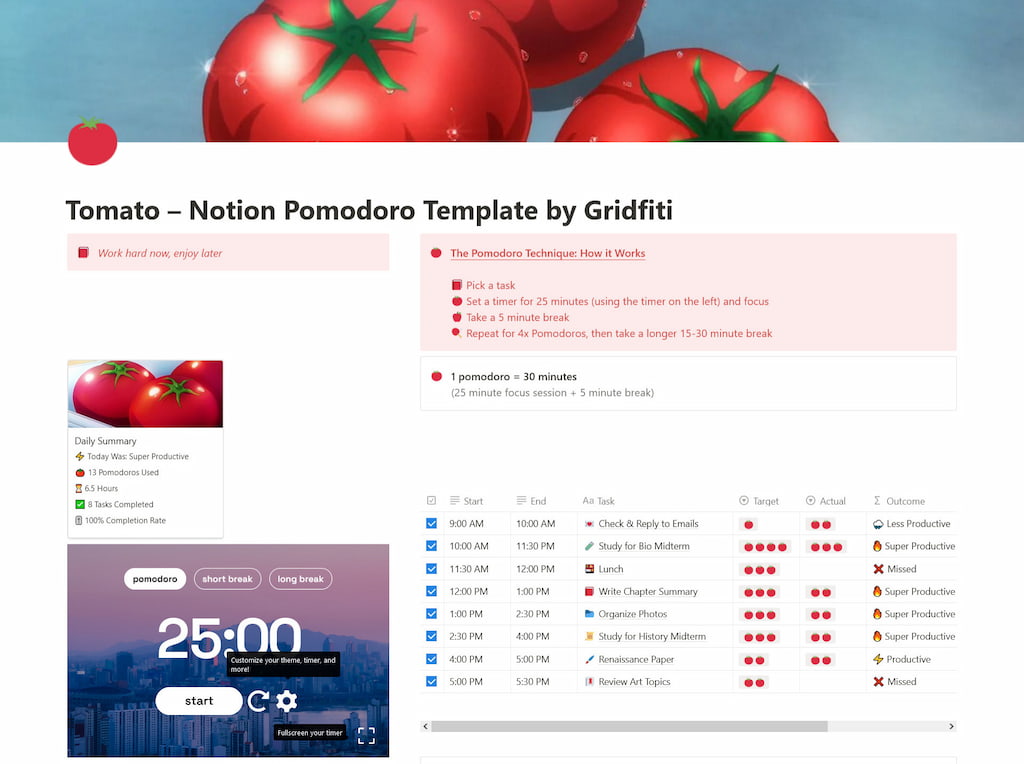 The Tomato Notion Pomodoro Template is a fantastic choice for those who have explored the Pomodoro technique before or are looking to get into it. Using this template, you can write down tasks and start working on them using the Pomodoro method (25 minutes of work followed by 5 minutes of rest).
You will work in quick intervals and take short breaks before doing the same thing over and over again until the task is completed. This template matched with the Pomodoro method is a surefire way to stay on track and become the most productive version of yourself.
---
Notion Grocery List Planner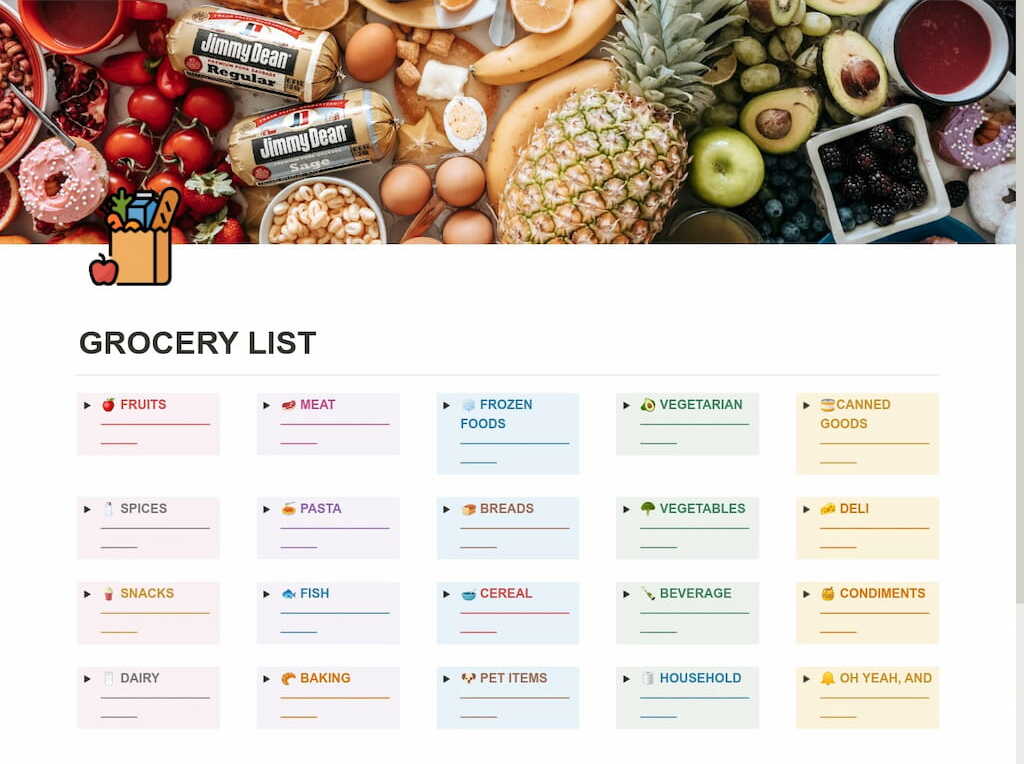 Notion doesn't only have to be used for journaling, or for completing work-related tasks. You can apply Notion to your life too. Thanks to the Notion Grocery List Planner, you can throw away the pen and paper and note down everything you need to buy from your grocery store directly on Notion.
It not only keeps things more organized but also looks very aesthetically pleasing. Not to mention that it will help you stay within your budget, schedule, and other presets you'd like the template to consider.
---
👩‍🎓 Aesthetic Notion templates for students
If you're a student, staying organized and up to date with your studies is of utmost importance. Below, we'll go over some of the best and most aesthetically pleasing templates for students on Notion. Some are paid but to give you a variety, we also explored some free aesthetic Notion templates for students.
---
Notion's Projects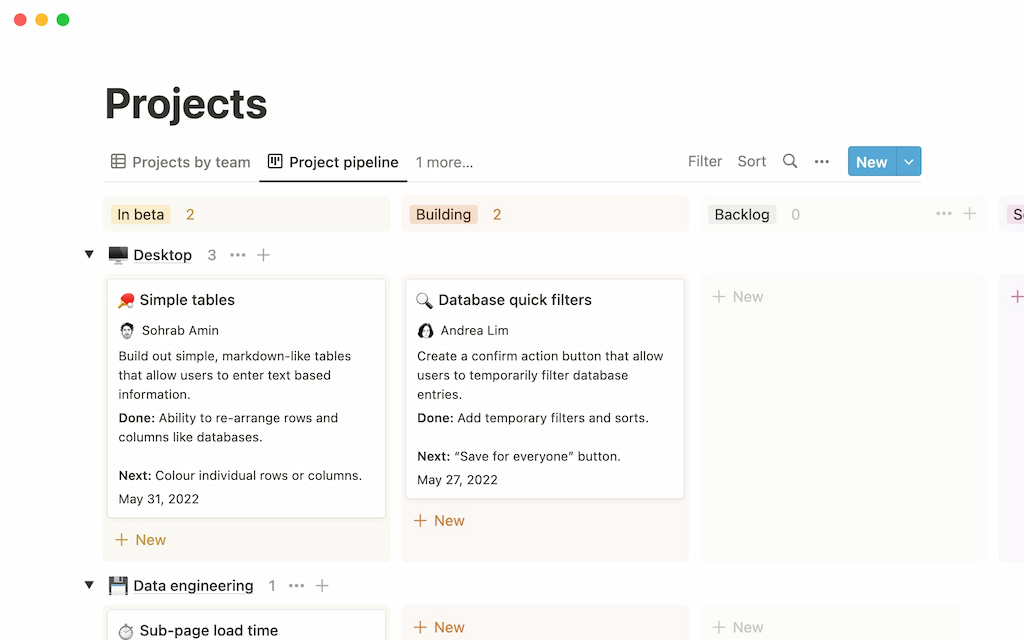 You don't have to look for independent creators to find aesthetic Notion templates for students. Take Notion's Projects for example. While this template may come across slightly too professional, it works great for students who want to take charge of their schedules and become more organized.
You can customize the template for it to work for your schedule and easily plan out your semester like it was a project. It's also free, so you should definitely give it a try if you want to take charge of your studies.
---
Ultimate Aesthetic Dashboard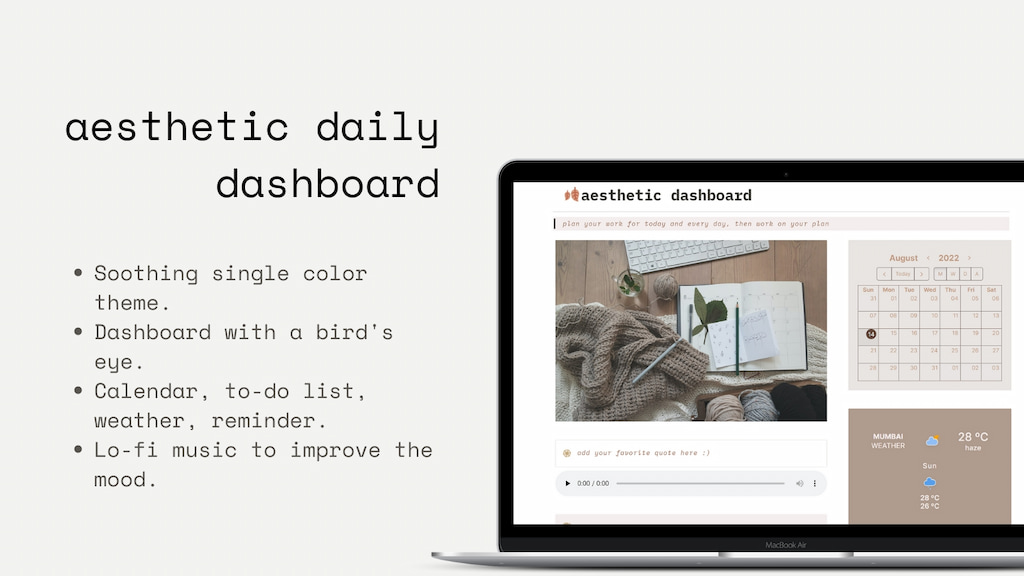 The Ultimate Aesthetic Dashboard is ideal for students and younger people looking for a cute and aesthetic way to stay organized. This template helps you organize all aspects of your life, from important birthdays, exam dates, homework, and even social activities with your friends and family. On top of that, it has a rustic aesthetic that makes organizing your tasks fun.
---
Welcome Home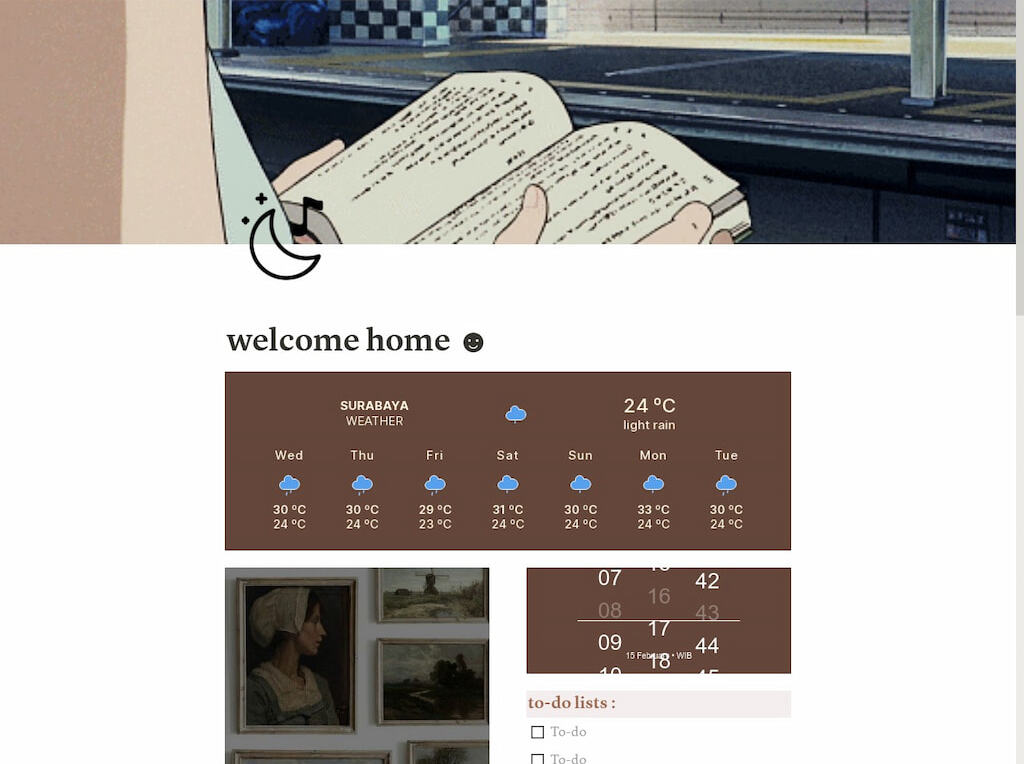 Welcome Home is a simple and beautiful aesthetic Notion template for students. This template can serve as your home base for all your tasks and important dates such as when you need to sit your exams, hand in homework, and others.
What we liked a lot about this template (aside from its functional abilities) is the aesthetic it can bring to your Notion dashboard. You can add snippets such as the weather, a time tracker, your Spotify playlist, and others. All this can take out a lot of the stress from organizing your tasks, and it's a big reason we featured this template on our list.
---
Ultimate Student Hub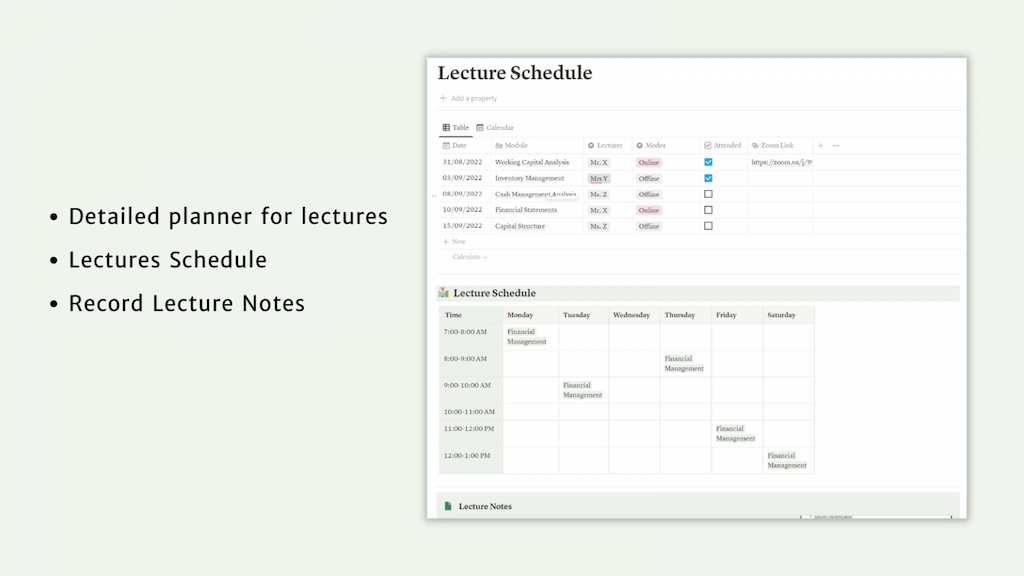 The Ultimate Student Hub is another fantastic choice for students who want to stay on top of their studies and keep organized in an aesthetic and visually pleasing manner. Using this template, you can jump right into planning out your studies without wasting any time setting it up. Some things this template is suitable for include:
Progress tracker for assignments
Automated grade calculator
Pomodoro timer with activity stats
Job application tracking system
You can even keep track of detailed listings of on-campus events, lecture planning, a comprehensive database of all your course subjects, and more.
---
Medicine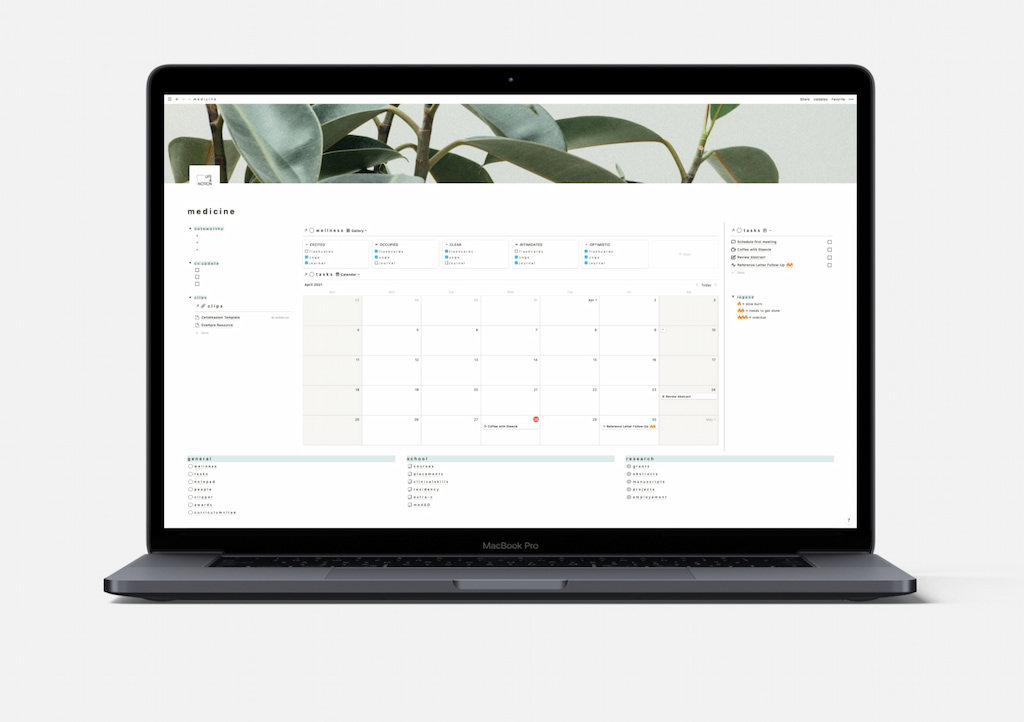 Specifically made for medical students, the Medicine aesthetic Notion template is simple, easy to use, and uniquely aesthetic. It was custom-made by an ex-medical student, meaning you can rest assured that this template has everything you need to make your life as a medical student much easier.
---
Aesthetics Student Planner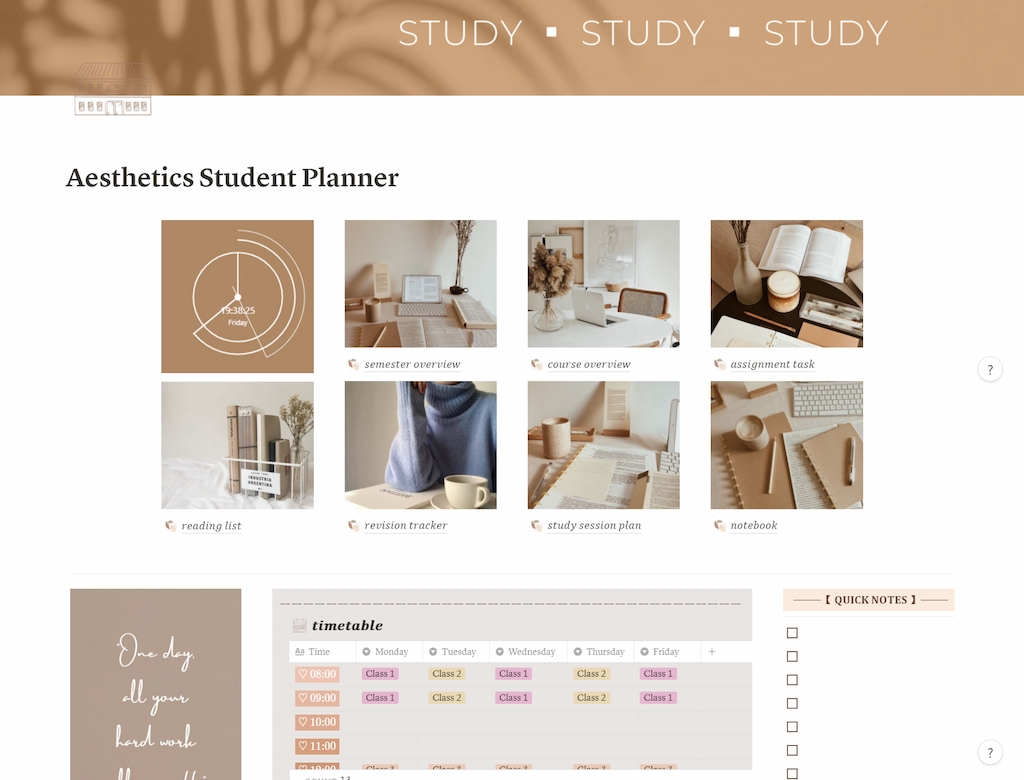 The Aesthetics Student Planner is easily one of our all-time favorite templates for students. This relatively simplistic planner has a great design that makes you just want to use it more. It's not only pleasing to the eye but provides just the right environment to keep your studies neatly organized.
Some of the key features of this student aesthetic template include a grade tracker, homework tracker, essay track, and a variety of other tools students can make use of to make their academic life a little easier.
---
We Bare Bears Template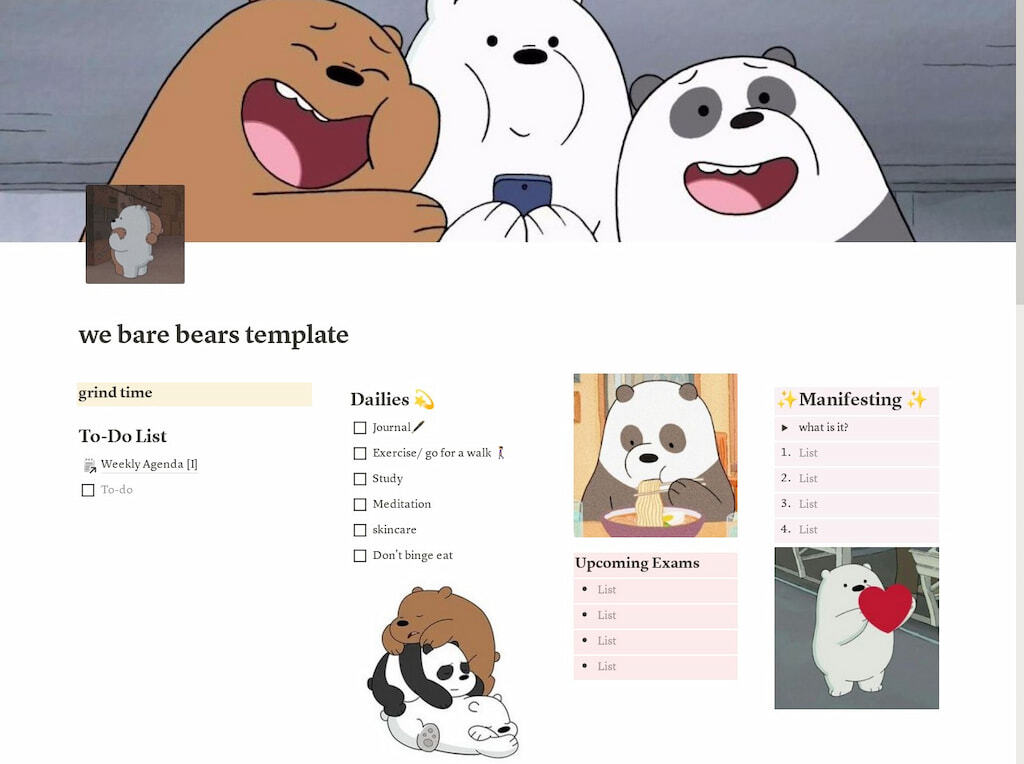 If you're interested in using a Notion template for students that is cuter than any other, the We Bare Bears Template is one fantastic option you should definitely try out. While it is super functional and has all the features to make sure you stay on track with your studies, the template is super lighthearted. If you have a soft spot for cartoons or bears as a whole, this might be the best template for you.
---
📝 Notion journal template aesthetic
Using Notion is perfect for journaling and diary entries, so if you're big into that and looking for just the right Notion template to use, below, we'll go over the seven templates that stood out the most to us in terms of functionality and aesthetics.
---
My Journal Template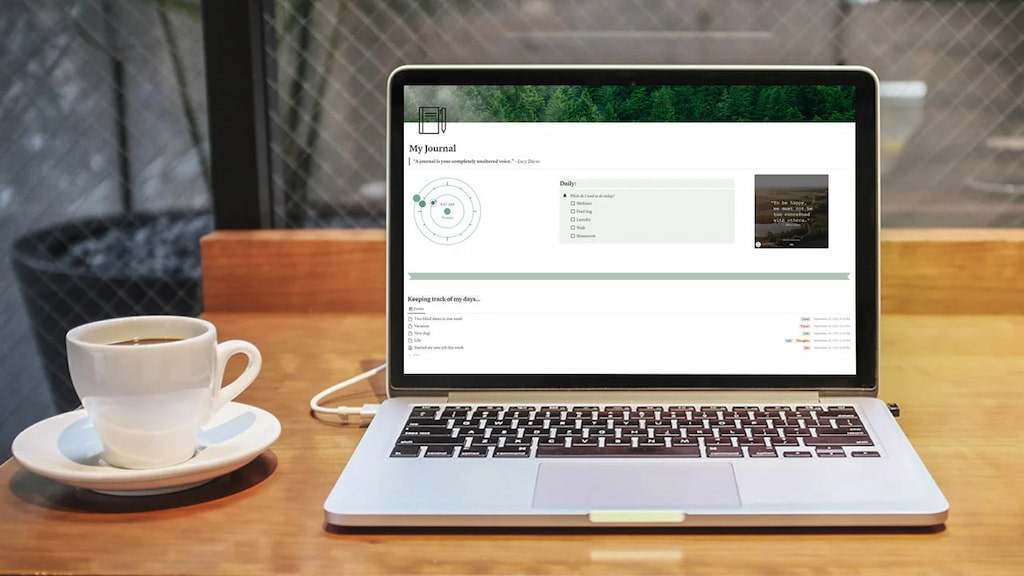 The My Journal Template is a template specifically designed for those who are looking to start journaling but don't really know where to begin and what to write down. This free Notion template, which was designed by Nick Lafferty is great for:
Keeping your journal entries organized with tags
Create and follow a to-do list to stay on top of your daily tasks
Write down inspirational quotes for daily affirmations
A calendar to mark key dates coming up in the future
---
Stoic Life Template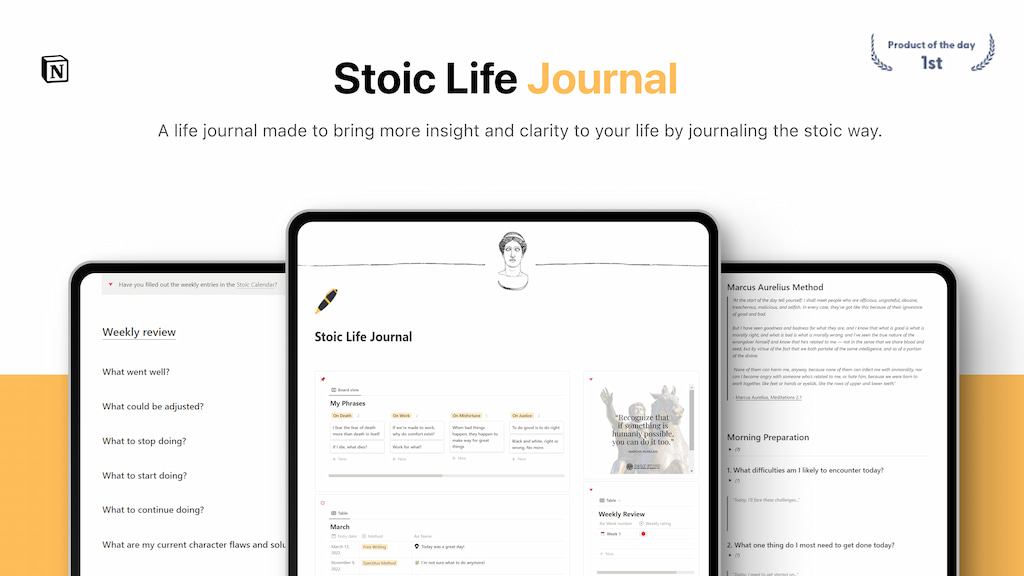 The Stoic Life Template was designed by Pascio and features an Ancient Greek design. Though this template is made for journaling, Pascio has definitely taken it one step further, creating the template specifically for those who want to live their life with intention.
According to the creator, this Notion template is a guided journal that will take you through an immersive journey that will help you explore your core values, create meaningful changes in your life, and develop a better understanding of yourself.
---
Notion Journaling Template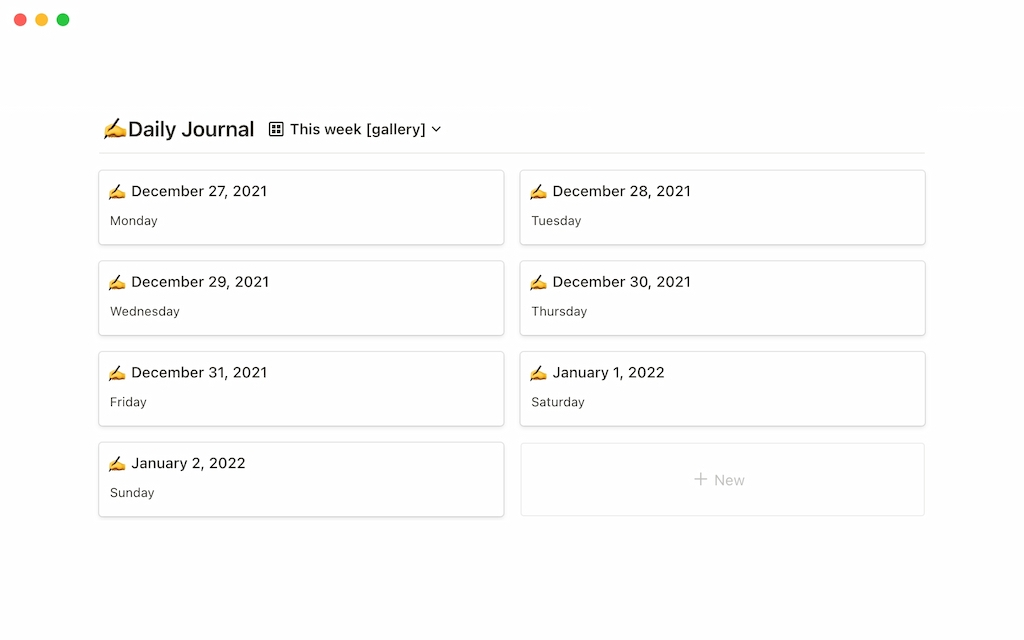 Journaling doesn't have to be hard or complicated. The beauty of the Notion Journaling Template is that it comes directly from Notion, so you can rest assured that it works great with the Notion website. On top of that, it has a simple and easy-to-understand interface. So you won't have a hard time figuring out what to write or how to get started.
---
ADHD Life Planner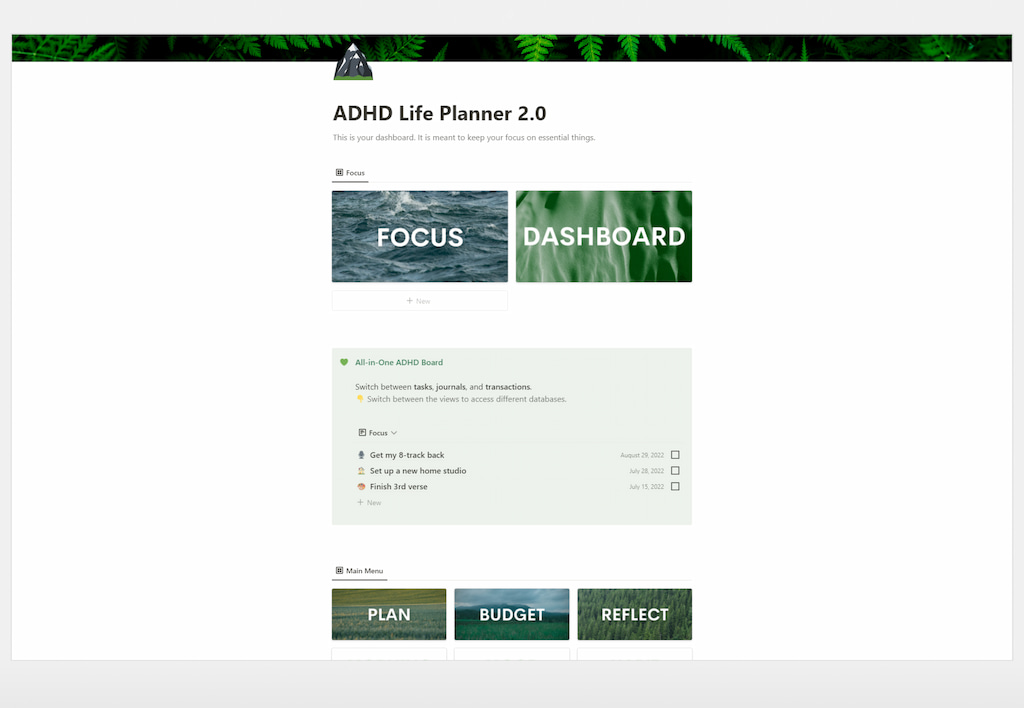 People with ADHD often find themselves struggling to stay on track and keep to a schedule. The ADHD Life Planner is specifically designed for those with ADHD who want to stay more organized.
This Notion template comes with features and functionalities such as a habit tracker, focus mode, and journaling options that make it great for those who have trouble focusing.
---
Ultimate Planner Dashboard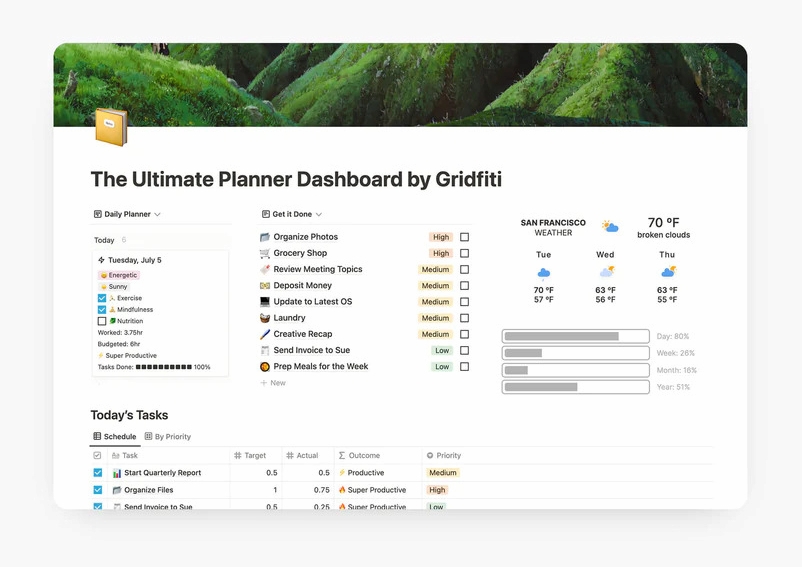 If you're going to spend money on a Notion template, you might as well do it for a template that can handle all aspects of your life. The Ultimate Planner Dashboard template allows you to journal, schedule tasks, and keep track of your daily life in one place. After all, it's called the Ultimate Planner Dashboard for a reason. Some key features/functionalities of this template include:
You can easily plan your daily, weekly, and monthly responsibilities with boards, task lists, widgets, and more
Tag your mood, weather, and water intake each day
You can write down affirmations, and gratitude, or even create a quick meal plan
You can track the three biggest habits you want to work towards each day
---
Notion Gratitude Journal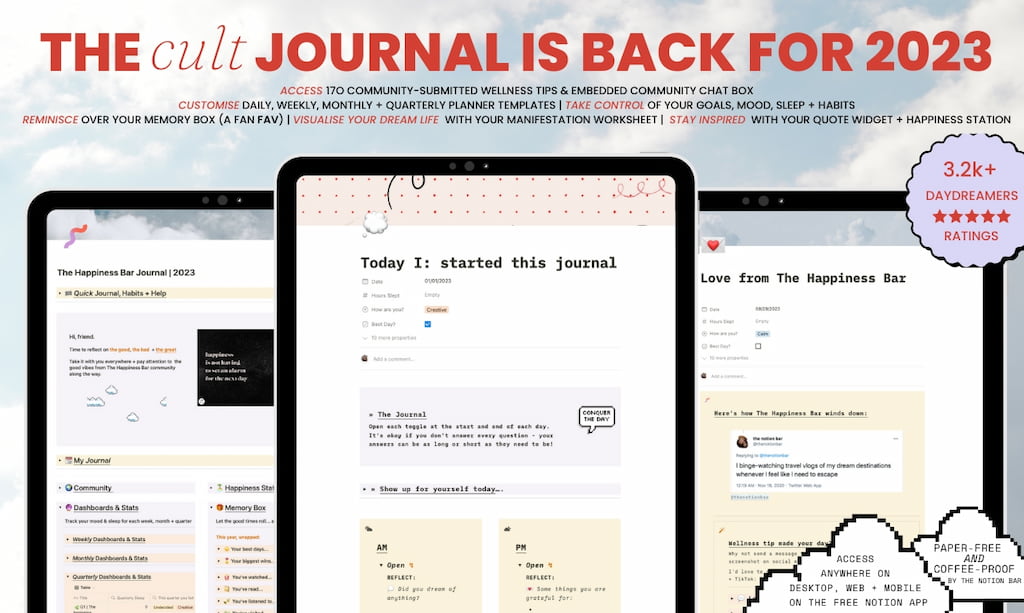 A great way to improve your daily life and mental well-being is by practicing gratitude. One free Notion templates aesthetic that can help you with that is the Notion Gratitude Journal. Using this template, you can write down and see the things in life that you are most grateful for. And sometimes, all you need is to see everything you already have in your life on paper to really get a sense of accomplishment and contentment.
---
Nick's Notion Journal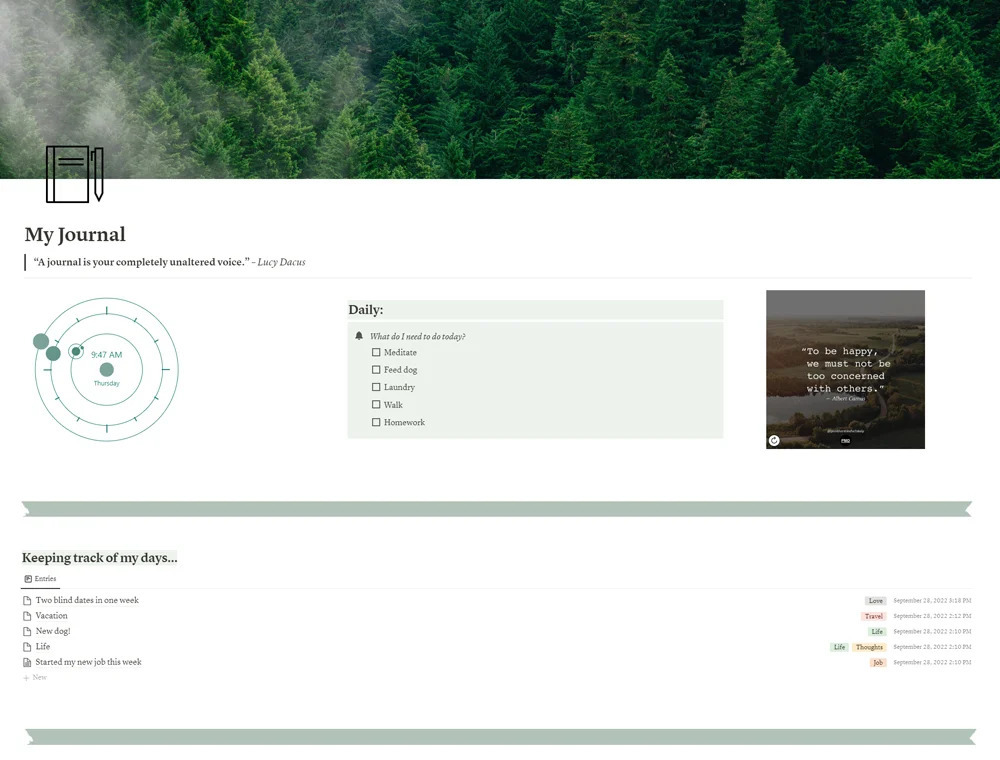 Nick's Notion Journal is a simple and relatable aesthetic Notion journaling template. If you didn't write in a journal before, starting the practice can be a bit awkward and uncomfortable. This aesthetic Notion journal template lets you ease into the habit and start journaling comfortably.
---
✨ Notion dashboard templates aesthetic
Next up, we'll look at aesthetic dashboard templates you can start using on Notion. We came across a few dozen great options, but we narrowed down our selection to just seven.
---
Ella's Dashboard Template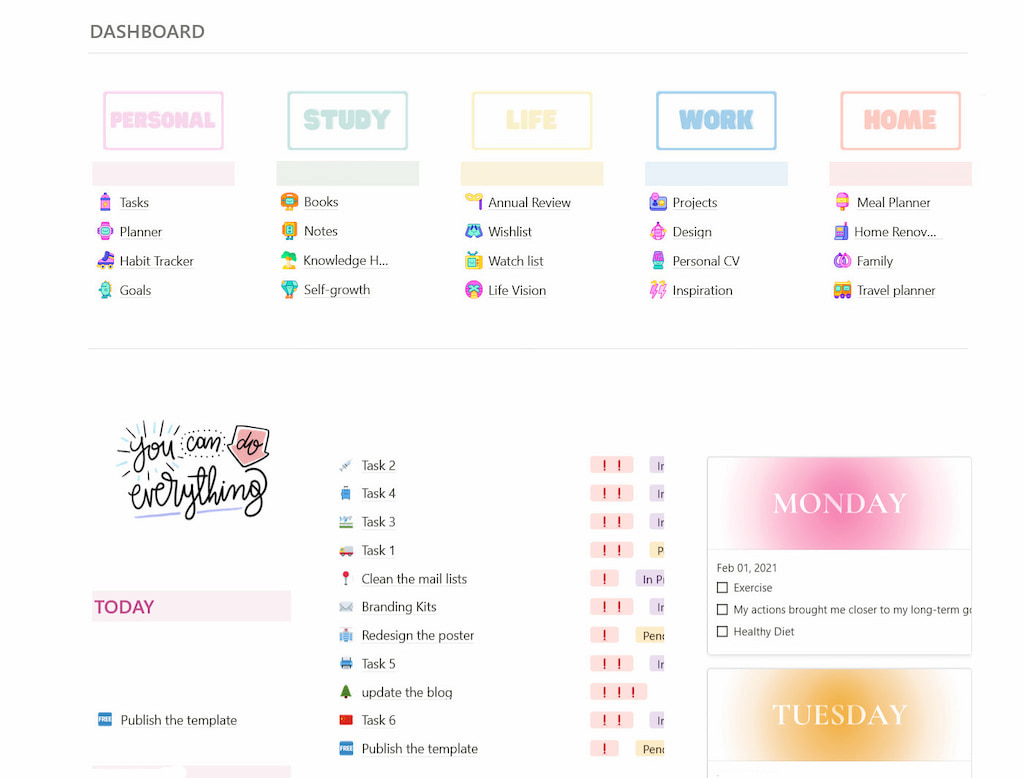 To kick things off, we'll first take a look at Ella's Dashboard Template. This simple template allows you to look at your entire schedule from a birds-eye view. You can set tasks, note important dates, and even set reminders for different things that are yet to happen, making this one of the best all-in-one aesthetic Notion dashboard templates available. It's also free, so you don't lose anything if you try it and don't like it.
---
AlignOS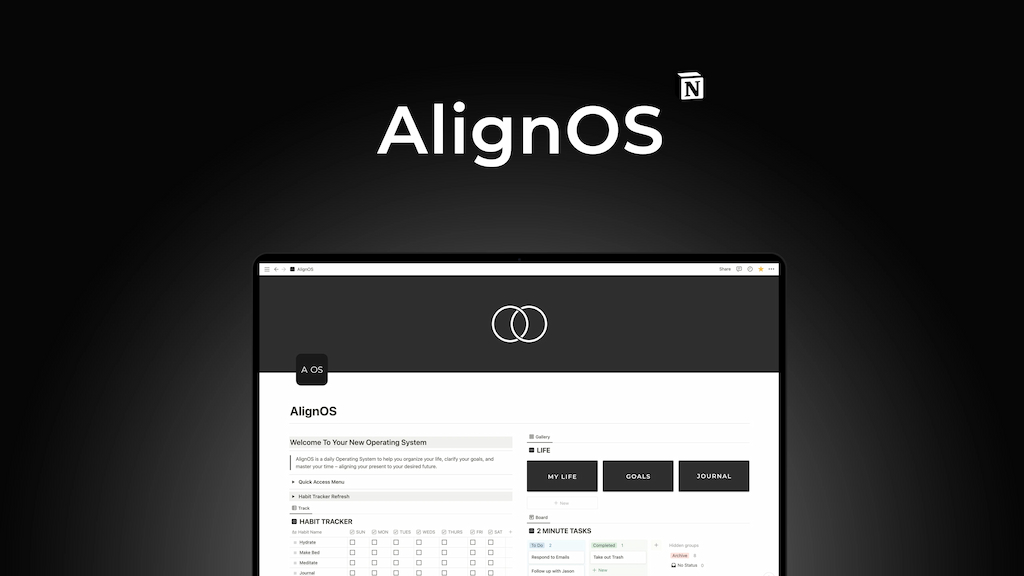 AlignOS is a template designed to bring you clarity in your day-to-day activities. It has a beautiful minimalist aesthetic that's really easy to understand. This is a premium aesthetic Notion template, and it's one of the best-designed dashboards that we've come across. At the time of writing, this template costs $29.
---
Perspective Dashboard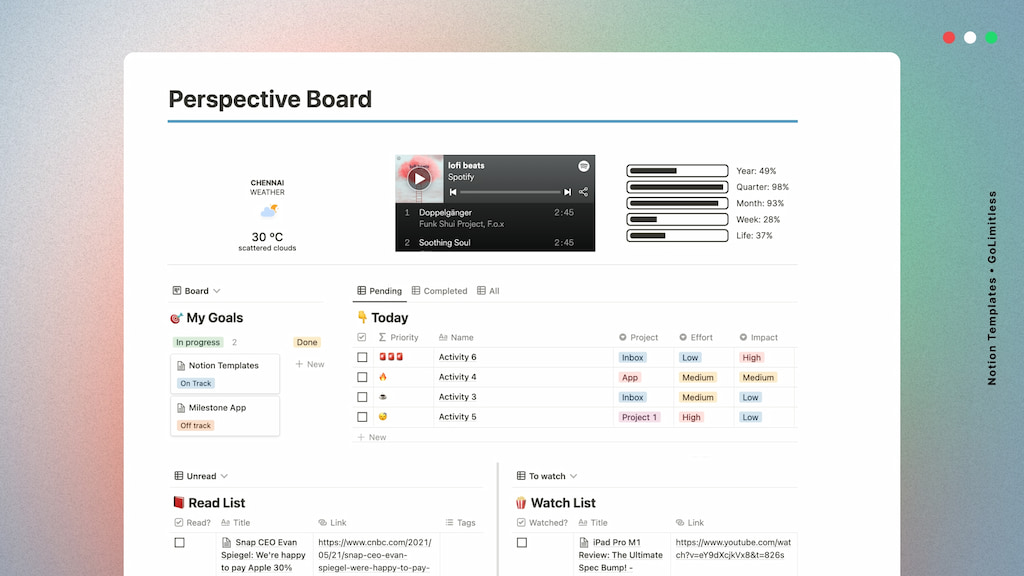 As the name suggests, this Perspective Dashboard will help you with exactly what, gain some extra perspective in your life, in your studies, or at work. Using this aesthetic template, you can set tasks, schedules, events, and everything else in your daily life.
It's highly customizable, meaning if there's something you don't quite like or if it's not relevant to you, you can replace it or get rid of it completely. What's also great about this template is that it's 100% free.
---
Obsidian Life OS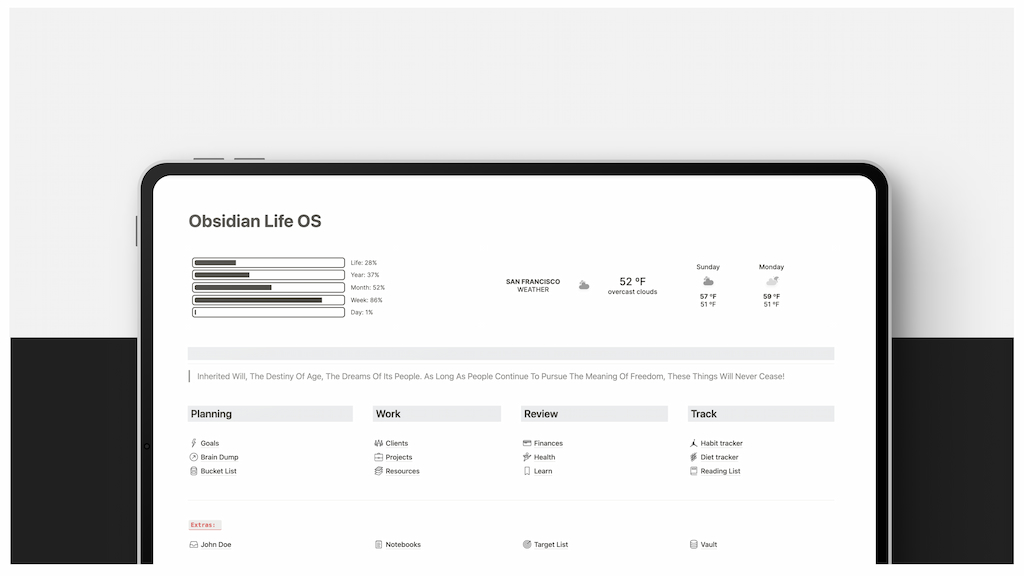 The Obsidian Life OS is a unique, limited edition Notion template designed to help you create and follow a system so you can focus on what truly adds value to your life. Whether it's working on your business, a hobby, or a life goal that you're trying to accomplish, this template is made to help you achieve your goals faster and easier. Sadly, it is paid and at the time of writing, there are only 22 copies left, so hurry with getting yourself a copy if you're serious about your goals.
---
University Hub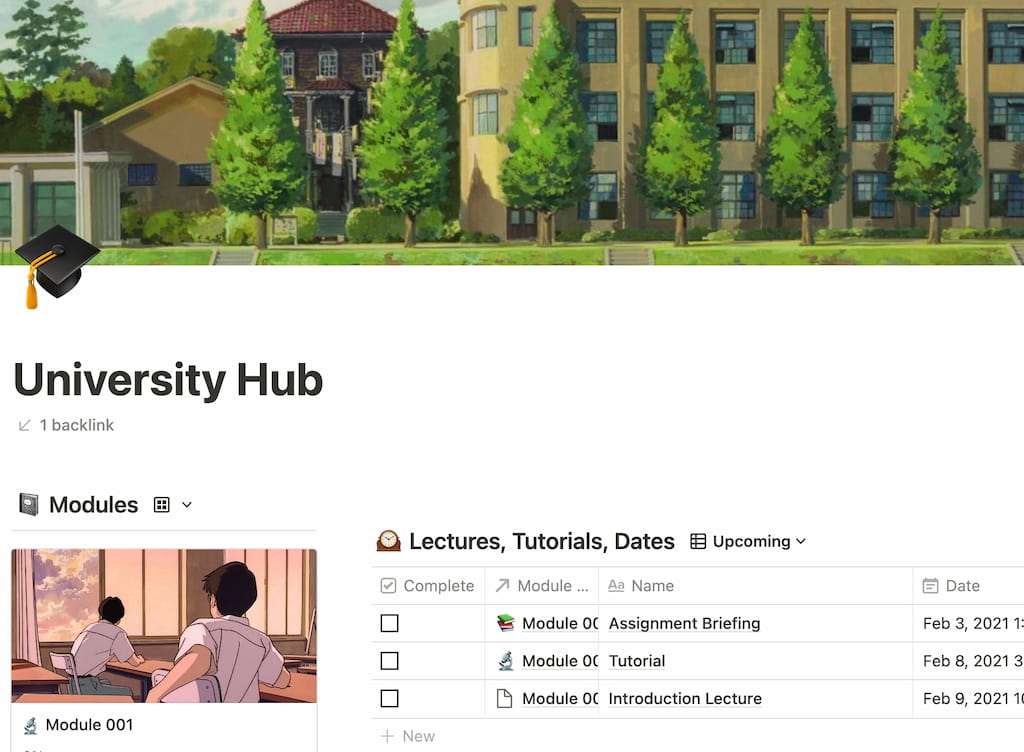 Studying at college or university? The University Hub Notion template is a great choice for you as it is specifically tailored toward students and those currently going through the academic phase of their life.
This template is perfectly made to capture the intricacies of student life and help you plan and track all your tasks and projects. On top of that, it has a straight-to-the-point interface while maintaining a beautiful aesthetic.
---
Academia Dashboard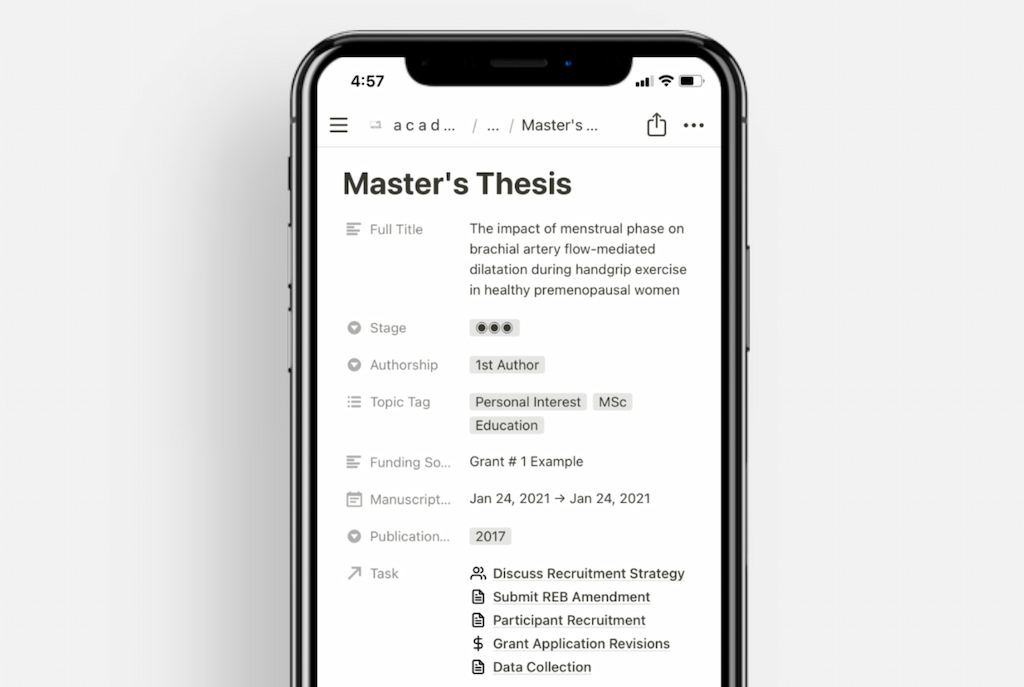 The Academia Dashboard is a Notion template designed by an ex-student made for people who are either going through the academic phase of their life or are about to start and want to have complete control over their academic life and performance.
This simple but well-designed workflow system takes away the hassle of planning your days, weeks, and months as a student. It is a premium template, so do check it out before spending money on it.
---
Notion Growth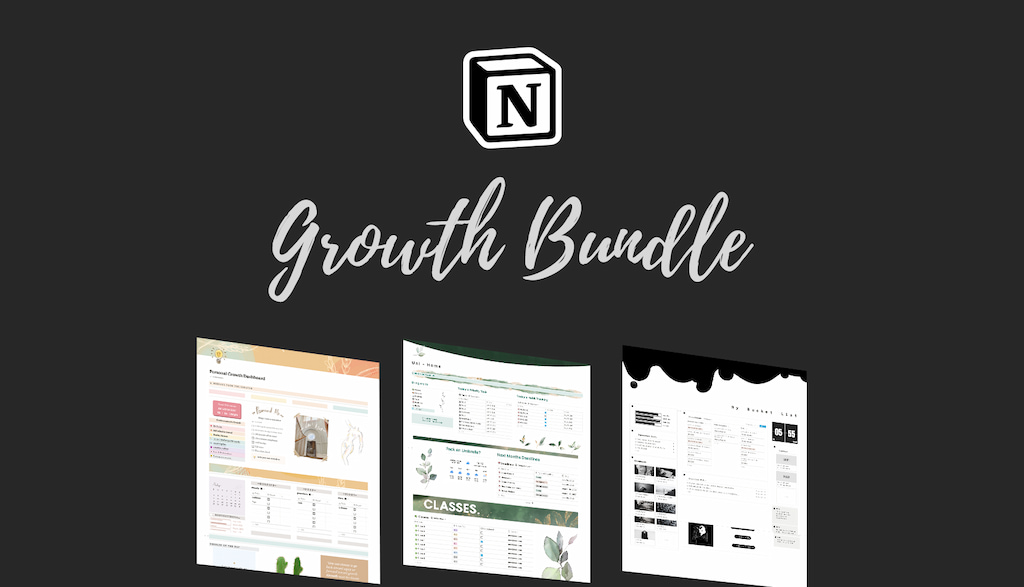 Looking for your very own personal growth planner? Look no further than the Notion Growth template. This premium package comes with several templates, including:
A personal growth planner
Botanical student-hub
Black minimalist bucket list
Each one of the templates comes with a unique design and is made to maximize whatever it is that you want to achieve. If you're a student, it will help you with tracking your habits and staying on top of your tasks. If you're using the bucket list template, it will provide you with an anecdote and memory section, an experience overview with multiple filtered views, and others.
---
🏫 Notion school template aesthetic
Life in school can be tricky. But with these aesthetic Notion school templates, you can take control of your academics in style. These are some of our favorite Notion school template aesthetic options that we found on the internet.
---
Startup 101 Template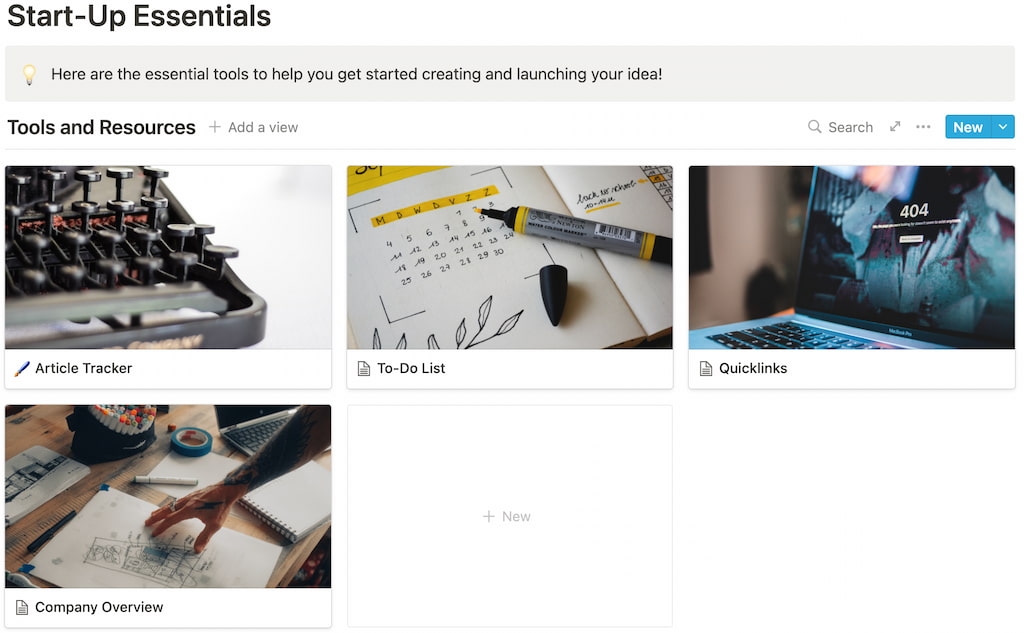 To kick off this specific list, we'd like to present you with the Startup 101 Template. Like all the other comprehensive templates, it gives you a simple dashboard where you can view all your notes. While you can use this for school, you can also use the template for other purposes, such as kickstarting projects. What we also liked is that you can download this aesthetic Notion template free of charge.
---
The Campus Life Organizer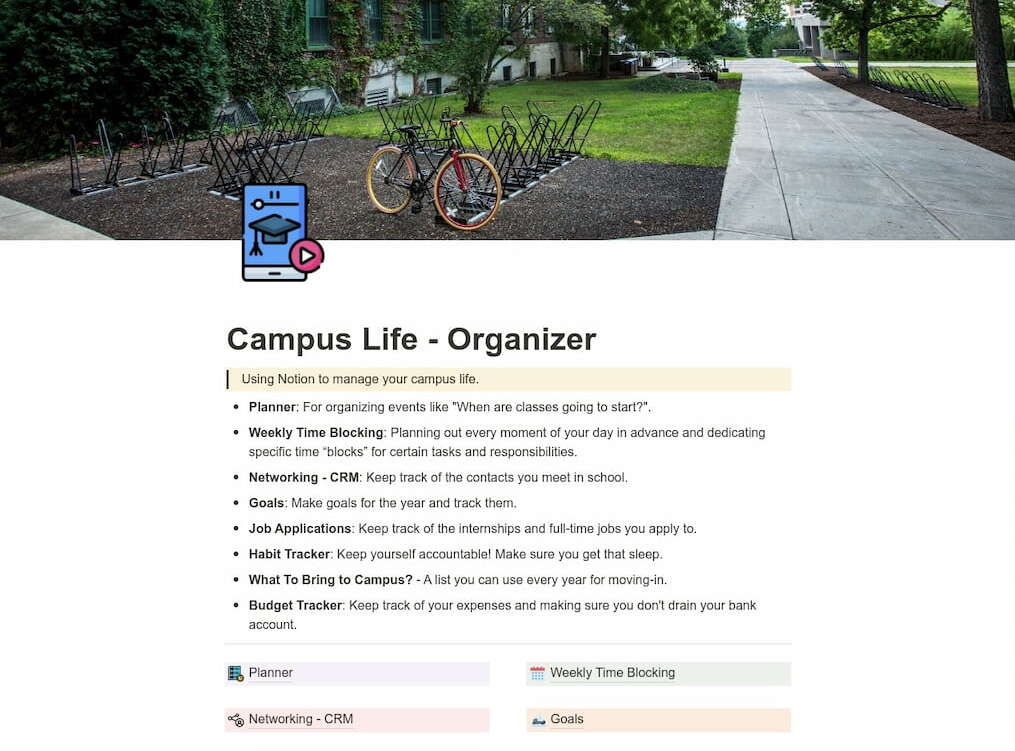 Life on campus is very different from life at home. Adjusting to campus life is going to be one of the hardest things you have to do as a student. However, if you want to keep things organized and make sure you're always on track for your goals, The Campus Life organizer template is what you need. It offers a planner, networking features, a calendar, and even job applications for when you're finally ready to leave school and begin your adult life.
---
Resonance Calendar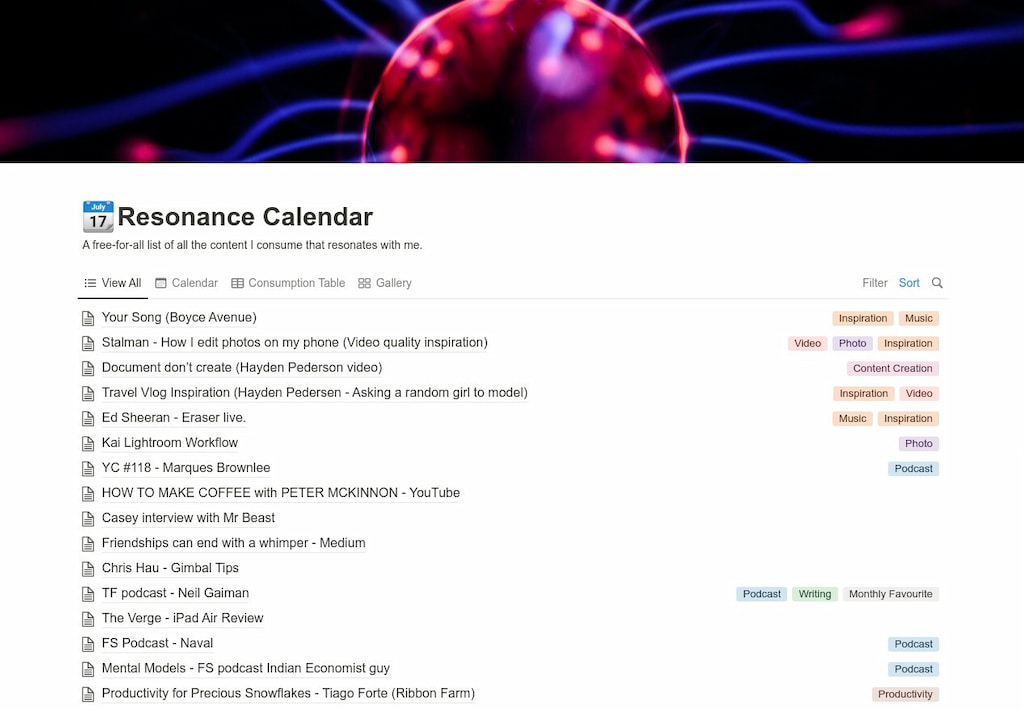 Looking for a quick and easy way to take notes (and organize them later)? The Resonance Calendar will help you do exactly that. With the Resonance Calendar, you get a free-for-all to-do list and a collection of notes to jot down ideas on the go. It even has tags you can add to each note to organize them so you can more easily find the specific notes at a later date, which is a great feature.
---
The Ultimate Note-Taking Template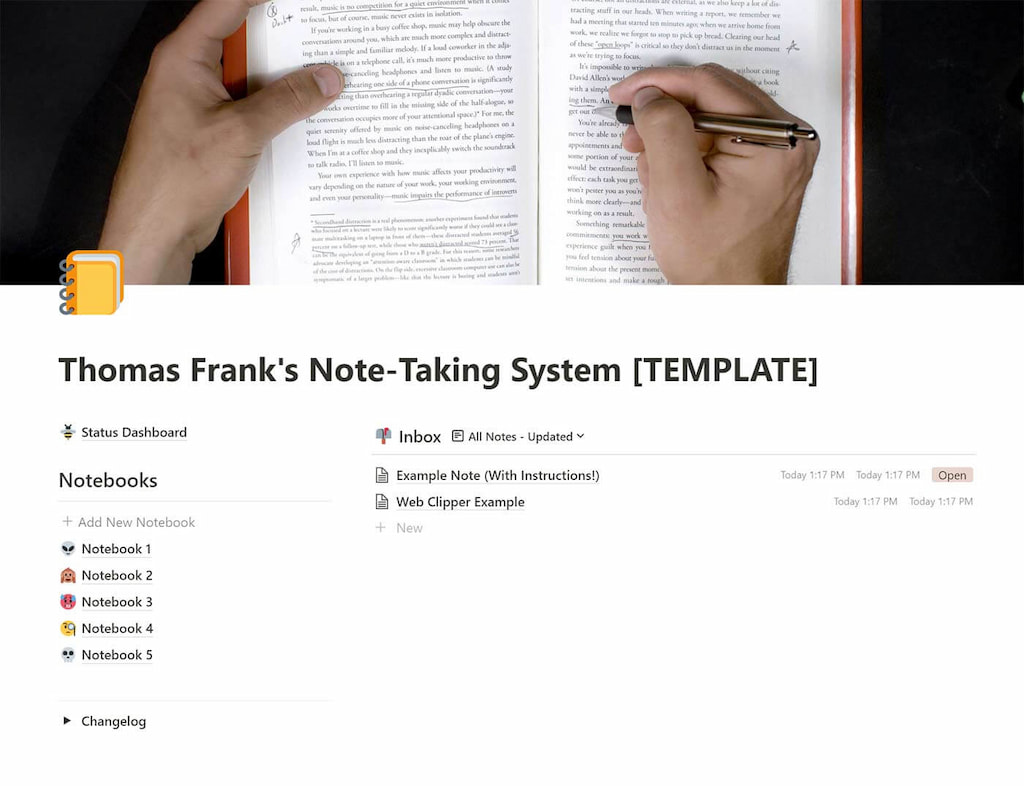 If there's one skill you always need to develop when in school, it's of taking notes. Understanding that you can't retain everything without writing it down is very important as a student. That's why The Ultimate Note-Taking Template was created. This template makes taking notes and keeping all of the gathered information neatly organized so you can use it effectively at a later date for assignments or when revising for exams.
---
Minimalist Habit Tracker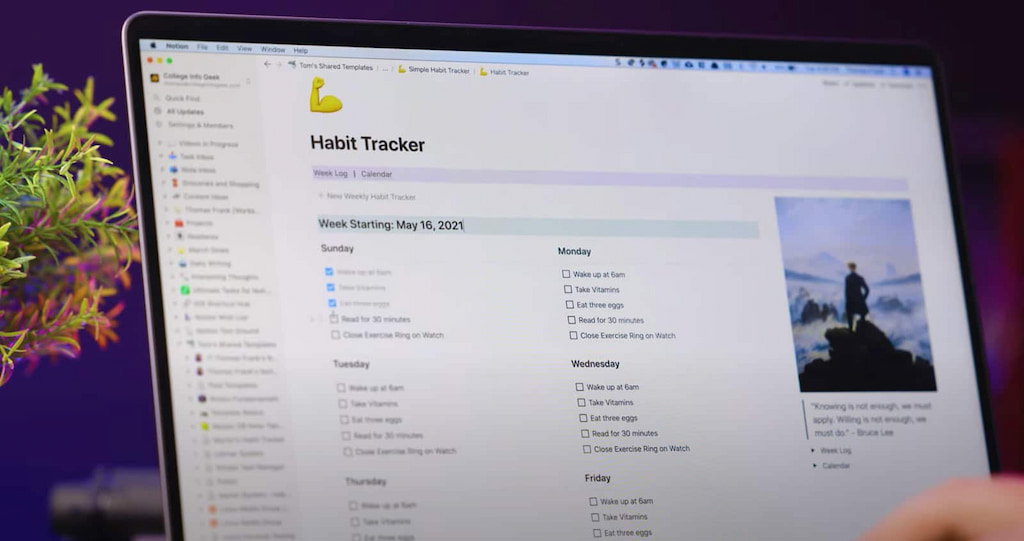 It doesn't take a lot for school to get unbearably overwhelming. And when that happens, things can quickly start to impact not only your studies and academic performance but also your personal life.
That's why having a minimalist Notion template such as the Minimalist Habit Tracker is great for those who want to keep organized and keep things simple. While it features a great aesthetic, this Minimalist Habit Tracker makes it very easy to track your habits and develop better ones while you're in a place of learning. That way, developing the right mindset for succeeding in school will be much easier.
---
AIC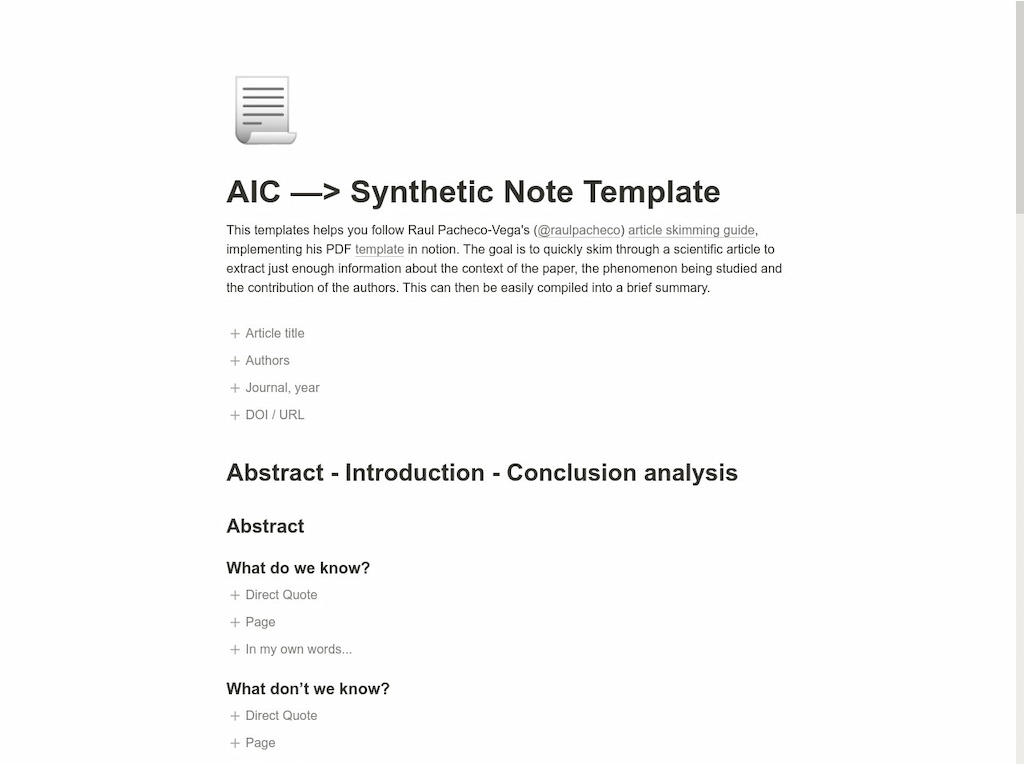 Reading through a ton of scientific papers can be an extremely time-consuming process. The AIC Notion template was designed to help you quickly skim through scientific papers and extra all the key information about the context of the paper without spending hours on end.
---
Spaced Repetition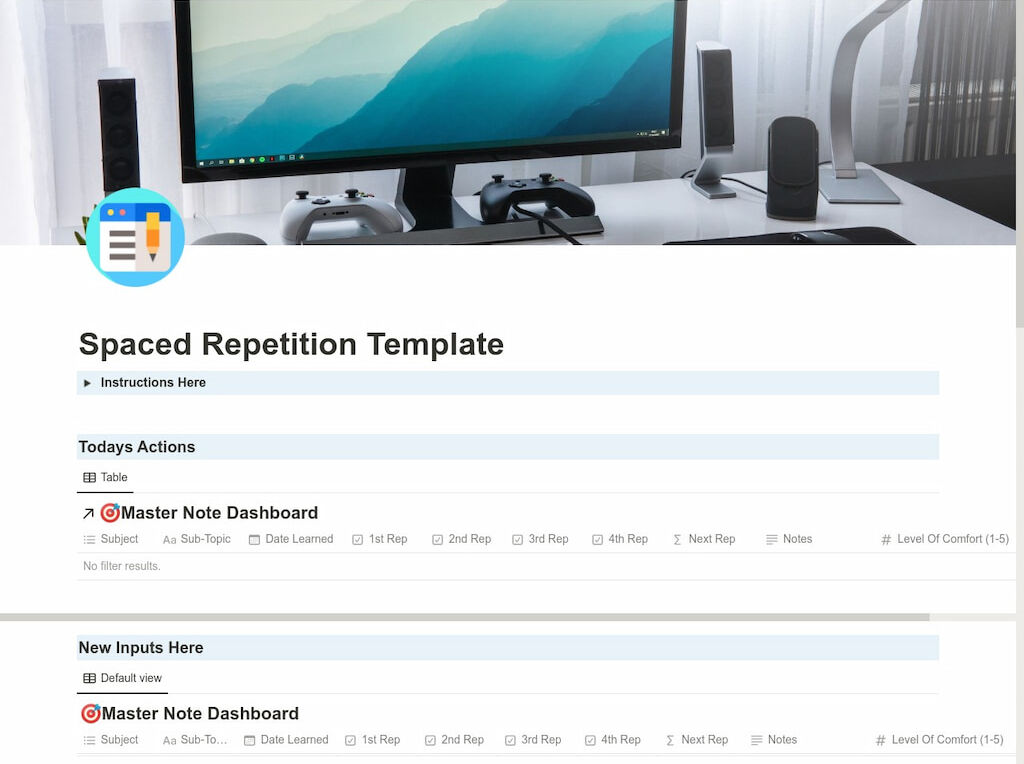 And last but not least, we'd like to present to you the Spaced Repetition Notion template for school. We included this option in our list because it's designed to help people with their memory when it comes to school.
Memorizing and retaining information can be extremely challenging for students. Without this skill, sitting and passing exams with excellence can be a real challenge and often a mission impossible. So, if you're looking for a cheat sheet to remember everything you study, this template is for you.
---
Conclusion
When you combine aesthetics with Notion, that creates a powerful environment to get stuff done. Whether you're a student and want to stay on top of your studies or want to start journaling and writing down your daily thoughts, above, we explored a few dozen aesthetic Notion templates you can use.
While most of them are free, we also included some premium and limited edition templates. So check them all out, see what each of them has to offer, and pick the one that works the best for you.