Keeping track of your goals is a great way to make sure that you not only accomplish them but also accomplish them on time. And while you can do that using pen and paper, it's far from being the most optimal way to go about your goals when you can use a goal tracker app.
In this guide, we will go over 12 of the best goal-tracking apps that you can start making use of today. We have selected a wide variety of apps, including paid and free software as well as apps that are suitable for individual and corporate use.
But, before we review each of the apps in our selection, let's talk about why you need to use the best goal tracker app in the first place and what the benefits of using one are.
Exploring the Prime Goal Tracking Apps for Enhanced Productivity
Understanding the attributes that set apart the best goal tracking apps is crucial for optimizing efficiency and strategic time management. Whether you're an individual aiming to amplify personal productivity or an integral member of a collaborative team, harnessing top-tier goal tracking apps provides invaluable insights into effectively managing your day-to-day, weekly, monthly, and yearly tasks.
Significance in Goal Attainment: Embracing leading goal tracking apps empowers you to refine your workflow, extract the utmost value from your time, and achieve your objectives with precision.
Key Assessment Criteria:
Real-time task monitoring: These applications seamlessly initiate, pause, and conclude task-tracking features, ensuring meticulous time allocation and progress supervision. Task categorization: Effortlessly categorize tasks for improved organization and focused effort. Collaboration and communication: Access features that foster teamwork, enriching communication and cooperation among team members. Integration and synchronization: Streamlined functionality that integrates harmoniously with various tools and platforms, ensuring a cohesive and effective work environment. User-Friendly Accessibility: The apps ensure effortless access and utilization of productivity-enhancing features across different devices and platforms.
Our Approach to App Evaluation and Testing
Our assessments are thoughtfully curated by experienced professionals specialized in software analysis for goal achievement. Each app undergoes rigorous testing and thorough evaluation against our predefined criteria. It's worth highlighting that we adhere strictly to a policy of not accepting compensation for featuring apps or integrating them into our articles. Our primary focus is to maintain the trust our readers place in our impartial and authentic app assessments, aimed at elevating productivity and goal attainment across diverse settings.
Why Do You Need a Goal Tracking App?
Before we list some of the best goal app apps, we need to talk about why you might want a goal-tracking app in the first place. After all, these apps aren't going to minimize the tasks you need to do in order to achieve the goals that you've set yourself, so how would they increase your productivity?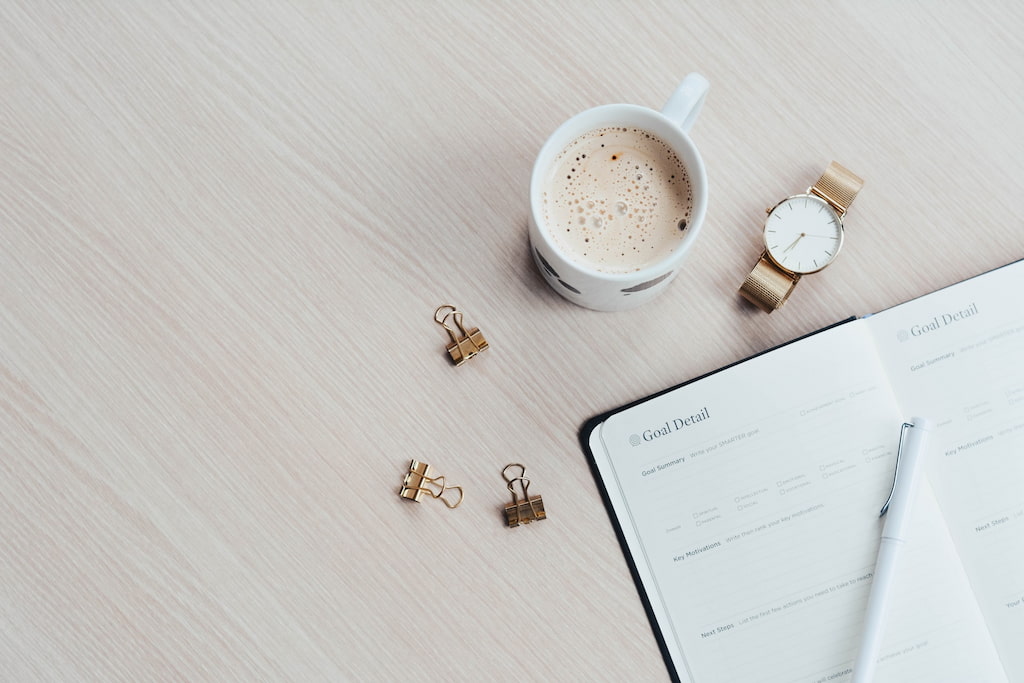 When you use a goal-tracking app, you and your team can:
Neatly organize the goals you need to achieve
Prioritize your goals in terms of importance
Coordinate who needs to do what and by what date
Easily keep track of progress to ensure no deadline is missed
Access every detail to do with the goal at any time from anywhere in the world
With that being said, not every goal-tracking app is good. So, to help you find the best app for tracking goals that also suits your needs, in the section below, we will show you 12 of our favorites, giving each one an overview, how to use it to keep track of your goals, and the pros and cons of each of the different apps.
Who Can Benefit from Goal-Setting Apps?
Just about anyone can benefit from using the best goal tracking apps. When you have clearly set your goals in an app, you can always go back and check what you need to accomplish and when you need to accomplish it by. That way, no goals of yours will get left behind or forgotten about.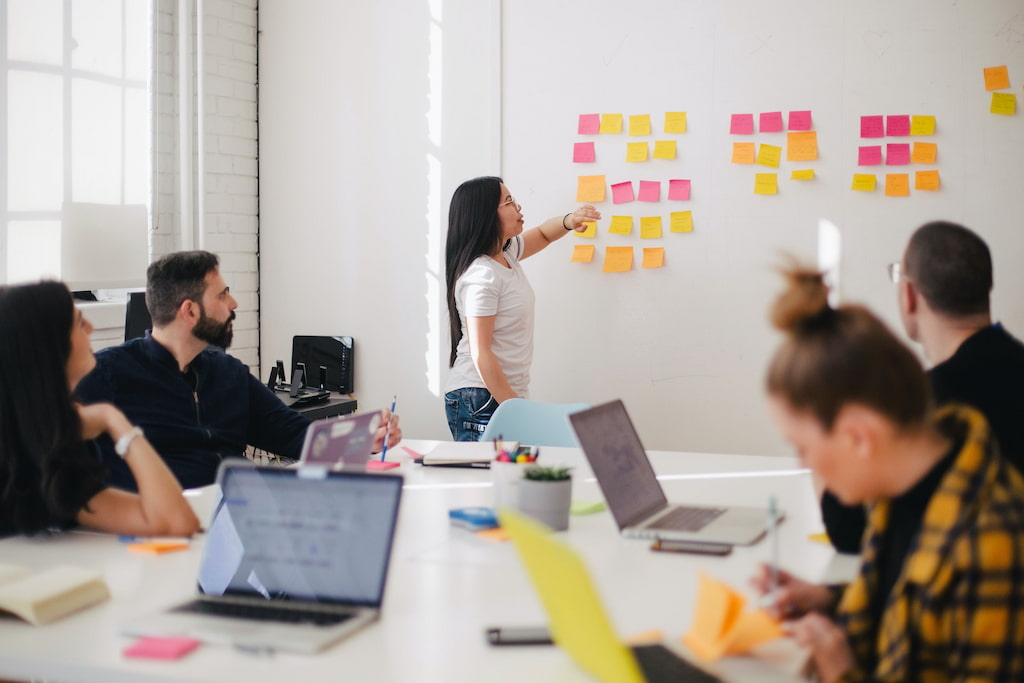 Besides, goal-setting apps aren't just for helping you with achieving your personal goals. They can also be used by managers and team leaders to keep them and their team at work on the track with what goals need to be achieved professionally within the firm.
That said, keep in mind that these apps aren't a magic wand. While they may make it easier for you to prioritize your goals and help you achieve them, they won't achieve the goal for you. You still need to take out the time and put in the effort to achieve your goals.
The 12 Best Goal Tracking Apps Available Today
Everhour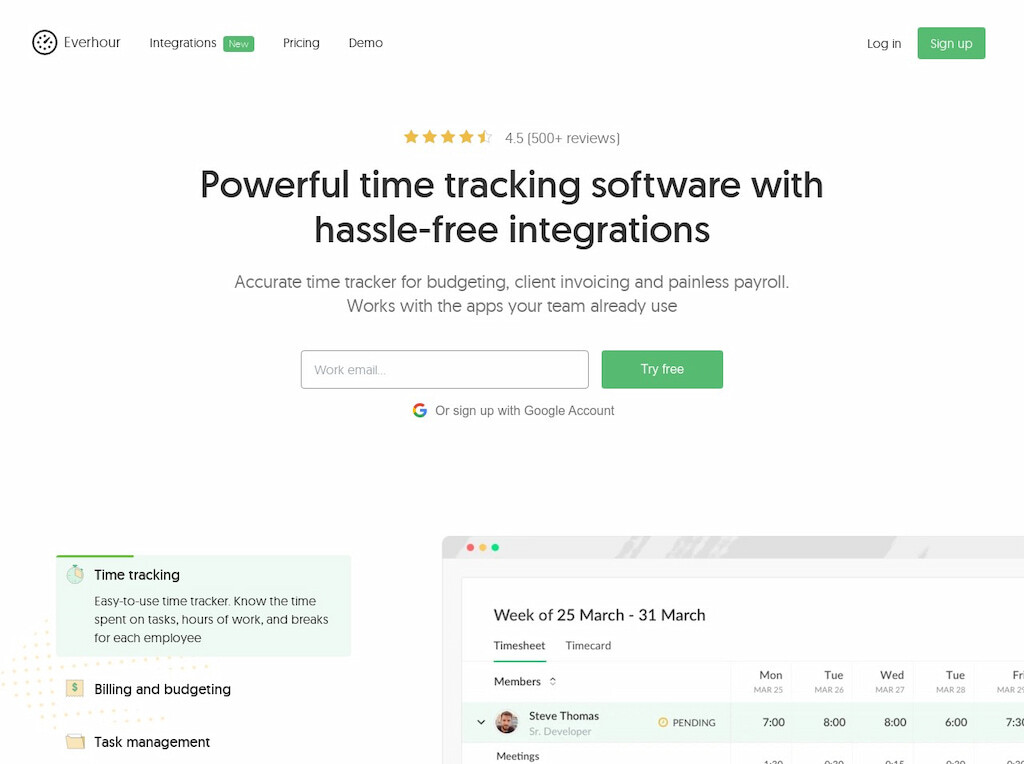 Everhour is a popular time tracker and one of the best goal-setting apps on the market today. You can either set nice and simple goals that you can keep track of, or you can use the app to its full potential and use it for bigger and more complex goals.
Everhour can be used for anything from time tracking using the time clock app and as an attendance tracker to streamlining processes, keeping track of budgets, or even integrating Everhour with other applications such as ClickUp or Notion.
One of the biggest issues people face with goal-tracking apps is their interface and difficulty of use. That's not the case with Everhour. As soon as you log into your dashboard, navigating through the app and setting your goals in place is super easy.
In terms of downsides, the only real drawback with Everhour is that it doesn't have an offline option, meaning you can't time track or access the app and your data without a connection to the internet.
Evernote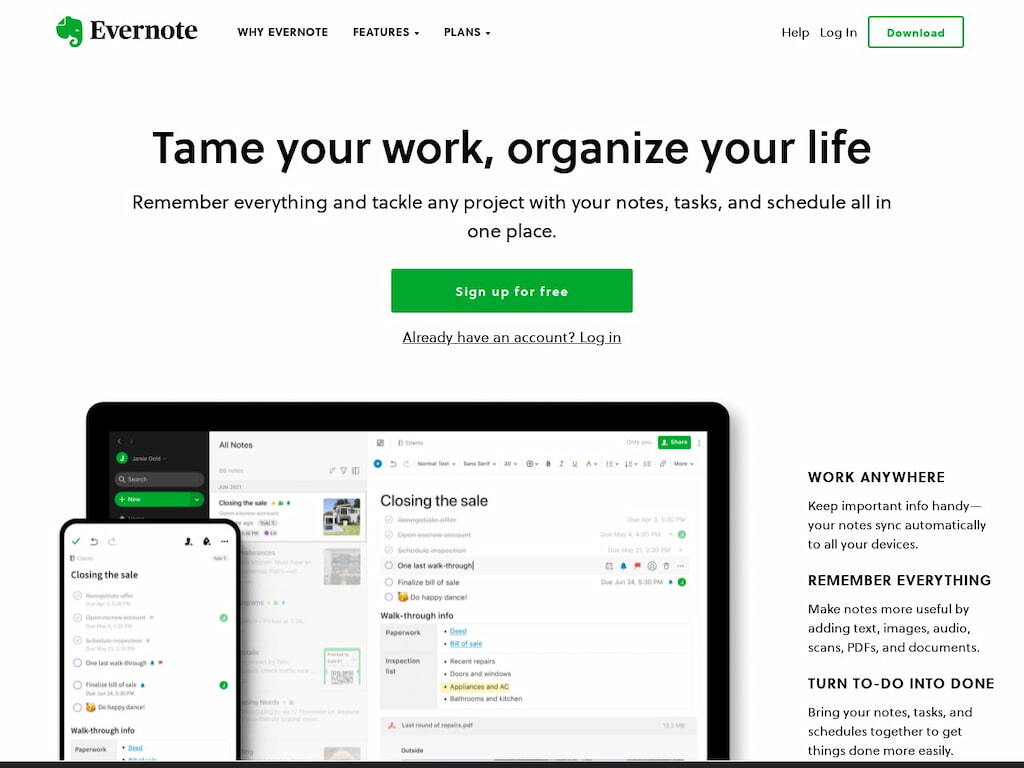 With Evernote, you can make a bullet-style journal, in a very similar way to Apple Notes, which we will cover later. The reason this app is so popular is that it allows you to lay out all of your goals in a very clear and concise manner, making it much easier to approach and tick off each goal you achieve.
That said, bullet journaling can take a lot of time and effort. And if you aren't one who's good at arts and crafts, it might not be for you. But with Evernote, you can create really good-looking bullet journal entries that you can view digitally.
That way, you can access the journal at any time you want. And since you add aesthetic features digitally, there are endless possibilities with how you set and view your goals with the app.
And while this is primarily a journaling app, it also has a daily to-do list feature. So, if you're short on time, you can always refer to the to-do list to check on what you have to accomplish during the day, week, month, or a specific time frame.
The great thing about Evernote is that you can use it completely for free, but if you want to take advantage of all its features, you'll have to pay a monthly subscription. Still, it's just around $7 per month for an individual and around $13 for teams.
ClickUp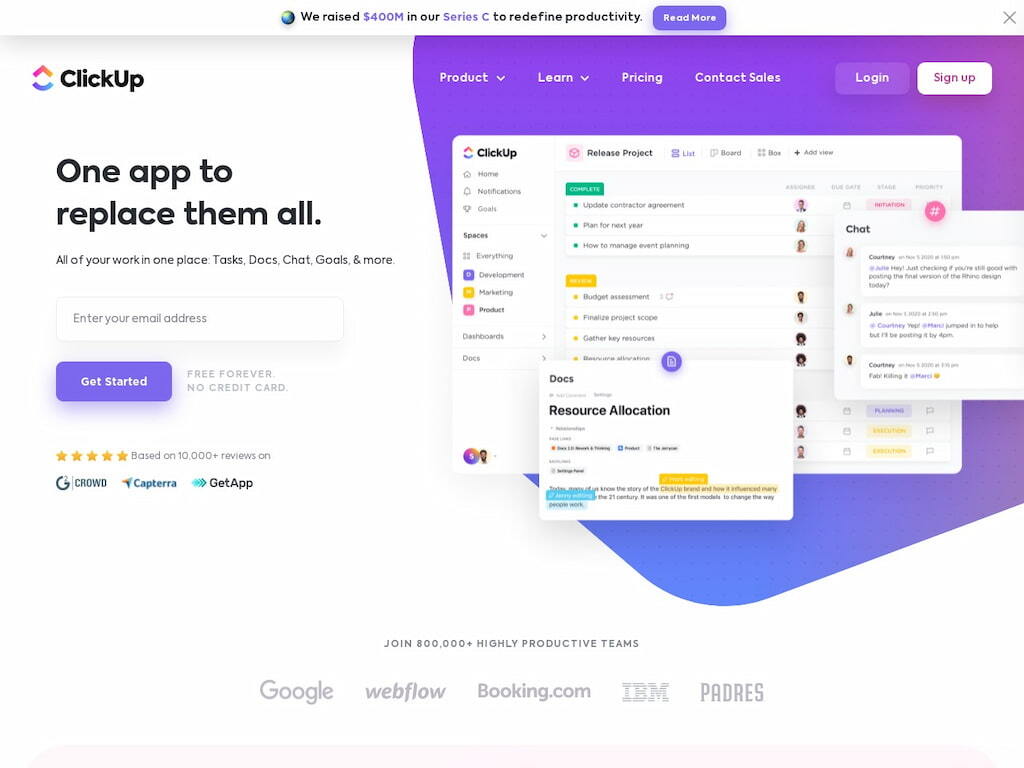 ClickUp is another modern, intuitive, and really useful goal-tracking application. It can be used by an individual or a large group of people and help effectively keep track of goals no matter how big or small.
ClickUp is very similar to Trello, with the exception that it has a much better UI. You can still add comments, attachments, or additional information within each card, you can set deadlines, assign people to each task and even get reminders every time a task goes through the pipeline or is overdue. Thanks to all those features, you can easily prioritize and keep track of progress before shifting your attention down the list.
The main advantages of ClickUp are that it's a free goal tracker app (for the most part), is very easy to navigate, and no matter how many goals you want to track, it's easy to keep everything neatly organized.
The one downside of using ClickUp is that it's quite awkward to navigate on mobile and will need some getting used to.
Strides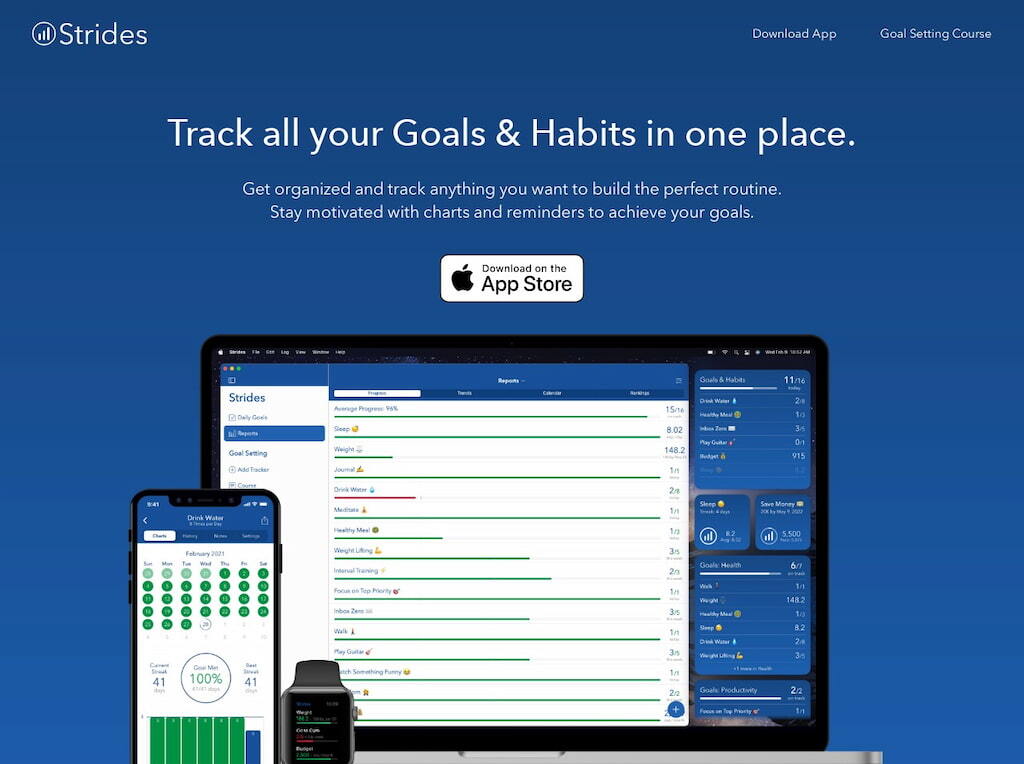 The reason we chose to feature Strides on this list is that it can be used as a goal-tracking app. With Strides, you can put a high emphasis on setting goals using SMART criteria, which allows you to easily approach complex and difficult goals by breaking them down into easily achievable tasks.
With the SMART goals set up in Strides, you and your team can set attainable goals that push towards a larger objective. This makes achieving big tasks much easier.
On top of that, Strides makes it easy to track your progress. The goals that are in green are the ones on which you are on track, while the ones in red are the ones that you're behind on. You can even set reminders, deadlines, and more to give you even more control over your daily goals.
That said, you have to pay if you want to track more than three goals on Strides. While the service is definitely worth the money, this isn't the best if you're looking to spend $0 on a goal-tracking app.
Weekdone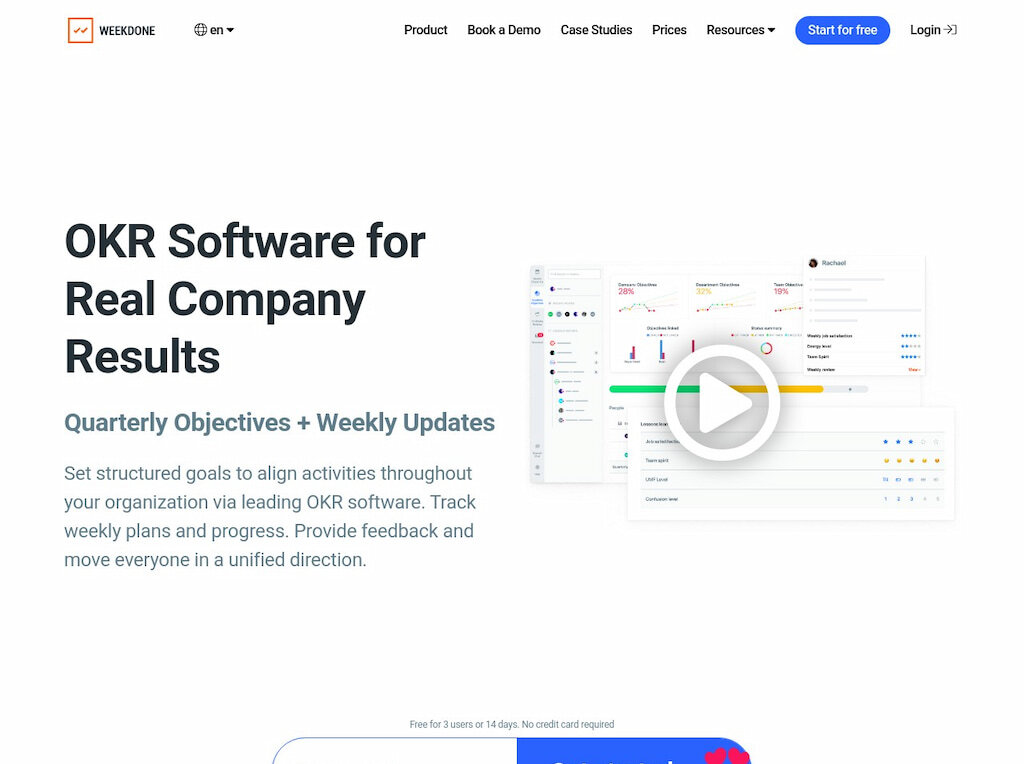 Weekdone is a fantastic weekly and daily goal app for larger teams. It's one of the only options on the market with good OKR features. This allows you to set more challenging and ambitious goals for the team or organization, while still getting measurable results.
On top of that, this goal app comes with features to boost employee morale. For example, there are one-on-ones and weekly check-inf features that allow you to communicate with the team and ensure that everyone is well and on track with their performance.
Besides, Weekdone is one of the few apps that are great for tracking both long and short-term goals. It also allows you to prioritize all your different goals very clearly so that you and your team know exactly where the company is at.
With that being said, the only downside to Weekdone is that if you have a team larger than three members, you'll need to sign up for the premium plan, which costs more the more people you add.
nTask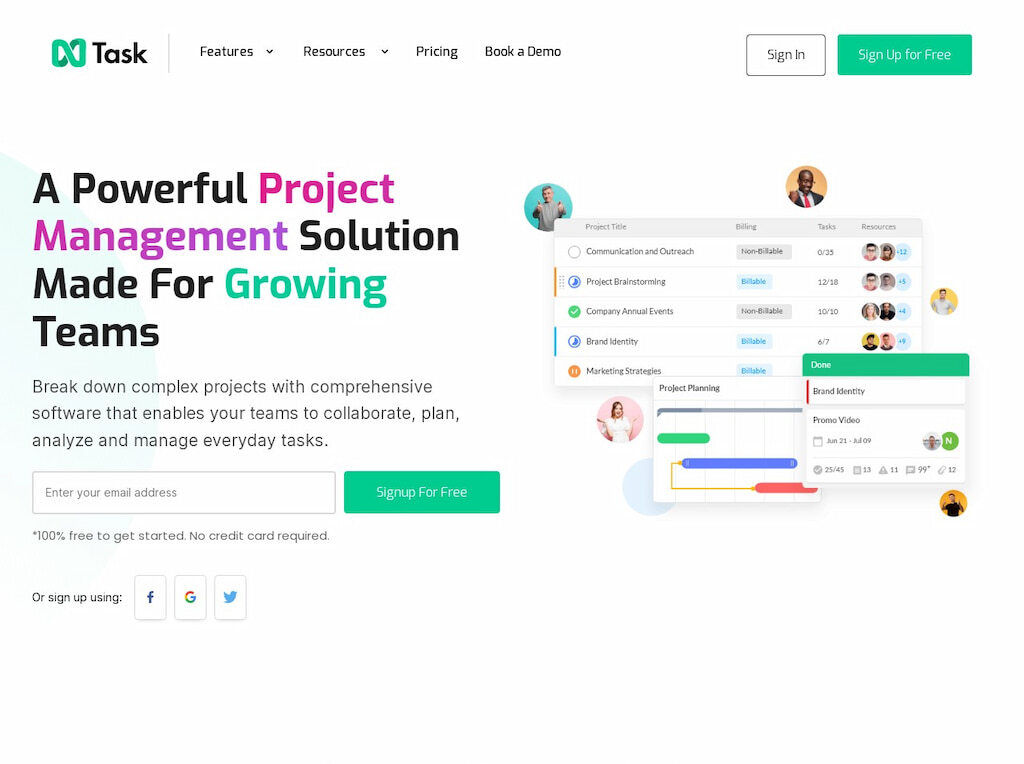 nTask is a goal progress tracker that uses the Kanban board method. The Kanban board allows you to set your goals and the deadlines that you need to achieve them while allowing you to view all the details very clearly.
That way, you or your team can stay on the same page and ensure you're on track without risking missing any deadlines or wasting unnecessary time. Achieving that is great for maximizing productivity tool.
One downside that we saw while researching nTask is the lack of customer support. Existing users claimed that nTask takes a while to respond to tickets, which isn't ideal. However, if you don't plan on using their customer service on a daily basis, then it's a wonderful goal-tracking app to use.
Habitica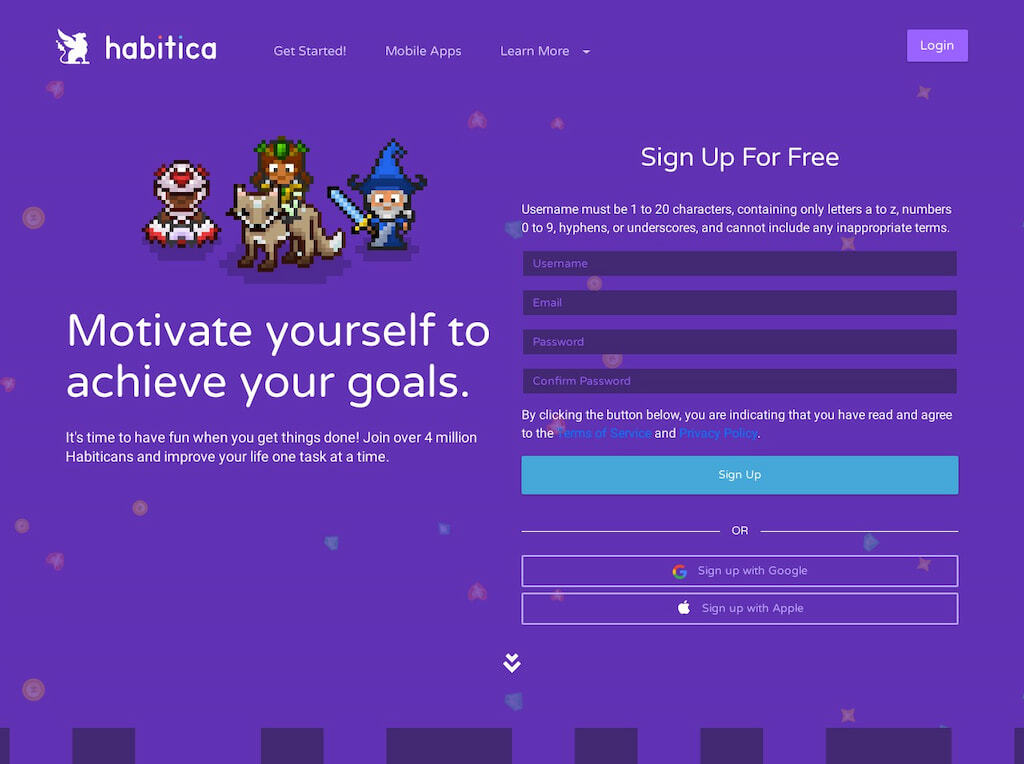 Habitica is one of the more unique goal apps to track your goals. With this progress tracker app, you aren't just listing down the tasks that you have to accomplish. This app takes a gamified approach to accomplishing and finishing the goals you've set, which isn't something you will come across often on the market.
With Habitica, you have a character that goes through a medieval-style adventure world. From there, you can set your goals, and your progress is what determine what happens to your character in the game. This is a really cool way to track and smash through your goals.
The downside to this goal planner app is that it isn't free. It costs $5 per month but you can get a 20% discount if you go for the yearly membership.
Lifetick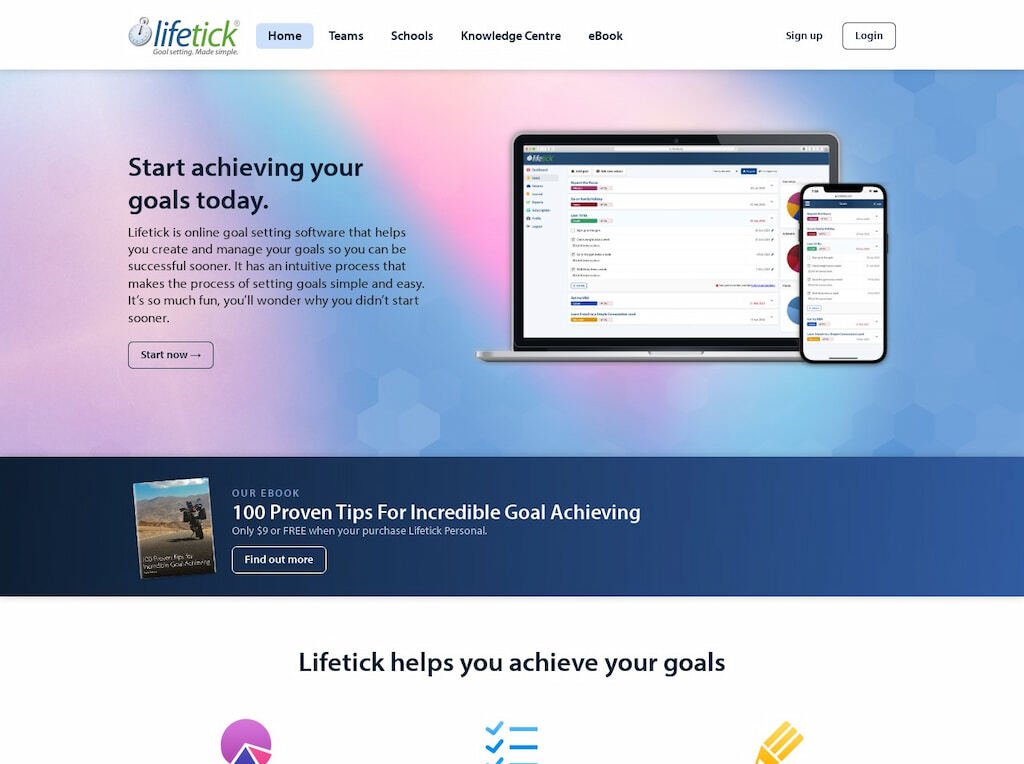 Taking a SMART approach to goal setting is something Lifetick really has nailed down. With this track progress app, you can set goals for just about any aspect of your life, including financial, health, professional, relationships, and more.
And since Lifetick uses SMART criteria, it's much easier to stay on track with your goals and actually accomplish them.
On top of that, Lifetick also has social features. So, you can share your goals and progress with family, friends, and colleagues. This could be a great app for people and teams who want to make sure they achieve every goal they set by keeping each other accountable.
The only real downside to Lifetick is that it's not free, but it's also super affordable. For instance, it costs just $1 per week for an individual subscription and around $20 for a team.
ProProfs Project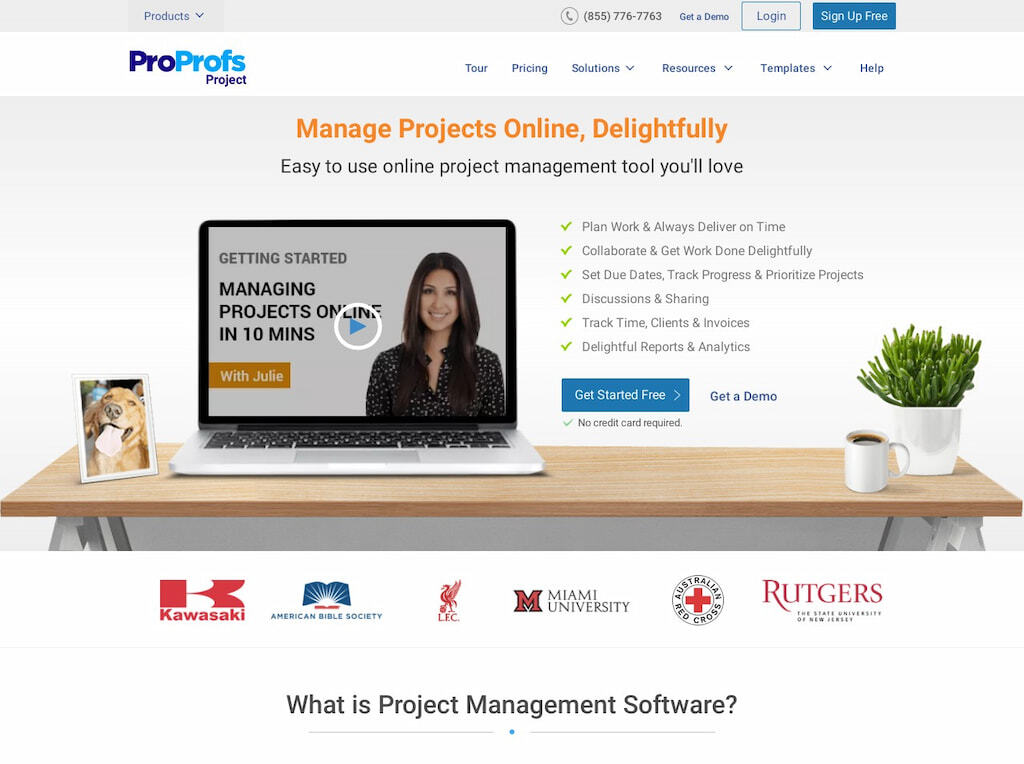 ProProfs Project is another project management software that is perfect for setting and keeping track of your goals. It's an all-in-one solution that will help you with planning, executing, and completing your goals.
Do note that this app isn't designed for individual use. Like Everhour, it is primarily designed for teams. Within the ProProfs Project app, you can access the timesheet app, and time tracker so you conduct employee time tracking, generate performance reports, set tasks, assign members, and virtually everything you could possibly need for achieving a team goal.
The app itself is not free, but it's super affordable, costing just a few dollars per month per user. And the cool thing about it is that you can try it out for free for a total of 15 days.
Coach.me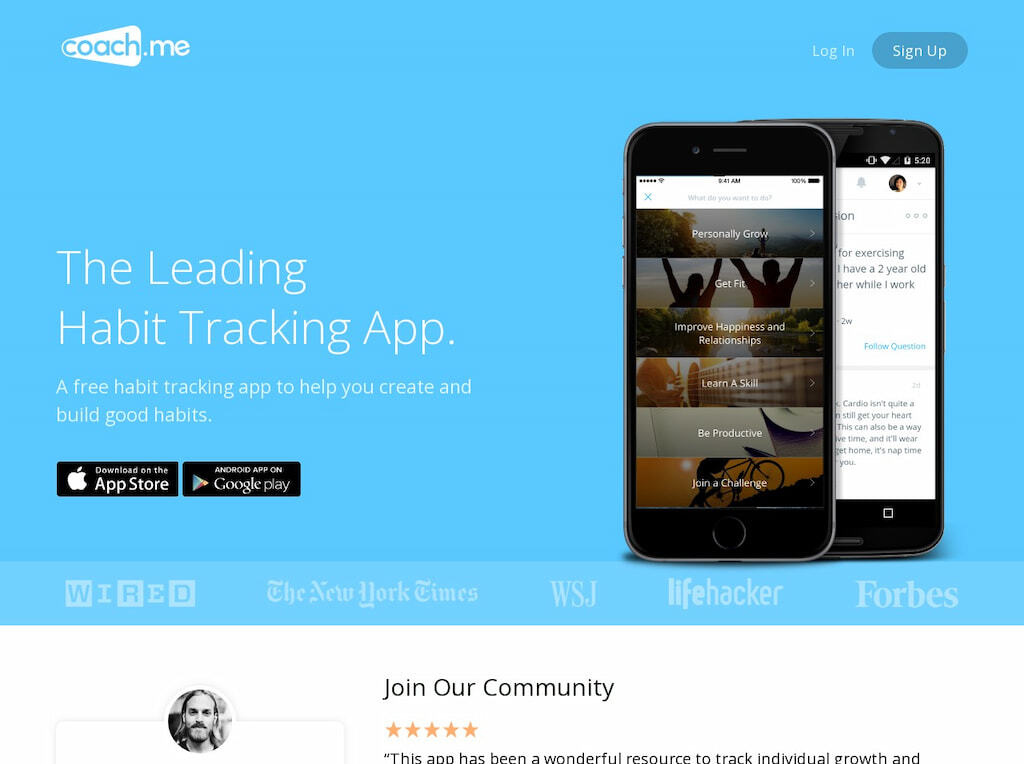 Coach.me is a unique type of goal-tracker. In fact, this app doubles as a goal tracker and a coaching app. Through the app, you can find like-minded individuals that have the same or similar goals as you, meaning you can come together, keep each other accountable, and achieve your goals together.
What's different about this app is that you'll get a coach to guide you through the entire process, making sure you're doing everything right and are on track to achieving the goals that you've set for yourself.
The beauty of Coach.me is that it works for just about any goal. Whether you're a person with business or fitness goals, or you want to get rid of your bad procrastination habits, Coach.me could be the app you need.
Another cool feature of Coach.me is how it actually tracks your goals and progress. With the app, you can set a goal and track your progress privately. However, you can also check the "Get Props" option, which allows other people in the community to check in and view your progress.
One downside of Coach.me is that it doesn't feel like (because it isn't) your typical to-do app like Everhour or ClickUp.
Way of Life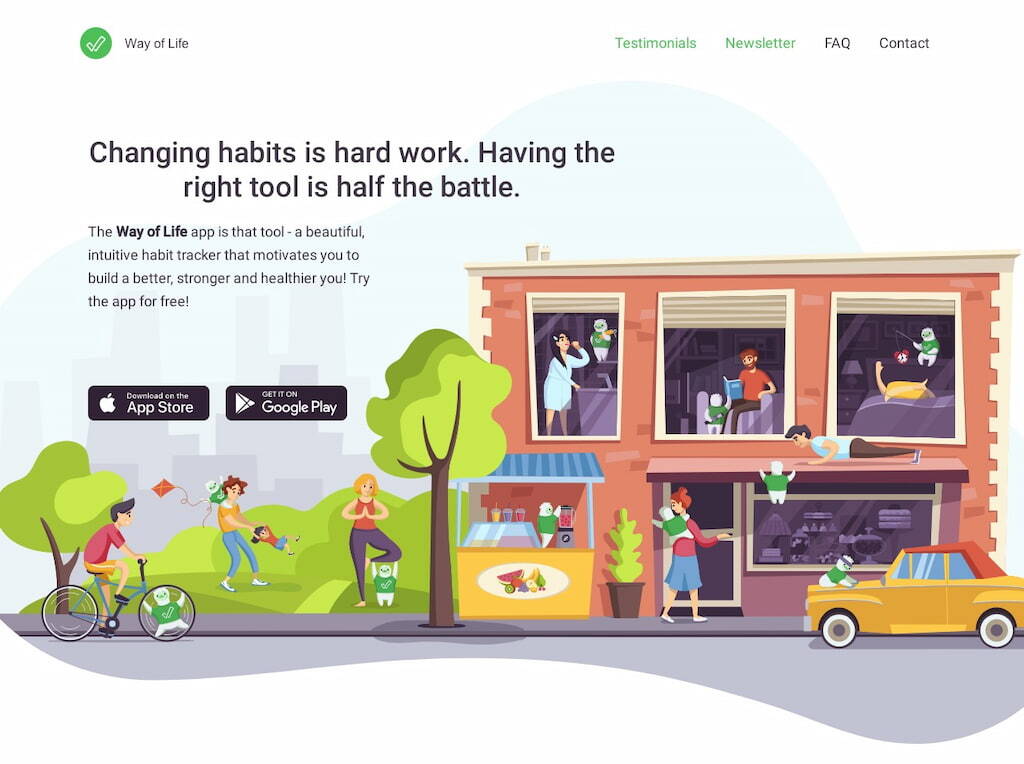 If you're a serial procrastinator and want to set the goal of getting rid of this nasty habit of yours, Way of Life is a fantastic progress-tracking app that can help you achieve that goal. The beauty of this app is that it works the same way for just about any habit that you want to correct.
Way of Life is a simple, color-coded goal-planning app. It's very interactive and easy to navigate, making setting and keeping track of goals easy. You can view Way of Life as a simpler approach to journaling, which offers tons of benefits for productivity and tracking your goals.
The only real downside to Way of Life is that it's quite limited in regard to customization and usage. You can only really find this app a suitable goal-tracking solution if you're looking to break free from bad habits.
Apple Notes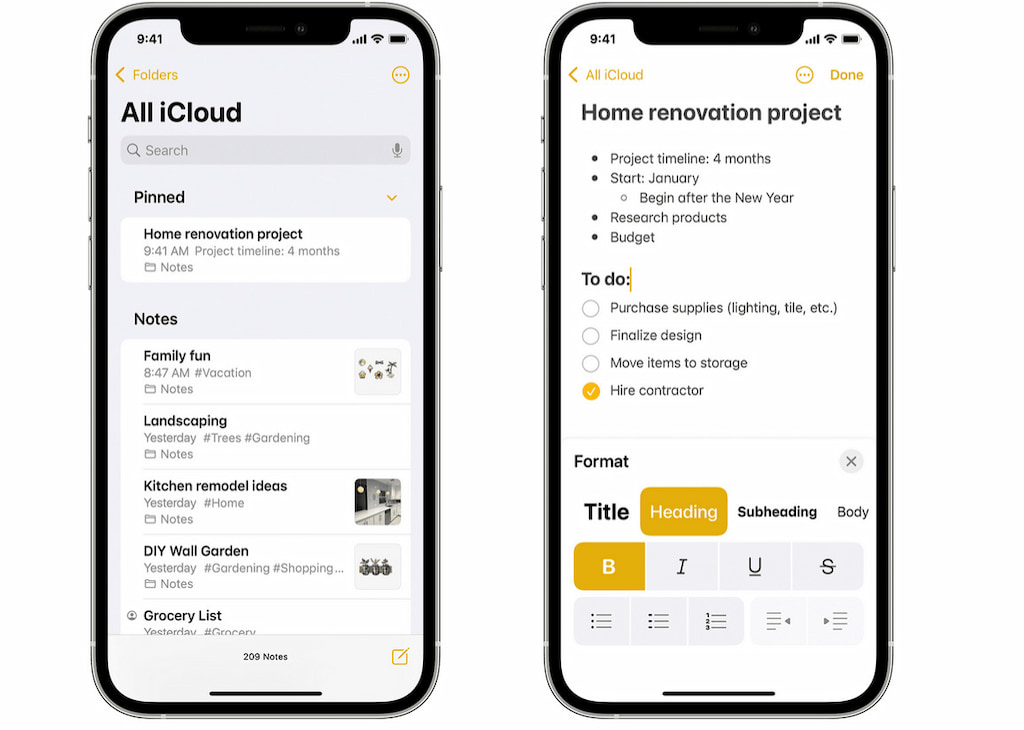 We wanted to include a very simple and effective goal-tracking application as one of the 12 apps for daily goals on this list that everybody can use, and from the lot, we believe that Apple Notes really is the best one.
Apple Notes is one of the best goal tracking apps today. It has a very intuitive interface and offers a fantastic user experience. Setting and keeping track of your daily, weekly, or yearly goals is super easy. And the best thing about it? It's free and you don't even need to have an iPhone or an Apple product to use it. Simply register an iCloud account and you can access Apple Notes right away.
The downside to the Apple Notes goal-setting app is that you can't track time to see how long a particular task or goal has taken you to achieve, assign other members of your team to the said tasks, create cards, or use it for large projects. It's very much a personal progress app.
Conclusion: What Are the Best Goal Tracking Apps?
If you browse the market for the best goal-tracking or job-tracking app, you'll come across many different options to pick from. To help you pick the best goals app for your needs, we listed 12 of our favorites, Everhour being our number one pick. And no, we're totally not biased!
What's important to remember is that no matter which best goal app you decide to use to track your goals, it's way more important that you focus on actually achieving the goals than plotting them down and keeping track of them. You can plan and evaluate the best way to track your goals as long as you want, but in the end, consistent action is what will help you achieve your goals.