Sync Everhour Time Entries to Jira Work Logs
February 25, 2022
Great news! 🎉 We now sync Everhour time entries into Jira work logs!
Previously, it was only possible to track time inside the Everhour add-on, and those entries did not sync to Jira in any way. In this update, we have come up with a way to sync the data between Everhour and Jira time tracking work log. The key benefit is that it will let you use the data in Jira reports.
---
How to enable bi-directional sync
Team admins can enable the sync for the entire team on the Integrations page by clicking the "Configure" link.
Please note that the sync will only work for the teams that subscribed to the Team plan and use Jira Cloud.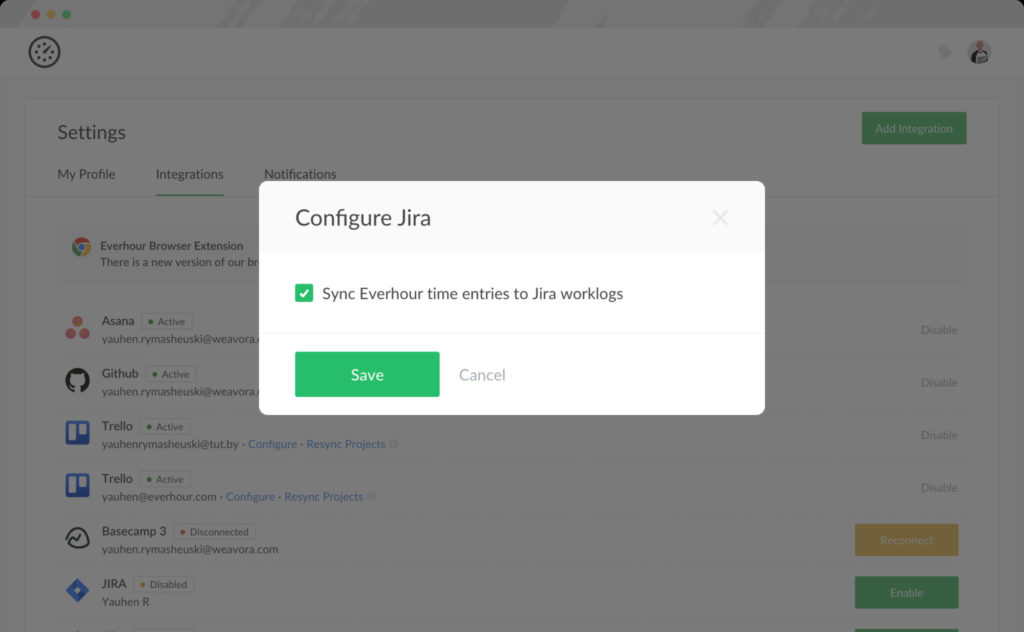 How it works
When activated, all the new time entries you report using Everhour will also appear in your Jira work logs.
We won't sync your previous time tracking history from Everhour and Jira.
We won't sync time entries tracked using Jira native controls.
There are some other notes to keep in mind:
When you update time via Jira, this may take a while for the changes to sync up to Everhour, you may need to reload your page;
When you enter time via Everhour retrospectively (not for today), the Jira work log will show that the entry was made at the beginning of the working day (according to your Everhour team settings);
Example: Today is Thursday, 12 PM, but I enter 1 hour for Monday. The log will show me 1 hour was reported on Monday at 9 AM which is the start of my working date according to Jira settings.
When you enter time manually, the work log deducts the logged time from the current time to show when the entry started;
Example: You enter 2 hours at 2 pm. The work log will show that time was recorded at 12 pm;
We limit comment sync from work logs to 1000 symbols and do not sync text styles, emojis, etc;
Jira allows you to set a timezone while Everhour syncs your local timezone from computer settings. It means that you may have different timestamps for your time entries in Everhour and Jira work logs.
Replacing Jira's native time tracking features
Jira allows replacing Jira's native time tracking features with features provided by the 3d party add-on.
The purpose of this feature is to allow add-ons that provide time tracking functionality to "hide" Jira's native features so that users do not see duplicated UI elements. This eliminates the possibility of time discrepancies between Jira and specifically Everhour.
You can also consider doing so in your team. To do so, go to "Settings > Issues > Time tracking". Or use the link below:
%your domain%/secure/admin/TimeTrackingAdmin.jspa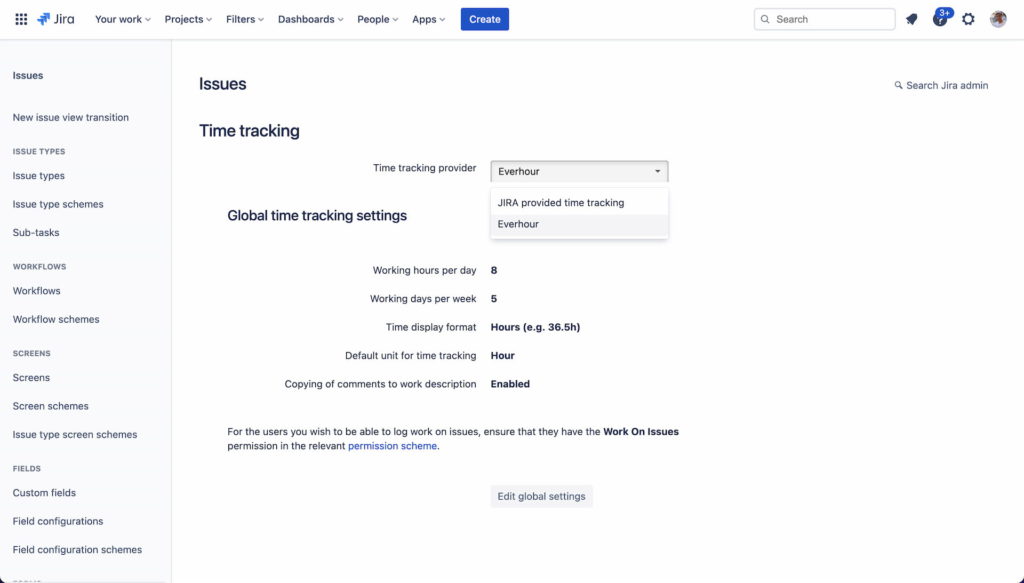 By doing so, the following native Jira features will be hidden:
"Log work" button
Time tracking issue panel
Work logs issue tab panel