Slack + Everhour: Version 2
May 21, 2020
The convenience of having all the notifications in one place can't be overestimated. And Slack is exactly the solution to go for when you need a robust tool for handling your work updates.
Everhour has been integrated with Slack for quite a while already. Now we decided to take it a step further and enhance the integration with what you previously received only via the email — daily and weekly summaries.
Let's see what it looks like.
Daily Timesheets
You can configure the integration to send daily timesheets of all your team members to a specified channel in Slack. The message will include:
the reported time;
the tasks a user was working on;
clock in & out time;
time accuracy (% of the time log recorded via the timer).
The list of users with no tracked time during the day will appear in a separate message.

Timesheets for a day will be sent on the next day 1 hour before the start of the working day.
Weekly Timesheets
Weekly Timesheets will contain the same data as daily timesheets, only for the weekly period. You will receive them on Monday of the following week 1 hour before the start of the working day.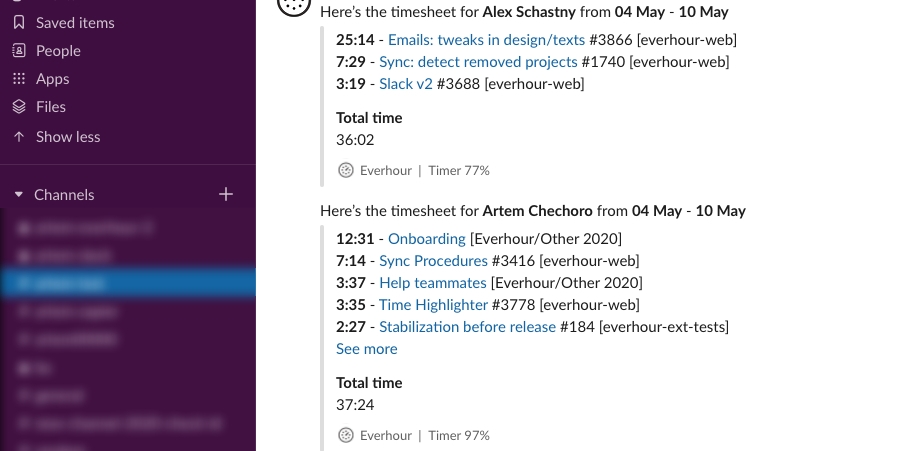 Once you get them, you can start asking questions, making notes, and having a discussion on the timesheets with your team — all inside Slack!
Note: only those users having access to this Slack channel will be able to view the summary messages.
What will happen to Slack v1?
The new version of the integration will not include the functionality of the previous one. However, you can always switch back from v2 to v1 if you had the v1 connected before the update.
All new users who add Slack will only be able to connect the new version.
What do you think of this update? What other Everhour data would you like to receive to your Slack? Please let us know in the comment section below, your feedback is really important to us!