Now, almost five centuries later, Shakespeare's words, "Desperate times breed desperate measures," still hold true and relevant. Only, the time of pandemic we are going through has bred tech-savvy and innovative measures.
We can all feel and sense the dramatic changes in our lives, and particularly the reshaping of the workplace environment, collaboration, and communication. Digitalization and work from home have become an ever-growing trend. But to get a more objective and precise idea of the immense and massive impact of this shift and the associated benefits and drawbacks it offers, let's have a look at the remote work statistics we've collected for you.
Compelling Findings of Work from Home Statistics
You may be surprised that the first instance of remote work dates back to as early as 1972 when the engineer Jack Nilles was working remotely on a sophisticated NASA communication system and invented the term "telecommuting." It turns out the technology that makes working from home possible has been here for quite a long time.
In addition, a survey conducted at the University of Chicago established that 37 percent of jobs in the U.S. can be done entirely at home. What do working from home stats tell about the pre-pandemic, pandemic, and future tendencies?
Before COVID-19: the time of latent potential
The federal Bureau of Labor Statistics indicates that before the coronavirus outbreak, remote work was a privilege of private businesses mainly.
A flexible workplace was a benefit accessible for just 7 percent of the US workforce, predominantly highly paid white-collar professionals and managers.
Less than a quarter of all full-time workers did some or all of their work at home, spending 7.9 hours working at the office as compared to only 2.9 hours of work at home.
In 2017-2018, 21 mln, or 15 percent of all employees had days they only worked at home, with about 2 percent of them working remotely five or more days a week.
About a half of workers in management and financial operations occupations occasionally worked at home.
Workers aged between 25 and 54 were far more likely to work at home.
Just for a year, 2017–2018, there was an increase of 22 percent in telecommunication.

During COVID-19: a clear-cut shift from potential to dominance
Statistics indicate a pronounced increase in the number of employees that were working at least some of the time remotely due to the public health social distancing regulations in response to the global coronavirus pandemic.
Between October 2019 and August 2020, there was a moderate 7-percent rise in the number of U.S. workers reporting having ever telecommuted for work. 
26 percent of U.S. workers worked entirely from home, and 20 percent reported a hybrid schedule and remote work in July and August 2020.
U.S. workers report 5.8 remote workdays as compared to only 2.4 before the pandemic
Close to 70 percent of the U.S. workforce or 45 percent of telecommuters and 22 percent of all workers worked from home on every workday of the month in 2020, compared to 13 and 5 percent respectively in 2019.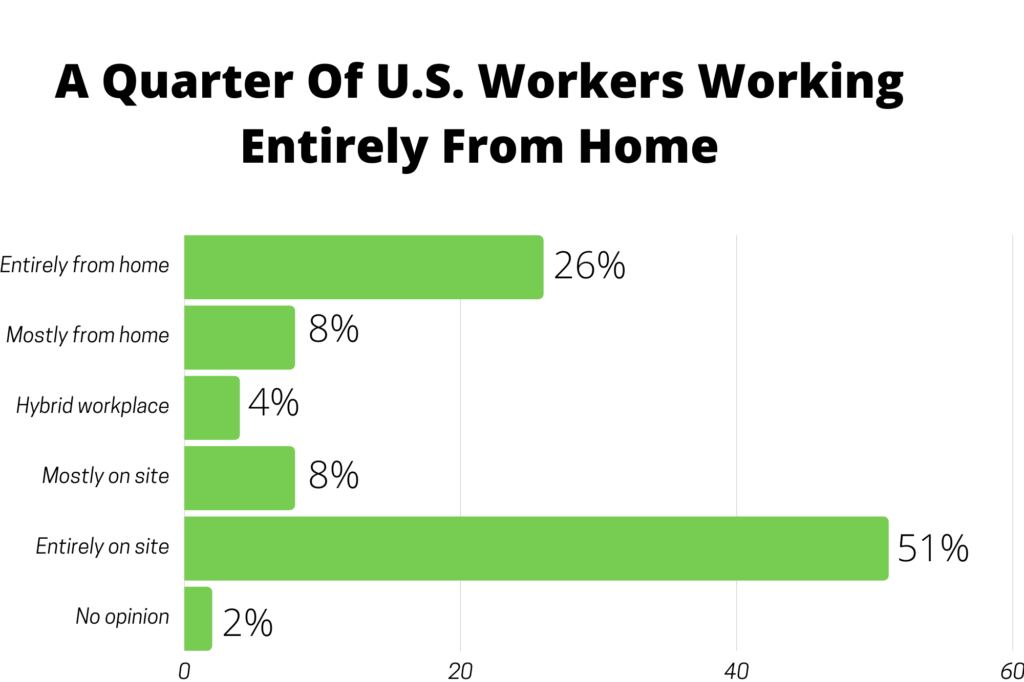 Remote work statistics 2023
The latest figures confirm the already established tendency of an increased share of remote or hybrid work.
16 percent of companies operate and hire on a fully remote basis
Over 26 percent of all U.S. workers will be working remotely through 2023
Owl Labs reports that 59 percent of survey participants strongly prefer employment offering remote work.
About 91 percent of workers strongly favor flexible schedules and working hours.
79 percent of the respondents in the same survey prefer to work from home at least once a week versus 84 percent in October 2020.
What to expect in the future
Are all these shifts and changes temporary or are they going to stay with us longer?
Nearly 28 percent of the participants in a recent survey by Upwork report they will work from home on a permanent basis in the next five years, which is an increase of 87% over the pre-pandemic figures.
Facebook CEO Mark Zuckerberg announced that Facebook's 50,000 employees and new recruits will start transitioning to entirely working from home so that half of them will be working remotely by 2030.
61 percent of remote workers expect to be working hybrid for the next year and beyond and 27 percent anticipate that they will work fully from home.
The survey above indicates that hybrid arrangements and flexible working hours are still highly preferred by 70 percent of workers.
Since the coronavirus outbreak, advances in technology have benefited about half of U.S. workers and have allowed about one-quarter of all workers to perform their tasks remotely every workday, thus alleviating the negative impact of the pandemic. Foreseeing making remote work flexibility a permanent offering in the future will enable leaders and managers to take advantage of such arrangements and retain their top talents. What benefits does working from home hold for your business? Let's look at the most valuable ones.
6 Benefits Of Going Online Indicated by Remote Work Statistics
Initially largely enforced as an anti-pandemic measure, working from home revealed a new perspective of productivity and economy and turned out to be beneficial for both employers and employees. If you are a leader, you may be worried about your team's productivity and efficiency and about accountability and time-tracking. The working from home stats indicates that your reservations may be quite unjustifiable.
Savings for employers
Figures indicate that applying remote work or hybrid arrangements translates directly into financial benefits and savings for the employer.
44 billion USD is collectively saved per year by employers offering workplace flexibility to their part-time workers.
11 000 USD is the potential yearly saving per part-time employee.
According to Global Workplace Analytics, the savings result from lower real estate costs, reduced number of employees working in the office, less turnover, and increased productivity.
Savings for employees
Working at home generates considerable savings for employees as well.
Employees can save between $700 and $7,000 per year.
These primary savings take into account the food, commuting, parking, and car maintenance costs related to working on-site.
Reduced stress
Reportedly, working at home reduces stress, but it all depends on your surrounding environment and working hours. Therefore, promoting remote work can decrease psychological and physical stress.
Teleworkers point to decreased stress (78%) and avoiding the need to commute (78%) as the most important advantages of remote work.
86% of employees say that remote working makes them less stressed.
However, working 9-to-5, 5 days a week can worsen your presenteeism. Also, family responsibilities and conflicts while working at home could lead to tight deadlines, long working hours, and inability to rest, causing more stress and impairing productivity.
So, it all depends on your surrounding environment. That's why choosing a calm place where you can reach your full potential of productivity without being stressed is a top priority while working at home.
Increased productivity
Interestingly and quite unexpectedly, research proves that remote work results in increased productivity.
65% of employees are convinced that their productivity is higher when working from home than in the office.
Choosing a quieter and more convenient working environment boosts productivity by 13%.
Saving time in commuting will lift productivity in the U.S. economy by 5%.
The reasons behind this improvement are fewer interruptions and distractions, and flexible work scheduling adapted to the individual hours of high productivity and concentration throughout the day. In addition, by following best practices for working from home, you can significantly improve your output.
Enhanced talent attraction
Offering flextime has become a means to avoid the loss of talents increasingly recognized by leaders and managers.
According to the above-mentioned report by Gallup, 53% of workers identify the great importance of better work-life balance when choosing a job.
Flextime is the reason for 63% of millennials to move to another job.
51% of employees say they'd quit their job in favor of one that allowed flextime
Remote work is a way to accommodate such expectations and attract the talent an organization needs. Along with the other benefits like savings, this makes flexible workplaces a win-win opportunity.
The environmentally-friendlier option
Except for saving time for commuting, working from home translates into less traffic and fewer cars. With the 28-percent share of transportation in greenhouse gas emissions in the U.S, the environmental benefit of telecommuting is obvious.
59 percent of the emissions are due to light-duty vehicles.
86 percent of workers drive their own cars to work.
Reducing commuting offers an easy and efficient way to reduce carbon footprint, which is something we and the generations to come will benefit from.
How to Optimize Business Operations
All figures point at the continuing tendency toward the newly established way of work facilitated by the further technological advances and the variety of communication and collaboration environments and modes. The application of cloud technology for collaboration has enabled almost half of U.S. full-time workers, including two-thirds of white-collar employees, to be still working partly from home. How can you leverage all these top-notch technologies to streamline and improve your business operation in the remote workplace environment?
Take advantage of video conference meetings regularly
Obviously, chatting is one of the most effective, easiest, and fastest ways to keep your team tuned at all times. It's essential to ensure visual contact when talking to a person. Therefore, when conducting the meetings with your team, establish a "video on" period. Whether for half an hour or longer, these video meetings are important for maintaining the collaboration and connection between your team members.
Besides the social advantages of communication closer to face-to-face interaction, video calls are the best way to clarify written messages and instructions and share ideas and opinions without spending an hour formulating and writing them in detail while providing immediate verbal and non-verbal feedback.
Use best practices for remote collaboration and communication
Working from home is a feasible option as a result of innovations and cutting-edge technology, which ensures streamlined team communication and collaboration. However, 67 percent of remote employee managers report concerns about effective communication and collaboration with coworkers although they participate in video meetings and use team-based software.
To respond to such reservations, you have to ensure your team leverages all available communication tools and applications. Google Hangouts, Google, Microsoft Teams, Slack, and Skype are just some of the examples of applications you can use. Besides video calling and teleconferencing services, 56 percent of people also like to use instant messaging platforms. Using some kind of SMS texting software with SMS templates for every industry saves your remote workers valuable time for more important tasks, thus increasing their productivity.
Take benefits from time tracking and reports
Time tracking and reporting are a feature offered by project management platforms that help you maintain transparency and keep your tasks in line with your timeline and budget. Improved accountability and better prioritizing and organizing are other benefits of using time tracking and reports. Thus you will be able to apply your specific working hour scheme and facilitate its uptake.
They also contribute to motivating your team members and fostering punctuality and efficiency. The tracking function that is incorporated in your project management system, however, is much more than mere control — it provides you with valuable insights into your team performance, strengths, and weaknesses that need optimization.
Optimize remote employee development
The opportunity for professional improvement can be a great stimulus for employees and boost their engagement and performance. Open and honest discussions with your team members help you identify their goals and expectations so you know what you should invest in. For example, you can provide virtual learning resources and tools to enhance your employees' growth. This may include online learning platforms, regular virtual company training, and webinars. Also, you can build a remote mentorship program to boost your employees' progress.
Facilitating your team's development will establish a company culture, common goals, and robust connection within your organization. And this is a prerequisite for effective and fruitful collaboration.
Remote Work Statistics: In Closing
In pandemic conditions, ensuring a healthy and safe workplace is of paramount importance and the first consideration of leaders, managers, and employees alike. Remote and flexible work arrangements offer a wide range of potential benefits justified by the statistics. To be able to turn the potential advantages into practical growth, you need to leverage all features and capacities offered by innovation and technologies and create a collaborative, productive, and stimulating atmosphere for your remote employees.