QuickBooks is the leading software tool and one of the best small business accounting tool in the accounting sphere. However, it doesn't mean that it's the right choice for all businesses. There are lots of QuickBooks alternatives on the market. And if you're searching for one, then this is the right article for you!
Here, you'll learn about:
✅ Why you should consider QuickBooks alternatives;
✅ What alternatives are there;
✅ Which specifics do you need to know about when choosing accounting software.
QuickBooks Desktop vs QuickBooks Online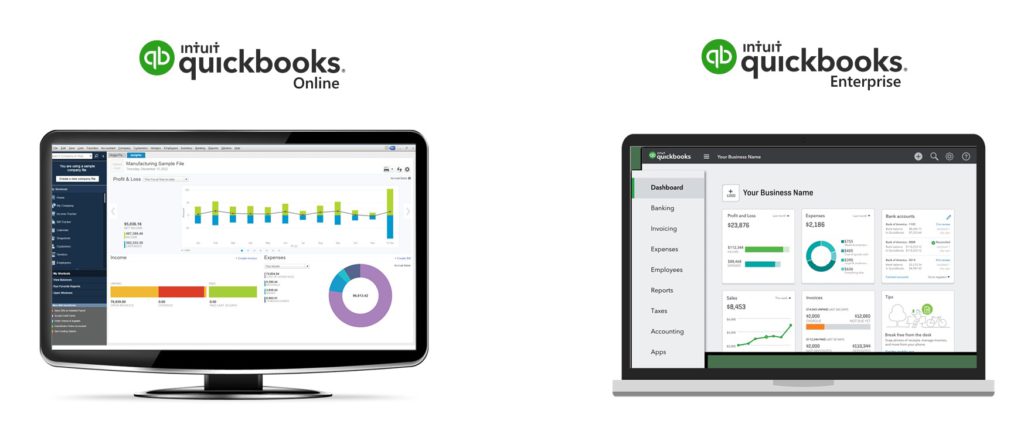 Surprisingly enough, QuickBooks's desktop software significantly differs from its online analog. The desktop version is aimed at medium-sized, large, and niche businesses and boasts a massive set of features. QuickBooks Online, in turn, suits small and medium-sized businesses. Here's a quick side-by-side comparison:
QuickBooks Desktop
Offline, downloadable application
Cumbersome but powerful
Aimed at large and niche businesses. Best if your business deals in promoting a range of products with multiple product lines
QuickBooks Online
Cloud-based application
Light and intuitive
Aimed at small and medium-sized businesses. Best if your team offers a small range of products or services
You'll learn more about Quickbooks Online further in the article. Now that we got this out of the way, let's dive into the vast world of QuickBooks alternatives!
Quicken vs QuickBooks Online
Editor's note: Quicken was formerly part of Intuit, Inc. On March 3, 2016, Intuit announced plans to sell Quicken to H.I.G. Capital. The terms of the sale were not disclosed.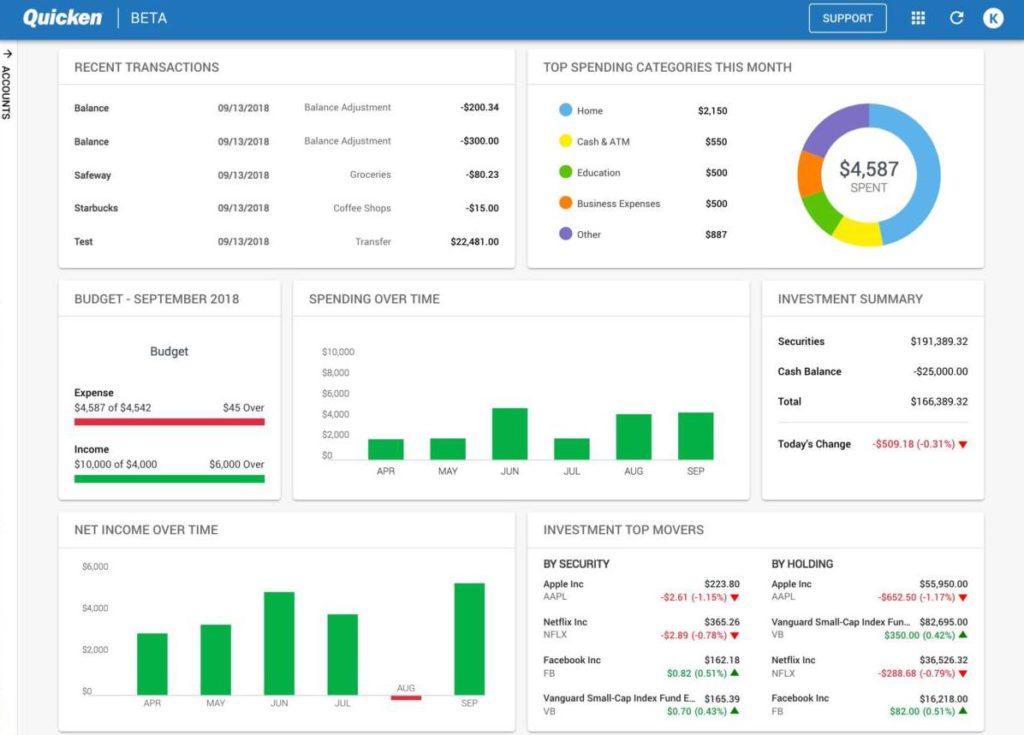 While QuickBooks Online is great for running accounting for businesses, Quicken suits best for personal accounts management. Though if you upgrade it to the Home & Business plan, it gives you a simple solution for small business management. Here is the main Quicken vs QuickBooks Online comparison:
Quicken
If you just want to track your personal financial information, Quicken has all of the features you could ever want.
Quicken is of great help for families and individuals to track account balances, investments, budgeting, and other expenses.
QuickBooks Online
If you are an independent online freelancer, Quicken's features may be enough for your business, but if you need anything more robust, QuickBooks is the clear winner in terms of features.
QuickBooks offers more for business, but it also costs more.
In short, if you need business software, QuickBooks is the way to go. That said, Quicken is still worth your attention if you're self-employed or have a very small business.
Xero vs QuickBooks Online
Xero is a web-based accounting system offering a variety of helpful features for small businesses. With this tool, you can review your up-to-date financials at any minute and from any device.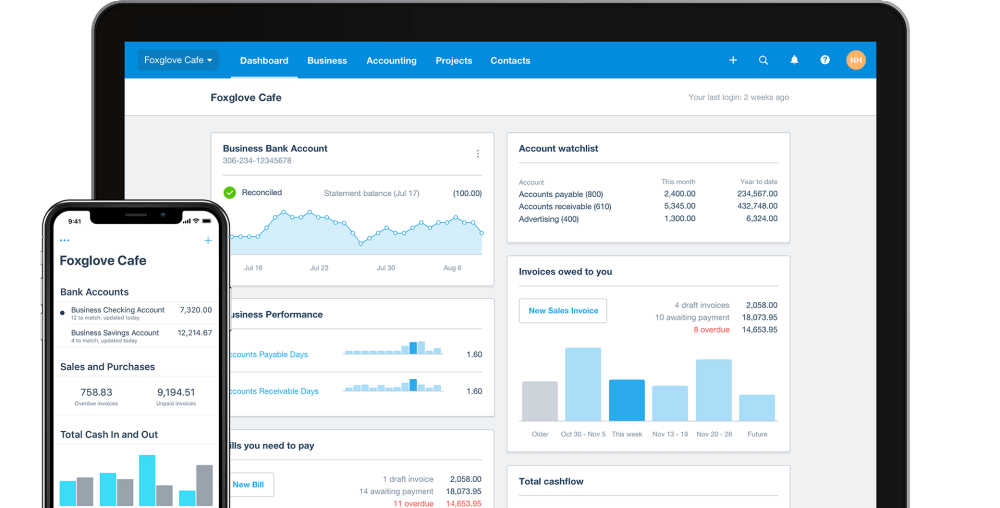 Comparing Xero vs QuickBooks Online is like getting into an argument with twins. Yes, these two apps perform the same accounting functions, both are aimed at small and medium-sized businesses. But they have their differences:
When to choose Xero?
When you don't want to spend time on challenging functionality. Xero is user-friendly and intuitive. Meaning that you'll be balancing your books in several clicks.
If you need a cheaper solution. Xero pricing starts at $4.50 to QuickBooks's Online $14, but its functionality is very limited.
If you want to share your data with multiple users, Xero provides unlimited access.
When to choose QuickBooks Online?
If you want an application with more through accounting features.
When you need a wider number of functions than most cheap solutions offer at a starting tier.
When your accounting team is small and you don't need to add many users to the app for collaboration. QuickBooks Online allows 1 user for Simple Start, 3 users for Essentials, and 5 for Plus tier.
Luckily, both apps offer free trials, so you can test each before opting for one that suits your needs.
FreshBooks vs QuickBooks Online
FreshBooks suits the self-employed or businesses that provide services. As far as accounting software goes, FreshBooks is quick to learn and simple to use. It can be integrated with essential project management software, helping your project and accounting teams stay on the same page.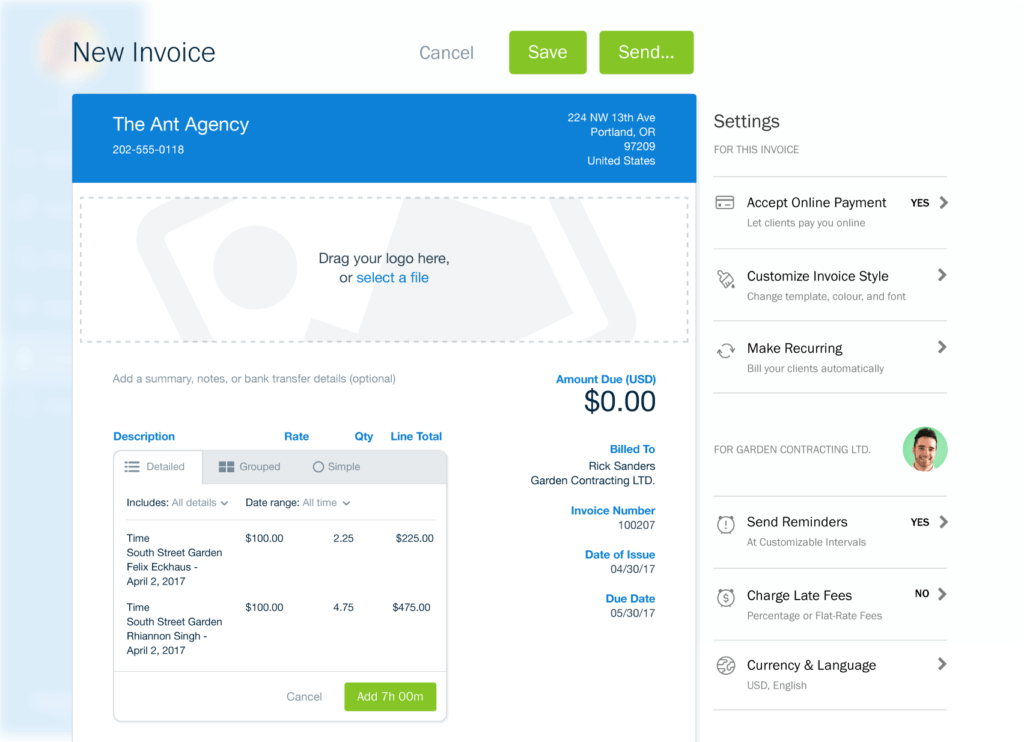 Its main functions include invoice generation and time-tracking. Recently the manufacturer added the double-entry accounting feature.
Choose FreshBooks if:
You have a small business or are a sole proprietor. FreshBooks works great for smaller enterprises without complex accounting needs.
You'd like to have the benefit of easily accessible telephone support. The fact the company isn't a giant means their customer service department has the capability to deal with you as individuals. So that when things go wrong you get them sorted quickly.
Choose QuickBooks Online if:
You need complex services that suit almost every accounting need. From double-entry accounting to invoicing, QuickBooks really does do it all.
You always prefer highly adaptable tools. From small businesses to large firms, QuickBooks is software that grows with your company. Its ability to adapt is what makes it so popular.
While QuickBooks outshines FreshBooks in terms of overall features, this little gem is not one to be dismissed. FreshBooks can prove a handy and less complicated solution for small businesses and those who are self-employed.
Wave vs QuickBooks Online
What's good about Wave? Wave offers a small set of functions, just good enough to satisfy a budding entrepreneur or a small business. In the QuickBooks Online vs Wave comparison, QuickBooks Online scores a flawless victory.
So, why does Wave still exist? One word. It's free. While QuickBooks Online offers to Start your business from a $12 per month option, Wave lets you do it at no cost!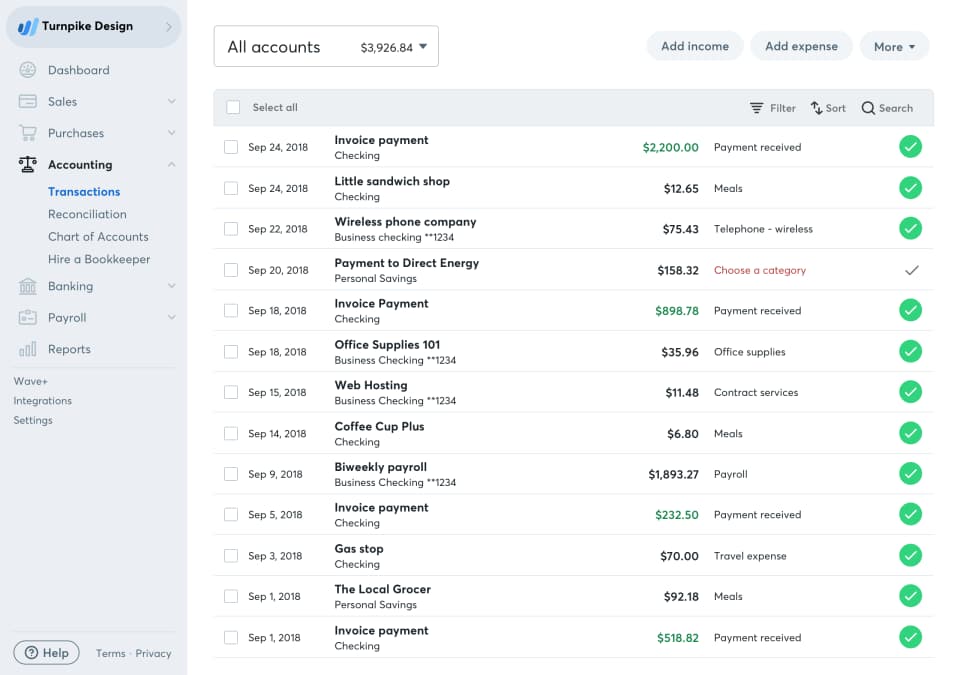 What's the catch? How does Wave make money? Wave makes money from financial services. They offer payroll services in Canada and the U.S. at a reasonable price for the market price. They also allow businesses to accept payments online. They charge a 2.9% + 30¢ fee to process most credit cards (with 3.4% + 30¢ fee for American Express), and 1% for bank payments (where available).
So, Wave is a perfect solution for those who start their businesses from scratch. But as your business gets more complex, you may have to search for a more powerful solution. So, it's up to you and your accountant whether starting out with free software is worth it or you should invest from the get-go for a more in-depth solution.
Sage vs QuickBooks Online
Initially, Sage, formerly known as Peachtree, started as a project management tool with a few features for financial management. Over time the app has grown into a cloud-based solution, called Sage 50cloud Accounting, and added more bookkeeping functions in the tool.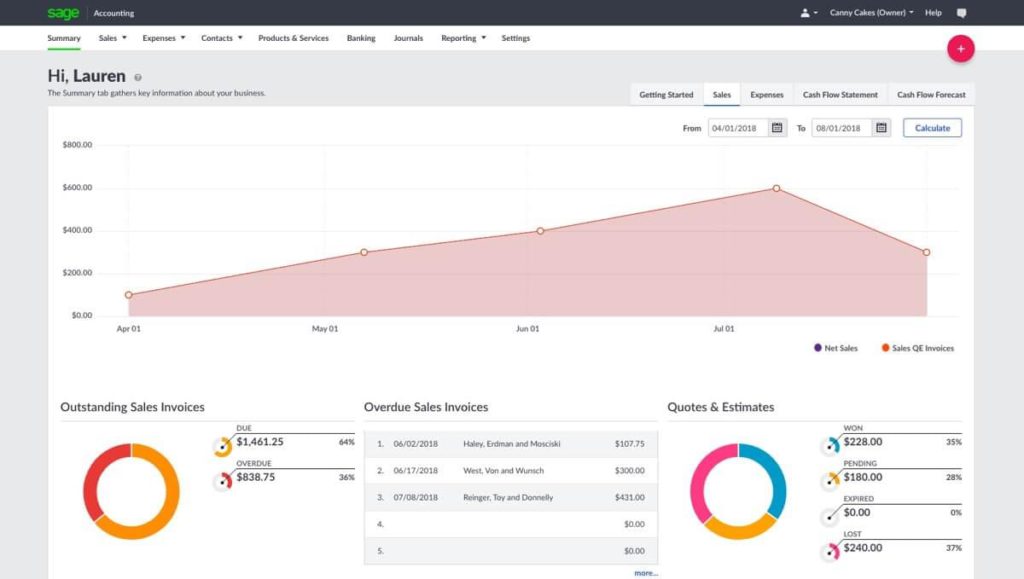 When comparing Sage aka Peachtree vs QuickBooks, it becomes clear that QuickBooks overlaps and exceeds Sage in its accounting functionality. But Sage also offers project management solutions to small businesses.
If you're not ready to integrate your QuickBooks with other apps for project management, and you're searching for a simple functionality in bookkeeping, then Sage is right for your enterprise.
Gusto vs QuickBooks Online
Gusto is a tool aimed at handling your employees and everything that's connected to them in accountancy.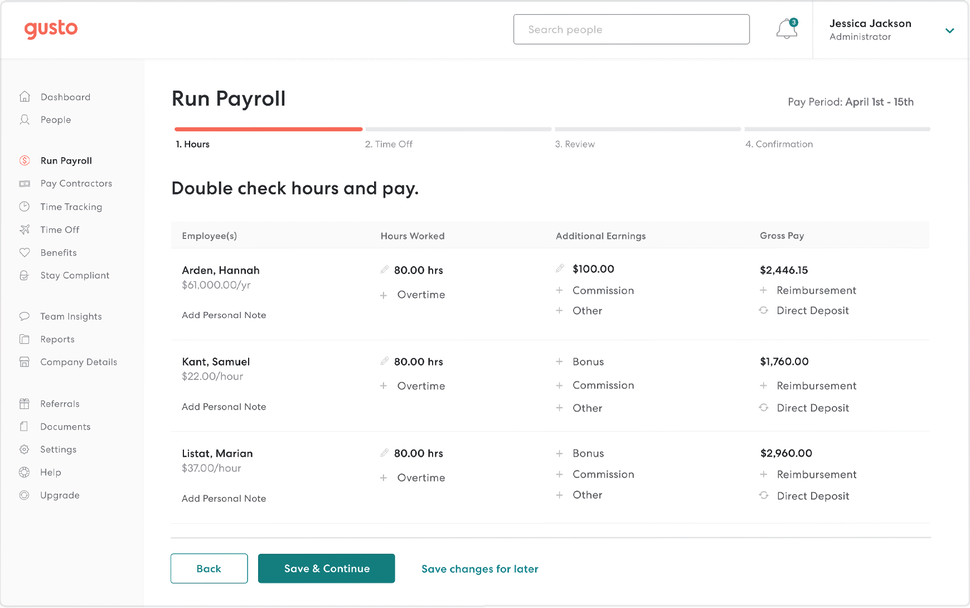 Gusto offers: tracking employees' taxes payment, support for each employee from the moment of hiring until their dismissal, various insurance packs, advice on HR compliance issues, and more.
However, QuickBooks Online provides similar options for employee management. Let's have a look at the differences between Gusto vs QuickBooks payroll features:
Gusto
Insurance and benefits: Gusto provides insurance in only 27 states. However, it has a wider range of benefits to offer such as commute payments, flexible spending and retirement accounts, and a lot more.
Payroll automation: Gusto automates payrolls for hourly and salary workers.
HR support: Gusto offers to send onboarding letters to newcomers in your company, anonymous surveys to track your workers' needs, online form and contractions signing, and a lot more.
QuickBooks
Insurance and benefits. QuickBooks insurance is available for 50 states but has a limited number of benefits.
Payroll automation. QuickBooks automates payrolls only for salaried employees.
HR support. QuickBooks provides an HR support center. You can call or message them.
Both QuickBooks and Gusto have their specifics for managing employees. Before choosing one, it's worth determining the size of your team and your working environment.
For example, if your team is large and a lot of workers travel around various states, then Quickbooks will satisfy your needs better. But if you want to be closer to your team and understand their everyday issues, then Gusto is your app.
Mint vs QuickBooks Online
Mint is more a handy app than a fully-fledged accounting tool. It helps control your budgets over several financial accounts. All you need is to provide Mint with your passwords, and it'll report on your budget statistics. The company also claims that they keep a sharp eye on their security, meaning your data should be secure.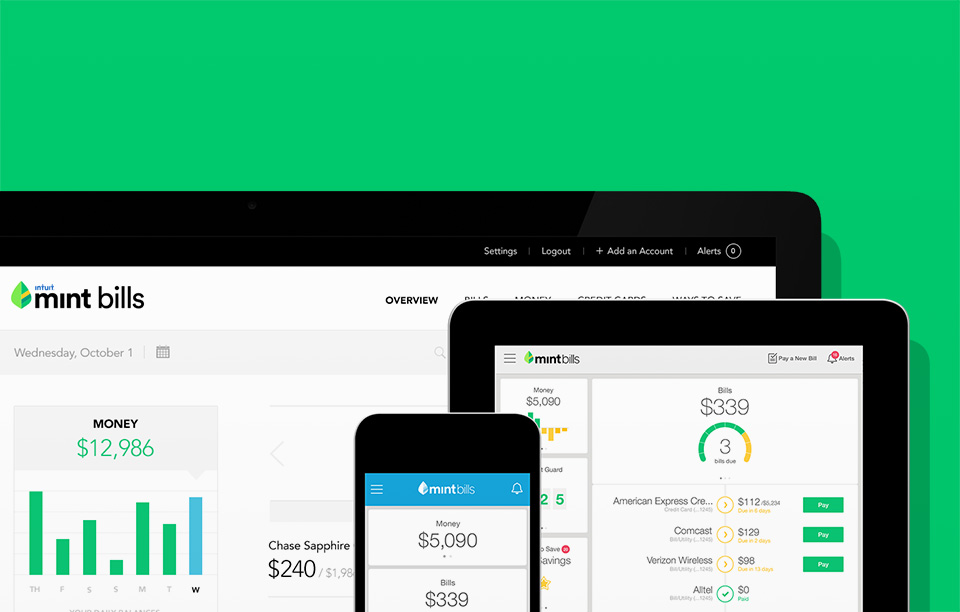 Mint is available only in read mode. You can't change or insert any sums, you can't calculate your debit and credit or track your inventory in it. This app just wasn't made for that. It simply pulls your transactions and bills together and shows your credit score.
You cannot directly compare Mint vs QuickBooks. They are just too different. But Mint is absolutely free, so it may be useful for self-employed people or those with simple accounting needs.
Hurdlr vs QuickBooks Online
Hurdlr is a simple app designed especially for freelancers. With Hurdler, you can track your mileage, calculate taxes, manage your spendings, and track income.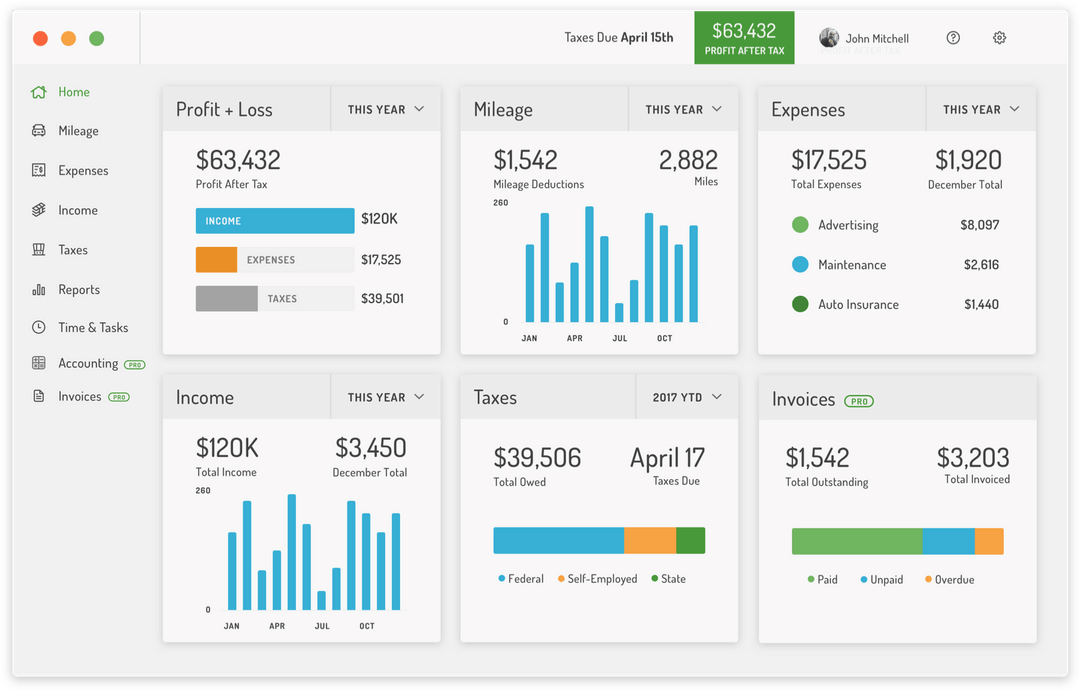 It lacks most of the features of a serious bookkeeping app like QuickBooks. But do you really need them all? Hurdlr is just enough to track personal budget calculations and estimate taxes for self-employed and freelancers.
All the data is presented in automatically generated reports. To get all of these features, you need to pay Hurdlr up to $10 monthly. There are also cheaper tires with less functionality. For example, a $5-a-month version and even a freemium option.
Of course, if you have a fully-fledged business to take care of, Hurdlr isn't for you. Instead, you'll need a more complex solution. So once again, this Hurdlr vs QuickBooks comparison is a no-contest scenario.
Square vs QuickBooks Online
Square is a convenient inventory tracking and payment processing tool. With Square, you'll always know what particular products you have in stock, if stock is getting low and what stock updates were done recently.
And all that in one email letter notification from Square. Moreover, you can use a Square memory reader gadget plugged into your laptop, smartphone, or tablet for customer transactions.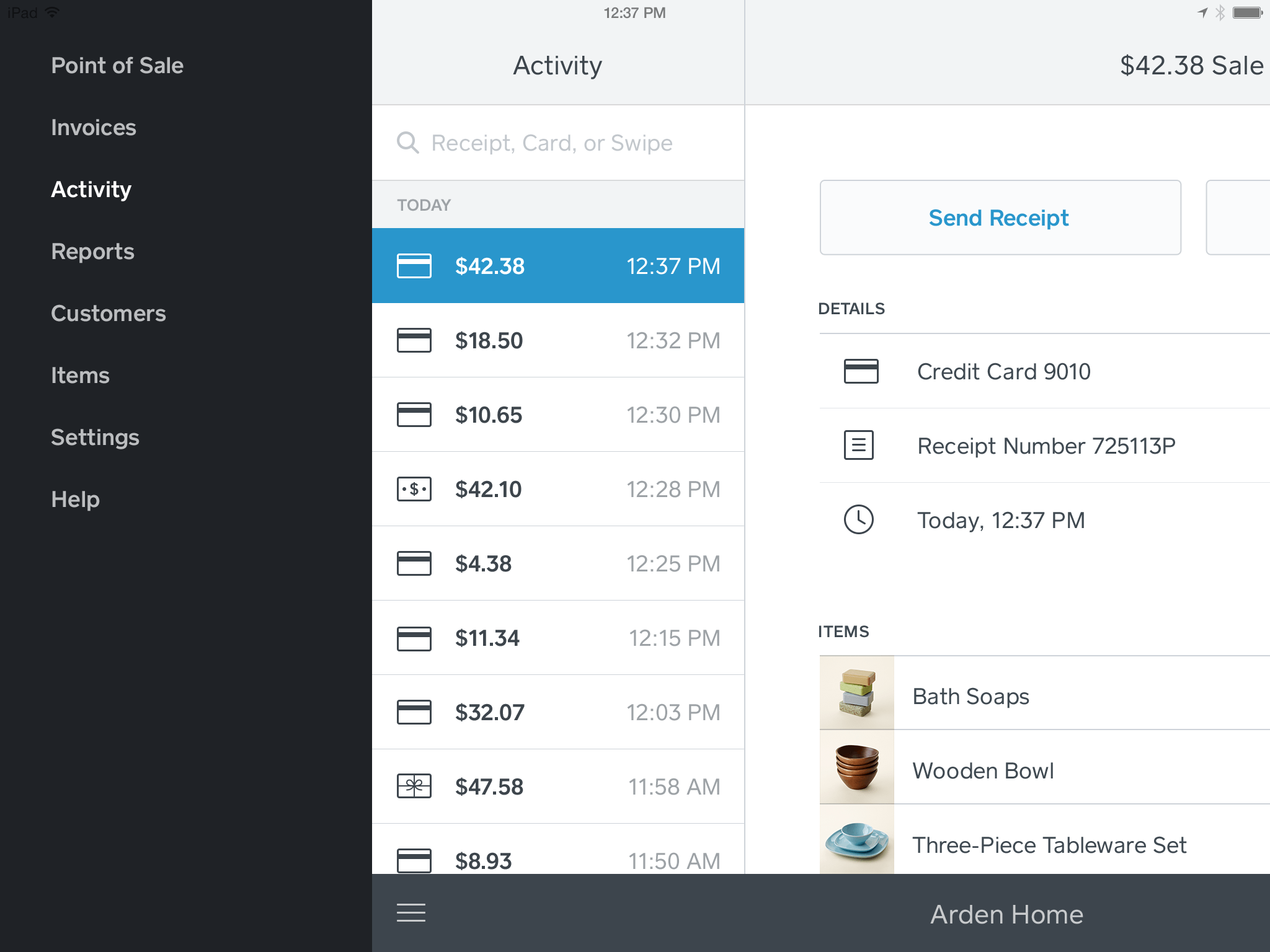 Although QuickBooks has an inventory tracking feature, it's not that detailed as Square's solution. And QuickBooks can't read bank cards. The good news is that Square easily integrates with QuickBooks, and its basic tier is free. However, there are small fees for reading bank cards.
In terms of inventory tracking, Square is an excellent competitor for QuickBooks. But for overall financial management, QuickBooks is our winner. Comparing Square vs QuickBooks for your business, consider what you need them for and make your decision based on need.
Aplos vs QuickBooks Online
Aplos is an accounting app specially designed for non-profit organizations. Tailored to NGOs, this is what drives the software's design.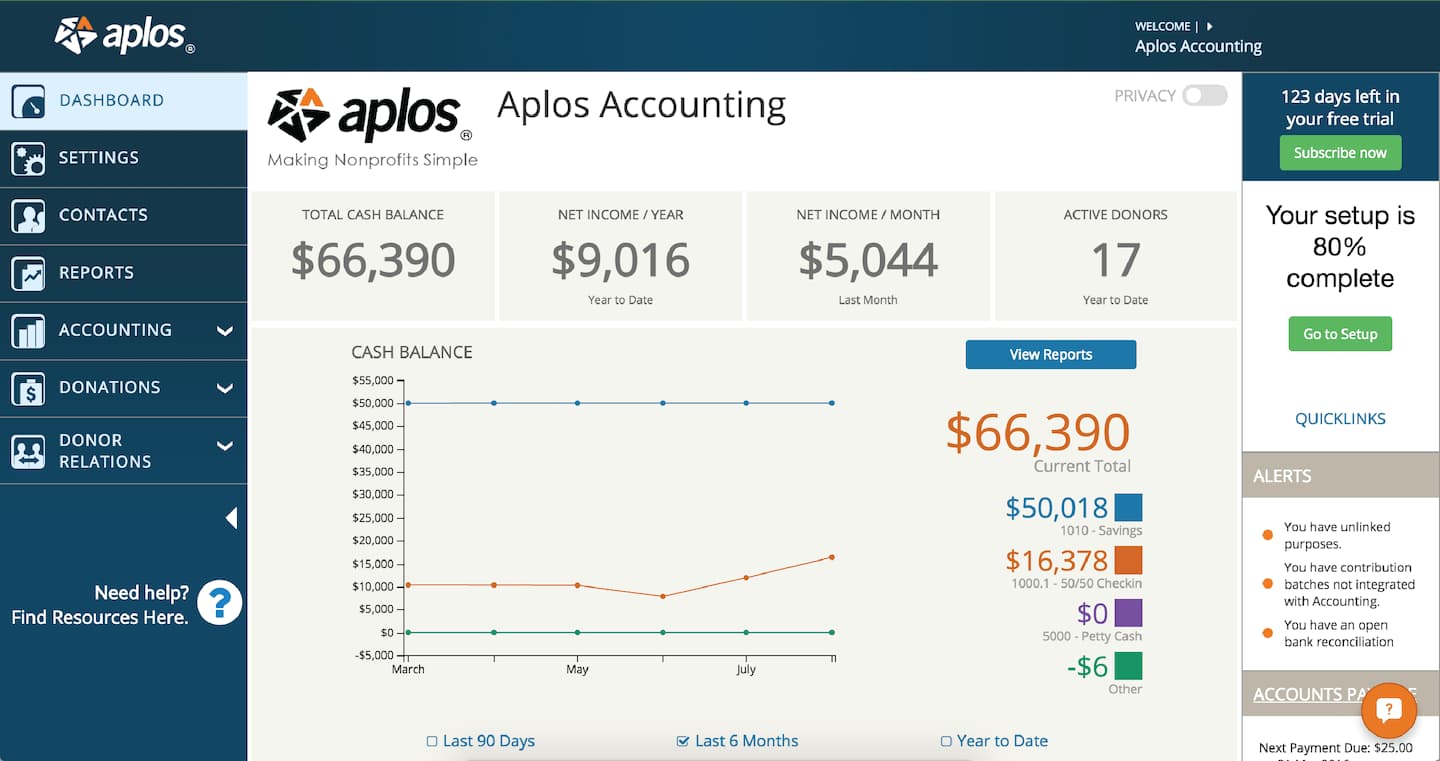 This app provides:
Fund accounting
Donation tracking
Creating a customized chart of accounts
Generation of non-profit financial statements
Generation of budget reports
General ledger management and a lot more.
On the other hand, QuickBooks isn't adapted for non-profit organizations and its accounting specifics, although it does have extensive accounting functionality. Therefore, for doing bookkeeping for these organizations in QuickBooks, you'll have to search for clumsy workarounds to complete certain NGO business specifics. So, if you want to do 'good' work, then Aplos is your match.
ZipBooks vs QuickBooks Online
ZipBooks is a great start in accounting for small businesses. It offers a number of accounting features. A lot of individual businesses opt for ZipBooks for one main reason – its pricing. ZipBooks offers an unlimited freemium with cuts in its features.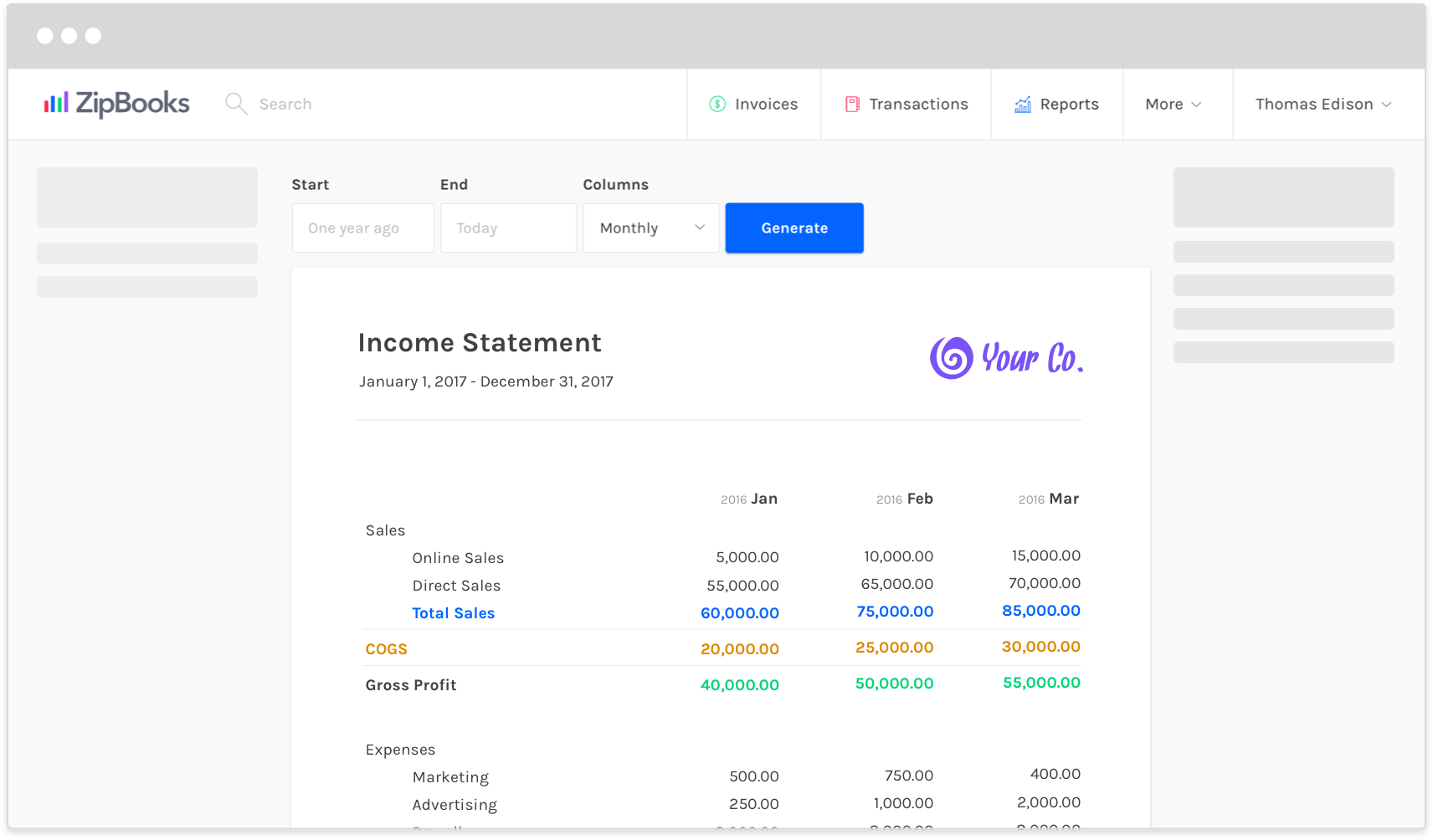 However, as your business develops, at some point, it'll grow up from the simple functionality ZipBooks provides. Here is what you can do in ZipBooks:
Manage your bills and generate invoices
Do bookkeeping and check reports
Check your credit card balance and track its transactions, and more.
It's hard to debate the ZipBooks vs QuickBooks as they are intended for different things. The bottom line is, ZipBooks is a good runway to take off, but after some time it's hardly a great option to continue your flight with.
NetSuite vs QuickBooks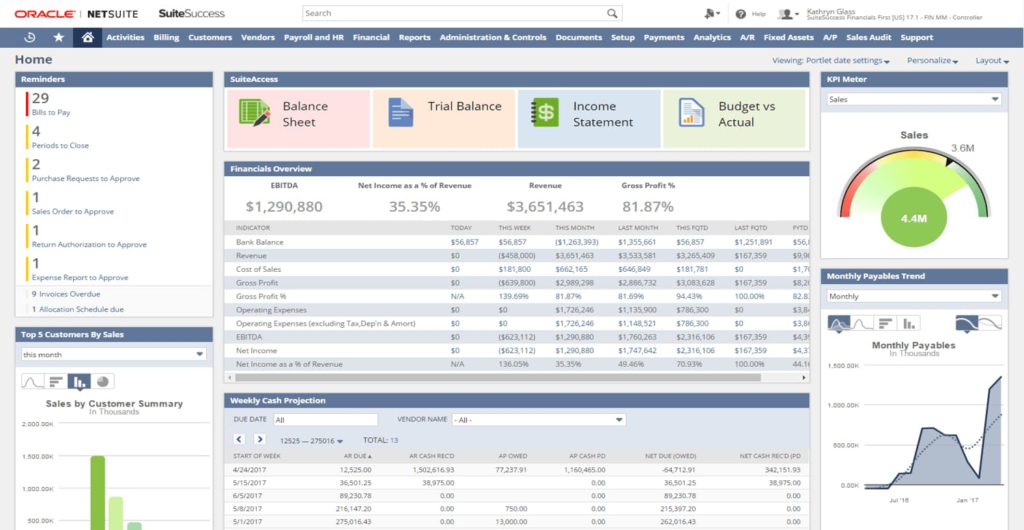 NetSuite isn't just accounting software. However, its functionality does match QuickBooks to a large extent. The manufactures added more features to their product, including:
E-commerce
CRM
Inventory and warehouse management
Finance management
Asset management, and much more.
Making NetSuite is a truly powerful, scalable, and cloud-based solution for mid-size and large businesses. You'd need to purchase the QuickBooks Desktop Enterprise tier to compete.
In comparison to QuickBooks Enterprise, NetSuite provides more detailed financial management, supply chain management, e-commerce and retail, and human capital management features.
NetSuite is an ERP (Enterprise resource planning) software that can be used for managing worldwide businesses with several divisions around the world. These divisions can collaborate and coordinate their work in the cloud. Though the price tag depends on the number of users.
With so many features, Netsuite deserves a stand-alone article and represents a serious competitor to QuickBooks Enterprise.
QuickBooks vs Excel
Every professional accountant has experience in working in Excel. And even if you're not an expert, you can still try Excel to manage your finances. When starting out with the tool, you might at first think it's simple, but soon you'll be impressed with its extensive functionality.
When to choose QuickBooks?
When you need a user-friendly app with in-depth bookkeeping functionality.
If you're not ready to draw your charts from zero each time you need a new table.
When you need to create neat and professionally-looking invoices.
When to choose Excel?
When you need a full pack of accounting features and you're ready to build your general ledger tables and all other tables manually and from scratch.
If you need to do bookkeeping for specific businesses and most of the accounting solutions lack the needed functionality.
So, what about our QuickBooks vs Excel comparison? It's easy. If you're an Excel guru, then you can choose freely which software you prefer to use. However, if you're not an Excel nerd, then you should think of something intuitive and user-friendly. And that something could be QuickBooks.
Wrap-up on Accounting Software
Accounting is an essential part of any business. And whether you're a budding entrepreneur or responsible for the finances of a large company, bookkeeping is an unavoidable part of the business.
To have your accounts and operations clean and clear, and most importantly, accurate, you need to choose your accounting app wisely. For this, you should consider the following factors:
Size of your business
Type of your operations (service, product, or other)
How you deal with your customers
Just because Quickbooks takes the leading position in Google, doesn't mean that it's a 100% perfect solution for your enterprise.
Make a decision that you can stick with, as you cannot easily convert and transfer data between apps. Usually, these tools aren't compatible and you don't want the hassle of manually transferring your data.
The accounting software market provides a wide range of options with varying functionality to satisfy the need of any user. We hope that this article helped you make the right choice for your business!